Oh, hi! It's been a while (what else is new, right?).
Back in June, I shared an intro post to what I've not-so-creatively named the "Getting My Act Together" series (if you have no clue what I'm talking about, check it out here). And this is part one.
If you've been following the blog for a while, you probably know that I was laid off from my full-time job in January 2016 and it was quite the downer at the time. I mentioned my struggles here and there with job hunting and feeling sad, etc. I didn't really go into more detail than that; it was basically me repeating "wah, job hunting is hard," and it was!
What I didn't go into were the other struggles I had. Struggles that stemmed from this little thing called anxiety and branched out into something much bigger. It got to the point where I lost interest in things I loved, including blogging.
I've had a draft of this post since January 19th (way before I published the intro post). I've put off finishing it mainly because of motivation issues, and I was also hesitant about how much I wanted to share here. I've typed and deleted and repeated these steps more times than I can count.
I knew I had to break out of this dumb loop, so here I am! I'm just going to write. And I'm going to break it down a bit more than I originally planned because this post would end up being a bit too long for my taste otherwise.
So for part one, we're going back to the beginning!
This isn't at all about what people "need" to know, but about me doing this for myself. I'm a writer and this blog is my outlet! For me, the only way to move forward is to just get it all out there.
Let's go.
via GIPHY
First: The Backstory.
I've been suffering from anxiety for about 12 years. When I was 21, I was diagnosed with PTSD (how that came to be is not a story for today), and I've been on this nerve-wracking binge ever since.
This super fun cocktail includes two parts general anxiety, one part social anxiety, and a splash of panic with an OCD twist.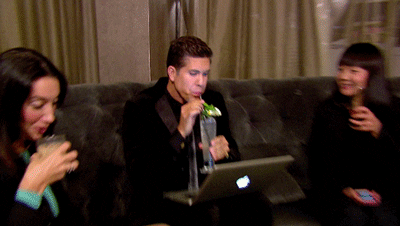 Yeah. It's a party.
It all started some night in 2005. I woke up in the middle of the night with this insane urgency and I didn't know or understand why. I remember rushing to the ER and thinking the whole time I was going to die. My heart was racing and I was scared. It was a little over two hours before being called in to see the doctor. By then, the fear had passed and I was exhausted.
He educated me on anxiety and the varied types, and he explained to me that I had a panic attack.
At the time, I didn't quite buy it. And I continued not to buy it for quite a few more visits to the ER. One time, an ambulance ride was involved! That was fun (it wasn't actually fun).
Backing up a little bit: when I said I thought I was going to die, nothing about that was an exaggeration. One of the many not-so-great things about anxiety is it will make you feel things that aren't really there or true. And when it comes to having a panic attack, you might feel like you're losing control, going crazy, or dying. I've felt all three things. And because they felt real, I believed they were real.
Hence why I made those frequent ER trips every time I had a panic attack.
In the midst of all these ER visits to be seen by random doctors, I was going to my regular doctor as well, and they all told me the same damn thing. I was just in denial and very much convinced something else was wrong. It took a few months to get the message, and I opened up to the idea of getting treatment.
I first attempted medication and ended up hating what they prescribed me, so that didn't last long. I remember having a weird and floaty out-of-body experience every time I took it. Not in a fun or euphoric way, but more like the "I feel empty inside" kind of way. There was also this weird brain delay with every action I took.
It just wasn't for me and I decided I wanted to take on anxiety a more natural way. I started exercising daily, ate healthier (some of the time), and introduced myself to yoga and meditation.
In short, all of that combined was a humongous help and I learned to take better control of anxiety when it was coming on. It was never perfect, but I went from multiple panic attacks per week to maybe one or two a year, and only felt general anxiety symptoms on rare occasions instead of all the time.
A bit of an abrupt ending for this post, but this is the most of what I wanted to share with my backstory because this series is mainly about the recent past and present. I wanted to provide a little context before diving into the other stuff.
Also, the original plan was to get this whole series out before posting fun stuff again, but I decided to change it up. I'll have part two posted sometime soon and the very next post (or two or maybe even three posts!) will be food related. I've had the itch to blog again and I want to take advantage of it.
And Now: Some Little Known Facts About Anxiety
Anxiety disorders are some of the most common forms of mental illness in the U.S., affecting around 40 million adults.
Women are more likely to be affected than men.
There are many types of anxiety disorders, including:

General anxiety disorder (GAD)
Panic disorder
Social anxiety disorder
Major depressive disorder
Phobic disorders
Obsessive-compulsive disorder (OCD)
Post-traumatic stress disorder (PTSD)
Separation anxiety disorder

Only about one-third of people suffering from an anxiety disorder receive treatment, even though the disorders are highly treatable.