One-pot meals are awesome because they're so versatile and are easy to prepare. This creamy sausage and pasta takes less than an hour from start to finish, making it a great pick for a weeknight meal.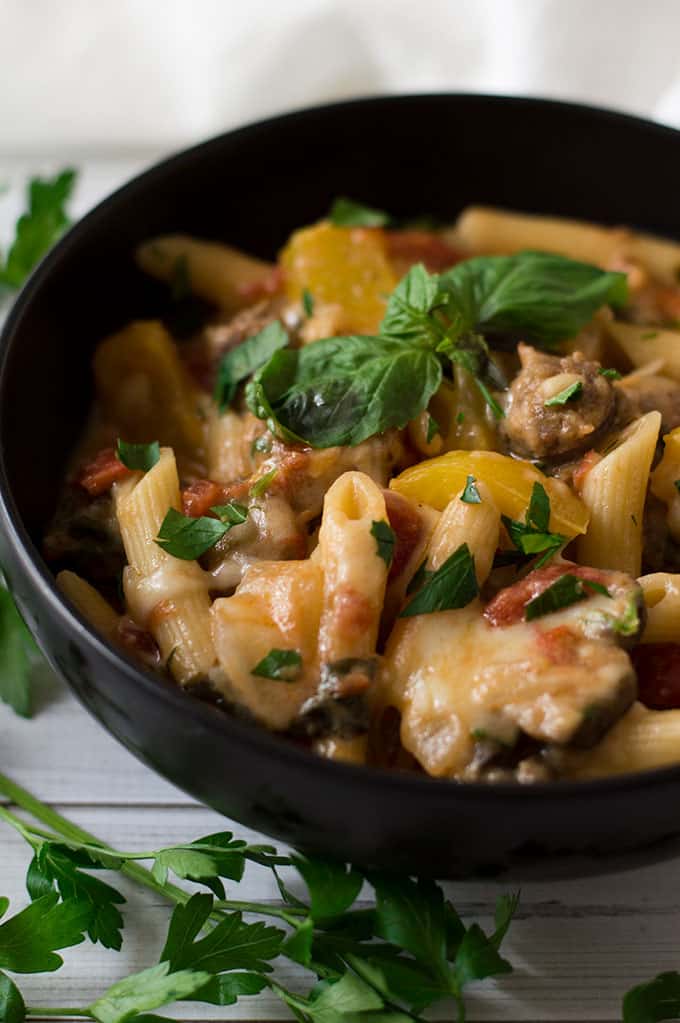 Yasssssssssss. It's Friday!
I love Fridays. Particularly, Friday nights. Because I'm either out with friends having all of the fun (usually involving food and drinks) or I'm lounging at home in pajamas, which I call "Pajama Friday" (this also usually involves food and drinks).
I have no idea which type of Friday today is yet. I will say if it ends up being a pajama-like deal, I am totally okay with that because it's been a pretty busy week! Some downtime sounds rather nice right now. You feel me?
I'm still getting adjusted to this new schedule of mine that involves more than one type of work. I am loving it, but it also has me having to figure out food fun. When I get home from one job, I give myself some time to quickly make dinner before I move onto the next (which is a work-from-home deal, so pajamas are absolutely worn here). Sometimes Jason will head dinner, but his schedule is kind of all over the place right now too. When things don't line up, we either save food for one another, fend for ourselves, or have leftovers. Take-out may or may not sneak in there from time to time too.
And that's when one-pot meals come in so, so handy. Easy to prepare + delicious + minimal cleanup = YES, PLEASE.
…