Disclosure: This is a review post for the DRIPO Cold Brew Coffee Maker. I received payment and this product for free in exchange for an honest, unbiased review.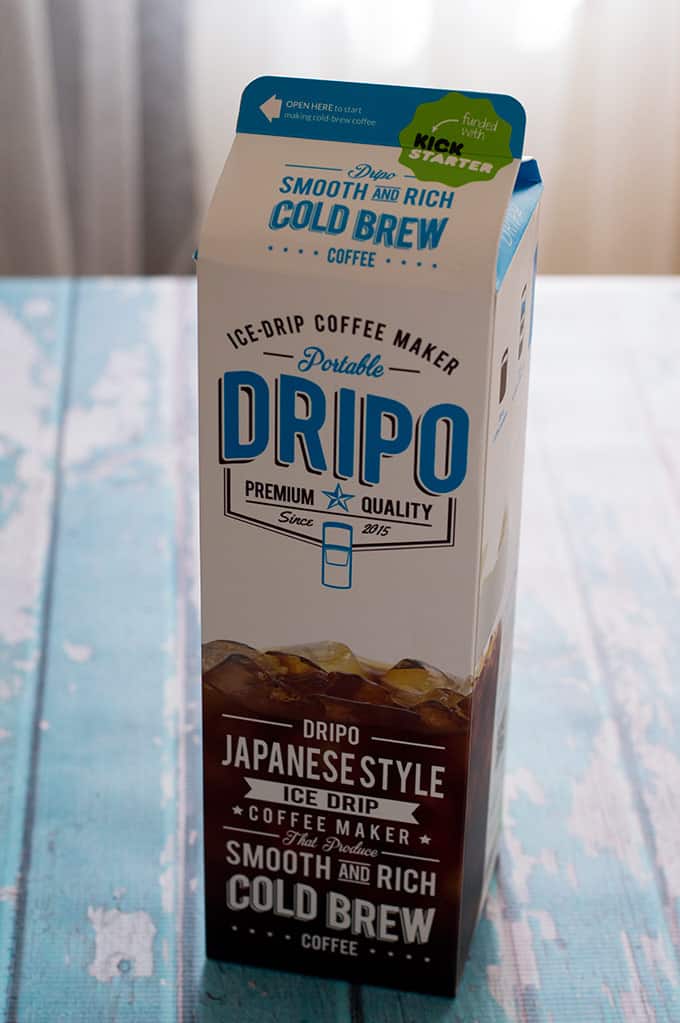 Hey coffee lovers! Today's product review is for you. <3
How do you feel about cold brew coffee? Do you love it as much as Jason and I do? We brew a big batch every week during the warmer months and a smaller batch less frequently when the colder weather hits; I tend to drink cold/iced coffees any time of the year, where as Jason mainly prefers them in the summer. I love cold brew because of its smoother, less acidic taste than traditional iced coffees that's  made from regularly brewed hot coffee.
When we do make our concentrate, it involves using a glass pitcher, a large mason jar, a mesh strainer, and a nut milk bag. It's messy and I really don't care for the clean-up, but it works. We don't have a garbage disposal in this apartment and getting wet coffee grounds out of a deep pitcher isn't all that fun! True story.
When the opportunity rose for me to review the DRIPO, I was pretty excited about it. For one, I always love checking out new tools and gadgets. Also, because of its compact features, this seemed like a great solution for when I'm the only one who's craving cold brew in the middle of November.
The DRIPO is a portable coffee maker that uses a cold drip brewing method.
My Experience With The DRIPO Cold Brew Iced Coffee Maker
DRIPO prides itself in being simple, easy, BPA free, and portable. Most cold brew processes call for steeping coffee grounds in water for several hours, whereas the DRIPO brews in less time; approximately one and a half to two and a half hours.
When assembled, it resembles a thermos-style object. The top is the water reservoir with a dripping hole, the middle holds the coffee grounds and has a stainless steel filter, and the bottom is the tumbler where the brewed coffee will drip into. There's also a lid that will work with both the water reservoir and tumbler, easily allowing you to convert your cold brew maker into a tumbler you can take with you and drink on the go if you'd like.
I'm a fan of the packaging. It came in a milk-carton-like box that was super easy to open with the cold brew maker assembled and minimal packing materials to go through. It also came with a small amount of paper filters that are optional to use (more on that below) and instructions.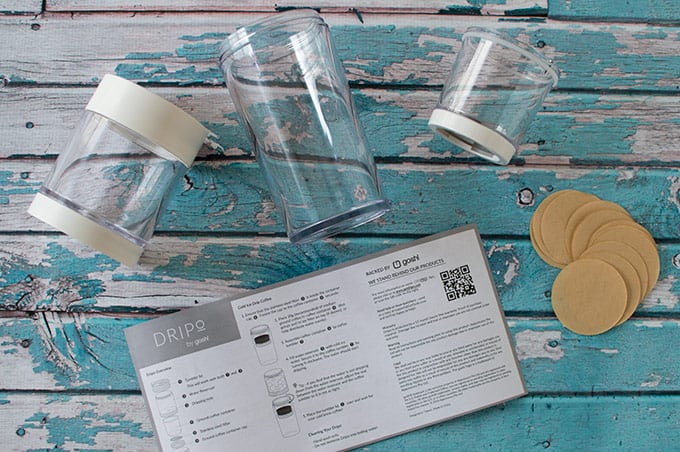 Before first using it, I washed everything by hand and got my coffee ready. They recommend 30 grams of medium ground coffee. The coffee container has three marks for you to know how much coffee to add: 20g, 30g, and 40g. This is great for anyone who already has ground coffee at the ready, but if you're like me and grind your coffee fresh before brewing and you don't own a kitchen scale, that involves a little bit homework. Until I get myself a kitchen scale, all of my measuring goes by volume. I had to do a google search to see about converting grams of coffee to tablespoons. Googling was easy, but the DRIPO loses some points for making me have to reach that point.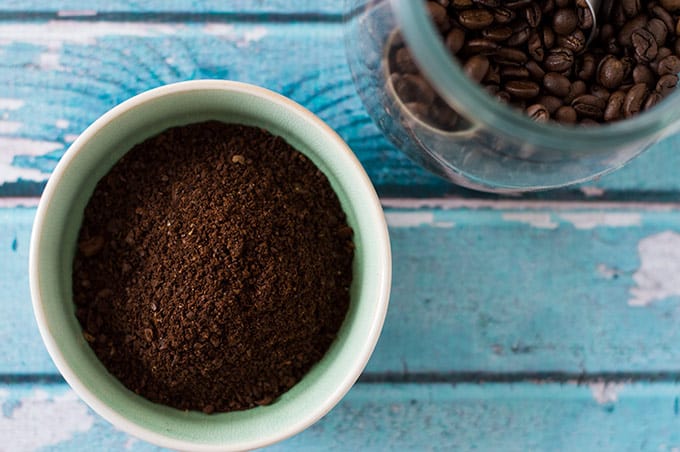 I found this coffee brewing ratio chart to be pretty accurate based on my own experiment. I ground up six tablespoons of coffee beans and it filled the container between the 30g and 40g marks (though from the angle of photo below, it might appear that it's higher than 40 grams).
After placing the coffee into the container, the instructions give you an optional step to wet the grinds and/or lay a paper filter on top to help distribute the water evenly. I opted to not wet the grinds and used one of the included paper filters. I then assembled the coffee container to the tumbler and moved onto the next step.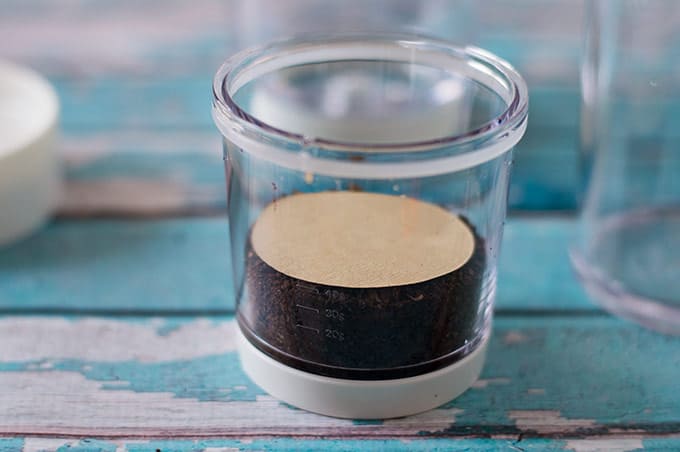 The next step is to fill the reservoir with water! The instructions on paper simply say to fill the reservoir with cold ice water. I use filtered water from my fridge (that's really cold, actually - good job, fridge!), so I decided to skip the ice cube part. I then placed the reservoir onto the tumbler.
You'll see in the photo below that I poured in the water with the reservoir just sitting on the table, which is fine, however the reservoir does have a dripping hole at the bottom, so if you don't secure it to the tumbler immediately after pouring, you will end up with a tiny puddle on your table (or even a big puddle if you walk away for hours, forgetting you were making cold brew in the first place).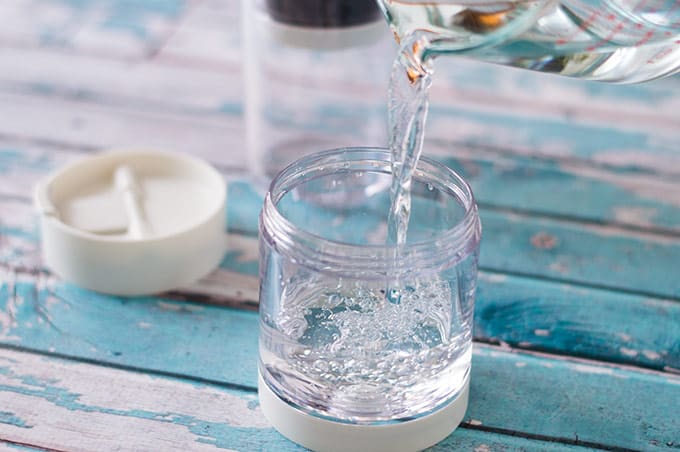 After that, I let the magic do its work. It took about two hours for the brewing to complete, though near the end, the water stopped dripping at one point and I had to give the tumbler a little tap and shake to get things moving again. The instructions even provides a tip for you to adjust the seal between the reservoir and coffee tumbler, so it's not as tight, to allow the water to drip through. I had done that, but the water managed to be finicky anyway. Still, that wasn't a huge deal-breaker for me.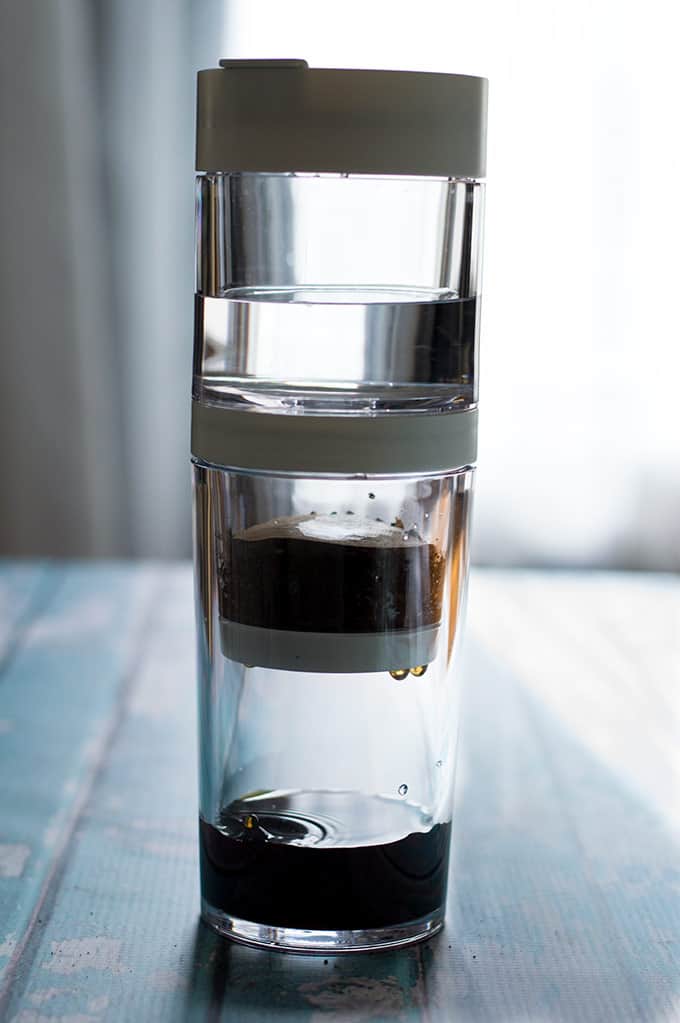 Clean-up was pretty easy. Because the grinds are in a small container, they'd be easy to scoop/scrape out if needed. It all just slid out into the trash for me. The instructions recommend you only hand wash all of the parts. My one gripe with clean-up is the dripping hole doesn't detach from the reservoir and takes longer for that container to dry as a result.
As for the taste of the cold brew, I was pretty pleased! I'm still figuring out the right coffee to water ratio with the DRIPO. With cold brew concentrate made from something that's brewed for hours and hours, I tend to go with a 1:3 coffee to water ratio (I usually drink my coffee black). With the DRIPO, using that same ratio would dilute the beverage like mad. More coffee than water works best for this.
The DRIPO is a cool option for anyone who wants to make a couple servings of cold brew at a time. I could see this being useful for someone who wants to have cold brew at work! If I still had my games industry job, I am sure I'd have this on my desk there. I think it would also be useful for traveling. If we end up going camping next year, chances are this is coming with us. All in all, I'm a fan of this little cold brew maker.
If you're interested in purchasing the DRIPO yourself, you can find it on Amazon!
---