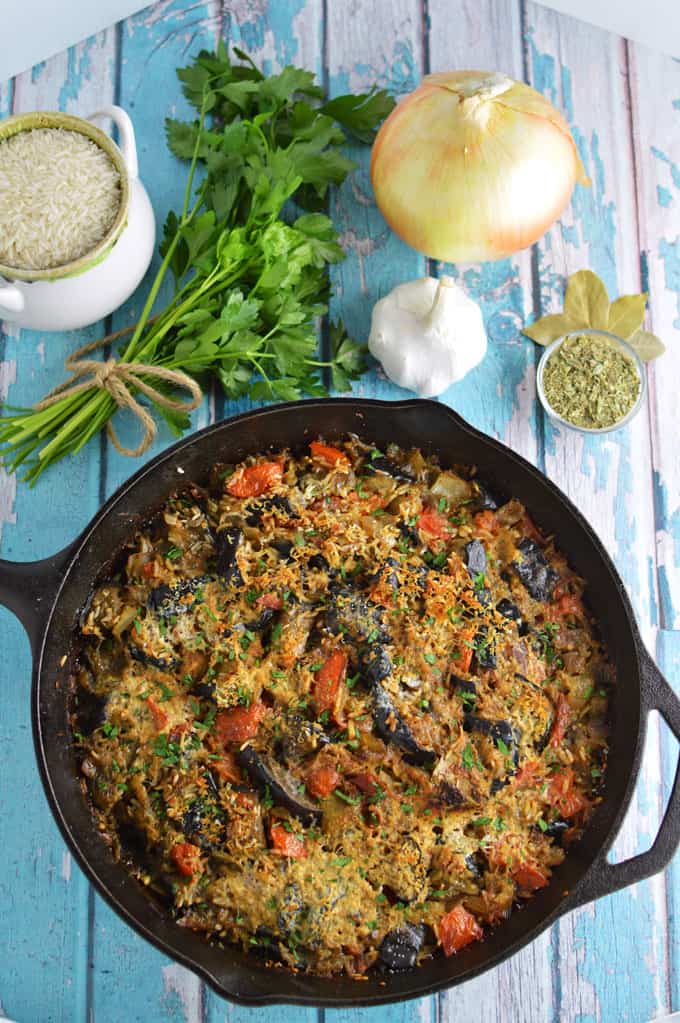 You guys!
Sunday was a big deal for me. And I didn't even realize it was a big deal until a couple of days ago! I've been so busy lately,  I haven't paid much attention to the dates.
Sunday marked the four year anniversary of me quitting smoking. I last bought a pack of cigarettes on October 11th, 2011, smoked maybe a couple cigarettes from that pack, and got rid of the rest. And I haven't looked back since. Yay for smoke-free living!
I think I missed it because I was too busy playing catch-up on blog stuff along with everything else. With working overtime the last couple of weeks, it's been a little tough keeping up with life!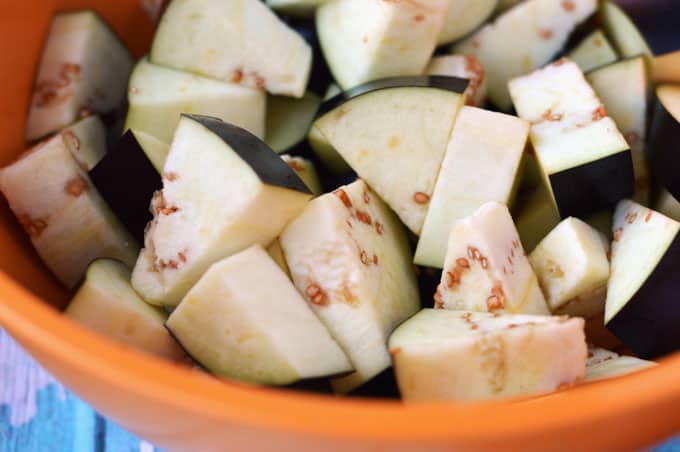 Moving on, how do you feel about one pan meals? I think they're awesome and I honestly don't make them enough. Easier clean-up is always nice, right? I'm into it.
Today's tasty one-pot meal is one pot Greek eggplant and rice! I used my 12-inch cast iron skillet to make this and it was a perfect size for it. It's easy to make and can be served as a side or main. Serves about six as a side and four as a main dish.
I love topping mine with mizithra cheese and butter before putting in the oven, but if you're dairy-free or vegan, you can omit those ingredients. I also make mine with chicken stock, but vegetable stock is a great option too!
If you're in need of a healthy, easy weeknight meal, I vote you make this! And let me know how you liked it. <3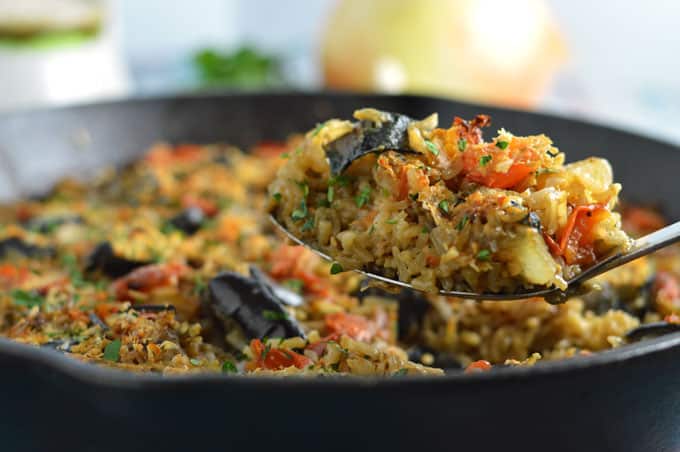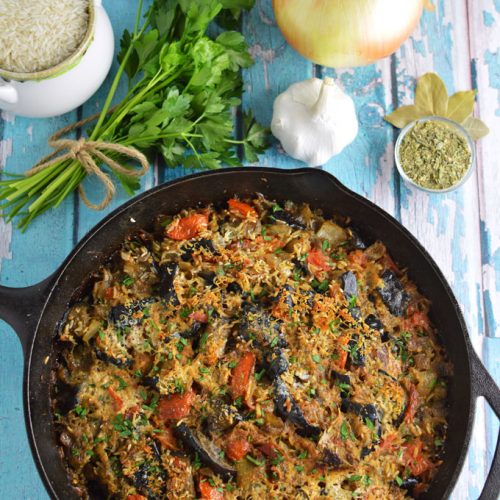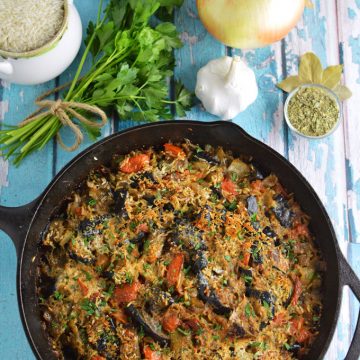 Ingredients
1

medium eggplant

,

about 1 pound

1 ½

cups

chopped sweet onion

3

vine tomatoes

,

seeded and chopped

4-6

garlic cloves

,

minced

¼

cup

olive oil

2

teaspoons

kosher salt

freshly ground black pepper

1

teaspoon

dried Greek oregano

1

bay leaf

1

cup

long grain rice

2

cups

chicken or vegetable stock

½

cup

grated mizithra cheese

,

optional

2

tablespoons

butter

,

optional

1-2

tablespoons

minced parsley for garnish

,

optional
Instructions
Preheat oven to 400 degrees.

Slice the eggplant crosswise in ½ inch slices, then cut into 1 inch pieces.

Preheat oil in a 12-inch cast iron skillet over medium-high heat.

Add eggplant and stir to coat with the oil. The eggplant may soak all of the oil; this is okay. Add 1 teaspoon of the salt and continue to saute for five minutes, until the eggplant has softened.

Add onions and saute for another five minutes. The eggplant and onion will both melt down slightly.

Add tomatoes and garlic and cook for an additional minute. Season with the remaining salt, black pepper, and oregano.

Add rice and bay leaf and stir to combine.

Stir in chicken stock, top with grated cheese, and dot with butter.

Place in the oven, uncovered, and bake for thirty minutes, until all the liquid has been absorbed.

Remove from oven and let cool. Taste and adjust seasoning if necessary.

Garnish with parsley and serve!
Notes
Omitting the cheese and butter and using vegetable stock makes this dish vegan friendly!