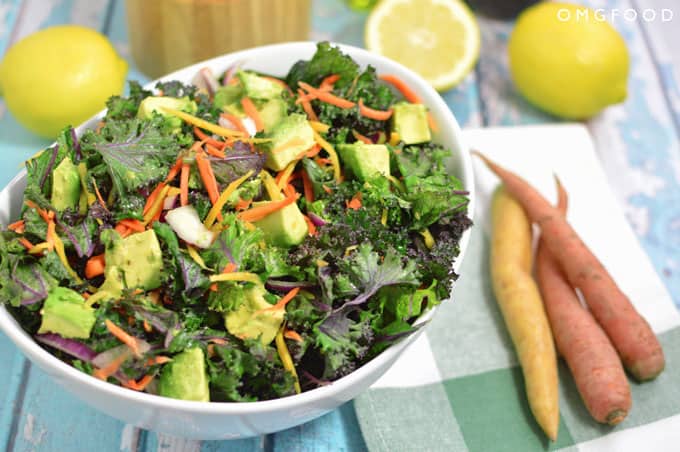 Updated on July 10th, 2015:  Simple Kale Salad was the fourth post on OMG FOOD, back when I also purchased a DSLR for the first time and I had no idea what I was doing (I still don't know, really)! I've updated this post with a new photo, new title: Kale and Avocado Salad, and a "new" recipe with instructions that make better sense.
Originally published on February 26th, 2014.
---
Kale has become a staple in our kitchen the last few months. If you were to look in my fridge each week, you are almost guaranteed to find some in there. I can't guarantee that 100% because there's always the chance it will all have been eaten before the next trip to the grocery store.
Anyway, I'm trying to tell you here that I'm really into kale and one of my favorite things to make with kale is this kale and avocado salad. Moving on.
Sound boring? Only if you make it so! Whenever I cook with kale or make salads, I make sure to dress it include properly. Because, yeah. Kale as is? It is kind of boring in my opinion! It can also be a tough and bitter to eat raw without preparing it the right way. How do you prepare it for raw foods such as salads? You massage it!
That might sound weird, right? Massaging your food? Here's the deal. Kale is great for cooking, right? It's a strong green that holds up really well when sauteed or put in stews. That tough bitterness will cook away.
In order to get rid of those things for raw foods, you have to massage it. Place the kale leaves in a large bowl and add some salt, then use your hands to massage the kale for about a minute or two. As you're working the kale, you'll start to see it transform. It becomes softer and wilted and when you taste it, it should be sweet and the opposite of tough. Silky?
That's all there is to it with the kale. Because salt is being used for the massaging process, you won't need to add more than that when you add dressing. By the way, even though I don't call this "simple kale salad" anymore, I am still keeping it simple with the remaining ingredients. All you need is extra virgin olive oil and lemon for the dressing. And I love to add carrots, red onion, and avocado! Optional: use red kale and rainbow carrots to give more color!
A pretty kick-ass summer salad if I say so myself.
📖 Recipe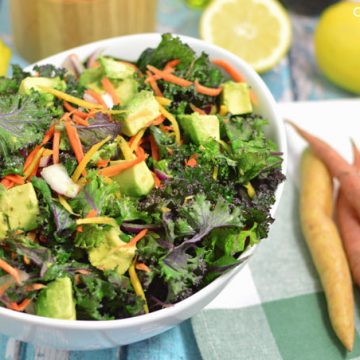 Ingredients
1

bunch of kale

,

washed, stems discarded, and leaves chopped (about 8 cups)

½

teaspoon

kosher salt

2

cups

carrots

,

julienned (I use this mandoline)

½

small red onion

,

sliced

1

avocado

,

peeled, pitted, and cut into small cubes

¼

cup

extra virgin

1

small lemon

,

juiced
Instructions
Place the kale in a large bowl and sprinkle with salt. Using your hands, massage the kale for one or two minutes, until the kale has broken down and feels soft and silky.

Add carrots and onions and mix to combine.

Add avocado and gently toss to combine.

In a separate bowl, whisk together the olive oil and lemon juice.

Pour the dressing over the salad just before serving.
Disclaimer: This post contains Amazon affiliate links, which means I may make a small commission if you make a purchase through them. I only recommend items I personally own and love.