Preserved lemons are a key ingredient in Eastern Mediterranean cooking. They add depth and a boost of umami you just can't get from using fresh lemons. All you need to make them are lemons, salt, and a little bit of patience.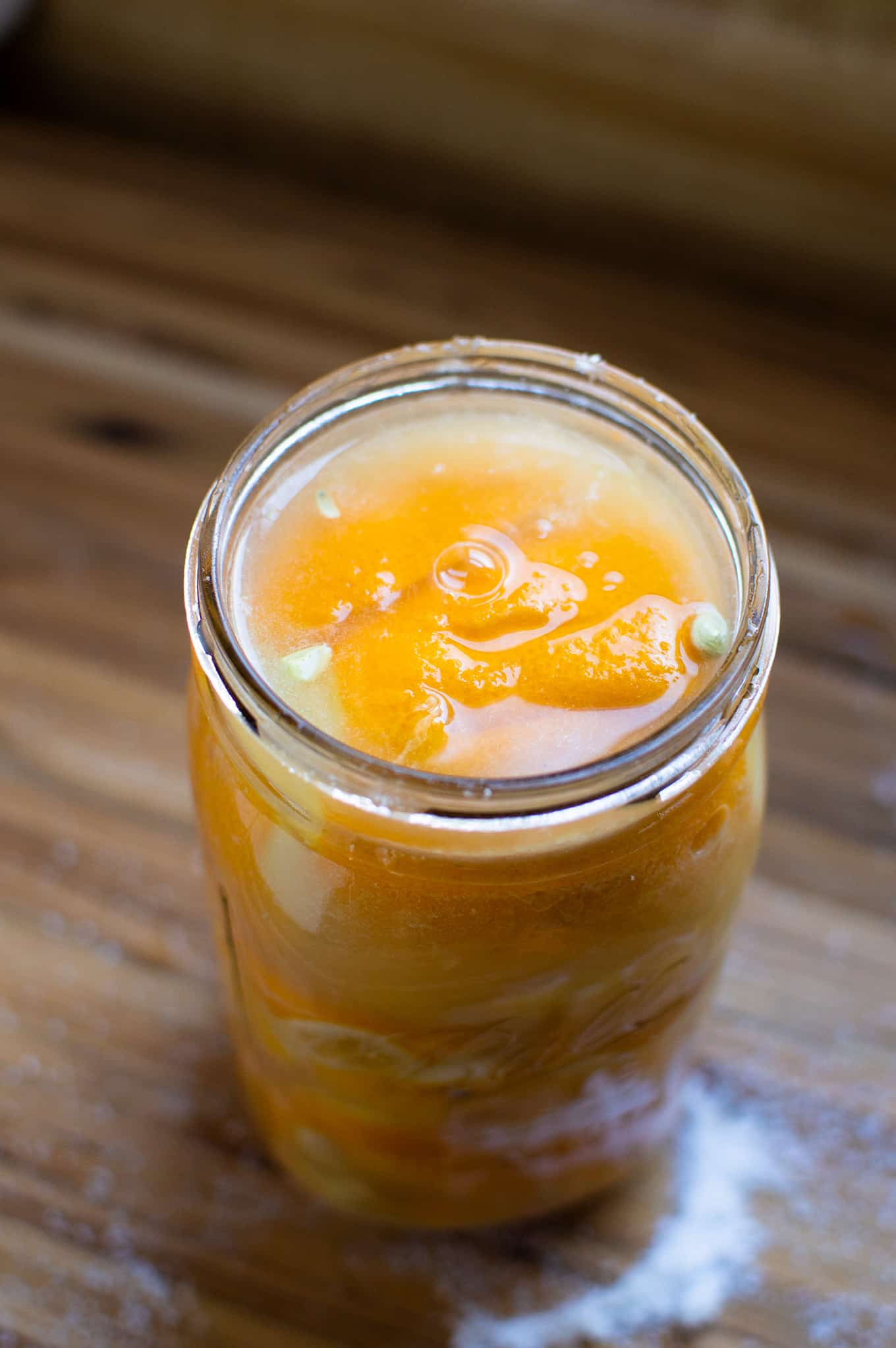 Happy July, friends!
I've been wanting to share this preserved lemons post with you for months and months (no, really: I took these photos in February 2017 - yikes!) and I'm glad to finally have it out in the world. There are plenty of other photos I need to sort through still for future posts, but you know, one thing at a time and all that.
There are different ways you can preserve lemons; some recipes include a blend of salt and sugar rather than just salt, some with black peppercorns, and others with spices like cinnamon, cloves, etc. The type of lemons used can vary too; I alternate between regular and Meyer lemons myself (I used Meyers for this post). All variations are great; I decided to keep this post on the simplest side by just using salt.
How to Preserve Lemons
It's important you start with an impeccably clean glass jar because you'll be storing these in the fridge for a while, both for the preserving process and indefinitely after that until you use the lemons up. Wash the jar in hot soapy water or in a hot setting of your dishwasher (I use the sanitize setting on mine).
Using a brush, scrub the lemons under cold running water and pat them dry. Then slice off the end of each lemon. You want to quarter them from top to bottom, but leave them attached at the bottom by about half an inch.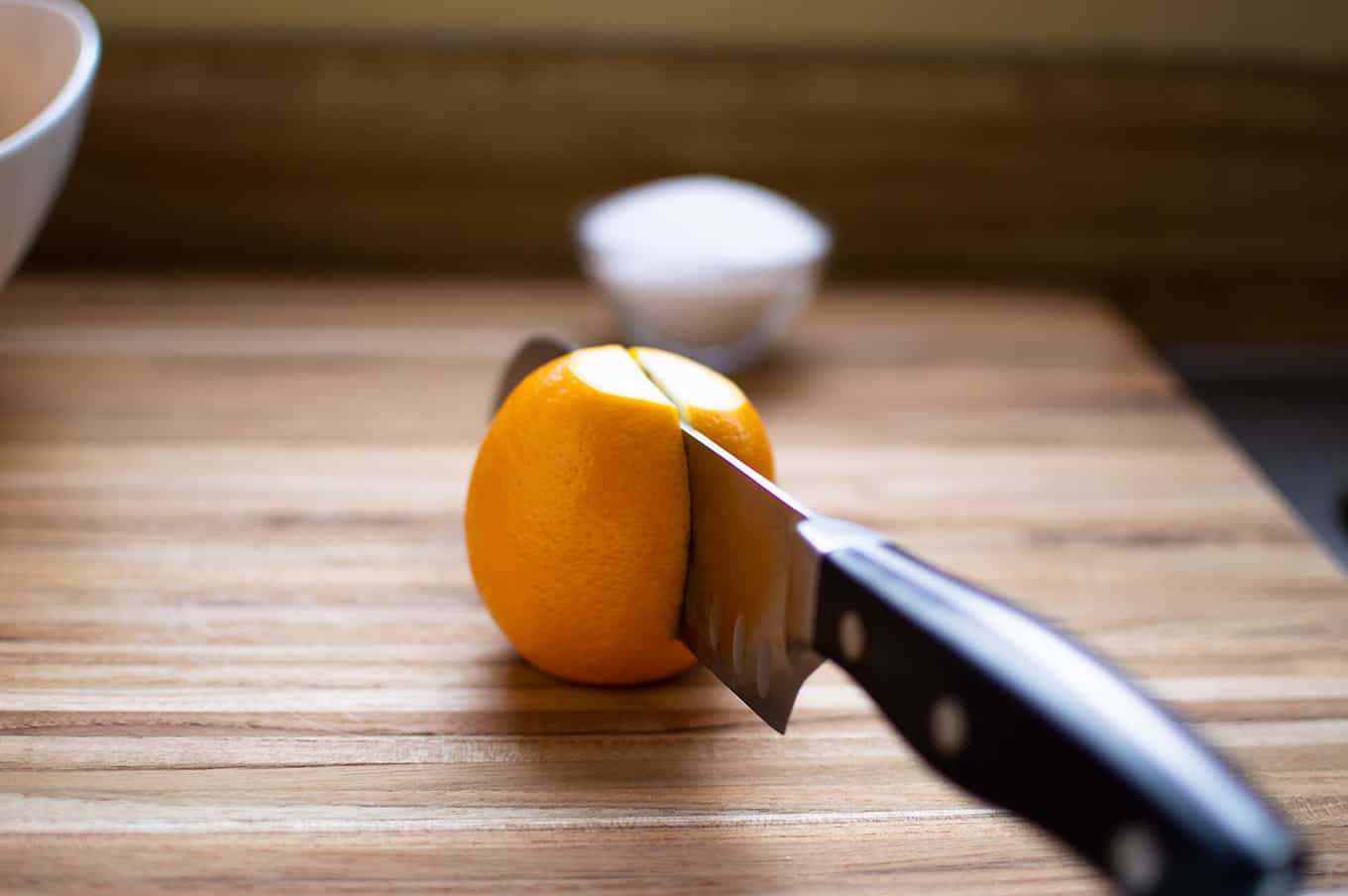 Open the lemons slightly and sprinkle with kosher salt all over (about a tablespoon of salt per lemon). Close and reshape its lemon after salting.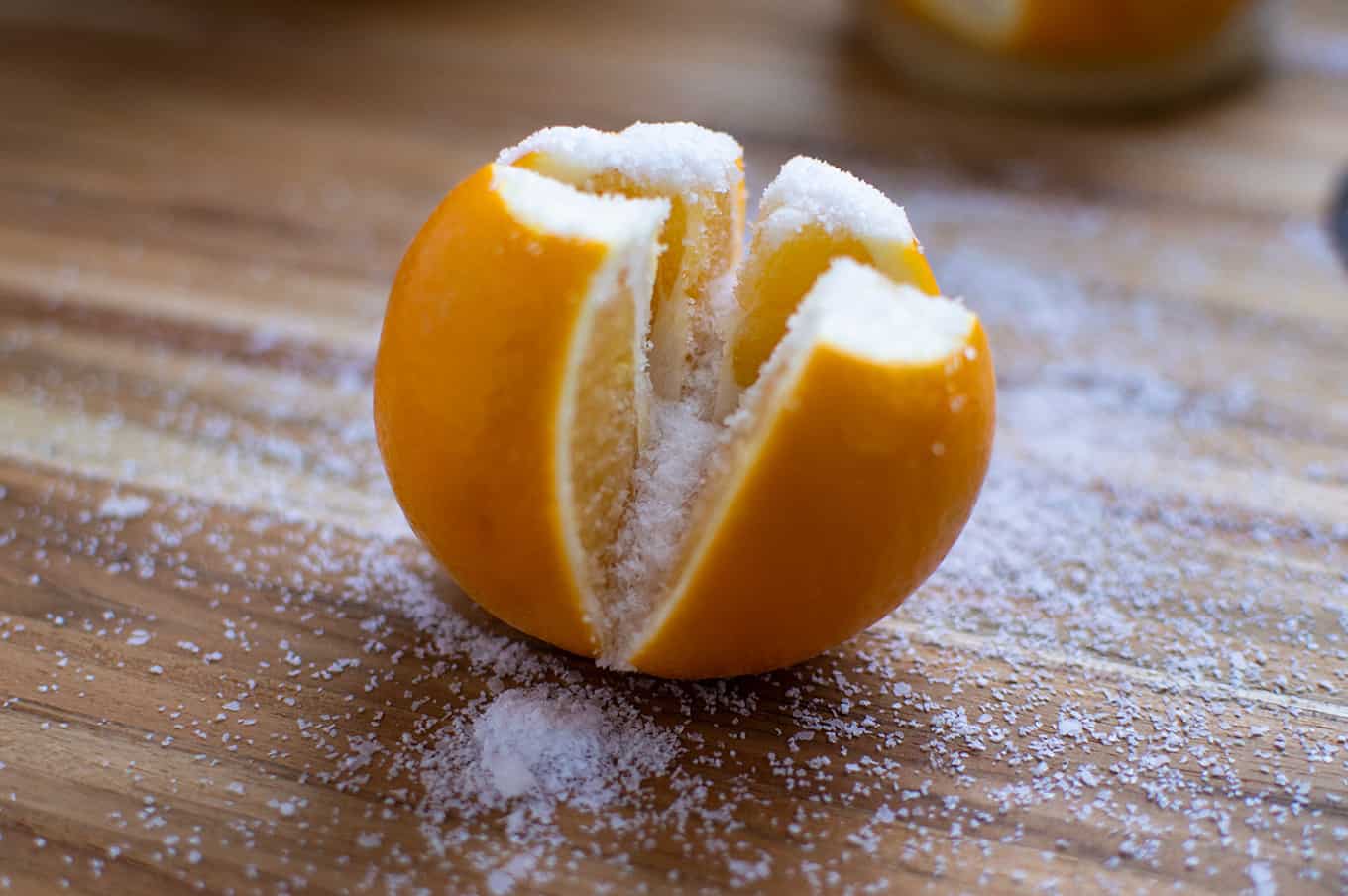 You also want to add salt to the bottom of your glass jar. I find I can fit six Meyer lemons in a quart-sized mason jar depending on size, but if you have a larger jar or a couple laying around, use what works best for you. Alternately, you can use a smaller jar with 4-6 lemons instead. Whatever floats your boat!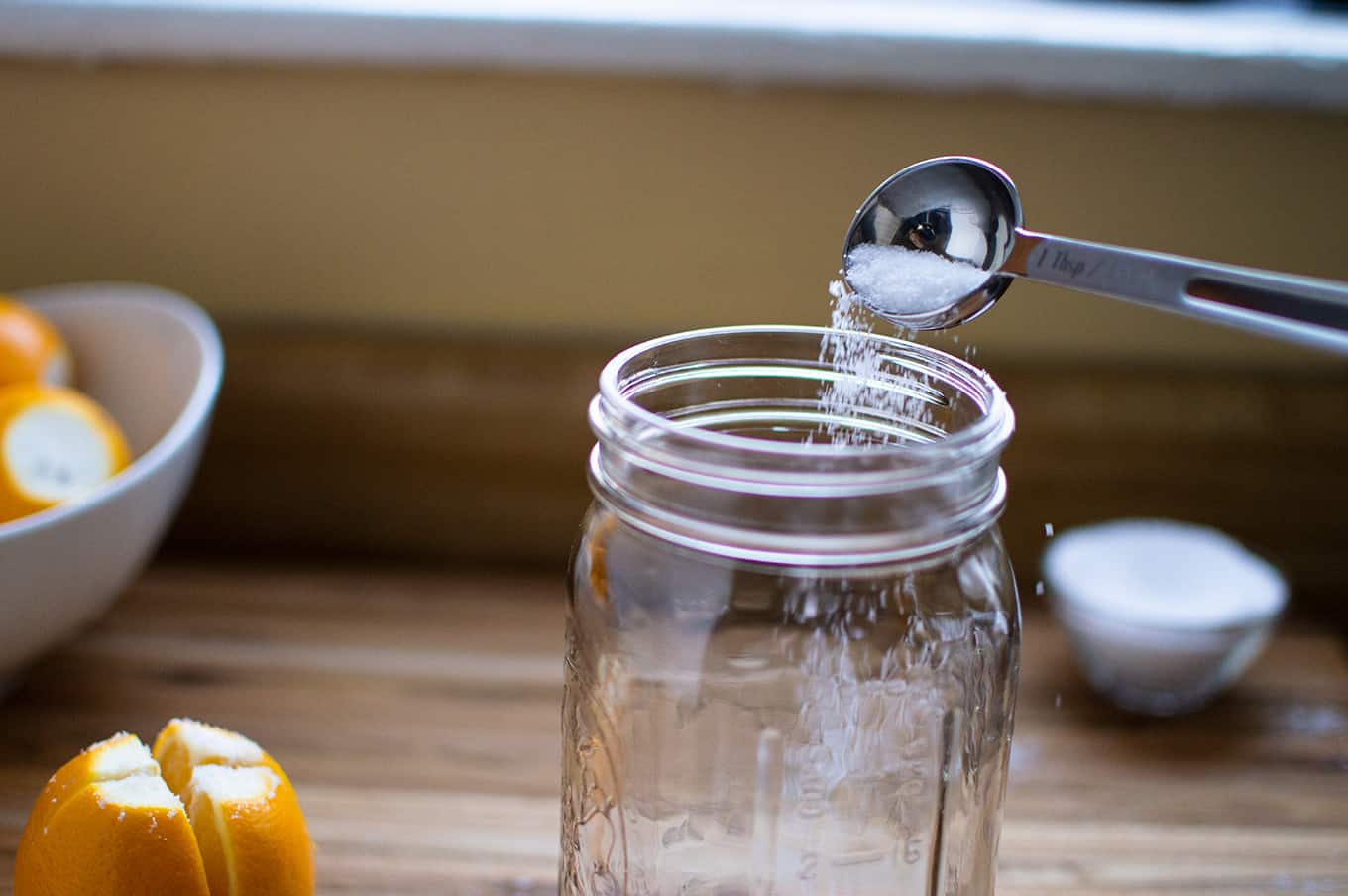 Add the lemons, one or two at a time, and pack them down either using the back end of a wooden spoon or a muddler if you have one. Allow the juice to be released and don't sweat it if some of the lemons break apart. You want the lemons to be covered in their own juice. That's the important part here.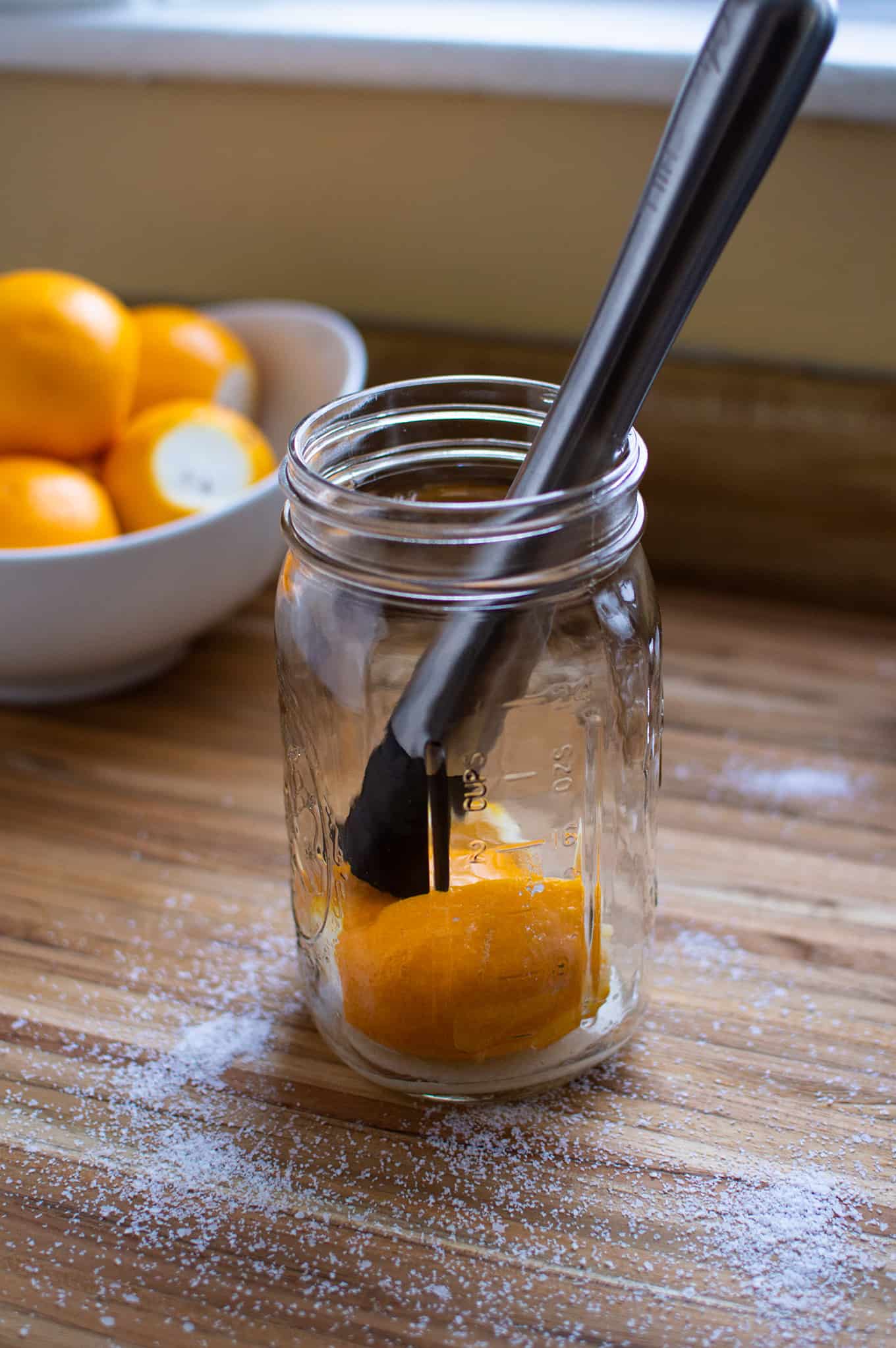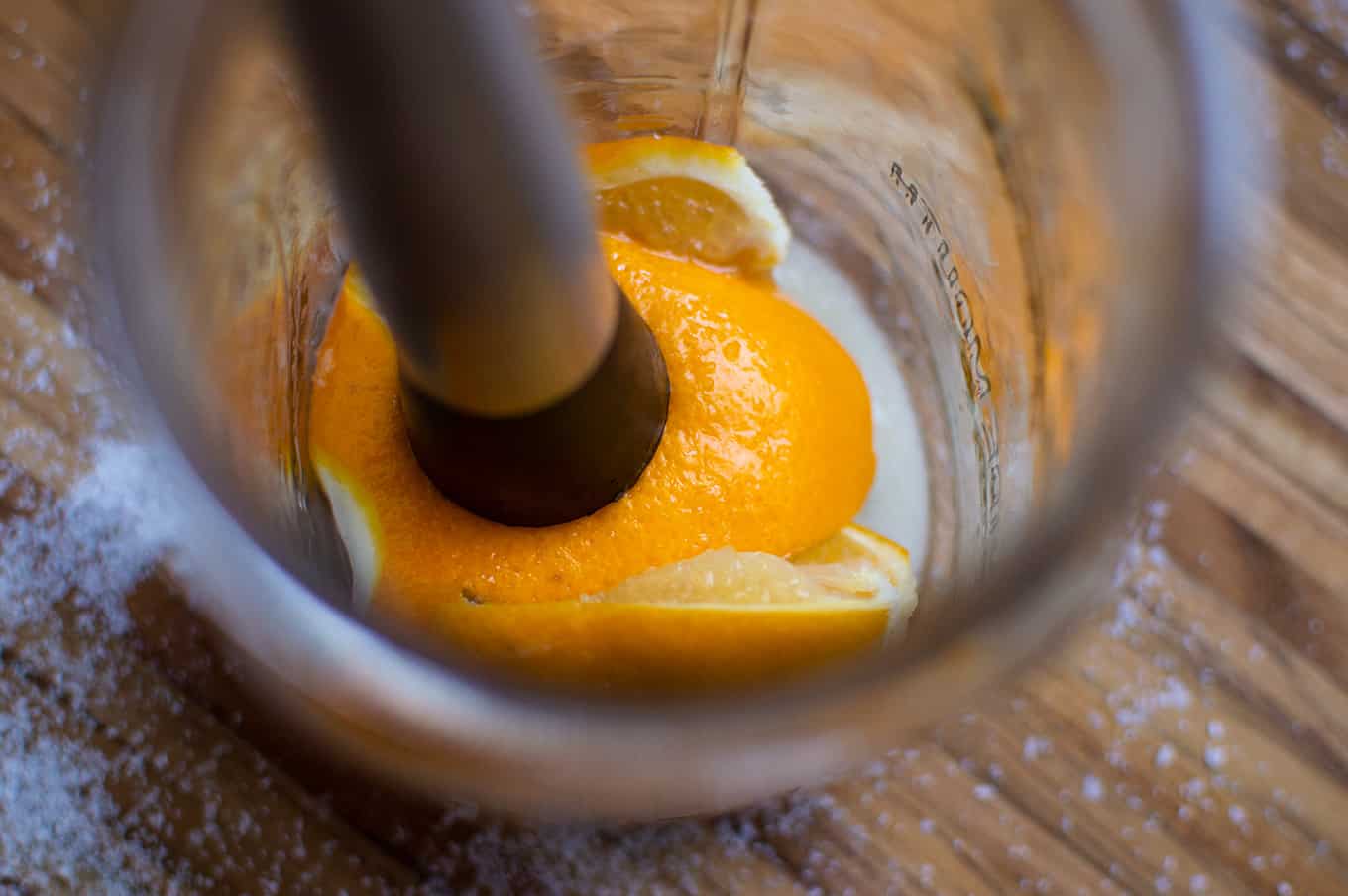 Once you've added all the lemons to the jar, top with a final amount of salt and pack them down some more. If the lemons aren't covered in juice, you'll want to add more freshly squeezed lemon juice. Don't replace with water and don't use bottled lemon juice either.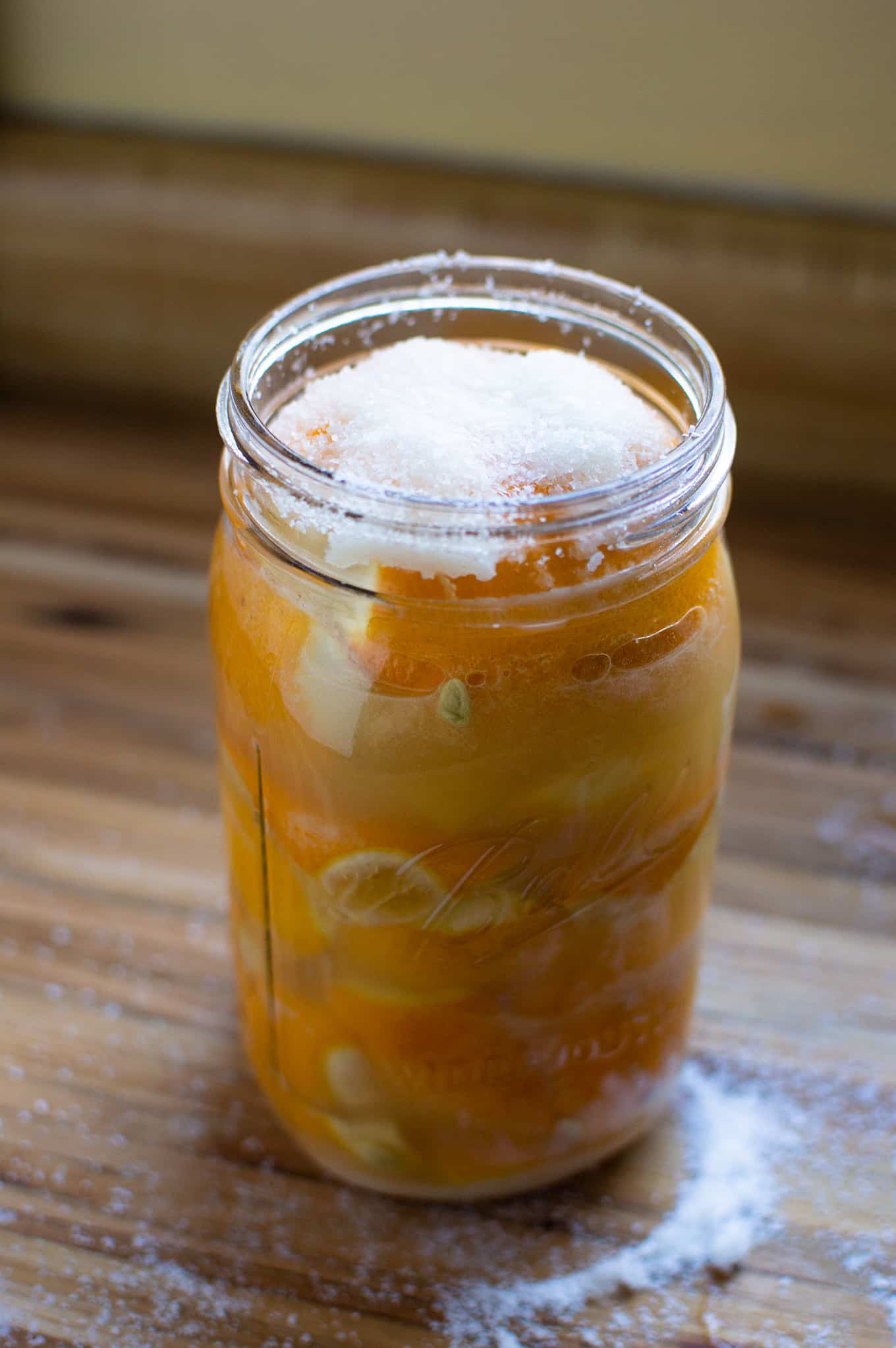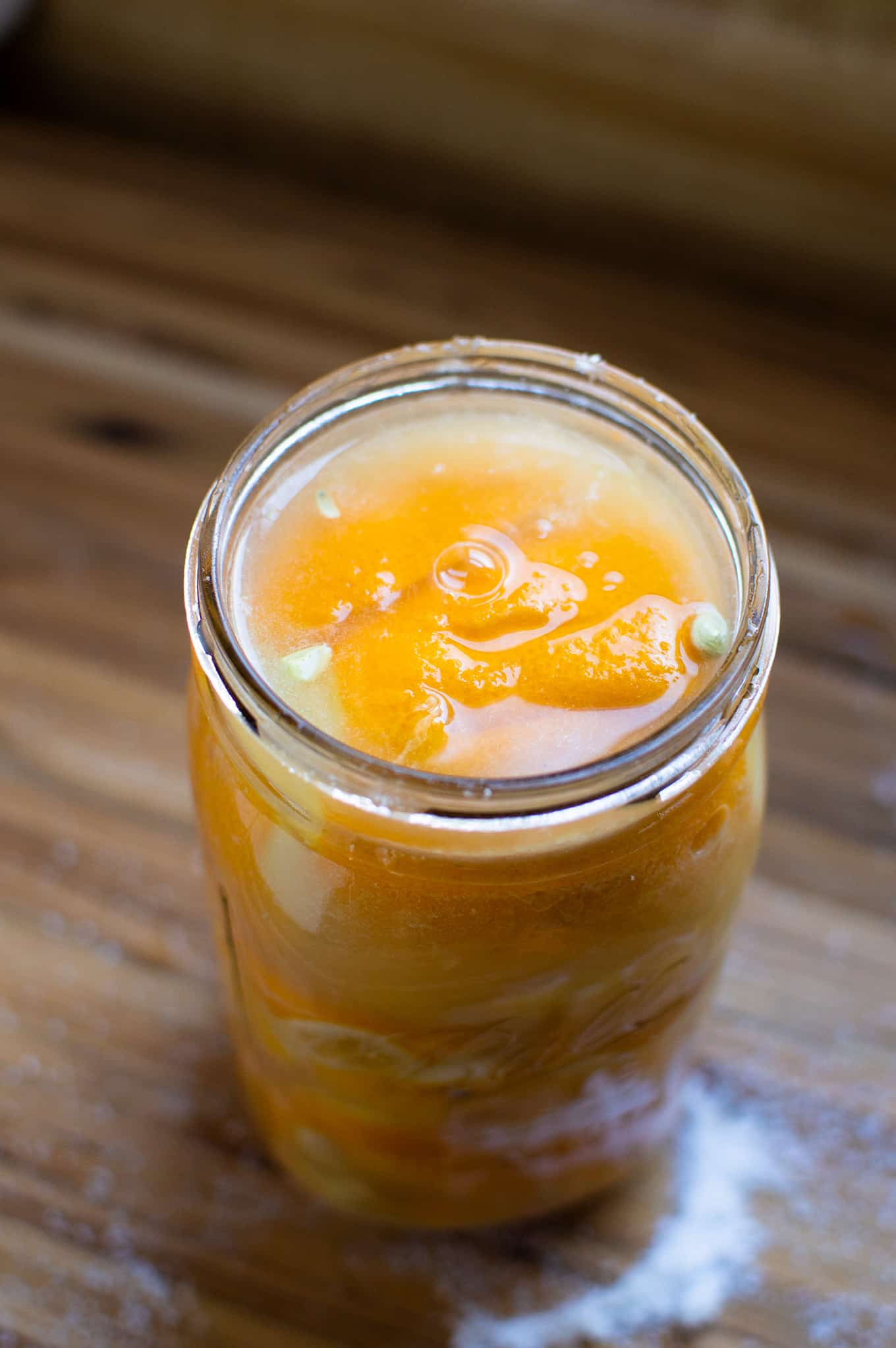 From here, cover with a tight lid and pop it in the fridge for a few weeks, shaking the jar a little bit each day. There are other recipes that call for leaving the lemons out on the counter for the first few days or week before moving them to the fridge. I find putting them immediately in the fridge works perfectly fine.
And that's it! Stay tuned for some recipes on the blog using this amazing goodness.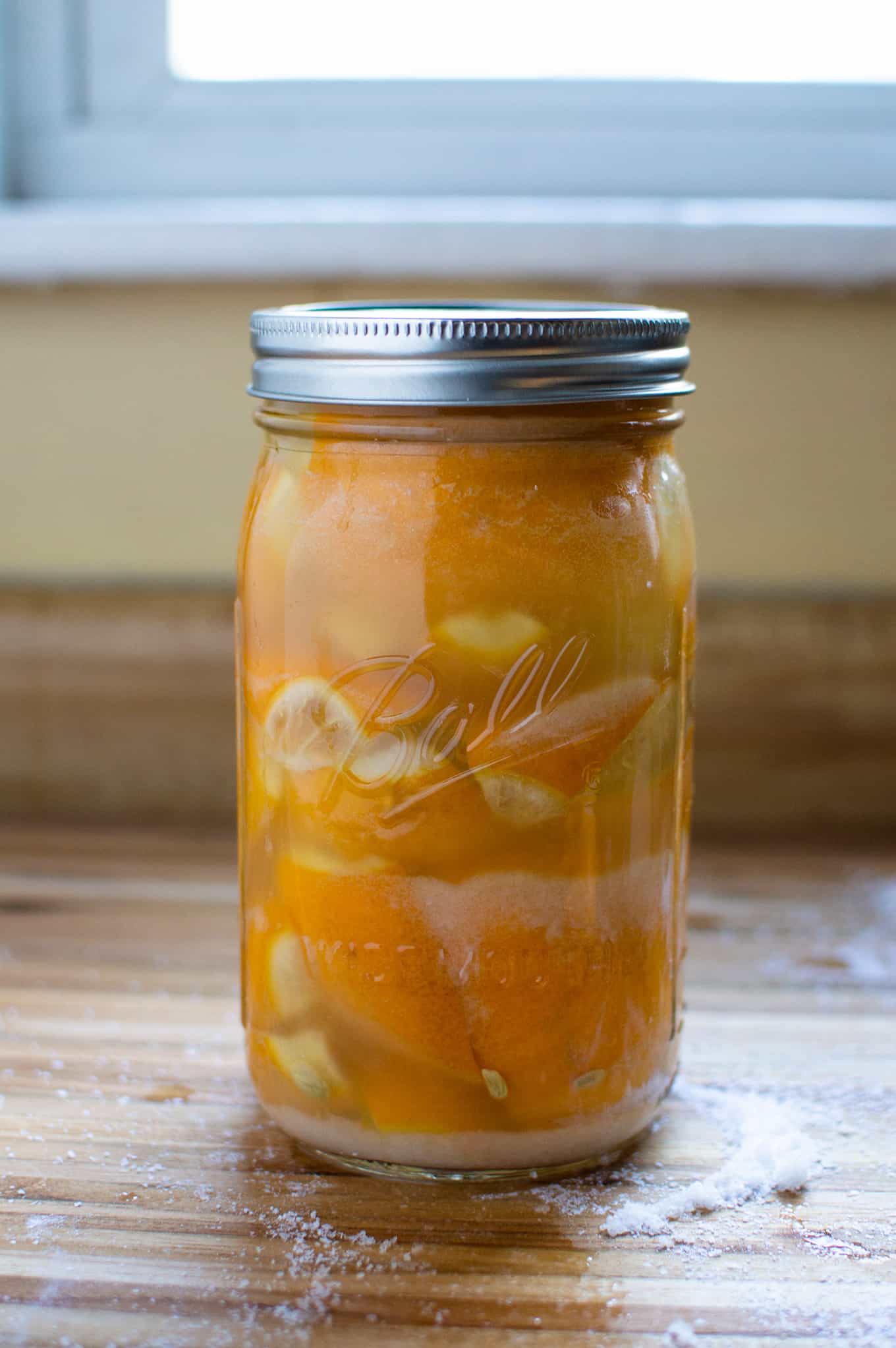 Kitchen Tools Used
Chef's knife (a paring knife works too)
One or two quart-sized mason jars (depending on lemons amount and size)
Muddler or wooden spoon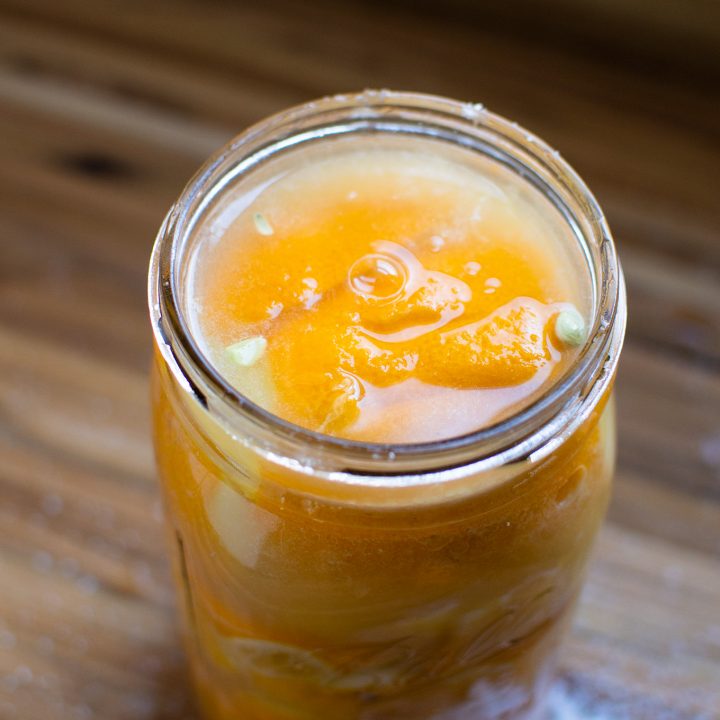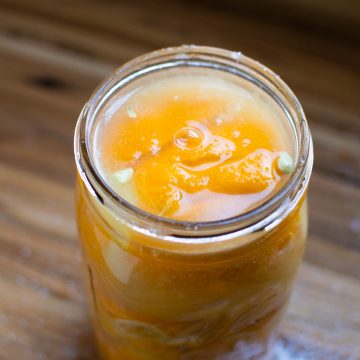 Ingredients
6-8

lemons

½

cup

kosher salt

,

plus more as needed

freshly squeezed lemon juice

,

as needed*
Instructions
Scrub each lemon under running water and pat them dry. Slice off the ends from each lemon, so that they have flat tops and bottoms.

With a lemon standing on its flat end, quarter it with a knife from the top to half an inch from the bottom, leaving it attached on one end. Repeat for the remaining lemons.

Slightly spread open each lemon and add a tablespoon of kosher salt to each, making sure to cover the exposed flesh. Reshape the fruit.

Add another tablespoon of salt to the bottom of a glass jar. Add the lemons one or two at a time. Using a muddler or back end of a wooden spoon, pack them in and let the juice squeeze out to allow more room for the rest of the lemons (don't worry if any lemons break apart).

After you've added all the lemons to the jar, sprinkle with another thin layer of salt and squeeze them down some more. If the juice released doesn't cover the lemons, add more freshly squeezed lemon juice (do not use water or bottled lemon juice).

Close the jar and store in the refrigerator to ripen, shaking the jar every day for three to four weeks.
Notes
Aside from the lemons you're preserving, it's good to have a couple more handy in case you need more juice to top the lemons with. I always purchase 2-3 more depending on size. If you don't end up needing them to add to the jar, you can use them for plenty of other recipes or even cleaning your microwave!