Maroulosalata is a very simple and popular Greek salad made with thinly sliced or shredded lettuce, scallions, dill, and vinaigrette. It's usually made with romaine lettuce and cucumbers can also be added too! Serve alongside your favorite dish with crusty bread and feta.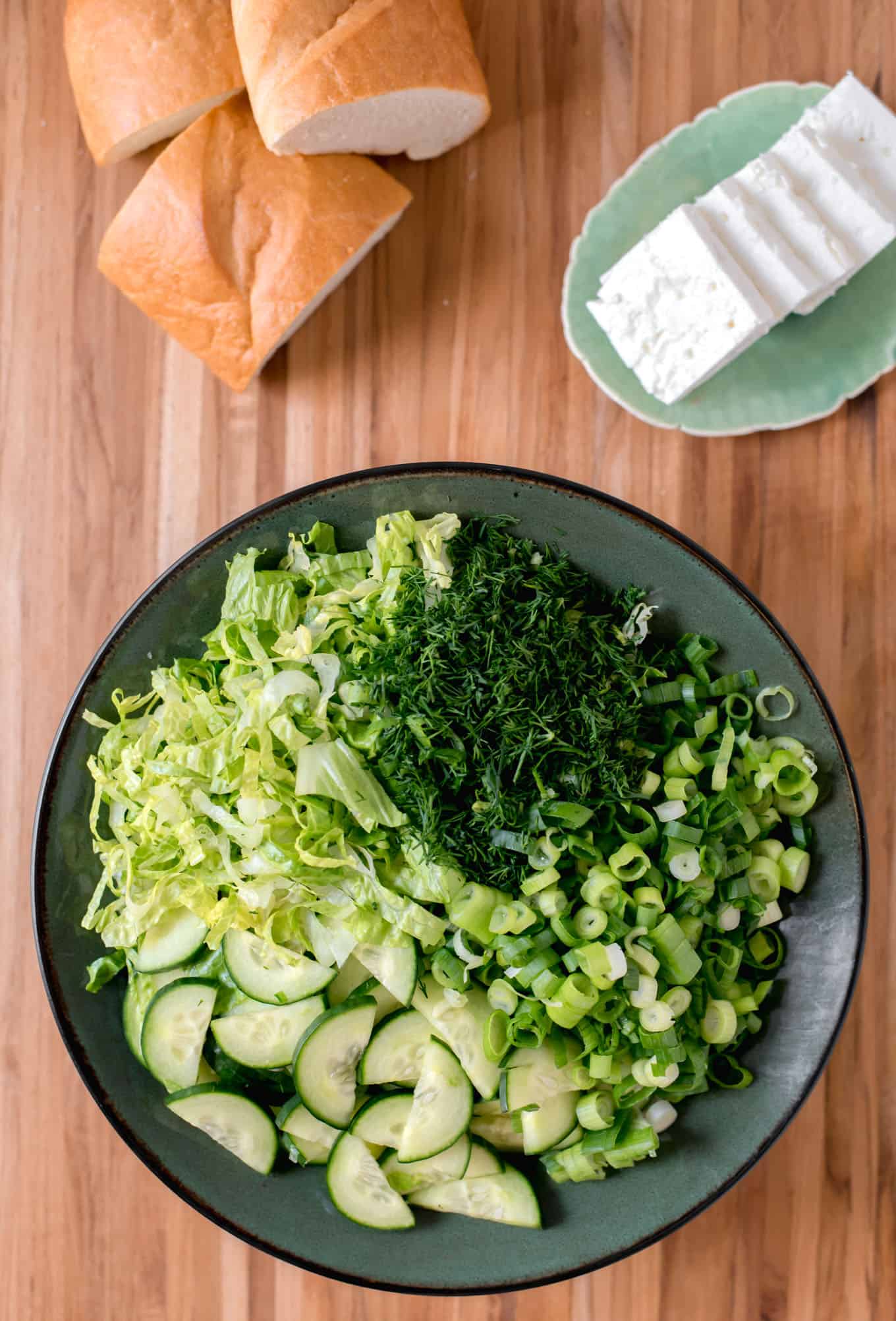 Updated on September 3rd, 2018: New written content, new recipe instructions, and new photos. Huzzah!
Originally published on June 17th, 2015.
---
Hello friends!
Today, I'm updating you on an oldie but goodie: maroulosalata. Maroulo is the Greek word for lettuce and it's traditionally made with fresh dill, scallions, and a simple vinaigrette. It's usually served alongside grilled or roasted meats; I especially love it with broiled lamb chops. It's one of my favorite Greek salads! I felt it was time to give this post a little facelift with new photos and content.
My mom is basically the queen of making this salad. Although it has simple ingredients, I can never quite make it the way she does; I think it's all about that vinaigrette, really. And forget about asking her for an exact recipe because the answer is "a little salt" and "some sprinkles of rigani." Typical Greek mom.
The lettuce is meant to be sliced very thin (think shavings or a maybe even a chiffonade). It can be sliced in slightly wider strips, but not more than a centimeter wide. I use my chef's knife to slice the romaine, but if you have a food processor, you can use the slicer attachment to shred the lettuce too. I've owned this one for a few years and it works great (though honestly, I think using a knife and cutting board makes for easier clean-up and it doesn't take long to prep).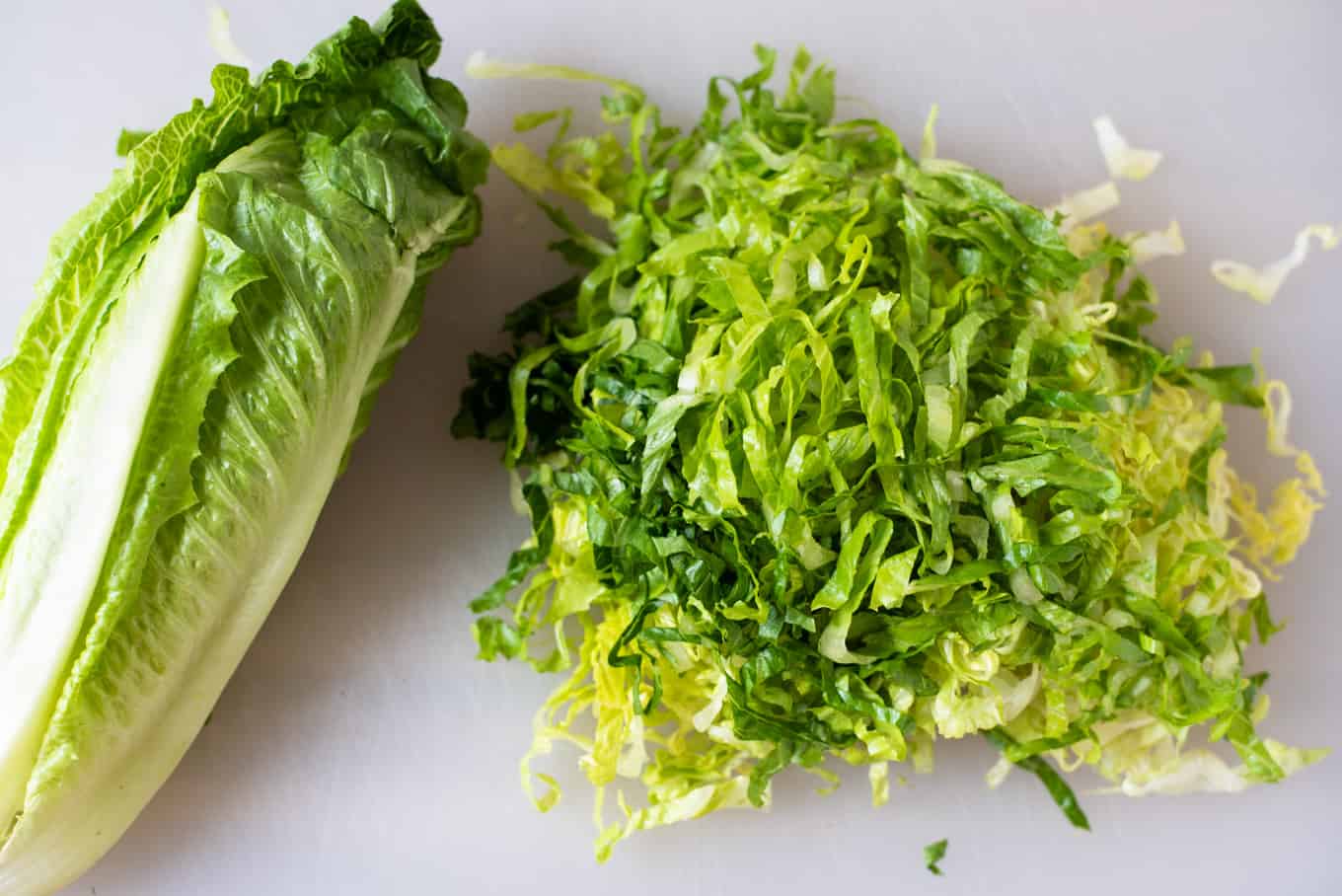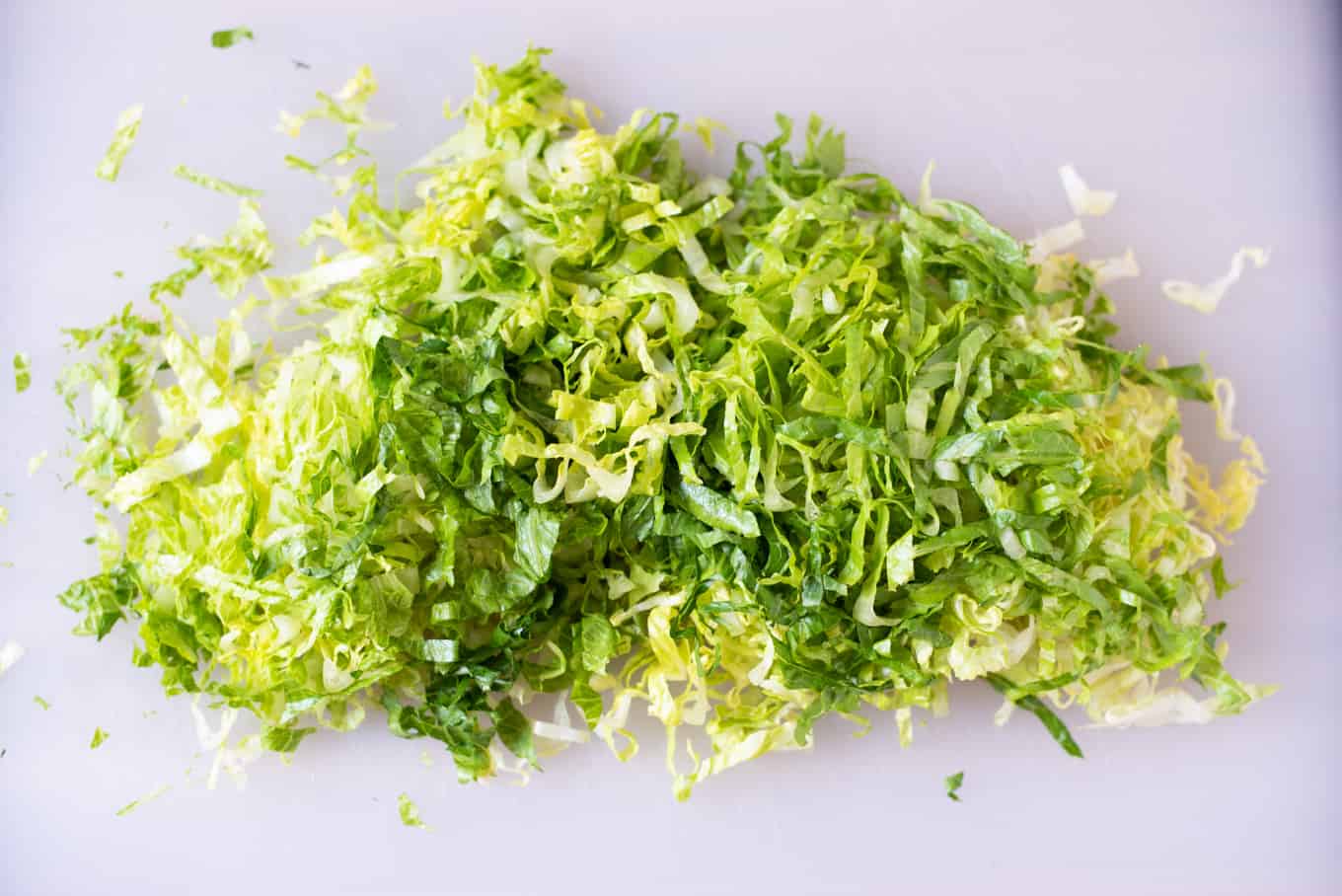 My mom always added cucumber to the salad, which isn't all that uncommon for maroulosalata (depending on who you ask anyway), but it's important to note that English/European-style cucumbers were used. My mom wouldn't have it any other way! She also never cared for dill all that much and never added it to her salad, but we don't need to tell her that I'm including it here, right? 😉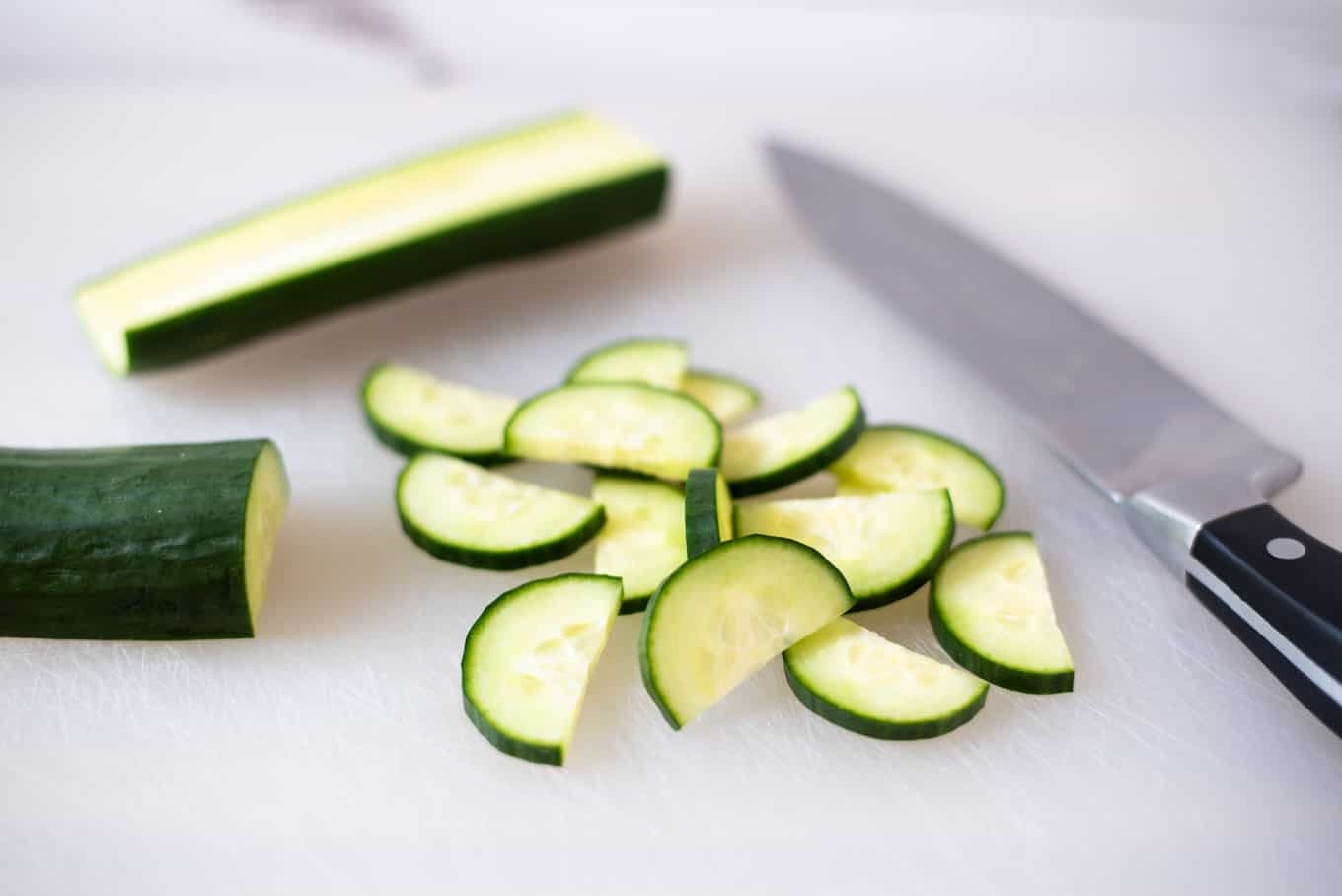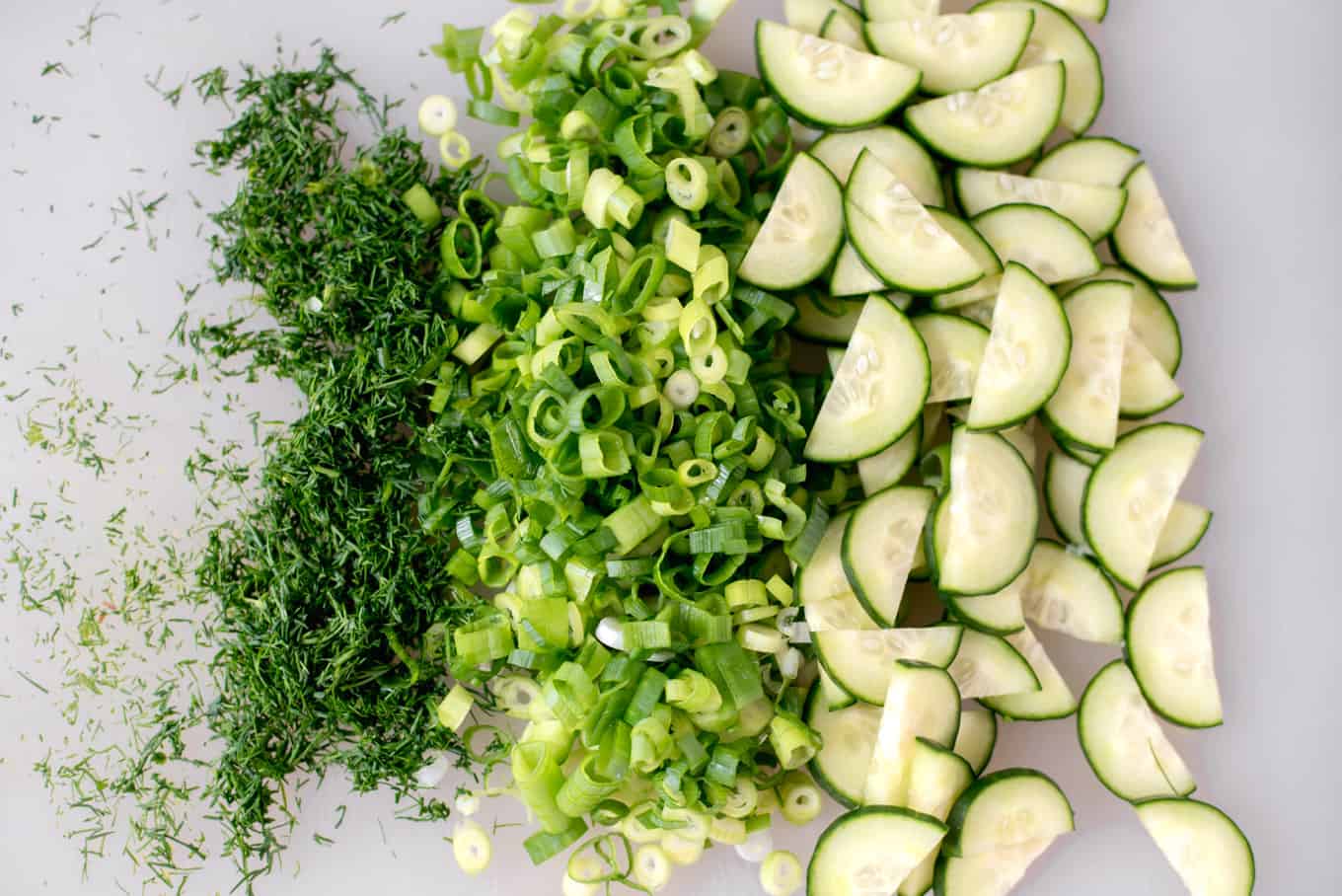 Aside from whatever main dish you serve the salad with, don't forget the crusty bread and feta cheese! Go taverna-style and place the feta on a plate sprinkled with a little rigani and a touch of olive oil. <3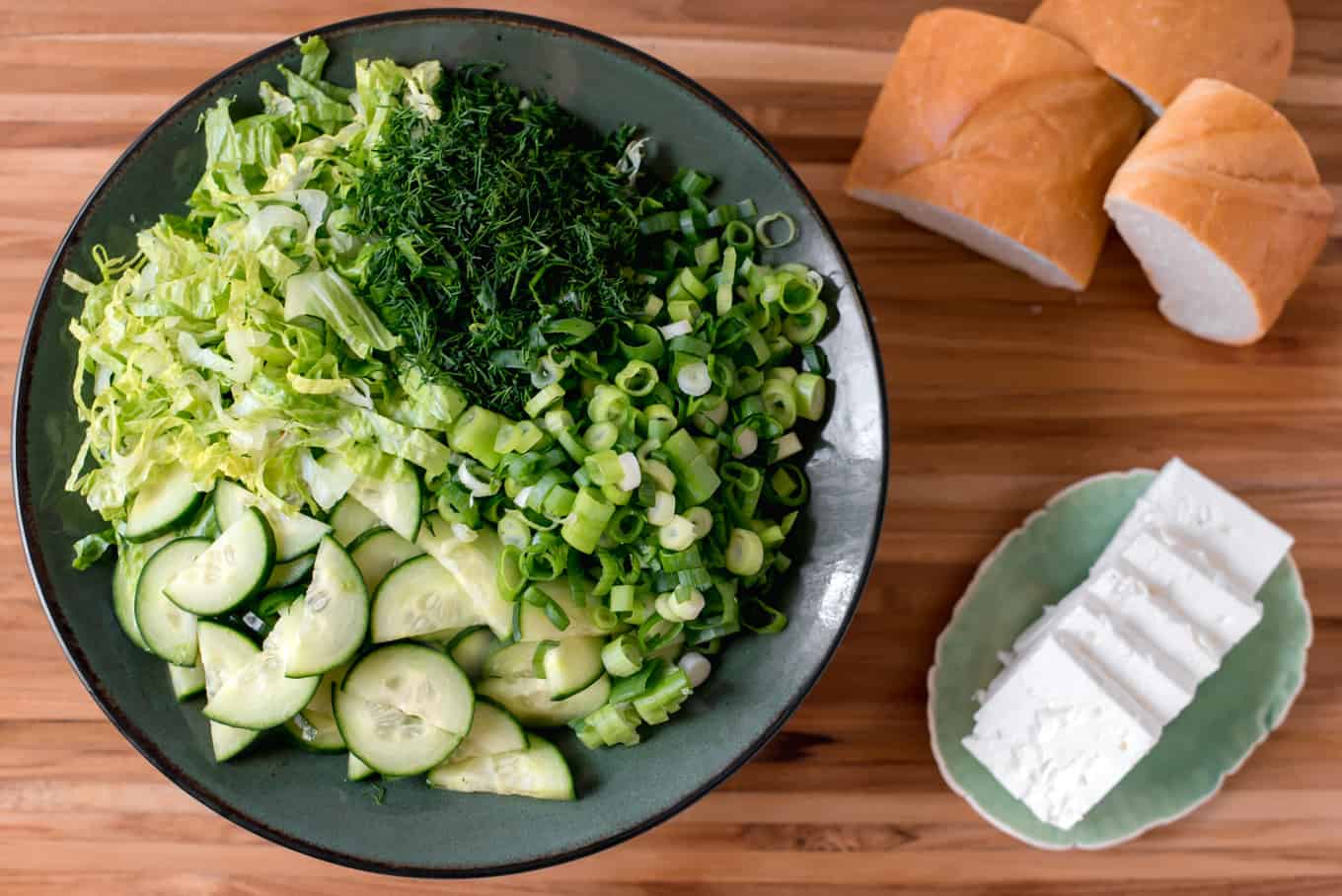 📖 Recipe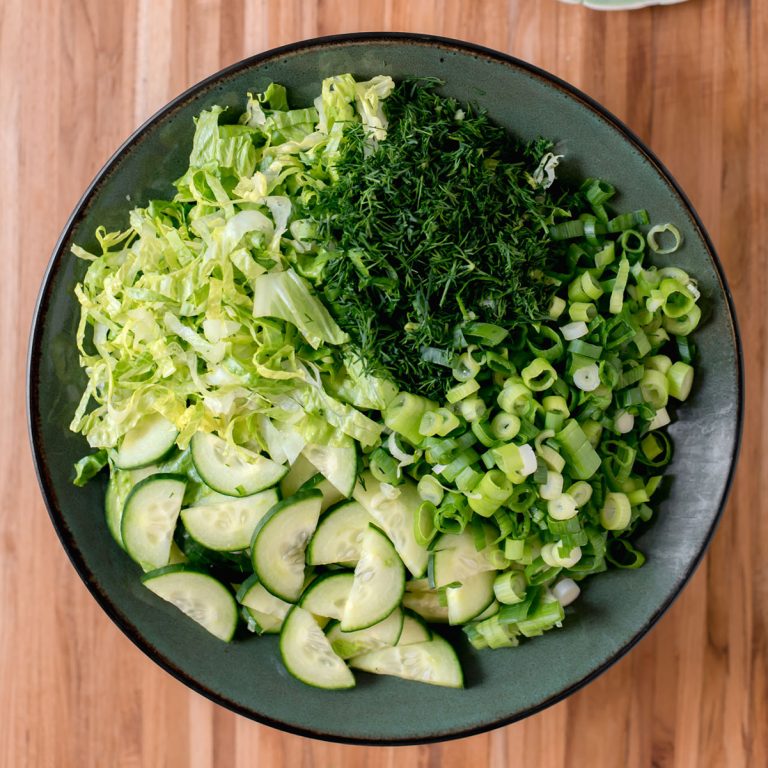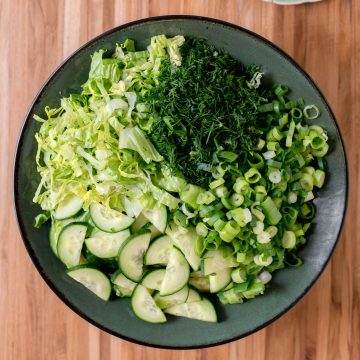 Ingredients
Salad
2

romaine hearts

6

scallions

½

bunch

dill, chopped

,

(about ¼-1/3 cup)

½

large

English cucumber

,

(optional)
Vinaigrette
½

cup

extra virgin olive oil

2

tablespoons

red wine vinegar

,

or freshly squeezed lemon juice

¼

teaspoon

sea salt

1

teaspoon

Greek oregano

,

(rigani)
Instructions
Wash and dry the lettuce, cucumber, and scallions.

Thinly slice the lettuce cross-wise, like a chiffonade. Move lettuce to a large bowl.

Thinly slice the scallions (both white and green parts) and add to the bowl. Add the chopped dill.

If using, cut the cucumber in half length-wise. Then thinly slice each half cross-wise. Add to the bowl. Toss the ingredients to combine.

In a small bowl, whisk the dressing ingredients and toss with the salad.*

Serve with crusty bread and feta cheese.
Notes
The salad and vinaigrette can both be made ahead of time, but keep them separate until right before serving.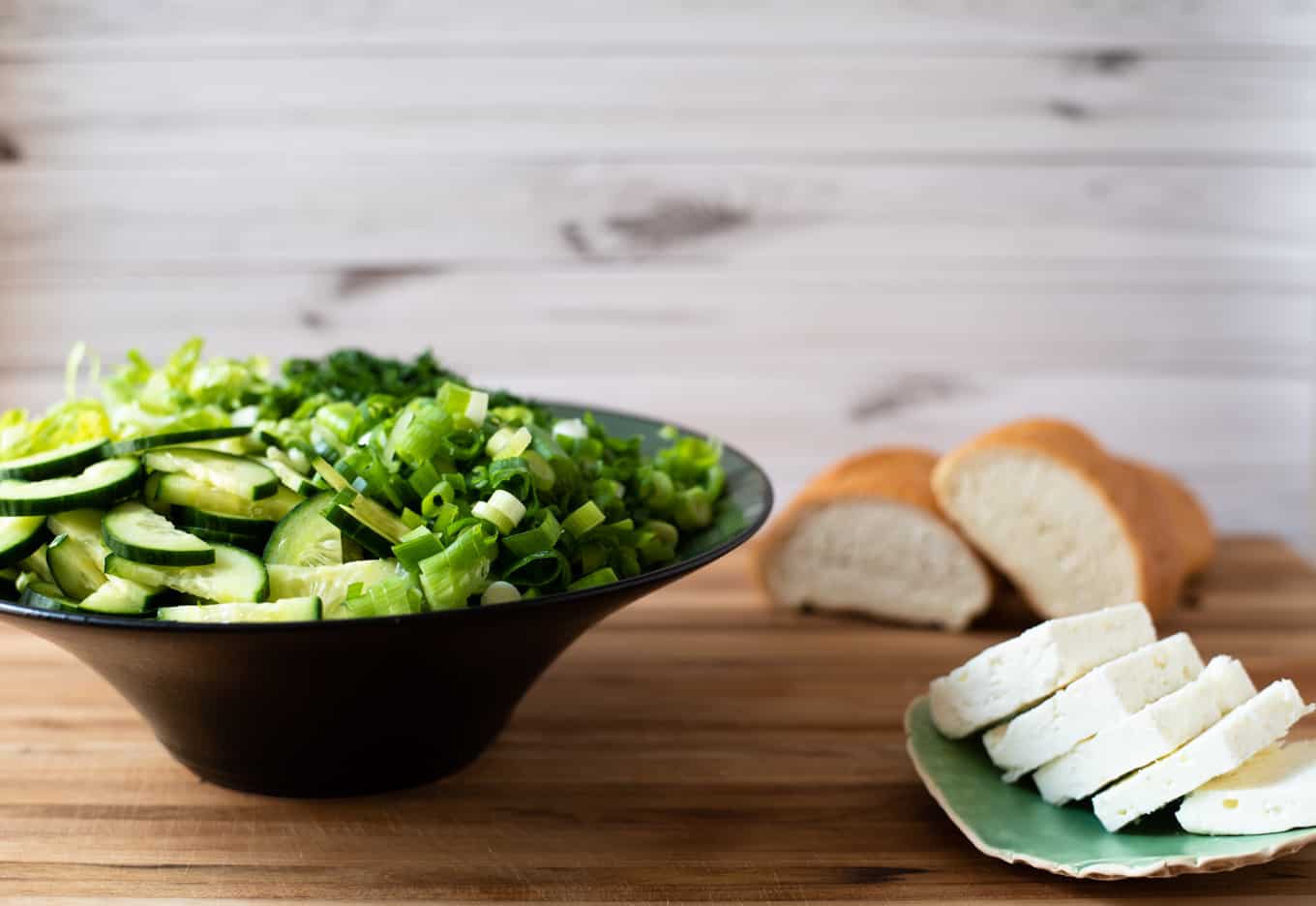 Disclaimer: This post may contain affiliate links, which means I make a small commission if you make a purchase through them. By purchasing through these links, you are helping support this site at no extra cost to you! I only recommend items and services I personally use and love.
---