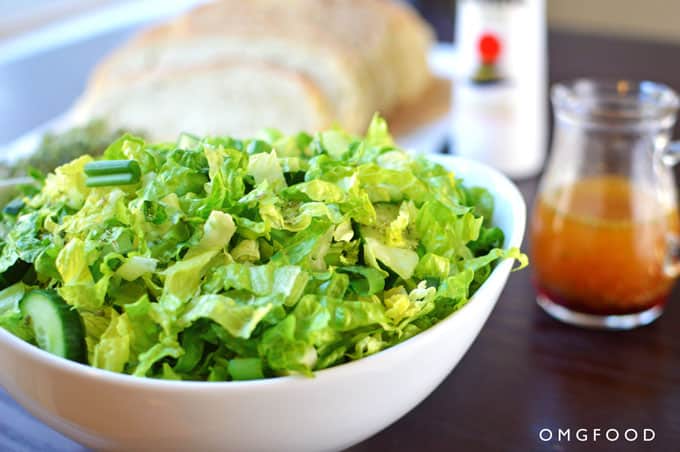 Does anyone else either smile or laugh a little when hearing or saying "hump day?" Because I do! I'm an adult.
It's been getting hot enough in Boston that cooking in the kitchen is a little unbearable at times, so I've been on a grilling and salad kick. One salad that I made recently was my chicken kale caesar salad and I topped it with grilled chicken instead of cooking it on the stove. Deeee-licious.
Today, I'm sharing one of my favorite Greek salads with you. It's called maroulosalata! Maroulo is Greek for romaine lettuce and it's traditionally made with fresh dill and scallions, tossed in an easy dressing made of olive oil and vinegar or lemon juice. The lettuce is sliced very thin (think shavings). It's perfect for a late spring/summer salad.
My mom is basically the queen of making this salad. It has simple ingredients packed with deliciousness, but I can still never make it the way she does. And forget about asking her for an exact recipe because the answer is "a little salt" and "some rigani." Typical Greek mom.
She always added cucumber to the salad, which isn't uncommon for maroulosalata, but it's important to note that English/European style cucumbers were used. My mom wouldn't have it any other way! She also never cared for dill all that much and didn't add it to the salad because of that, so I am leaving that as an optional ingredient in her honor. But if you like dill? Definitely include it when you make this salad.
I use my chef knife to thinly slice the romaine, but if you have a food processor
, you can use the slicer attachment to evenly shred the lettuce. Your choice! I've owned this one
for a few years and love it.
You may assume that because this is a Greek salad, feta cheese would be added in. Not the case! Although, if you do have feta (and you should because it's delicious), put some on the side of your plate. Or leave a larger amount to share on a bigger plate and put that plate  in the center of the table and eat the cheese from that plate with whomever you're sharing with. Because that's how you'd do it at a taverna in Greece. <3
I miss Greece so much. It's been 11 years since I've been there! That is way too long and I hope to fix that soon.
Okay, now go make this salad for your next BBQ and be sure you read on after the recipe for a special treat. 🙂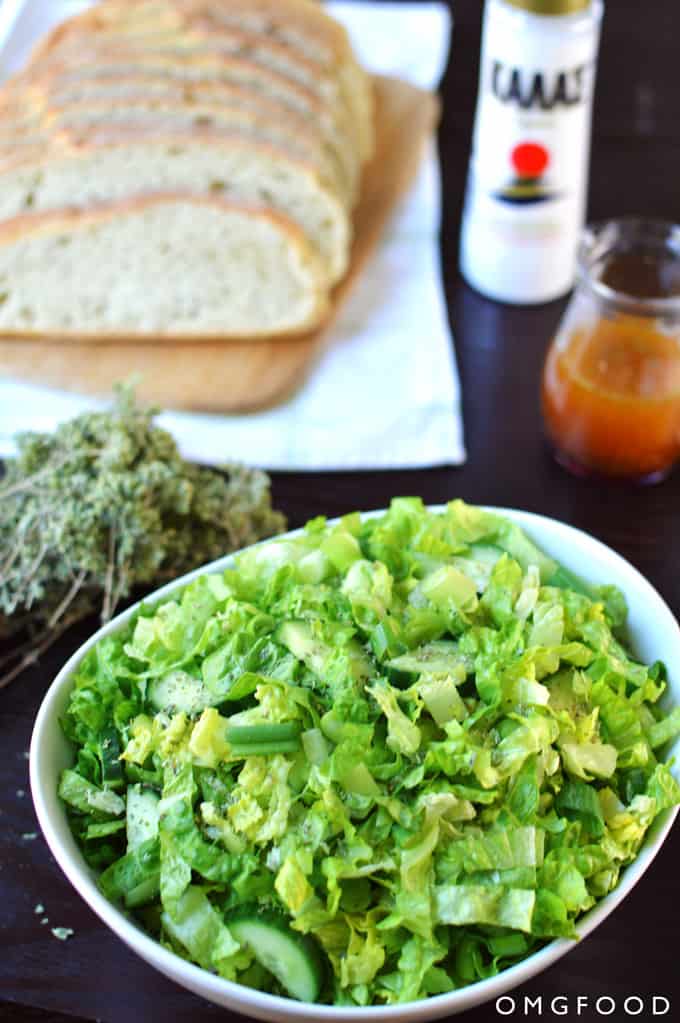 Maroulosalata
Author:
Marissa @ omgfood
Ingredients
Salad
3 romaine hearts
1 English cucumber
6-8 scallions
¼ cup fresh chopped dill (optional)


Dressing
¾ cup extra virgin olive oil
¼ cup red wine vinegar
½ teaspoon sea salt
1½ teaspoons Greek oregano (rigani)
Instructions
Wash and dry the lettuce, cucumber, and scallions.
Using a chef's knife, slice the lettuce very thin (alternately, you can use a food processor with the slicing attachment). Move lettuce to a large bowl.
Cut off the ends of the cucumber and discard. Cut the cucumber in half lengthewise. Then slice each half. Add to the bowl.
Slice the scallions and add to bowl.
Add the chopped dill, if using. Toss the ingredients to combine.
In a small bowl, whisk the dressing ingredients and toss with the salad.
Serve immediately.
Notes
If you want to make this ahead of time, keep the dressing separate and toss with the salad right before serving.
---

Who loves free things!? How about a $280 gift card to Williams-Sonoma!? I teamed up with a bunch of awesome food bloggers to put this together because we wanted to do something rad for our readers. Beth from Food Fashion and Fun is the one driving this awesome giveaway. Be sure to check out her blog!
Enter the giveaway through the rafflecopter below. Please note that only residents in the U.S, Canada, and U.K. are eligible. The giveaway ends on July 1st, so be sure you enter before then!
Good luck!