Thank you, OXO, for sponsoring this post. As always, opinions are strictly my own!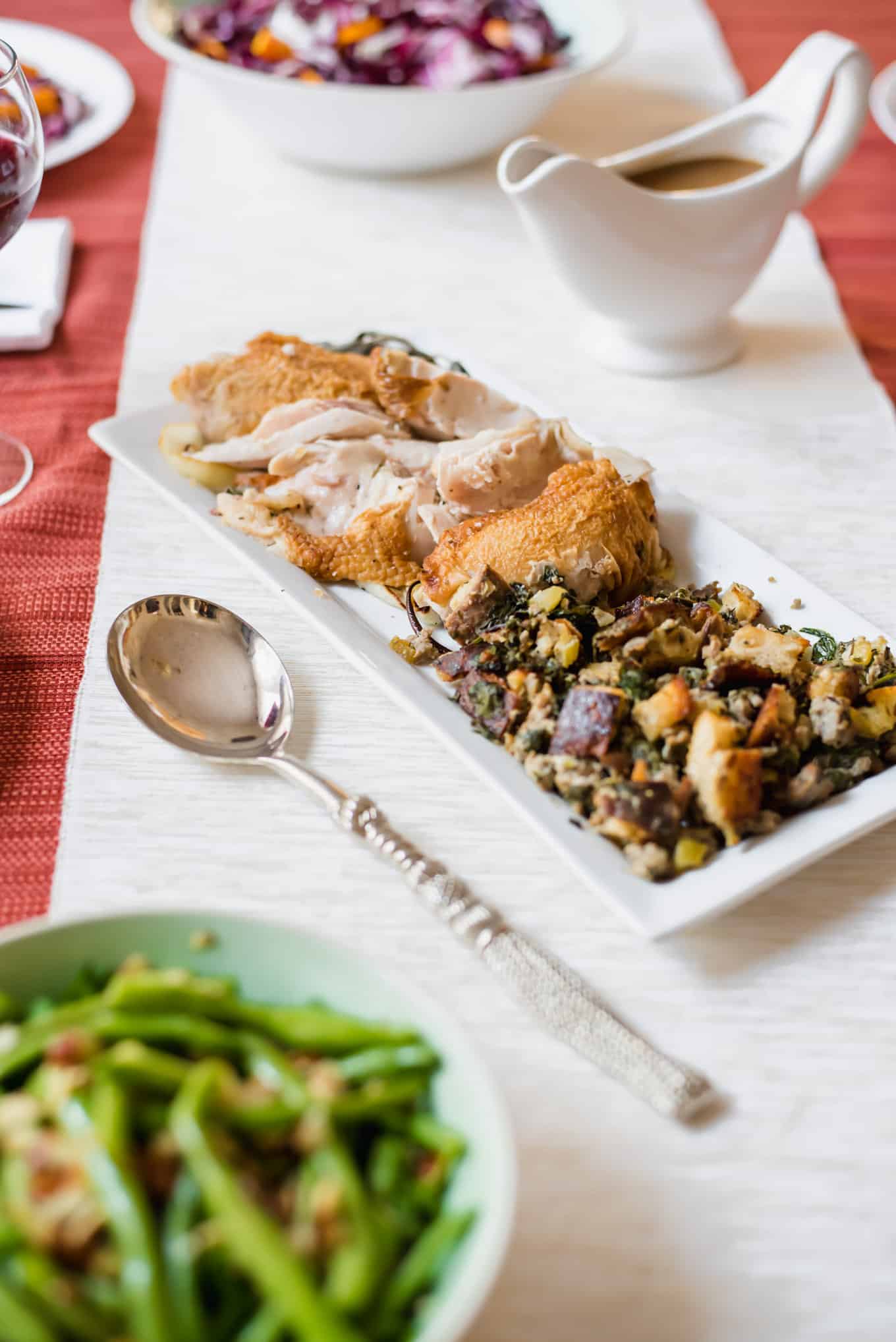 Hello, friends! Can you believe Thanksgiving is officially less than two weeks away? Time is such a trip, right!? If you're planning to host a Friendsgiving before (or during) Thanksgiving proper, or are planning to host a foodtastic event the day of, this post is most definitely for you. And I am very excited to get into this!
I partnered up with one of my favorite brands, OXO, to share some quick tips on hosting a stress-free Thanksgiving. They sent me a few awesome goodies, including a copy of Julia Turshen's new cookbook Now & Again. I'm going to talk about Julia's Thanksgiving menu and will be sharing a recipe from the book, too! Hint: the recipe is for the radicchio and roasted squash salad in case that wasn't obvious from the blog post title 😉 (it's also pictured on the cover of the book).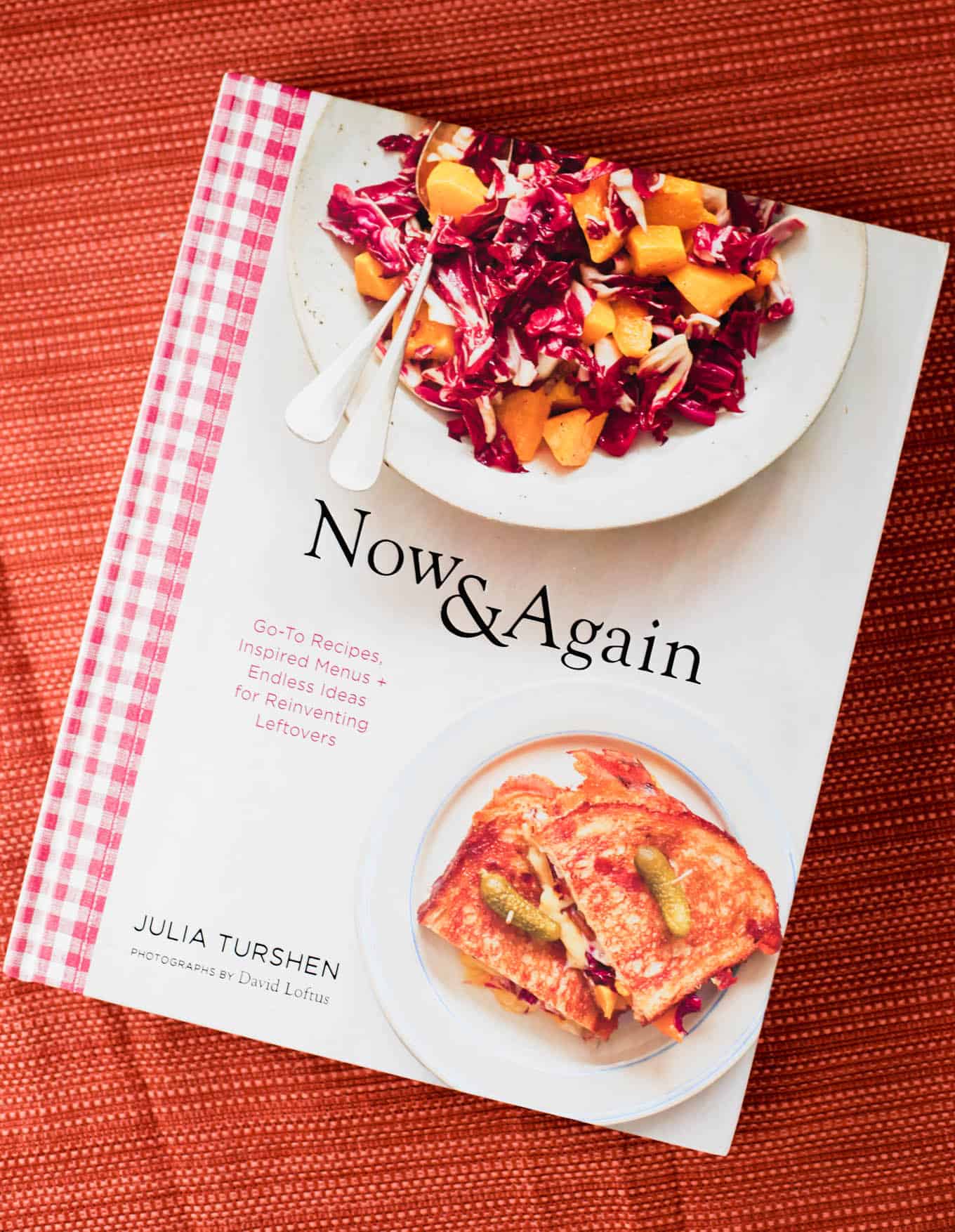 Julia Turshen's Now & Again Cookbook
Now & Again features scrumptious go-to recipes, themed menus that are super inspiring, and tons of ideas for reinventing your leftovers. You'll notice in the photo above that there's a sandwich on the cover. That sandwich is a squash grilled cheese made with the radicchio and roasted squash salad. Deeeeeeee-licious!
I opted to make a small handful of items from Julia's Thanksgiving menu and I used these tools from OXO to make it happen.
Chef's Squeeze Bottles
Greensaver Herb Keeper
At the start of the Thanksgiving menu, Julia breaks down which tasks to do on what day leading up to the event. The first task starts on Monday. This allows for better organizing, so you're not running around like a turkey with its head cut off. Instead, you'll be able to prep and host with ease. We like ease.
Making the Radicchio & Roasted Squash Salad
For the radicchio and roasted squash salad, my go-to tools were the swivel peeler, mini angled measuring cup, and a chef's squeeze bottle. Butternut squash can be a pain to peel if you don't have a good tool to work with. One option could be to use a sharp knife, but the best option is to use a great swivel peeler. OXO's swivel peeler easily peels tough-skinnd fruits and veggies (like the butternut squash!) and it has a soft handle that's designed for repetitive strokes. Peeling was a breeze with this tool.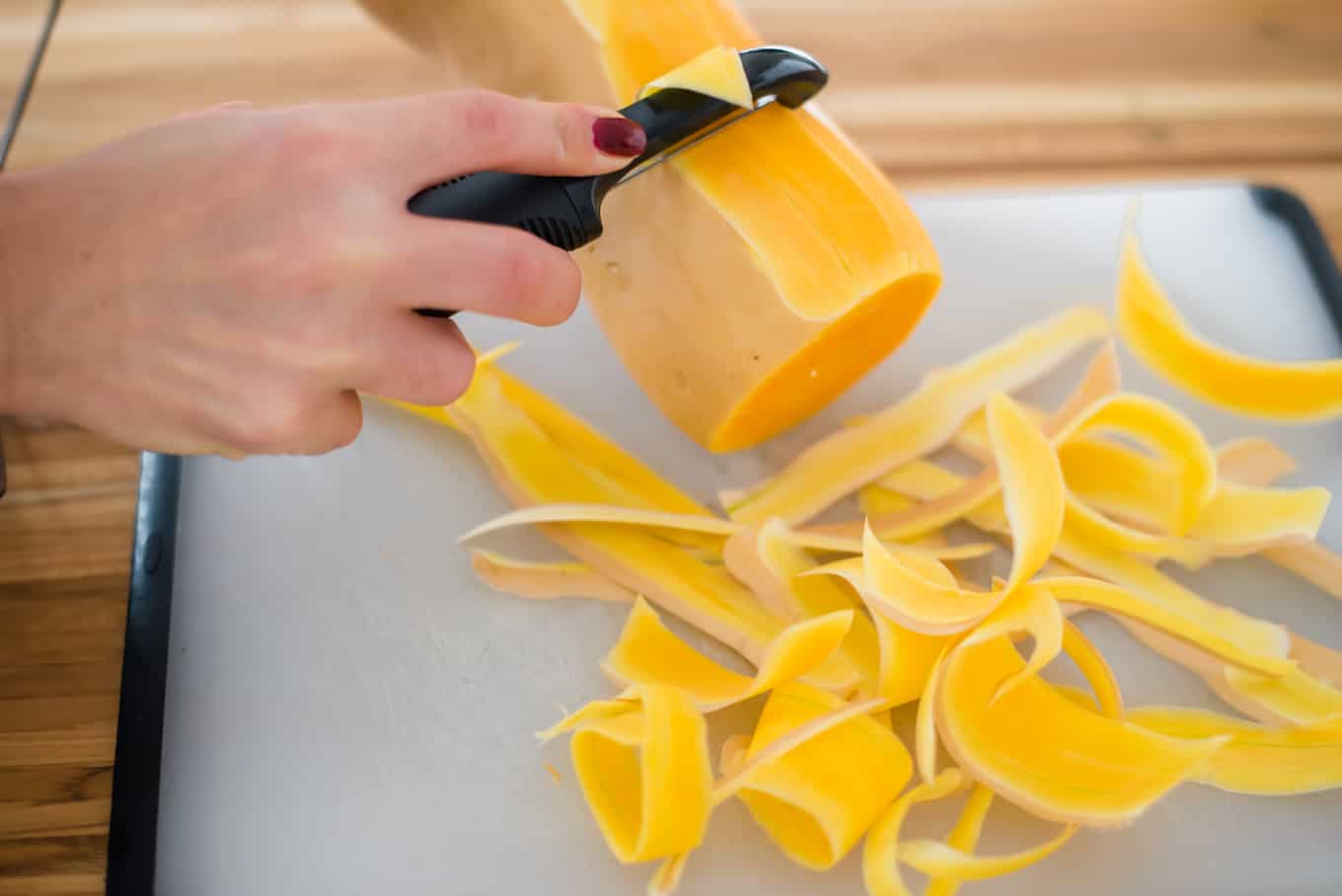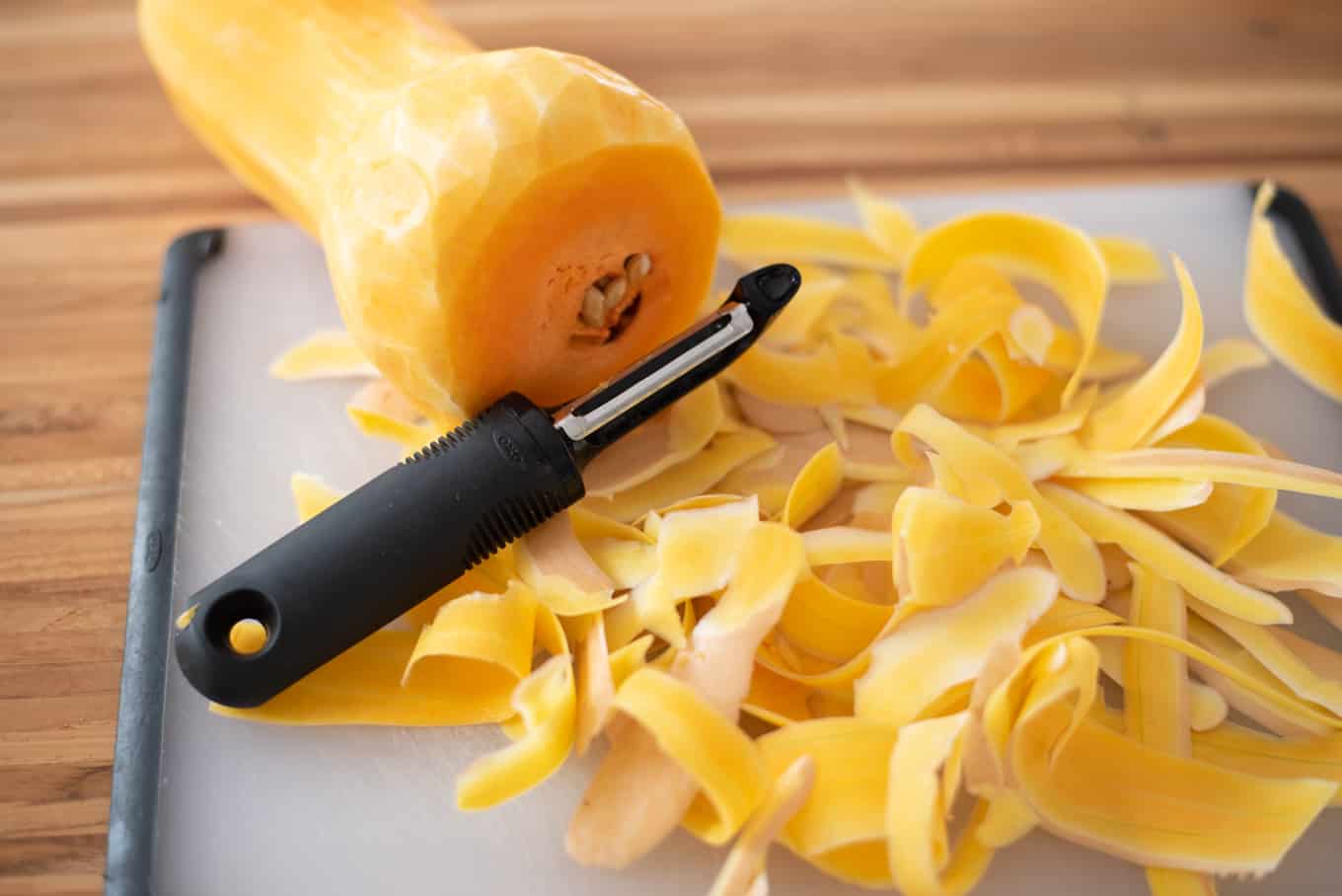 The salad and dressing can both be made ahead of time. Leave the two items separate until before serving to keep the ingredients fresh. I used the mini angled measuring cup and a chef's squeeze bottle to make and store the dressing.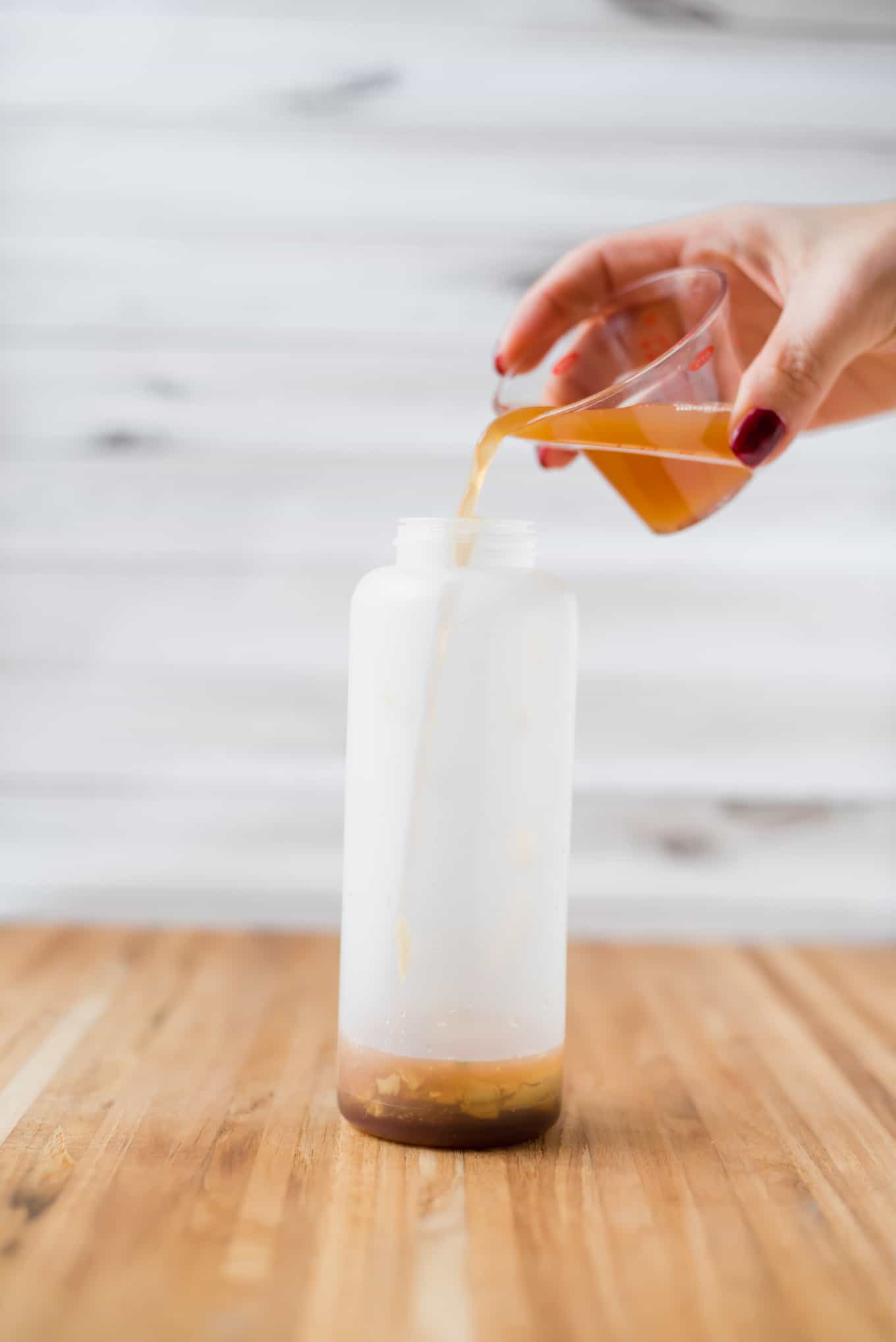 Other Scrumptious Recipes + Storing Herbs
Other recipes I made from Julia's Thanksgiving menu include her sheet pan stuffing with sausage and spinach, apple cider gravy, and sauteed green beans with garlic and toasted almonds. All recipes were easy to make and tasted beyond amazing. The stuffing is definitely up there as a new favorite for me. Made with fresh spinach, herbs, country bread -- it's such an inviting and comforting side. I love the addition of spinach in this; it puts a light spin on a Thanksgiving classic.
My favorite tool of the bunch I received from OXO that helped in making this stuffing is the greensaver herb keeper. This herb keeper allows for proper airflow and it controls humidity and hydration for your herbs to stay fresh. My sage was very happy stored in here. I'm currently using it to store some fresh basil and I plan to purchase another.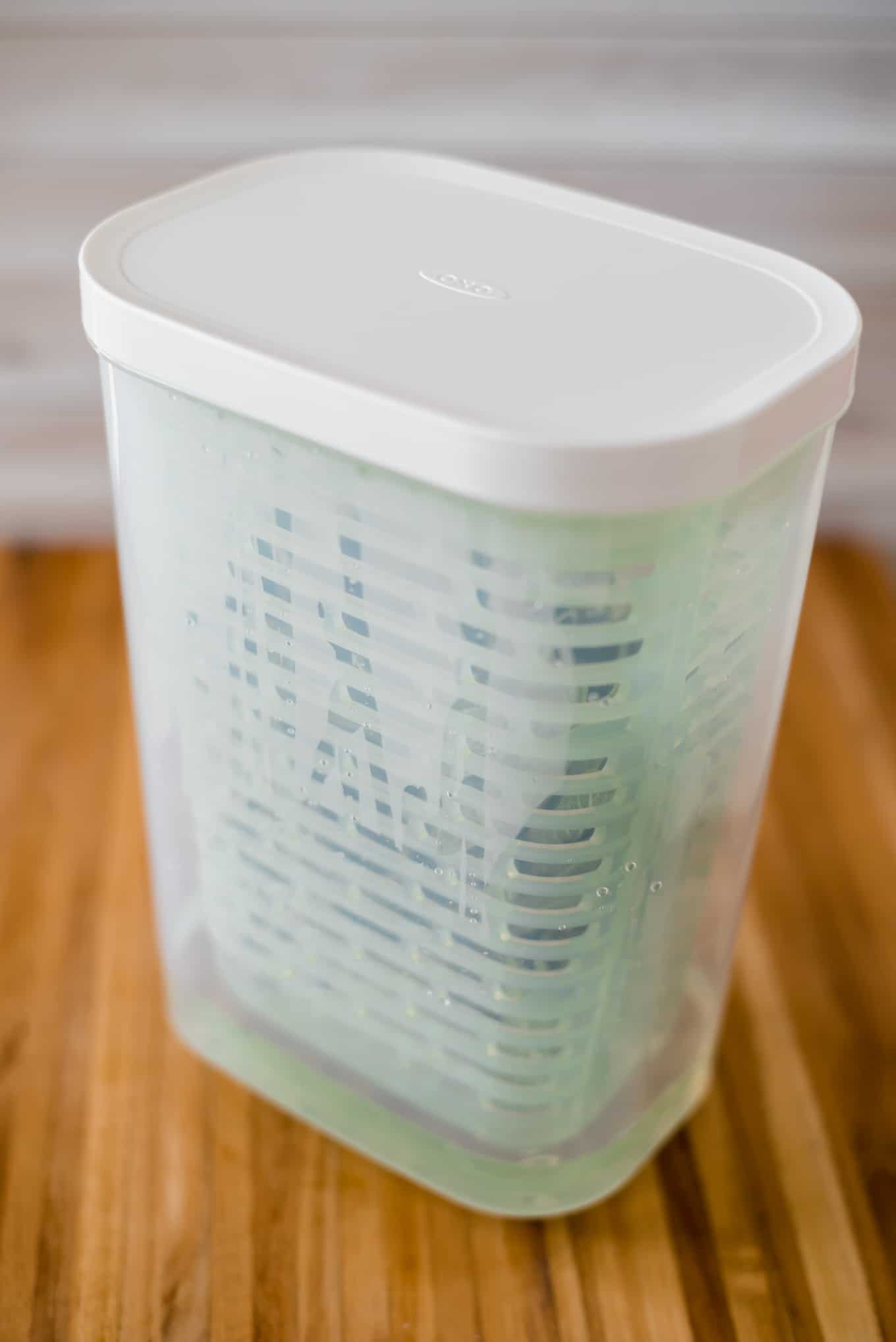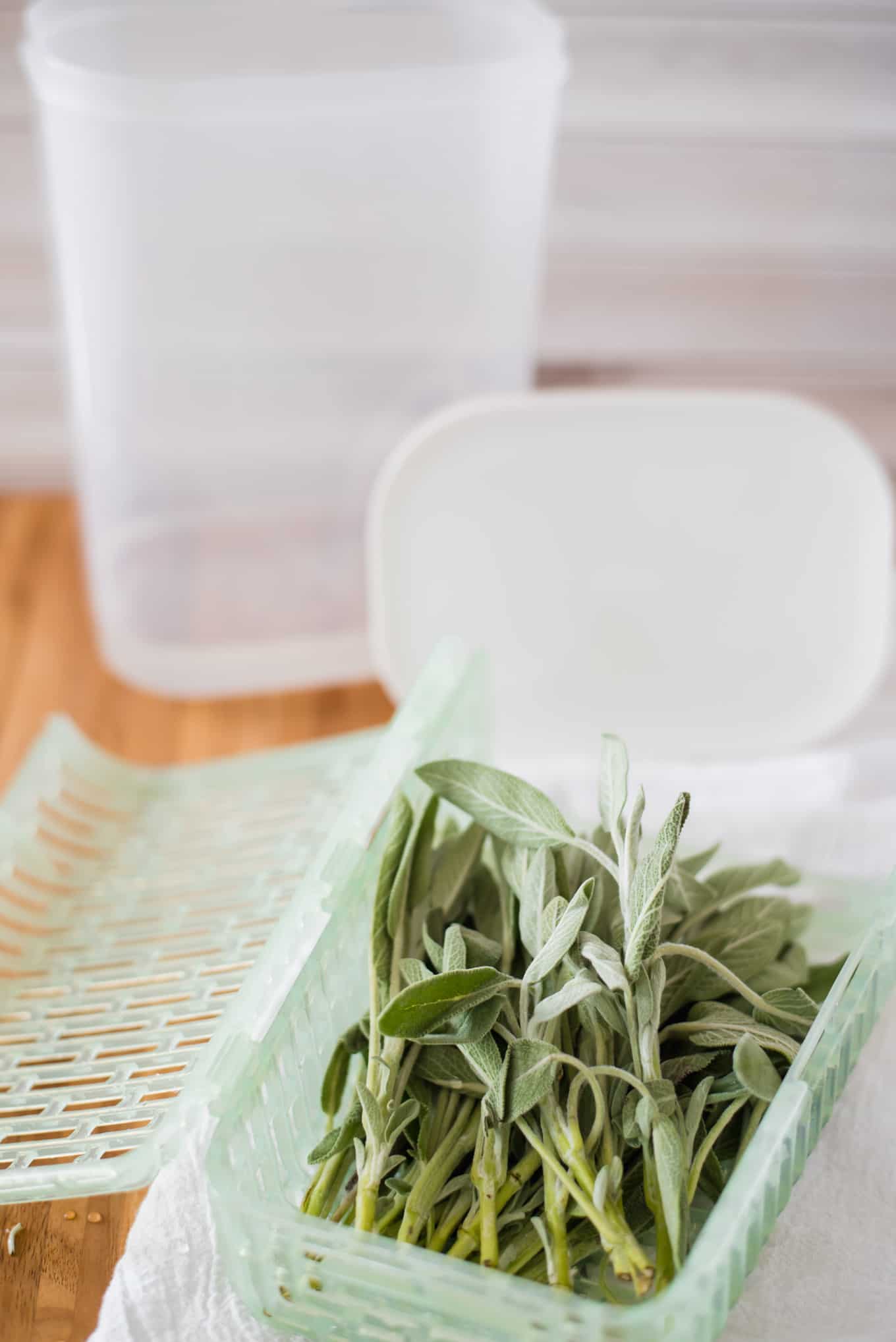 Hosting Your Very Own Friendsgiving/Thanksgiving
To quickly recap, Julia shares a couple of other recipes from her Thanksgiving menu, including a couple of desserts! You could easily make this menu for your own event and would only need to prepare a little each night from Monday through Thursday, allowing you to be fully prepared and free of stress. Just look at this spread in the photos below! I apologize in advance if this makes you hungry.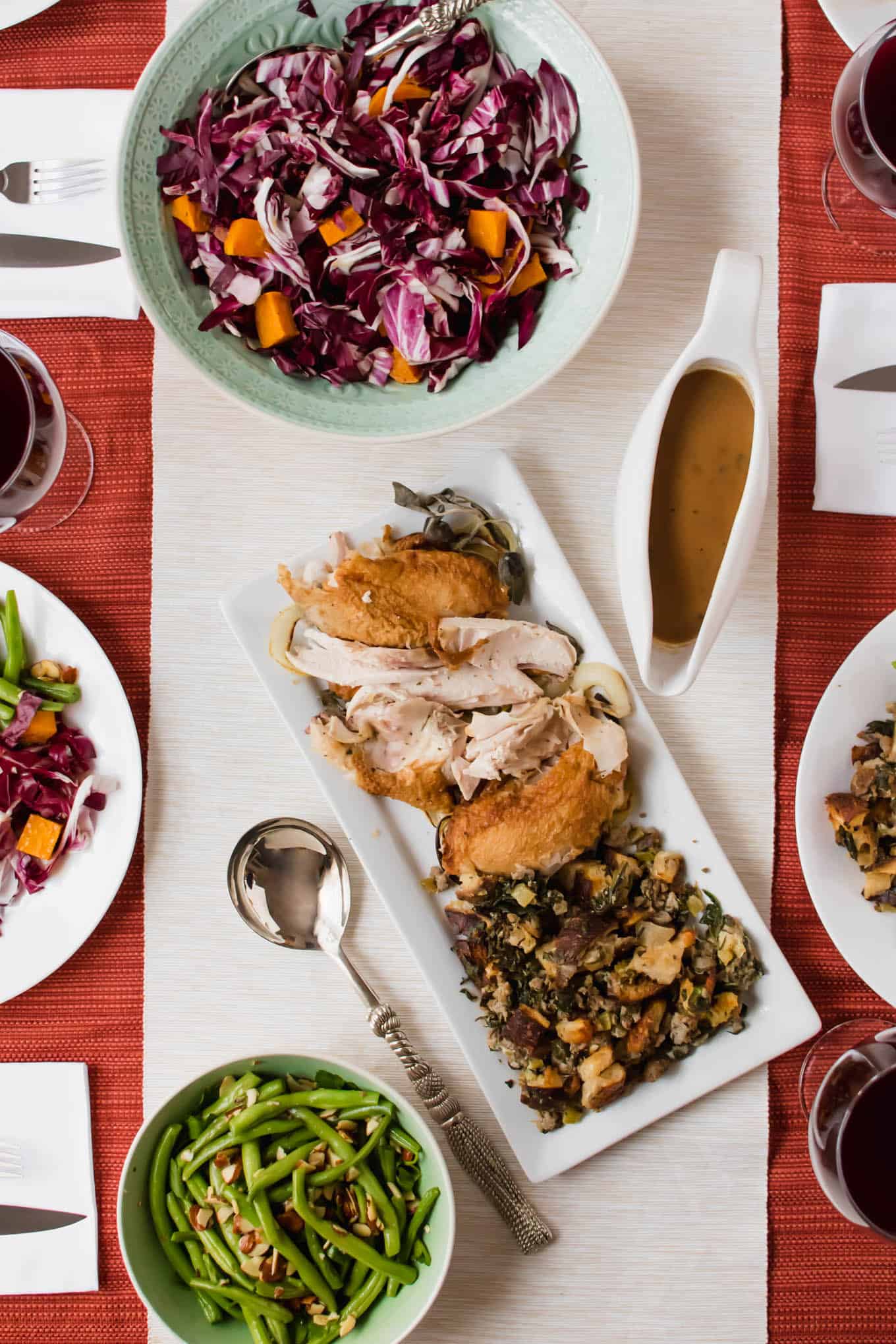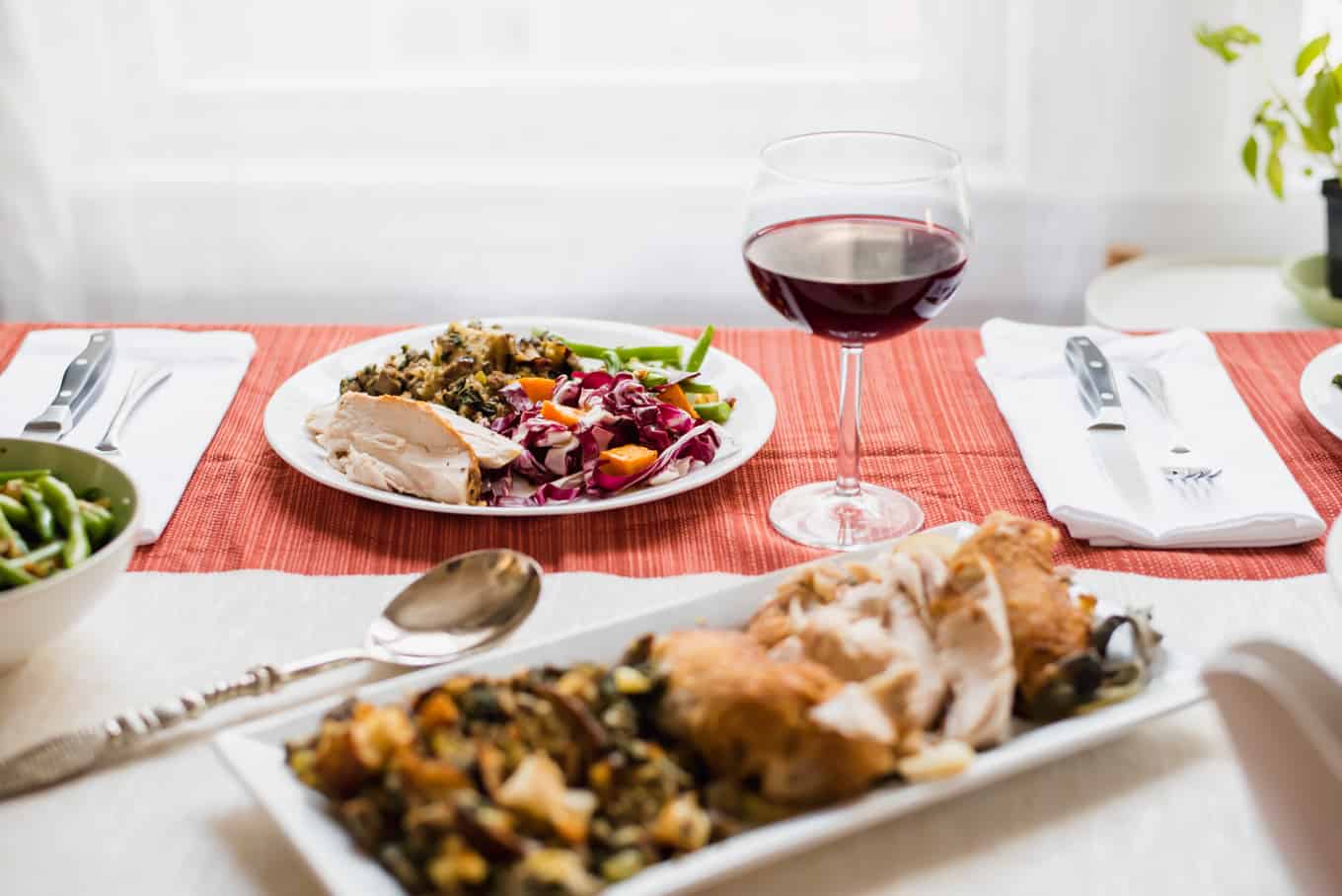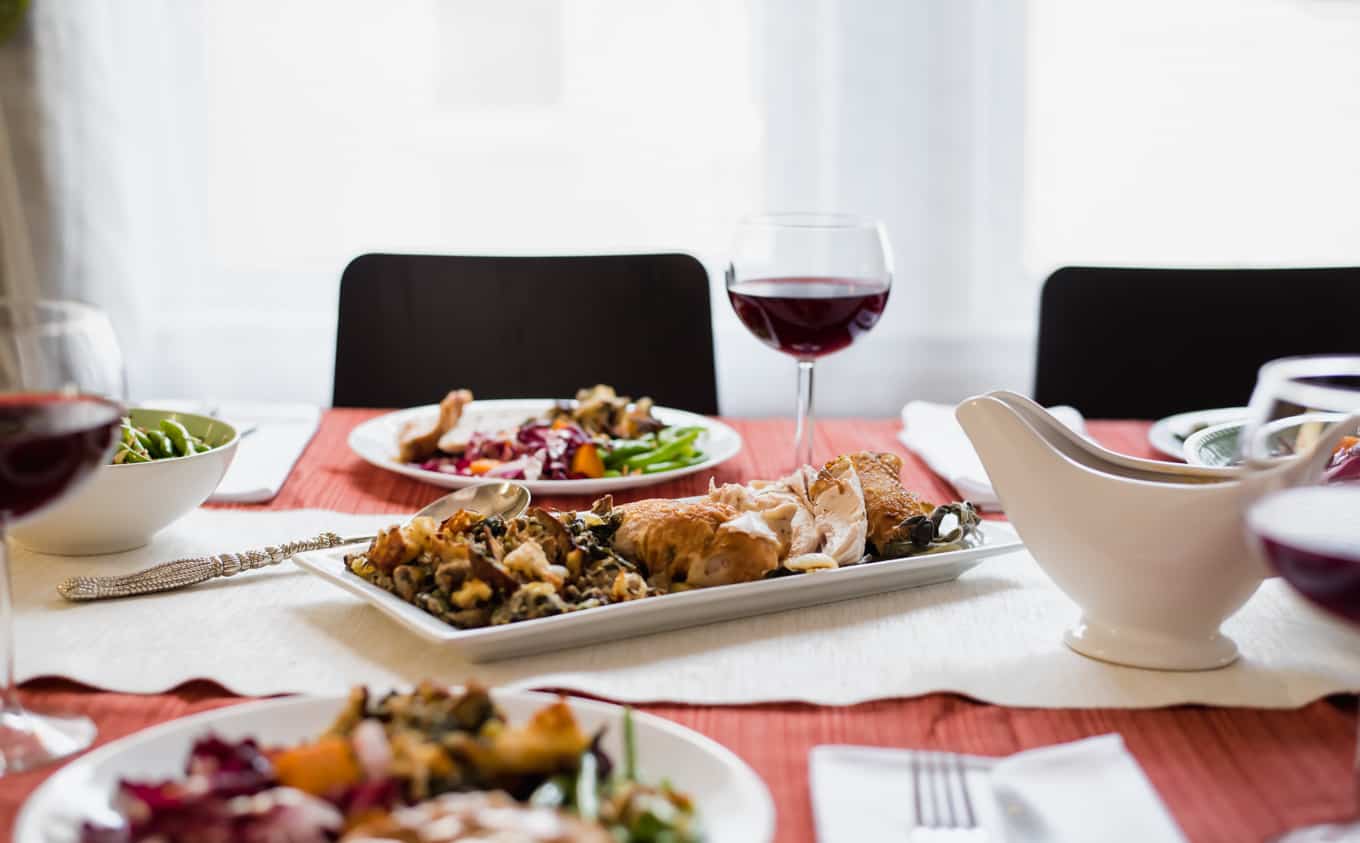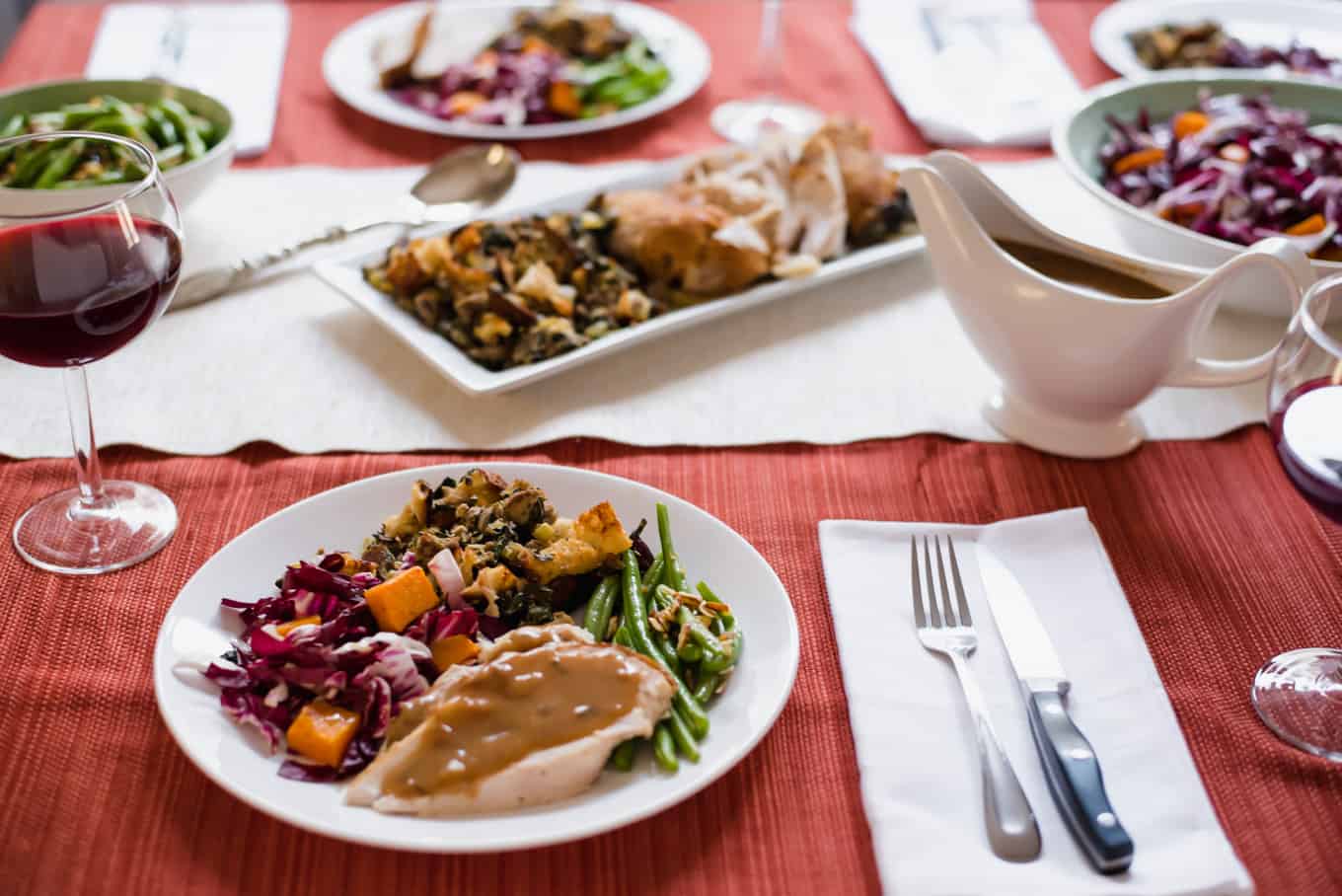 Leftover Magic with the On-the-Go Lunch Container
Julia shares so many ideas on repurposing leftovers (that grilled cheese tho, amirite?) and whether you opt to make something new with them or want to recreate your thanksgiving meal for lunch the next day, OXO's on-the-go lunch container provides two leakproof compartments and can keep any wet or dry foods separate until you're ready to eat. You can also opt to not use the second plate, depending how you'd want to use the container. There's a silicone gasket that helps keep a tight seal and can be easily removed for cleaning.
This is my second favorite tool OXO sent to me. I have been using it for all my lunches since receiving it. I love it so much, I'm deeming it mine and won't share with Jason. I already told him I plan to get another for him though. 🙂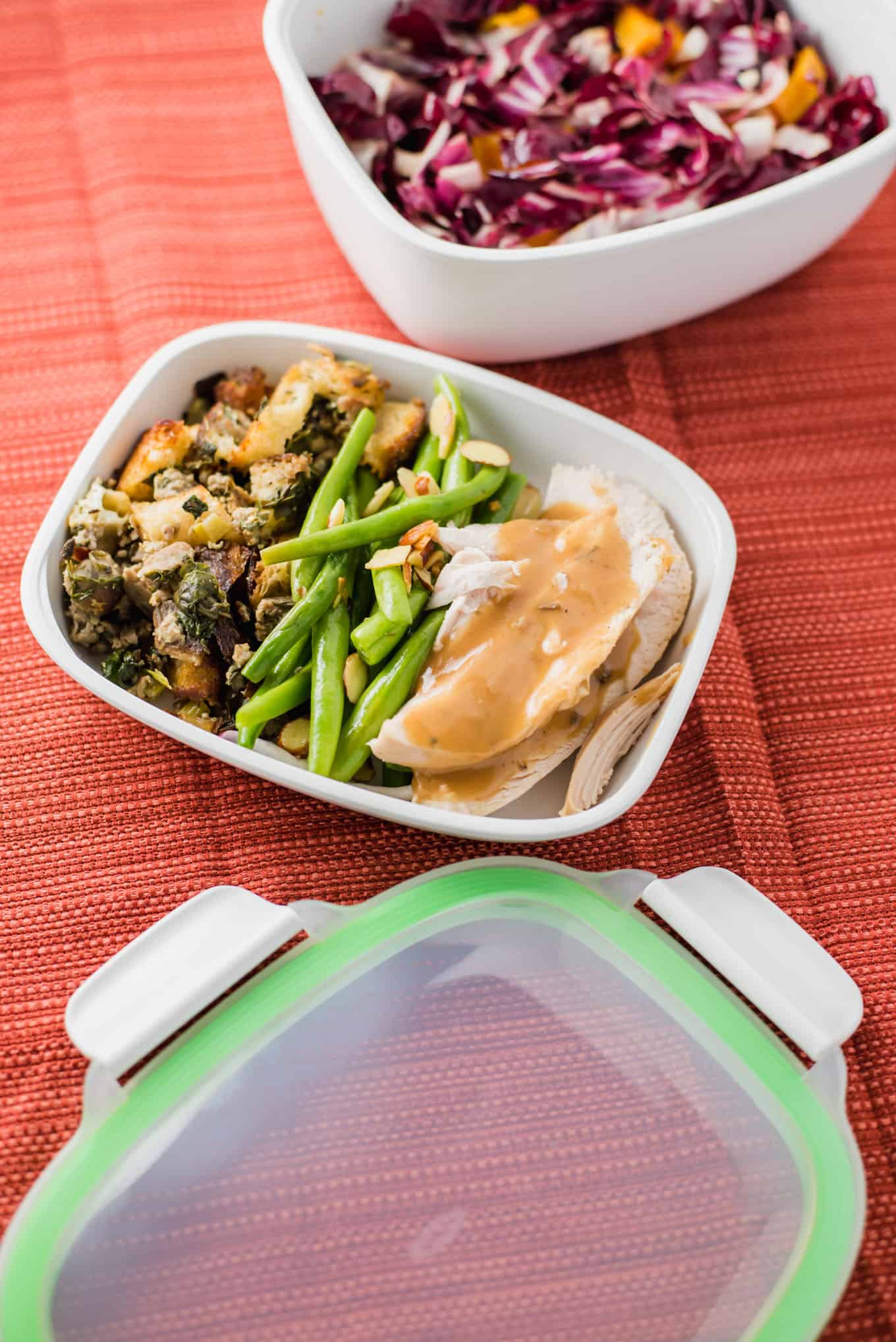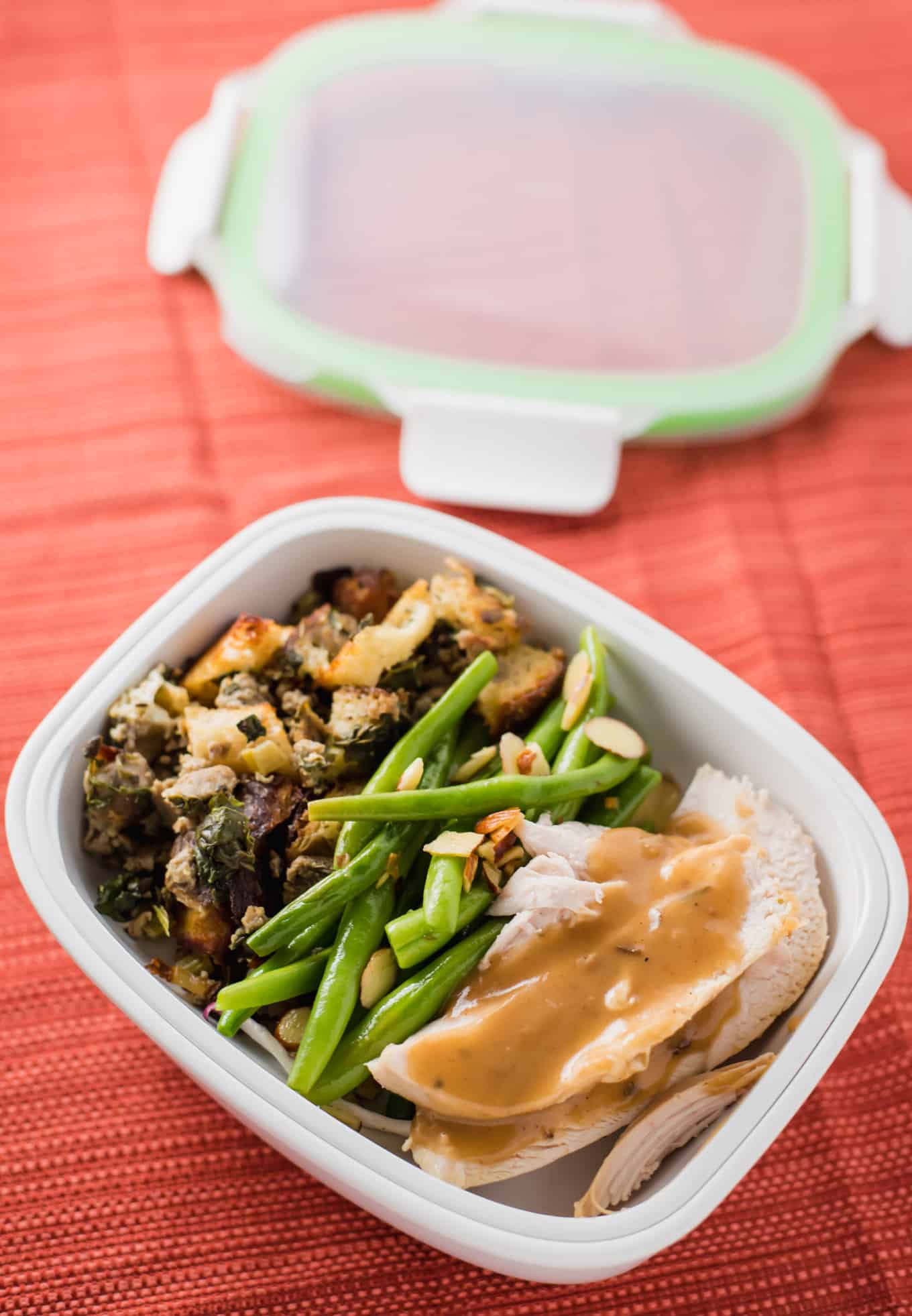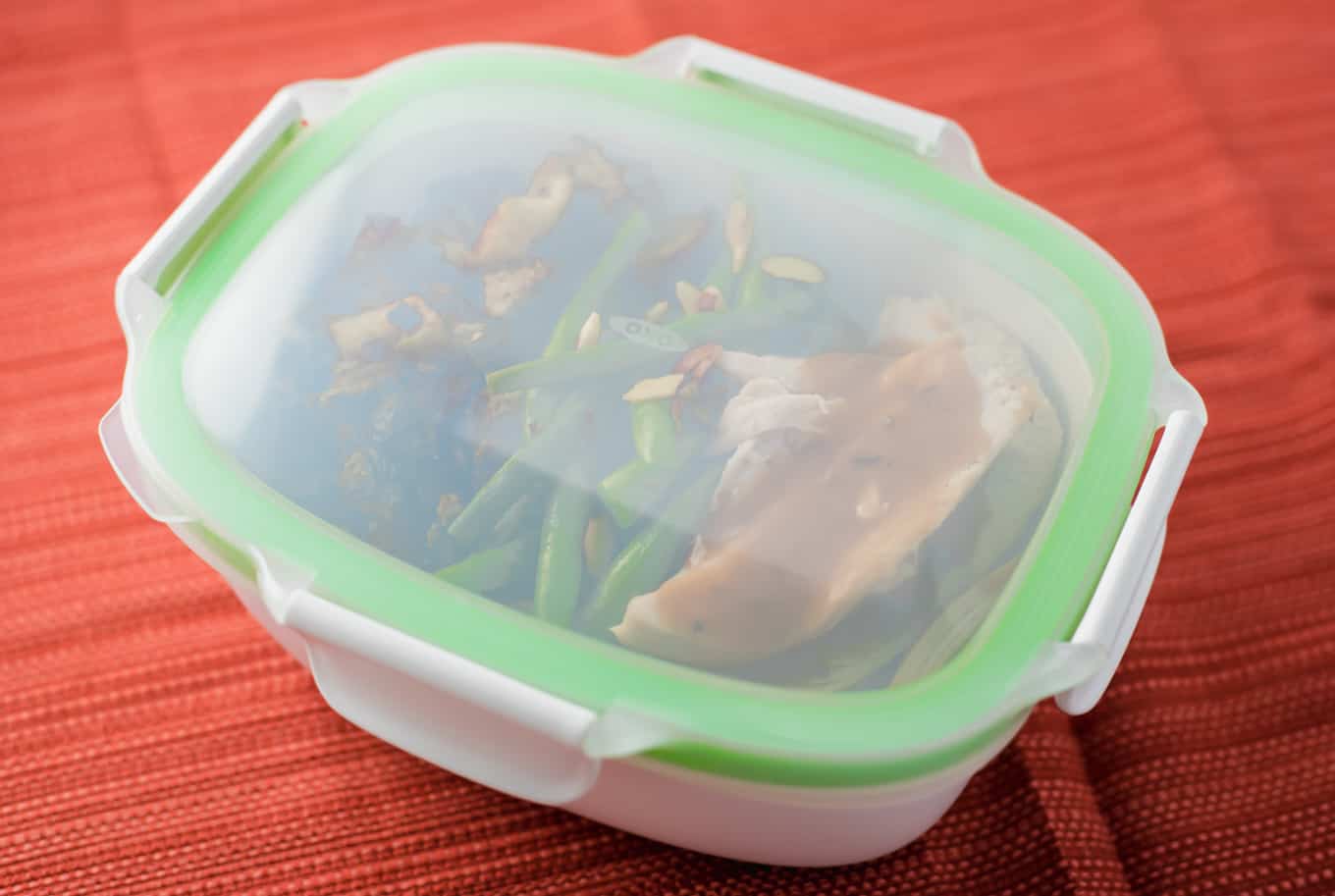 Until next time, friends. Have a wonderful Thanksgiving!
📖 Recipe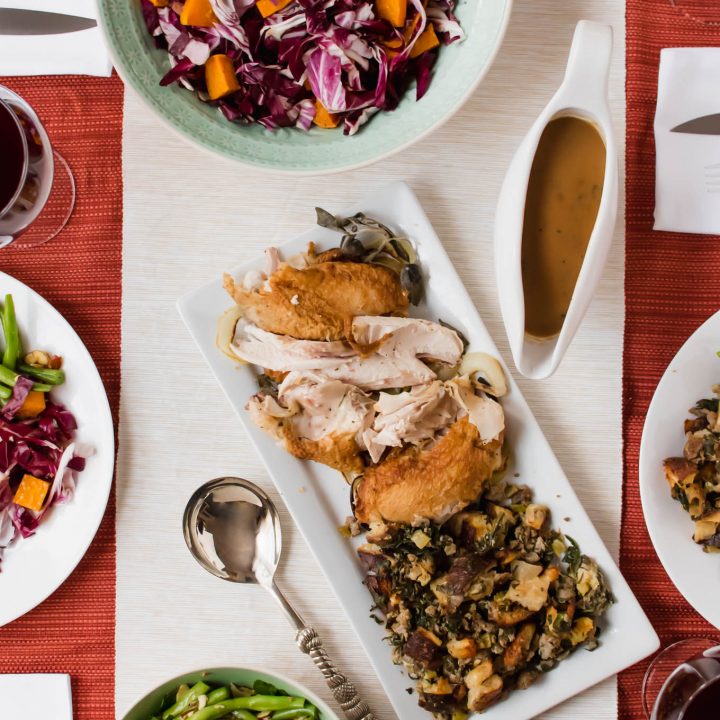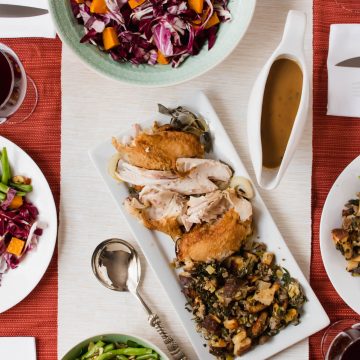 Radicchio & Roasted Squash Salad
Reprinted from Now & Again by Julia Turshen.
This salad is especially great for the holiday not only for its wonderful fall flavors but also because it's hearty and can sit on a buffet table for hours without losing any integrity or flavor. In fact, you can mix the whole thing up to a day before, refrigerate it, and then bring it to room temperature before serving. If you can find delicata squash, try it (just seed it, no need to peel it). Note that if you can't find squash (or if you dislike it), sweet potatoes make an excellent substitute.
Print
Pin
Rate
Ingredients
3

pounds

butternut squash

,

halved lengthwise, tough skin peeled and ends trimmed and discarded, seeded, and cut into 1-inch pieces

¾

cup

olive oil

kosher salt

freshly ground black pepper

2

tablespoons

Dijon mustard

1

tablespoon

honey or maple syrup

¼

cup

apple cider vinegar

1

garlic clove

,

minced

3

heads radicchio

,

each about ½ pound, cored and thinly sliced
Instructions
Position one rack in the center of your oven and a second rack in the top third and preheat to 400°F [200°C]. Line two sheet pans with parchment paper.

Divide the squash evenly between the prepared pans, then drizzle each pan with 2 tablespoons of the olive oil and season generously with salt and pepper. Use your hands to toss everything.

Roast the squash, stirring once or twice along the way and switching the pans between the racks and rotating them back to front halfway through the roasting, until softened and browned, about 30 minutes.

Set the squash aside to cool down a bit.

In a large bowl, whisk together the mustard, honey, vinegar, and garlic. While whisking constantly, slowly drizzle in the remaining ½ cup olive oil to make a dressing.

Season to taste with salt and pepper. Add the reserved squash and the radicchio to the bowl and use your hands to combine everything gently (messy, but fun).

Transfer the salad to a serving platter and serve immediately (or within a few hours; it holds well at room temperature).
---
This is a sponsored post written by me on behalf of OXO.
---
Reader Interactions