Summer + Middle Eastern flavors make this za'atar grilled chicken an easy-to-make and addictive meal. Check out the DIY recipe for the za'atar blend here!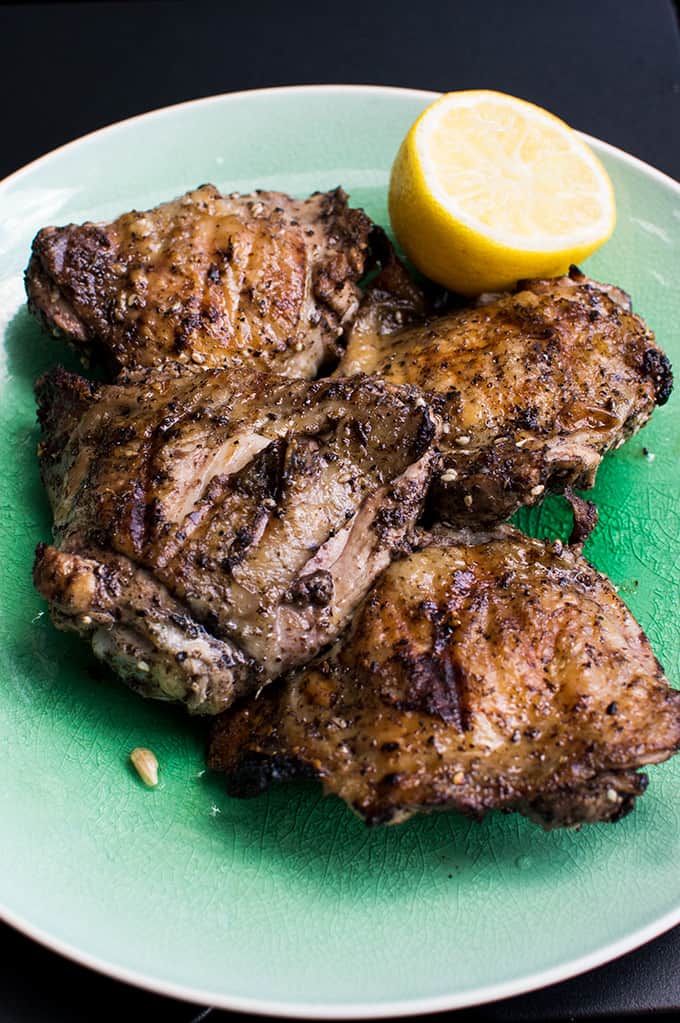 I wish Boston had summer weather all year round. I am really getting into this whole "having a grill available on the back deck" thing and we've been using it most nights since we bought it. Also, beer, cocktails, and rosé all taste better while grilling. I have confirmed this.
Yes, I said beer! I very rarely drink beer because it doesn't tend to love me, but I've been enjoying some corona and blueberry ale lately. There are a small few beers I can drink without feeling like I want to curl up and die afterwards and these are a couple of them, so I'll stick with what doesn't hurt me.
A couple weeks back, I posted a DIY recipe for za'atar and mentioned my obsession with it; aaaand I've made another batch since then. All za'atar, all the time! I've been especially into having it on chicken. I went from roasting it in the oven to grilling it. Because summer! I've been known to turn the oven on in 80+ degree weather in the past and always hate myself for it.
This summer, I'm going to try and not do that. Okay, actually, I did that once already in my failed karidopita attempt, but that was only once, you guys.
I'm hoping to post lots of tasty grilled recipes this season. I kicked off the grilling fun with the open-faced grilled caprese sandwich last week and today, it's all about za'atar grilled chicken. Let's get it on!
How To Make Za'atar Grilled Chicken
To start, gather your ingredients. I went with my usual Greek lemon and olive oil dressing like in the roasted chicken and potatoes and kalamakia recipes, except I omitted the Greek oregano (cause we've already got that covered in the za'atar). The total ingredients used are light olive oil, garlic, lemon, za'atar, salt, and pepper.
Oh, and the bone-in chicken thighs. Durrr.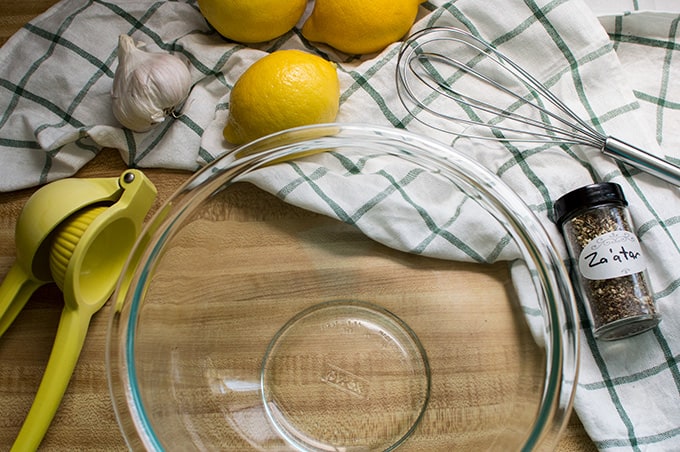 Mince your garlic and squeeze the juice out of the lemon. Add them to a medium-sized bowl with the other dressing ingredients (not the chicken!) and whisk to combine. Set it aside.
Take the chicken thighs and trim off any excess fat or skin, if necessary. Add them to the bowl with the dressing. Now, either take some tongs or use your hands to thoroughly coat the chicken with the dressing. Set it aside for 20 minutes to marinate a bit and allow it to come to room temperature.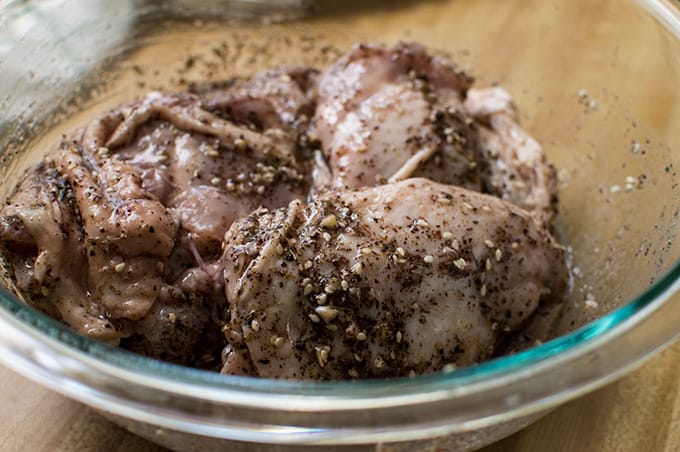 If you are using a charcoal grill, start preheating that immediately because that can take up to 30 minutes to get ready. If using a gas grill, you can wait until that 20 minute timer is close to coming up.
When the grill is ready, carefully add the chicken to it, skin side up. Close the lid, set a timer for 5 minutes, then flip the chicken. Close the lid, set that timer for another 5 minutes, and flip the chicken again. Repeat these steps for about 25 minutes, until the chicken is cooked through. Use an instant-read thermometer to test the doneness.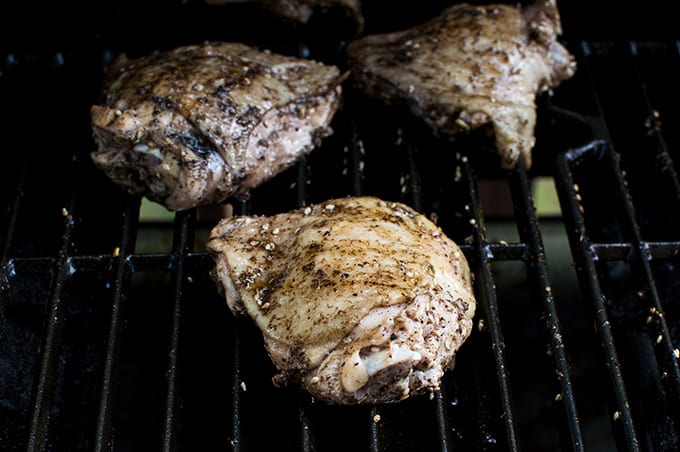 When the chicken is ready, remove it from the heat and let it rest a few minutes before serving. An optional step is to squeeze some more lemon over it just before serving. So many noms!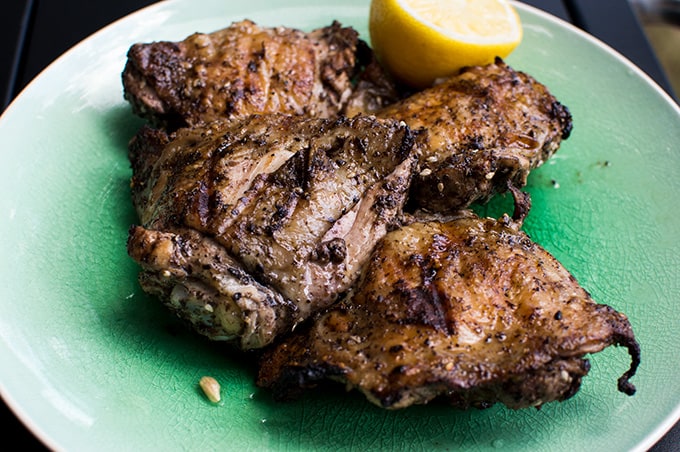 Kitchen Tools Used: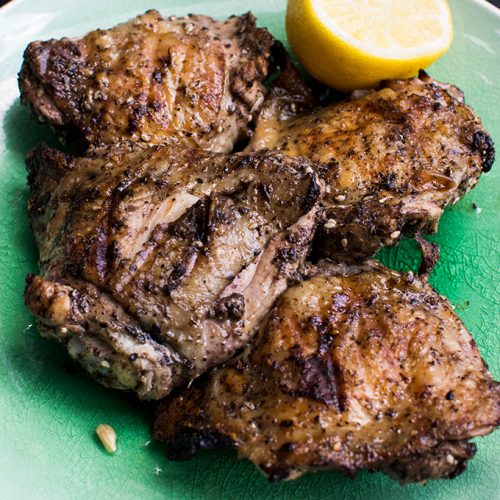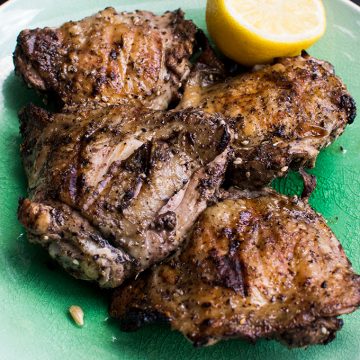 Ingredients
4

bone-in chicken thighs

,

6-8 ounces each

3

tablespoons

cup extra light olive oil

juice from half a lemon

,

about 2 tablespoons

2

tablespoons

za'atar

,

diy recipe

1

garlic clove

,

peeled and minced

½

teaspoon

kosher salt

freshly ground black pepper

4

lemon wedges for serving

,

optional
Instructions
In a medium-size bowl, add in the olive oil, lemon juice, za'atar, garlic, salt, and black pepper. Whisk together to combine. Set aside.

Trim off any excess fat and skin from the chicken thighs. Add the chicken to the bowl with the dressing.

Using tongs or your hands, turn the chicken to coat evenly with the dressing. Set aside to marinate and allow the poultry to come closer to room temperature; 20-30 minutes (if using a charcoal grill, start the preheating process immediately after this).

Preheat the grill to 425 degrees.

Place the chicken on the grill with skin side up. Cover, grill for 5 minutes, and flip the chicken. Cover, grill for another 5 minutes, and flip again.

Repeat this process until the chicken is cooked through, about 25 minutes.

Remove from heat and let rest a few minutes before serving with lemon wedges.
Disclaimer: This post may contain affiliate links, which means I make a small commission if you make a purchase through them. By purchasing through these links, you are helping support this site at no extra cost to you! I only recommend items and services I personally use and love.