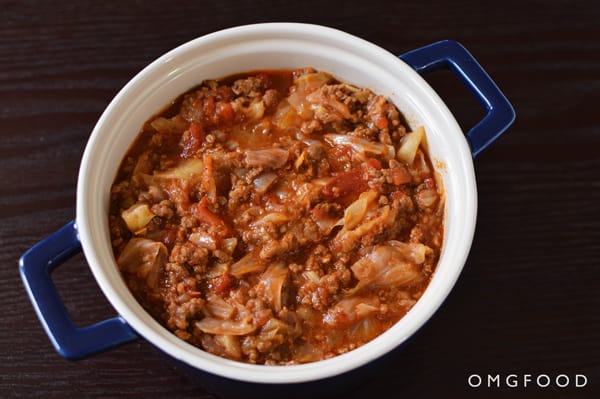 Boston has been getting warmer! There's only a little snow left in our yard and I can actually see grass! I also bought a new pair of shoes to celebrate Spring! It's all very exciting.
Jason and I are starting a Whole30 today because we like to be miserable, apparently we've been eating semi-horribly since before the holidays and we are overdue for a reset. I personally have been super lazy since my elbow surgery. Super lazy as in zero exercise since July and dragging myself out of bed in the mornings. My weight has also fluctuated a bit over the last few years and I've decided enough is enough. I want to go back to healthy. I miss having loads of energy!
I slowly started getting exercise back in my routine in February, though I was doing one workout a week, sometimes two, and rarely anything more than that. About two weeks ago, I started setting my alarm to an earlier time than I've been used to lately so I could get exercise back in my morning routine. I think the last time I worked out in the morning was well over a year ago. Each day was a struggle - I was all about hitting that snooze button. but this past week, I got four exercises in. My goal is to get to six!
Because I'll be doing a Whole30, that means recipes for the next month will be strictly paleo. One of the things I'm looking forward to these next few weeks is browsing all over the internet for paleo recipes to try and non-paleo recipes I can modify to make paleo! Healthy recipes all around!
Speaking of recipes, are you familiar with Yummly? If not, I'll tell you about it! It's an awesome recipe database. You can save recipes from a bunch of your favorite blogs in your recipe box and you can search for recipes by ingredient, allergy, diet type, time, etc. It's my latest obsession. Check out OMGFOOD on Yummly and you can save this recipe and all your favs by clicking on the orange "yum" icon (found both at the top and bottom of each recipe post). Alternately, you can install the "Yum" bookmarklet from their site.
Going back to this Whole30 thing. I'll be cooking a lot these next few weeks and I'll be making large amounts of some things, like this unstuffed cabbage recipe! I made enough to serve about eight people because Jason and I are going to need a lot of fuel. Also, I won't be the only one cooking for us. I told Jason he gets to cook too. 🙂
I love cabbage and I really don't eat this vegetable enough. I recently bought some with the intention of making stuffed cabbage in an egg-lemon sauce. That somehow changed to this casserole/soup thing with a tomato sauce instead of egg-lemon, but you know, I'm totally okay with it. This came out so yummy and it was so easy to make. I'm glad there's plenty to eat. Jason isn't even a fan of cabbage and he devoured this. I call it a win.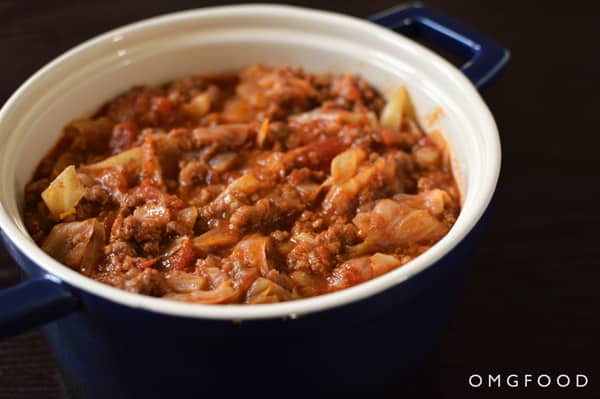 📖 Recipe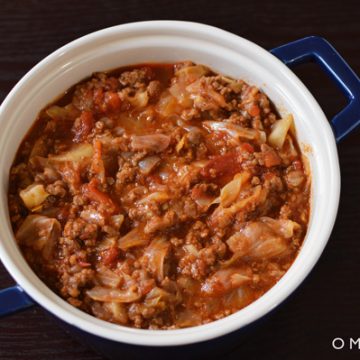 Ingredients
¼

cup

olive oil

1

medium yellow onion

,

chopped

4-5

garlic cloves

,

minced

2

pounds

grass-fed ground beef

1

cup

chicken stock

⅓

cup

tomato paste

2 14.5

oz

canned diced tomatoes

2

teaspoon

kosher salt

freshly ground black pepper

1

small cabbage

,

outer leaves and core removed, rinsed, and chopped
Instructions
In a small bowl, whisk together the tomato paste and chicken stock until well blended. Set aside.

In a 6 quart dutch oven or pot, heat olive oil over medium-high heat.

Add onions and saute for five minutes, until they're soft.

Add garlic and saute until fragrant, about one minute.

Add ground beef and cook until browned, about ten minutes.

Add the chicken stock mixture, diced tomatoes, salt, and black pepper to taste to the pan and stir to combine.

Mix in the chopped cabbage. You may need to add a little at a time. Otherwise, you'll end up with a big ole mess.

Let come to a boil, cover, and lower the heat to a simmer. Let simmer for 30 minutes.