Thank you Decoy for sponsoring this post. Celebrate International Merlot Month this October by using the hashtag #MerlotMe on social!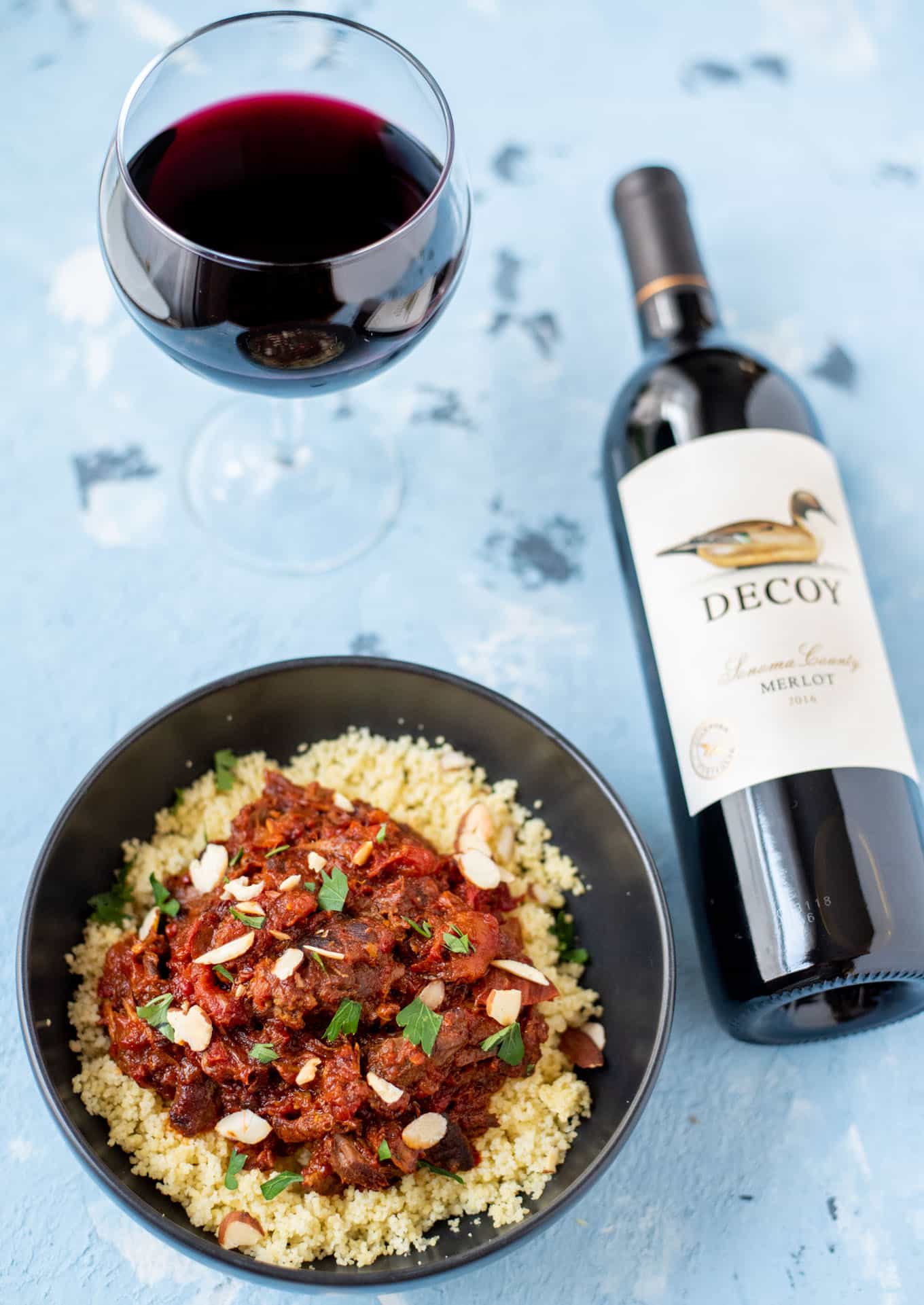 Hello, my lovely friends! I hope you're hungry because I've got a lip-smacking, mouthwatering recipe to share. We're talking about lamb tagine today. We're also talking about marvelous Merlot, some quick tips for a fun and scary movie/game night, and how it all ties together so well. I am very, very excited about this! Let's get to it.
Tagine is both a North African cooking pot (with a circular base and a cone-shaped cover) and a rich, complex stew that includes savory and sweet ingredients. If you don't have the proper tagine cookware, a Dutch oven can also be used and it will work perfectly (hint: it's what I use)!
With fall being back, lamb tagine is a great and delicious way to feel all warm and cozy. You know what else is great in the fall? Red wine. And you know what's back now that it is fall? Red wine is back. Particularly, Merlot is back!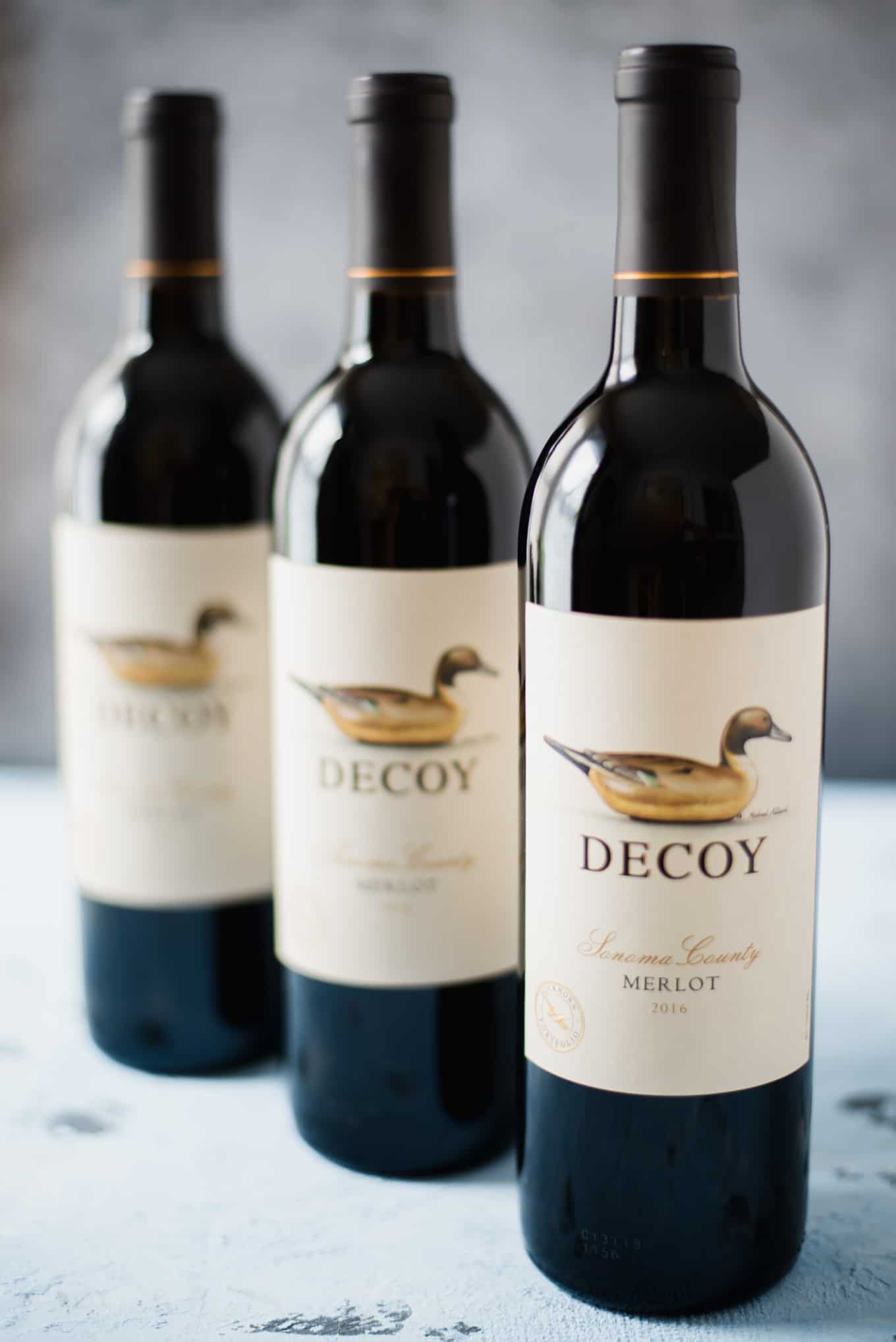 This is all especially fitting because October is International Merlot Month. Over 100 Merlot producers around the globe participate in this world-wide event and I partnered with Decoy to get the tasty word out. You too can participate in International Merlot Month by using the hashtag #MerlotMe on your favorite social channels!
Lamb Tagine and Merlot: A Perfect Pair
Here's a great fun fact: lamb tagine and Merlot pair together so wonderfully, I daresay it's a perfect pairing. And here's why. The tagine is full of complex flavors, including warm spices such as cinnamon, ginger, pepper, and nutmeg. There's a little bit of sweetness added from dried apricots and saffron and richness from plum tomatoes and tomato paste. All of this combined complements the fruitful and concentrated flavor of the Merlot (and vice versa).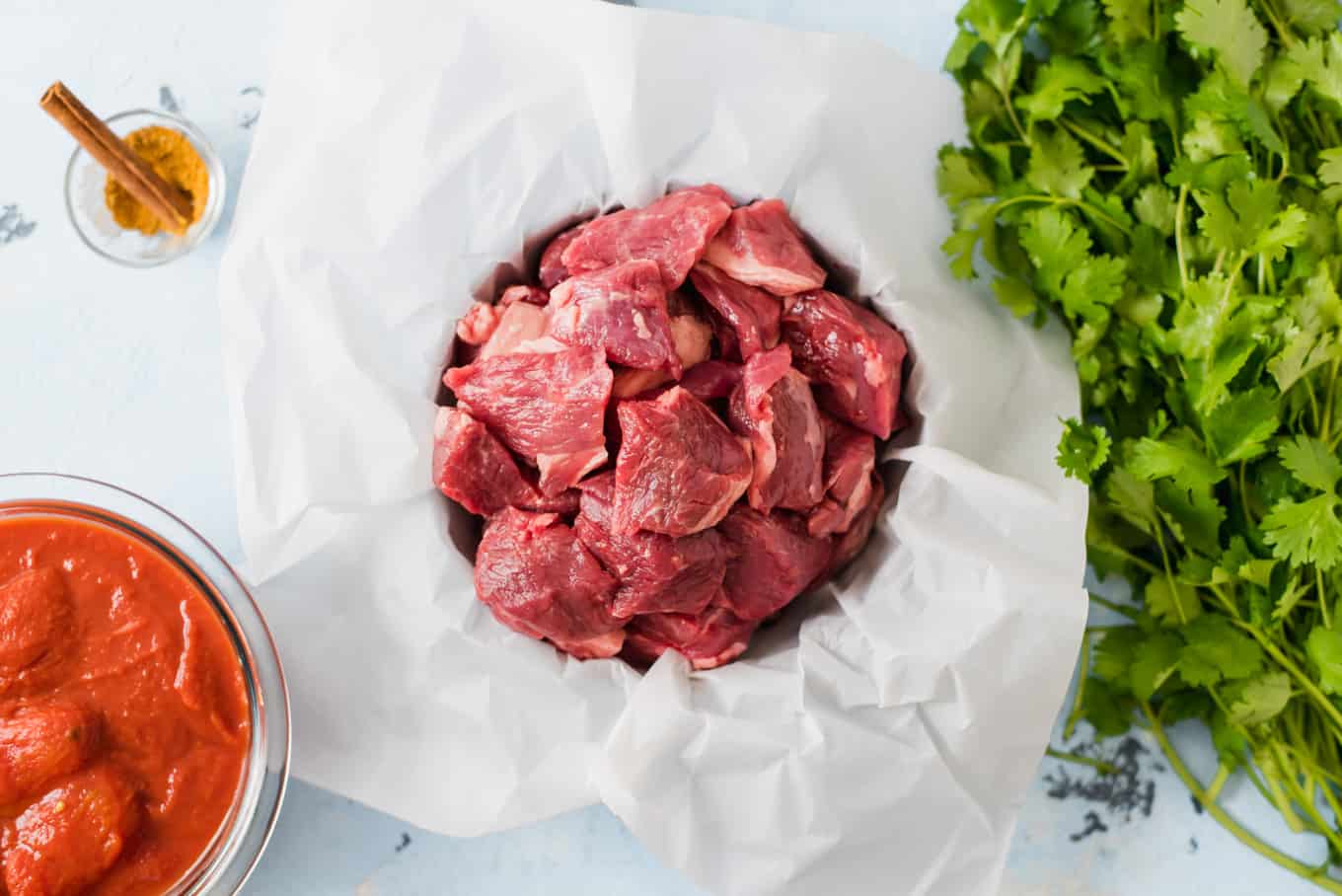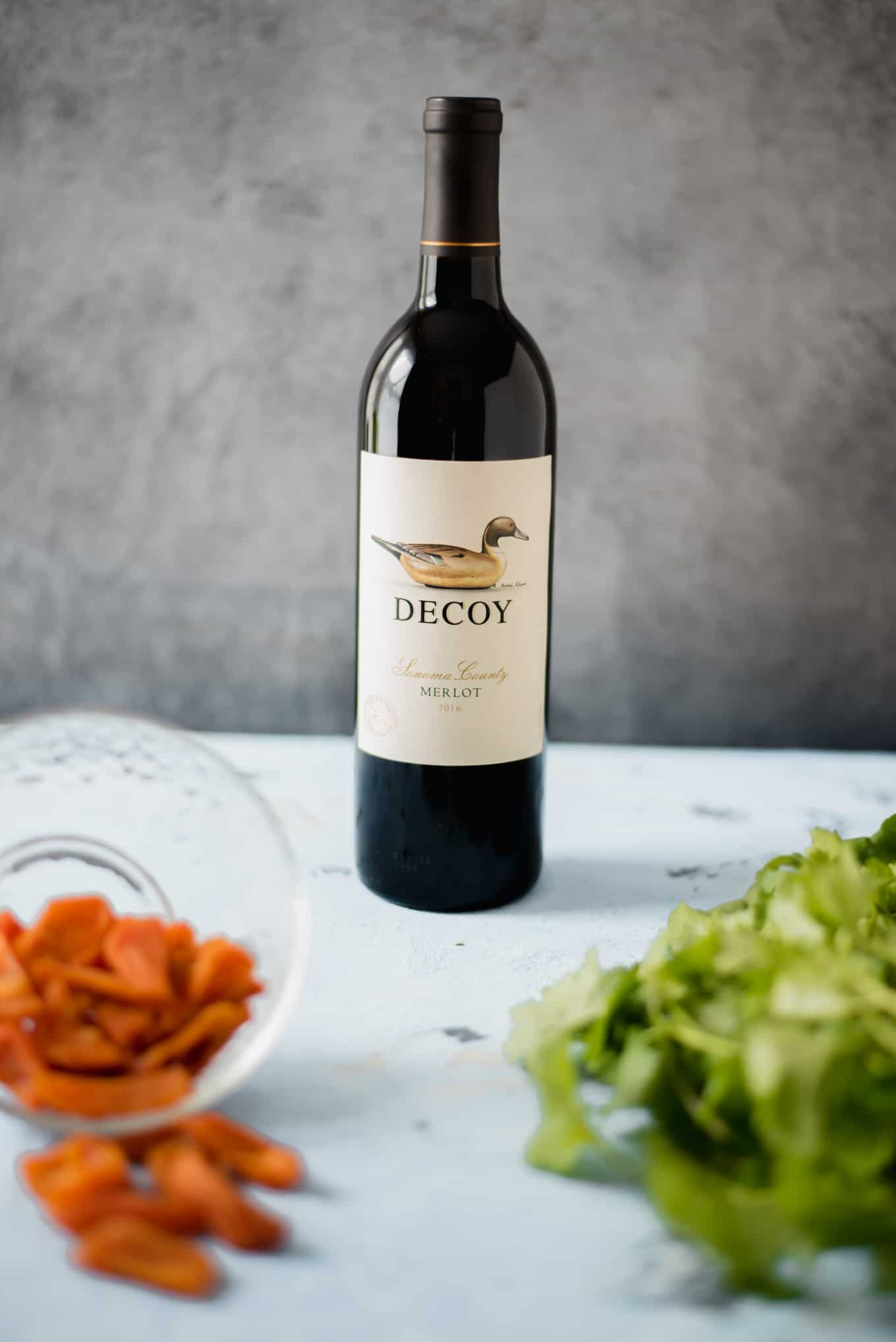 This recipe feeds six to eight people, making it a perfect weekend cooking project (which will be great for hosting that scary movie/game night). It takes about three hours to cook, depending on your oven. You can include a sheet of aluminum foil to keep a tighter seal on the lid.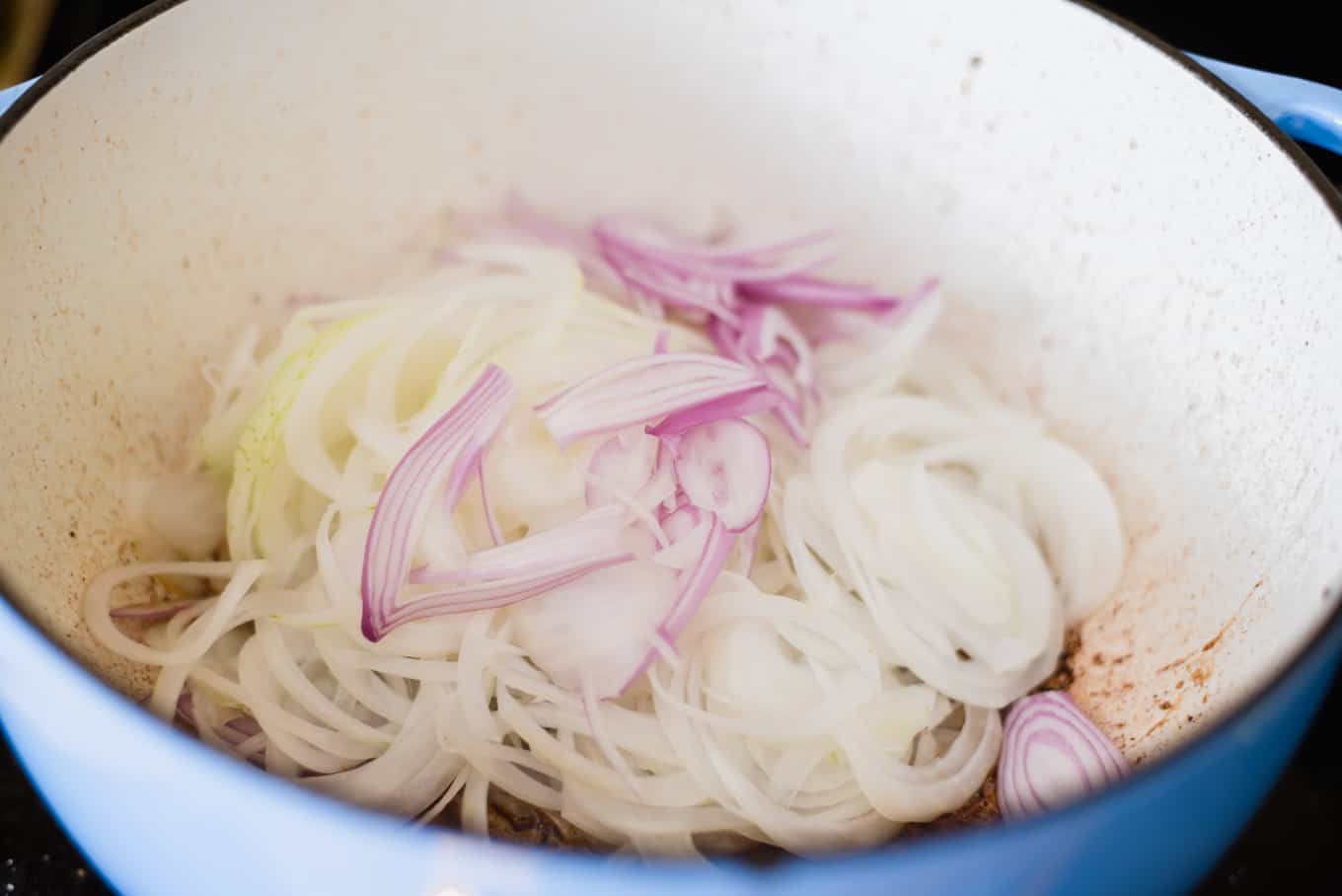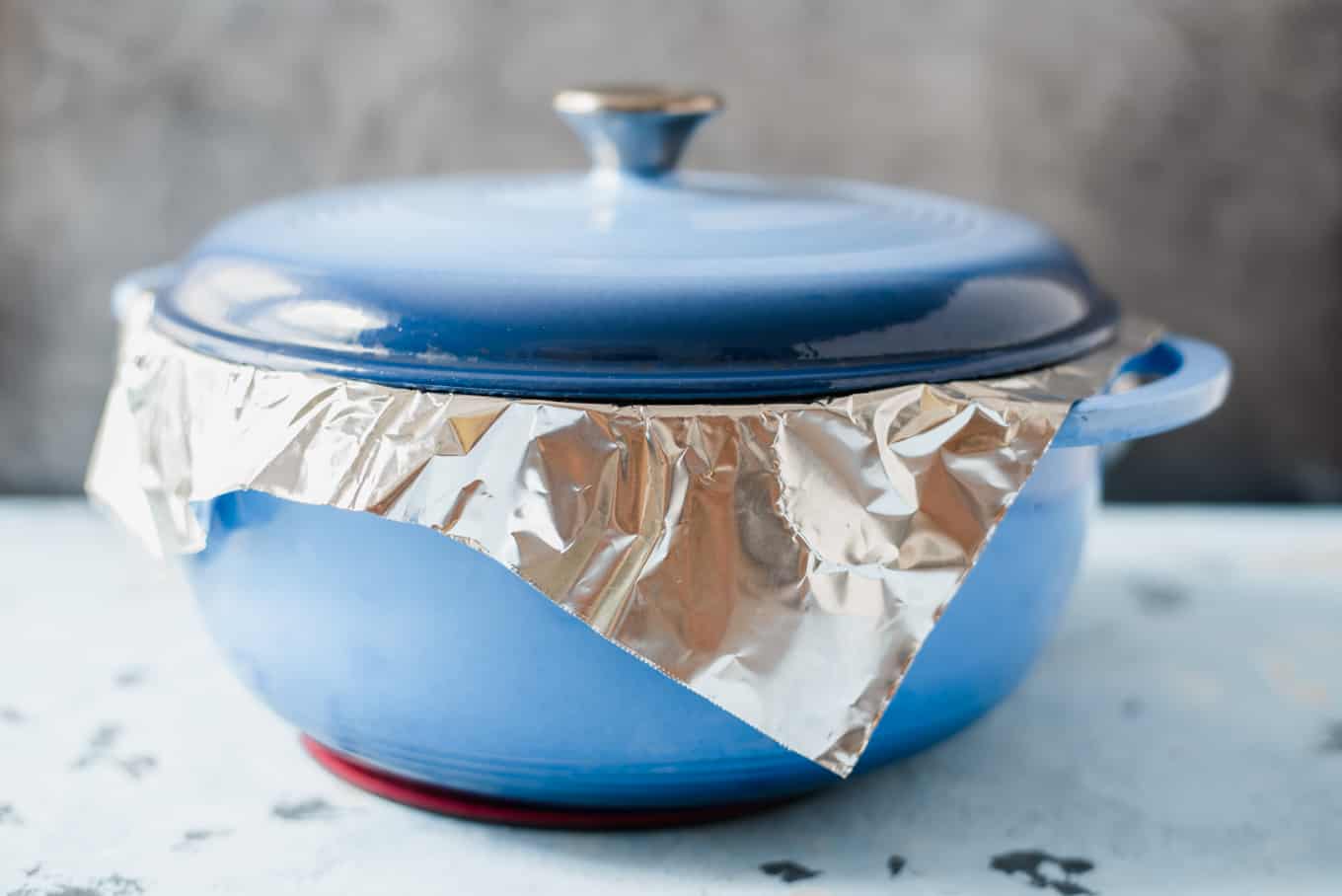 As the tagine is cooking in the oven, the house will smell insanely delicious, so you will need a little bit of patience. 🙂 The end result will be a thick, tender stew. I promise it will be worth the wait.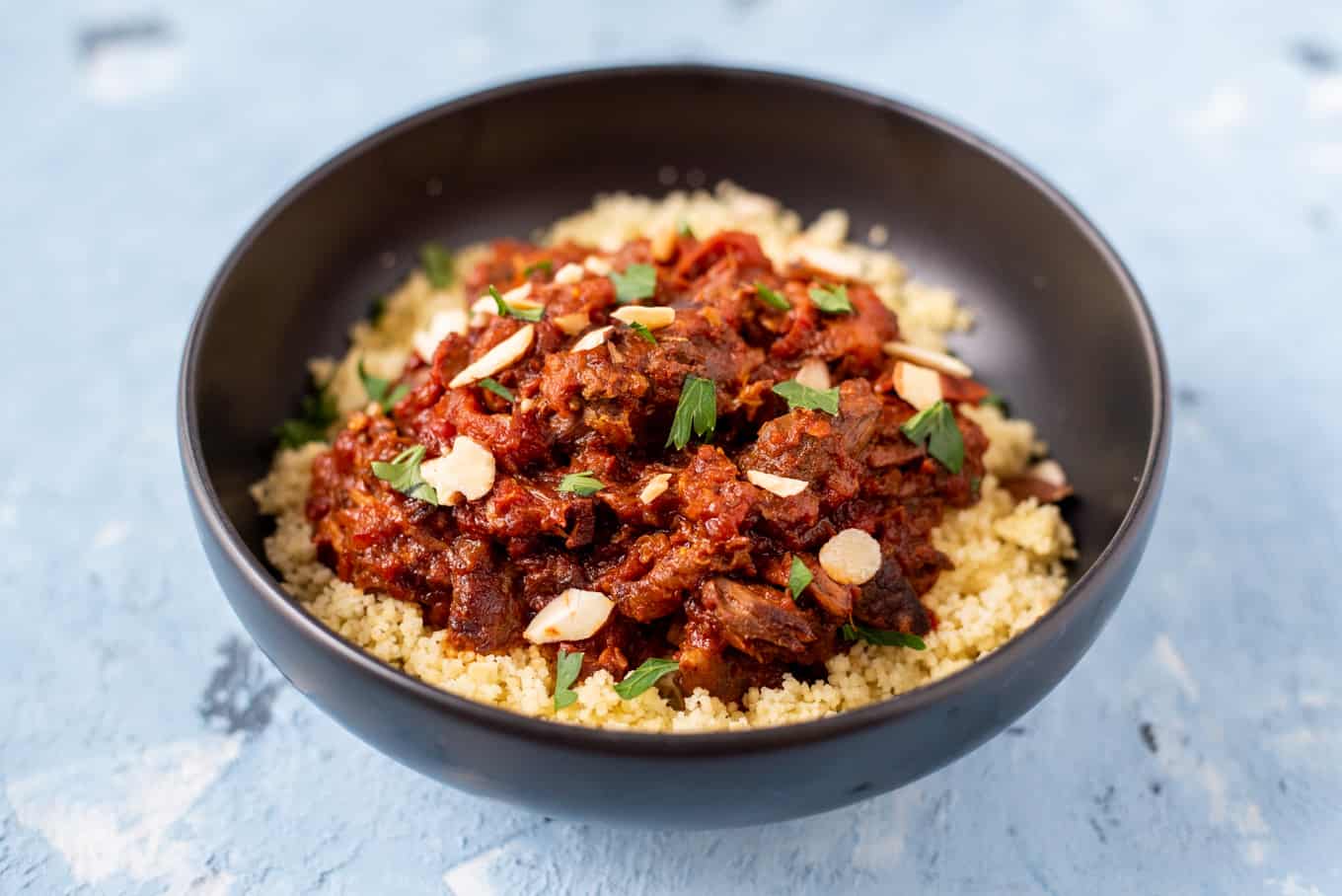 Quick Tips on Hosting a Fun and Scary Movie/Game Night
Aside from October being International Merlot Month, it's also a time to celebrate fall and Halloween! As such, it's the perfect opportunity to get some friends over for lamb tagine, Merlot, and a fun night of spooky entertainment. I love dressing up for Halloween and have been getting more and more into gory/scary makeup. You can check out the makeup I did last year here if you don't mind the sight!
Here are my quick tips on hosting a successful scary movie/game night:
Keep the decorations minimal but fun!
Put up some black curtains and maybe a black tablecloth for the dining table

Mix it up by incorporating a little bit of dark red to pair nicely with the colors of the lamb tagine and Merlot

Go with some mood lighting (or no lighting at all!)

Either dim the lights very low, light up some candles, or just go full on scary with the lights off

Include some light accent decorations

Jack-o-lanterns, skulls, or a few fake black spiders

Create your own "specimen jars"

Have some mason jars and old/broken toys to put to use? You can fill a jar with colored water (your choice) and add fake eyeballs, doll heads, plastic rodents, and more
Set up a makeup station and include some (or all) of these.
deep black eyeliner (liquid or pencil)
fake blood
face paint
liquid latex
cotton balls (to rip and glue to skin to give a broken flesh look)
black netting
various makeup brushes
Watching a movie or playing a game?
No matter which way you choose to entertain your guests, just have the most fun!  Jason and I love playing video games and recommend a game night where a scary story is involved and the group can be on the edge of their seats watching it unfold as they participate in the madness. Just try to keep the Merlot in your glass when you inevitably jump back from the scare!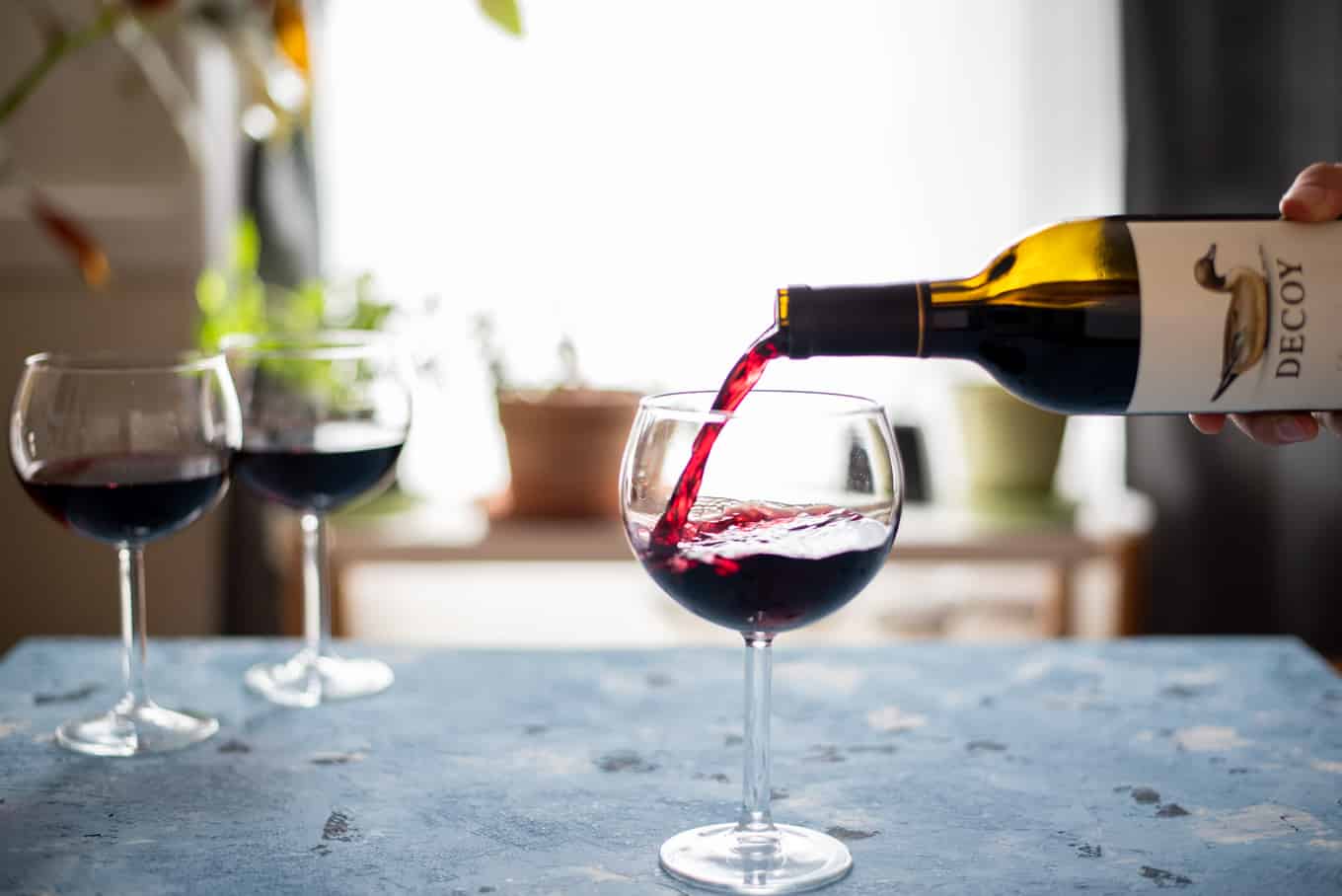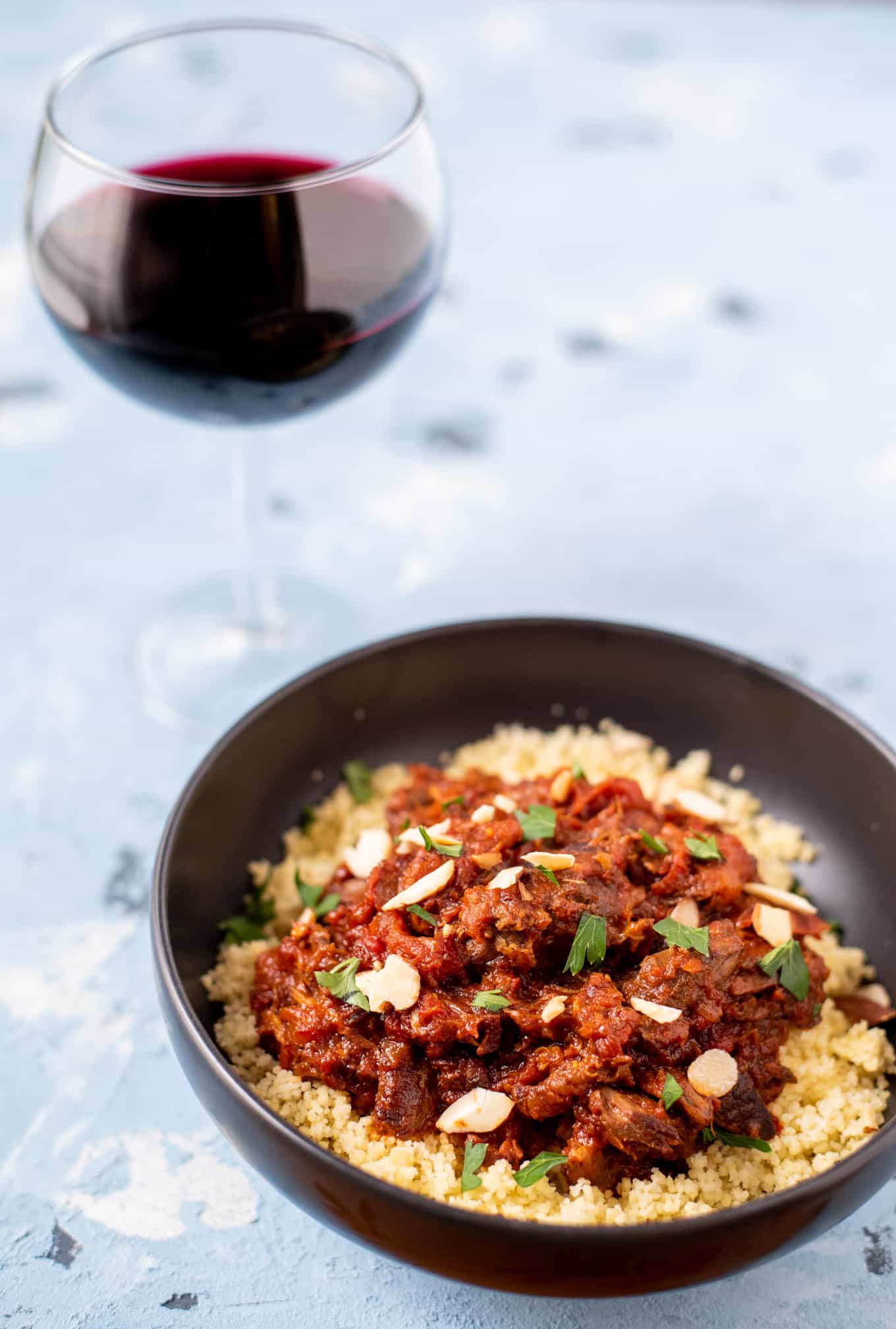 I hope you enjoyed this post! Do you love celebrating fall and spooky things? Maybe with a glass of Merlot in hand as well? I'd love to know your favorite things about this time of year.
Until next time, friends. Have a spooktacular October!
📖 Recipe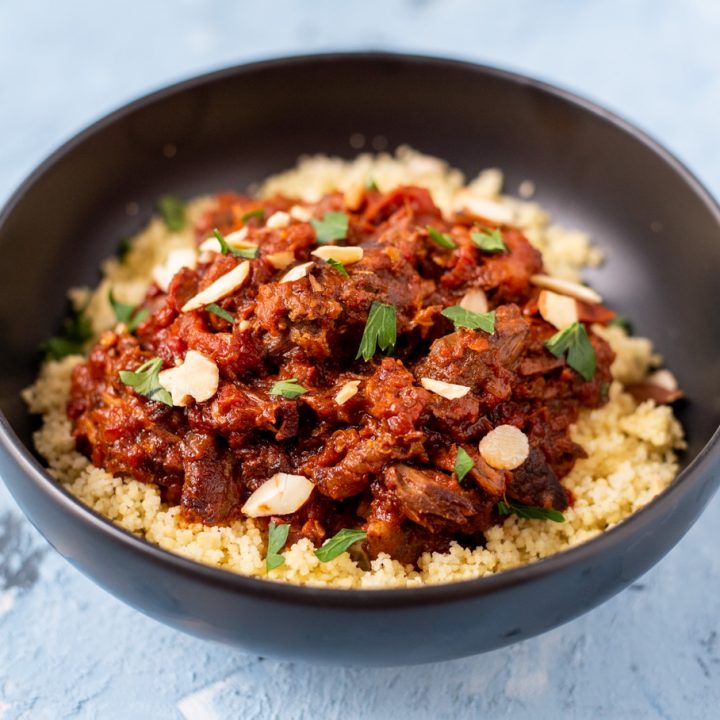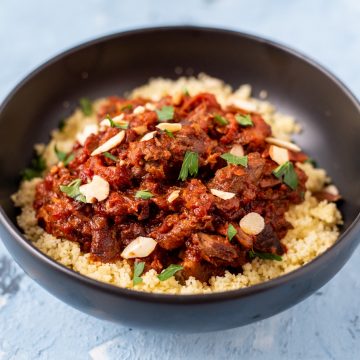 Ingredients
3

pounds

boneless lamb

,

cut into 1 ½-inch pieces

1-2

teaspoons

kosher salt

½

teaspoon

cinnamon

2

tablespoons

extra virgin olive oil

1-2

large

sweet onions

,

thinly sliced (about 3 cups)

1

small

shallot

,

thinly sliced (optional)

1

tablespoon

tomato paste

3

cloves

garlic

,

chopped

1

cinnamon stick

pinch

of saffron

freshly ground black pepper

½

teaspoon

ground ginger

½

teaspoon

turmeric

,

optional

pinch

of nutmeg

,

optional

3

ounces

dried apricots*

,

cut in half (about ¾ cup)

1

28-ounce

can whole peeled tomatoes

,

crushed

1

cup

chicken stock

2

tablespoons

chopped cilantro

2

tablespoons

chopped parsley

⅓

cup

sliced almonds

,

toasted
Instructions
Season the lamb with salt and cinnamon. Mix until well combined and let sit at room temperature for one hour. Roughly chop the saffron and add to a small cup or bowl with two tablespoons of warm water. Set aside to let it infuse while the lamb rests.

Preheat the oven to 325 degrees Fahrenheit.

In a tagine or Dutch oven, heat the olive oil over medium heat. Add lamb in batches and let cook, undisturbed, for three minutes or until browned. Flip each piece and let cook an additional two to three minutes. Transfer lamb to a plate or bowl as they brown.

Add onions and shallot. Cook for five to ten minutes, until they're soft and translucent. Add tomato paste, garlic, cinnamon stick, saffron infusion, and spices. Cook until fragrant, about one or two minutes.

Add in the lamb and its juices, apricots, crushed tomatoes, and chicken stock. Give it a quick stir.

Cover the Dutch oven with foil, then its lid (if using a tagine, omit the foil step). Place in the oven for 2 ½ to 3 hours, until the sauce has thickened and the lamb is tender.

Taste and adjust seasonings if necessary.


Top with toasted almonds, parsley, and cilantro. Serve with couscous, flatbread, and Merlot.
Notes
You can substitute one teaspoon of ground cinnamon for the cinnamon stick.
In lieu of apricots, you can also do a blend with pitted dates and/or raisins.
---
I was selected for this opportunity as a member of CLEVER and the content and opinions expressed here are all my own.