This post is sponsored by BabbleBoxx.com.  All opinions are strictly my own!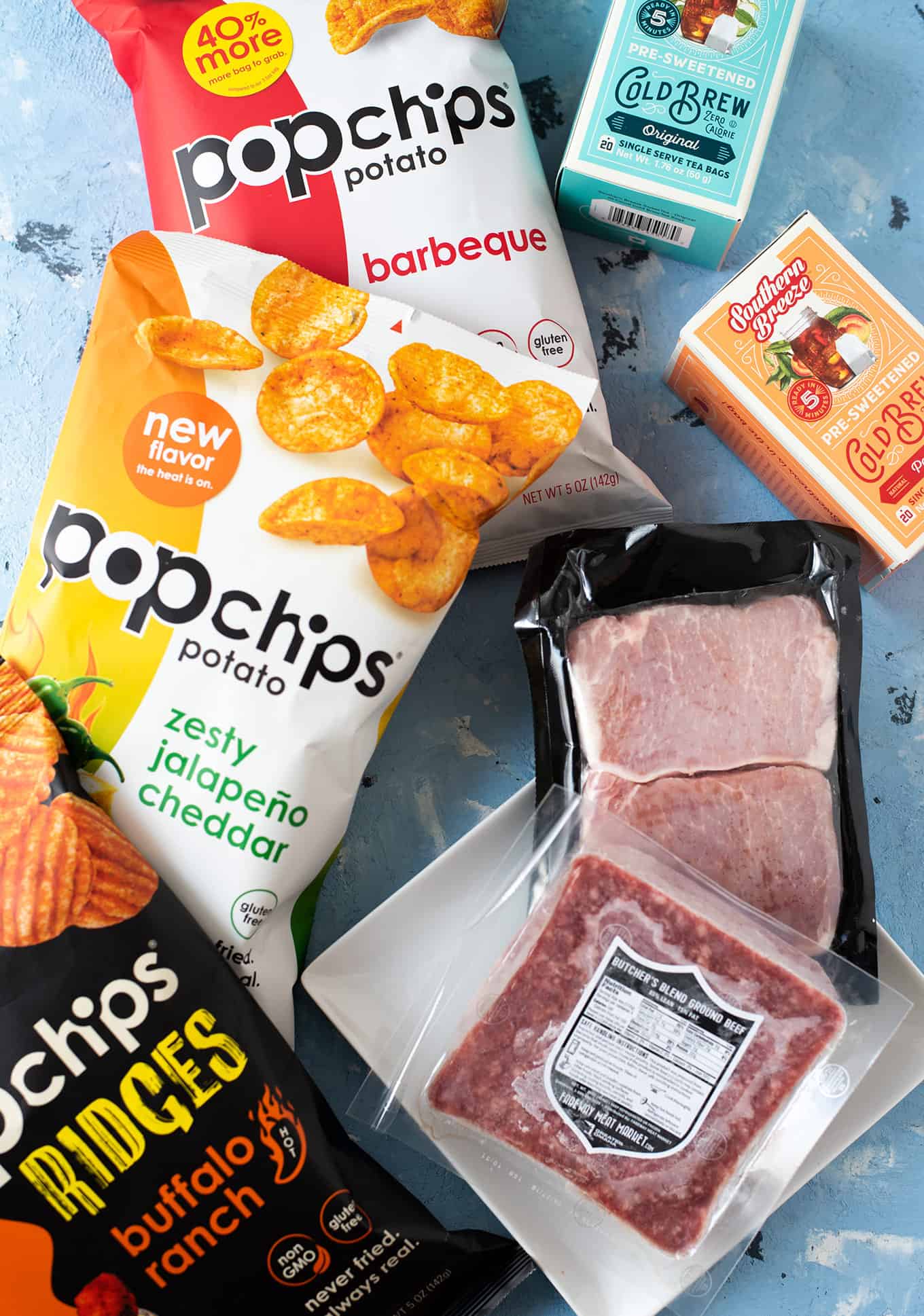 Hello, friends!
Can you believe July is half over?  Summer always seems to go by too quickly. I wish I could slow down the clocks around this time of year.
Or anytime ever, really.
Until someone invents a super cool time machine that will help out with that, the best we can do is just chill and enjoy the ride, right? Keywords here are chill and enjoy; my two favorite things to do in the summer months!
I love to be outside any chance I get, whether it's lounging on the beach, by a pool, hiking through some paths, dining outside at a restaurant, or dining outside at home. As of lately, I've been really into having low-key nights at home and chilling outside. I love that intimate setting that involves great friends and food.
For this post, I teamed up with Fareway Meat Market, Southern Breeze Sweet Tea, and popchips! I'm goin go to share a simple and flavorful recipe for grilled pork chops and offer tips to pair them with easy sides, snacks, and beverages; a great recipe for low-key summer vibes.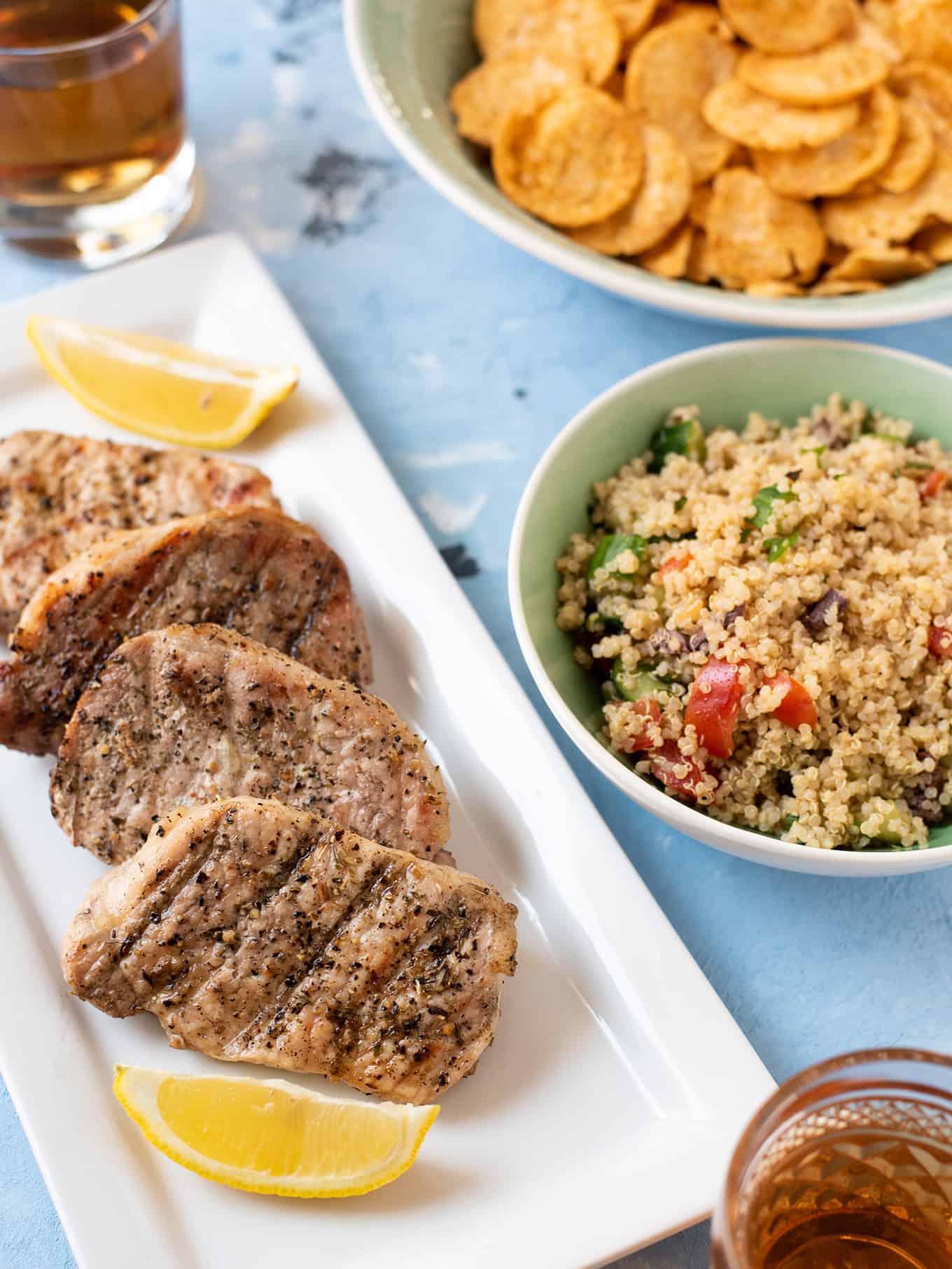 Outdoor Dining Tips
I love to cook for friends and loved ones, but I don't always want to spend hours in the kitchen doing so, especially in the hot summer months. I like to opt for simple snacking and dining this time of year. Not just because of the hot weather, but also to not feel so stressed when friends are over to hang out.
Here are some of my tips for outdoor dining and keeping it chill.
Trust in Tasty & Healthy Snacks that Involve Zero Effort
The ultimate snack is an addictive bag of chips and popchips delivers. For a low-key outdoor dinner at home, you don't have to prepare everything you serve! I like to keep a bowl of these out before, during, and after dinner. Always be snacking. 😊
A huge perk with popchips is they're baked (never fried!) and are only made with real ingredients. Jay's favorite flavor is the Barbeque. I'm all about their Buffalo Ranch Ridges (spicy and deeeeee-licious). They're great as-is, but also pair great with a dip too (onion dip or a creamy ranch dip FTW). You can learn more about popchips on their Instagram here!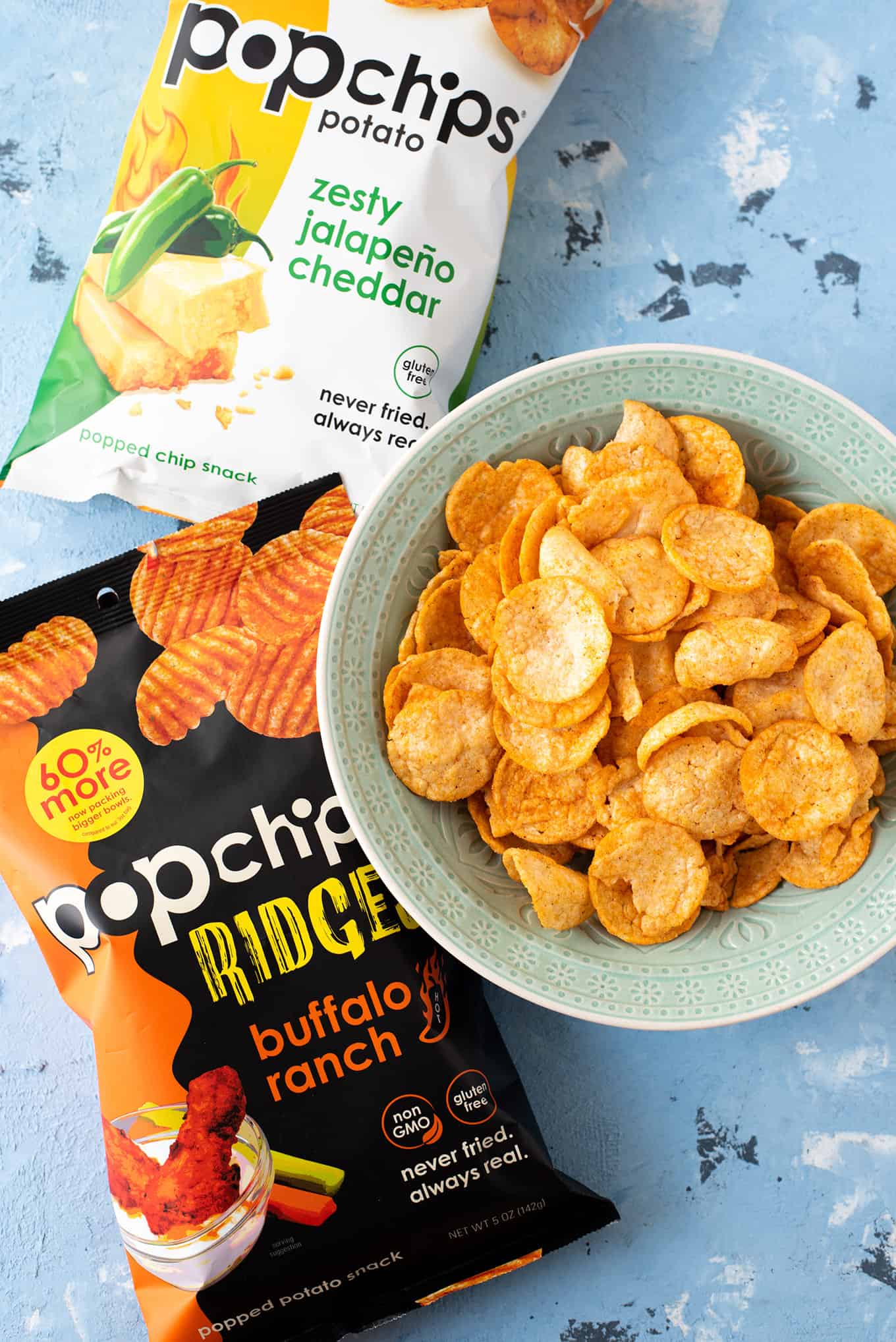 Opt for a Super Easy-t0-Make Cold Brew Tea
Stating the obvious here, but if you're going to have an outdoor evening of hanging and dining, you are going to need refreshing drinks! Southern Breeze Sweet Tea offers guilt-free, zero-calorie, and pre-sweetened tea bags that you brew in cold water and it's ready in five minutes.  They're also individually wrapped, making it easy to take some on-the-go.
You can mix it up and combine your iced tea with some lemonade for a classic Arnold Palmer. Maybe add some bourbon to spruce it up a bit!
Go here to learn more about Southern Breeze and get free shipping on your first order!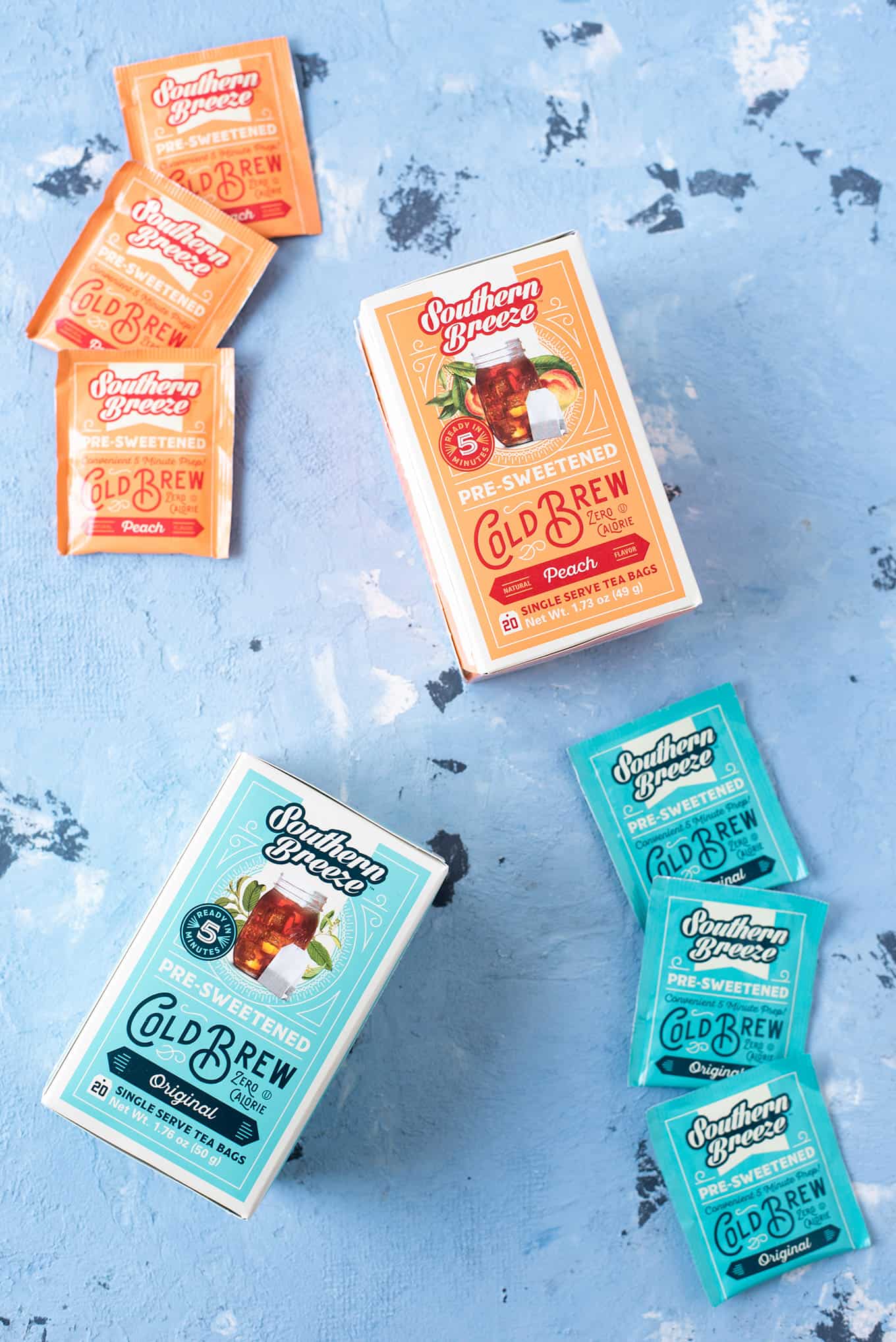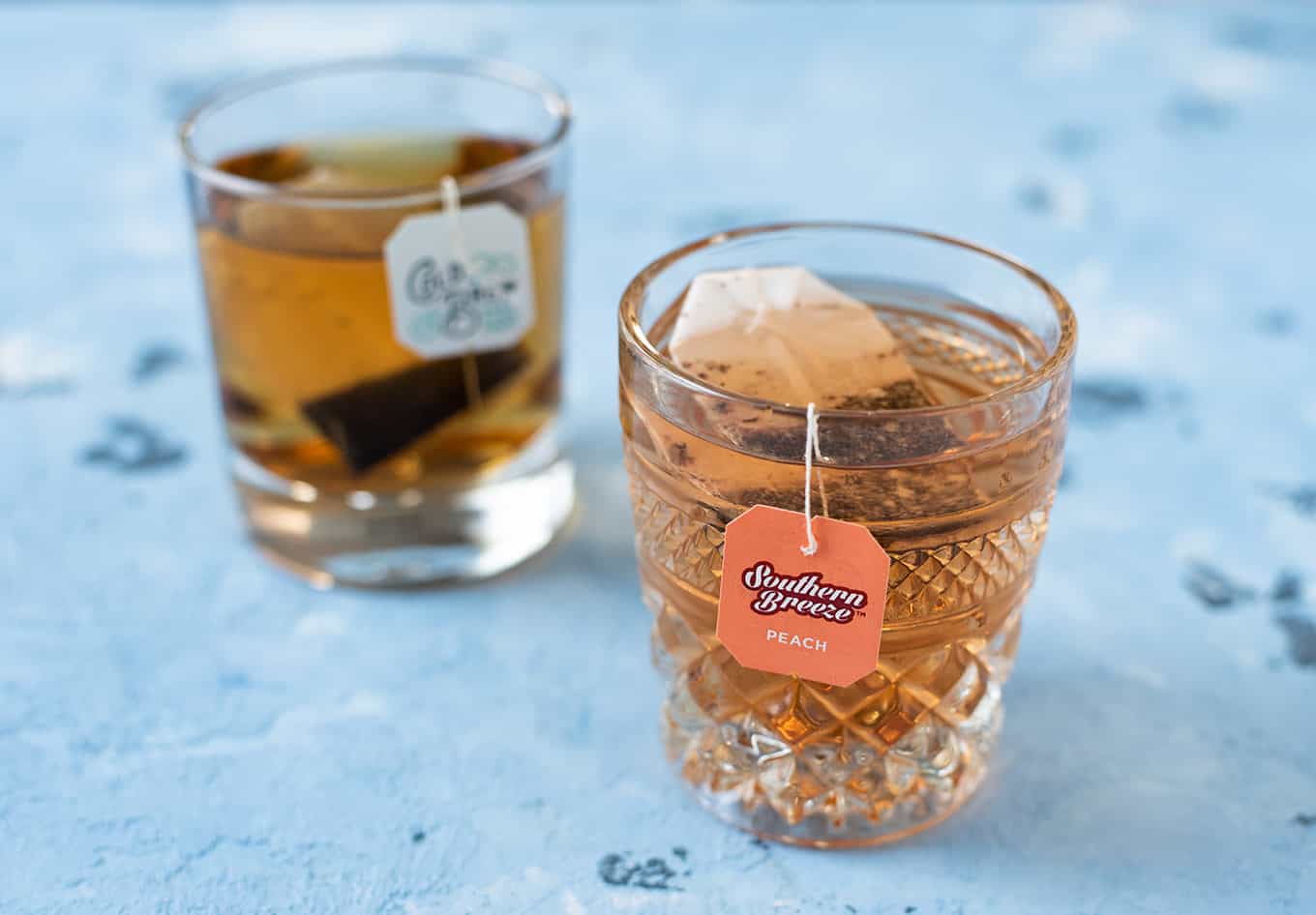 Choose High-Quality Meats for your Summer Grilling
A service where you can order meat online is a very convenient service and I welcome it with open arms. Fareway Meat Market has a history that goes back 80 years. They offer high-quality, fresh hand-cut meats without any additives and they guarantee your shipment will live up to those standards.
I received the Date Night Bundle in my recent delivery which included the following:
Two 10-ounce Iowa Pork Chops
Two 8-ounce America's Cut Boneless Pork Chops
Two 12-ounce Beef Ribeye Steaks
In addition to the bundle, I also received a pound of 85% Butcher's Blend Ground Beef and four Premium Steak Burgers.
The first meat I tried first was the boneless pork chops. I went with a simple seasoning of salt, Greek oregano, wild thyme (any thyme can be used!), and lemon. I also cut the chops in half lengthwise for ease of cooking.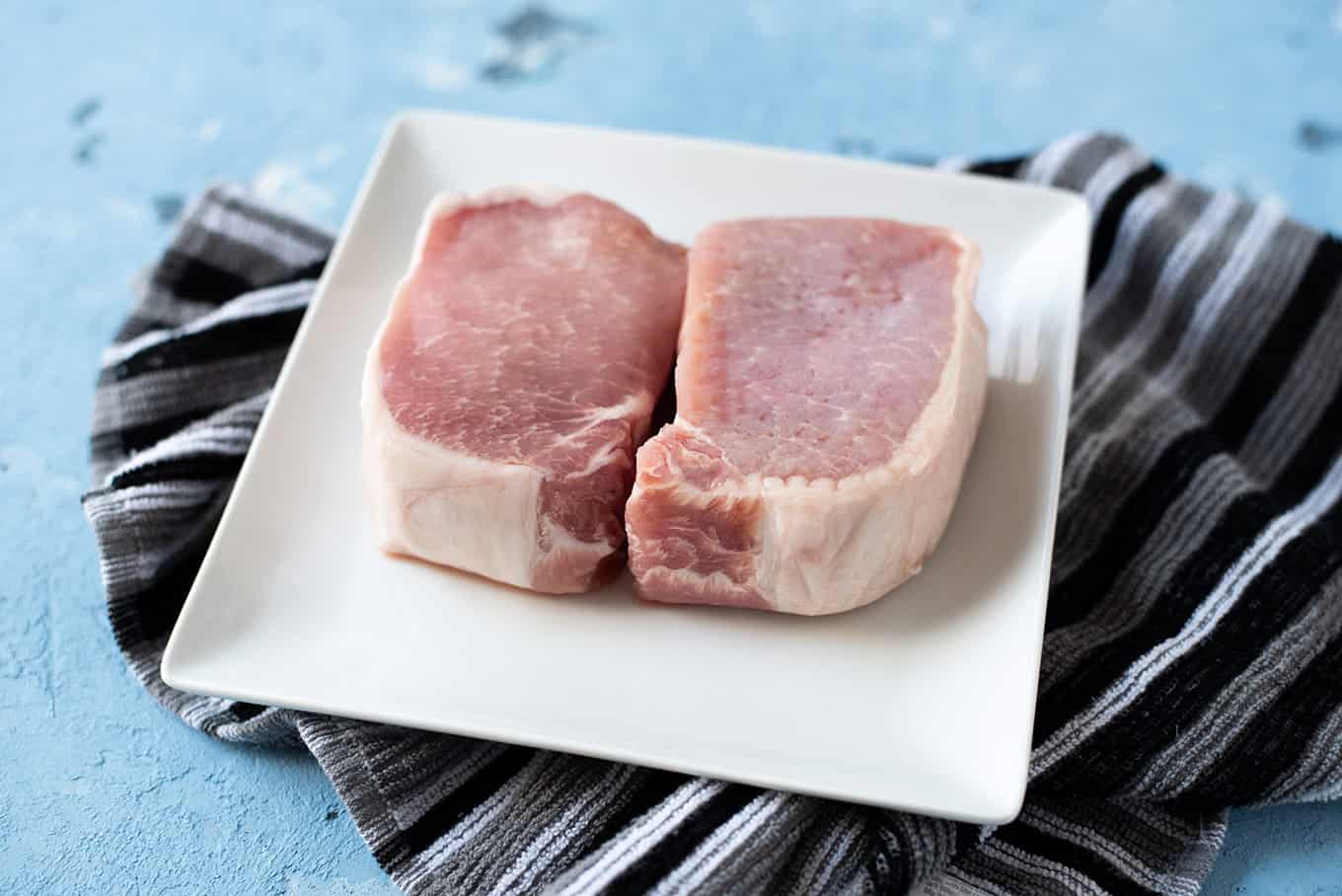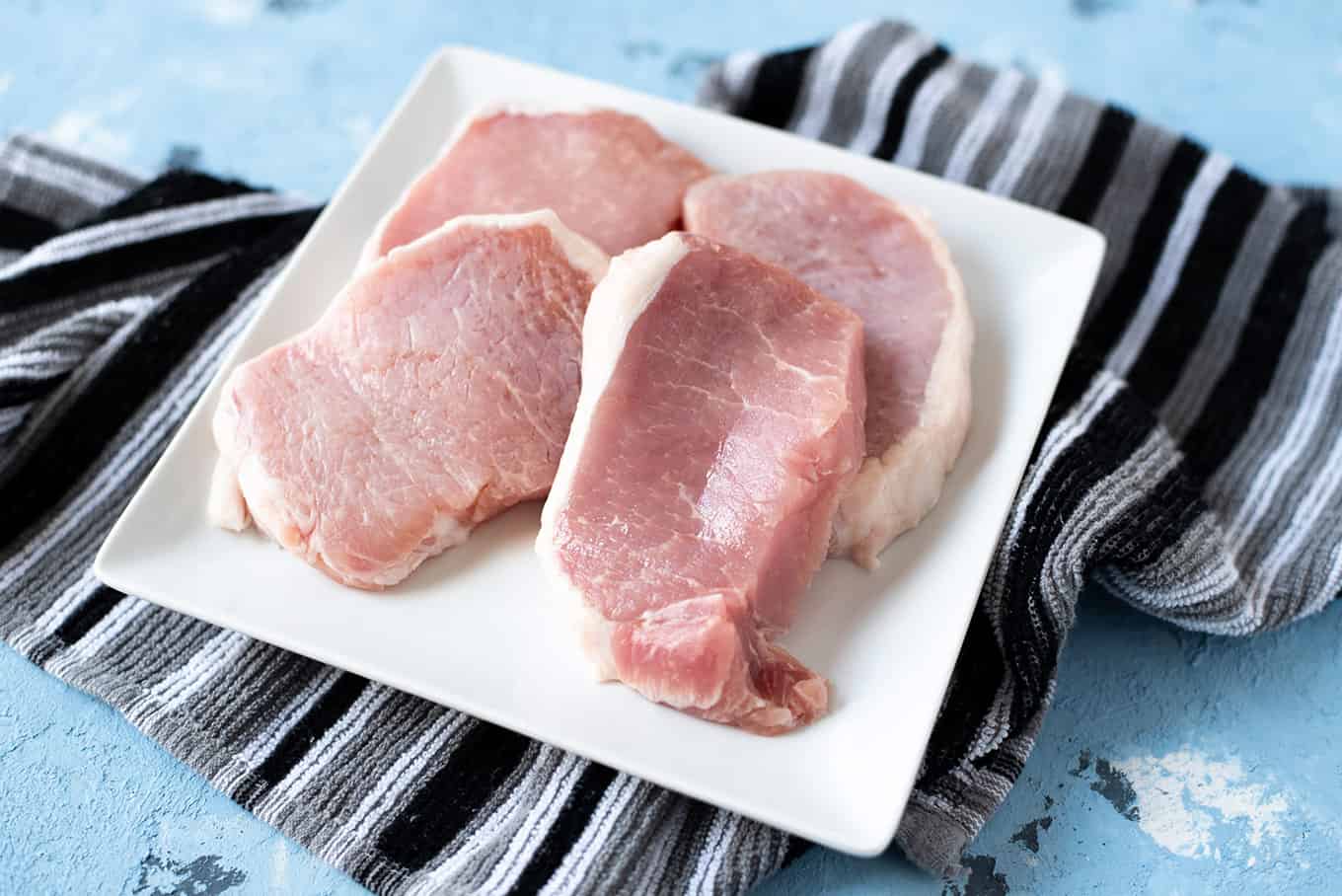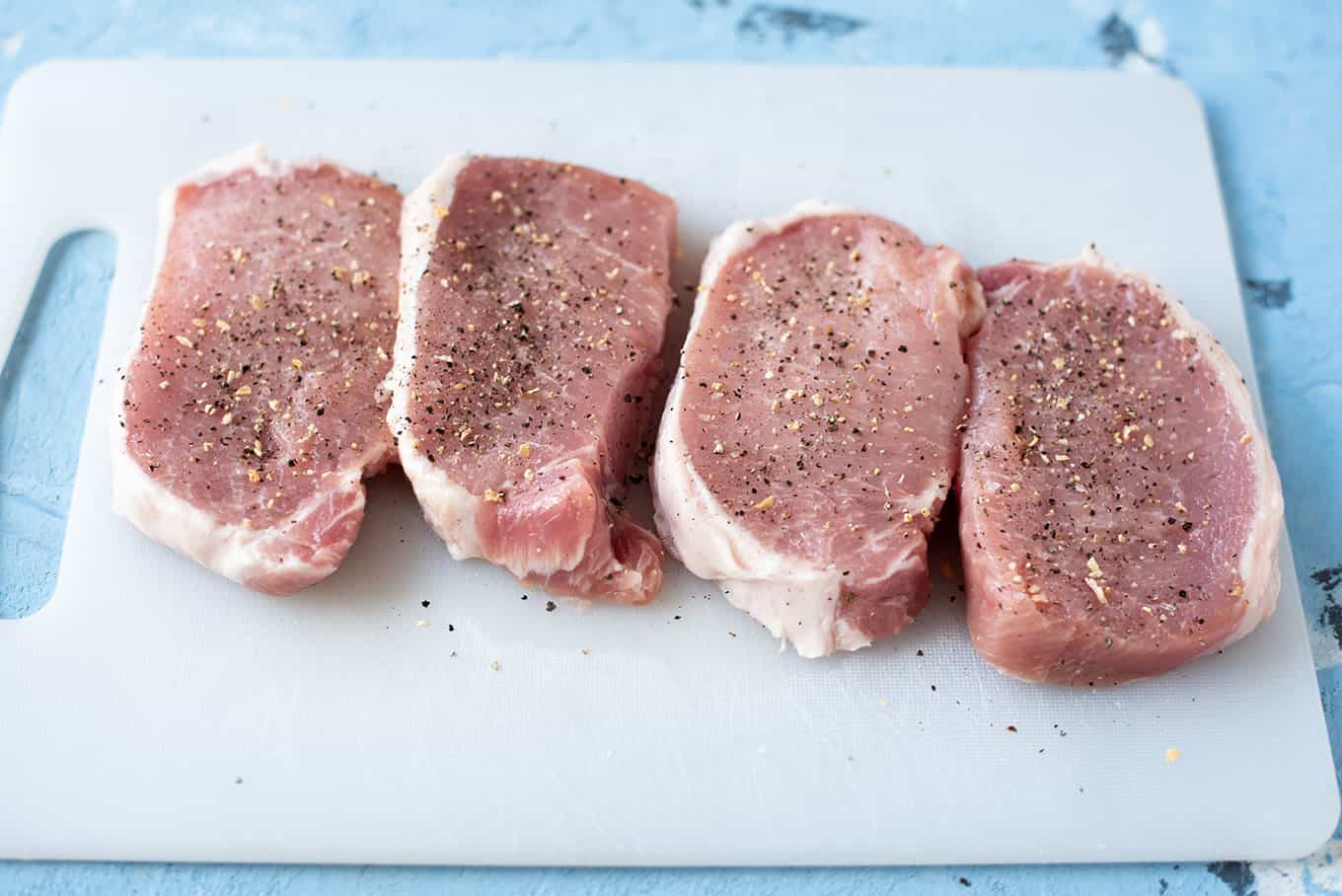 I threw them on the grill for about five minutes per side and topped them with lemon juice.  The results were juicy, tender, and flavorful. An A+ combination! Jay doesn't eat pork, so I invited a friend over to enjoy these with.
You can learn more about Fareway Meat Market and its meat delivery service by going here. Enter the code "meatlover" to receive $20 off your first order.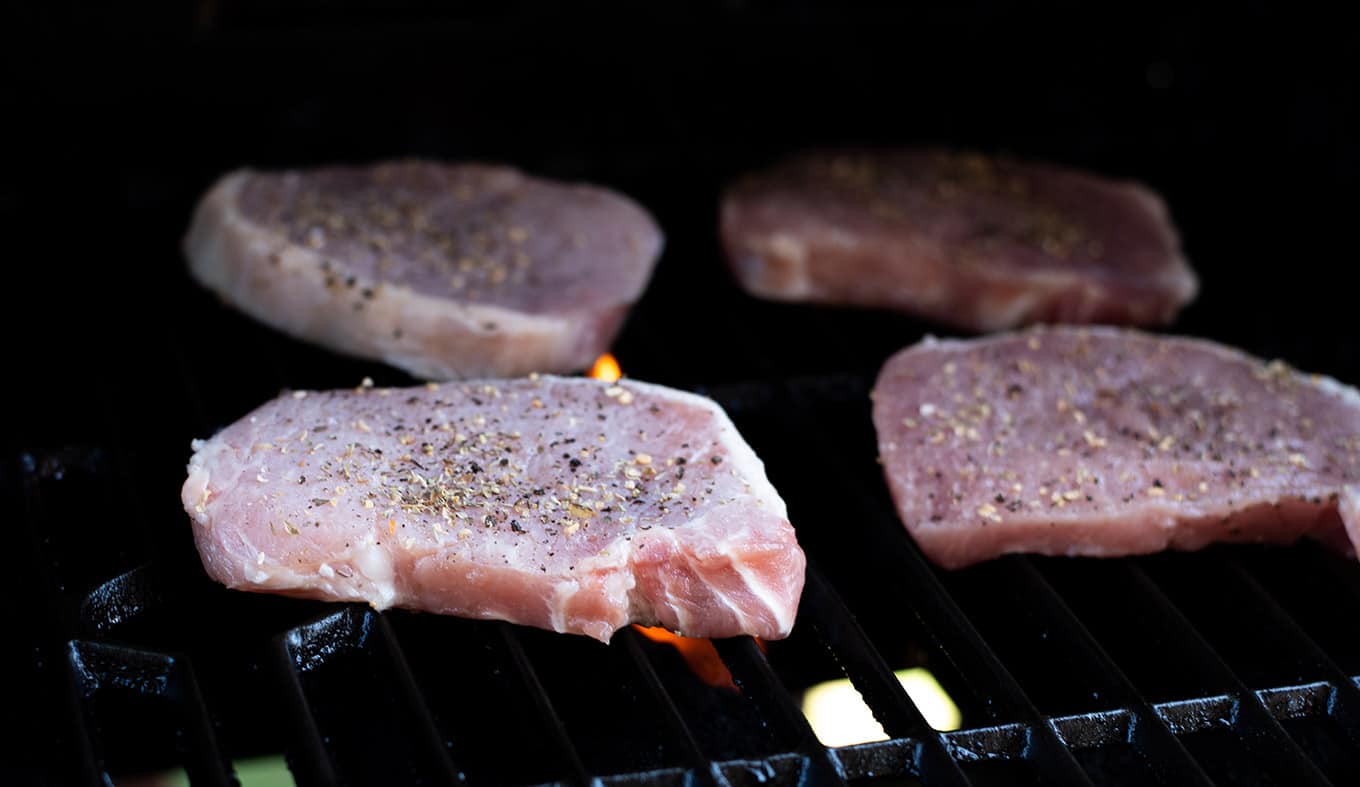 Other Tips for Outdoor Dining
You got your healthy snack, refreshing beverage, and tender meat. Here are some extra tips for a low-key night.
Make a Simple Salad or Side Ahead of Time
I served these pork chops with a Greek-style quinoa salad and they paired nicely together. Other tasty and fuss-free sides include:
Tomato & Cucumber Salad
Grilled eggplant or zucchini
Meze bites (marinated artichokes, olives, bread, feta cheese, etc)
Don't Forget the Music
Grab your bluetooth speaker and blast those summer tunes! I recommend a solid 90s hip hop playlist. You're welcome.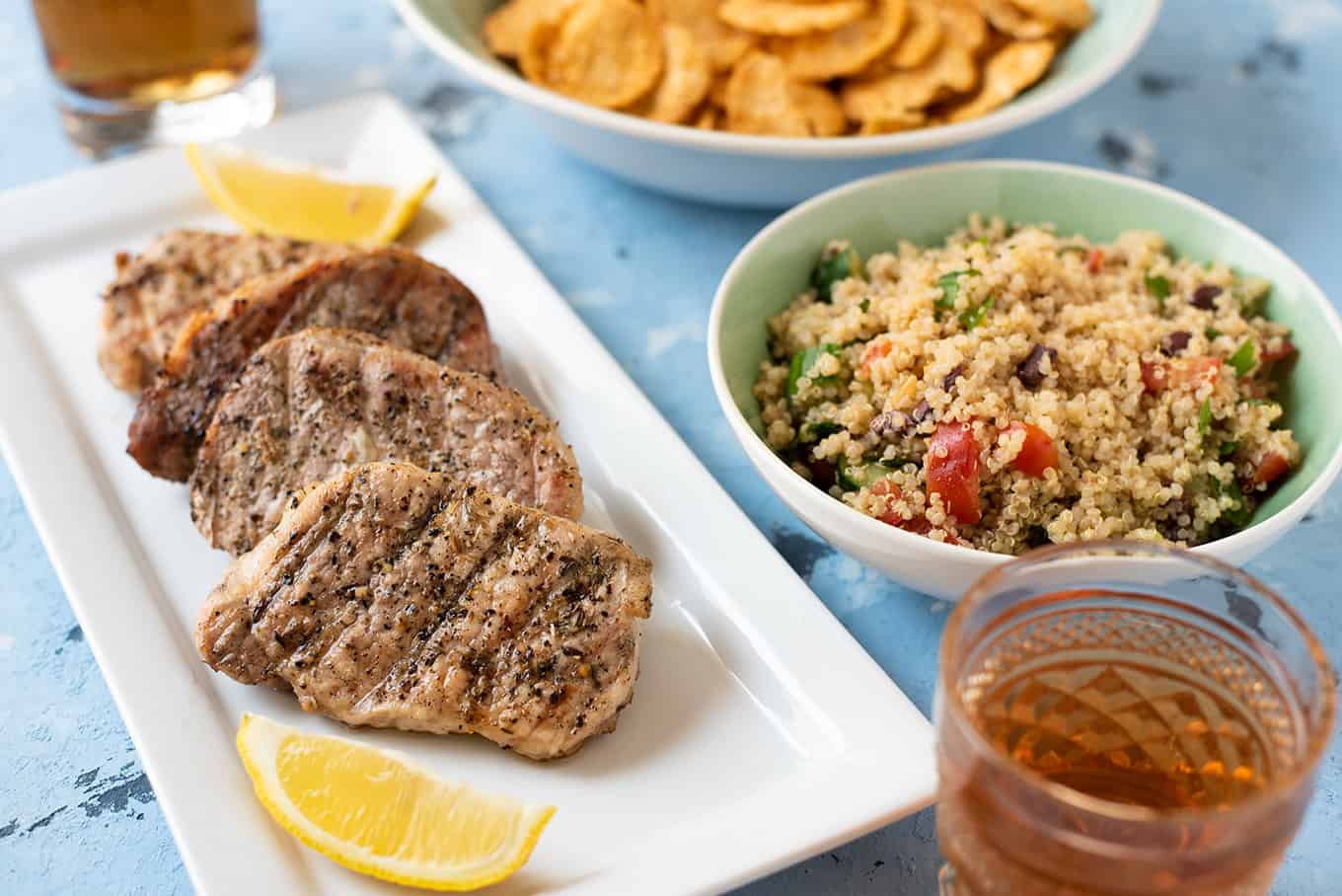 📖 Recipe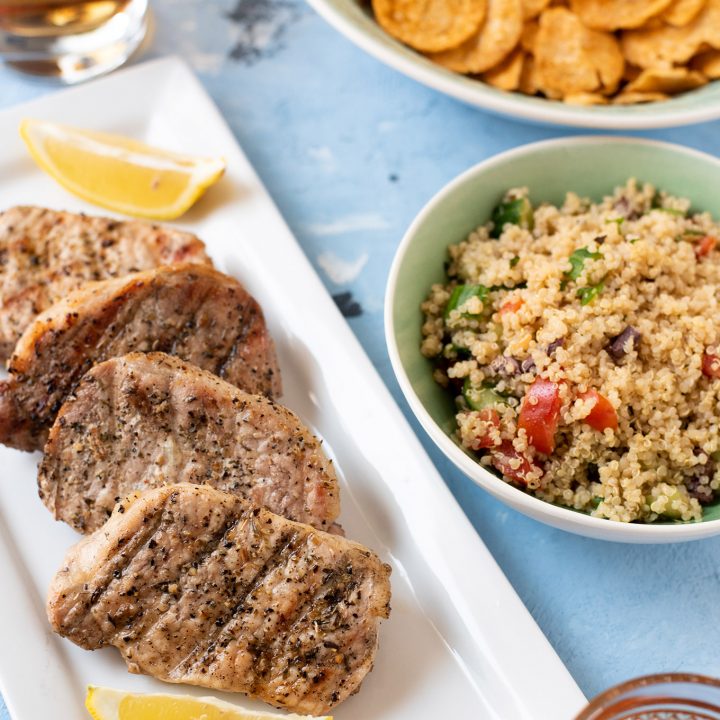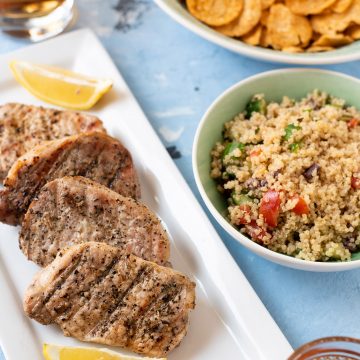 Ingredients
1

tablespoon

olive oil

2

8-ounce

boneless pork chops

,

cut in half lengthwise

½

teaspoon

Himalayan pink salt

½

teaspoon

dried Greek oregano

½

teaspoon

dried thyme

,

I love using Wild Thyme

freshly ground black pepper

2-4

lemon wedges
Instructions
Preheat your grill to medium-high heat.

Coat the pork chops with olive oil and top with the salt, Greek oregano, thyme, and a few cranks of freshly ground black pepper on both sides.

Place chops on the grill for four to six minutes per side, until a minimum of 145 degrees Fahrenheit is reached and cooked to your desired doneness.

Remove from heat and transfer to a plate. Tent it with some foil and let rest for about five minutes.

Serve with lemon wedges and enjoy!
This post is sponsored by BabbleBoxx.com.  All opinions are strictly my own!
---
Reader Interactions