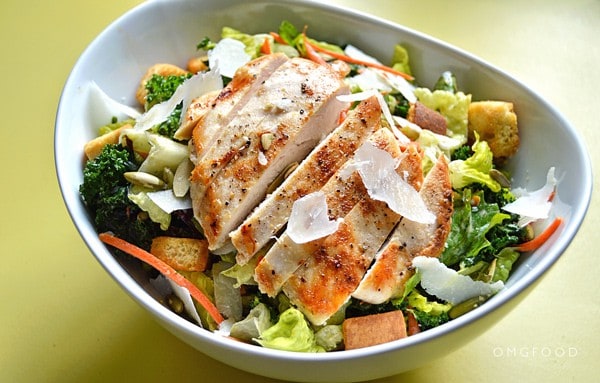 I've got a good salad recipe for you!
Is it me or is it a little weird to say recipe when talking about salads? Anyway.
Remember my post earlier this week for that basil caesar dressing? Well that tasty dressing is going into this tasty salad. What do you get when you add tasty to tasty? Lots of tasty! Obviously.
I was actually planning to post this on Thursday, but I got too excited and decided to post it early. I know. I'm living on the edge!
I mentioned in that post I was inspired by an awesome salad at this place Jason and I went to when visiting Portland, Oregon. That place was Garden Bar and if you live in Portland or happen to visit and you like an awesome salad, I definitely recommend it! I loved the salad so much, I had to make it myself when we got back from our trip.
For the dressing, I experimented with making a paleo version, leaving the cheese out (but there's cheese in the salad itself). As for the greens, I wanted to mix it up and add spring mix and romaine to the salad (though kale is still the main ingredient, hence the name Chicken Kale Caesar Salad).
If you buy your greens already chopped and rinsed in a package, you'll save a lot of time prepping this. I sometimes buy them bagged and other times, I'll buy them whole to clean myself. It depends on my time and budget, though I don't think you'll find spring mix in a form that's not loose greens. 🙂
Speaking of prep, I love carrots julienne style in any salad. If you don't own a julienne peeler, I highly recommend you fix that! It can also be used to make veggie noodles! this one works as a dual julienne and vegetable peeler. Convenient!
Alternately, you can use a mandoline (not to be confused with mandolin). I love my mandoline. I use this one and highly recommend it. Though if you've never used a mandoline before, you should know it can be pretty dangerous if you don't use it correctly! It comes with a guard to use when slicing your vegetables. Absolutely always use that guard.
ABG. Always Be Guarding.
I don't know what I'm saying anymore. Things are getting silly. But seriously, to hype up the mandoline a bit more: I use it when I'm prepping veggies in advance to have on hand (i.e. julienned carrots for salads).
This salad can serve two people if you're both pretty hungry, or three to four people if you wanted to serve it as a side or smaller portion.
Anyway, enough rambling and more eating! Here's another shot of this tasty salad before we get to the recipe.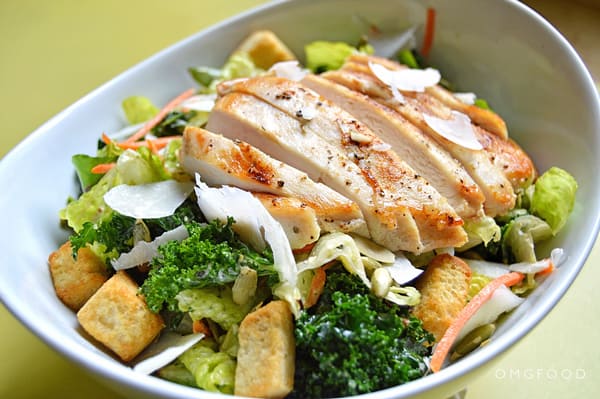 📖 Recipe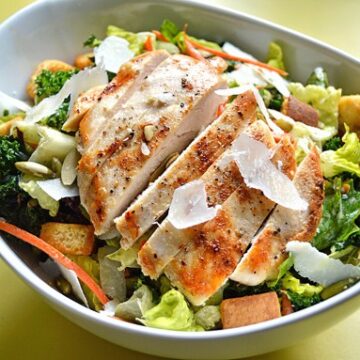 Ingredients
1

tablespoon

extra light olive oil

2

boneless chicken breasts

,

butterflied

kosher salt

freshly ground black pepper

½

teaspoon

garlic powder

1

small bunch of kale

,

stems discarded, chopped (4 cups tightly packed)

1

romaine heart

,

chopped

1

cup

spring mix

1

large carrot

,

julienned

¼

cup

pepitas or sunflower seeds

Parmigiano-Reggiano shavings

croutons

,

optional

½

cup

basil caesar dressing
Instructions
Season the chicken with salt, pepper, and garlic powder.

Add olive oil to a preheated skillet over medium-high heat and cook the chicken 4-6 minutes per side or until cooked through. Set aside.

In a large bowl, massage the kale with a pinch of salt for two minutes.

Add the chopped romaine lettuce and spring mix. Toss to blend well.

Add carrots and pepitas. Toss again.

Add dressing and toss to coat evenly.

Place salad in bowls. Slice the chicken and add it to the salads.

Top with Parmigiano-Reggiano shavings and croutons.