A classic entree that can be enjoyed year-round, fasolakia yiahni is a Greek dish of green beans braised with potatoes, tomatoes, onions, and herbs in an extra virgin olive oil base. This delicious recipe is vegan though it is typically served with feta and good crusty bread.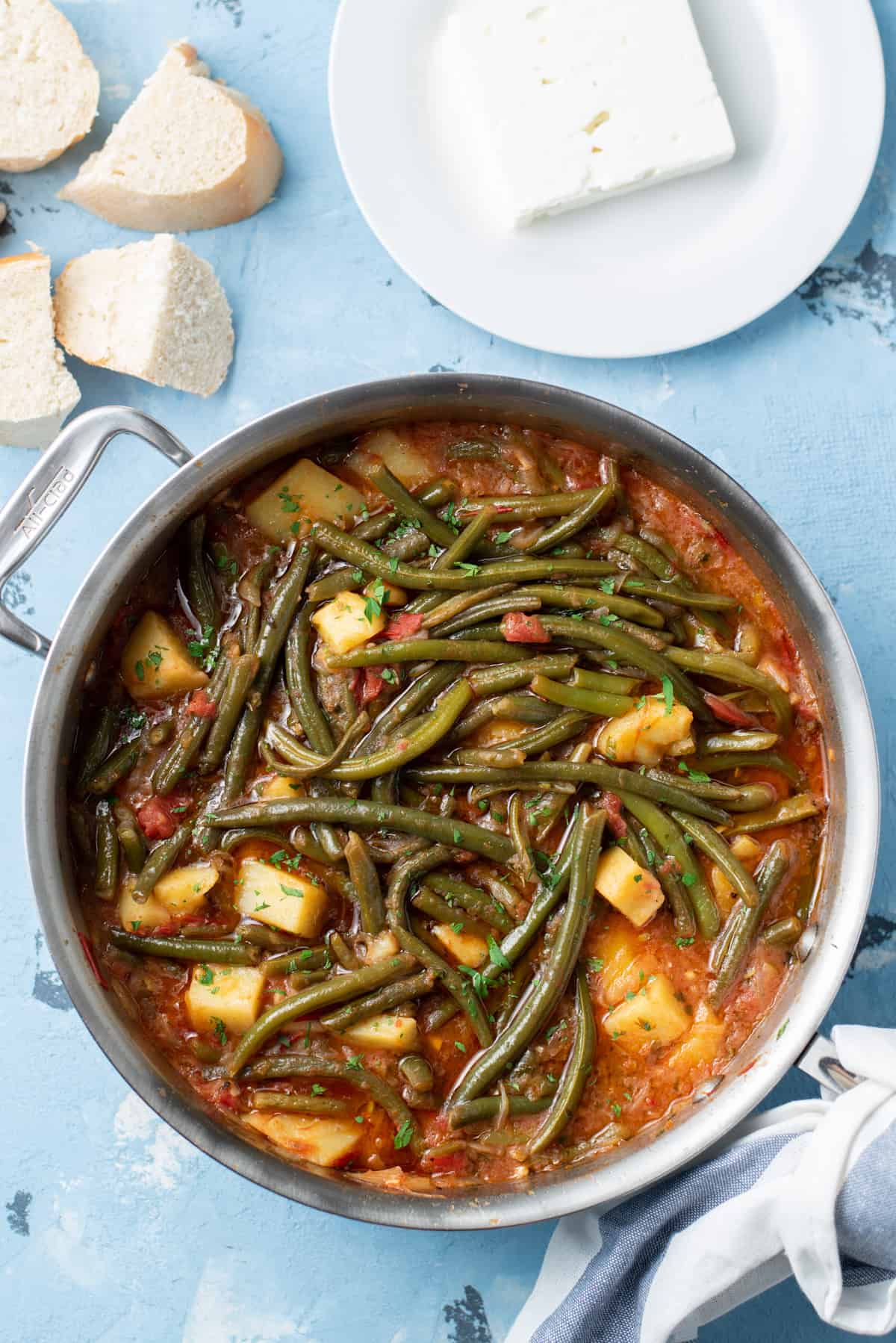 If someone were to ask me what comes to mind when talking about authentic Greek cuisine, this recipe is somewhere at the top of the list. Fasolakia yiahni is a Greek green bean stew that is usually labeled as a summer classic where green beans are bountiful, but this dish can be enjoyed all year round too! This meal was on a regular rotation for dinner growing up.
Before continuing on with this recipe's tastiness though, here's a quick breakdown of what fasolakia yiahni translates to and how it's pronounced:
fasolakia/φασολάκια (fah-soh-LAH-kiah) = green beans
yiahni/γιαχνί (yah-HNEE) = ragout, ragù, stew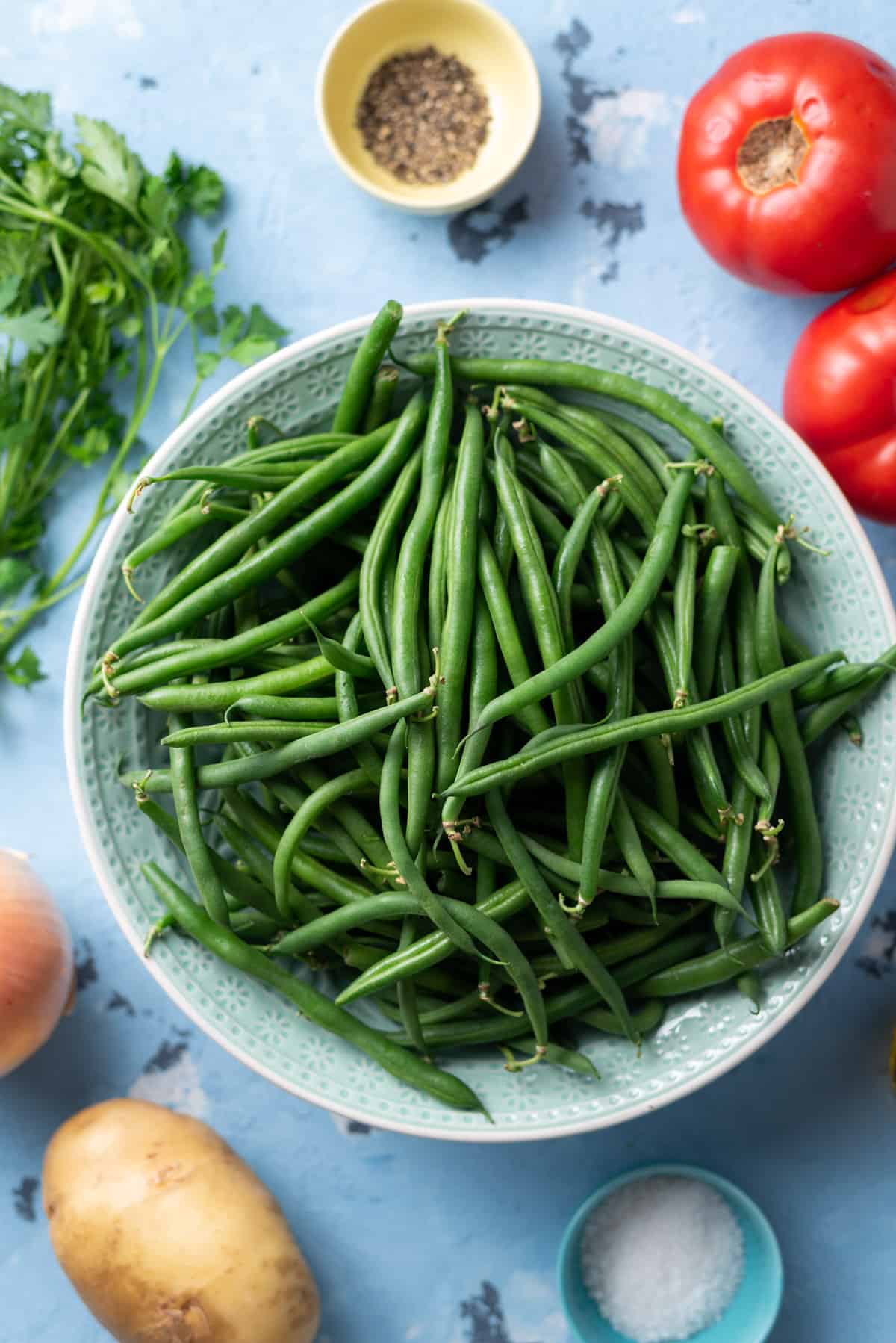 Fasolakia Yiahni / Fasolakia me Patates / Fasolakia Lathera
Most often, this dish is simply called fasolakia and any Greek will know exactly what meal you're referring to. While this is considered a stew in terms of cooking methods, the dish itself is completely vegan and has no meat (whereas most stews are a combination of meat and veggies). This is traditionally served with feta and bread, but if you do happen to be vegan, you can simply omit the feta.
Of course, there are other names out there as well! This dish can also be known as fasolakia me patates (green beans with potatoes) or fasolakia lathera (green beans in oil).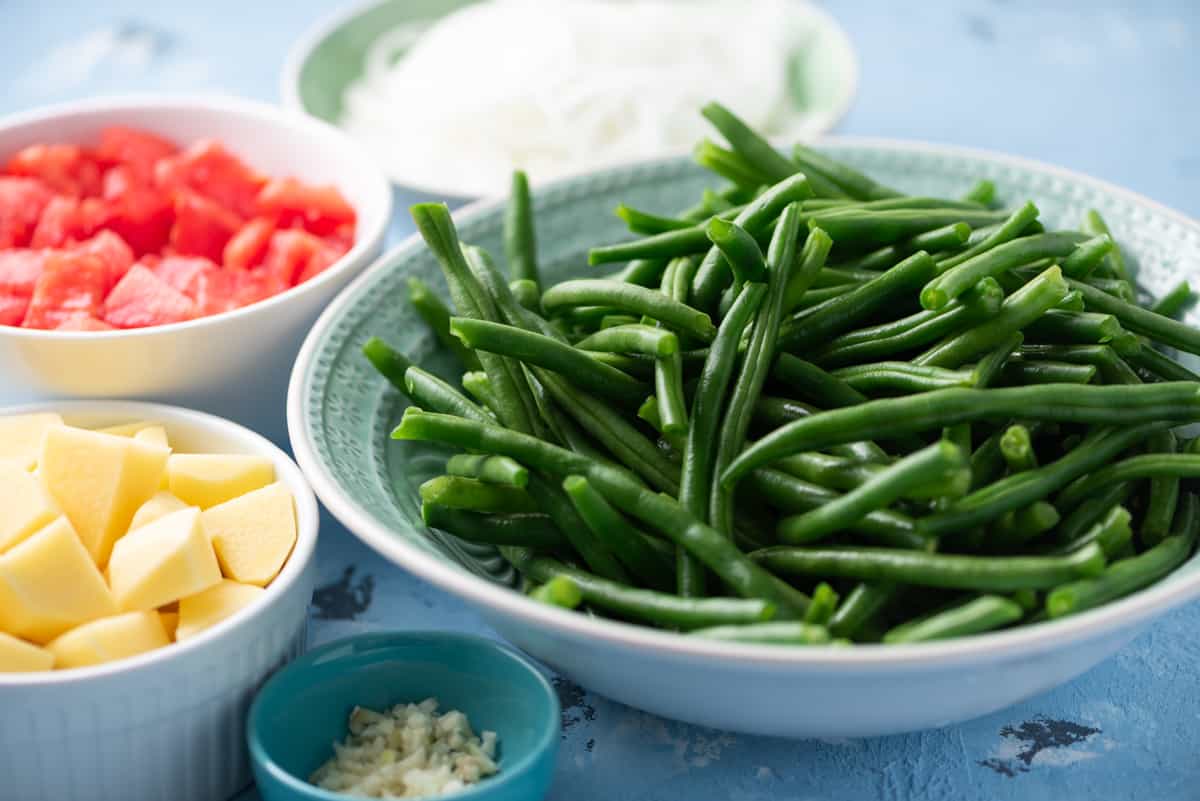 The Significance of Lathera in Greek Cooking
Lathera (pronounced lah-theh-RAH, with a hard th) is a lot more than an alternative name for some braised green beans, though. It's a whole large category of Greek dishes that are (almost always) vegetables cooked in a base of extra virgin olive oil. It's the only fat that is used, hence the generous amount that it's typically called for.
Most lathera recipes follow this simple and delicious process:
Good quality Greek extra virgin olive oil is always used as a base/cooking medium
Aromatics are sauteed
Tomatoes are added (canned or fresh, depending on the season and preference)
Vegetables of choice are added and braised until they are tender
Fresh herbs are added shortly before removing from heat
An additional drizzle of olive oil is added to the finished dish (an optional but recommended step)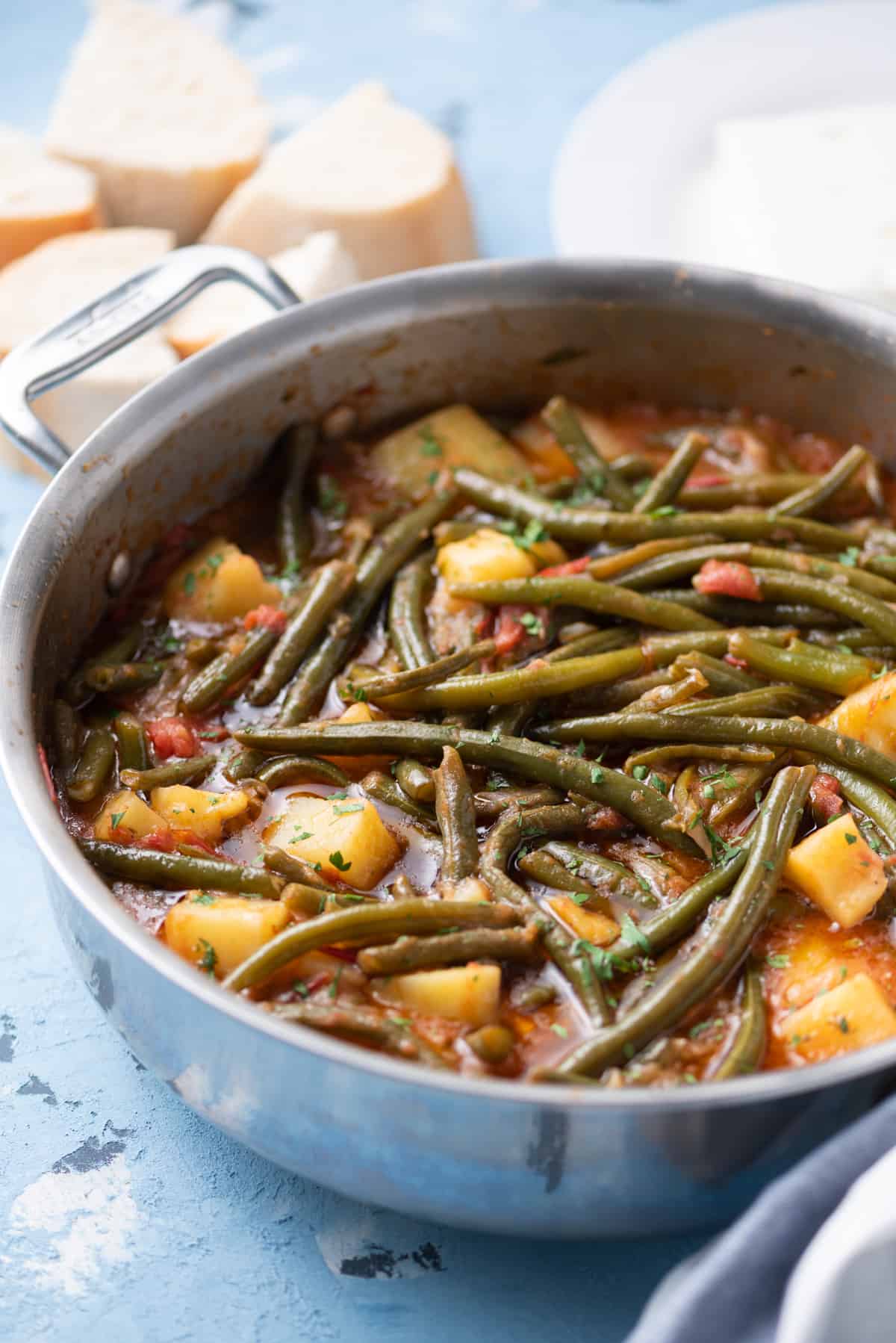 A Healthy Main Course That's Easy to Prepare
What I love about this traditional dish is that it's comforting, healthy, and vibrant in both flavors and color. You're essentially eating a generous portion of vegetables that are cooked in a healthy fat. As I stated above, this is traditionally served with good quality feta cheese (which is the perfect accompaniment flavor-wise and you get a little bit of protein too!) and crusty bread.
Aside from prepping the ingredients, the cooking process itself has minimal hands-on time, making it a great weeknight option. This can be served hot or at room temperature (the latter is especially great if you make this during the hot summer months).
📖 Recipe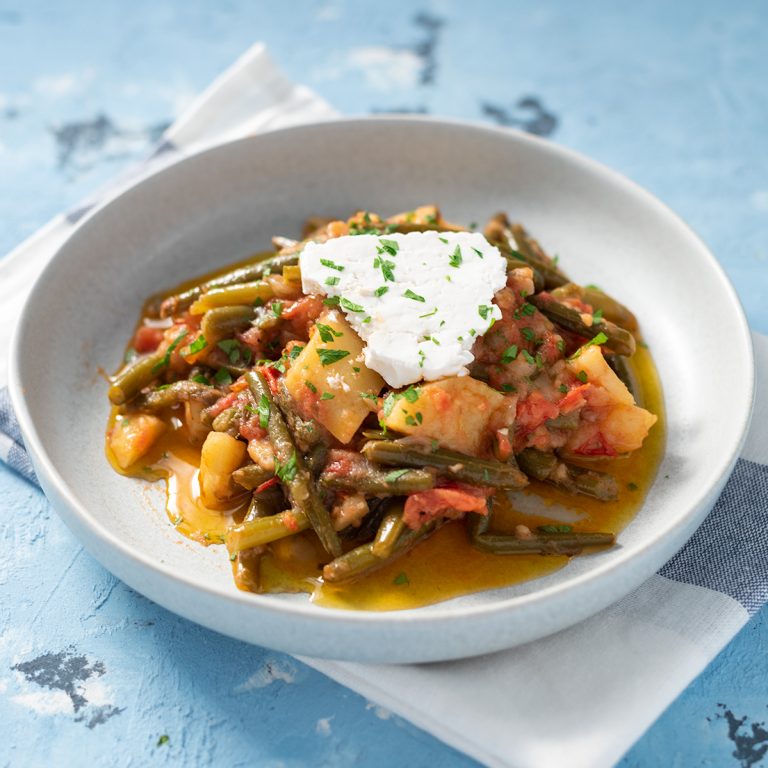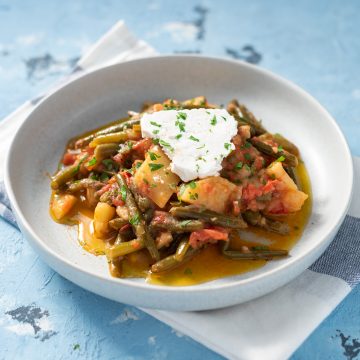 Ingredients
⅔

cup

extra virgin olive oil

1

large sweet or yellow onion

,

thinly sliced

2-3

garlic cloves

,

minced

½

teaspoon

cinnamon

,

optional

salt and pepper to taste

2-3

gold or red potatoes (about 1 pound)

,

peeled and cut into 1 ½ inch pieces

1

15-ounce

can diced tomatoes

,

(or 2 large ripe heirloom tomatoes, chopped)

⅔

cup

water

1 ¾

pounds

green beans

,

cleaned and trimmed (very long pieces can be cut in half)

3-4

tablespoons

chopped fresh parsley
Instructions
In a 4-quart sauté pan, heat most of the olive oil over medium heat, reserving ¼ cup for later.

Add the onions and sauté until soft and translucent; about five minutes.

Add the garlic and cinnamon, if using. Sauté until fragrant; about one minute.

Add the potatoes, tomatoes, one teaspoon sea salt, and some black pepper. Stir until everything is combined.

Add in the water and let come to a gentle boil. Top with green beans and sprinkle with a little more salt and black pepper.

Cover, reduce heat to medium-low, and let simmer for 30 minutes.

Remove lid and stir in the softened green beans.

Cover again and let simmer an additional 10-15 minutes, or until the potatoes are cooked through and beans are very tender.

Remove lid and stir in the parsley. Let cook an additional three minutes.

Remove from heat, taste, and adjust seasoning with salt and pepper to your liking.

Drizzle in the rest of the olive oil.

Serve with feta and good crusty bread.