Okay, I might have gone a little overboard with the amount of photos in this post. Just giving you a fair warning now. I'm not apologizing for it.
So Cinco de Mayo is coming! By the time you read this post, the holiday will be tomorrow, but I wrote this in the past, so that means it's in two days. It's also my awesome friend's birthday - Happy Birthday, Naomi!
I started this blog a little over a year ago, though for most of 2014, I didn't work on it (if you want to know why, you can read my novel in my relaunch post). When I came back, it was the middle of December. I had debated on doing some sort of holiday-themed recipe, but I didn't really have a schedule or plan for what I would be posting. I just knew I had to get the blog going again. So I've basically missed the mark on sharing recipes that would be fitting for holidays like Thanksgiving or Christmas! I could have done something for Easter, but for some reason I missed that train too. I wasn't about to make the same mistake for Cinco de Mayo.
My original plan was to make delicious carnitas! But I did something really dumb and my pork shoulder went bad. I was so bummed; I hate wasting food. It wasn't really in my budget to go buy another roast, so I moved on. They will happen at some point, though. Promise.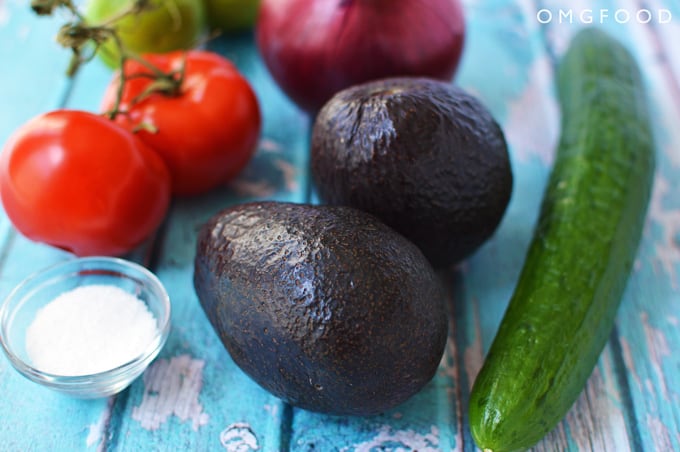 So no carnitas for you today, but I have tasty guacamole for you! I love guacamole. Really, I just love Mexican cuisine in general. It's definitely up there on my list of favorites. Because tequila. And tacos. Also, nachos (I think that's more Tex-Mex, but that's okay). A friend of mine recently said that nachos should be president. I'd vote for 'em.
If you wanted a super quick guac fix, all you really need is an avocado, some lime juice, and salt. I'm a fan of more flavor and texture, so I always include onion, tomato, and cucumber in mine. I especially love the addition of the cucumber; it adds such a refreshing taste and slight crispness to the guacamole.
For the tomato, I always go with off the vine and I seed it by taking a paring knife to cut around the top and inside of the tomato, then I grab a spoon to yank out the core and scoop all the seeds and liquid out. I recommend not skipping this step or your guacamole will be super wet and seedy. No bueno.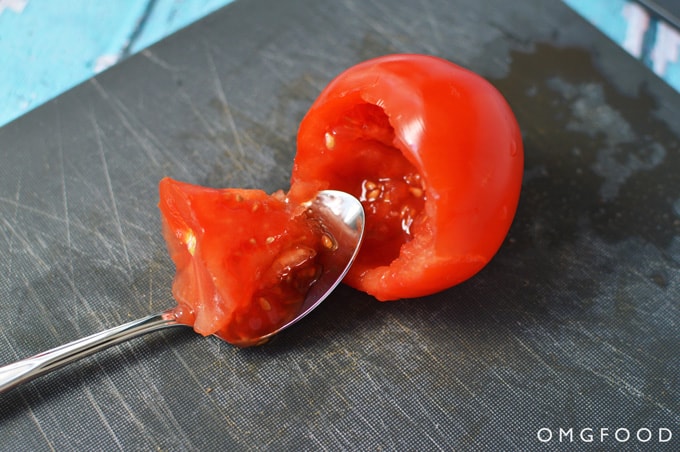 I recommend prepping the onion, cucumber, and tomato before you prep the avocados. The avocados will make the cutting board nice and messy, which will make for a slippery surface to chop the other veggies on. Safety first!
Also, do you know of the neat trick to remove an avocado seed with a knife? You slice your avocado in half lengthwise and place the half with the seed on a cutting board, seed-side up. Take a chef's knife and using the heel of the knife, you want to strike the seed. The knife should just slightly pierce through the seed and you will pull it right out. To take the seed off the knife, you can use your fingers to carefully push it off (it should come off easily) or if you find that might be too tricky, you can hit the back of the seed on the side of a large metal bowl (which is what I use as my garbage bowl when I'm prepping veggies).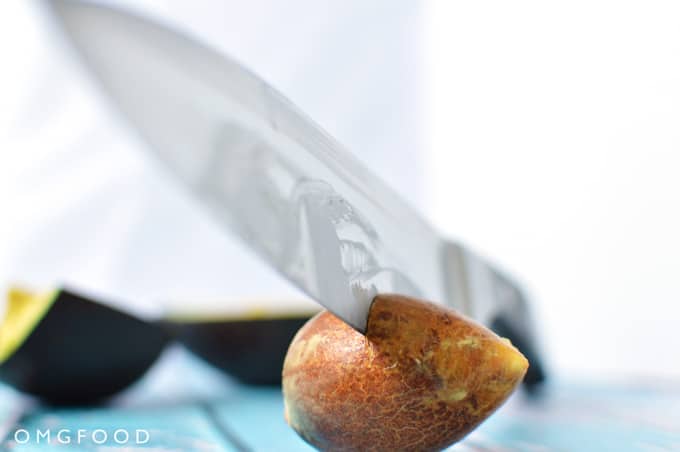 You don't need to put a lot of pressure when hitting the seed. I did that by accident on one of the avocado halves and you can see in the picture below, I just cut right through the avocado itself! Just a firm hit will do it.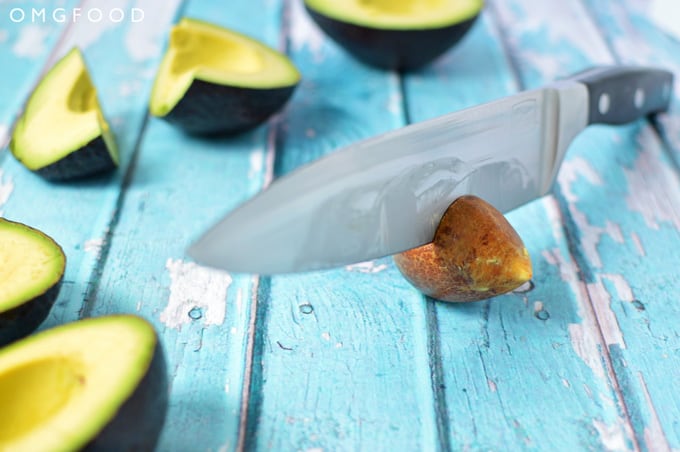 To me, the perfect guacamole has the right balance of creamy and chunky. To get that, I mash a quarter of the avocados going into the guacamole. For two avocados, that's one avocado half, mashed. If I'm doubling the recipe, I mash two halves out of the four avocados being used. After dicing the avocado, move it to a bowl and use a fork or spoon to stir/mash the avocado until it looks like this creamy deliciousness pictured below.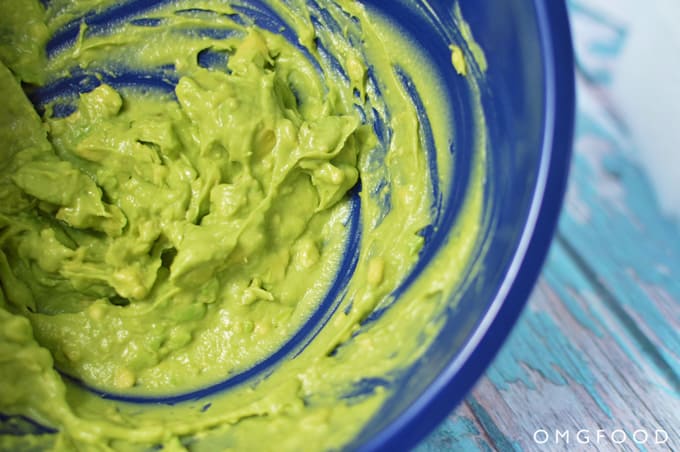 After that, you dice the rest of the avocado halves and add those to the bowl. Then you add in the rest of the ingredients and stir gently to combine everything.
After that? You, uh, eat it! Enjoy it with some fresh veggies for a super healthy snack.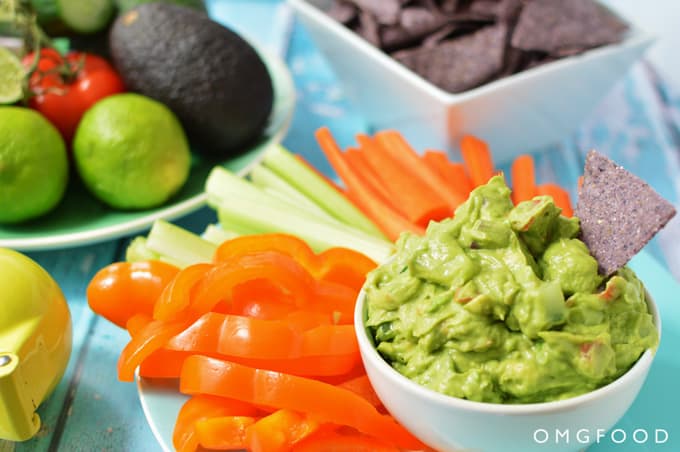 Alternately, you can say, "eff healthy snacks! TORTILLA CHIPS ARE WHERE IT'S AT." Or you can do both because you're crazy like that.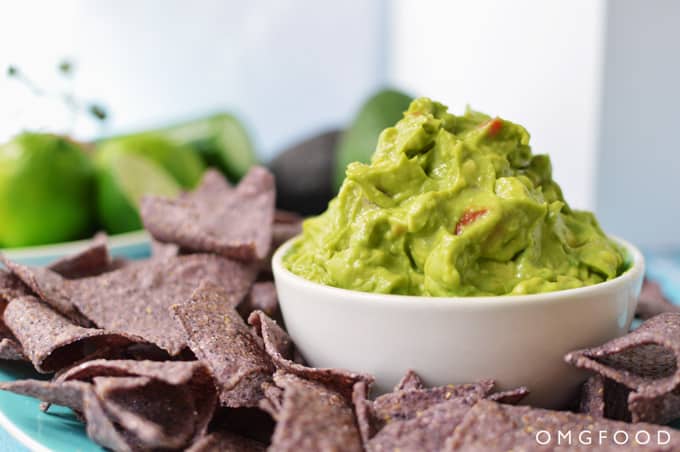 If you want to make guacamole ahead of time and keep it deliciously green, that's totally doable. Check out this awesome post from The Kitchn on how to do it! The trick? Water. I've done this so many times and it always works.
As you can see, making guacamole is stupid easy, so if you're not going out to celebrate Cinco de Mayo, why not celebrate at home? Margaritas, chips, and guac? Sounds like a rad Tuesday night to me.
Okay, one last shot of this tasty guacamole. Sorrynotsorry.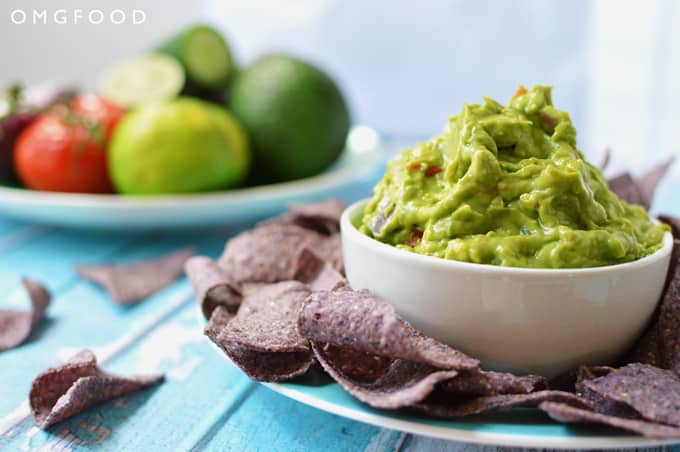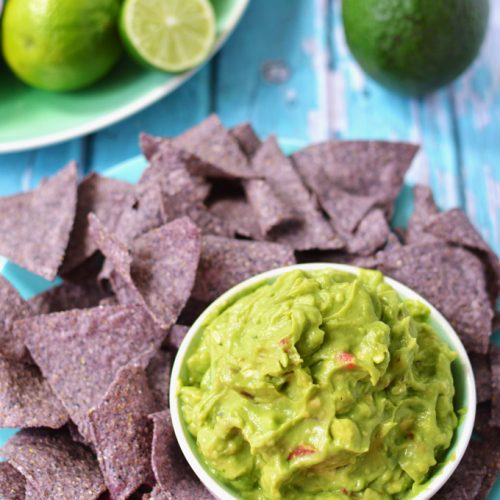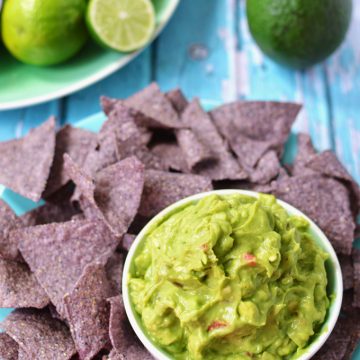 Ingredients
2

avocados

,

cut in half lengthwise with seeds removed

¼

of a small red onion

,

finely chopped (about ¼ cup)

small piece of English cucumber

,

about 2 inches, diced small

1

vine tomato

,

seeded and chopped

½

lime

,

juiced

1

teaspoon

kosher salt
Instructions
Using a spoon, scoop one avocado half out of the shell onto a cutting board and dice small. Move to a medium size bowl.

Take the spoon and stir/mash the avocado into a creamy spread.

Remove the shell from the remaining avocado halves and dice. Add it to the bowl with the creamy avocado.

Add in the onion, cucumber, tomato, lime juice, and salt. Stir to combine.

Taste and adjust seasoning to your liking.
Notes
If you wanted to double the recipe. double all the ingredients, except for salt. Start with 1 teaspoon of kosher salt and add more to taste.