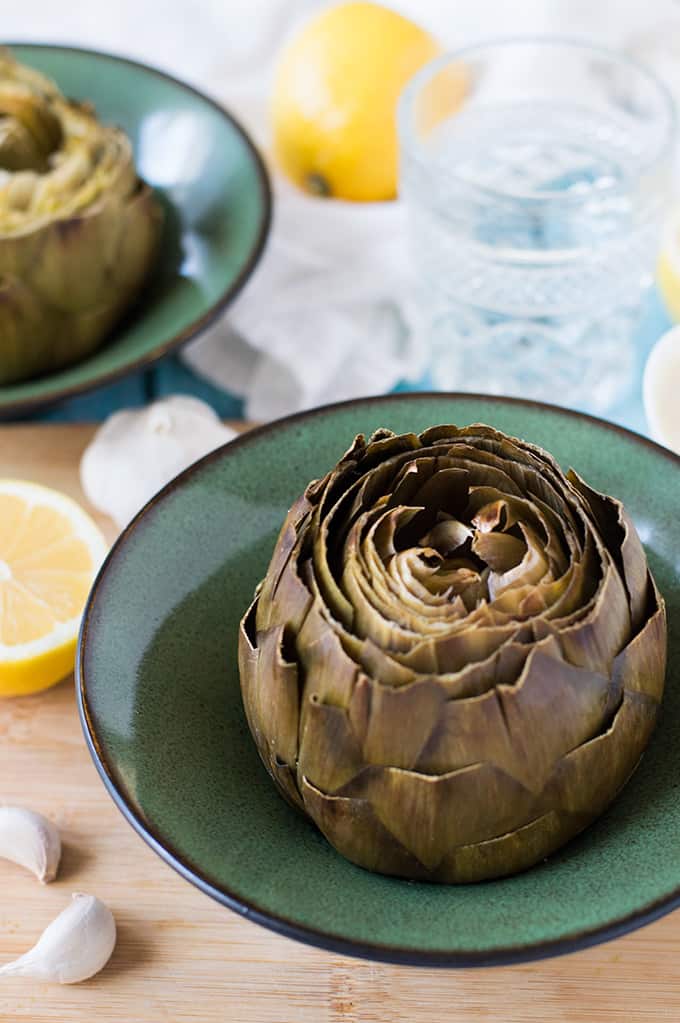 Updated on March 24th, 2016: It's March and artichokes are now in season! I had a serious craving for these while grocery shopping the other day and thought I'd spruce up this blog post again with new photos and content! I launched the blog with two recipes posted; roasted artichokes being one of them. My photo-taking skills were nearly non-existent at the time (you can see the first photo I took for this recipe here), so I updated it in March 2015 with slightly better photos (which you can see an example of here). Perhaps I will make it a yearly tradition to update this very post! Okay, not really. We'll just call this the last update for a long while. Cool? Cool.
Originally published on February 20th, 2014.
---
I've always had marinated artichoke hearts growing up and loved them, but I didn't have my first fresh, whole artichoke until a few years back at this restaurant on Newbury St. in Boston. I was dining with my friend and she suggested we order some roasted artichokes for an appetizer. They came with garlic aioli for dipping! Obviously, I'm not one to turn down food, so I went for it. The fun part about it all? I had no clue how to eat the damn thing.
 It arrived at our table, I picked up a petal, dipped it into the aioli, and put the whole thing in my mouth. It was weird, chewy, and gross! I couldn't figure out why anyone would find this enjoyable. I chewed for what felt like forever before I spat it into my napkin. I knew something was up. There was no way that whole petal was meant to be edible based on my awful experience, so instead of giving up right away, I googled "how to eat an artichoke" and I was enlightened with a video on youtube to teach me all of the things!
Here's that video on how to eat an artichoke. 🙂
Good thing for smart phones. I probably would have given up on artichokes right then and there. Okay, maybe not. Maybe I would have asked our server what the eff was up, but it's hard to say. Some days, I'm very social with others! Other days, not so much. Anxiety, man. It's the worst.
I should mention that once I learned how to actually eat an artichoke, it was very enjoyable and I had to make it myself. I was a bit intimidated until I looked up how to clean them (thanks, internet!) and it's so easy, I almost feel silly for not knowing sooner.
To start, you need a sharp knife; artichokes are tough to slice with a dull knife (plus, you should never be working with a dull knife, ever). Trust. You want to cut off the top part of the artichoke; I'd go with cutting off about half an inch. Kitchen shears will also help! Use those to snip the tips of the artichoke leaves. This step is optional, but those tips are prickly and sharp, so I recommend snipping them. After that, use your fingers to loosen and separate the leaves and stuff with delicious whole garlic cloves. If you love roasted garlic, you are in for a treat because that's one of the best parts about having these roasted artichokes!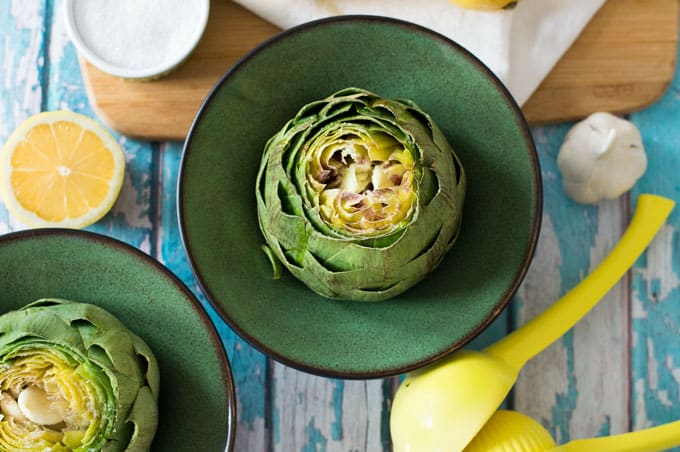 All you need after that is some salt, lemon juice, and olive oil. Then you wrap them tightly in tin foil put them on a baking sheet, and pop them in an oven at 425 degrees for an hour. The worst part is having to wait for these to cook, so try to not make these on an empty stomach.
After taking them out of the oven, I'd recommend letting them rest for a few minutes because they are going to be hot!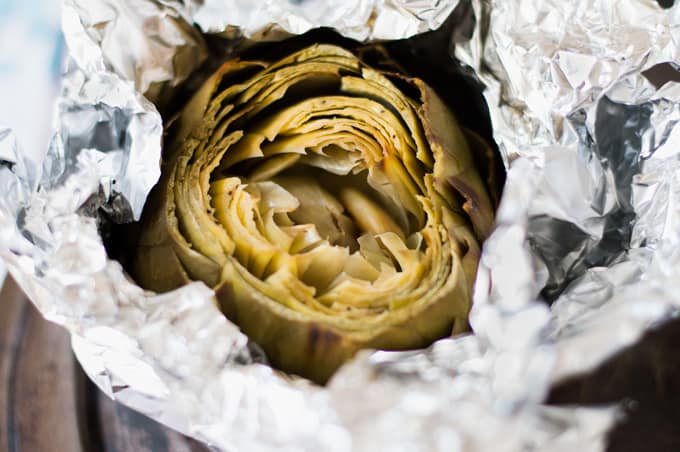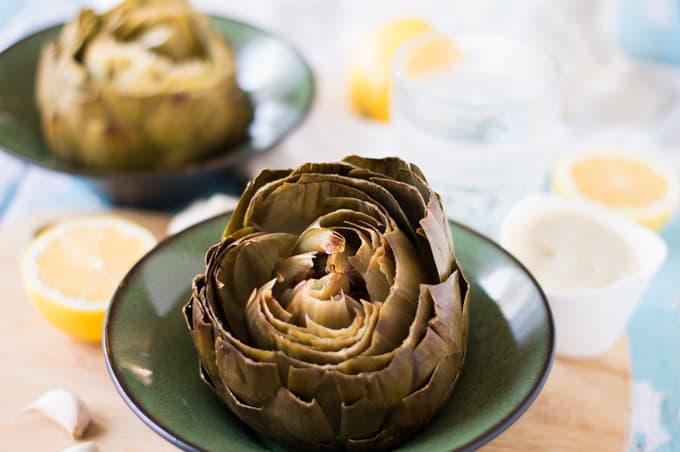 Hot damn, writing this post out is making me crave artichokes again and I think I need to grab more tomorrow when I hit up the store. I think you should pick some up too! Then we can both roast some artichokes and be best friends and stuff!
Seriously though, if you haven't made these yet, get on it because they are goooood. They're super tasty as is, but I highly recommend making garlic aioli to go with. They were meant for each other.
Share if you dare.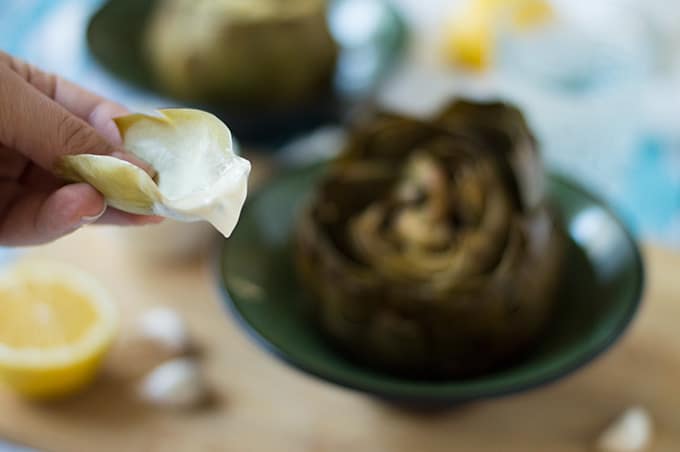 📖 Recipe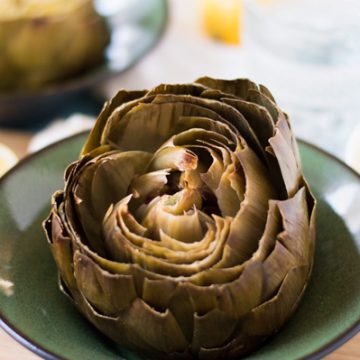 Ingredients
2

large artichokes

4

garlic cloves

,

peeled

1

large lemon

,

halved

1

tbsp

olive oil

,

divided

kosher salt to taste
Instructions
Preheat the oven to 425 degrees.

Using a sharp knife, cut off the stems and top parts of each artichoke (cut off half an inch).

Using your fingers, loosen and separate the leaves and place two garlic cloves in the center of each artichoke.

Drizzle ½ tbsp olive oil and juice from half a lemon over each artichoke.

Sprinkle with salt.

Tightly wrap each artichoke in tin foil and place on a baking sheet.

Roast in the oven for one hour.

Remove from oven and let rest for five minutes to cool slightly.