Garides souvlakia (gha-REE-des soo-VLAH-kiya) is a simple Greek dish made with lemon, olive oil, and kefalotiri cheese. It makes a great summer snack or meal and can be grilled or broiled.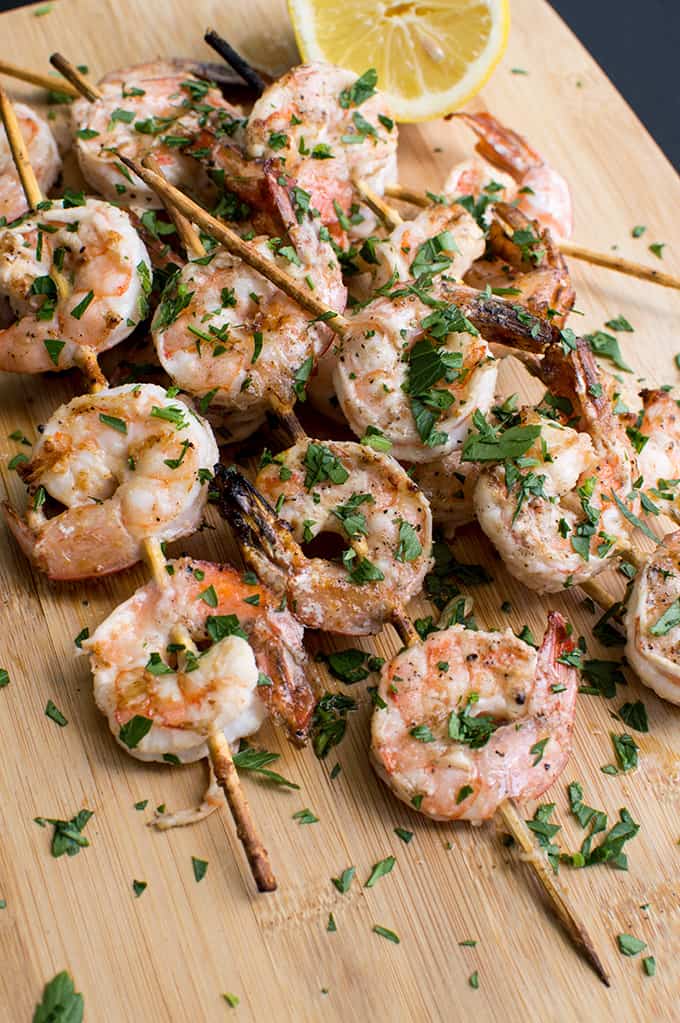 The summer grilling continues today. With shriiiiiimp! Yeah, shrimp! This calls for a song.
Shrimp shrimpiny
Shrimp shrimpiny
Shrimp shrimp sher-ee
A grill is as lucky
As lucky can be
Shrimp shrimpiny
Shrimp shrimpiny
Shrimp shrimp sher-oo
Good summer is had when
I eat shrimp with you ♫
Lyrics of the year? No, no. Definitely not. But yay, shrimp!
Okay, but seriously, we've enjoyed doing a lot of our cooking outdoors these last couple of weeks. It's even gotten Jason to handle raw chicken and not squirm too much about it (he's not much of a cook, but I'm slowly training him).
In my excitement when we first picked up our new grill, I started looking through some cookbooks for grillspiration (lol, made up words); I looked through one of my favorite books for Greek cooking: Aphrodite's Kitchen, and there I found a recipe for garides souvlaki (gha-REE-des soo-VLAH-key), which is skewered shrimp that's simply made with lemon juice, olive oil, and kefalotiri.
Fun fact: "souvlakia" is the plural form of "souvlaki." And souvlaki is basically meat (or fish) on a skewer. And that means garides souvlakia = shrimp on skewers.
This book was a family favorite when I grew up. It was published in 1978 (six years before I was born!) and my parents owned two copies; one that was kept at home and another at the restaurant. My parents taught me a lot about Greek cooking and I also learned through this book. It was my number one go-to when experimenting with cooking as a kid. Both copies my parents had managed to get lost overtime and I really missed having the book around. I looked it up on Amazon a few years ago and was super glad to see there were plenty of used copies available. I immediately purchased one for myself. <3
This recipe is only slightly adapted from the original; mainly, the changes are ingredient ratios. Aphrodite called for broiling on this recipe. I grilled mine, but you can do either, making skewered shrimp easy to enjoy any time of the year. Opa!
How To Make Garides Souvlakia
You're going to need a pound of shrimp, defrosted. You can do this overnight in the fridge or you can place the shrimp in a bowl under cold running water for about five minutes. I tend to go with the latter option because I almost always never realize I want shrimp until the day of.
Also, if you are using wooden skewers and are grilling, you should start by soaking them in some water for 20+ minutes. Start the soak, then move onto the rest of the prep. By the time you're done prepping the shrimp between peeling, deveining, and getting other ingredients ready, the skewers should be good to go.
Depending on the size of the skewer, you want to fit 3-4 shrimp on there; so do the math on how many skewers to soak. 😉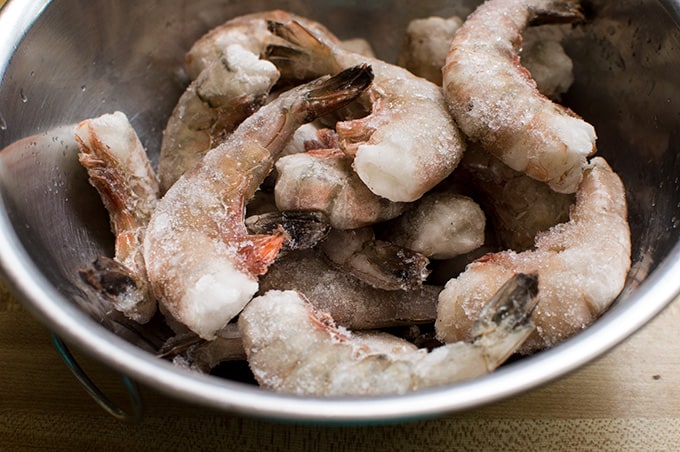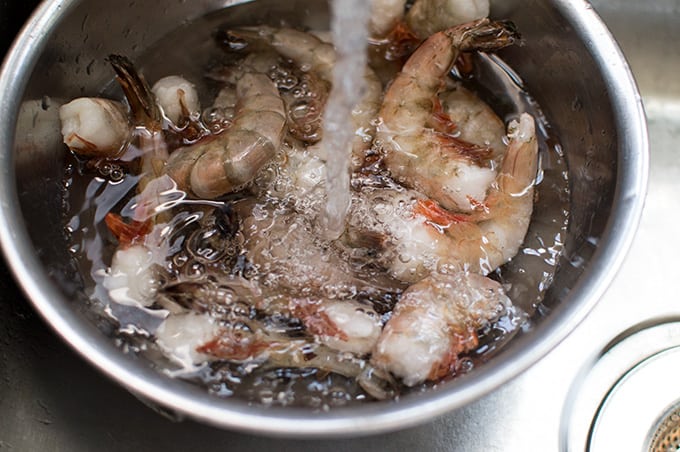 While the shrimp is defrosting, prep the other ingredients! You'll need lemon, olive oil, salt, pepper, parsley, and kefalotiri cheese. If you can't find kefalotiri where you are, parmesan can be used instead.
Squeeze the juice using a citrus squeezer out of a whole lemon (this should give you ¼ of a cup) and whisk it together with some olive oil in a measuring cup or bowl. Then, grate the cheese! You'll want ½ to ¾ of a cup. This could vary on the grater used and how fluffy it might make the cheese, which would change the appearance of volume. I suggest starting smaller and grate more if needed. I use a microplane and love it!
After that, mince some parsley and set it aside.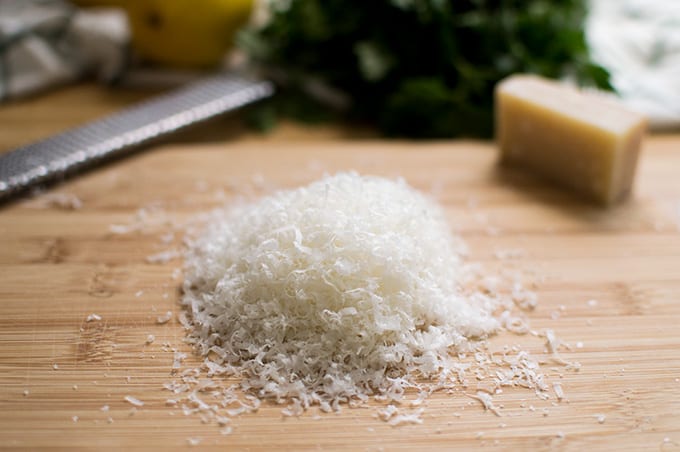 Then, move onto cleaning the shrimp! Peel and devein the shrimp using a pairing knife. Check out this post on Fine Cooking to know how to properly clean shrimp.
Once your shrimp is clean, the skewers should be good to go at this point (unless you are some sort of super shrimp cleaning hero and got it done quickly, in which case wait for the 20 minute mark).
Dip the shrimp into the whisked dressing, then roll it over the cheese. Add 3-4 shrimp per skewer. Season with some salt and pepper when you're done.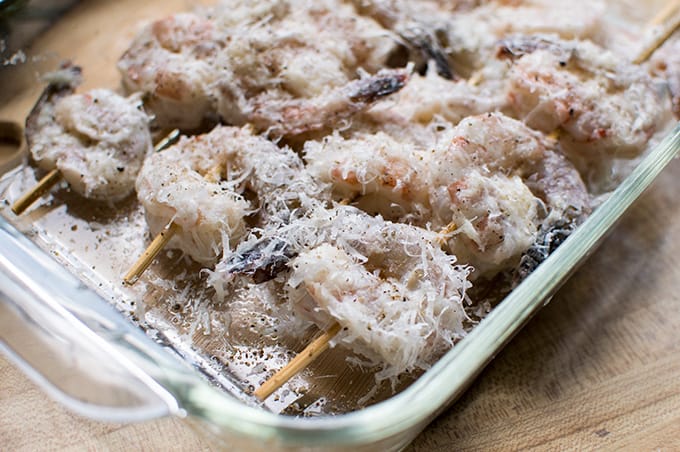 If grilling, preheat the grill over medium-high heat and cook 1-3 minutes per side, until cooked through.
If broiling, preheat on high and cook 1-3 minutes per side, until cooked through.
Whether you are grilling or broiling, top with minced parsley after removing the shrimp from the heat. Optional: top with more lemon!
Kali orexi!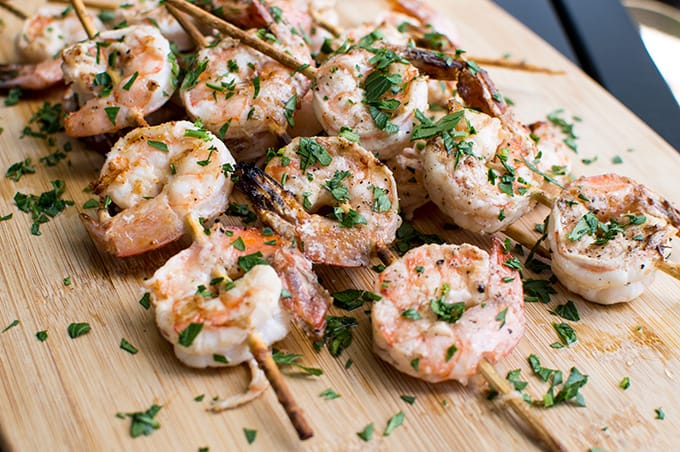 Kitchen Tools Used:
📖 Recipe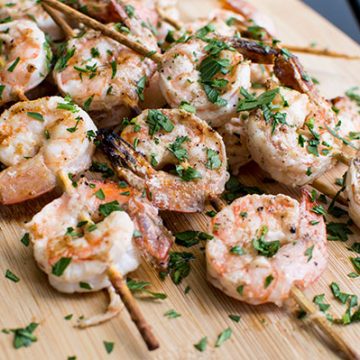 Ingredients
1

pound

raw wild shrimp

juice of one lemon

¼

cup

olive oil

½ - ¾

cup

freshly grated kefalotiri or parmesan

pinch

of salt

freshly ground black pepper

1

tablespoon

minced parsley
Instructions
If grilling, start by placing some wooden skewers in water and let soak at least 20 minutes (depending on the skewer size, you want 3-4 shrimp per stick).

If the shrimp is frozen, defrost it by placing it in a bowl and running it under cold water for five minutes.

Peel and devein the shrimp. Set aside.

In a small bowl, whisk together the lemon juice and olive oil.

At this point, the skewers should be all set (unless you are super fast at peeling and deveining shrimp, in which case wait it out for the 20 minute mark).

Dip the shrimp in the dressing and roll it over the cheese, coating it evenly. Place 3-4 shrimp on each skewer. Season the shrimp with some salt and black pepper.

Preheat your grill over medium-high heat (or if broiling, preheat on high).

Cook shrimp 1-3 minutes per side, until cooked through.

Remove from heat and top with minced parsley. An optional step is to add some more lemon!

Serve and enjoy!
Disclaimer: This post may contain affiliate links, which means I make a small commission if you make a purchase through them. By purchasing through these links, you are helping support this site at no extra cost to you! I only recommend items and services I personally use and love.