Melitzanosalata is a Greek dip made with eggplant, crushed garlic, grated onion, chopped parsley, and extra virgin olive oil. It can be flavored with red wine vinegar or fresh lemon juice, depending on preference. It's typically served as a meze with crusty bread.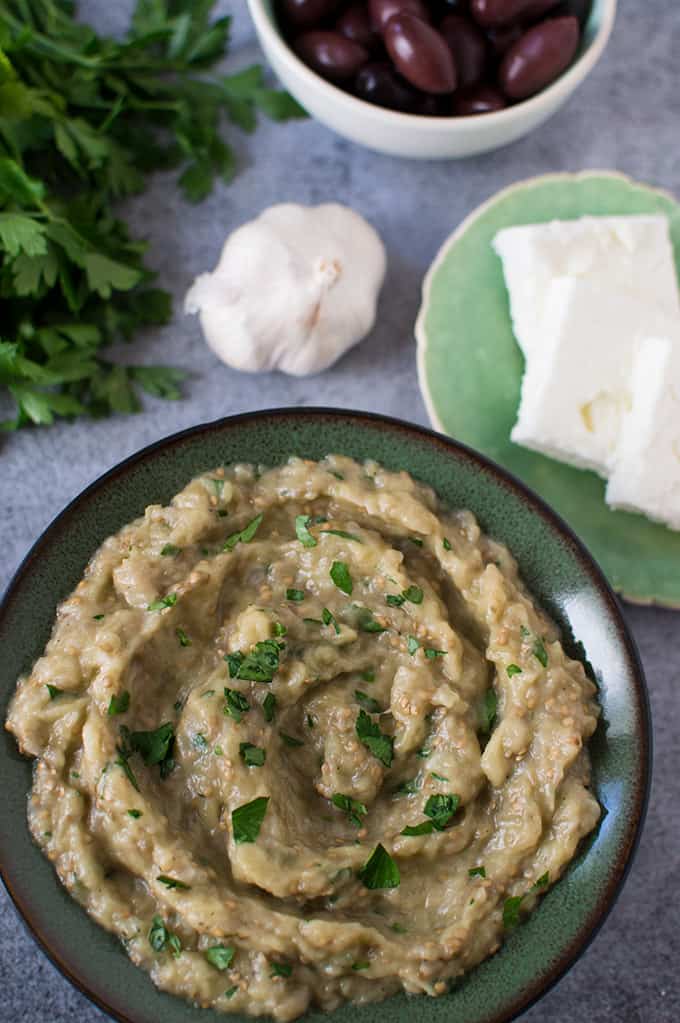 Happy Monday, friends!
I've missed you. How are you doing? I've been super busy lately, but in a good way, I think!
If you caught my last post where I reviewed Rumiano Cheese, I talked a little about how I picked up a part-time job and it involves working with lots various cheeses! The plan for the Rumiano review came before I found the job, but it seemed rather fitting the two ended up tying in together in some way. In addition to the cheesy part-time deliciousness, I also picked up some freelance work. It's all been very awesome and exciting because it's nice to work again. You know what else is nice? Making some money. Now, instead of ripping all of my hair out, I'm only ripping out a small portion. Things are still slightly stressful, but only slightly at this point. So you know. Progress!
With all of this excitement going down, I should have more stability and consistency in my life, which hopefully means more recipes for you! I've been so sad about not being able to share as much as I've wanted to on the blog lately and I really, really want to change that. Thanks for always coming back to my little home, especially when my schedule gets so ridiculous and I don't publish anything for a whole month. You're insanely awesome and I wouldn't be doing this without you. I appreciate you. <3
Okay, okay. Now that I got some of that sappiness out of the way, let's move on to the good stuff. Today, I'm sharing a recipe for melitzanosalata!
Melitzanosalata (meh-lee-TZAH-noh-sah-LAH-tah) is a classic Greek meze made of eggplant, onion, garlic, extra virgin olive oil, red wine vinegar (or lemon juice, if you prefer), parsley, salt, and pepper. If you were to order a platter of mezedes from a Greek restaurant, there's a very high chance this will be included. It especially goes great with crusty bread.
Growing up, I tended to favor other Greek dips like tzatziki and taramasalata (a tasty dip made of cod roe) and it wasn't until I was in my 20s when I started to appreciate eggplant in dip form. I will say taramasalata might be my absolute favorite dip of the meze genre, but that's a story for another day. 😀
How to Make Melitzanosalata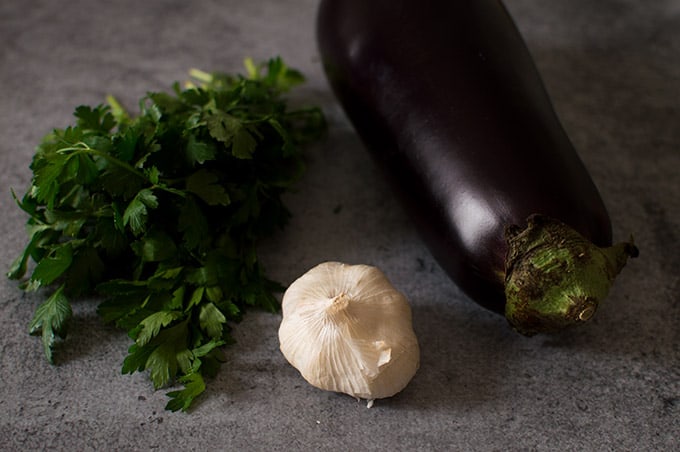 Melitzanosalata is stupid easy to make, but takes a couple of hours between roasting and cooling time. It also tastes best after a few hours in the fridge to allow those delicious flavors to mingle.
To start, you'll gather your ingredients and preheat your oven to 400 degrees Fahrenheit. This recipe calls for baking the eggplant whole, so you'll want to use a fork to prick a small handful of holes around the eggplant (this is so the eggplant won't explode in your oven - because that's a thing that can happen). Then, place the eggplant onto a baking sheet and throw it in the oven for an hour.
Since the eggplant will take a while to cook, I tend to prep the rest of the ingredients while it's in the oven. You'll want grated onion, crushed garlic, and chopped parsley. As for the olive oil and vinegar, that can vary depending on the size of the eggplant. I add in anywhere from a third to a half cup of olive oil and add in vinegar to taste.
After an hour, take the eggplant out of the oven (it will be soft to the touch) and let it cool for about half an hour. Then, peel off the skin and move the flesh to a colander and allow to strain for another half hour. You might be tempted to skip this step and if you did, it really wouldn't be the end of the world, but keep in mind that straining the flesh will discard a couple tablespoons of liquid, which does make a difference in the end. I recommend not skipping it.
After your thirty minutes is up, grab a medium bowl and add in the eggplant, grated onion, crushed garlic, vinegar, and parsley. Season with some salt and pepper and stir using a spoon until just combined. Then, start drizzling in the olive oil slowly while you continue to stir; you'll notice the eggplant mixture turn into a tasty dip.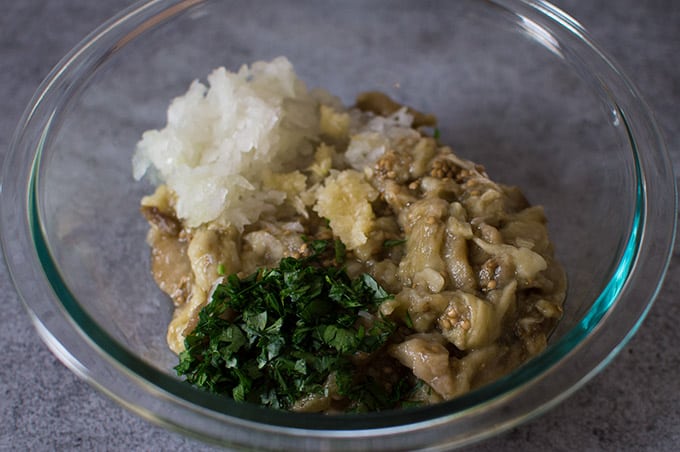 Taste and adjust with extra seasoning, vinegar, or olive oil as you like. Don't forget to serve with that crusty bread!
Kitchen Tools Used:
Wooden Spoon
Chef's Knife
📖 Recipe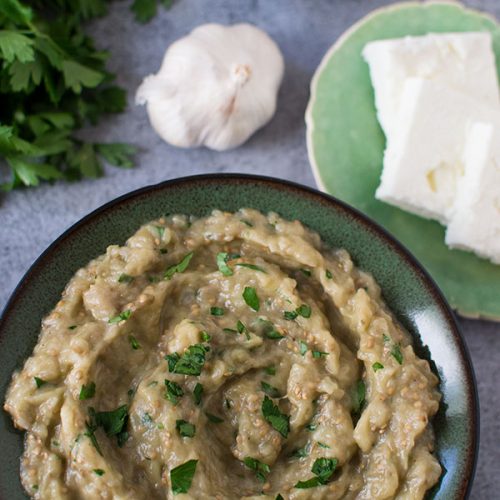 Ingredients
1 ½ - 2

pound

eggplant

,

2 medium or 1 large

½

of a small sweet onion

,

peeled

1-2

garlic cloves

,

crushed

1-2

tablespoons

chopped parsley

⅓ - ½

cup

extra virgin olive oil

1-2

tablespoons

red wine vinegar or fresh lemon juice

sea salt and freshly ground black pepper to taste
Instructions
Preheat the oven to 400 degrees.

Using a fork, poke a few holes into the eggplant and place on a baking sheet (optional: line the sheet with foil or parchment paper).

Bake the whole eggplant for one hour.

While the eggplant is cooking, grate the onion and place in a small colander over a bowl or in the sink. Let strain for 20 minutes or until you are ready to make the dip.

Remove the eggplant from the oven and let cool for 20-30 minutes.

Peel off the skin and move the flesh of the eggplant into a colander and let strain for an additional 20-30 minutes (you might be tempted to skip this step, but straining will remove a couple tablespoons of liquid). Discard the skin.

Place the eggplant in a medium-size bowl and add in the onion, crushed garlic, some salt and pepper to taste, 1 tablespoon of red wine vinegar, and the parsley. Use a spoon to stir the ingredients until just combined. Then, slowly drizzle the olive oil in while continuing to stir (start with a ⅓ of a cup, depending on the size of the eggplant. Use more oil if closer to a 2lb eggplant).

Taste and adjust with extra olive oil, vinegar, or seasoning if necessary.

Place in the refrigerator a few hours before serving to allow the flavors to meld together.
Disclaimer: This post may contain affiliate links, which means I make a small commission if you make a purchase through them. By purchasing through these links, you are helping support this site at no extra cost to you! I only recommend items and services I personally use and love.