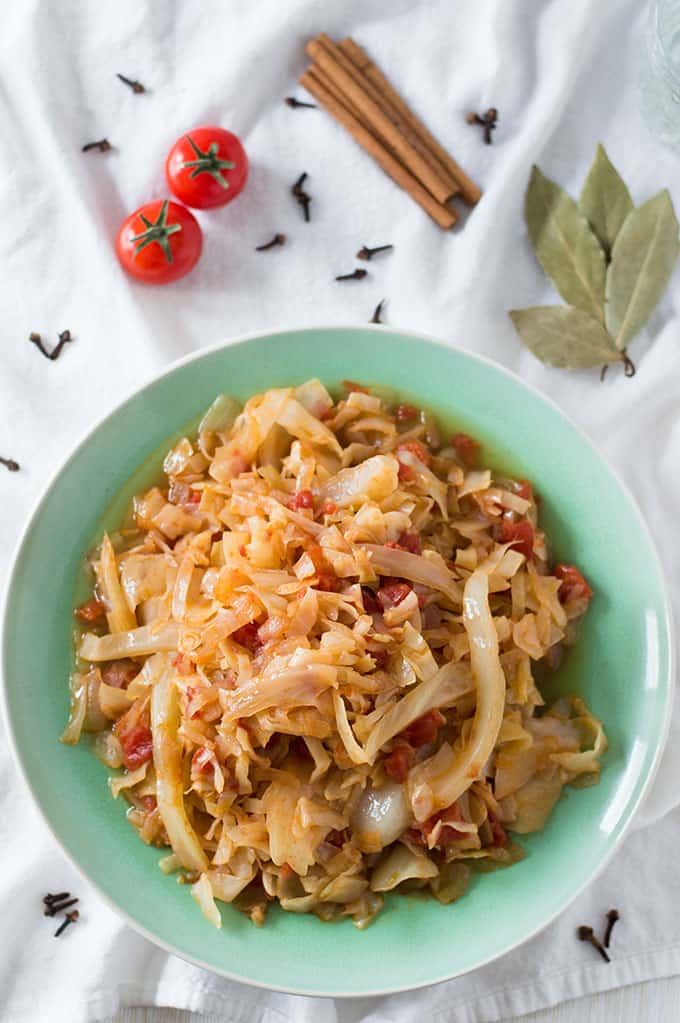 Raise your hand if you love cabbage! *raises hand*
I do. I friggen love cabbage and it's become a staple in this house. My usual go-to for something quick and easy has been unstuffed cabbage because it's so tasty! One of my other favorites is actual stuffed cabbage, which isn't on the blog yet, but that will change one of these days.
Today, I'm sharing a recipe for spicy shredded cabbage! A Greek inspired braised dish spiced with cinnamon and cloves! It's super easy to make, healthy, and delicious!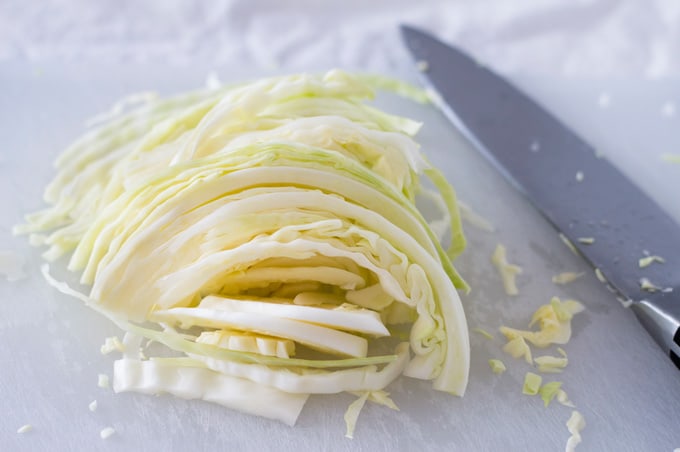 For this recipe, use a medium-sized cabbage that weighs two pounds and it will give you 8-9 cups of shredded cabbage. To shred the cabbage, you can use a chef's knife and slice it thin or if you have a mandoline handy, you can use that! Your choice. I love my mandoline when I want evenly sliced foods, but I found using a knife for this was enough.
This cabbage dish is vegan and paleo friendly depending on the stock you use for braising. Alternately, you can use water. I normally use chicken stock because I almost always have some handy.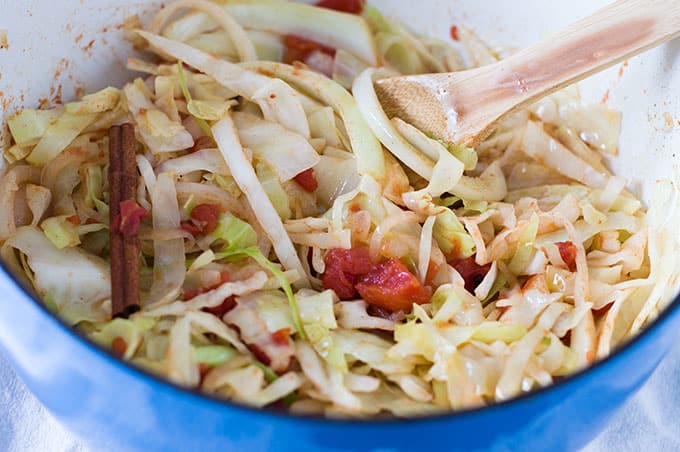 For spices and such, I use a whole cinnamon stick, whole cloves, Hungarian hot paprika, and a bay leaf. If you don't have cinnamon sticks or whole cloves, you can substitute for them using the ground form of these spices:
1 cinnamon stick = ½ teaspoon ground cinnamon
1 clove = ⅛ teaspoon ground cloves
Because two to three cloves are used in this recipe, you would add ¼ teaspoon ground cloves (maybe a tiny bit more to be closer to the three whole clove equivalent.
Make sure you remove these before serving!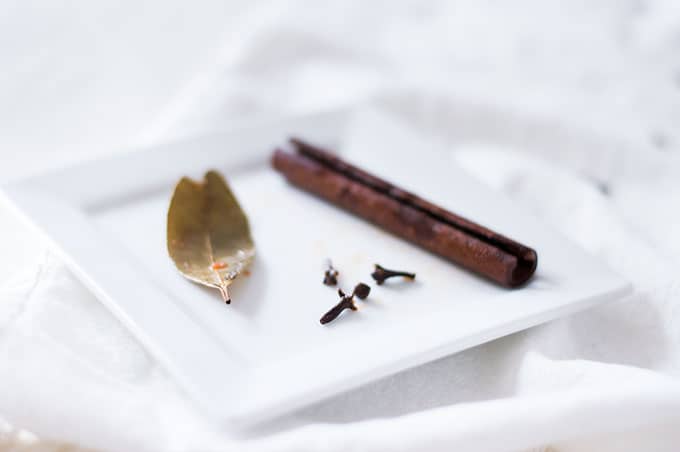 This spicy shredded cabbage makes a great side for beef and lamb especially! Though really, you can eat this with whatever your heart desires. Go make some and tell me how it came out. 😀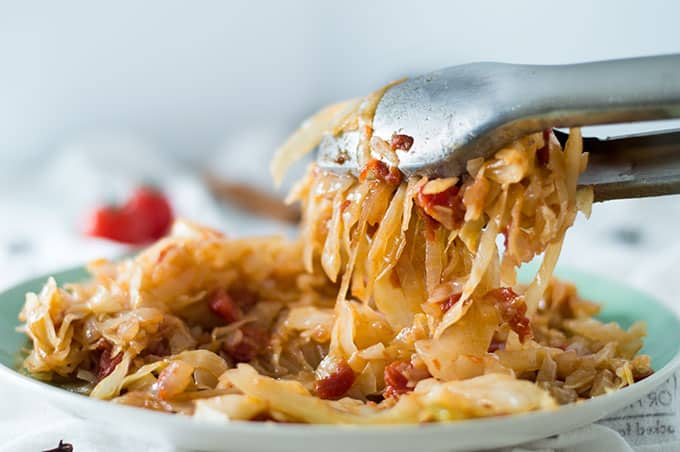 📖 Recipe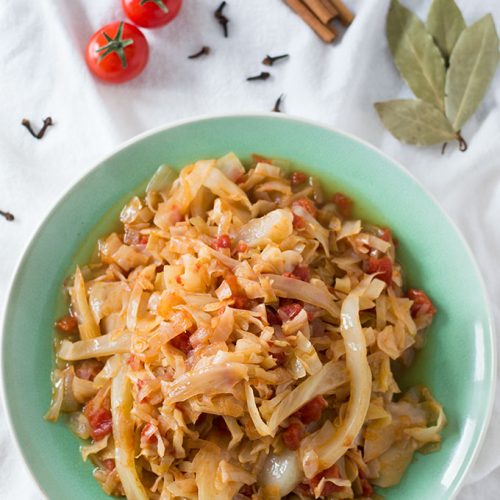 Ingredients
1

medium cabbage

,

about 2 lbs

1

medium onion

,

sliced (3 cups)

⅓

cup

olive oil

1 14

ounce

can diced tomatoes

,

drained

1

teaspoon

kosher salt

1

bay leaf

2-3

whole cloves

1

cinnamon stick

½

teaspoon

Hungarian hot paprika

1

cup

stock or water
Instructions
Remove outer leaves and core from cabbage.

Using a chef's knife or

mandoline

, shred the cabbage and set aside.

Heat oil in a large saute pan or dutch oven over medium-high heat. Saute onions until soft, about five minutes. Add cabbage a handful at a time, stirring a bit to coat with the oil.

Add tomatoes, salt, bay leaf, cloves, cinnamon, and paprika. Cook for two minutes while stirring.

Add the stock and bring to a boil. Cover and reduce heat to low and simmer for twenty-five minutes.

Remove lid and turn the heat to medium-high. Continue to cook for five to ten minutes, until most of the liquid has been absorbed.

Remove the bay leaf, cloves, and cinnamon sticks.

Taste and adjust seasoning if necessary.