These no-bake chocolate espresso pie bars are made with an almond and walnut crust and a creamy filling of chocolate and coconut milk. They're paleo and vegan friendly!
Updated on May 24th, 2016: New content, new recipe instructions, and new photos. Get hype!
Originally published on March 11th, 2015.
---
Chocolate > everything else. True story.
I have a sweet tooth. It's a problem. I want to eat cakes, cookies, and anything with chocolate all the time. ALL THE TIME. It's why I try, and I really emphasize the word "try," to keep sugar out of the house a lot of the time. Because if I always have it on hand, I will bake a dozen of cookies and eat all of them and love and hate myself at the same time for it. I'm not saying that's something I did recently. But I'm not saying it's something I didn't do either.
You know what I always keep in the house, though? Maple syrup, honey, and a variety of chocolates. So really, who am I kidding here?
Oh, is this why I haven't been losing much weight? LOLOL.
Remember that time recently when I posted the cocktail with tequila when I was originally planning to bake a cake? Well, I didn't bake the cake because I made too many damn cookies was out of sugar and I didn't have time to go to the grocery store and work on blog stuff that same day. The funny thing is I've purchased sugar since then and I haven't used it for much of anything. So when the day came I would do take-two on the mystery cake, I realized I didn't have nearly enough walnuts, which is also important for this cake.
I am really bad at this.
I did have a back-up plan though and this is it right here. I first posted about these chocolate espresso pie bars last year and if you've been keeping up with the blog lately, you know I've been slowly working on updating older posts with (hopefully) better content, including new photos and recipe instructions, etc.
I'll pick up the walnuts next time. And you'll get your cake. Until then, I promise this treat will satisfy your sweet needs. Also, this dessert doesn't require baking and it's both vegan and paleo friendly. So tell your friends. They'll love it. And you'll love it too! Aww, yeah.
How To Make Chocolate Espresso Pie Bars
To start, you need a little bit of patience. One of the main ingredients is coconut milk (by the way, I love this brand), but you need to refrigerate the can and leave it undisturbed in there overnight. Refrigerating it will allow the cream and water to separate, which is important for this recipe. When you're ready to use it, take it out of the fridge, tip the can upside down, open it with your can opener, and you'll see the water is hanging out at the top. Pour it out and what's left behind is the delicious, thick cream you want for the filling. 
Alternately, you can refrigerate the can upside down and set it right-side up before opening. It doesn't matter either way though. Weirdo.
Okay, so you placed your can of coconut milk in the fridge last night and now you're ready to make this dessert? Awesome, let's move on.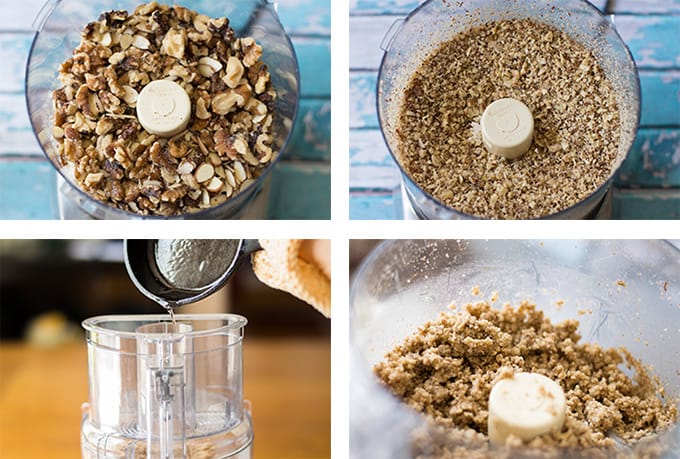 First, gather all your ingredients. Second, start by melting the coconut oil in a small pan (lol, look at this tiny thing I use for melting cooking fats) and let it cool slightly. If you're not paleo/vegan and don't keep coconut oil in your pantry, butter can also be used. I alternate between the two depending on what I grab first and who I'm making it for.
Add the walnuts, almonds, and a pinch of salt to a food processor and pulse until they are chopped fine. Then, turn the processor on and slowly pour in the melted coconut oil and vanilla extract. Let it process until the mixture is crumbly.
Add the crumbly mixture to an 8×8 square baking dish and press down on it using your fingers to form an even layer. Then set it aside to work on the creamy chocolate filling!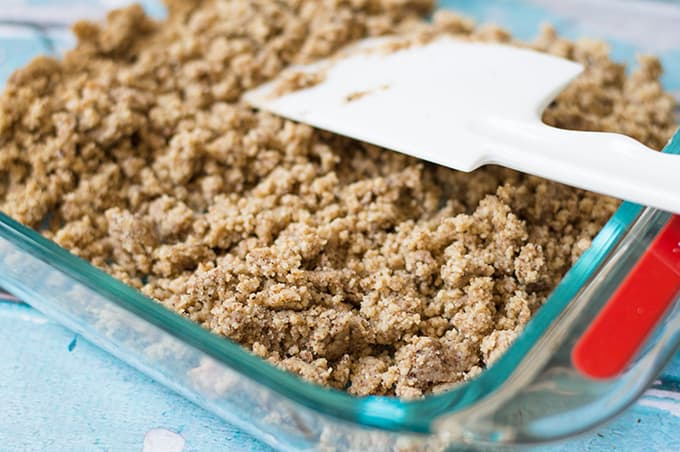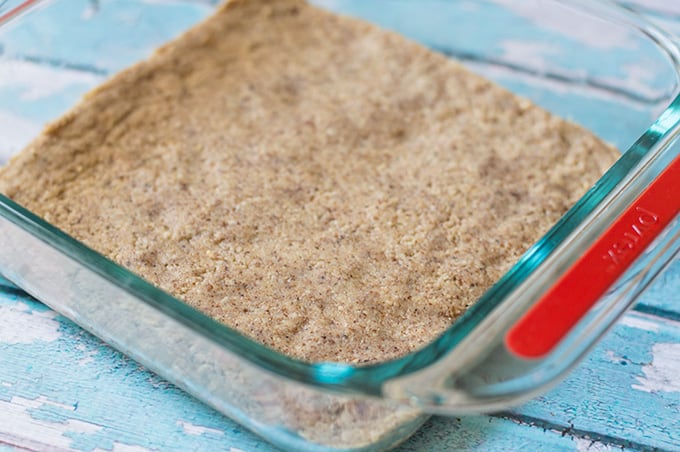 Start by setting up a double boiler and bring your water to a boil. If you're working quickly, you can remove the double boiler from the heat after boiling. Otherwise, lower the heat on the stove to a low simmer.
While the water is coming to a boil, chop up the dark chocolate using the heel of your chef's knife and combine it with the semi-sweet chocolate chips (if paleo or vegan, this brand of chocolate chips is pretty great). Set it aside.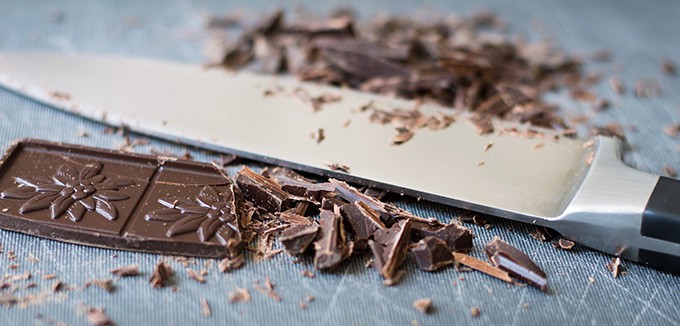 Now, grab your coconut milk, tip it upside down if you haven't yet, open it, and pour out the water (you can either discard it or use it for smoothies. I recommend you do the latter; just be sure to use it within a few days). Pour/scrape the coconut cream left behind into a small bowl and set aside.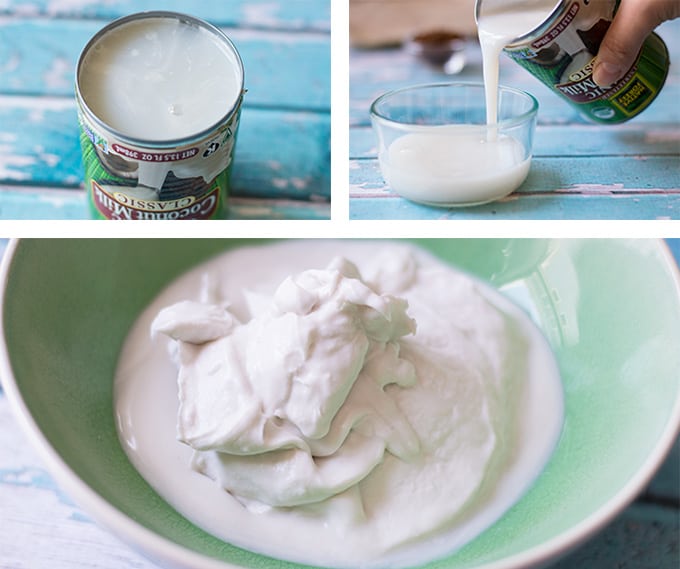 Once your double boiler is ready, add the chocolate to it and stir it using a silicone spatula until it's mostly melted. Then, add in the coconut cream and continue to stir until it's blended in nicely. After that, add in the coconut oil, instant coffee, and maple syrup. Stir until everything is melted and combined.

Try to contain yourself from the chocolatey food porn if you can.
Okay, one more shot of that chocolate goodness.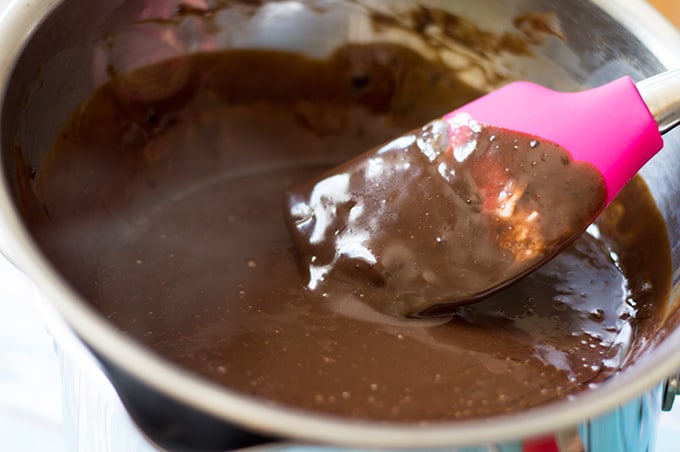 Grab your baking dish with the crust and pour the chocolate sauce into it. Use that spatula to scrape the chocolate into the dish and be sure to lick the spatula and bowl when you're done. Because you're an adult.
Now? You let it sit there for half an hour. Don't move it right away or the sauce will just move around everywhere. Let it sit so it settles a bit. After that, you'll carefully place it in the fridge for about three hours to firm up. Then, cover it with plastic wrap until you're ready to serve.
Once it's time to serve, remove the "pie"  from the fridge, slice it into 9 bars, and serve! Garnishing with shaved dark chocolate is optional. Sharing with others is also optional.
Oh, one last thing. This is also tasty with a side of whipped cream.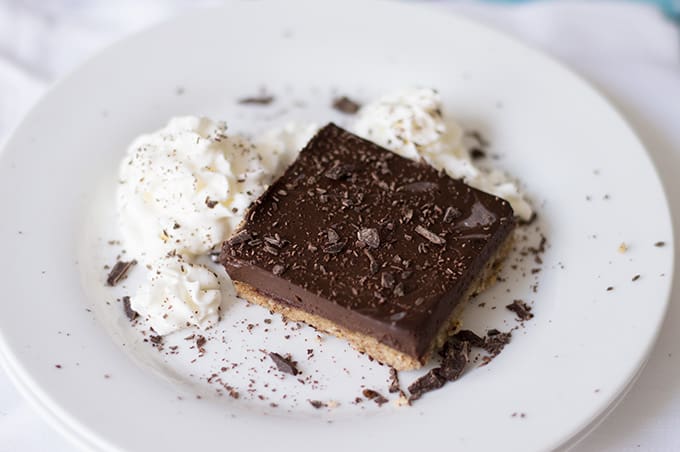 Kitchen Tools Used:
Double boiler (I used a medium-sized pot with a stainless steel bowl)
Ingredients
For The Crust
1

cup

raw walnuts

1

cup

raw almonds

pinch

of sea salt

1 1/2

tablespoons

coconut oil

melted and slightly cooled

1/4

teaspoon

vanilla extract
For The Chocolate Filling
3.5

oz

dark chocolate bar

at least 70% cocoa

1/3

cup

semi-sweet chocolate chips

1 14-

ounce

can of full-fat coconut milk

refrigerated overnight*

2

teaspoons

instant coffee

1

tablespoon

coconut oil

1

tablespoon

maple syrup
Instructions
Add the walnuts, almonds, and sea salt to a food processor and pulse until finely chopped.

Turn the processor on and slowly add in the melted coconut oil and vanilla extract. Continue to process for about ten seconds, until the mixture is crumbly.

Add the nut mixture to an 8x8 square dish. Using your fingers, press the crust into the dish to form an even layer. Set aside.

Fill the bottom of a double boiler halfway with water and bring to a boil. Then bring down to a simmer.

While waiting on the water, use the heel of a chef's knife and finely chop the dark chocolate. Combine it with the semi-sweet chocolate chips. Set aside.

Take the can of coconut milk, tip it upside down, and open it.* Pour out the water and either discard it or reserve it for smoothies. (See notes below)

Scrape the coconut cream into a small bowl and set aside.

When the water has come to a boil, reduce it to a simmer. Add in the chocolate and stir until it's mostly melted.

Add in the coconut cream and continue to stir until it's blended in with the chocolate.

Add in the instant coffee, coconut oil, and maple syrup. Stir until all of the ingredients are well blended.

Pour the chocolate sauce over the crust and let sit for 30 minutes to set slightly. Then place in the fridge for at least 3 hours to firm up.

Cut into 9 bars and devour.
Notes
*Opening a can of coconut milk right off the shelf will not work for this recipe because you need the cream and water to separate. To do this, you need to place a can of full-fat coconut milk in the fridge overnight. It's also important the can remains undisturbed while it's in the fridge, so avoid moving it around!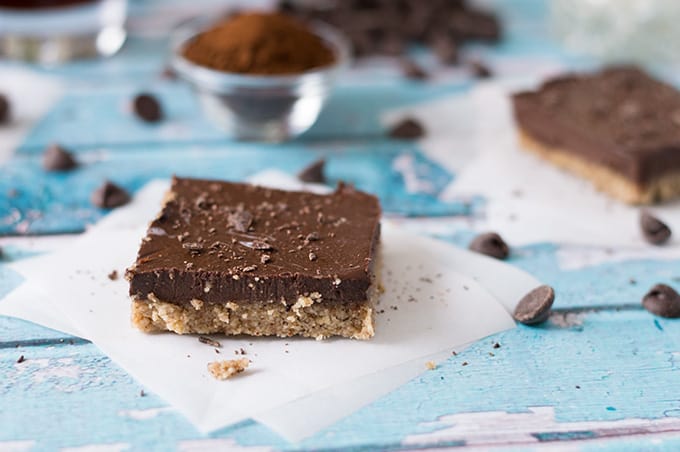 Disclaimer: This post may contain affiliate links, which means I make a small commission if you make a purchase through them. By purchasing through these links, you are helping support this site at no extra cost to you! I only recommend items and services I personally use and love.