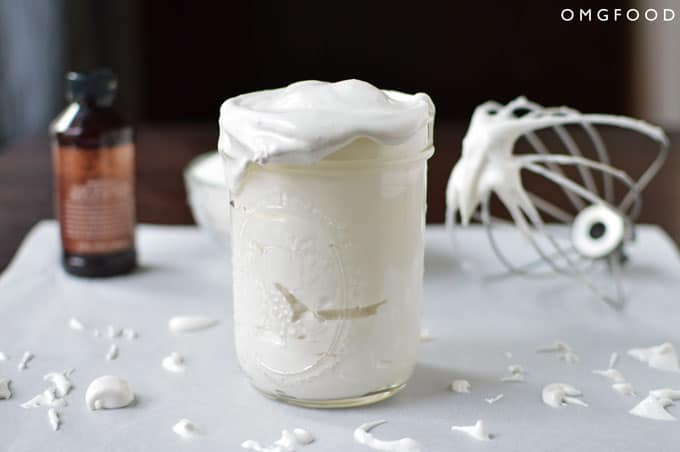 I've been waiting for this day for WEEKS.
I like to think I'm good at following my own rule on how often to post sweets on the blog. That said, I have been blogging for well over a year (though not consistently until December hit) and I only have a very small handful of desserts posted and most of them need to be updated with new photos badly.
So last week I posted blueberry mascarpone pie and today, I'm sharing homemade marshmallow sauce! I can't promise I won't post something sweet next week. Just be sure to balance out all the delicious sweetness with something healthy and we'll all be okay. It's all about moderation or whatever.
So anyway, yeah. Marshmallow sauce. HOMEMADE MARSHMALLOW SAUCE! CAPSLOCK. I made this four different times over the last two and a half months with various results, with the last attempt being the best version yet and I'm so glad to be sharing it with you today. <3
I don't remember exactly what possessed me to go on this marshmallow adventure; I think I might have wanted a fluffernutter, but I almost never have marshmallow fluff in the house. I know, that's pretty much a crime, but you may or may not remember I have a huge sweet tooth and I would probably destroy my teeth if I kept fluff in the house all the time (or anything sweet for that matter). It's a problem. That said, I really love fluff. I also really, and I mean really, love s'mores. I think I'll have to make a s'mores dessert next actually...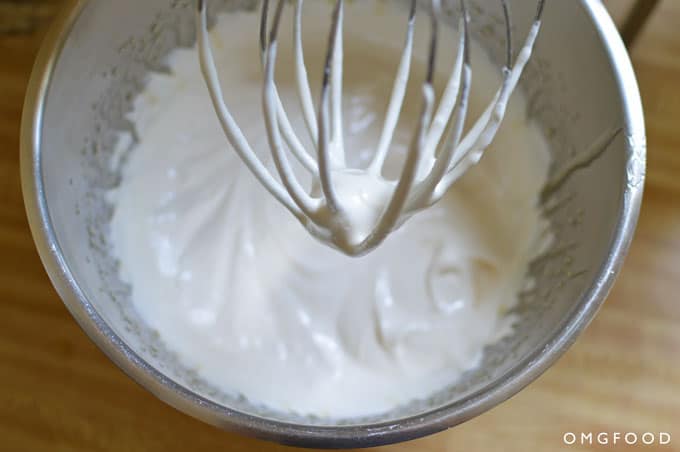 Once I decided it was time to look into making my own version of delicious, lovable fluff, I went to google, as one does, to do some research. And I noticed that the recipes I was finding included a combination of corn syrup and sugar in them. I almost never keep corn syrup in the house and I really didn't want to make an exception for this recipe, so I decided I would experiment...four times, apparently. Here's how it went down:
Version 1: The Honeying
Okay, so some of these recipes were calling for either mostly corn syrup and some sugar, or half of each. I thought I would tinker with ratios and use a combination of sugar with whatever liquid sweetener I grabbed from the pantry. I had honey, agave, and maple syrup to choose from and I thought, "honey could be fun and different and interesting!" I think I went with a cup of sugar and third cup of honey (water was also used to make a simple syrup with the sugar).
The result? That honey taste was just too strong for a marshmallow sauce; it completely took over. It didn't taste terrible, but I'd say it was...tolerable? Now, I love honey, but it can be overpowering and that's pretty much what happened here. Jay and I still used some of it up before tossing the rest (I ended up making that fluffernutter and it was quite good, actually), but the honey just didn't work for this.
Version 2: Crystallized
So instead of tinkering more with sugar/honey ratios or looking at alternate liquid syrups, I decided I was gonna go all sugar because I didn't want to risk wasting ingredients on a similar attempt. I upped the amount of sugar to one and a half cups (just try not to think about how much sugar will end up in this recipe <3) and went with a really small amount of water: ¼ cup + one tablespoon - because my goal was to make a really thick syrup. I brought the two to a boil and stirred, stirred, stirred until the sugar mostly looked dissolved and removed it from the heat. Within a couple of minutes, a hard shell was forming at the top of the syrup, but I thought, "It'll be fine once it mixes in with the egg whites." and I stirred it again like a crazy woman, thinking that will prevent a hard shell from forming again and went forward with making the marshmallow sauce. It looked thick and beautiful; I was ecstatic that I "nailed it" on my second attempt. I gave it a quick taste and it seemed fine, so I called Jason in to test and he came in a few minutes later and his immediate response to the taste-test was, "you can feel the sugar." I gave it another taste and he was right. Minutes prior, it didn't have a crystallized texture, so I knew this version was a bust. The taste I was looking for was very much there though, so I wasn't ready to give up.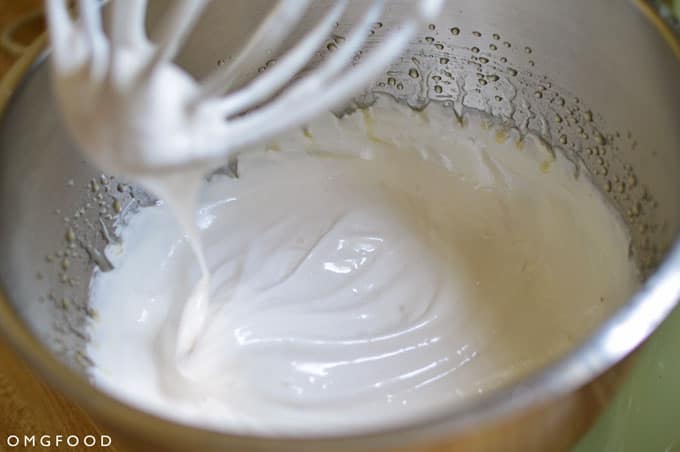 Version 3: Powdered No-No
I still have so much to learn when it comes to cooking and that's especially true for baking and the like. I have recipes for some sweet goods I'm pretty proud of, but outside of those, I consider myself a bit of a noob. So when the sugar syrup failed in my last attempt, I thought the next step would be to try using powdered sugar instead of granulated sugar. Why? I don't know. But I was certain the third attempt would be the final one. The marshmallow sauce basically went from the mixing bowl to the garbage. I used the same amount of sugar and water as I had in version 2, but something about the syrup wasn't right and I couldn't put my finger on it. But the taste wasn't where I wanted it to be either, so I knew I had to go back to work with version 2 and make it much smoother.
Version 4: "Spot On"
Surprisingly, I wasn't feeling discouraged just yet, because I was so sure I could make this marshmallow sauce without the use of corn syrup. I had to go to the store to buy more sugar. I usually only buy sugar around the holidays.
I sat down and did some math that seemed to make sense in my head on how to make a thicker simple syrup; I was convinced a 1:1 sugar/water ratio would not do the trick because it would still be too watery, but that measly little ¼ cup from version 2 was just too little, so I played with the idea of ½ a cup, ¾, of a cup, and the one I ended up going with, ⅔ of a cup. And that was the magic number.
I made the syrup and I set it aside to cool for a couple minutes. Came back to it and it was still syrup, not this crystallized shell-forming sugar thing. I was ecstatic! I went ahead with making the marshmallow sauce, tasted it, danced, tasted it again, and called Jay in to try it too. He had a small spoonful, closed his eyes, nodded, and quietly said "spot on." Hell to the YES.
And now that I've gone into detail about how each version went, here's a quick rundown on how to make the marshmallow sauce!
You'll need two egg whites and you'll want those eggs to come to room temperature before you start making the marshmallow sauce. I took my eggs out of the fridge an hour beforehand, but you can also stick the eggs in a bowl of very warm (not hot!) water for five to ten minutes. The trick to beating egg whites successfully is starting at a slow speed and gradually increase it to high. Check out this link for more tips on beating egg whites and while you're at it, check out this link from The Kitchn on what to do with leftover egg yolks.
You want to start off beating the egg whites on low for a couple of minutes until they look foamy (pictured below), then increase the speed to medium until soft peaks form (also pictured below). You'll know when you have soft peaks because 1.) it'll look like the photo and 2. if you detach the mixing bowl and tilt it to its side, the egg whites will stay put.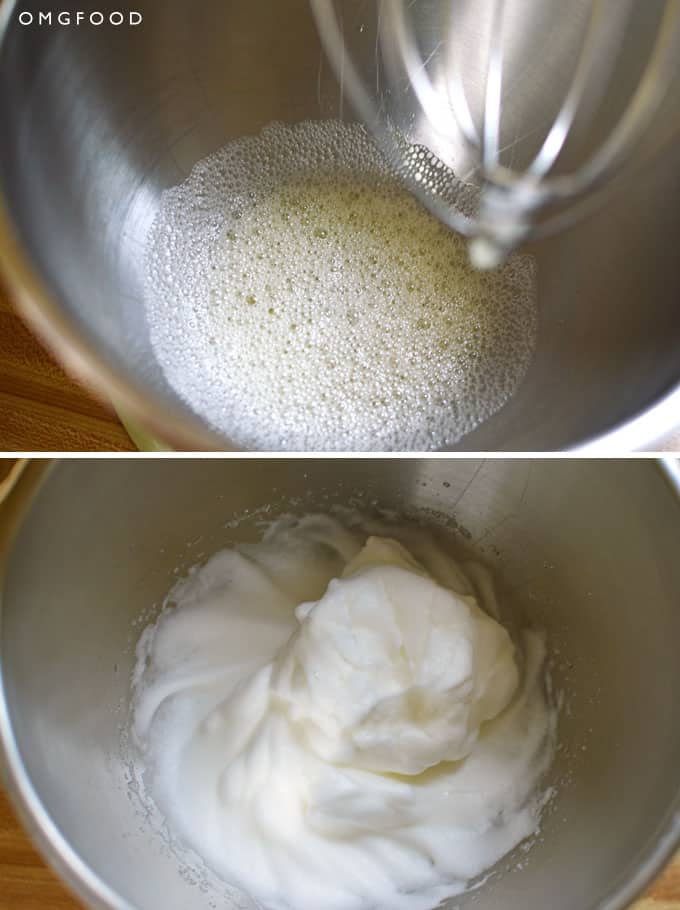 Once soft peaks form, you slowly add in the warm syrup. I added mine in about two tablespoons at a time and once half the syrup was added in, I slowly poured in the rest. Don't rush pouring it in all at once! Egg whites are sensitive.
Lastly, you increase the speed to medium-high and just let it go for a good five minutes. Be sure to set yourself a timer. The marshmallow sauce will double in volume and turn into a semi-stiff, glossy, fluffy, beautiful thing.
You'll want to store the marshmallow sauce in an airtight container and it should keep for up to two weeks in the fridge. Now, go make this and tell me how you liked it! <3
Update: The Separation
It's important to note that separation will probably occur. The simple syrup will start to settle at the bottom of the container after a few days. This is totally normal! Remember, you're working with natural ingredients, so it's inevitable separation would end up being a thing. When I first posted this recipe, my suggest was to give it a good stir or whip it up again in the mixer, but I actually recommend just doing the latter. It takes a few minutes for a sauce to form again, so stirring by hand would be exhausting! Add the marshmallow and syrup to the bowl of your stand mixer with the whip attachment and set it to medium-high for five to six minutes. You'll see it turn into a glossy, thick, creamy sauce again and it will create volume a bit as well. It more than likely won't be as fluffy at that point, but placing it back in the fridge will bring that fluffiness back!
Updated August 15th, 2015.
📖 Recipe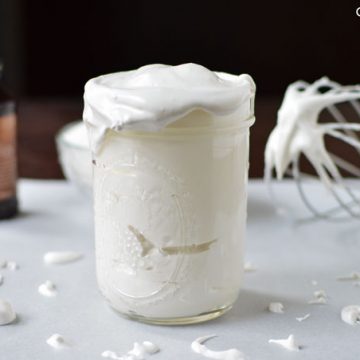 Ingredients
2

eggs brought to room temperature*

1 ½

cups

sugar

⅔

cups

water

¼

teaspoon

kosher salt

2

teaspoons

vanilla extract
Instructions
In a medium saucepan, add in the sugar, water, and kosher salt and cook over medium heat; stirring occasionally (use a metal spoon) until the syrup is translucent and no visible granules of sugar can be seen when lifting the spoon out of the syrup. This takes about 4-5 minutes.

Remove from heat, stir in the vanilla, and set aside to cool slightly.

Crack those eggs and separate the egg whites into a small bowl (save those yolks for something else).

Check for any shells in the whites, then transfer them to your stand mixer.

Using the whipping attachment, beat the eggs on low speed until the eggs look foamy, about two minutes.

Increase the speed to medium and continue to beat until soft peaks form (see image earlier in the post for an example. If you take the bowl, tip it to the side, and the whites stay put, you succeeded).

Slowly add in the warm syrup starting with 1-2 tablespoons at a time. After you're half done, slowly pour the remaining syrup into the mixture.

Increase the speed to medium-high and let it go for five minutes. Set a timer and grab yourself a drink! The marshmallow will turn into this fluffy deliciousness doubled in size.

Serve immediately or keep stored in an airtight container in the fridge for up to two weeks.*
Notes
Note 1: Take the eggs out of the fridge one hour before making the recipe. If you're pressed for time, stick the eggs in a bowl of very warm (not hot!) water for five to ten minutes.
Note 2: Store in an airtight container for up to two weeks in the fridge. Because you are working with natural ingredients, separation may occur. This is totally normal! See my update above the recipe on what to do when this happens.
Recipe adapted from Bon Appétit and Saveur