A classic staple in Greek homes around Christmas time, kourabiedes are tender and buttery shortbread cookies that melt in your mouth. They're the perfect holiday treat!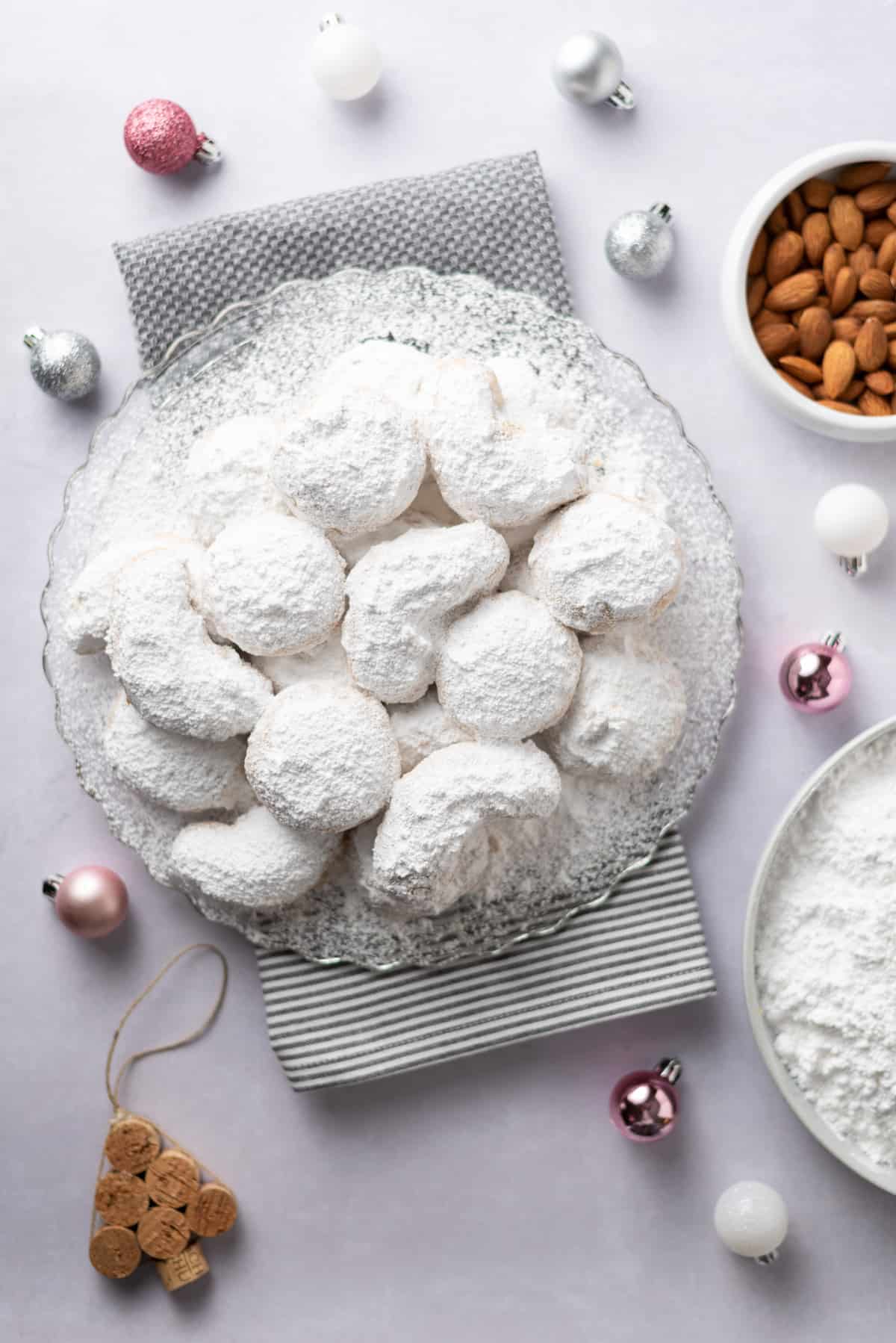 Happy Holidays, lovelies!
This is a moment I've been excited about for a long time. I've wanted to share this recipe for years at this point, I think! I kept holding off because I wanted to make sure every aspect hit all the right notes. This post here is one of the VIPs, people – a family recipe! I'm sharing my yiayia Ligeri's recipe for some of the best, soft, tender, buttery holiday cookies. Kourabiedes! Here's your super quick Greek lesson for the day:
Kourabiedes/κουραμπιέδες (khoo-rah-BYEH-thes with a hard "th") = multiple cookies
Kourabies/κουραμπιές (khoo-rah-BYEHS) = single cookie
Alternate English spellings are kourambiedes, kourabiethes, and kourambiethes for the former; kourabies and kourambies for the latter.
There's no direct translation to English for these cookies, but you know the type. Buttery, nutty, shortbread-y, and covered in lots of powdered sugar. Kourabiedes in particular can be known as Greek Christmas cookies, butter cookies, almond cookies, etc. They're a staple in Greek households around Christmas time, though really they can be found on the dessert table most holidays. And if you've ever hit up a Greek festival or bakery, these cookies would very likely be found there too.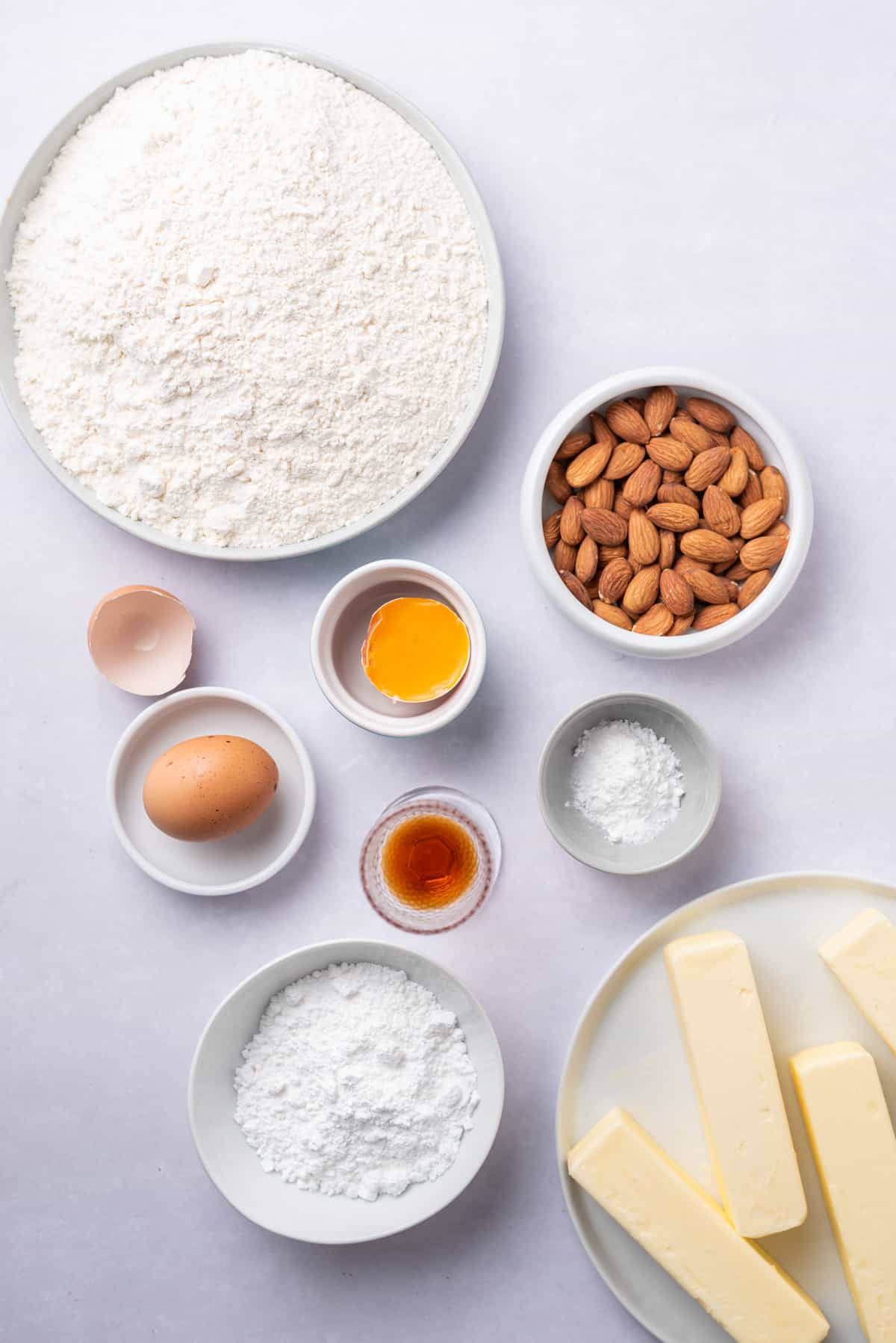 Decorating the house for Christmas is when I start to feel a little excited for the holiday season, but it's when I start baking these and melomakarona for my annual holiday gifting that really gets me in a super festive mood. I love the act of preparing them and packaging them into cute Christmas-themed treat boxes, not to mention the smells from the oven are amazing!
The Secret to Making the Best Kourabiedes
In order to get the right texture for kourabiedes, you need to incorporate a lot of air into the butter. This involves beating the butter for 20 minutes. That is not a typo, you're reading it right! Lots of cookie recipes will call for creaming butter and sugar for a few minutes only, but that's not the move to make here. This step is important and the secret to making a fluffy dough that will then result in soft and tender melt-in-your-mouth cookies.
A stand mixer with the paddle attachment is definitely handy here. If you don't have one, a hand mixer can be used. Just switch hands, take breaks, or take turns with someone as needed.
Kourabiedes Ingredients Worth Mentioning
As most traditional cookie recipes go, you have your flour, eggs, sugar, fat, etc. These are ingredients that help make this recipe shine:
powdered/confectioners sugar: aside from what coats the cookies after baking, a small amount of powdered sugar goes into the cookie dough as well. You can't substitute granulated sugar here. This cookie is meant to be delicate.
cream of tartar: my yiayia swore by using this ingredient with the addition of baking soda to help create the perfect texture. Baking powder can be used at a 1:1 ratio instead, however, the texture will be slightly crumblier. I personally think it's worth having cream of tartar for this.
brandy or ouzo + pure vanilla extract: used to provide a little extra flavor, either brandy or ouzo can be used. The amount called for is small here; Yiayia was going for subtly delicious.
almonds: I opt for raw almonds that I can roast at home myself before baking. Various recipes may call for almonds that are blanched, blanched and roasted, or even slivered. They can be chopped as coarsely or fine as you'd prefer. I will enjoy kourabiedes with either consistency, but I personally prefer blitzing the almonds in a food processor to more of a fine powder. I find the cookies are meltier that way, which I love!
orange blossom and/or rose water (optional): My yiayia didn't personally do this with her cookies, but lots of Greeks will sprinkle some rose or orange blossom water onto the hot cookies right out of the oven before coating with powdered sugar. It's a tasty addition that I tend to skip most of the time myself, but that's usually because I don't always have the waters handy. I recommend trying it; it's delicous!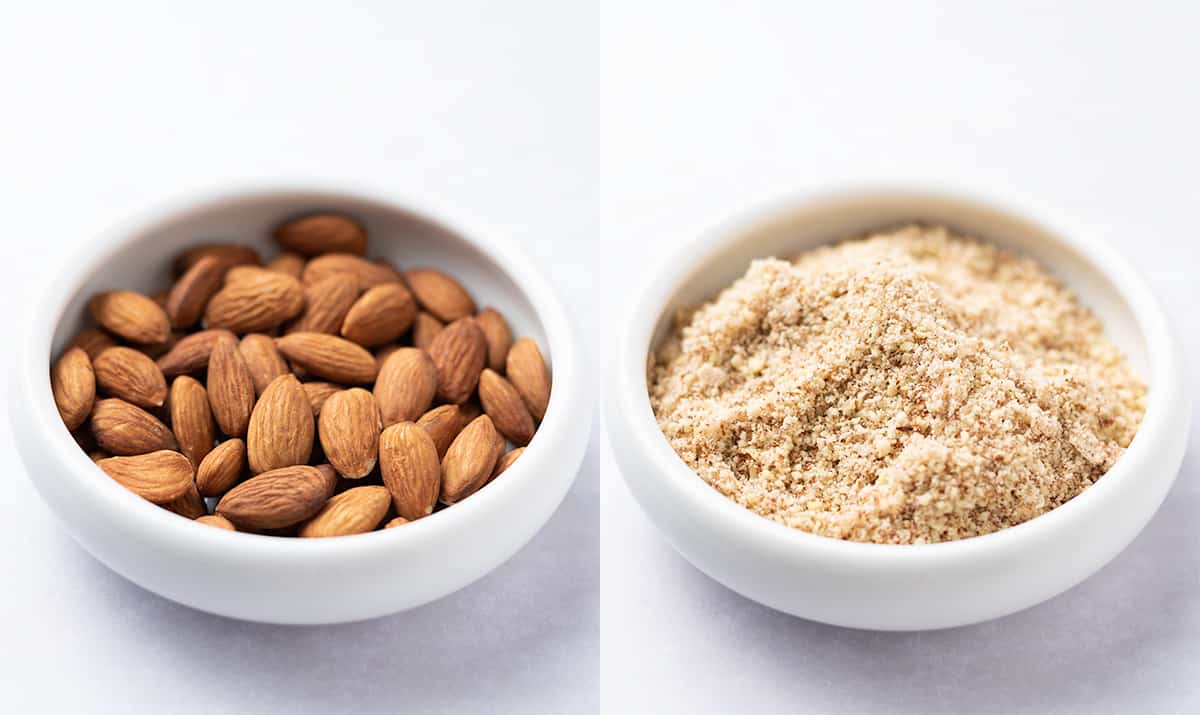 How to Make Kourabiedes
The first step is beating the butter on medium-high for ten minutes – it will be fluffy and light yellow in color. Add in the powdered sugar and continue beating another ten minutes – at this point the mixture will become even fluffier and white in color. Once the eggs, liquor, and vanilla are mixed in, the batter will have a smooth and creamy satin-like finish to it. Sifted flour, baking soda, and cream of tartar is then added, before finally adding in the almonds. The dough's end result will be soft and silky with a fluffy and pillowy texture.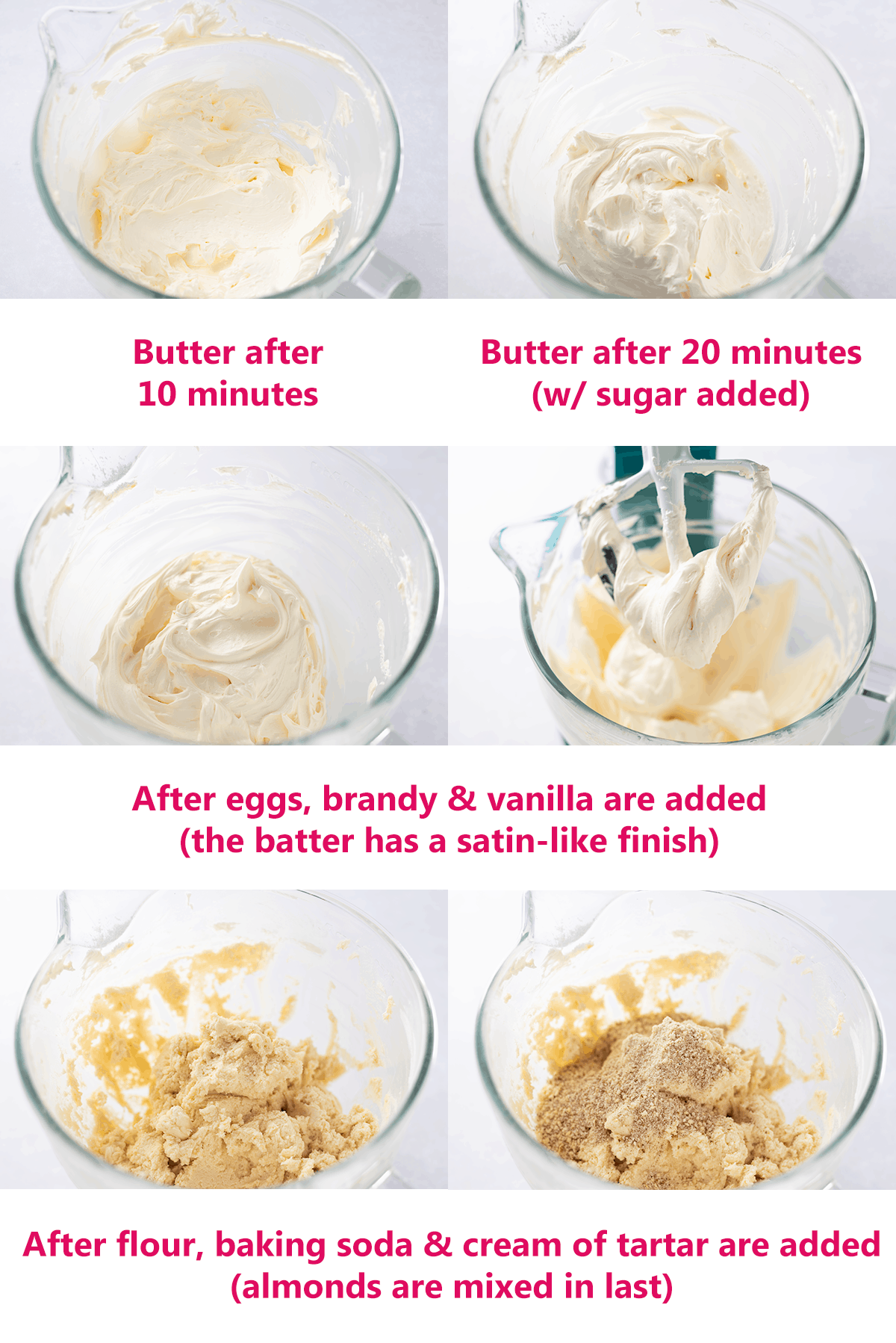 Shaping, Baking, and Sugar-Coating the Kourabiedes
Traditionally, kourabiedes are hand-rolled and shaped into round cookies or crescents, but you can also roll out the dough and shape however you'd like with your favorite cookie cutters. If you go this route, be sure the dough is about 1.5 centimeters thick.
The cookies take anywhere from 20-25 minutes, but this can be dependent on your own oven, baking sheet, etc. The cookies are done with the tops are a pale golden beige color and the bottoms are golden brown. After removing from the oven, they should rest for only five minutes to cool slightly (at this point they'd be sprinkled with the rose or orange blossom water); the cookies need to be warm for the sugar to stick.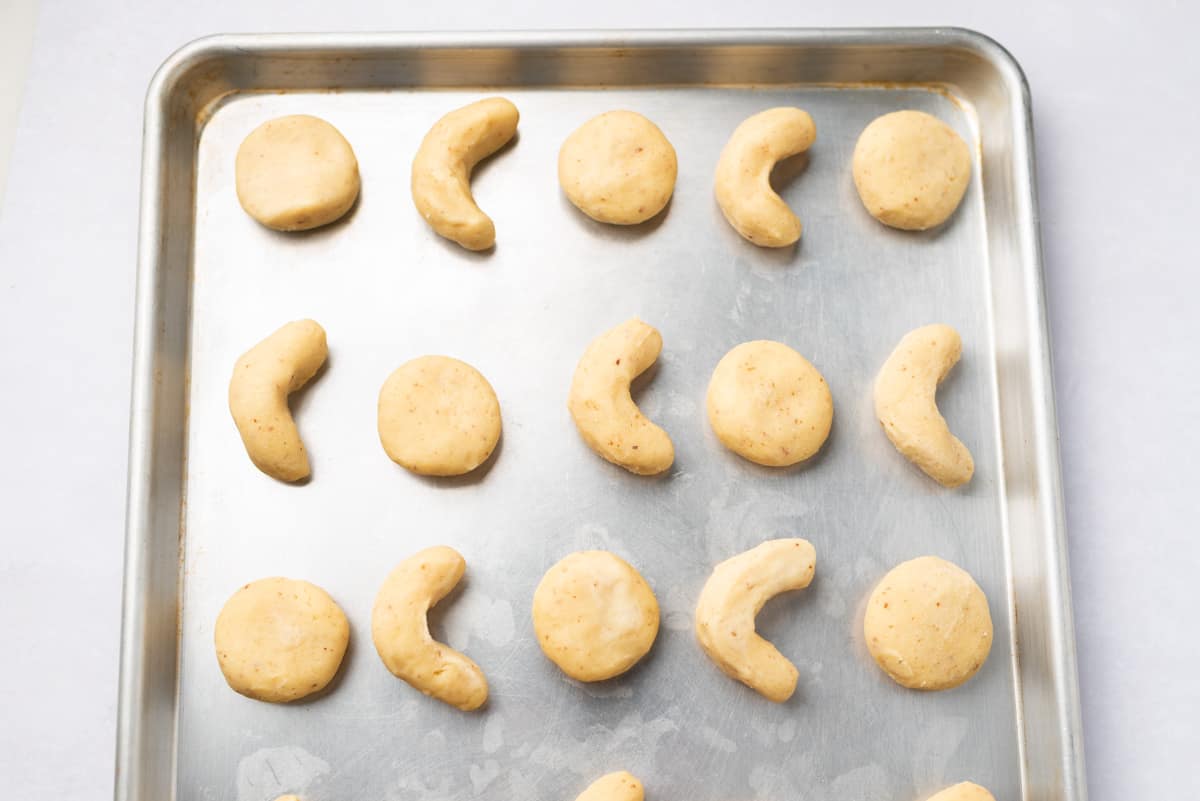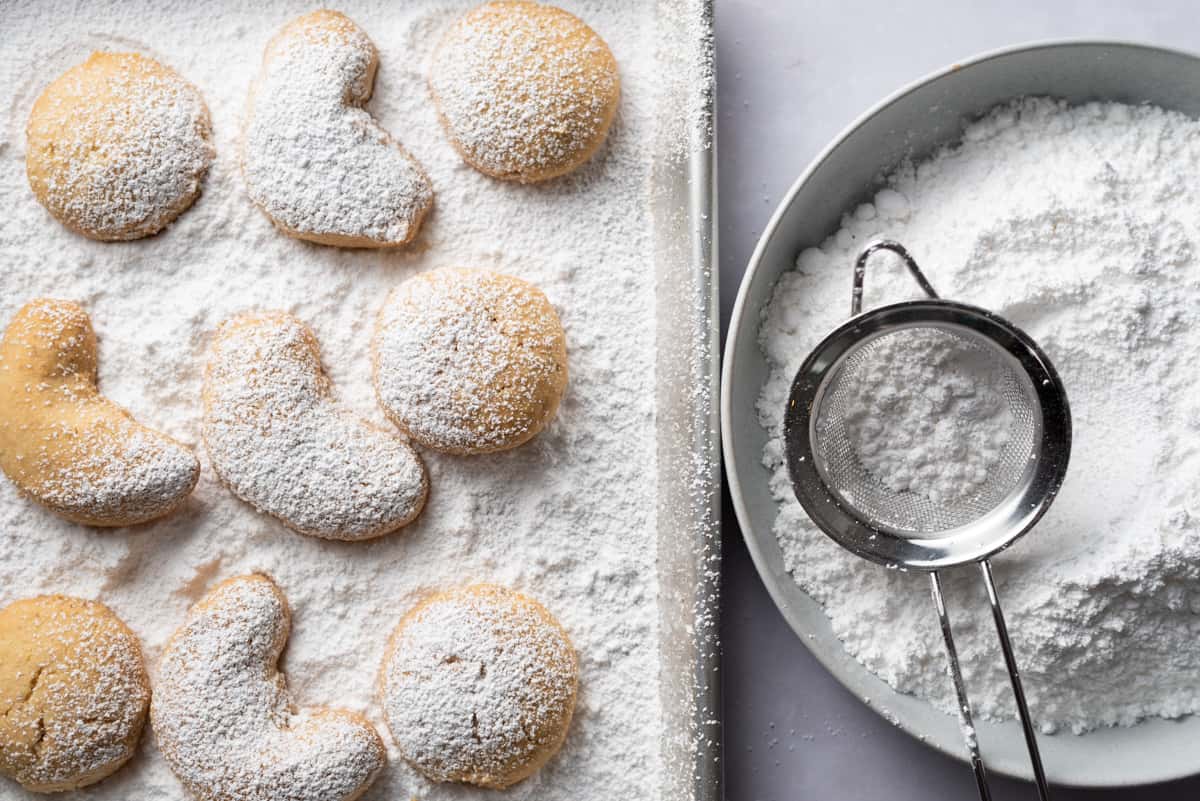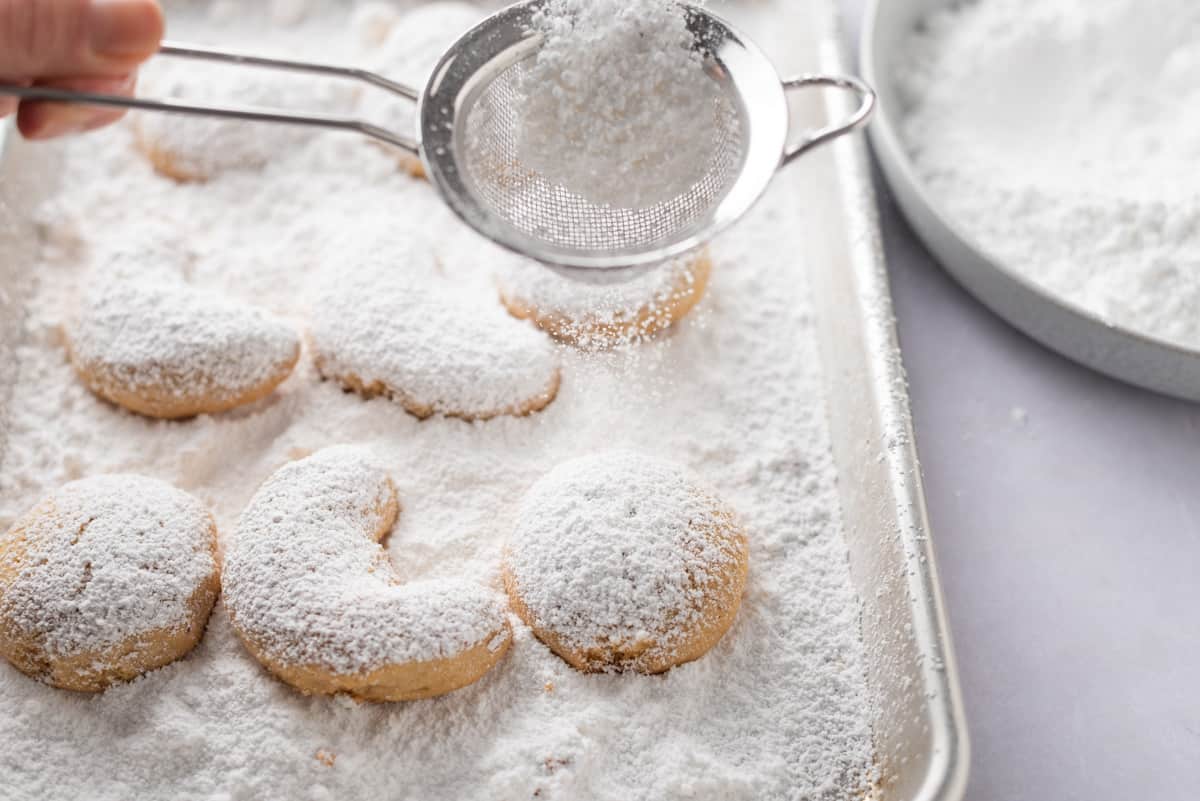 Serving and Gifting Kourabiedes
The cookies should be completely cool before serving or gifting. Serving on a platter with the cookies stacked is traditional. If you are gifting cookies to others, go the Greek route and place each kourabies in a cupcake liner.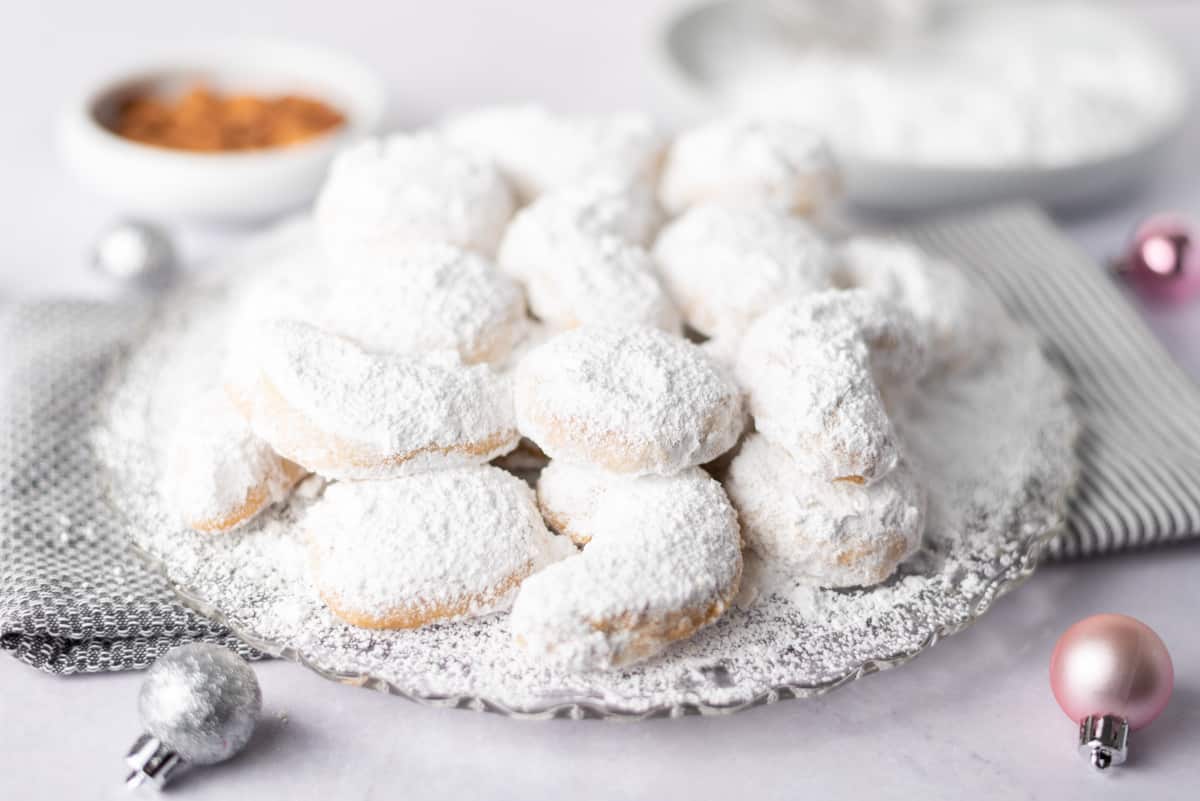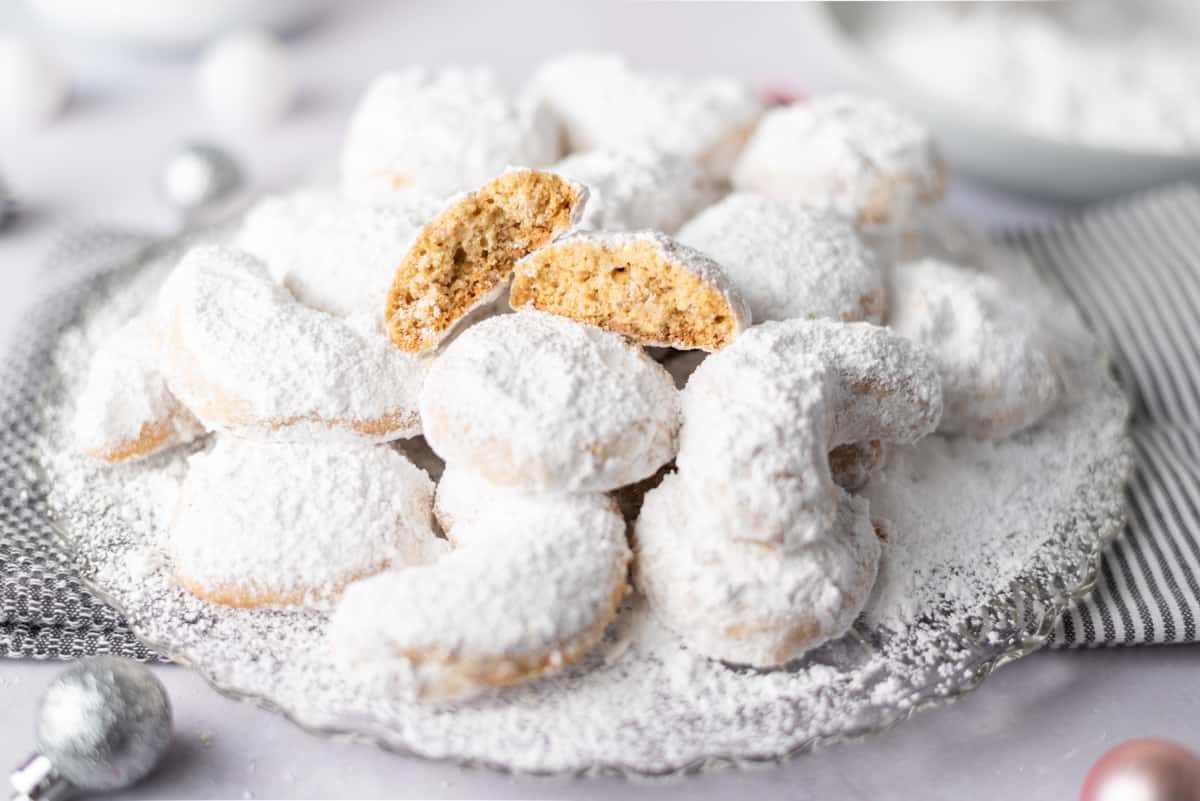 📖 Recipe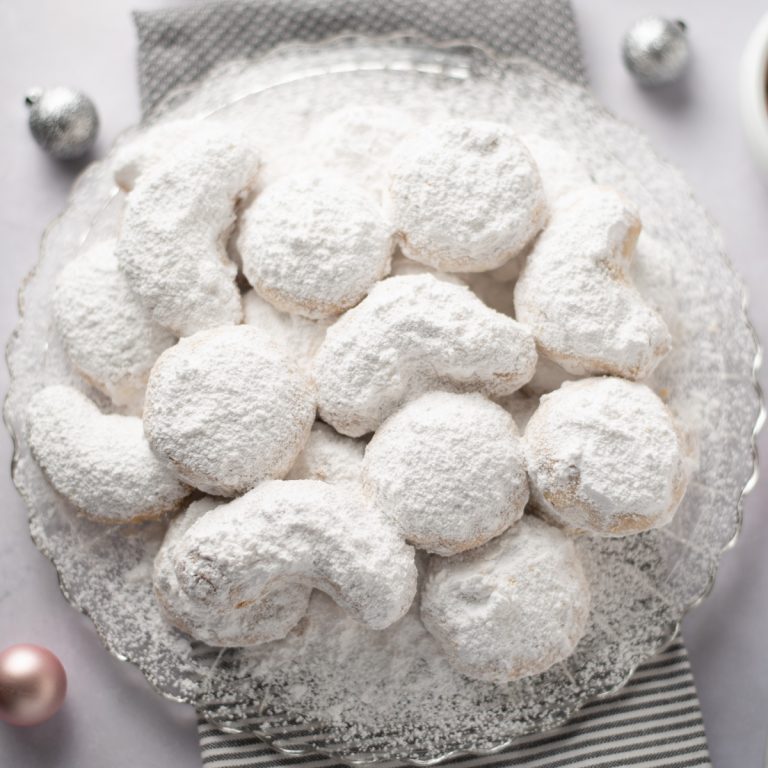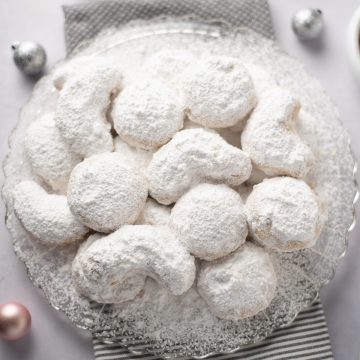 Kourabiedes (Greek Christmas Butter Cookies)
A classic staple in Greek homes around Christmas time, kourabiedes are tender and buttery shortbread cookies that melt in your mouth. They're the perfect holiday treat!
Print
Pin
Rate
Servings:
40
cookies (approximately)
Ingredients
For the cookies
1

pound

unsalted butter

,

softened at room temperature

50

grams

(½ cup) powdered/confectioners sugar

,

sifted

2

large egg yolks

1

tablespoon

brandy or ouzo

1

teaspoon

vanilla extract

540

grams

(4 cups) all-purpose flour

,

see notes*

1

teaspoon

baking soda

1

teaspoon

cream of tartar

,

see notes*

75

grams

(½ cup) raw almonds

rose water and/or orange blossom water

,

optional
For the sugar coating
330-450

grams

(~3-4 cups) powdered/confectioners sugar
Instructions
Preheat oven to 350 degrees Fahrenheit.

Lightly roast the almonds for 5-8 minutes and allow to cool, then chop to a coarse or fine consistency, depending on preference.*

Sift together the flour, baking soda, and cream of tartar in a medium bowl. Set aside.

Add butter to the bowl of a stand mixer with the paddle attachment equipped. Beat on medium-high speed for 10 minutes; it will appear light and fluffy.

Reduce the speed and add in the sifted powdered sugar. Once it's incorporated, increase the speed to medium-high and beat an additional 10 minutes; it will then appear fluffier and lighter in color (this is an important step – see notes for more info).*

Reduce the speed to medium-low and add the eggs one at a time, then add the vanilla and brandy or ouzo and mix until incorporated.

Add the sifted flour in half-cup increments. Once all the flour has been added, add the almonds. Increase the speed to medium-high and beat for 30 seconds.

The dough should feel soft and silky with a pillowy texture. If it sticks to your hands, continue mixing and add sifted flour in two tablespoon increments until it no longer sticks.

Roll the dough into walnut-sized balls (26-30 grams or two tablespoons) and flatten slightly and/or shape into crescents. Place onto ungreased baking sheets one inch apart.

Bake for 20-25 minutes or until they reach a pale beige/golden color on top; the bottoms will be golden brown. Note that the cookies are extra delicate when they're hot, so handle with care.

Remove from oven and let cool for five minutes. An optional step is to sprinkle the kourabiedes with rose or orange blossom water.

With a sieve, evenly line a large pan with 1 ½ cups powdered sugar. Carefully nestle the kourabiedes into the sugared pan and completely cover with 2 cups of sifted sugar. Use more sugar if needed.

Allow to cool completely before transferring to a platter to serve.

Enjoy!
Notes
The amount of flour will likely be enough, but keep some extra on reserve for step number seven just in case! If measuring flour by volume, be sure to use the scoop and level method.
Cream of tartar can be replaced with baking powder at 1:1 ratio but I find the cookies can come out a little crumblier with it. Not a bad thing necessarily! Just something to note.
Many recipes call for blanched and roasted almonds, though raw almonds that are lightly roasted works just as well! Different variants will also suggest coarsely chopping the almonds, but this is not required. I personally like to chop the almonds in a food processor to a finer powder for a more "melt-in-your-mouth" experience. Go with what works for you! 🙂
The secret to this recipe that makes it work so well is letting the butter whip and whip for a long time, adding the sugar in halfway, until it becomes soft and fluffy. Do not skip or speed up this step! If you don't have a stand mixer, a hand mixer can be used instead.
---
HOW TO PRONOUNCE KOURABIES/KOURABIEDES
Kourabies (single cookie) = khoo-rah-BYEHS
Kourabiedes (multiple cookies) = khoo-rah-BYEH-thes (with a hard "th")
---
HOW TO STORE KOURABIEDES
Either cover the pan with plastic wrap or transfer to an airtight container. Store at room temperature. They will keep up to six weeks.
---
HOW TO GIFT KOURABIEDES
In true Greek-American fashion, place a kourabies into a cupcake liner before packaging in an airtight container. This is also how my parents and relatives would bring cookies to holiday parties, making it easier and neater for folks to grab a treat – because that powdered sugar can sure get deliciously messy!