In Greece, fanouropita is made on August 27th to honor Saint Fanourios, the saint of lost things. His name comes from the Greek word "fanerono" which means "I reveal." The tradition of baking this cake is that it will help you find something that is lost, whether it's a thing, person, or maybe even peace of mind! It's an orange-olive oil cake made with warm spices (vegan-friendly).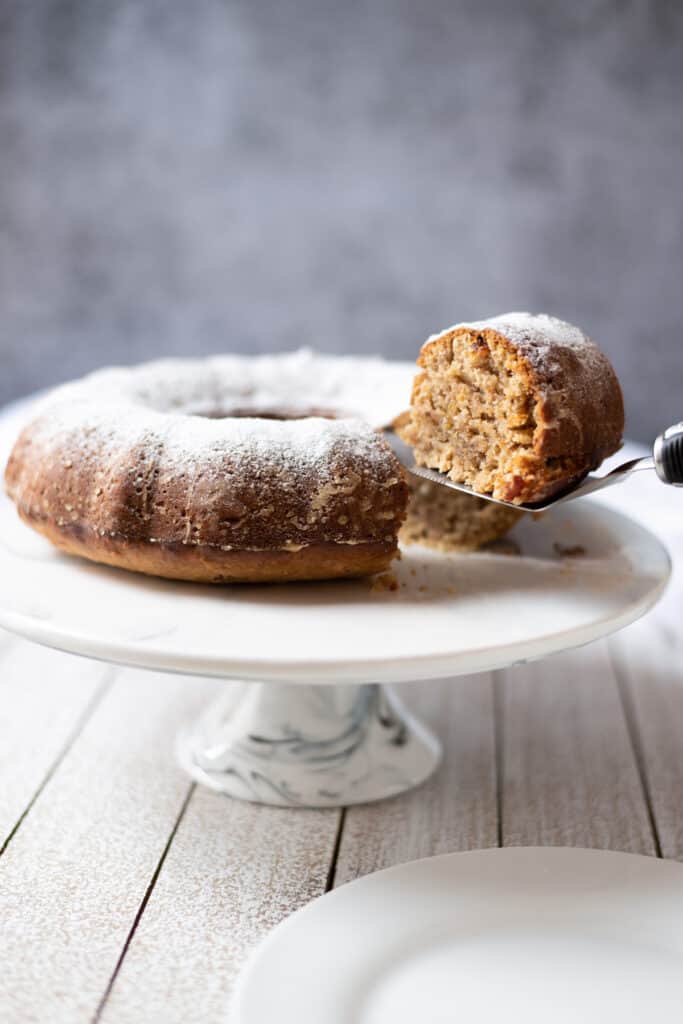 Happy last day of August, friends! Before we dive into today's scrumptious recipe, I'd like to remind you all that summer is not over yet. The last day of summer is on September 22nd, which means we still have time for more beach fun and all that goodness. K!? K.
Moving on, let's talk about cake! Today's recipe is a tasty Greek cake called fanouropita (pronounced fah-noo-ROH-pee-tah) and it's known as the cake for lost things. There's a religious aspect behind the story linked to this cake, which you can easily Google if you want to know more than what I'll explain below! I don't consider myself to be all that religious and won't dive into too much detail here (but it is important to me that I stay connected with my Greek-American culture).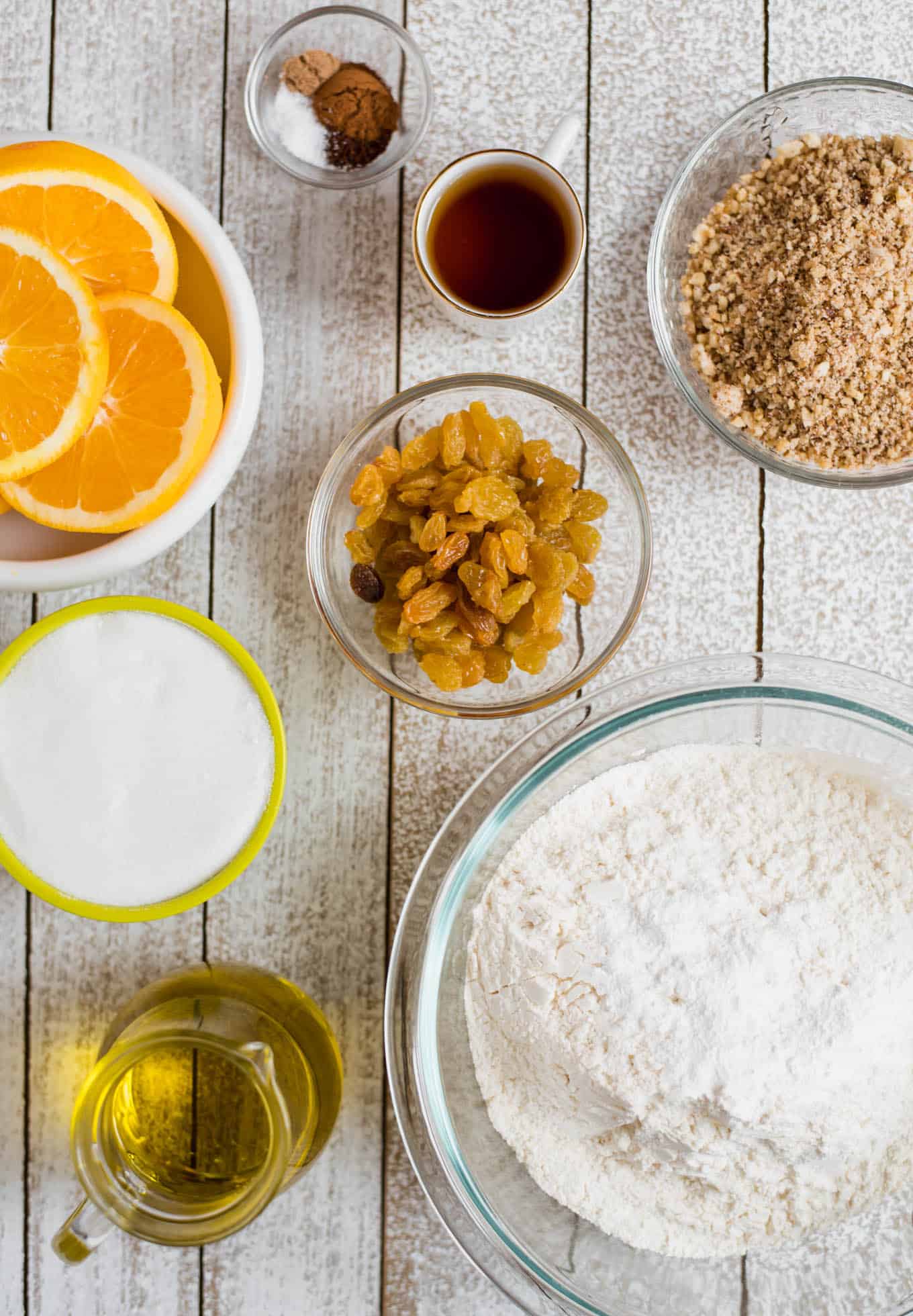 The quick story of fanouropita involves Saint Fanourios, a patron saint whom Greek Orthodox worshipers ask for guidance in finding lost items or revealing a path in life. His name comes from the Greek word "fanerono," which means "to reveal" and he's commemorated on his name day, which is on August 27th. It's traditional that this cake is baked in his honor, brought to church to be blessed, and is then served to the churchgoers.
So basically, if you lose something and you want it to be found, get ready to bake a cake!
Making Fanouropita
Fanouropita is an olive oil cake that has both the zest and juice from fresh oranges and is infused with cinnamon. The addition of other warm spices like cloves and nutmeg adds an extra layer of deliciousness and depth. I've found that this cake tastes best after it's rested a day; it allows all the flavors to fully develop (which will really complement each other nicely); similar to the melomakarona.
This cake is usually baked in a round 10-inch cake pan, but another popular option is to use a bundt pan for aesthetic purposes. I'm a fan of the bundt pan option, but if you don't have one, then go traditional with the round pan instead! Don't have a round pan? Go square! Either way, you win. Also, have I mentioned this cake is also made with brandy? And it's vegan-friendly!? Not too shabby, eh!?
In the few times I've baked this cake, the amount of juice from the oranges alone wasn't enough, so I usually top it off with some bottled orange juice (you'll need one cup for this recipe and two oranges will sometimes give you a little less than that). On that note, I use this juicer and it does the job well. I also like to add a small amount of golden raisins (½ cup) for an added touch of sweetness and texture, but that's an optional ingredient if raisins are a no-go for you.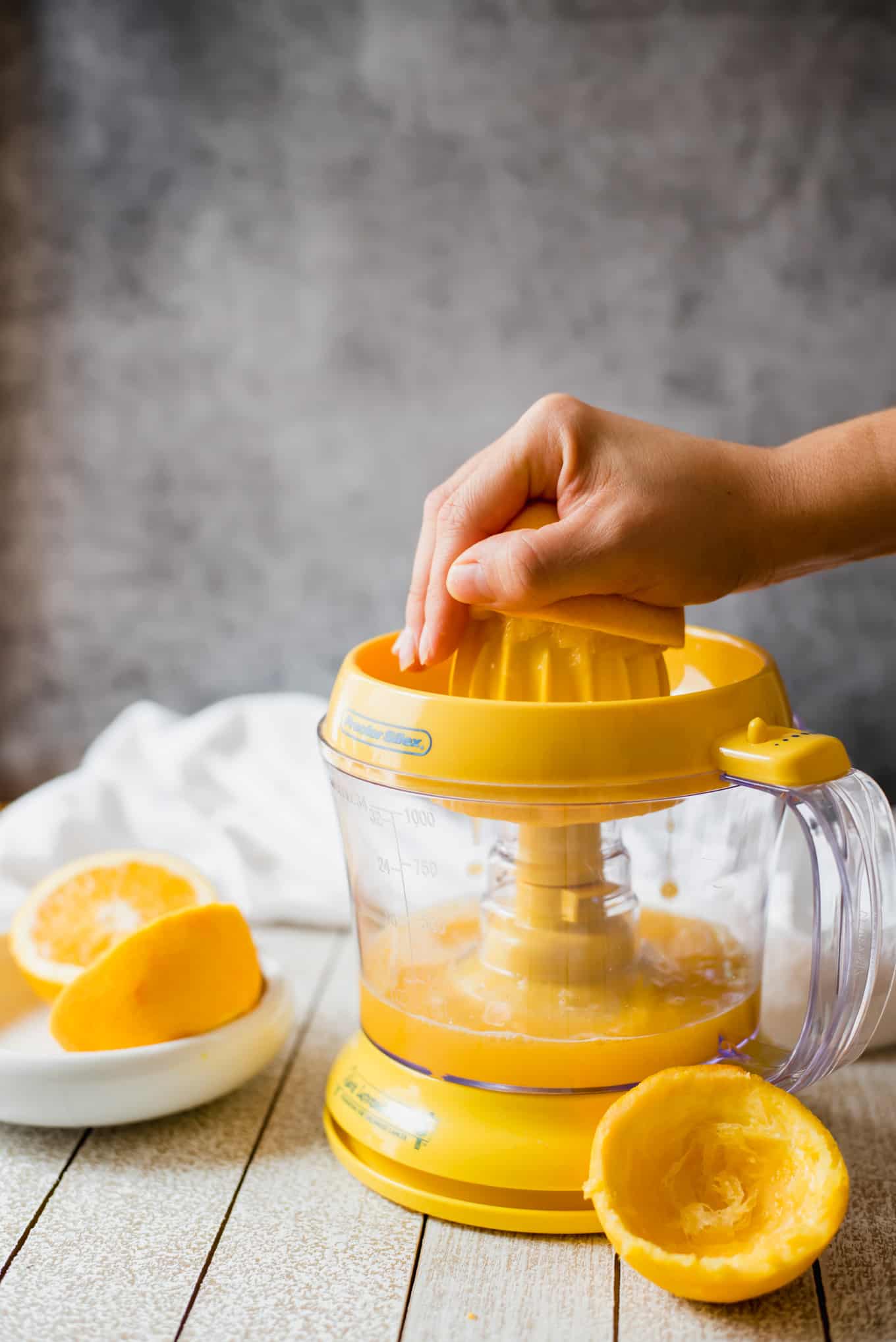 As for mixing the fanouropita, I prefer to use my stand mixer because I'm a huge fan of efficiency. You can opt for a hand mixer or go analog and mix by hand with a whisk and spatula. It's an easy cake to prepare, but it's good to keep in mind that this batter will be on the thick side; it's supposed to be!
Also, since this is made with extra virgin olive oil (and you'll be using a decent amount), please, please, pleeease don't go for the fancy/expensive/high-quality bottle of oil that's meant for drizzling/condiment purposes. When it comes to baking with this oil, I recommend you go with something that won't make your wallet cry. I tend to go with the store brand or whatever I find at BJ's on sale (usually Bertolli or Filippo Berio which are both great brands).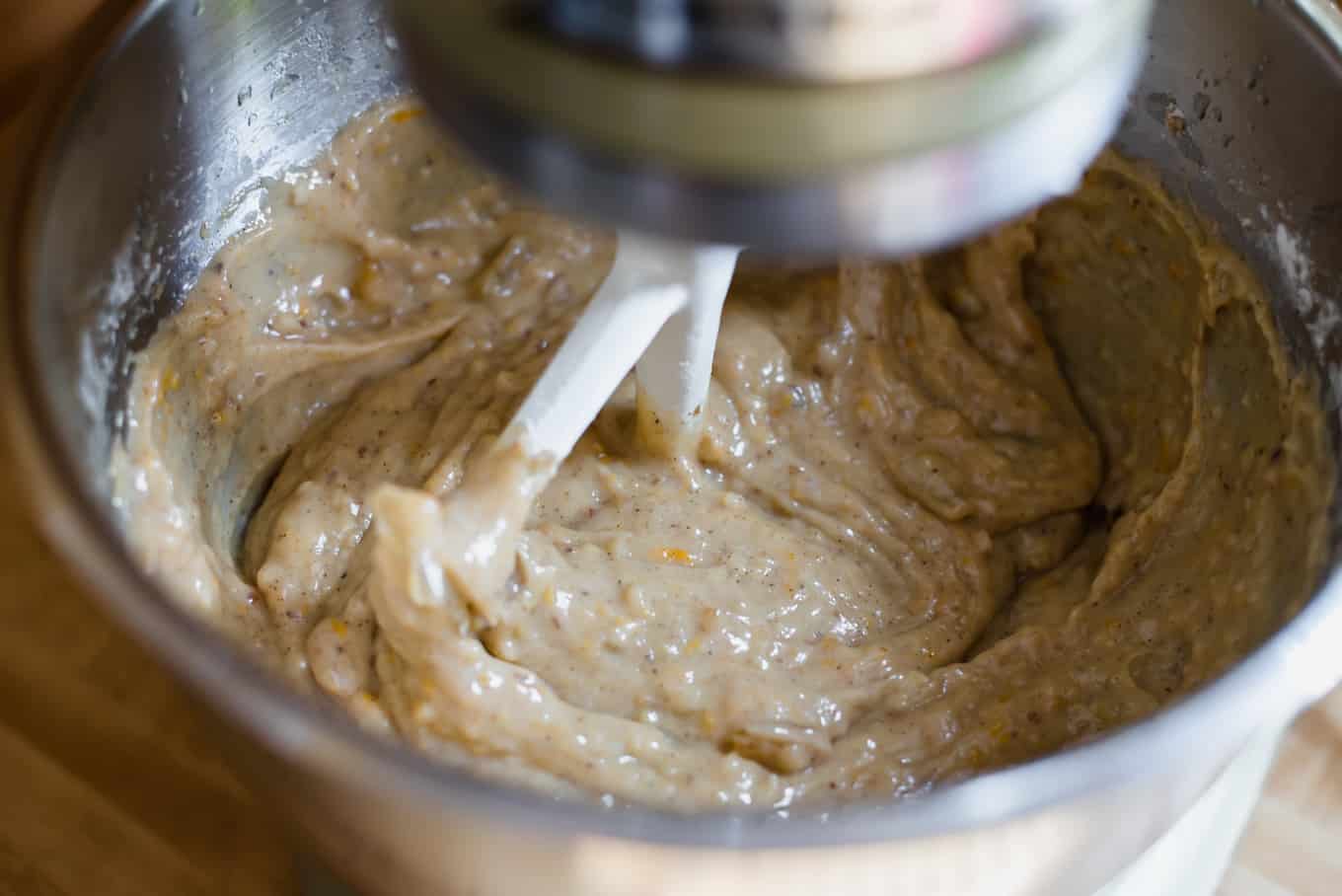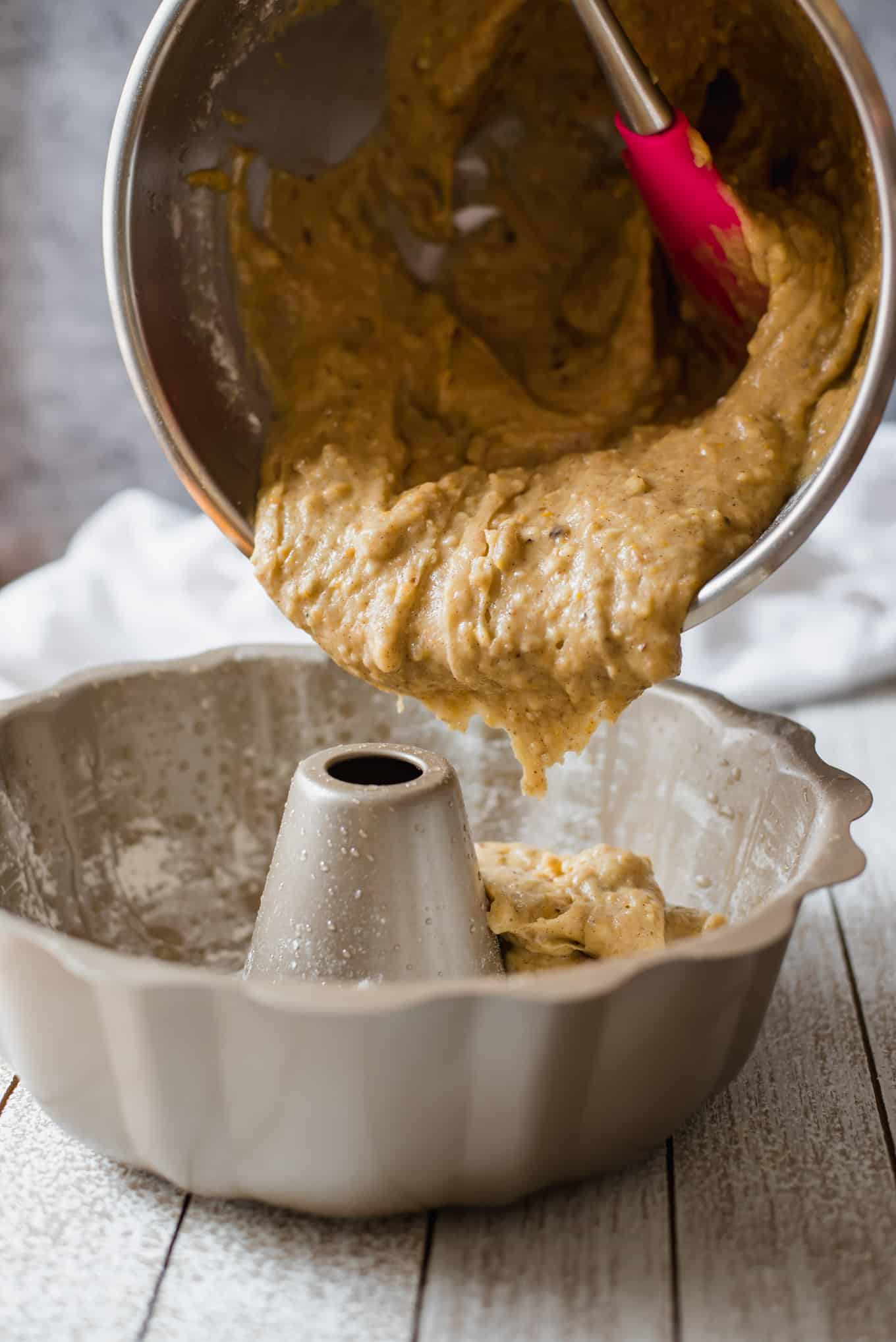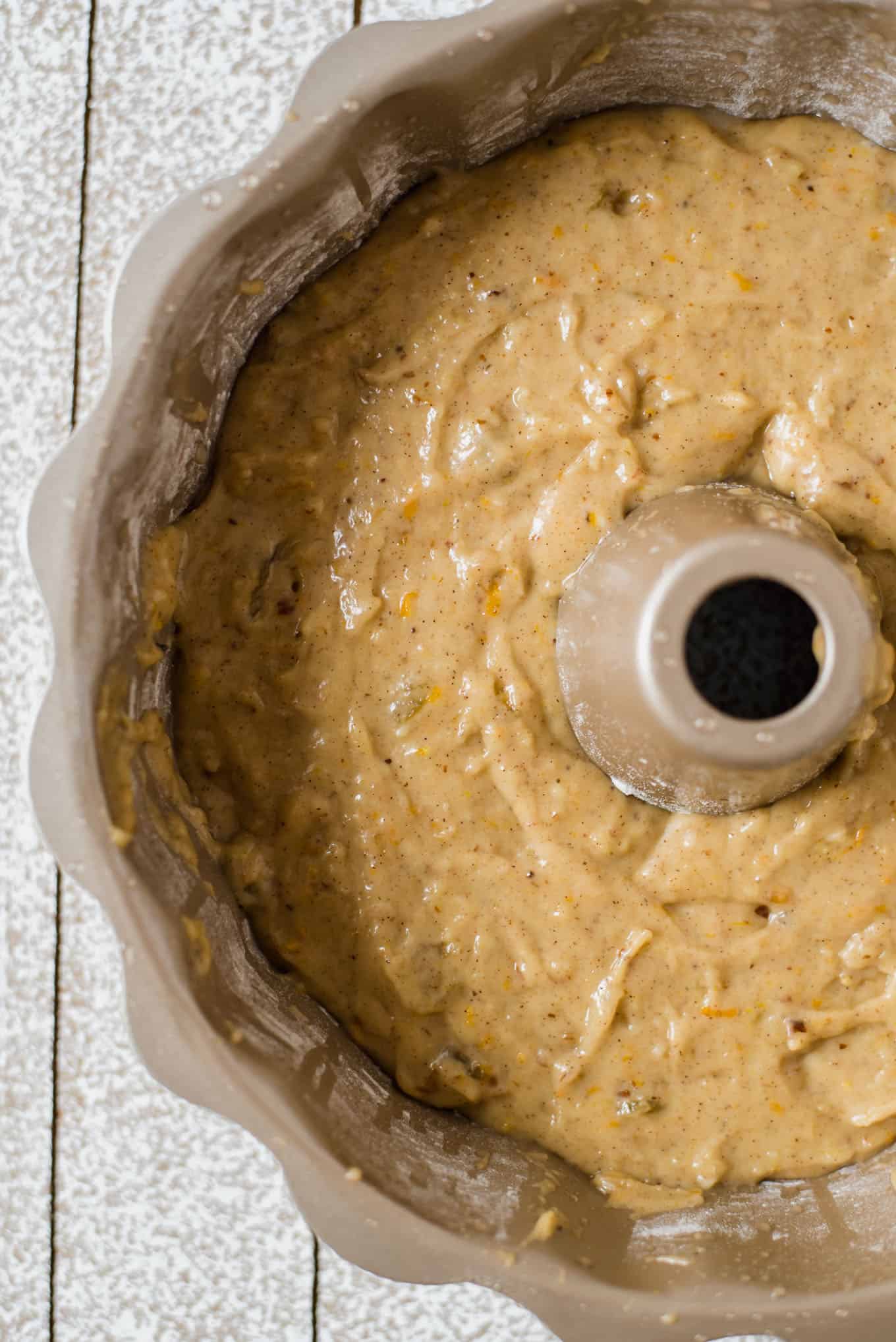 Depending on your pan and oven, this cake can take anywhere from 35-50 minutes to bake, so keep that in mind when you're getting your bake on! Using the bundt pan, it usually takes 45-50 minutes for me. If using a round or square cake pan, it may be shorter. After removing the cake from the oven, let it cool in the pan for about ten minutes before transferring to a rack to completely cool. And don't forget to dust it with some powdered sugar before serving. 🙂
Just a few more shots of this cakey goodness before we get to the recipe.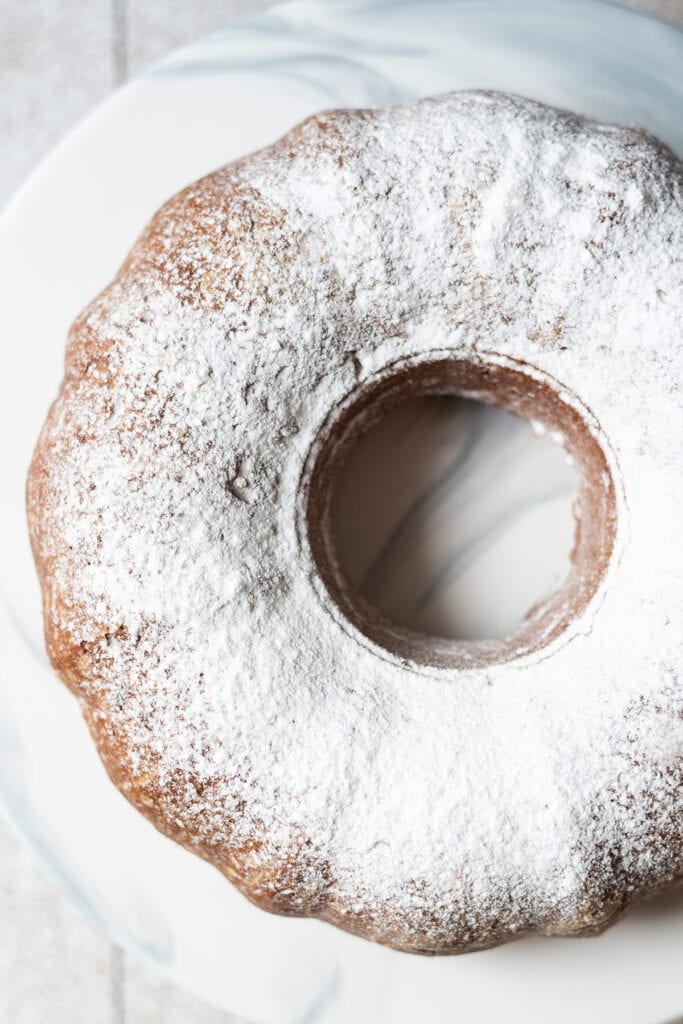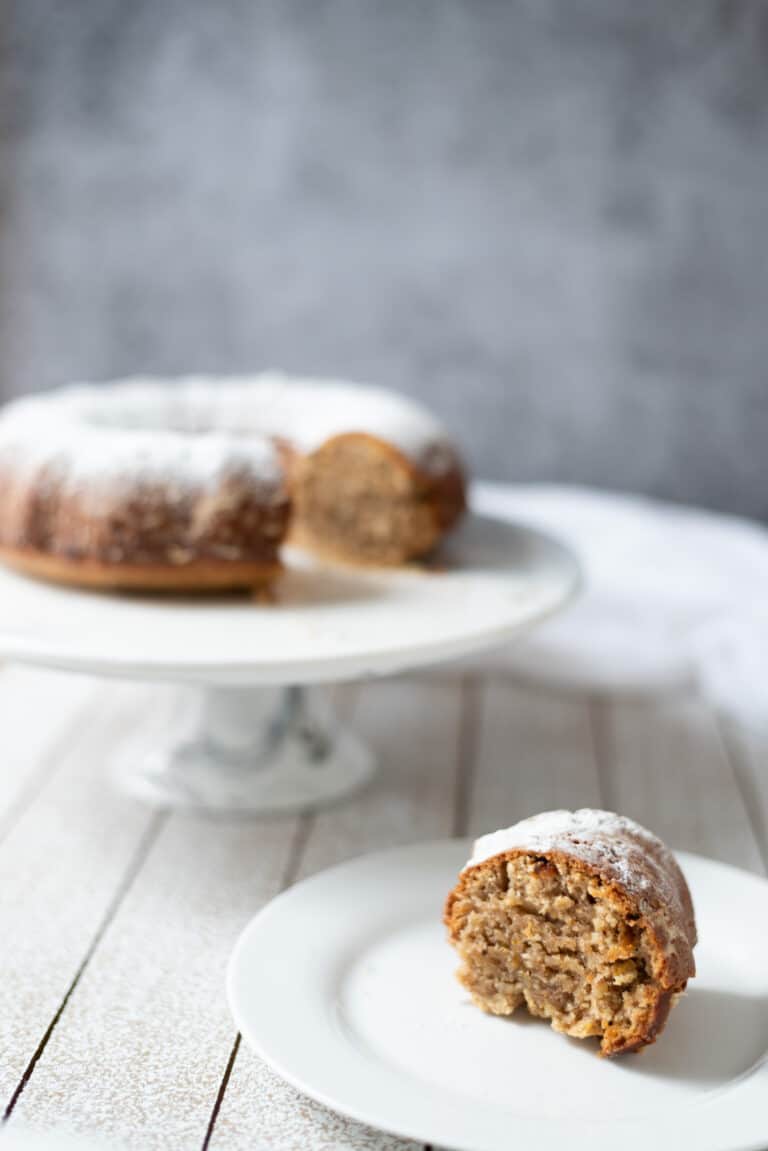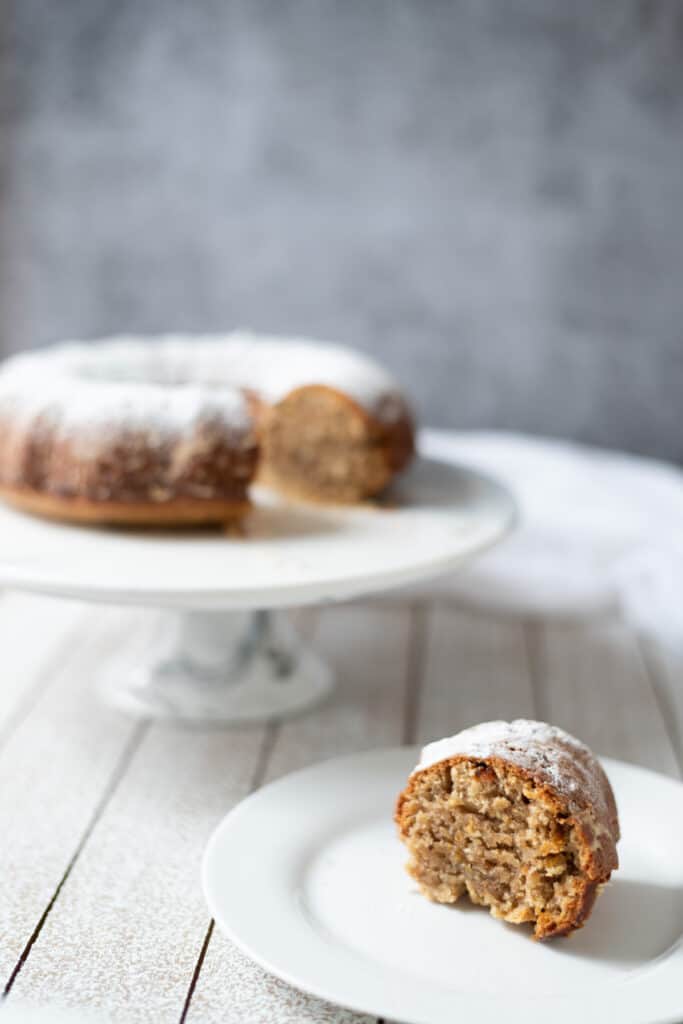 Feeling hungry yet? 😘
📖 Recipe
Ingredients
3

cups

all-purpose flour

,

(391 grams)

1

cup

ground walnuts and/or almonds

,

(114 grams)

1

cup

sugar

1

teaspoon

cinnamon

½

teaspoon

cloves

¼

teaspoon

nutmeg

½

tablespoon

baking powder

,

(aluminum-free is best)

pinch of sea salt

¾

cup

extra virgin olive oil

zest from 2 oranges

1

cup

orange juice

,

(see notes*)

¼

cup

brandy or orange liqueur

1

teaspoon

vanilla extract

½

cup

golden raisins

,

(optional)

powdered sugar for garnish
Instructions
Preheat the oven to 350 degrees Fahrenheit. Lightly grease a bundt or 10-inch cake pan with some olive oil and lightly dust with flour, shaking off any excess. Set aside.

In a medium bowl, whisk together the flour, ground nuts, sugar, cinnamon, cloves, nutmeg, baking powder, and salt until combined. Set aside.

In a larger bowl, combine the olive oil, orange zest, orange juice, liqueur, and vanilla extract. You can do this by hand with a whisk or with a stand or hand mixer (I use my stand mixer with the whisk attachment to start).

If using a mixer, swap out the whisk attachment for a paddle. Add the dry flour mixture and raisins to the wet ingredients and mix on low speed until combined. If mixing by hand, grab a spatula and fold in the ingredients. The dough will be thick and sticky; this is normal!

Transfer batter to the greased pan, scraping down the sides. Spread it out evenly.

Bake until a toothpick or tester inserted into the center comes out clean, about 40-50 minutes.

Remove from oven and let cool for 10 minutes. Then transfer cake to a rack to completely cool. Dust with powdered sugar before serving. The cake will keep in an airtight container for 4-5 days.
Notes
For the cup of orange juice, I recommend using a juicer to squeeze the juice from oranges! I usually get about ¾ cup from the fresh oranges and top it off with bottled juice to get the full cup.
---
Disclaimer: This post may contain affiliate links, which means I make a small commission if you make a purchase through them. By purchasing through these links, you are helping support this site at no extra cost to you! I only recommend items and services I personally use and love.
---