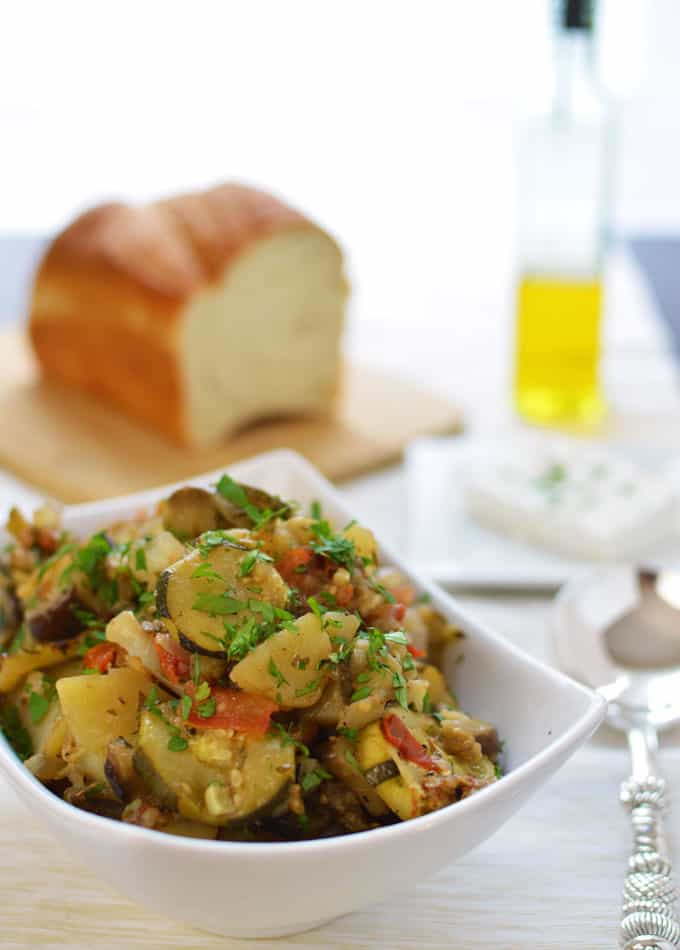 I love when healthy tastes good. I don't mean just good, but goooooood. You know what I'm saying?
Today, I'm sharing a tasty recipe called tourlou tourlou! It's one of my favorite things to say. You gotta know how to roll those Rs to say it properly. It's basically pronounced like "toodaloo," but a little quicker than you might say toodaloo and also, you would say it twice because reasons.
Actually, tourlou tourlou basically means "all mixed together" (in Greek, duh) and it's a medley of vegetables roasted in the oven long enough for them to soften and sweeten. And I find it tastes even better the next day. Whenever I visit home and my dad happened to make this, he offers me a bunch to take home and I never say no. Cause it's too good to say no to. <3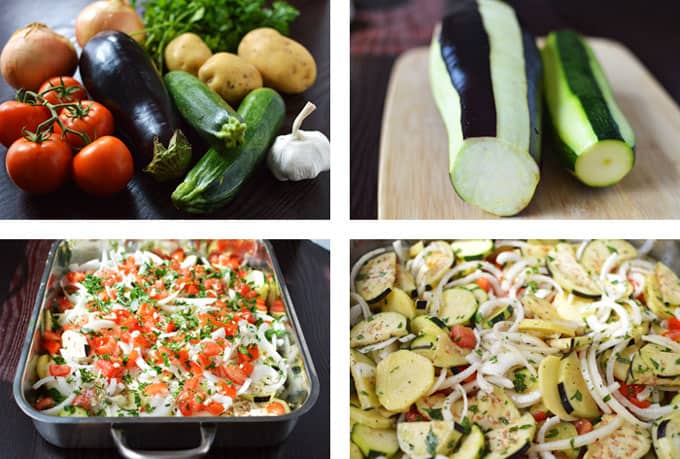 The amount of time the vegetables are roasted is what really makes this dish. It's made with potatoes, eggplant, zucchini, garlic, onions, tomatoes, and parsley. You could use various mixed vegetables if you wanted to, but potatoes, onions, and eggplant are the base of this dish, I think.
Tourlou tourlou is easy to make, but it does require a bit of hands-on time for all the prepping! You gotta peel the potatoes and onions, you can choose to peel the eggplant and zucchini if you'd like; I tend to half peel mine (pictured above). What's important though, is the slicing of the vegetables - especially the potatoes . You want to slice them all evenly because if you don't, they won't cook evenly! It's not rocket science. I slice mine in quarter-inch rounds.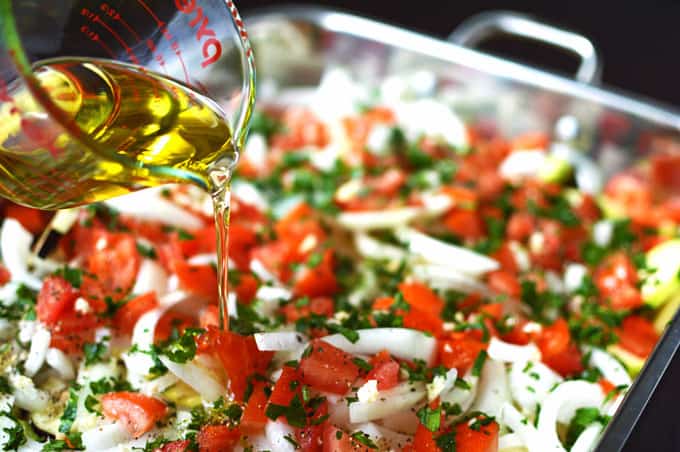 Because there are a lot of vegetables to cook, I use a large roasting pan when I make this. Like, the kind you roast a turkey in. If by chance you don't have a roasting pan that large, you can always split this up into a couple smaller pans.
What I like to do as I'm prepping is layer everything into the roasting pan as I go. I start with the potatoes and stack the eggplant, zucchini, onions, garlic, tomatoes, and parsley - in that order. Then I pour in delicious olive oil. And I season generously with salt, crank a few, uh, cranks of freshly ground black pepper, throw in a teeny bit of water, and mix it all together! Then I toss it in the oven for at least an hour and a half to two hours, mixing it every 20-30 minutes or so.
You can serve tourlou tourlou as a side dish with meat, like lamb, or you can have it as a meal as is. Either way, be sure you serve this with some feta on the side and good, crusty bread.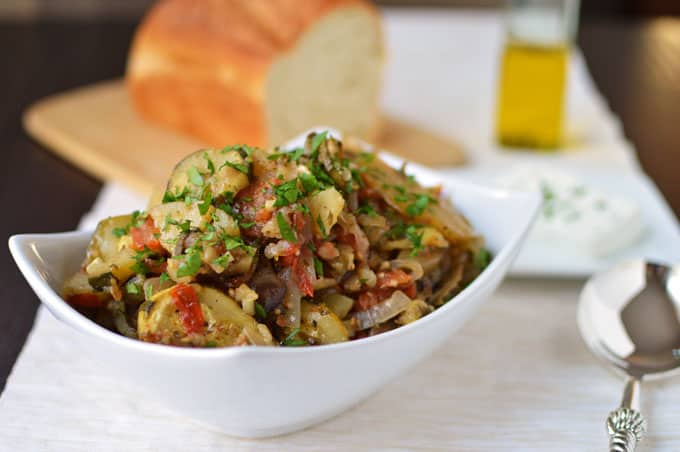 📖 Recipe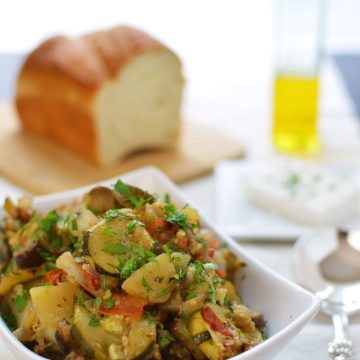 Ingredients
1 ½

pounds

yukon gold potatoes

,

peeled and sliced

1

medium eggplant

,

sliced (1 pound)

1-2

zucchinis

,

sliced (1 pound)

1

large vidalia onion

,

sliced

4-6

garlic cloves

,

minced

1 - 1 ½

pounds

vine tomatoes

,

seeded and chopped

half a bunch of parsley

,

finely chopped

⅔

cup

olive oil

salt to taste

freshly ground black pepper

⅓

cup

water
Instructions
Preheat the oven to 375 degrees.

In a large roasting pan (or two smaller pans), layer the potatoes, eggplant, zucchini, onions, garlic, tomatoes, and parsley.

Pour in the olive oil.

Season generously with salt and add freshly ground black pepper.

Add in the water.

Mix everything until well combined.

Roast in the oven for 1 ½ - 2 hours, stirring the vegetables every 20-30 minutes.

You'll know it's done because the potatoes will be tender and the vegetables' edges have slightly crisped.

Devour.