This is a sponsored post written by me on behalf of OXO for the Cookies for Kids' Cancer challenge. As always, all opinions are strictly my own!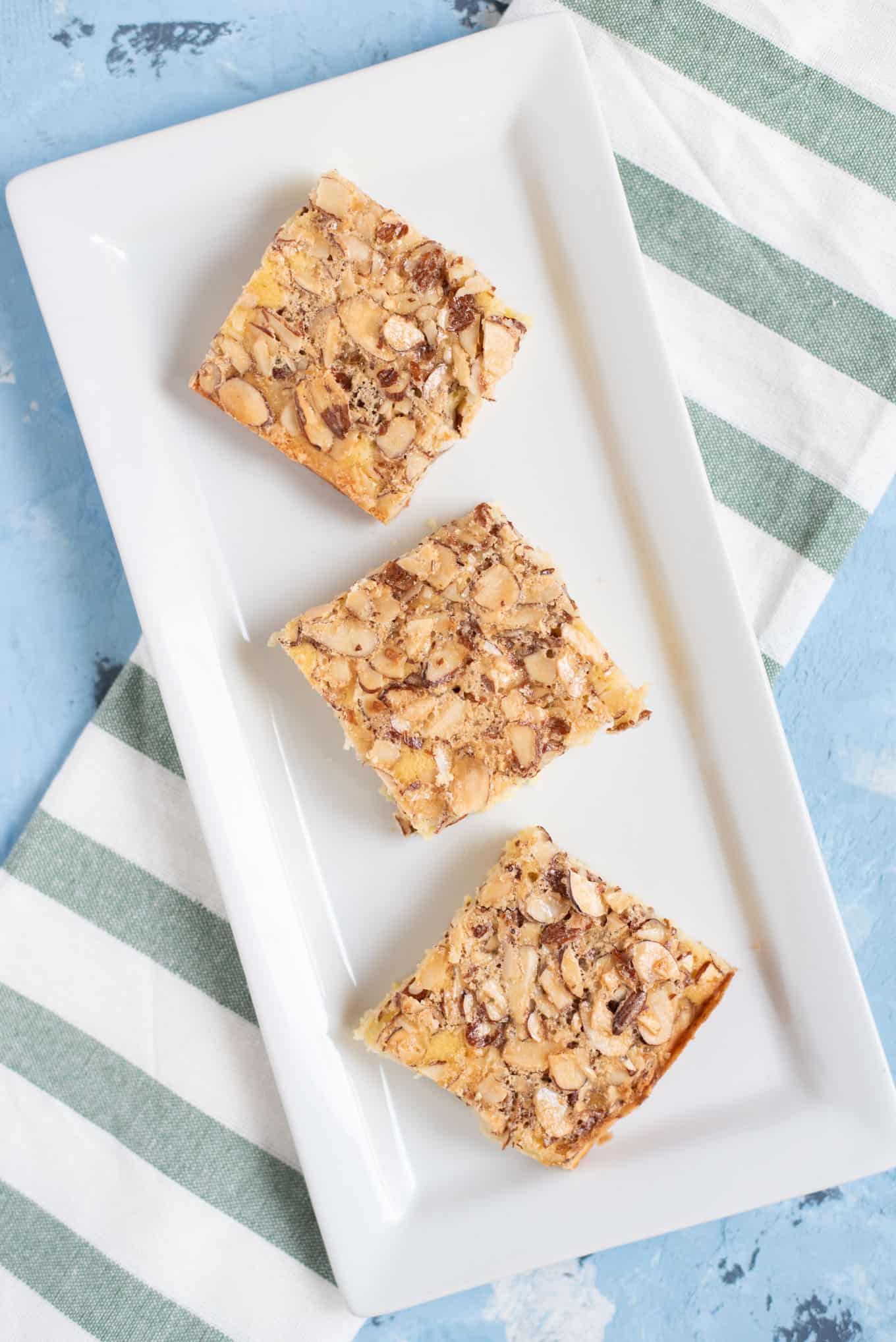 Hello, friends!
It's September, which means I've partnered up with OXO for the Cookies for Kids' Cancer challenge! This is my third year joining in on this campaign; it's such an important organization and I'm more than happy to show my support where I can.
Cookies for Kids' Cancer was founded by two OXO employees, Larry and Gretchen, who were inspired by their son Liam's battle with pediatric cancer. He was two years old when he was diagnosed and his parents learned there was a lack of effective treatments due to lack of funding. They pledged to support the funding of research for more effective treatments. Gretchen baked and sold 96,000 cookies, raising more than $400,000 for research! From there, this organization grew.
Cookies for Kids' Cancer provides inspiration and support to allow anyone to easily get involved in fundraising to find a cure for pediatric cancer. You can join in the challenge by registering your own event online. If you say that you were inspired by OXO when you register, OXO will match proceeds from your bake sale up to their annual commitment, which is up to $100,000.
Making Dorie Greenspan's Swedish Visiting Cake Bars
The first year I partnered with OXO for this challenge (which was in 2016!), I made pumpkin whoopie pies with dulce de leche filling from Dorie Greenspan's book Dorie's Cookies. Last year, I made lemon cardamom sugar cookies (which was a super fun and tasty recipe to experiment with). This time around, we're revisiting the fantastic Dorie's Cookies book for some Swedish visiting cake bars.
These bars have a chewy sponge-like cake layer and are topped with an almond-meringue (which involves very little work because the oven does most of it for you; all you have to do is mix it a bit with some egg whites and powdered sugar). There's no denying how well these two textures work well together. I'm a sucker for almond-vanilla deliciousness.
OXO hooked me up with some great tools to make these bars (and anything else, really) a simpler and better process, including the non-stick pro cake pan, a 5lb food scale (with pull out display), an , and a non-stick cooling and baking rack.
I have been loving using a scale to weigh ingredients for baking lately (I also have the 11lb food scale which I got as a Christmas gift a couple years ago).
I especially like that you can pull out the display from the scale if needed. It's helpful if you are using a large bowl that might otherwise cover up the display.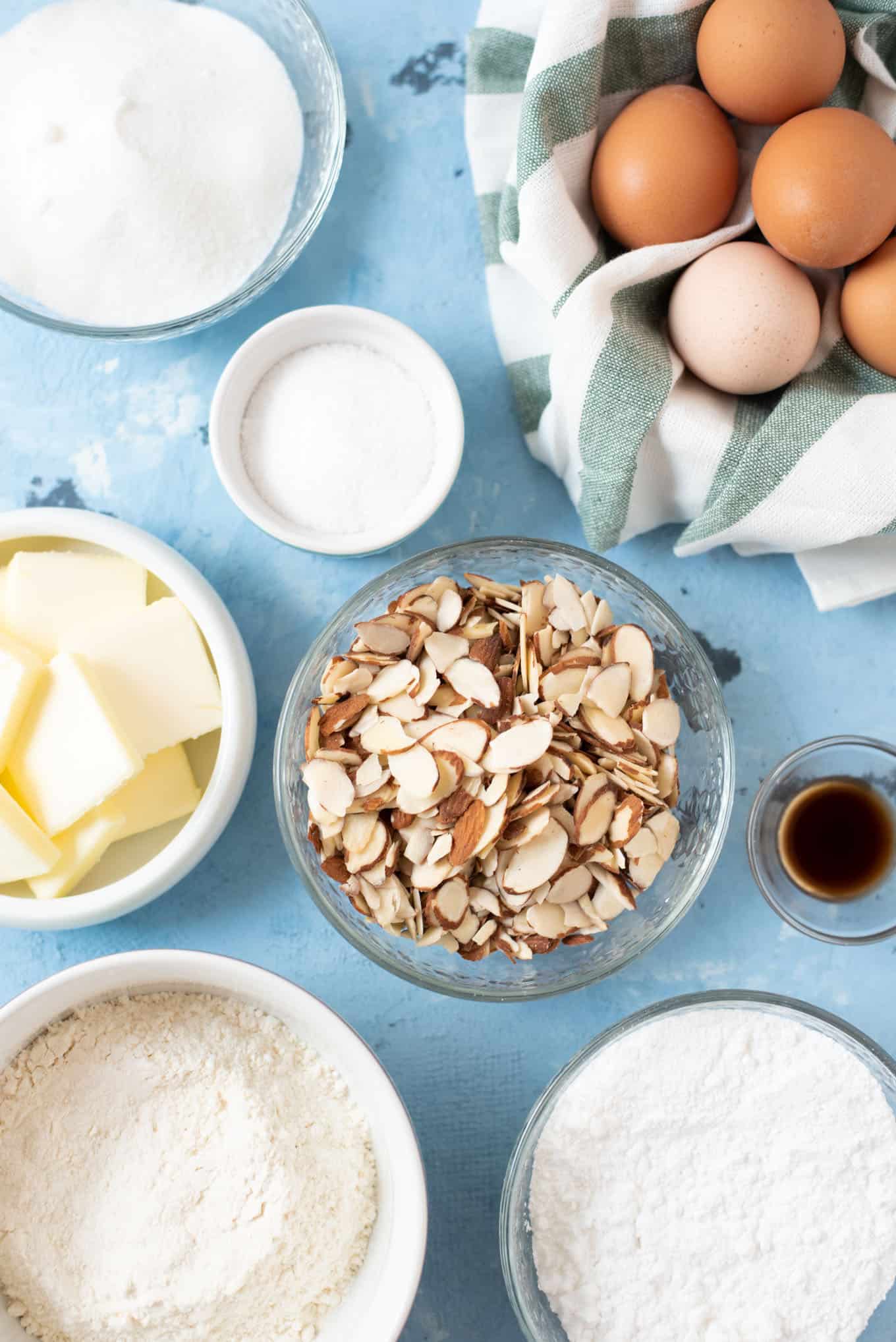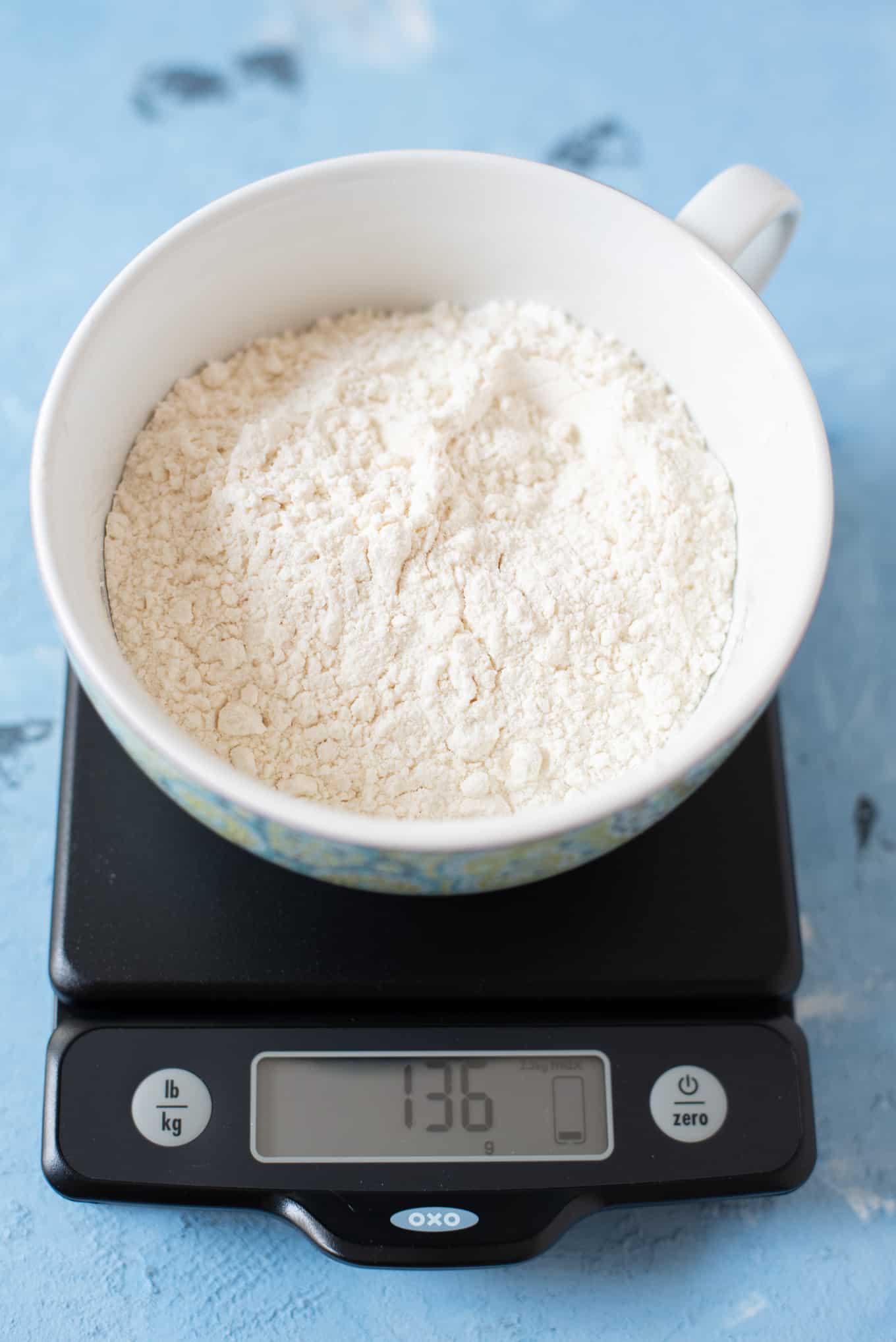 After weighing the necessary ingredients and measuring out the rest (mise en place, for the win), we can move onto making the quick meringue!  Dorie suggests you can use your fingers or a fork to mix together the egg whites and powdered sugar before adding in the sliced almonds. I opted for the fork here; mainly because I had photos to take too! 😂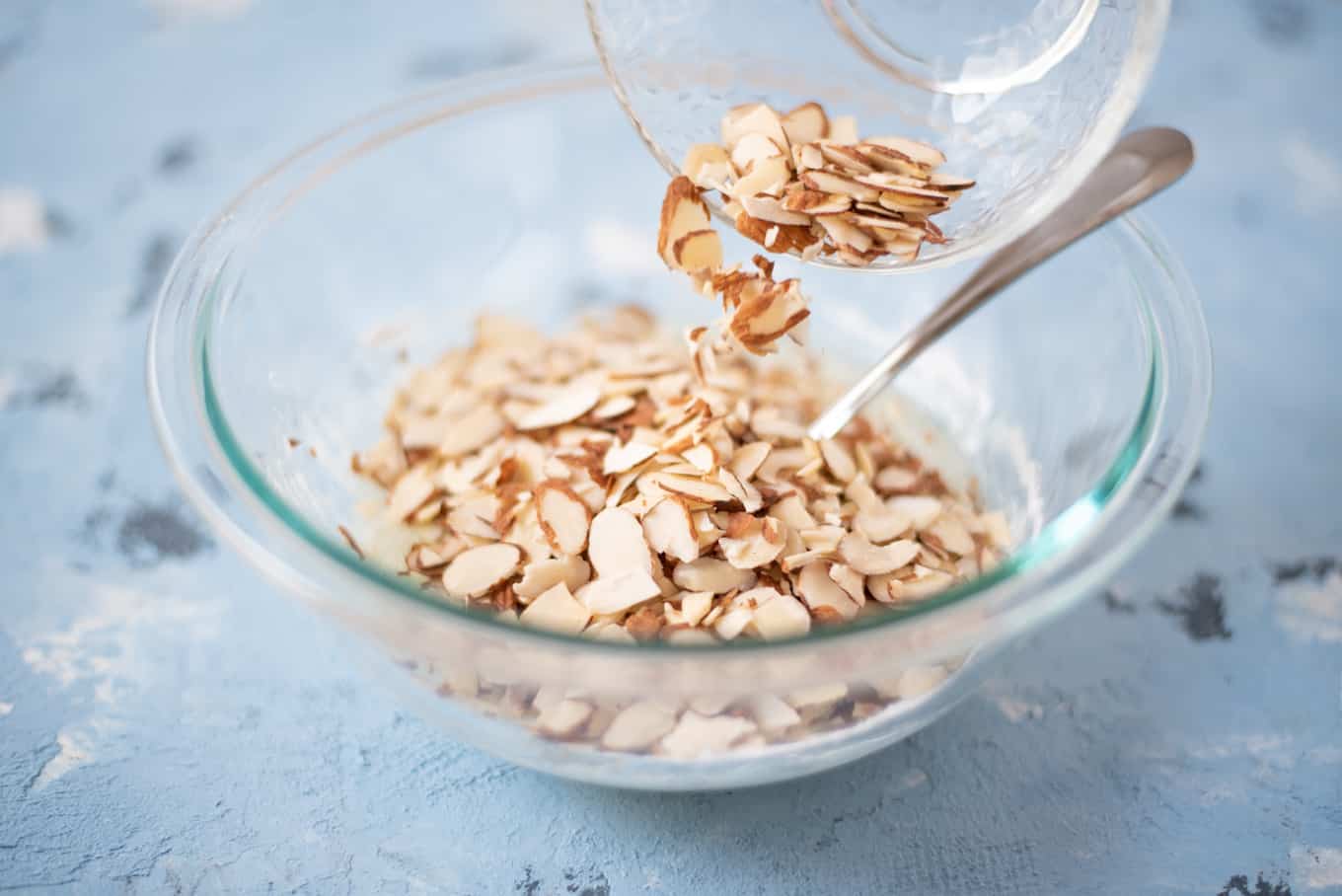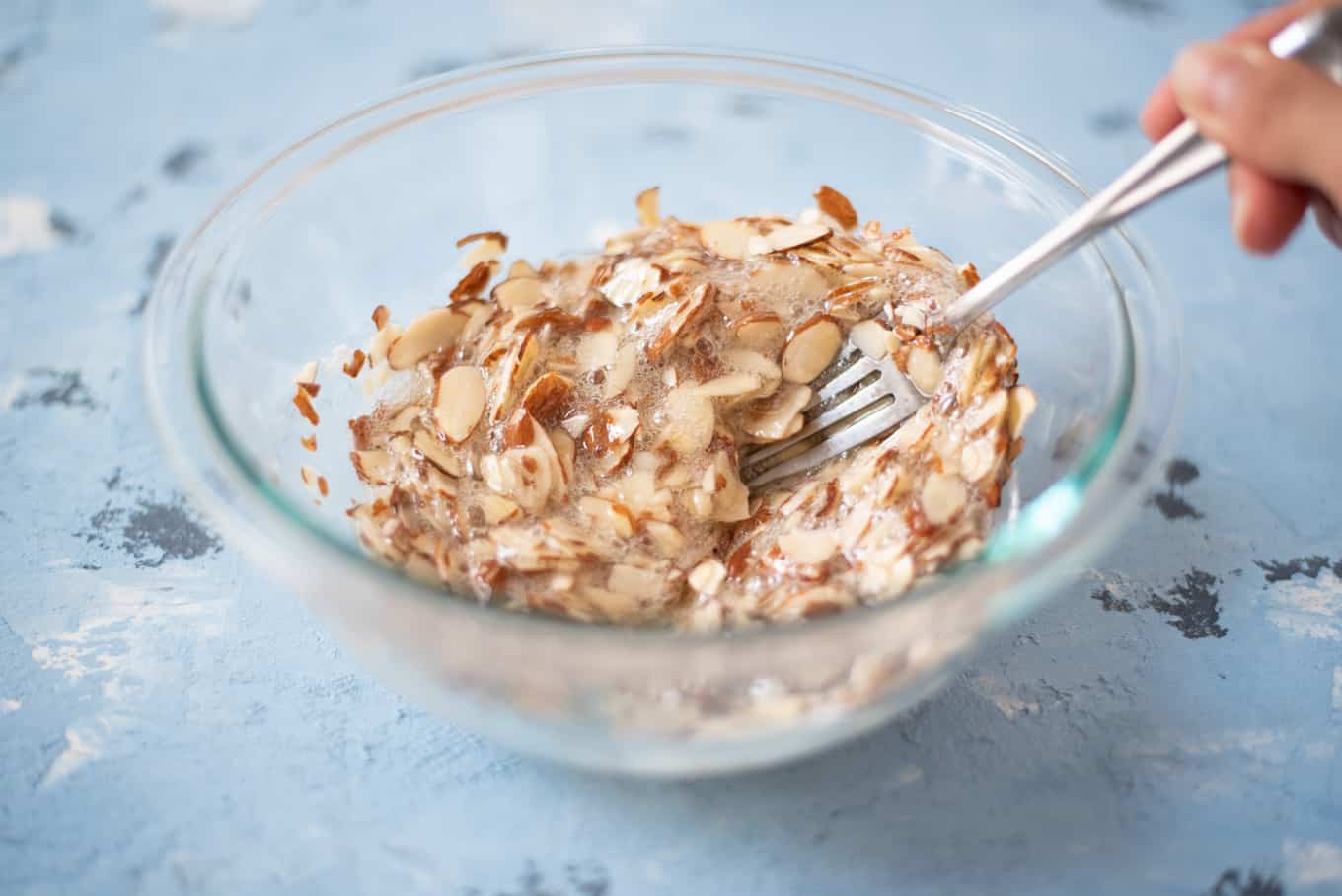 After you mix the topping together, you can set it aside and move onto the cake fun. The balloon whisk comes in handy here as this recipe is simple enough where a mixer isn't needed.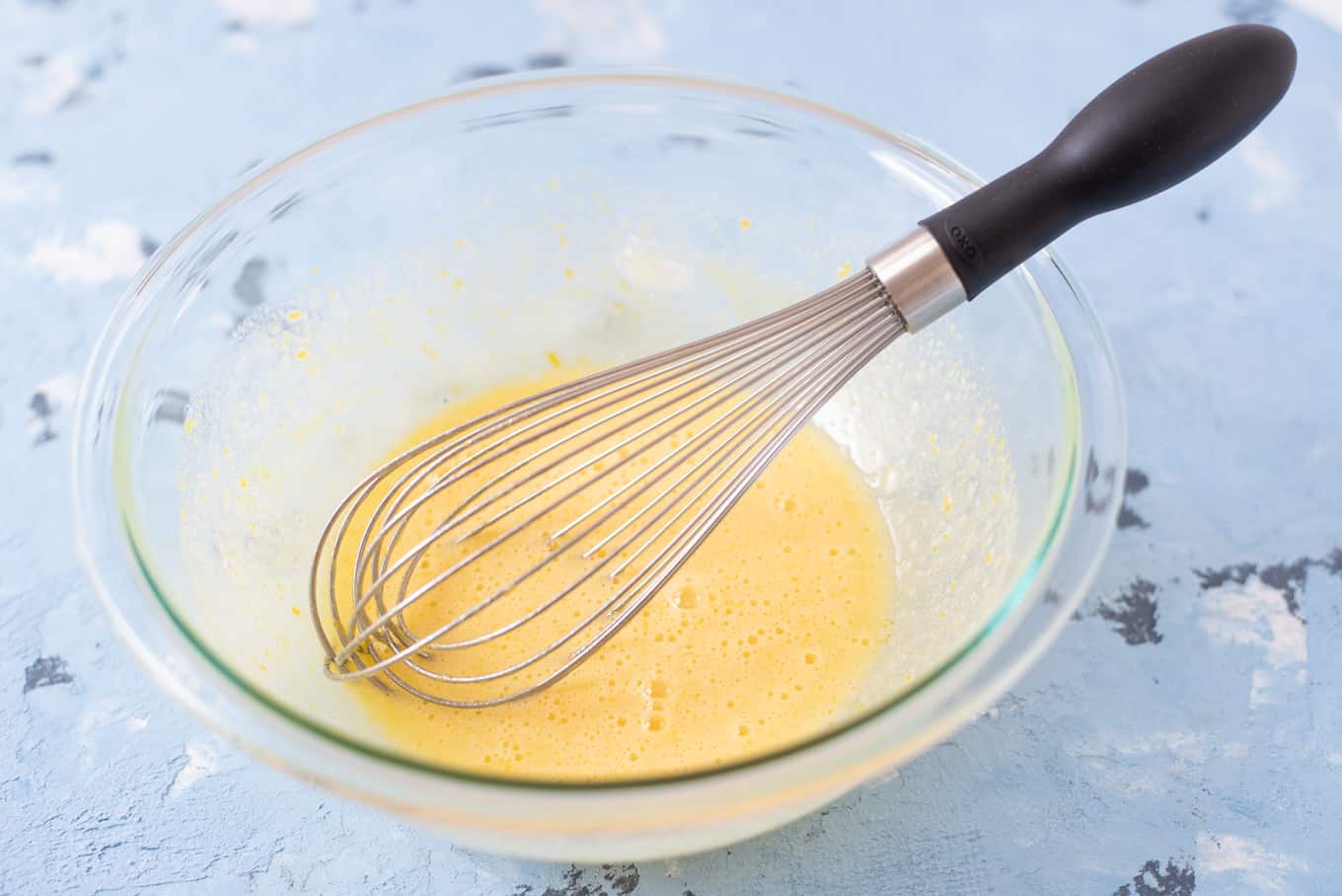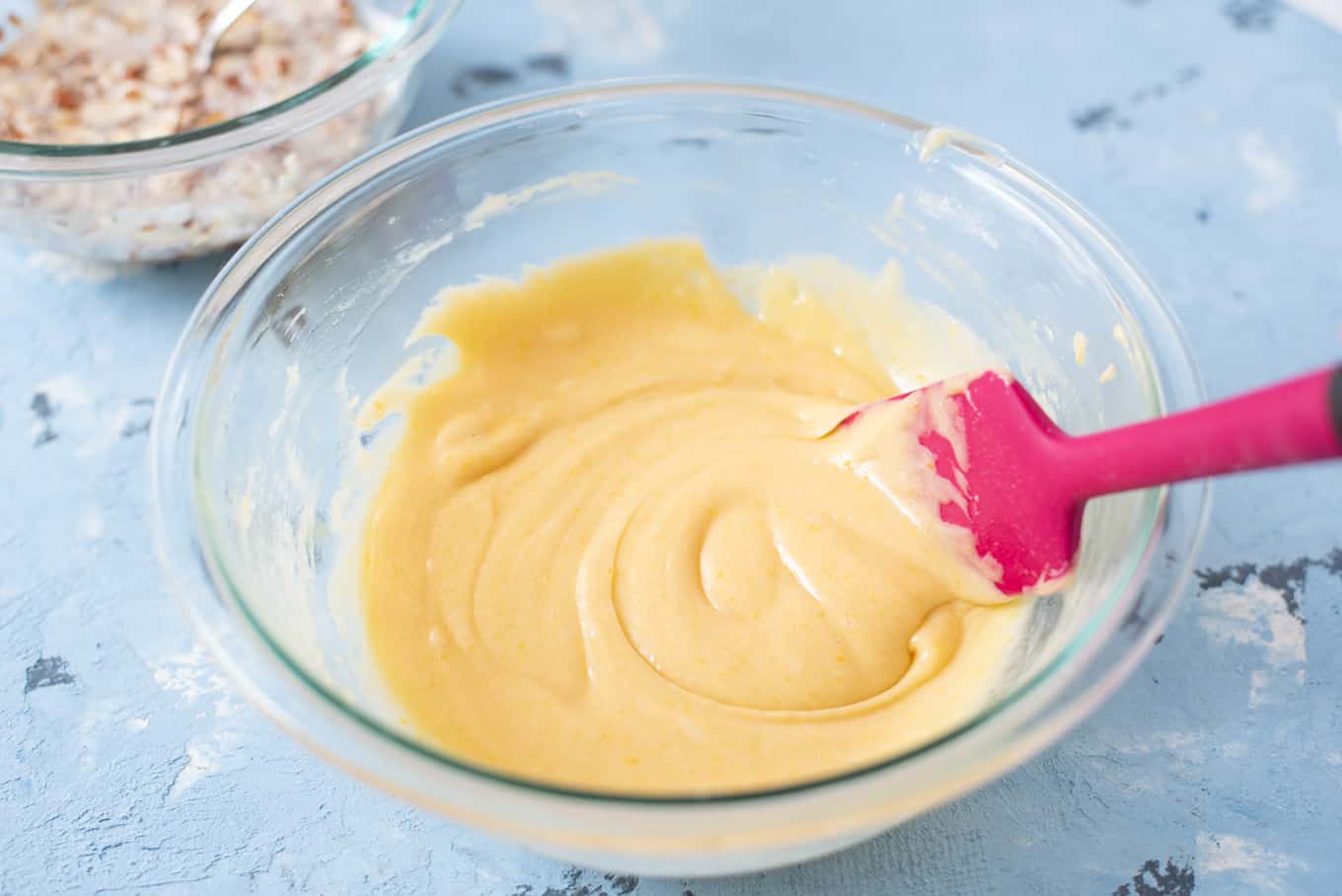 After making the velvety smooth batter, you can add it to your greased and lined cake pan. The batter itself will be thick, so a flexible spatula will be needed to spread it out evenly. After it's spread out, the layer will be pretty thin; that's totally normal.
You can give the almond-meringue topping another quick stir before adding to the pan.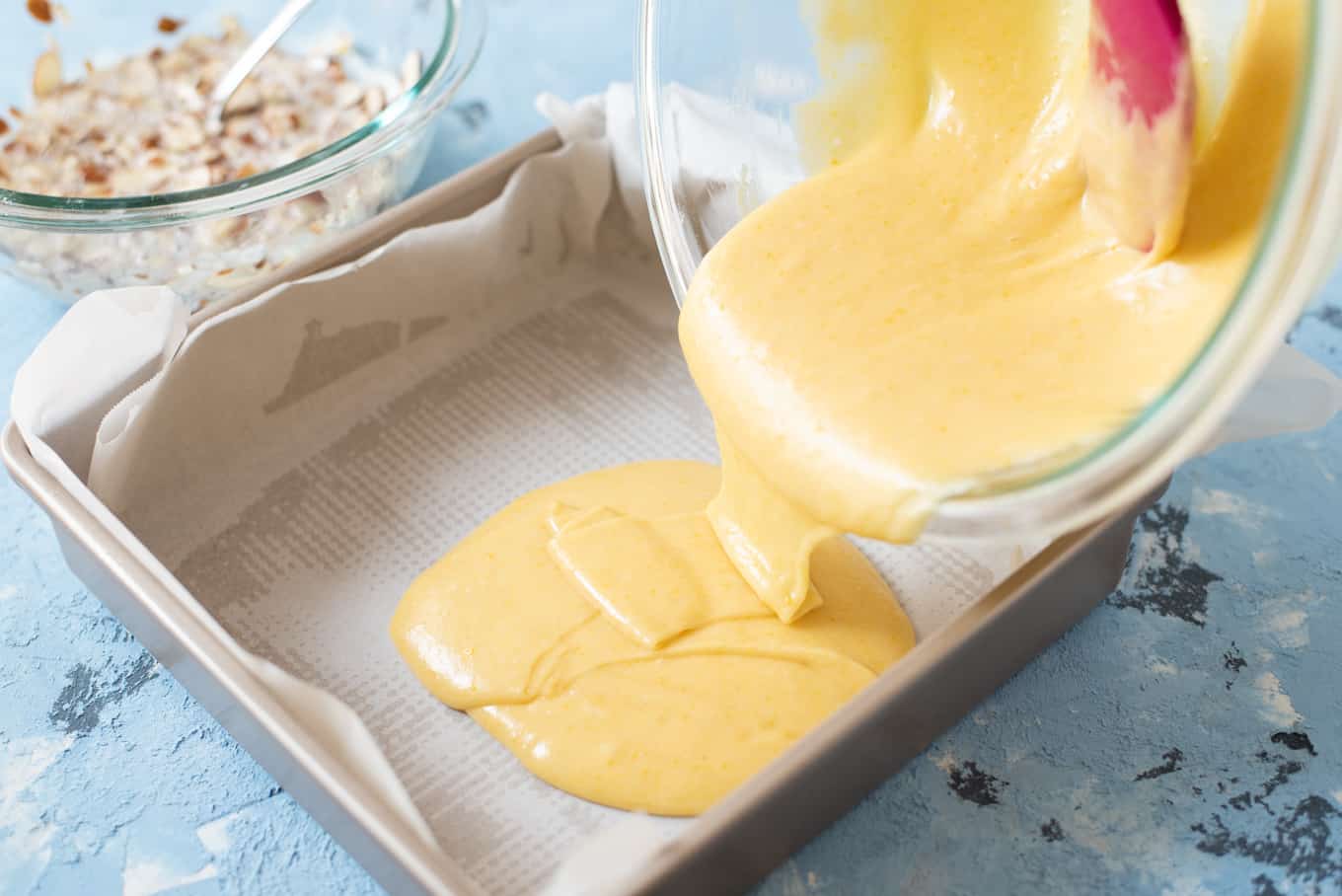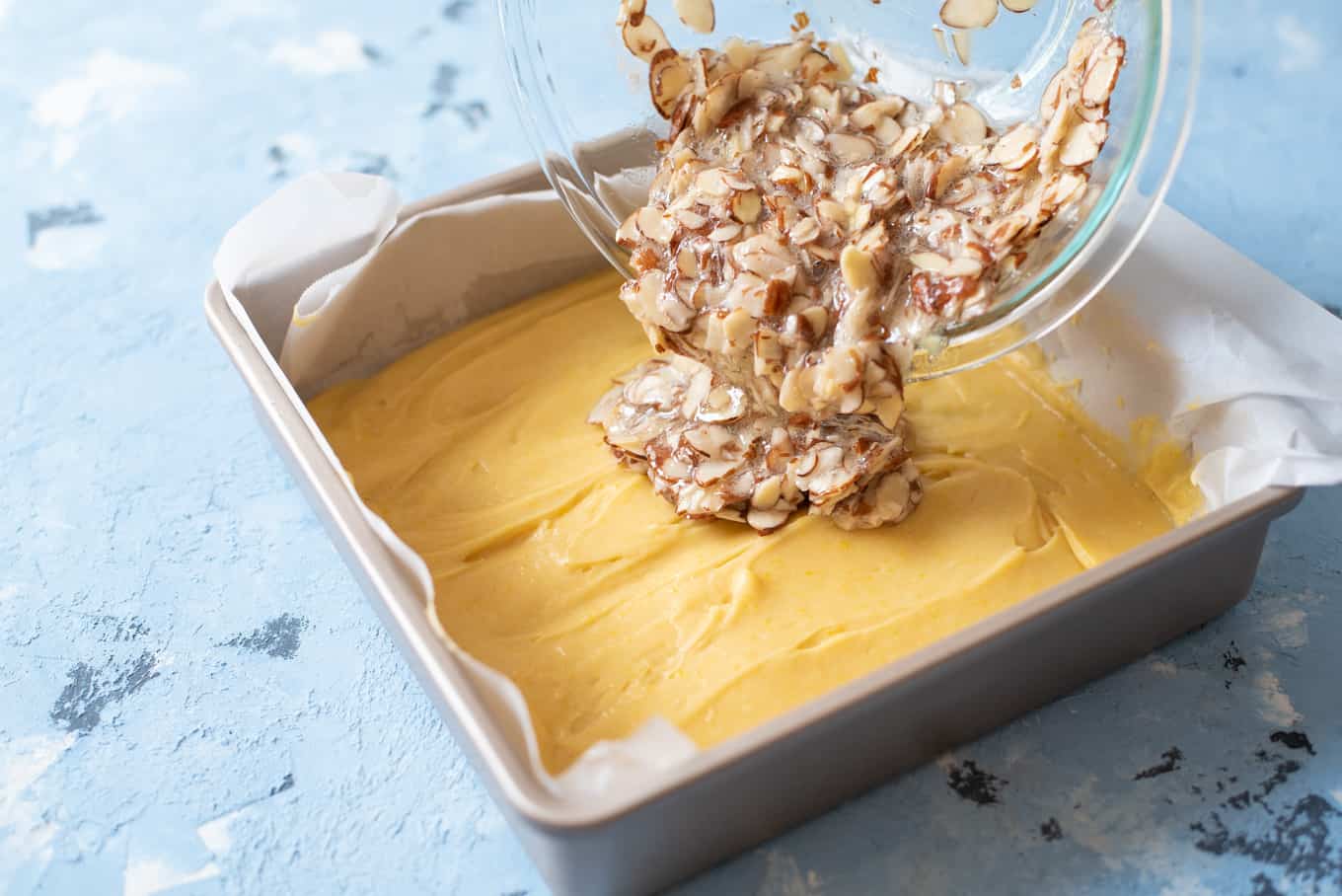 Depending on your oven, bake from 28-32 minutes, until a toothpick or tester comes out clean (a few crumbs are fine). Let it rest for a few minutes in the pan on the cooling rack, before removing it completely to continue cooling on the rack.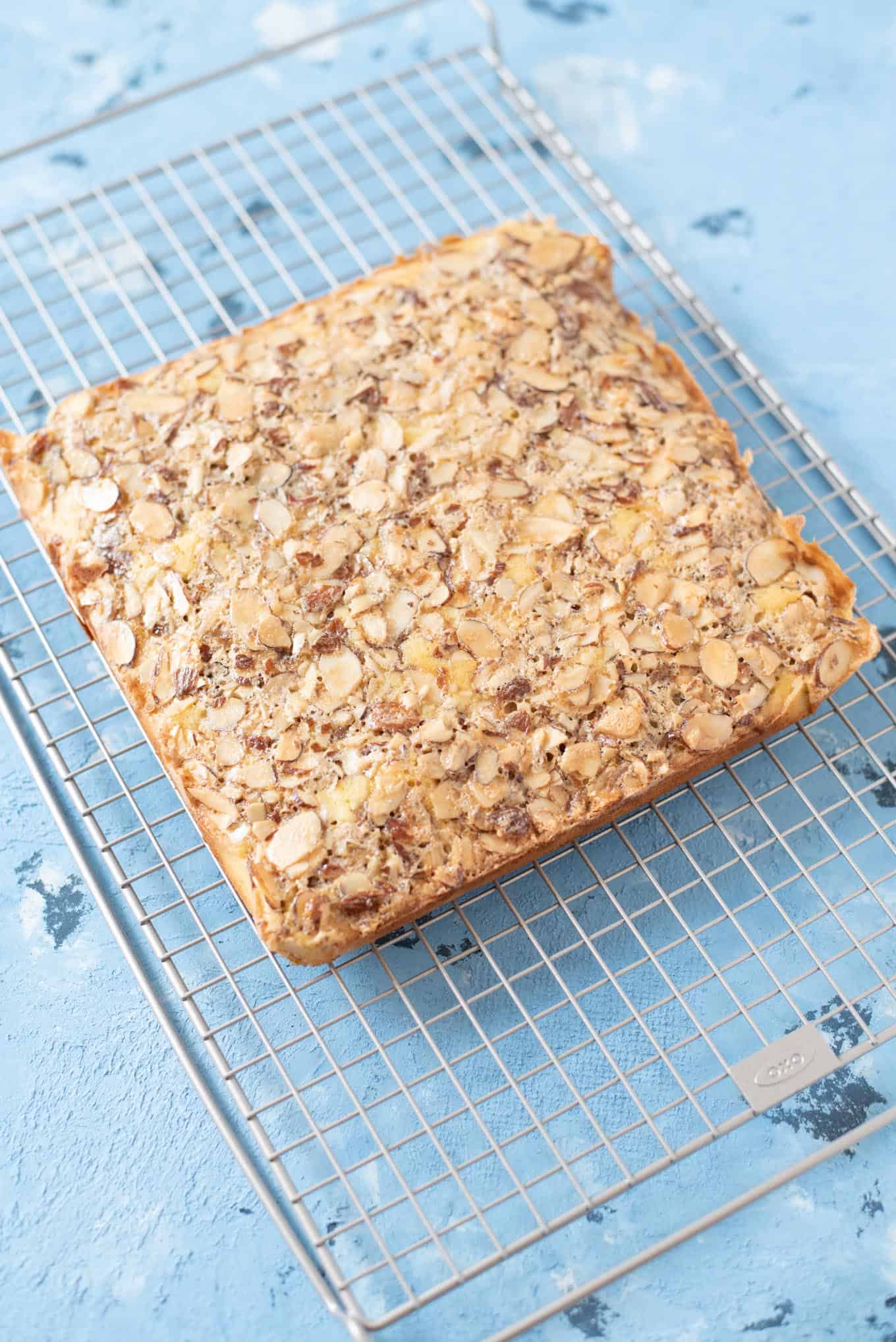 After the cooling phase, it's time to cut into bars! This recipe makes 9 squares or 18 triangles, depending on your mood and how you want to serve this. These will last 4-5 days if kept wrapped in an airtight container!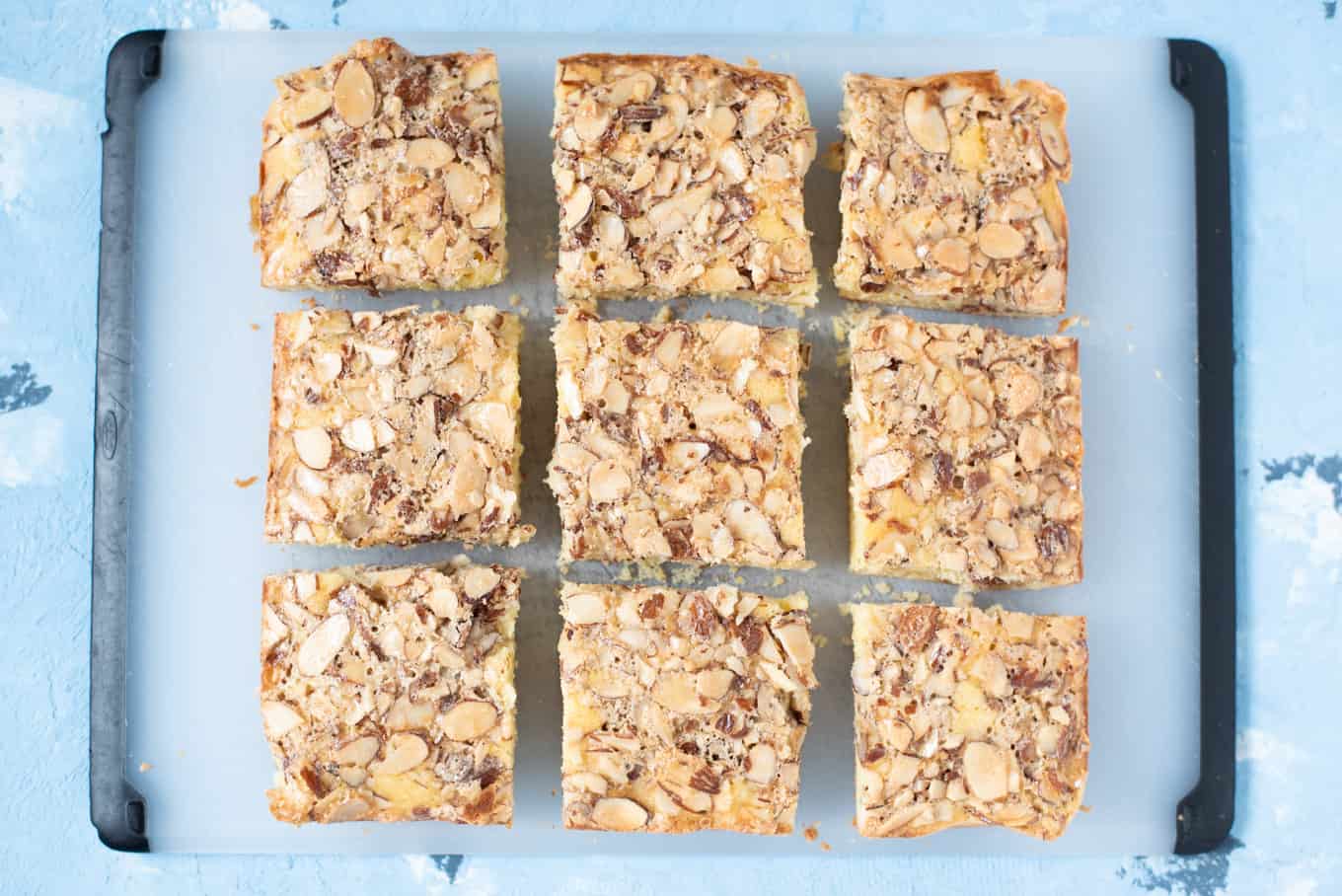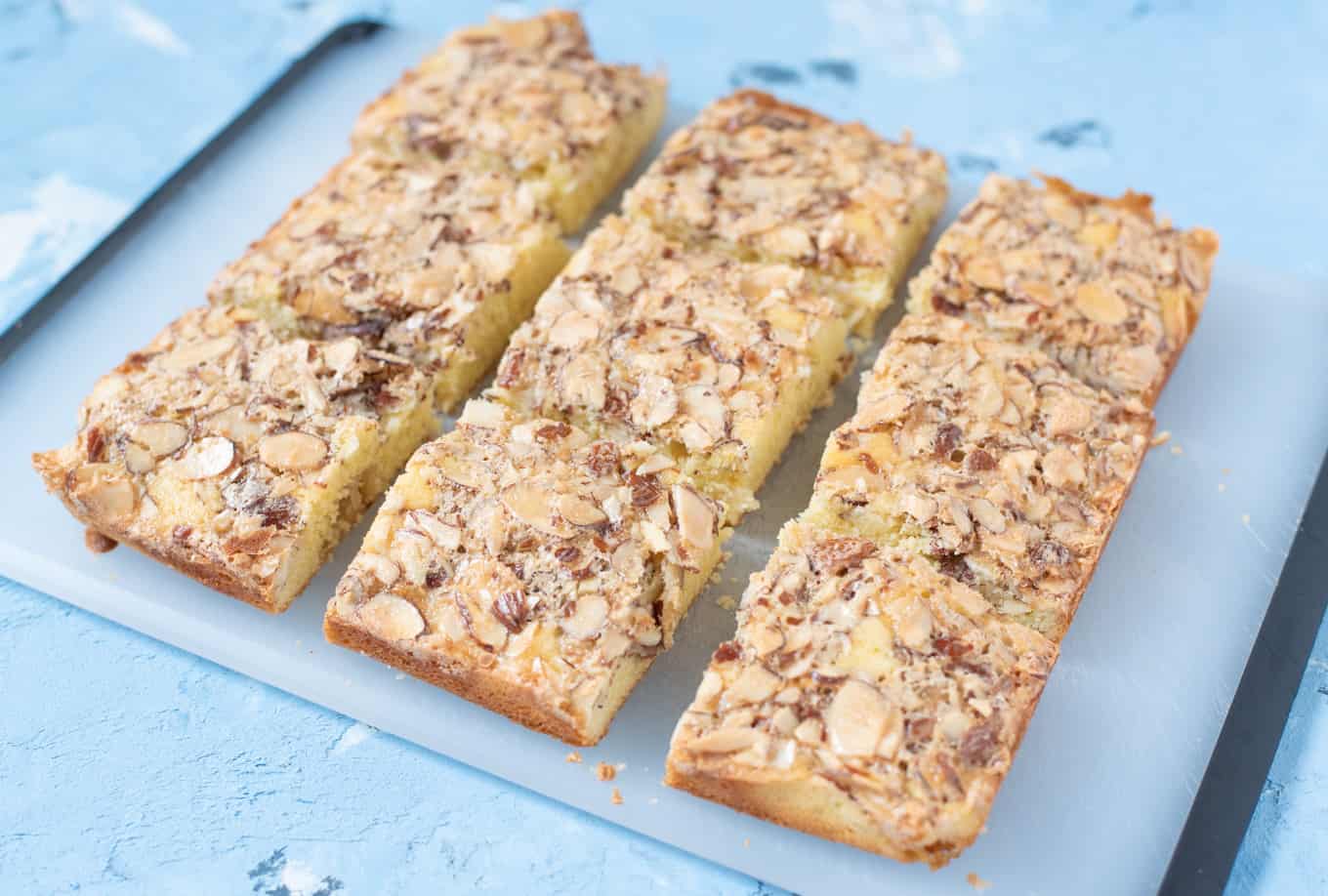 Kitchen Tools Used:
5lb Food Scale with Pull Out Display
Non-Stick Cooling and Baking Rack
📖 Recipe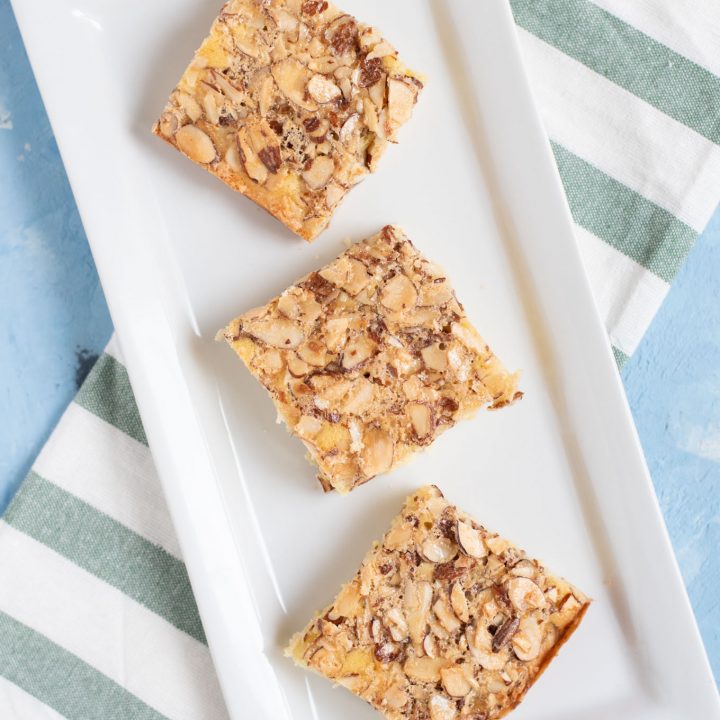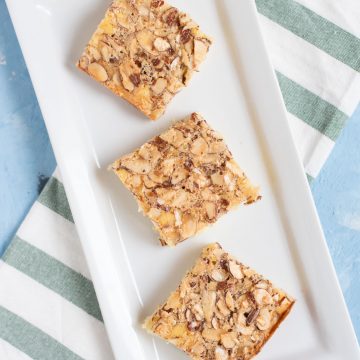 Ingredients
For the topping
1

cup

(120 grams) confectioners' sugar

3

large egg whites

1½

cups

(150 grams) sliced almonds

,

blanched or unblanched
For the bars
¾

cup

(150 grams) sugar

2

large eggs

,

at room temperature

¼

teaspoon

fine sea salt

1½

teaspoons

pure vanilla extract

¼

teaspoon

pure almond extract

1

cup

(136 grams) all-purpose flour

1

stick

(8 tablespoons; 4 ounces; 113 grams) unsalted butter

,

melted and cooled

confectioners' sugar

,

for dusting (optional)
Instructions
Center a rack in the oven and preheat it to 350 degrees F. Lightly butter a 9-inch square baking pan and line it with parchment paper.

To make the topping: Put the sugar in a medium bowl and pour over the egg whites. Using your fingers or a fork, mix until the sugar is moistened. If there are lumps, ignore them. Toss in the almonds and stir them around until they're coated with the sugared whites. Set aside while you make the batter.

To make the bars: Working in a large bowl, whisk the sugar, eggs and salt together until the mixture lightens in color and thickens a little, about 2 minutes. Whisk in the vanilla and almond extracts. Switch to a flexible spatula and gently stir in the flour. When the flour is fully incorporated, gradually fold in the melted butter. You'll have a thick batter with a lovely sheen. Scrape it into the pan and use the spatula to work the batter into the corners. The layer will be very thin.

Give the topping another stir, or a run-through with your fingers, and turn it out onto the batter. Use a spatula or your fingers to spread the almonds evenly over the mixture, making sure to get nuts into the corners too.

Bake for 28 to 32 minutes, or until a tester inserted into the center of the cake comes out clean or with only a few crumbs stuck to it. The meringue topping will be pale golden brown. If you'd like a deeper color on the topping, run it under the broiler until you get the shade of gold you like best.

Transfer the pan to a rack and let rest for 5 minutes, then run a knife around the edges of the cake and unmold it onto the rack. Very gently peel away the parchment and invert the cake onto another rack to cool to room temperature.

Transfer the cake to a cutting board and, using a long, thin knife, slice it into nine 3-inch squares. For smaller portions, cut each square into two triangles. If you'd like, you can dust the bars with confectioners' sugar just before you serve them.
Notes
Storing
Wrapped, the bars will keep at room temperature for 4 to 5 days.
---
This is a sponsored post written by me on behalf of OXO. As always, all opinions are strictly my own!
---