Kurma (also known as Trini Kurma) is a sweet Trinidadian snack made of ginger-spiced fried dough and a sugary glaze. It was originally a staple of the Diwali Festival but has since become a popular snack in Trinidad and Tobago that's available at many shops.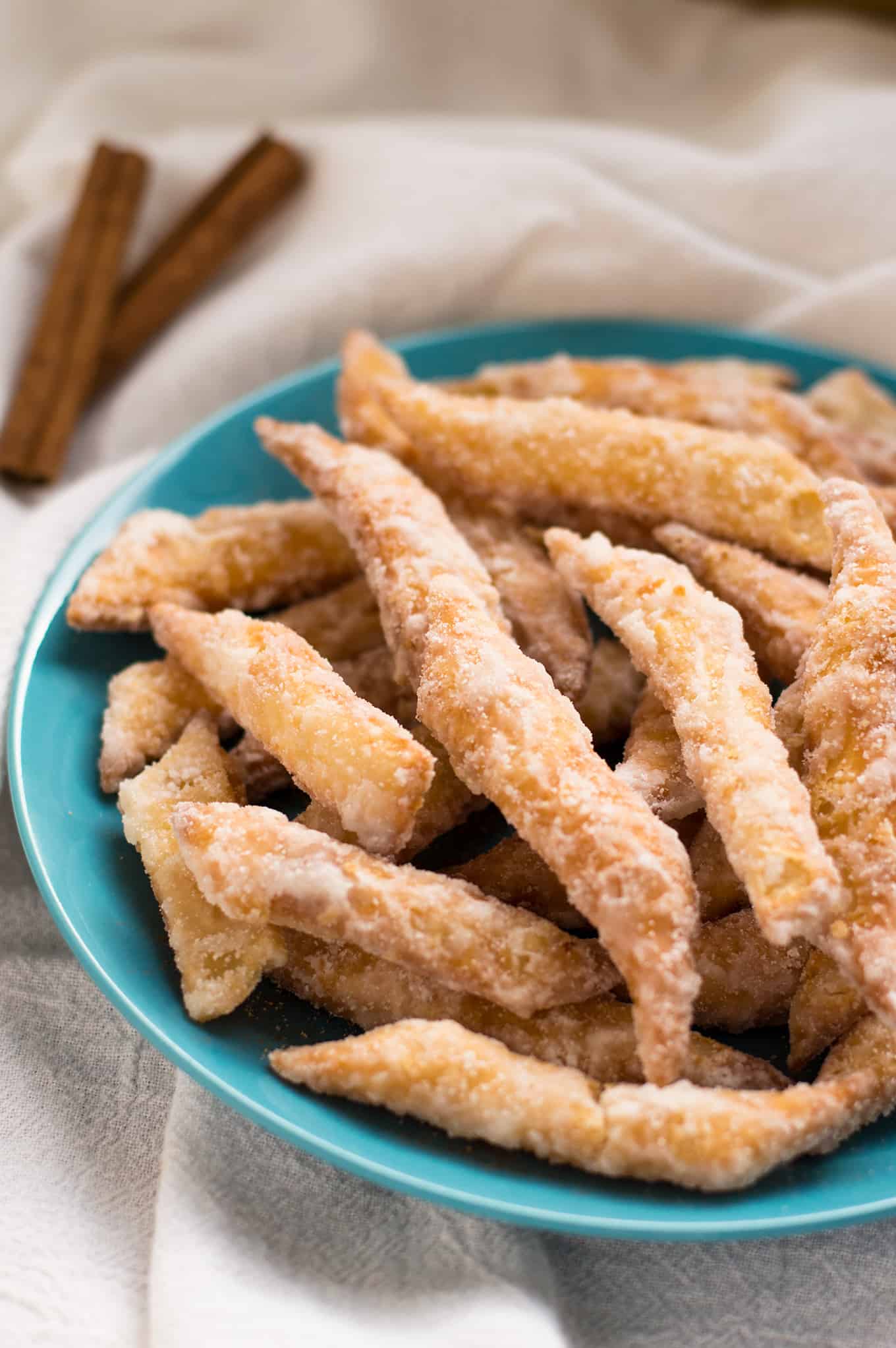 Hello, friends! Welcome to the second post in this mini Tobago series. In this post, I'll share a little about my visits to Store Bay and Shore Things Cafe and Craft. Hint: Both were utterly and supremely delicious.
I'm also sharing a recipe for a sweet Trinidadian snack called Kurma! Between all the photos and text I'll be adding to this post, I'm going to keep this intro super short and sweet.
So let's get to the good stuff, shall we?
Visiting Store Bay
Store bay is one of the beaches we went to while in Tobago. It's a great spot for travelers because of its free beach access, variety of food vendors, and shops (we also went there to book our glass-bottom boat tour, but that's for the next blog post). While the beach access is free, you have to pay a small fee to use any loungers or access facilities. I don't know how much the beach loungers cost, but I can tell you it cost me $2 TTD (which is about 30 cents USD) to access the restroom.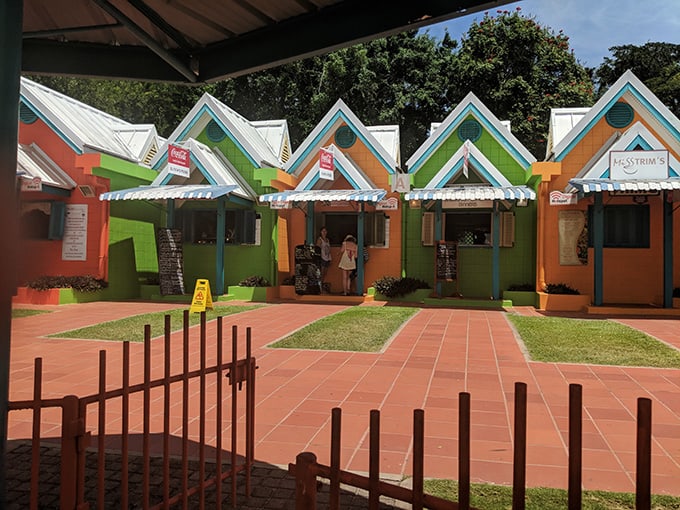 We actually visited Store Bay a couple of times for the food. Everything I had tasted from the various vendors tasted super fresh and was beyond amazing.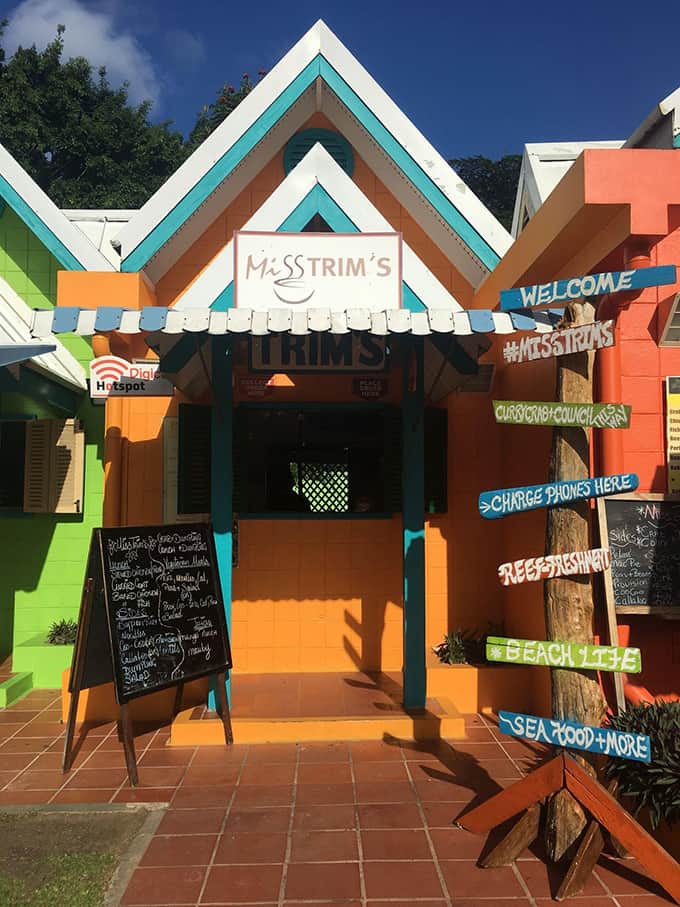 From curry crab, conch, and dumplings to shrimp, fried plantains and pelau to bake and shark. I still think about how delicious it all was and want to recreate it all at home at some point.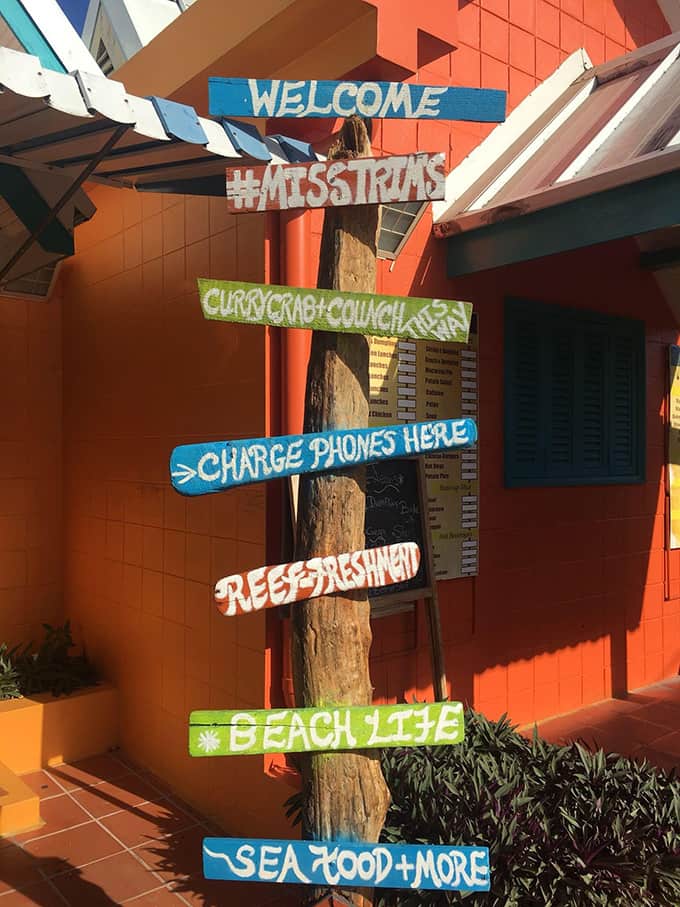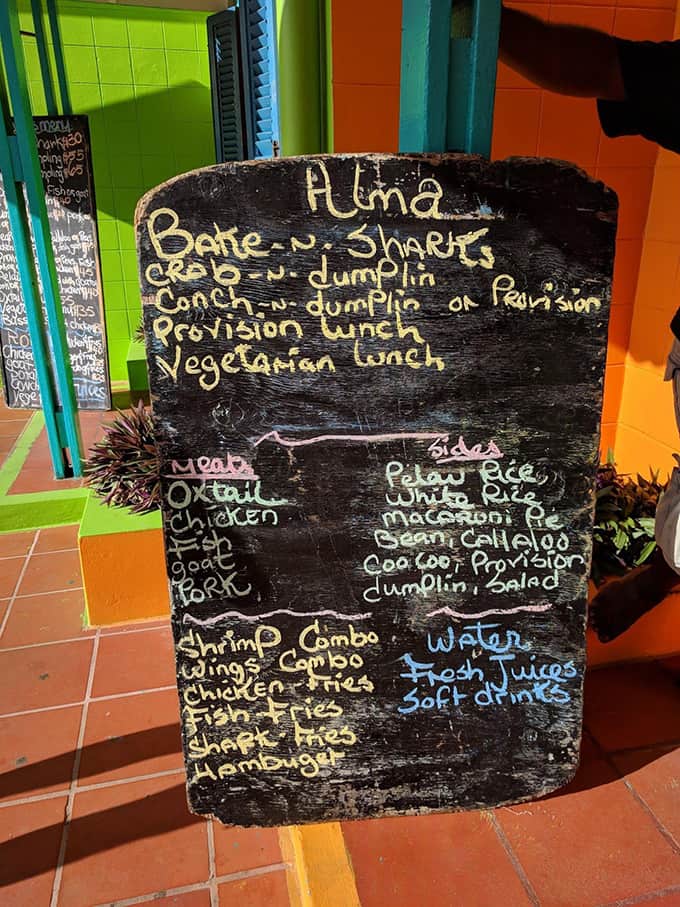 I did take photos of everything I ate (and drank), but my phone wasn't doing too great and didn't actually store all of the photos. It's now broken, but that's a whole other story not worth sharing. 🙂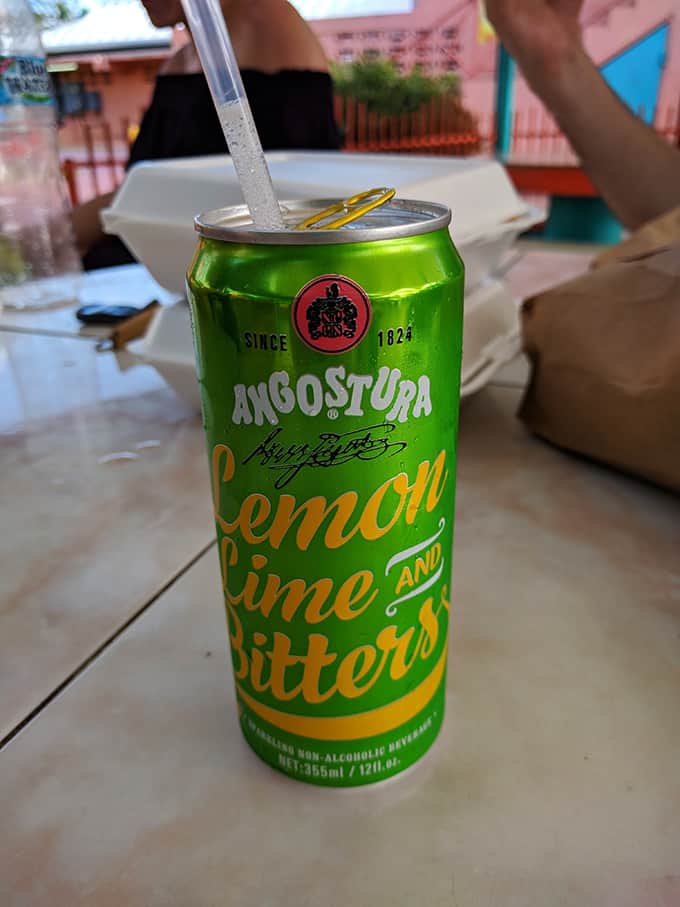 Did you know that Angostura Bitters comes from Trinidad and Tobago? It was originally produced in Angostura, Venezuela, but was moved to Port of Spain in 1875.
Also, that lemon-lime soda was fantastic.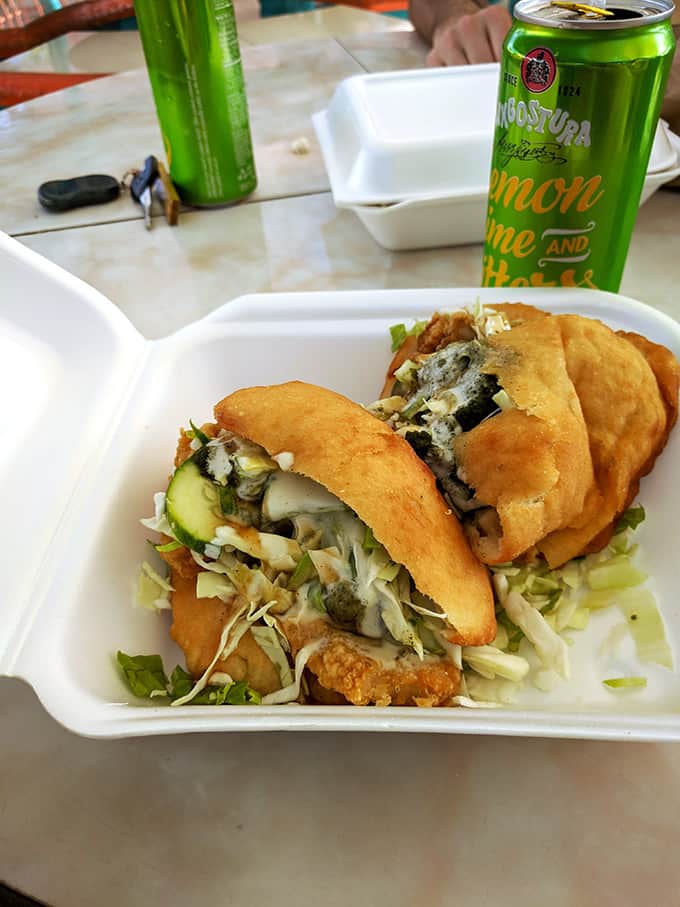 One of the photos my phone actually did save from my Store Bay feasting was the bake and shark; the ultimate street food. The "bake" is the puffy fried bread and the shark is probably not really shark these days (based on stories I've heard stating that the shark is not quite available these days). It keeps the name for popularity/tourist reasons, but it is likely made with fried fish and various toppings and toppings. I'd love to make this for the blog one day (maybe in the summer)!
Visiting Shore Things Cafe & Craft
Shore Things is a seaside spot for dining. You can also find some handmade crafts and jewelry. I found a gorgeous set of wind chimes made of seashells, but I knew I didn't have room for it in my bag. I'm still a little sad about that. 🙁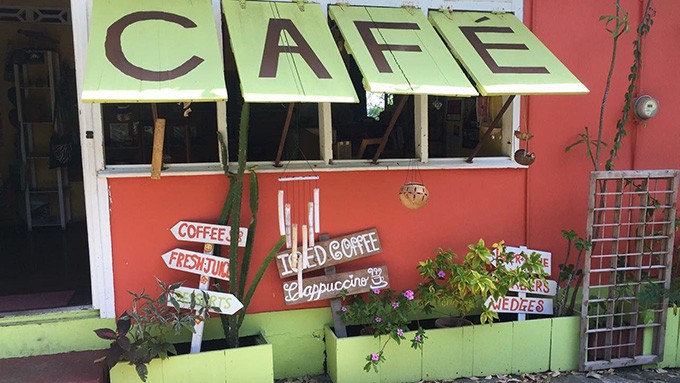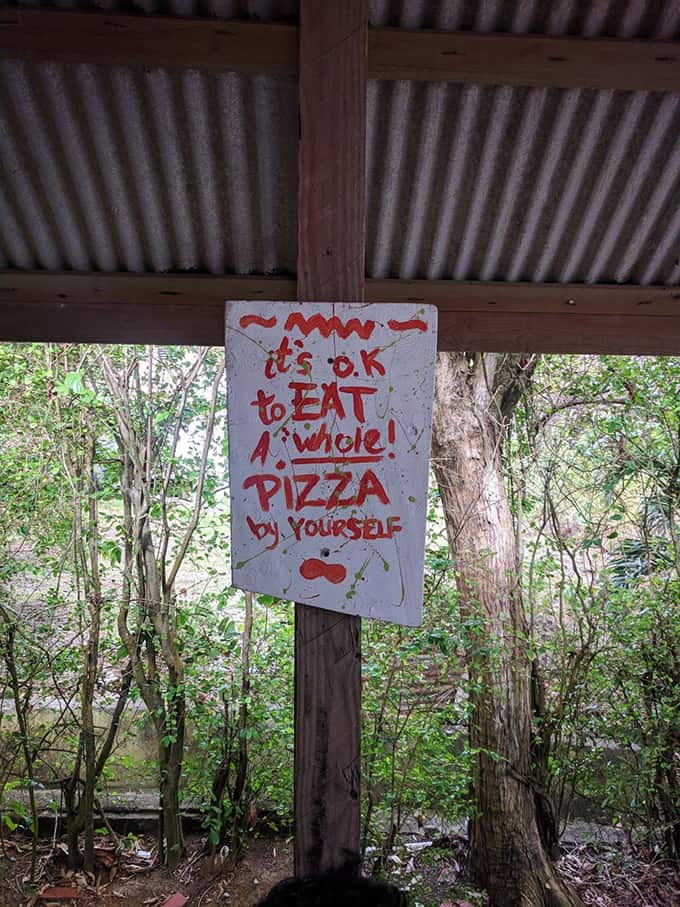 The overall vibe was great and I loved the decor both inside and out. We dined outside and I wholehearted agree with the pizza sign.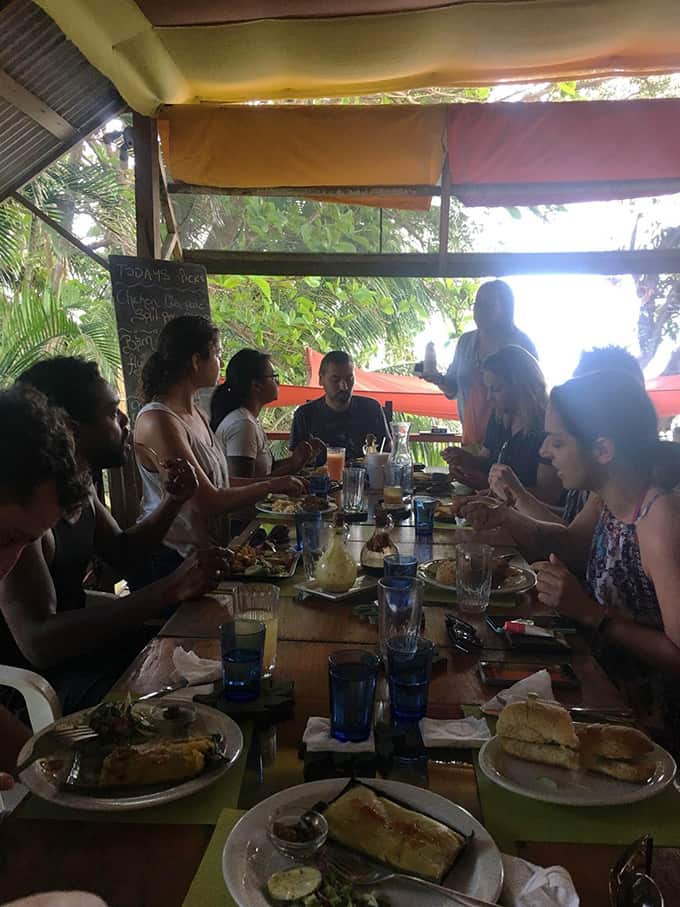 I absolutely love gathering with friends to eat some tasty food. It's one of my most favorite ways to connect with others.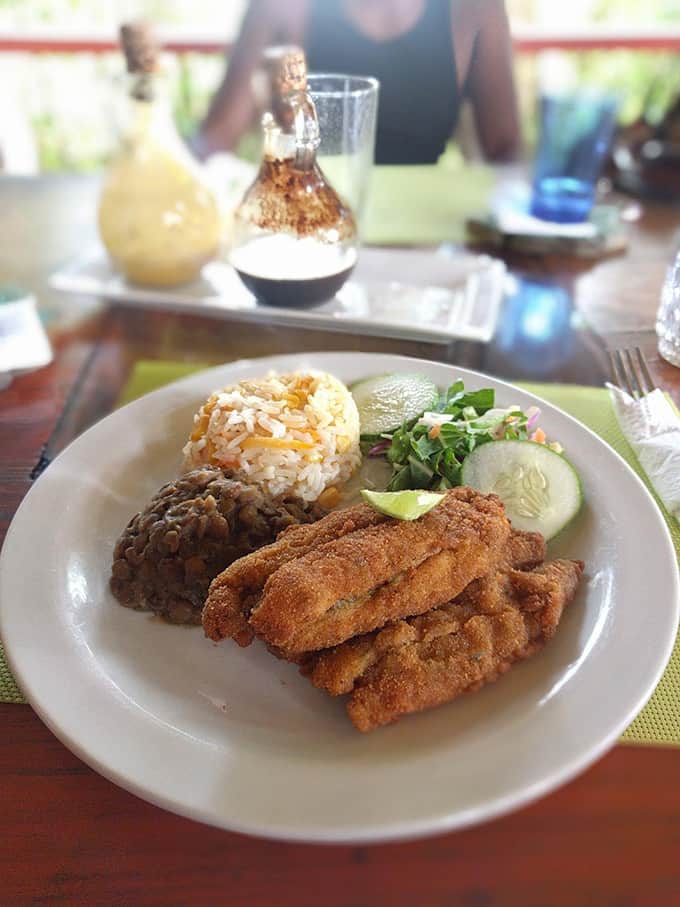 And can we talk about the delicious seafood? I had fried flying fish with rice, lentils, and salad.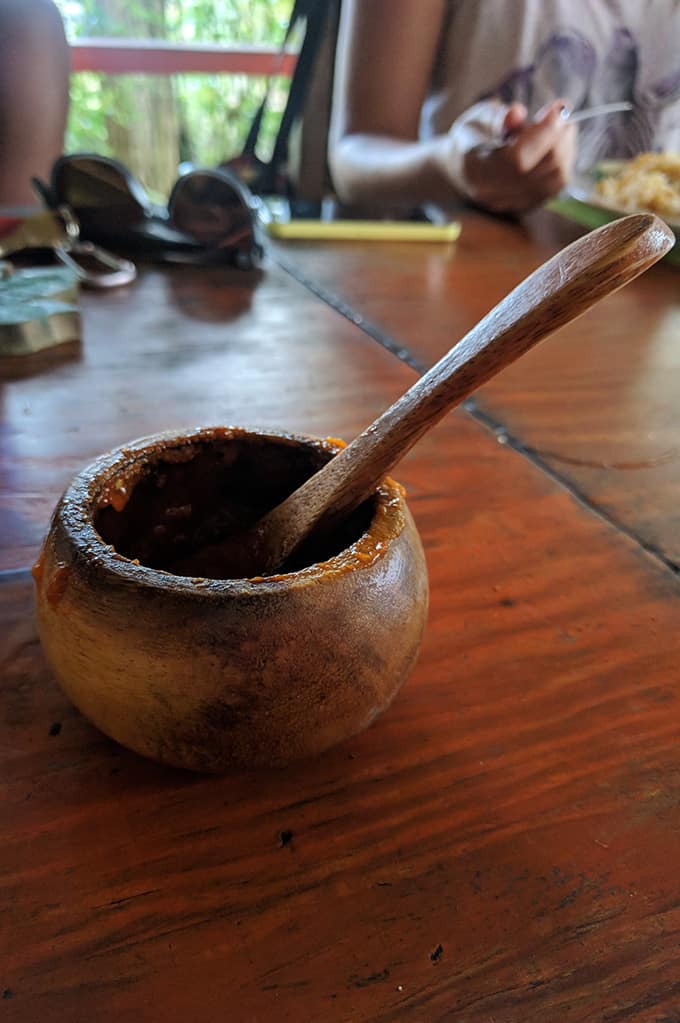 And I topped it with some hot sauce, naturally.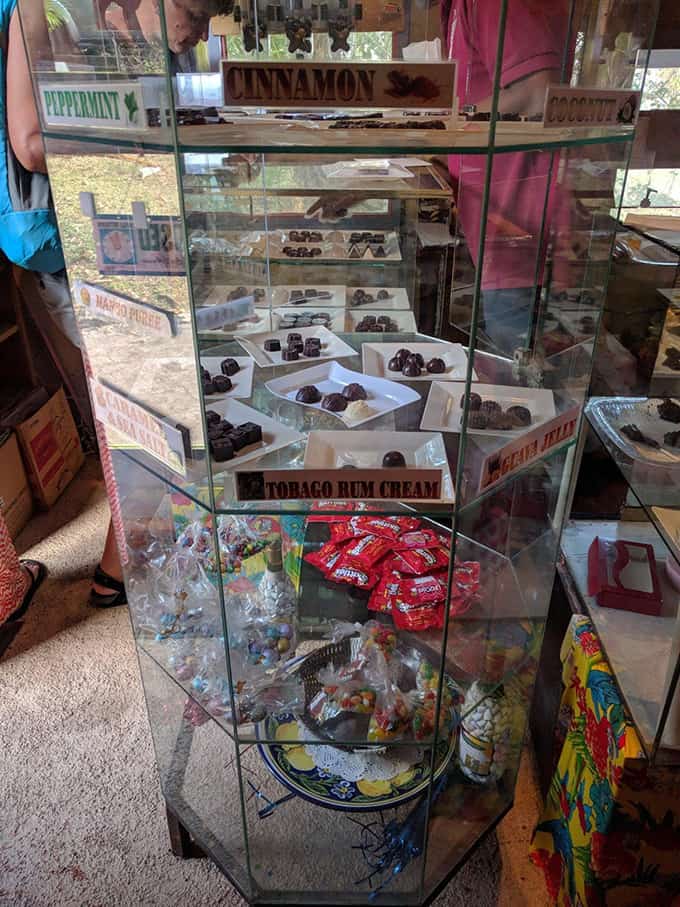 Directly next door in the same building is an amazing chocolate shop called Tobago Chocolate Delights. They manufacture chocolate bars and truffles with various flavors and fruit fillings - and it's all made with tasty Trinidadian cocoa.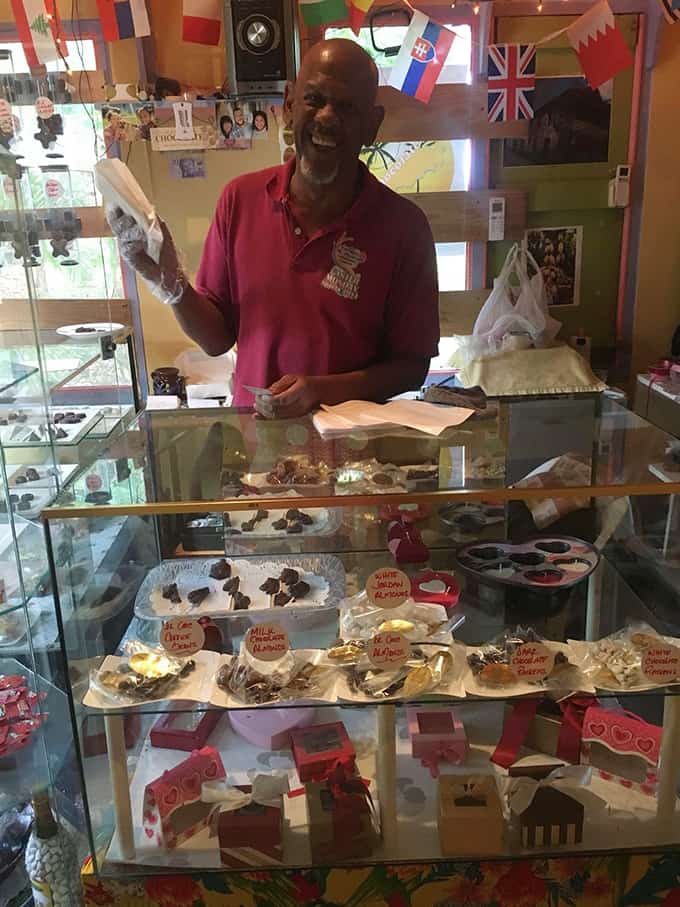 The owner was a super delight. We talked a bit about living in the northeast; he stayed in Boston for a short while at some point! He moved back to Tobago because of our winters. Can't say I blame the dude.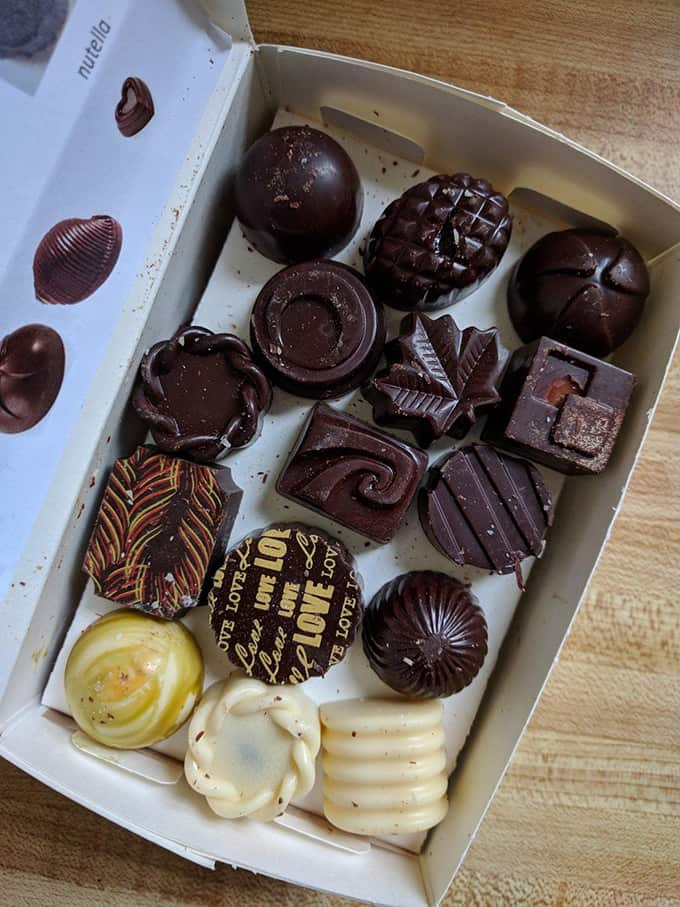 The chocolates were so, so good. Have I mentioned chocolate is one of my favorite things?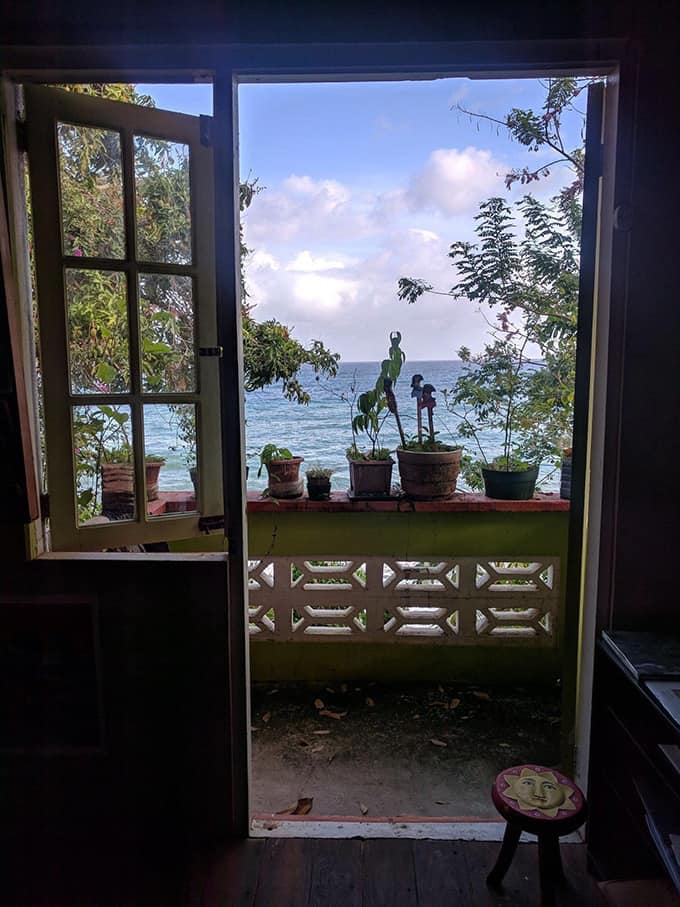 This was the view at Shore Things, by the way. This was from one of the craft rooms.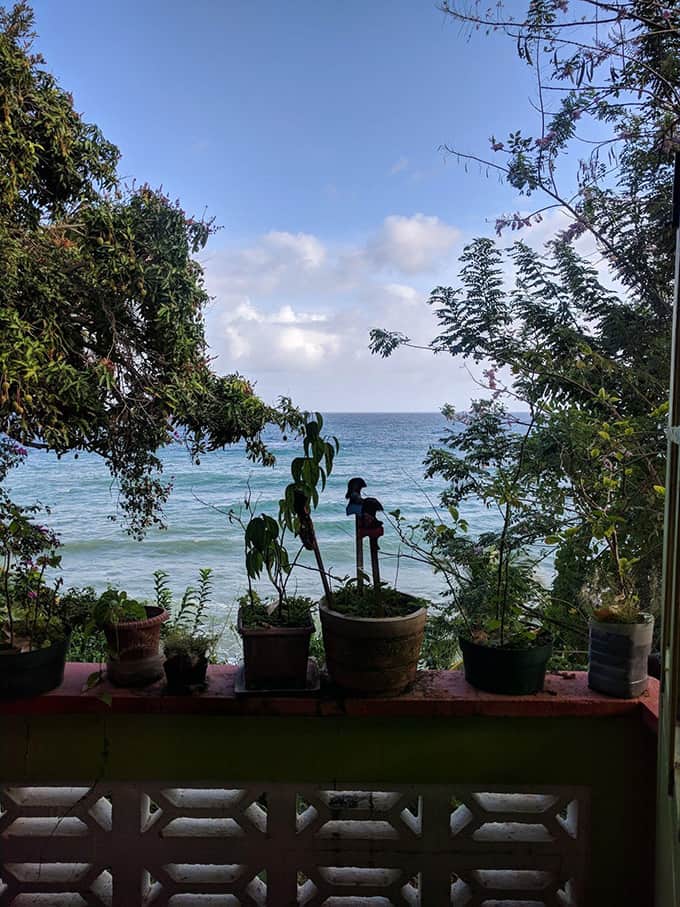 Just one more shot of that view before getting to the recipe.
How to Make Trini Kurma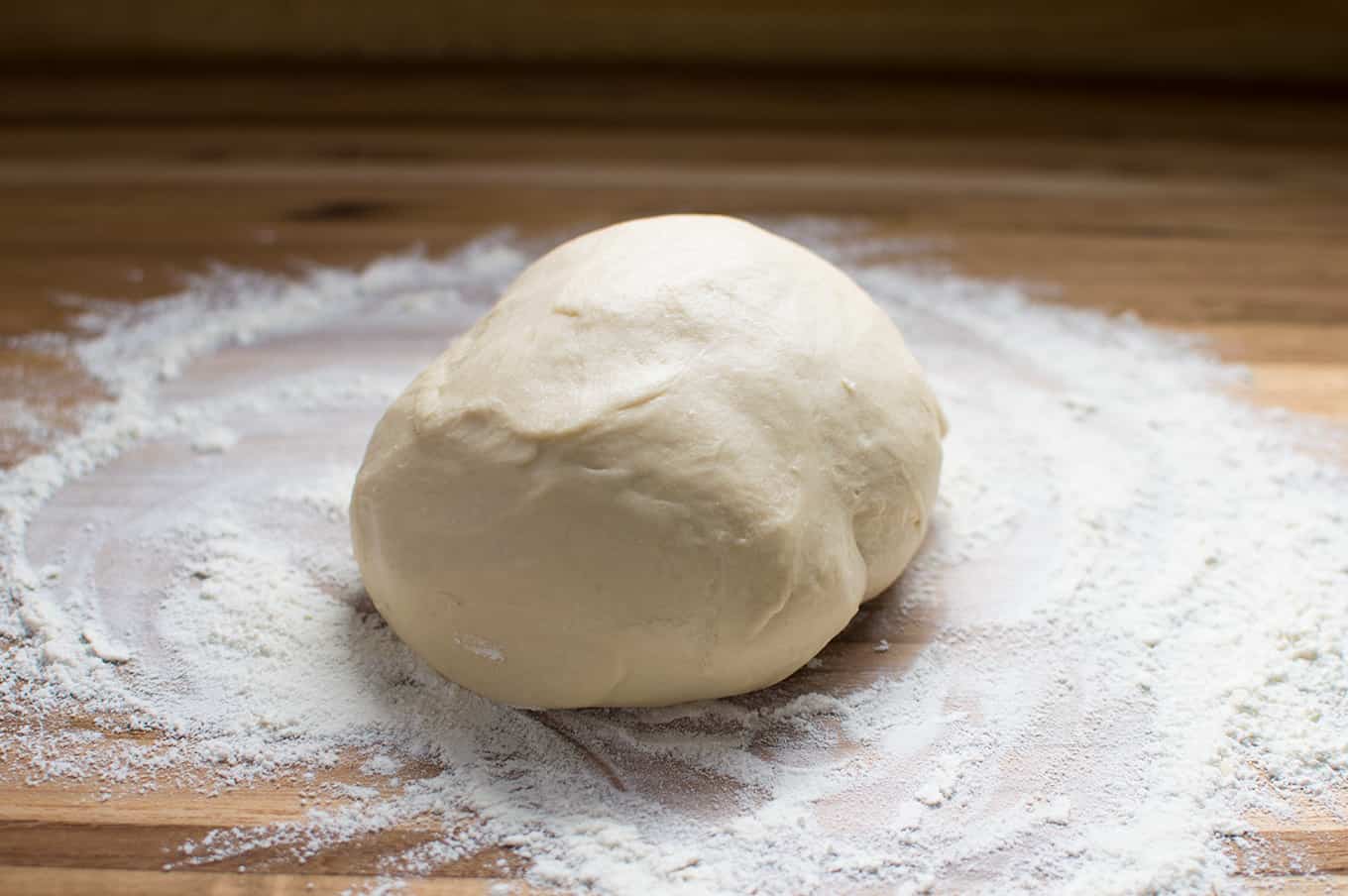 If you have a stand mixer handy, I recommend using that to make the dough because it'll be pretty wet from the milk and it's just easier to knead that way (unless you don't mind kneading by hand for 10-ish minutes, then go for it).
Start by adding the flour, salt, and butter and to a bowl and work it either with your fingers or a dough hook (if using a mixer) until it's a crumbly/almost pebble-like mixture; sort of like making a pie dough. Add the milk and ginger and knead until the dough is smooth and no longer sticking to the sides of the bowl.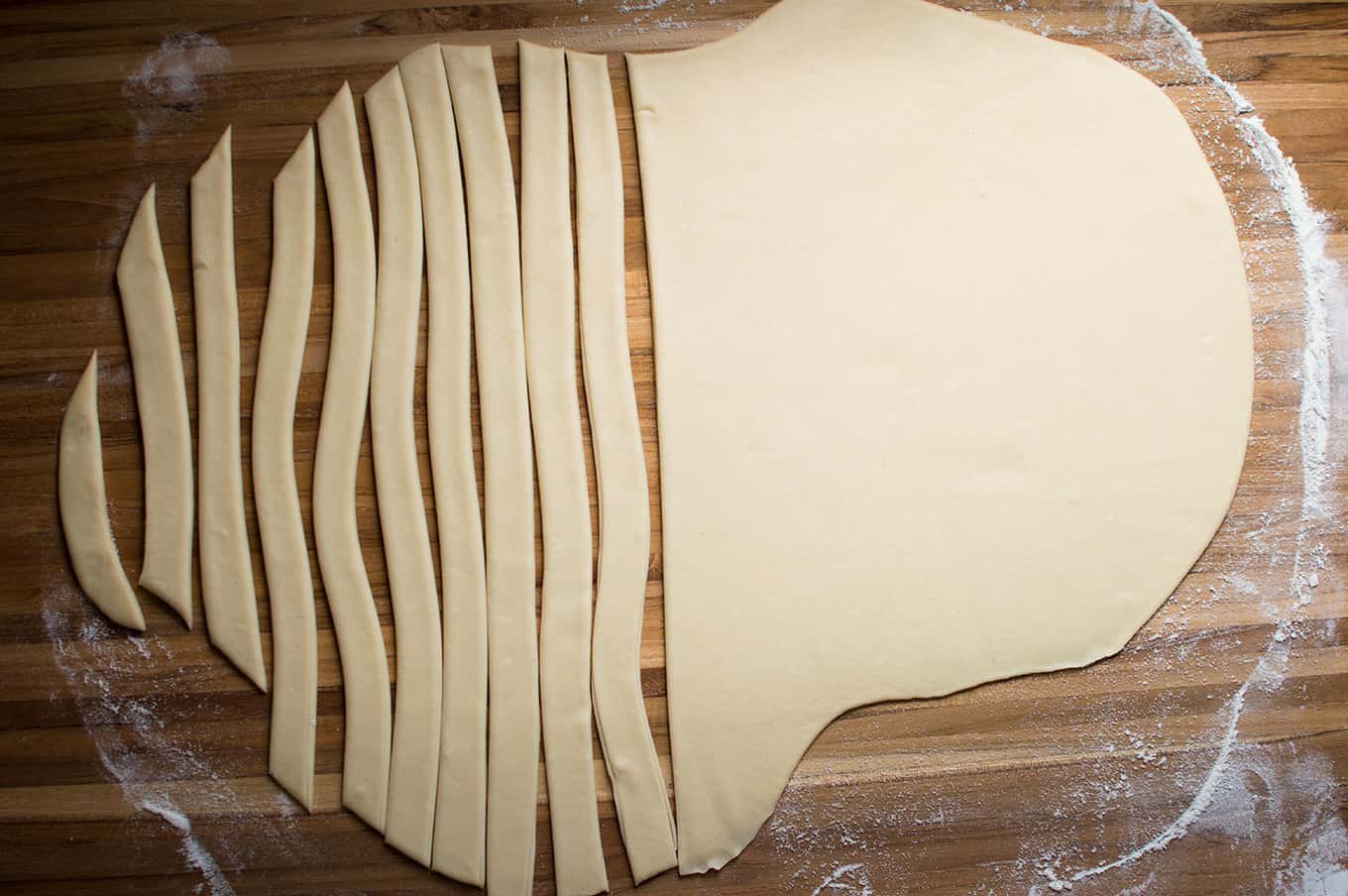 Roll out the dough until it's a quarter-inch thick and cut into long strips a half-inch wide. I find scoring the dough with a paring knife and using a pizza cutter works really well. The dough sticks to a paring knife easily if just using that, but using it to score will allow you cut the dough in a straight line with the pizza cutter.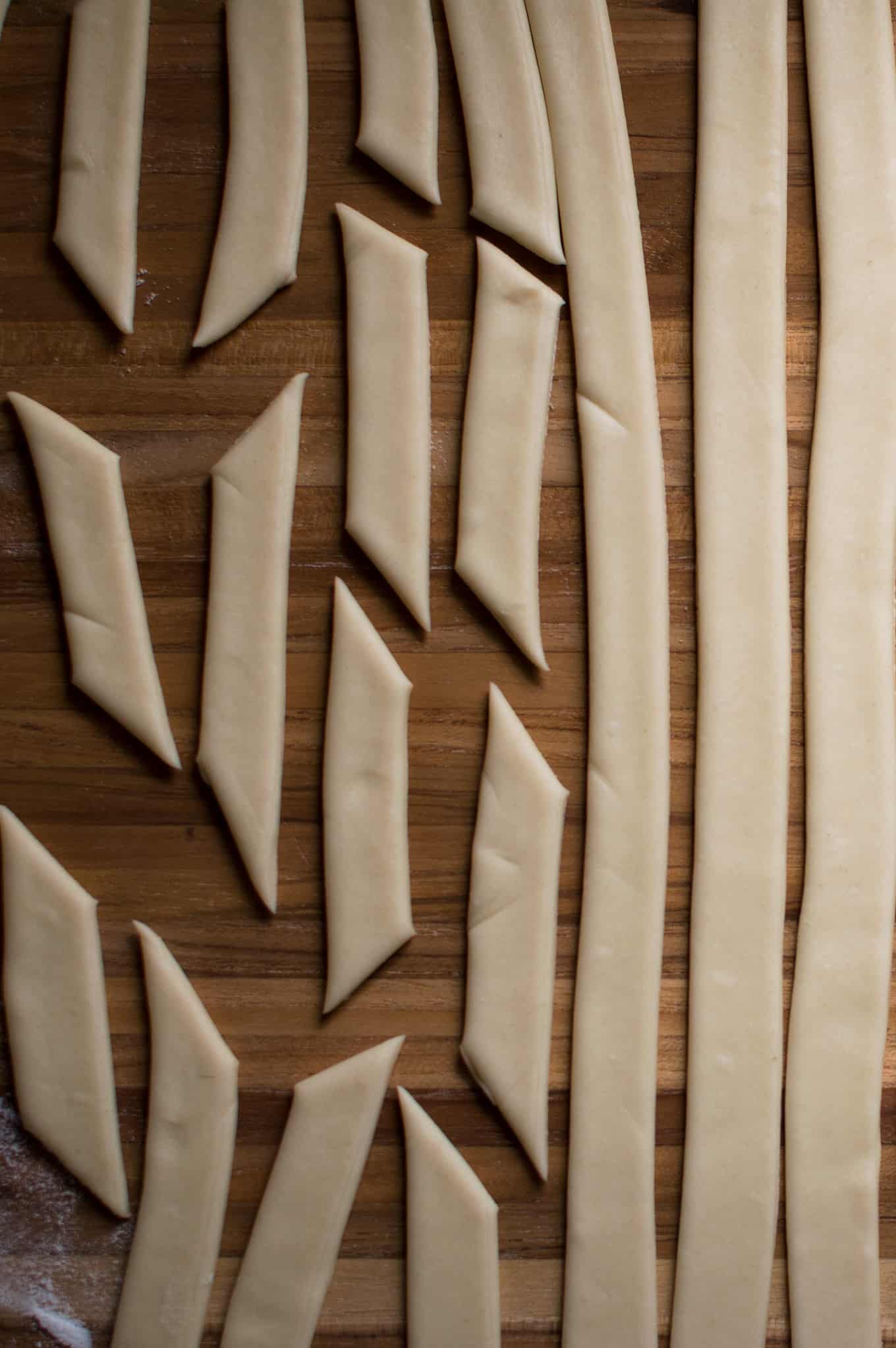 Cut the dough into 3-4 inch strips. Optional: cut each end at an angle.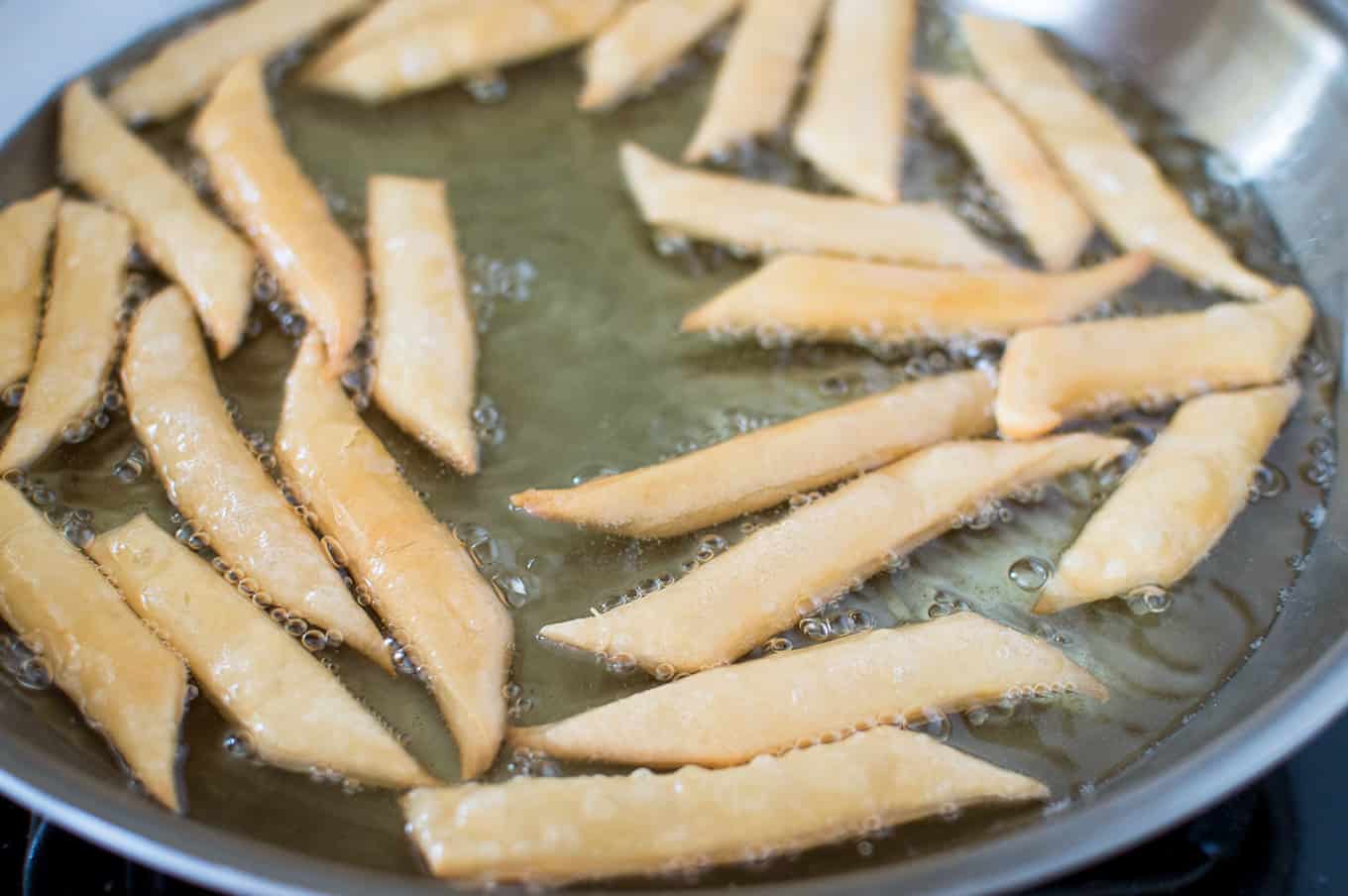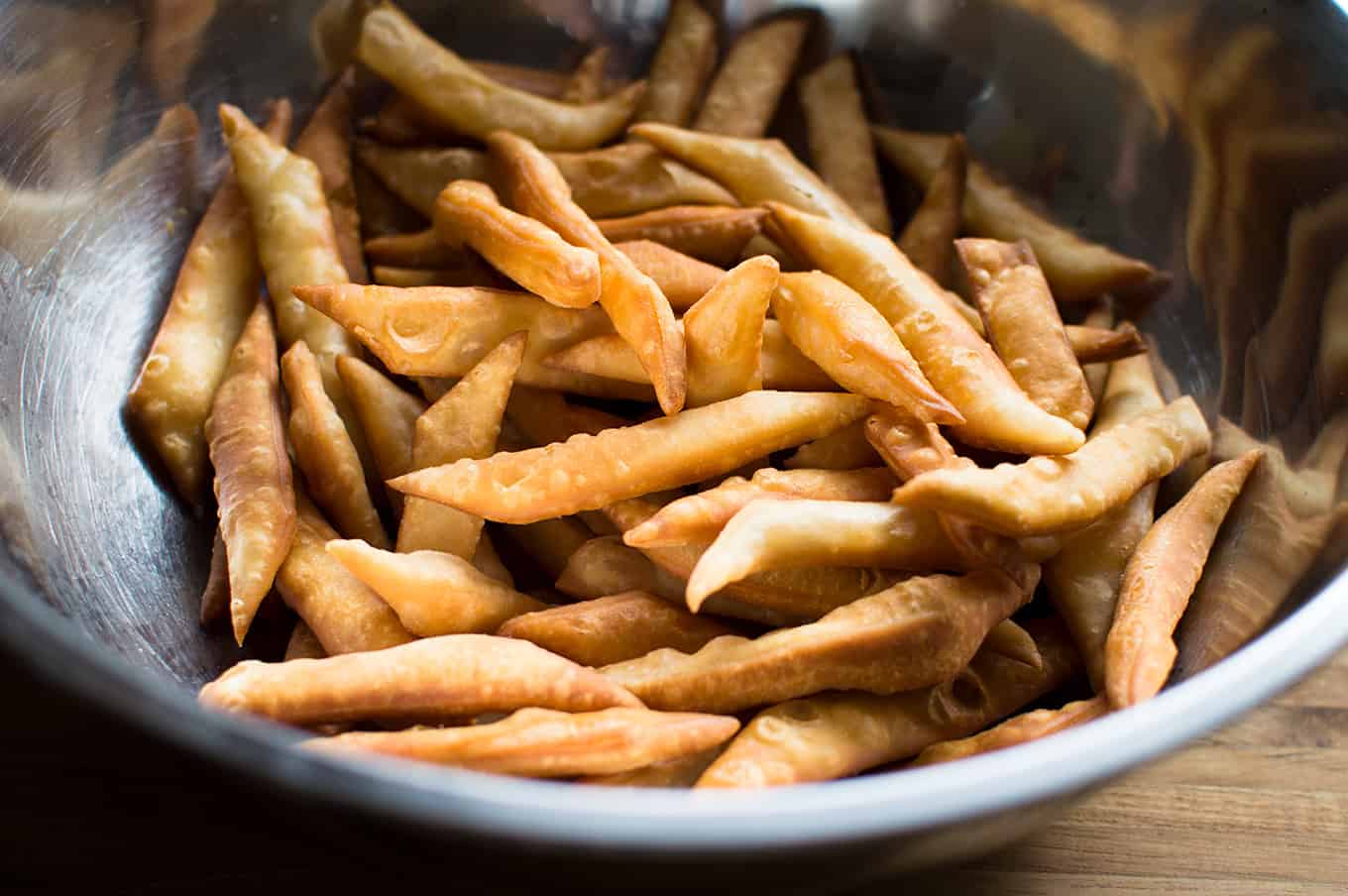 When it comes to frying, do it in batches over medium heat. A good base temperature-wise is anywhere from 360 to 375 degrees Fahrenheit. The dough should sink to the bottom when you first drop it in and float to the top when it's done. Cook them until they're golden brown and depending on how deep the pan is, you can flip them halfway through cooking to ensure it's even on both sides. Transfer them immediately to a large metal bowl.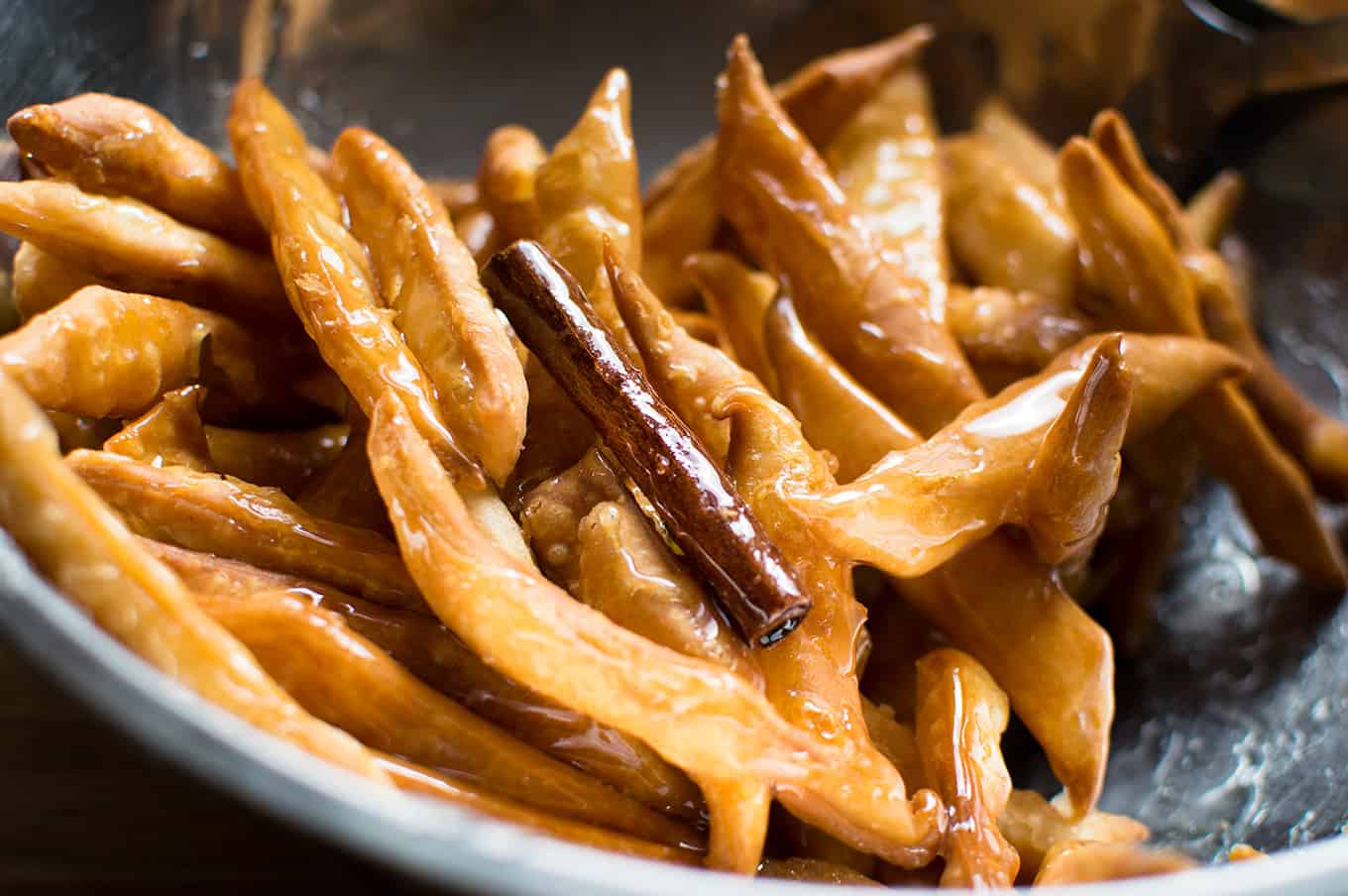 After all batches of the kurma are fried up, make the syrup by combining all the ingredients in a saucepan and let it come to a gentle boil. Let it boil until it reaches 235-240 degrees Fahrenheit, also known as the "soft ball" stage. If you don't have a thermometer, you can test if the sugar is ready by placing a drop into some cold water. It will form into a soft ball when it cools down in the water (this took about 15-20 minutes on my stove).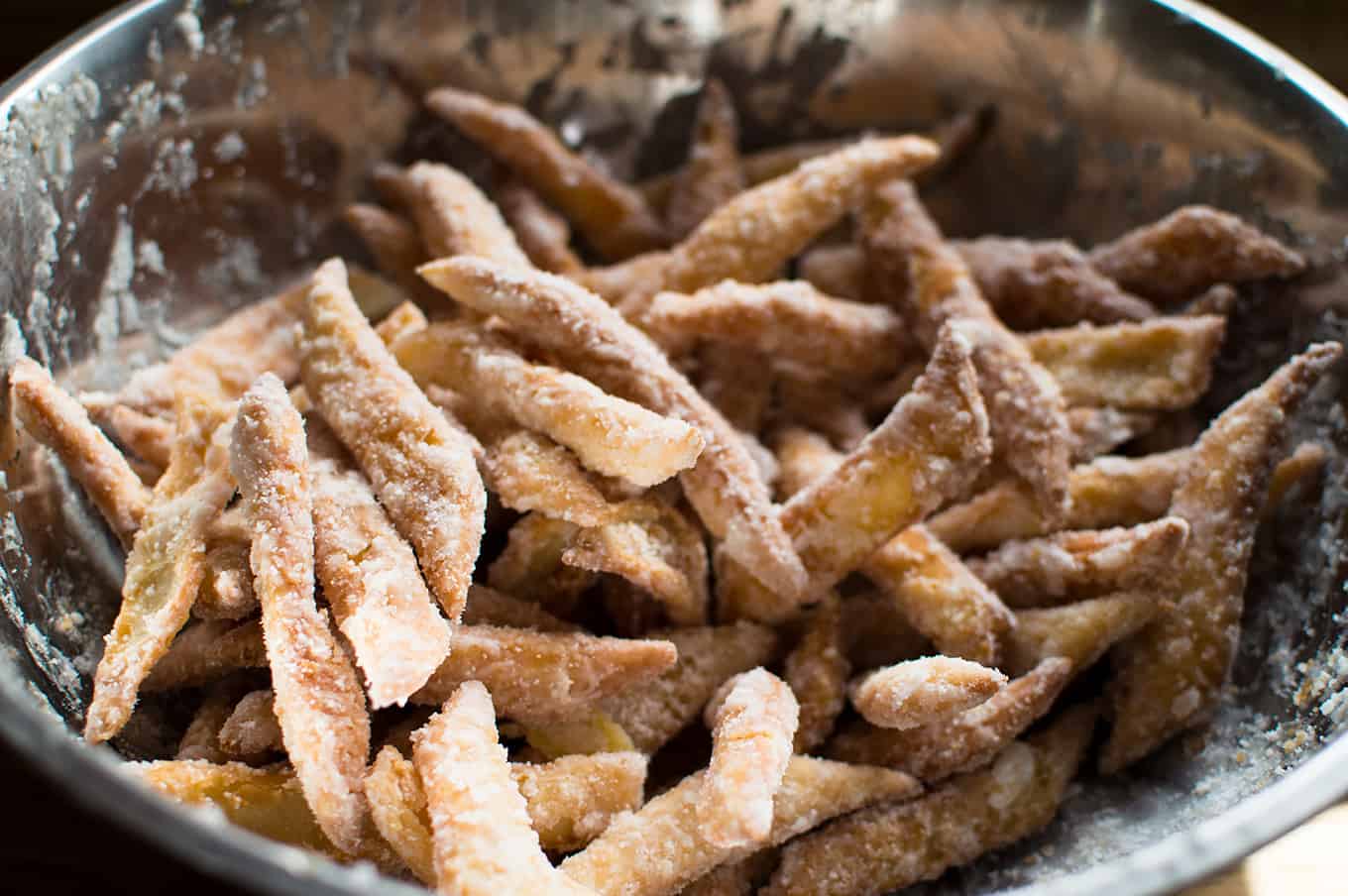 Once the syrup is ready, pour it all over the kurma and quickly mix it all together. The syrup cools down pretty quickly, so you'll want to move fast in order to coat all the fried sticks evenly.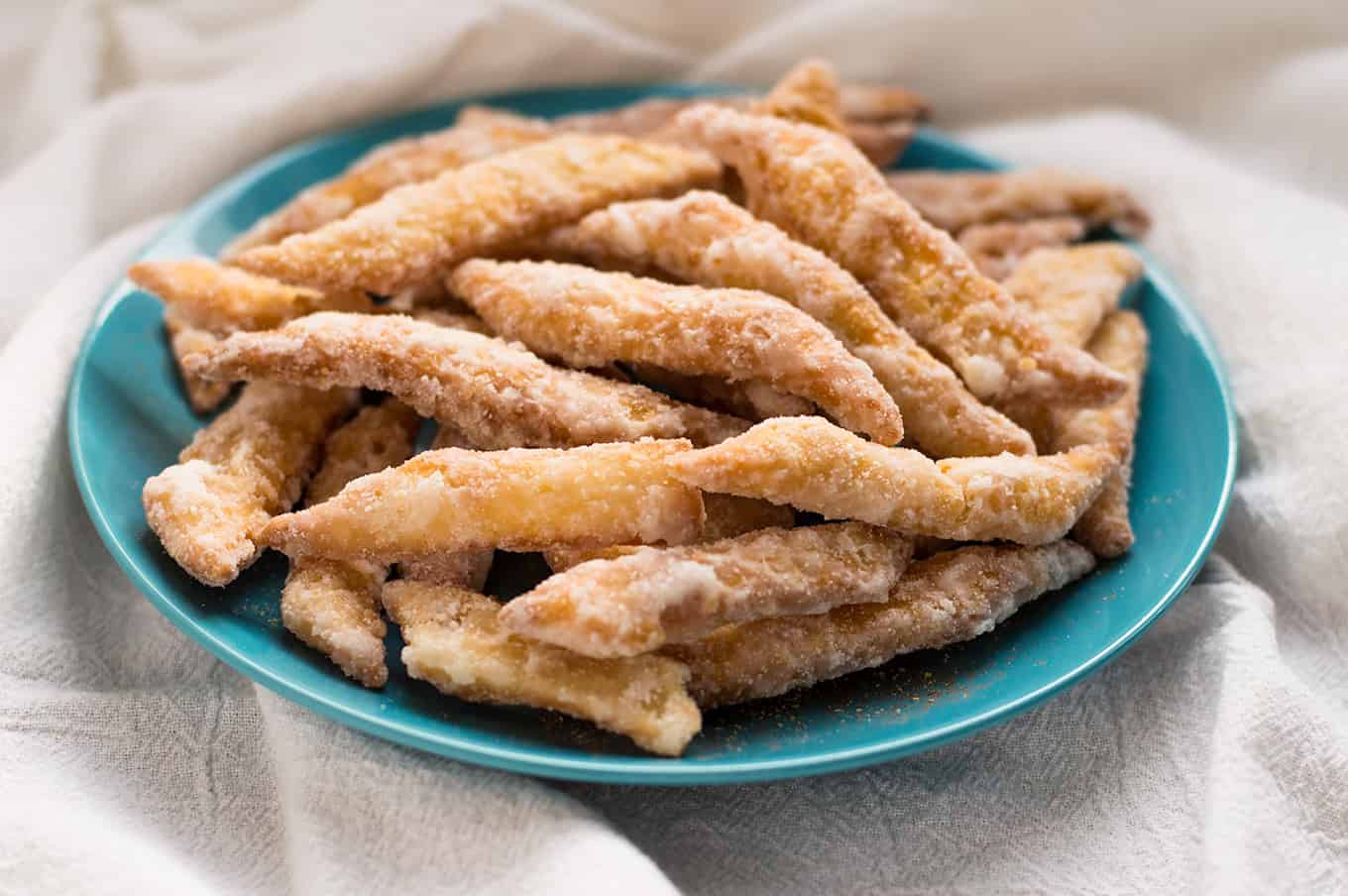 And that's it! Serve and enjoy. These can be stored in an airtight container for a good few days, though keep in mind they might not be as crisp after the first day (they'll still taste delicious though)!
Kitchen Tools Used:
10-inch deep skillet
2-quart saucepan
📖 Recipe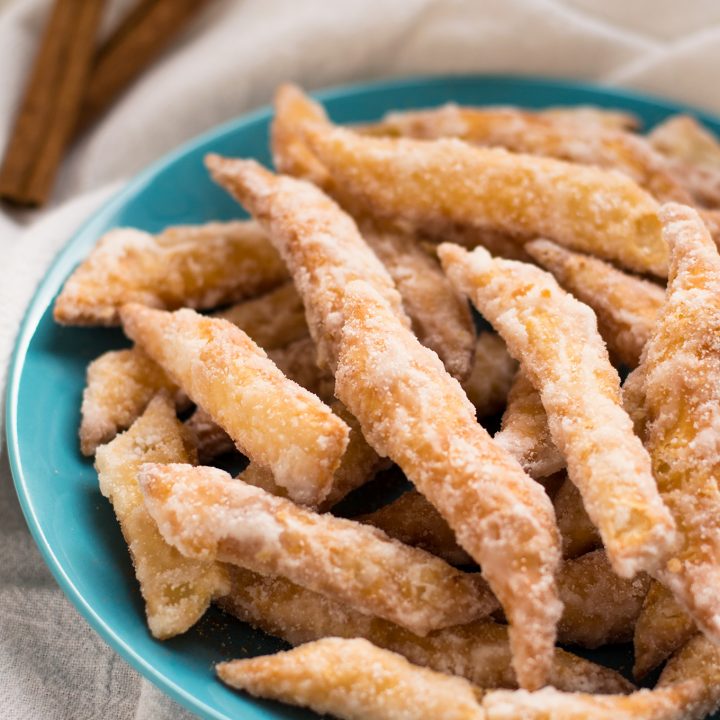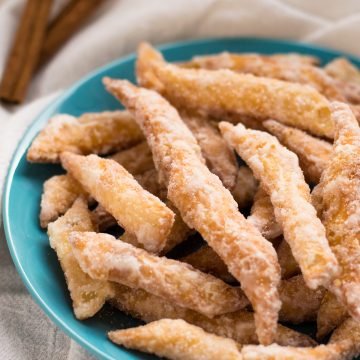 Ingredients
For the Dough
240

grams

flour

,

(2 cups)

2

tablespoons

unsalted butter

,

cold

½

teaspoon

kosher salt

1

cup

evaporated milk

½

tablespoon

grated fresh ginger

,

optional*

1

cup

extra light olive oil
For the Syrup
1 ½

cups

sugar

½

cup

water

1

cinnamon stick

2

slices fresh ginger
Instructions
Dough Instructions
Add the flour, butter, and salt to a large bowl or stand mixer and work it until a crumbly mixture is formed.

Add the milk and ginger. Knead continuously until the dough forms into a smooth ball and is no longer sticking to the sides of the bowl; about ten minutes.

Place the dough on a lightly floured surface and roll it out until it's a quarter-inch thick.

Cut the dough into long strips. If you don't have a dough cutter but have a pizza cutter, that can be used. Score the dough beforehand with a paring knife for precision.

Cut each strip into smaller strips a half-inch wide and three to four inches long.

Add the oil to a deep skillet or saute pan over medium heat. The oil is ready once it reaches 360 to 375 degrees Fahrenheit.

Add the dough in batches and cook until golden brown; about two to four minutes. Flip the dough halfway through cooking.

Move the kurma sticks to a large metal bowl and set aside to make the syrup.
Syrup Instructions
Add all the ingredients to a small saucepan and let come to a boil over medium-high heat.

Continue to boil until the syrup reaches a soft ball stage (235 - 240 degrees Fahrenheit).*

Immediately add the hot syrup over the cooled down kurma and continuously mix until a sugary glaze is formed evenly all over the kurma. The syrup cools down quickly, so you will want to work fast.

Serve and enjoy! The kurma can be stored in an airtight container for a few days.
Notes
Note 1: Each version of Kurma I tried in Tobago had a strong ginger flavor to it, though some recipes I've found have it as an optional ingredient.
Note 2: See this link here for more information on the different stages of boiling sugar.
---
Disclaimer: This post may contain affiliate links, which means I make a small commission if you make a purchase through them. By purchasing through these links, you are helping support this site at no extra cost to you! I only recommend items and services I personally use and love.