Fudgy, delicious, and moist! These olive oil brownies are made with extra virgin olive oil, adding a deep and distinct earthier flavor to the brownies, which makes a great complement to chocolate.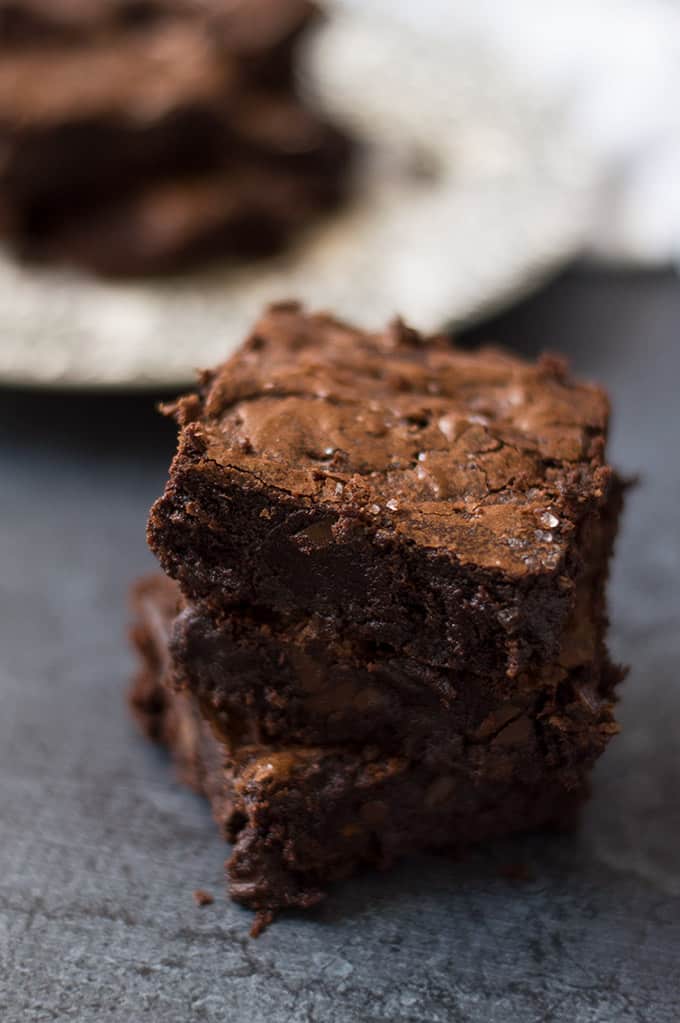 Happy 2017, friends!
I hope you had an awesome holiday season. My extended holiday break is over and it's now back to the blogging grind. It feels great to be back!
It's a common thing for many people to start off a new year with goals, resolutions, etc – and one of those many popular goals include eating healthier and/or getting fit, which is great and I am all for it.
However, 2016 – at least for me – was a pretty crappy year, to which I say, "good riddance!" I'll be damned if OMGfood doesn't start off 2017 on a sweet note.
I actually have a blog post in the works where I get a little personal about my ups and downs throughout last year. I'll be publishing it soon, but until then, we have something much more important to discuss. It's these brownies. These fudgy brownies. These olive oil brownies! /swoon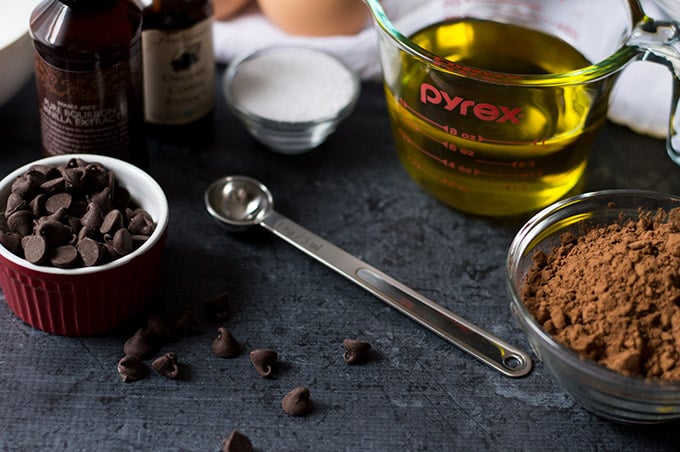 Have I ever told you how much I friggen love chocolate? Just kidding. I know I've told you. We've gone over this many times. Sweets are my weakness. I've always had a sweet tooth and it will never go away and blah blah blah. You get it.
I've been experimenting with this olive oil brownie recipe for a little while now. I was thinking of how there are many Mediterranean sweets like olive oil cakes out there and I make cookies with extra virgin olive oil; why not take that Greek influence I grew up with and combine it with chocolate! The thought isn't actually that unheard of, but the flavors combined in these brownies are so tasty and unique.
Extra virgin olive oil has a fruity and bitter flavor. Its distinctness and chocolate complement each other really well, especially in these brownies. The oil also adds a moist and fudge-like texture (which is my personal favorite type of brownie). They're rich and will basically melt in your mouth. So good. So, so good.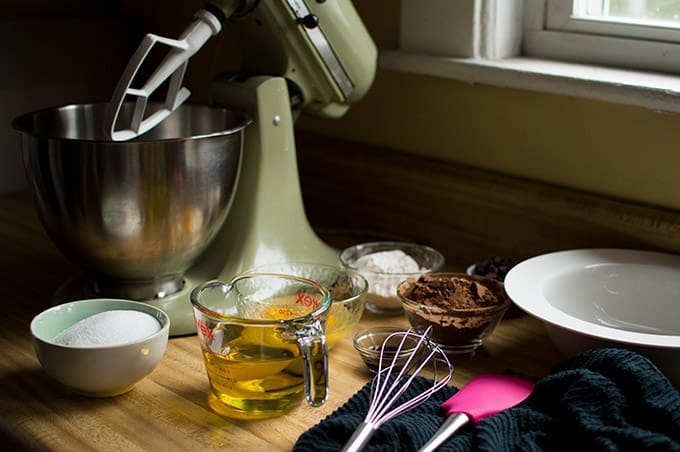 How to Make Olive Oil Fudge Brownies
You can use a stand mixer with a paddle attachment, hand mixer, or you can simply grab a whisk and mixing bowl. I tend to go back and forth with the stand mixer and doing it by hand, depending on my mood that day. That said, this recipe is definitely easy enough to do by hand.
Start by whisking together some of the dry ingredients (flour, cocoa powder, salt, and baking powder) in one bowl and setting it aside. Using a whisk to stir it together rather than a spoon or spatula will allow it to sift.
In another bowl, you mix in the olive oil and sugar. The sugar won't really dissolve and because you're using oil in place of butter, it won't get airy or fluffy. Beat it until it's thoroughly combined and mix in the eggs one at a time, followed by the extracts!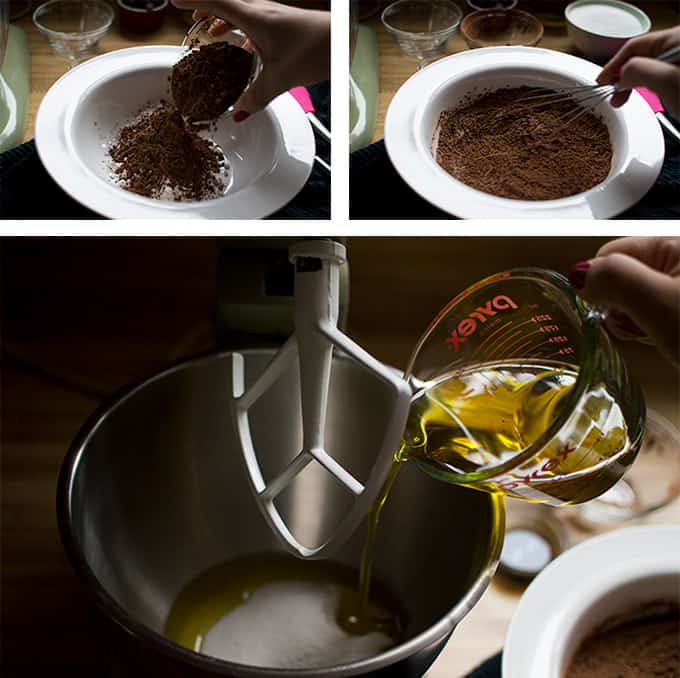 Then, you slowly add in the sifted flour mixture and continue to mix until it's just combined. Scrape down the sides of the bowl and fold in your chocolate chips using a silicone spatula.
Add them to a greased 8x8x2 glass baking dish and pop it in the oven at 350 degrees for 20-25 minutes. They're done when an inserted toothpick comes out with just a few tiny crumbs.
An optional and also delicious step is to lightly sprinkle the brownie batter with some coarse sea salt right before baking in the oven. Fun fact: when I was working on the photos for this blog post, I actually sprinkled too much salt. Oops!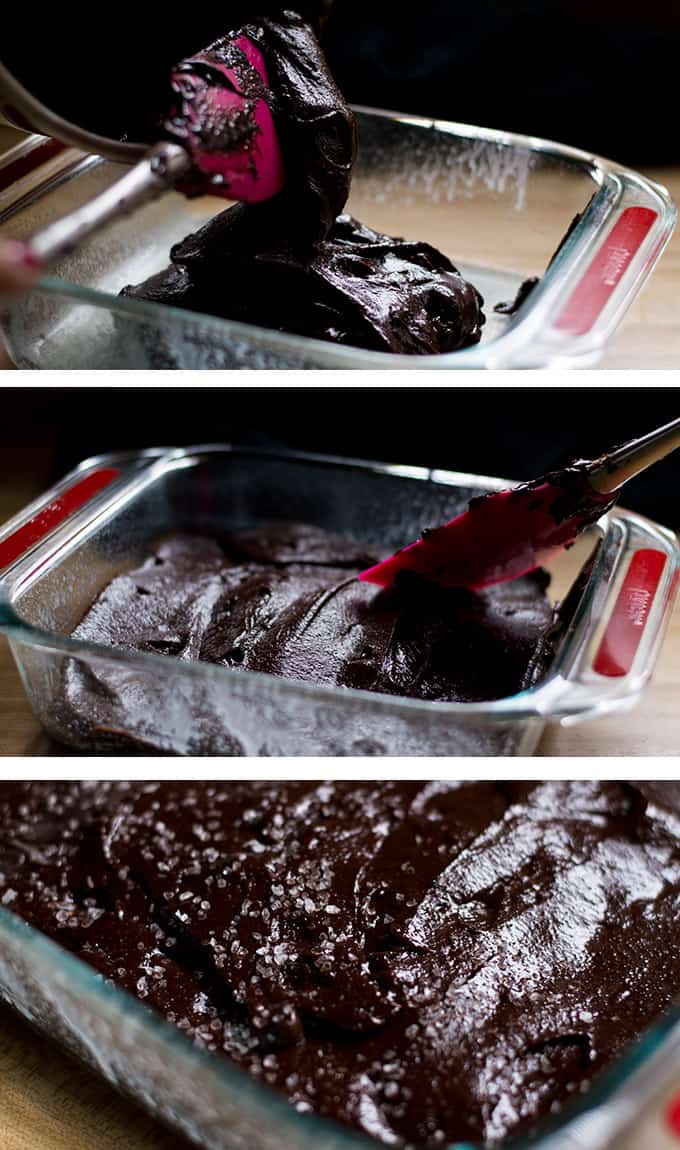 It's good to let these cool for a while before cutting into them. Remember: these are made with oil and are meant to have a fudge-like texture, so if you cut into them while they're hot or warm, you'll get these pudding-like pieces of glob. Letting them cool before cutting will also allow them to keep their shape. Trust.
Which Olive Oil to Use
Go with your everyday extra virgin olive oil: the store-brand/cheaper stuff. Using high quality olive oil won't do anything for you here. Save the top-shelf goods for your dressings, dips, and other drizzling deliciousness.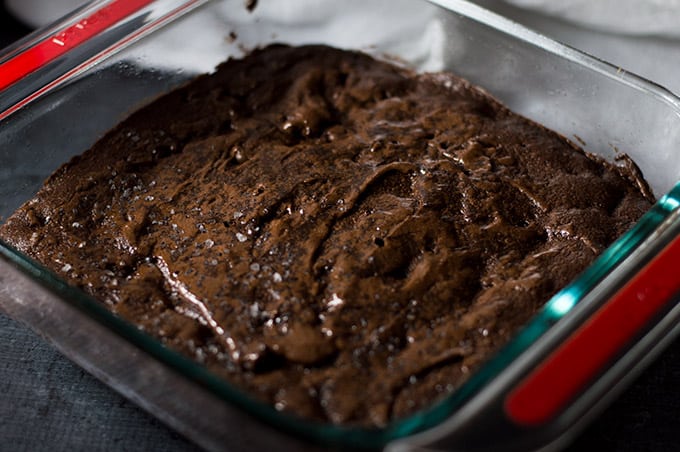 This recipe makes 16 smaller brownies. If you want to treat yo self, you can cut them into bigger pieces! I certainly won't judge. If anything, I will applaud you and maybe join you.
Here's to another tasty year, friends! May 2017 bring you sweetness and richness. <3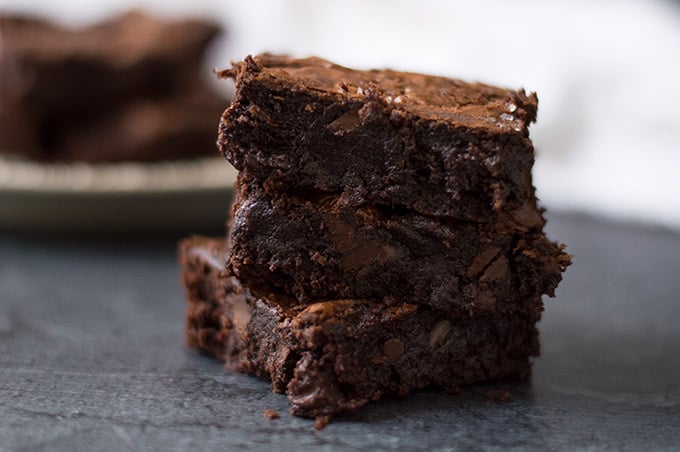 Kitchen Tools Used:
Olive Oil Fudge Brownies
Author:
Marissa @ OMGfood
Ingredients
1 cup sugar
¾ cup + 2 tablespoons extra virgin olive oil*
2 eggs
1 teaspoon vanilla extract
1 teaspoon coffee extract (optional)
¾ cup cocoa powder
½ cup all-purpose flour
½ teaspoon baking powder
½ teaspoon kosher salt
½ cup semi-sweet chocolate chips
small pinch of coarse sea salt for topping (optional)
Instructions
Preheat the oven to 350 degrees and grease an 8x8 glass baking dish (I used non-stick coconut oil spray).
In a medium bowl, add in the flour, cocoa powder, kosher salt, and baking powder. Sift together using a whisk until thoroughly combined and set aside.
In a separate mixing bowl, beat the olive oil and sugar until thoroughly combined, about one minute. (You can use a mixer with a paddle attachment on medium speed or whisk it by hand).
Continue to mix, adding the eggs one at a time, followed by the vanilla and coffee extracts.
Slowly add in the sifted flour mixture and continue to mix until just combined. Scrape down the sides and fold in the chocolate chips.
Transfer to the greased baking dish, using a silicone spatula to scrape the sides.
Optional step: Top with a few sprinkles of coarse sea salt if you like salted brownies!
Bake on a centered rack in the oven for 20-25 minutes. If an inserted toothpick comes out clean or with a couple of crumbs, they are done.
Let cool before cutting into bars. Enjoy!
Notes
1. Because this is a baked good, go for the store-brand or "cheap" extra virgin olive oil. Save the good, top-shelf stuff for your dressings, dips, and such.
Disclaimer: This post may contain affiliate links, which means I make a small commission if you make a purchase through them. By purchasing through these links, you are helping support this site at no extra cost to you! I only recommend items and services I personally use and love.