This blog post is part of the "Bake a Difference with OXO for Cookies for Kids' Cancer and Dorie Greenspan" campaign. This tasty Pumpkin Whoopie Pies with Dulce de Leche Filling recipe comes from Dorie's upcoming book, Dorie's Cookies (which is slated for release later in October).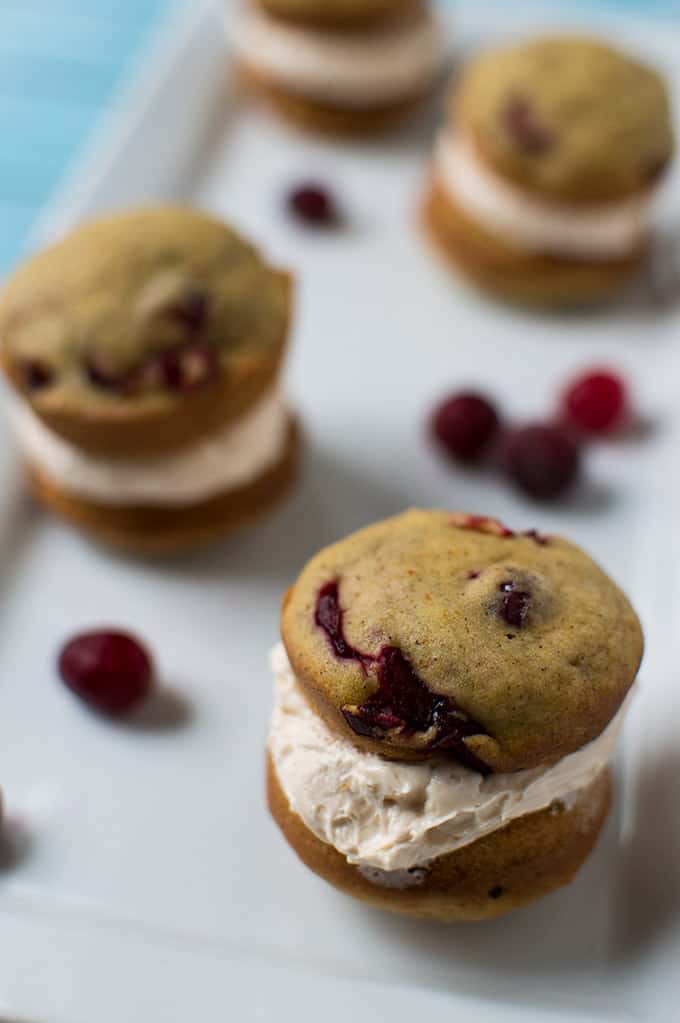 Happy Wednesday, friends!
I was recently invited by OXO to partner up in support of Cookies for Kids' Cancer, a national non-profit organization founded in 2008 by two OXO employees who were inspired by their son's battle with pediatric cancer. Childhood cancer claims the lives of more children in the U.S. than any other disease and Cookies for Kids' Cancer is committed to raising funds for research to develop new and improved treatments.
September is Childhood Cancer Awareness Month and in support of Cookies for Kids' Cancer this month, OXO felt inspired by Dorie Greenspan's upcoming book, Dorie's Cookies, which contains over 200 cookie recipes. The Pumpkin Whoopie Pies with Dulce de Leche Filling recipe I'm sharing with you today comes straight from her book! Dorie's Cookies will be released on October 25th.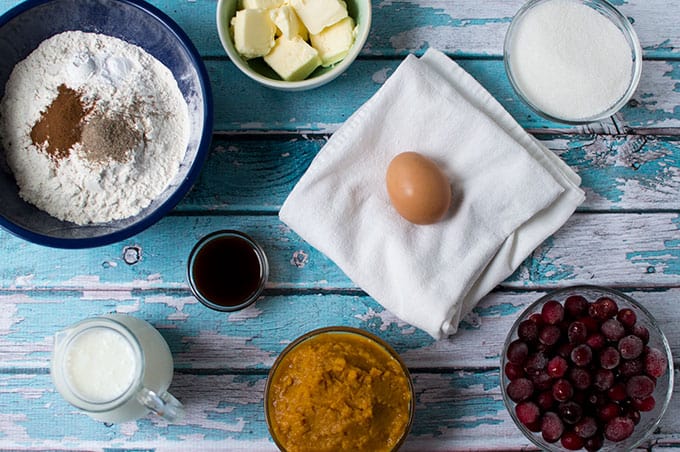 If you were to look in and around my kitchen, you would see an abundance of OXO products; I've always been a huge fan. Aside from making quality products, they also think of their employees as family. They've been personally involved with Cookies for Kids' Cancer since the beginning of the organization. By sharing this blog post, OXO will donate $100 to Cookies for Kids' Cancer and are donating up to $100,000 thanks to other awesome bloggers participating in this campaign as well!
I'm super thrilled to be a part of this campaign because it's such an important cause.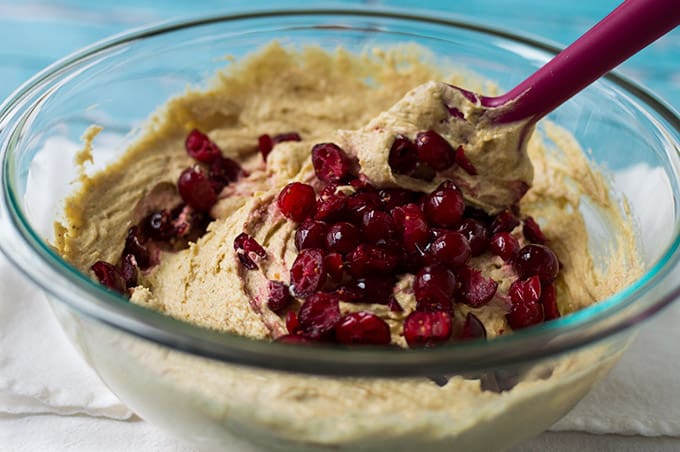 To help make and share these pumpkin whoopie pies from Dorie's Cookies with all of you, OXO sent me a handful of awesome products. Here's what I baked with:
Non-Stick Pro 12 Cup Muffin Pan – It's sturdy, heavy, and awesome. It baked the goods evenly.
Medium Cookie Scoop – A tool I didn't realize I needed until I got this. It scooped out even cookies and felt comfortable in my hand.
Medium Silicone Spatula – Flexible and comfortable to use thanks to their non-slip handles.
Illuminating Digital Hand Mixer – It's compact for easy, upright storage and has a soft glow LED headlight to illuminate the bowl as you're mixing. This came just in time because my old hand mixer needed to be put out of its misery; this might be my new favorite kitchen tool.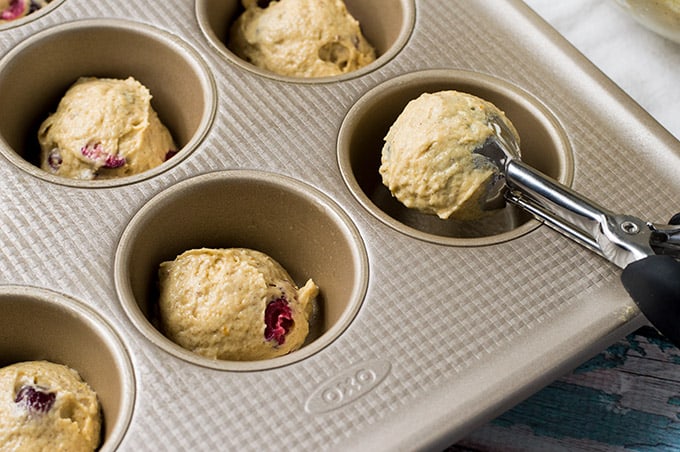 The cookie part of these whoopie pies are made with pumpkin puree, cranberries, cinnamon, and cardamom. In Dorie's new book, she explains how she likes her whoopie pies to be the right size and perfectly round, which is why she recommends making them in a muffin tin.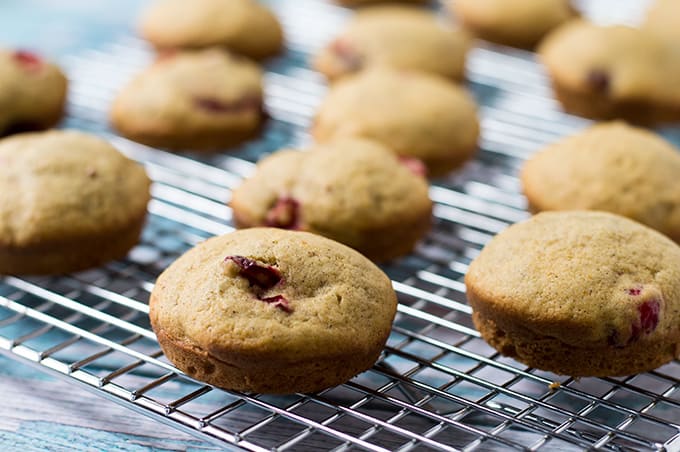 The filling for the pumpkin whoopie pies is made of butter, marshmallow creme, and dulce de leche; both of which can be homemade or store-bought. I went with marshmallow fluff from the store instead of making my own for this recipe because I knew I wasn't going to be able to serve all of the whoopie pies the same day I made them (homemade marshmallow sauce tends to separate after a day because it's made naturally).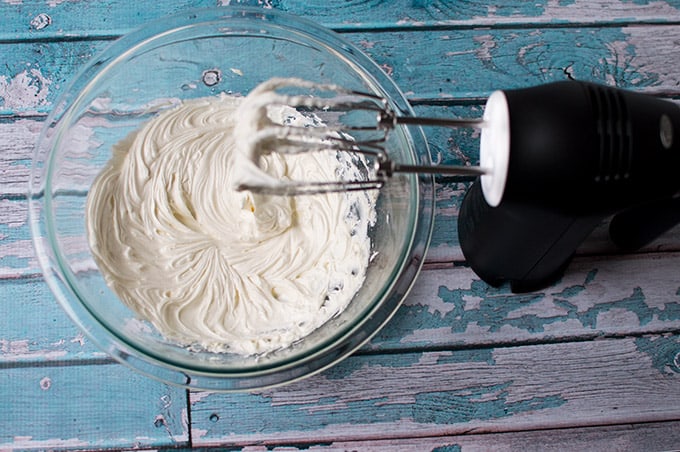 As for the dulce de leche, my plan was to use store-bought to keep things easy, but I couldn't find any at the grocery stores I went to (and I went to many). It was rather surprising because I almost always find dulce de leche at the ready. Because finding it turned out to be an issue, I decided to make it instead, which you can find in its very own blog post here.
Homemade dulce de leche can be stored up to four weeks, so if you are going to use homemade for these pumpkin whoopie pies, I recommend making it ahead of time as it takes about two hours to make (plus, it needs time to cool).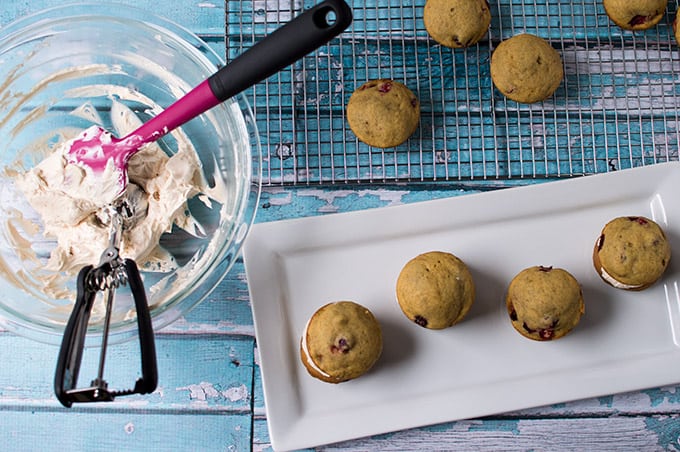 The end result was so, so delicious. And with fall creeping its way in, the combination of pumpkin and cranberry is rather appropriate. I definitely recommend making (and eating) them. <3
Be sure to check out Dorie's Cookies when it's released on October 25th for more cookie goodness.
If you'd like to donate to Cookies for Kids' Cancer, you can do so here.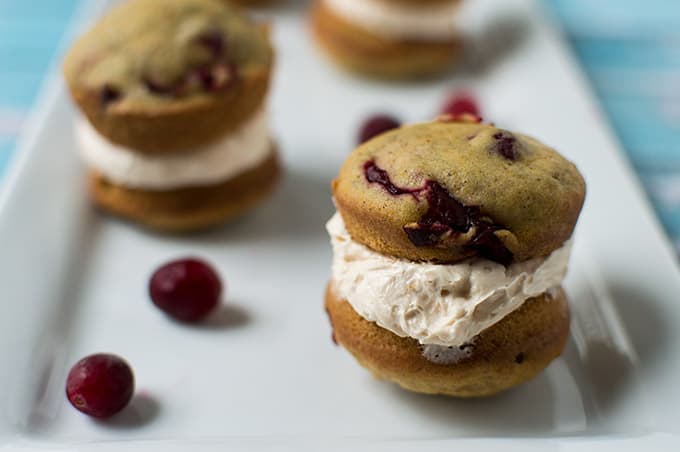 Pumpkin Whoopie Pies with Dulce de Leche Filling
Author:
Recipe from "Dorie's Cookies" by Dorie Greenspan
Ingredients
For the whoopie pies

1 3⁄4 cups (238 grams) all-purpose flour
3⁄4 teaspoon ground cinnamon
1⁄2 teaspoon ground cardamom
1⁄2 teaspoon baking powder
1⁄2 teaspoon baking soda
1 stick (8 tablespoons; 4 ounces; 113 grams) unsalted butter, cut into chunks, at room temperature
3⁄4 cup (150 grams) sugar
1⁄2 teaspoon fine sea salt
1 large egg, at room temperature
11⁄2 teaspoons pure vanilla extract
1⁄2 cup (113 grams) pumpkin puree (not pumpkin pie filling)
1⁄2 cup (120 ml) buttermilk, preferably at room temperature
3⁄4 cup (about 75 grams) fresh cranberries, coarsely chopped (if frozen, don't thaw)
For the filling
1 stick (8 tablespoons; 4 ounces; 113 grams) unsalted butter, cut into chunks, at room temperature
1 cup (96 grams) marshmallow crème (or Marshmallow Fluff)
1⁄4 cup (30 grams) confectioners' sugar
Pinch of fine sea salt
1⁄4 cup (75 grams) dulce de leche, homemade or store-bought
Instructions
Position the racks to divide the oven into thirds and preheat it to 375 degrees F. Butter or spray two standard muffin tins (do this even if the tins are nonstick).
To make the cookies: Whisk the flour, cinnamon, cardamom, baking powder and baking soda together.
Working with a stand mixer fitted with the paddle attachment, or in a large bowl with a hand mixer, beat the butter, sugar and salt together on medium speed until smooth, about 2 minutes. Add the egg and beat for another 2 minutes or so, until creamy. Beat in the vanilla. Reduce the mixer speed to low, add the pumpkin puree and beat until it's fully incorporated; don't be discouraged when the mixture curdles — it will soon smooth out.
Turn off the mixer, scrape down the bowl and add half of the dry ingredients. Pulse to begin the mixing and then mix on low, scraping the bowl as needed, until the flour mixture is blended in. Beat in the buttermilk. Turn off the mixer, add the remaining dry ingredients, pulse and then mix on low until you have a lovely smooth batter. Switch to a flexible spatula and fold in the cranberries. Don't be too thorough — it's better to have an uneven mix than to break the berries and turn the batter red.
Using a medium cookie scoop, scoop out level portions of dough, or use a tablespoon to get rounded spoonfuls, and fill the muffin tins. The scoops of dough will sit upright in the center of the tins, but when baked they'll melt evenly into the cups.
Bake the whoopie pies for 11 to 12 minutes, rotating the pans top to bottom and front to back after 6 minutes, or until they are puffed, golden brown and springy to the touch.
Transfer the pan to a rack and let the cookies rest for 5 minutes, then turn them out on the racks and allow them to cool completely.
To make the filling: Working with a stand mixer fitted with the paddle attachment, or in a medium bowl with a hand mixer, beat the butter, marshmallow crème, sugar and salt together on medium-high speed, scraping the bowl and beater(s) as needed, for about 3 minutes, until very smooth. Lower the mixer speed, add the dulce de leche and beat until thoroughly blended.
Using a spoon or a small cookie scoop, place the filling on the flat sides of half of the cookies; sandwich with the other cookies, flat sides down. The cookies can be eaten now, but the filling benefits from a 30-minute stay in the refrigerator. Just don't eat them from the fridge — you'll deprive yourself of the cookies' wonderful texture.
Notes
1. Playing Around
Whopper-Size Whoopie Pies. If you use a large cookie scoop (one with a capacity of 3 tablespoons) to portion out the dough, you can make 6 really big pies (12 cookies; 6 pies). These bake best when you use an insulated baking sheet or stack two sheets one on top of the other. Line the (top) sheet with parchment paper or a silicone baking mat and bake the cookies for 15 to 17 minutes.

2. Storing
The unfilled cookies can be kept covered at room temperature for up to 1 day. Once filled, they can be kept covered in the refrigerator for a day or two, but they're really best the day they're made.