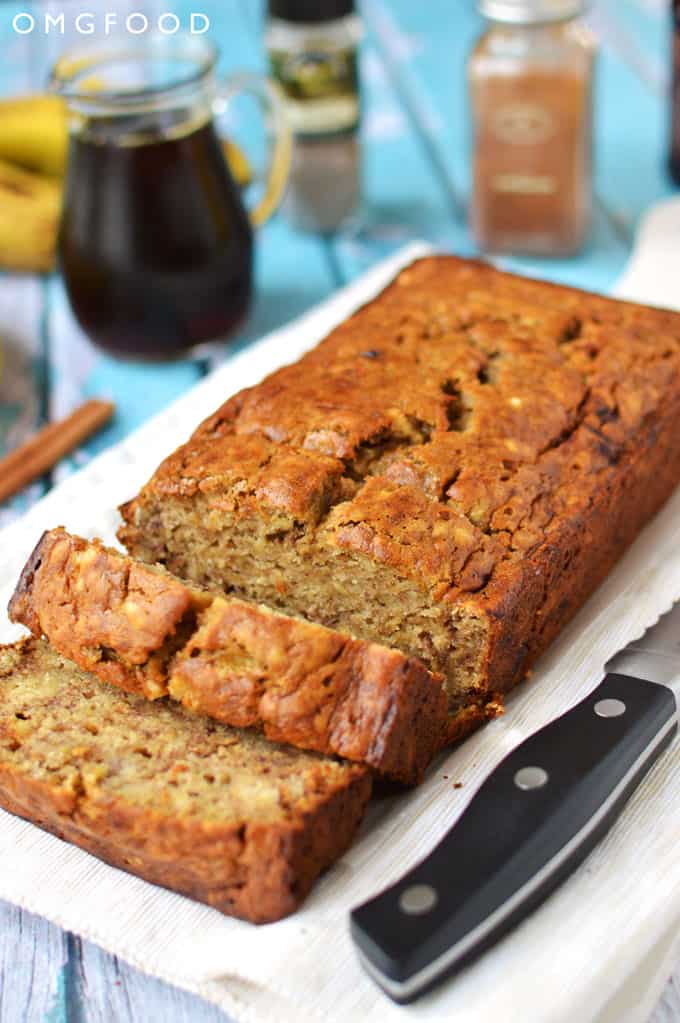 What up! I'm writing to you today from Seattle, Washington! I've been here since yesterday. I'm here for work, but I had most of the day yesterday to venture out and about. The amount of exploring going forward will be limited, but these next few days are going to be awesome nonetheless.
I'm here for PAX! You might know my full-time gig outside of food blogging is working in video games. I work at Harmonix and we make music games! I came out to Seattle to show off Rock Band 4 at the convention and I'm excited. I work in design, but I get to travel with the publishers every once in a while to help show off the cool things we're working on. I'm actually a very anxious person and can sometimes get a bit over-heated when around lots and lots of people, but when it comes to working at conventions these when thousands of people are in attendance, I somehow don't get anxious. I'm so happy about talking to fans of our games that the energy I feel is just pure excitedness and none of the anxious stuff. It's pretty awesome.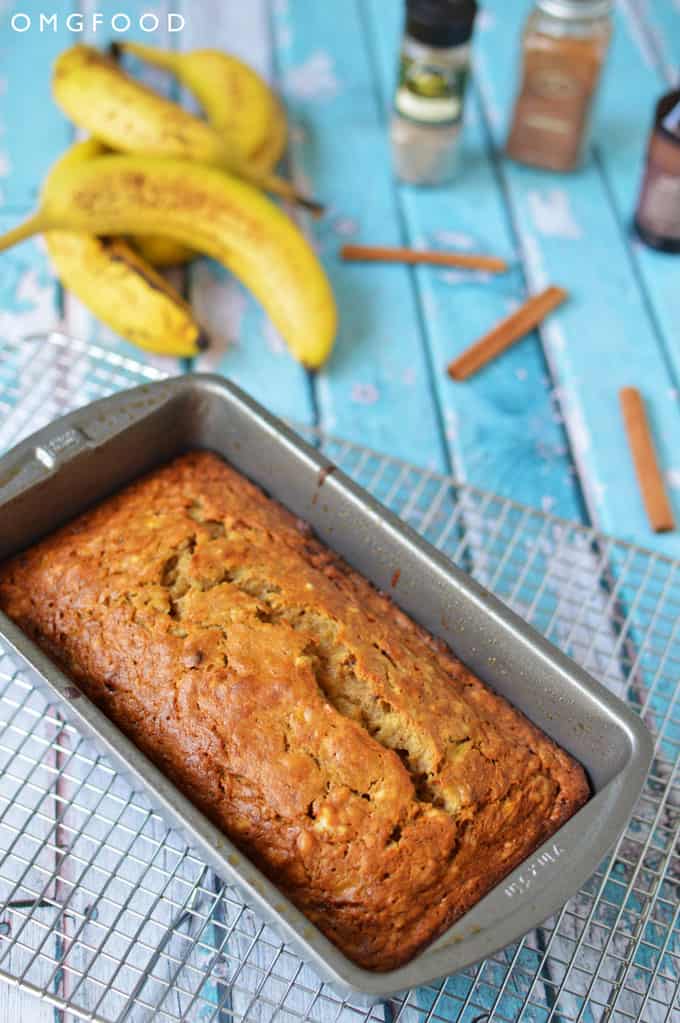 Even though I'll be super busy out here the next few days (I fly back to Boston on Tuesday), I wasn't going to leave you hanging! Today's recipe is one of my favorite baked goods: maple-spiced banana bread.
Whenever I've made banana bread in the past, it was a simple batter made with a lot of sugar. That's pretty much the standard anyway. I've been baking banana bread for years and it's one of the baked goods I feel good about (I tend to not experiment with baked goods nearly as much as I'd like because science). I recently started tweaking the recipe so that I wasn't dumping 1-2 cups of sugar in it. I love sugar and have a huge sweet tooth, but that doesn't mean every sweet or baked good has to be pumped with all the sugar. So I added in maple syrup! And I brought the sugar itself down to a third of a cup. I also always include cinnamon, but decided to add cardamom! And thus, maple-spiced banana bread was born. I'm into it.
I go somewhat heavy on the amount of overripe bananas - I use four, which makes this banana bread so moist and delicious. I had some friends try it last week and got thumbs up all around, so I'd say this recipe is a win.
If you want to keep up with me on my work-trip in Seattle, follow me on instagram or twitter! I'm also on facebook, but I don't post as much there. I find facebook feeds are better with less post-saturation!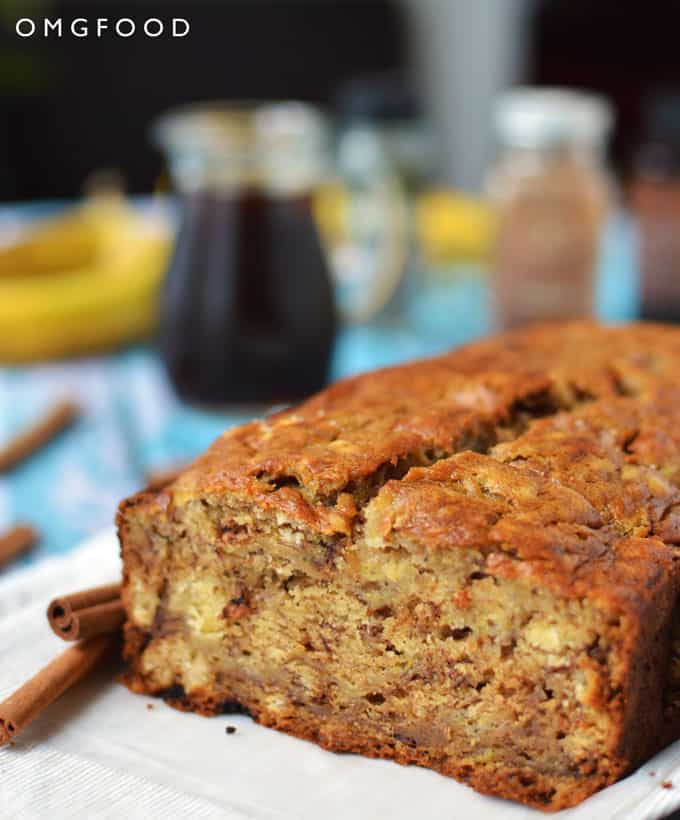 📖 Recipe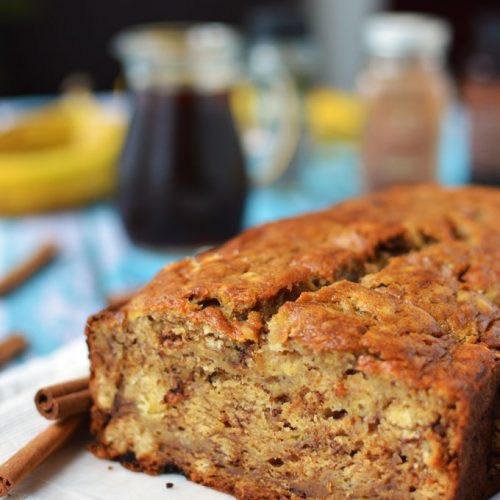 Ingredients
1.5

cups

all-purpose flour

1

teaspoon

baking soda

¼

teaspoon

kosher salt

1

teaspoon

cinnamon

½

teaspoon

cardamom

4

overripe bananas

2

eggs

,

beaten

1

teaspoon

vanilla extract

⅓

cup

sugar

½

cup

maple syrup

½

cup

unsalted butter

,

melted and slightly cooled (I use grass-fed)
Instructions
Preheat your oven to 350 degrees and grease a 9x5 bread pan.

Add the flour, baking soda, salt, cinnamon, and cardamom to a large bowl and mix to combine.

In a medium size bowl, mash the banana. Add in the eggs, vanilla, sugar, maple syrup, and butter. Mix until well blended.

Add the wet ingredients to the dry ingredients and stir until just combined.

Pour into the greased bread pan and bake in the oven for 50-65 minutes or until a toothpick inserted in the center comes out clean.