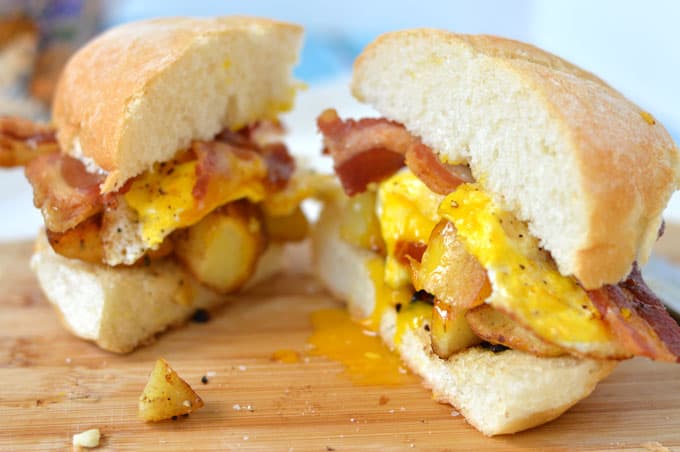 I never liked school much.
I was always the type to daydream during class, I always slept in until I absolutely had to get up, which resulted in me being late for homeroom and my mom yelling at me for it, I almost always did assignments at the very last minute, and I used to skip classes a lot.
The ditching school part didn't happen until I was in high school and it somewhat continued in college, but not nearly as much. I was just so uninterested in school (I never actually finished getting my degree). Which is kind of funny because I actually love learning...for the most part. I hate math. Math can suck it.
The only class I liked sticking around school for was Culinary Arts (shocker) because it meant getting to cook and bake! Our school had a restaurant open to the public, though teachers were our main customers, which sounds like it might have been a quiet environment, but my high school was huge. I had ~950 students in my graduating class alone, so there were probably 3500-4000 students in the whole school. That's a good amount of teachers to educate all those students!
We weren't allowed to serve students and we weren't really allowed to eat any of the food until the restaurant was closed and there were leftovers for us to take. There wasn't always leftovers though and I didn't love eating food from the cafeteria, so sometimes, I'd leave school for a bit and head down to Arthur's Paradise Diner, which is a famous dinner in the Greater Lowell area, known for the boott mill breakfast sandwich (except, it'd just be called the boott mill), named after the Boott Cotton Mills across the street.
Arthur's is an old-school diner that's been around for 75+ years. It's a small diner car that has a handful of booths and was always crowded with students in the mornings back in the day. It sometimes took an hour and a half to get your boott mill. And it was always worth it.
What's a boott mill, exactly? An amazing breakfast sandwich on a toasted bulky roll (which comes from a local bakery and it's the best bread), piled high with eggs, home fries, cheese, and your choice of meat: bacon, sausage, ham, or corned beef hash. You could also go crazy and go double or triple the meat, stacking that sandwich high with all of the meat. I always just stuck with bacon, myself. <3 If going meatless is your thing, that's okay too. I'll take your bacon.
The diner was sold in the last ten or so years and I haven't been back since. I hear from friends the boott mills are still good, but they aren't the same. Still, I'd like to go back one of these days to have one, but I don't live there anymore and they close pretty early, so I'll have to plan to go on a weekday I'm off from work and visiting my parents. Whenever I get that craving though, I just make it myself. I admit mine will never be as good as Arthur's, but it's still damn tasty and hits the spot when necessary. And I guess, it's slightly healthier because I make them using my skillet home fries recipe, which are pan-fried instead of deep-fried. Only slightly healthier. Don't count calories or whatever when eating this sandwich. Just don't.
Also, I recommend this for those mornings after lots of whiskey and bad decisions from the night before.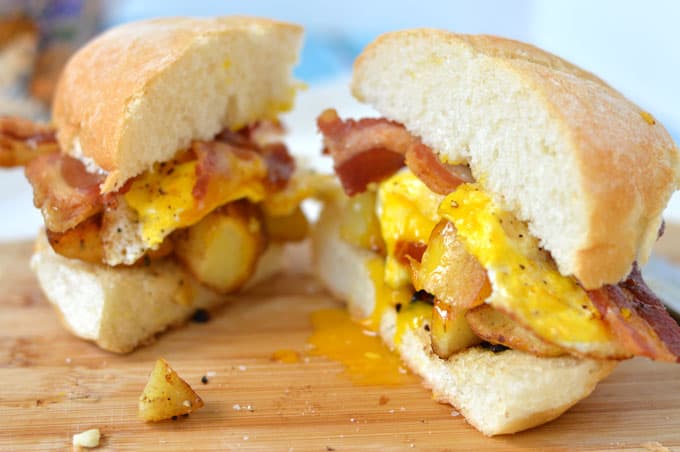 📖 Recipe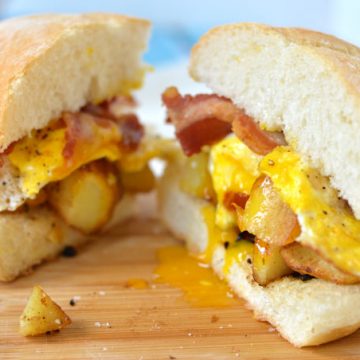 Ingredients
1

recipe skillet home fries

3

slices

bacon

1

breakfast sausage patty

,

optional

1

slice

cooked ham

,

optional

1

bulky roll

Butter

,

optional

2

eggs

salt and pepper to taste

1-2

slices

American or sharp cheddar cheese
Instructions
When the home fries are close to finishing up, make the bacon by cooking over medium heat about 3 minutes per side or until desired crispness (if making double or triple meat with sausage and/or ham, cook or heat those now as well).

Set the cooked bacon aside on paper towels to drain and keep the grease in the pan for the eggs.

*Optional step: Butter each half of your bulky roll and lightly toast on a skillet. Set aside.

Once everything is cooked, heat the skillet with the bacon grease over medium heat. Once it's nice and hot, add in the eggs.*

Cook for one minute, add salt and pepper to taste, carefully flip (don't break that yolk!), top with cheese, cover with a lid, turn the heat off, and let cook for another thirty seconds to one minute.

Assemble your sandwich!

Layer with potatoes, eggs, and bacon (if eating ham or sausage, add the egg on top of the meat).

Devour!
Notes
If you are skipping the bacon altogether, use ½ a tablespoon of extra light olive oil or butter to cook your eggs.