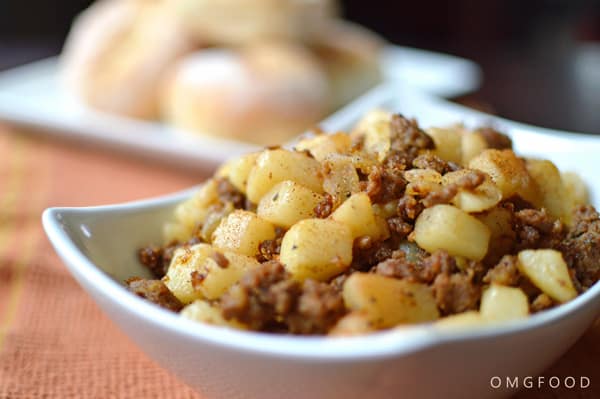 It's after midnight and I'm in bed writing to you while Friends is on in the background. Did you know Friends was on Netflix? I think I've watched it start to finish about 50 times. Not since it's been on Netflix though; it's only been a few months since that happened. That'd be insane! Anyway, it doesn't get old for me. Ross and Rachel forever. Their relationship was a huge roller coaster throughout that series, amirite? Spoiler alert: they get together in the end.
I've been so tired getting up in the mornings lately, but I can't fall asleep so easily at night. I might be drinking too much coffee, but I can't help it. I love coffee! Even though I can't sleep, at least I get to write to you and tell you about how I'm also watching Friends. I think I'll put on Bob's Burgers after this episode to mix it up, though.
Yeah, my mind is all over the place right now. Allow me to introduce you to Delirious Marissa. She's kind of awesome.
Any-hoo, I'm not going to just sit here and tell you about what I'm watching on TV. That's not really why you're here. Or is it?
Nah, you're here because you want some delicious potatoes and chorizo! And I'm here to tell you all about it.
Have I told you about Walden Local Meat? If you're in the Boston area and are in the market for awesome meat delivery, I highly recommend them. Their delivery area is pretty huge, not just Boston itself. You get grass-fed, pastured deliciousness sent right to your door. And let me tell you, their stuff is goooooood. If you're interested in trying them out, there's a space on the order form to indicate where you heard about them. Mention my name (Marissa Flabouris) and receive $10 off your first order! Aside from the high quality meats and delivery convenience, you can cancel at any time and start at any time (though depending when you'd want to sign up, you might have to wait until the following month; they sometimes fill up).
In my last delivery, I got a package of chorizo. I love this stuff, but have never really cooked with it and haven't purchased it in a long time because I try to stick to the fresh, natural, non-super-sodium-filled stuff. But once I saw this in my delivery, I got super excited! All natural ingredients = the best! I wish I had thought to take a picture of the ingredient list, but maybe I'll remember next time.
I asked some food friends what they like to make with chorizo and gave them a list of ingredients I already had on hand. Answers included stuffed peppers, stuffed mushrooms, and sauteed with potatoes, especially cooking the potatoes in the fat left from the chorizo. All recipes required removing the casings and grinding up the chorizo as it cooked.
And there you have how I got to making potatoes and chorizo. I went with simplicity and something I could have for breakfast, lunch, or dinner. Not that I'd ever say no to breakfast foods at dinner and dinner foods at breakfast, but I don't know, maybe you're weird about waffles for dinner or roast beef for breakfast. I won't judge.
If you're familiar with my skillet home fries recipe, you know that I start cooking the potatoes after peeling and chopping right in the cast iron skillet, with no pre-boiling beforehand. For this recipe, I go with the boiling method first. Mainly because I knew I'd have an amount that would crowd the pan a bit and this would help speed the process along.
I highly recommend eating this dish topped with a fried egg or two and hot sauce for an extra kick!
📖 Recipe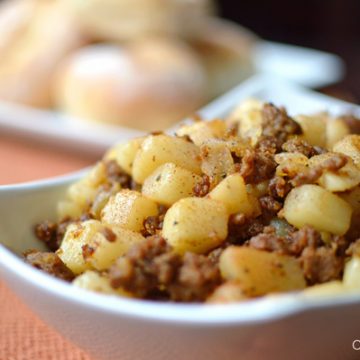 Ingredients
1

tablespoon

extra light olive oil

12

oz

chorizo

,

casings removed

1.5

lbs

red potatoes

,

peeled and diced into small, even chunks

1

cup

chopped sweet onion

1

teaspoon

kosher salt + more to taste

freshly ground black pepper

1

teaspoon

hot paprika
Instructions
Add potatoes to a medium sized pot and cover with enough water to submerge. Cover with a lid and cook on medium-high heat until it reaches a boiling point (this could take about 15 minutes or more). Lower the heat to medium and let cook for 3-5 minutes, until tender (the fork should pierce through the potato with light force; you don't want it to be mushy). Drain in a colander.

While waiting on the potatoes, start working on the chorizo!

Preheat olive oil in a large skillet over medium-high heat.

Crumble the chorizo into the pan. Saute the meat until browned and the fat has rendered; about 10 minutes.

Using a slotted spoon, transfer the meat over to a dish lined with paper towels to absorb extra oil; leave the rendered fat in the skillet.

Add the pre-boiled potatoes and onions to the skillet over medium-high heat and saute for about 15 minutes; until the potatoes are fully cooked. Season with 1 teaspoon kosher salt and stir to combine. Add the cooked chorizo back to the skillet and cook for an additional 2-3 minutes. Add paprika, freshly ground black pepper, and if necessary, more salt to taste.
Disclaimer: I did not receive sponsorship from any of the products listed here.  All opinions are my own and I pay monthly for my deliveries from Walden Local Meat. The Amazon links are affiliate links, which means I may earn a small commission if you make a purchase through them.