A delicious and simple Greek stew, hoirino me selino is the perfect comfort food on a cold winter's day.  It's made with braised pork and celery and finished with an egg-lemon sauce. Serve with crusty bread!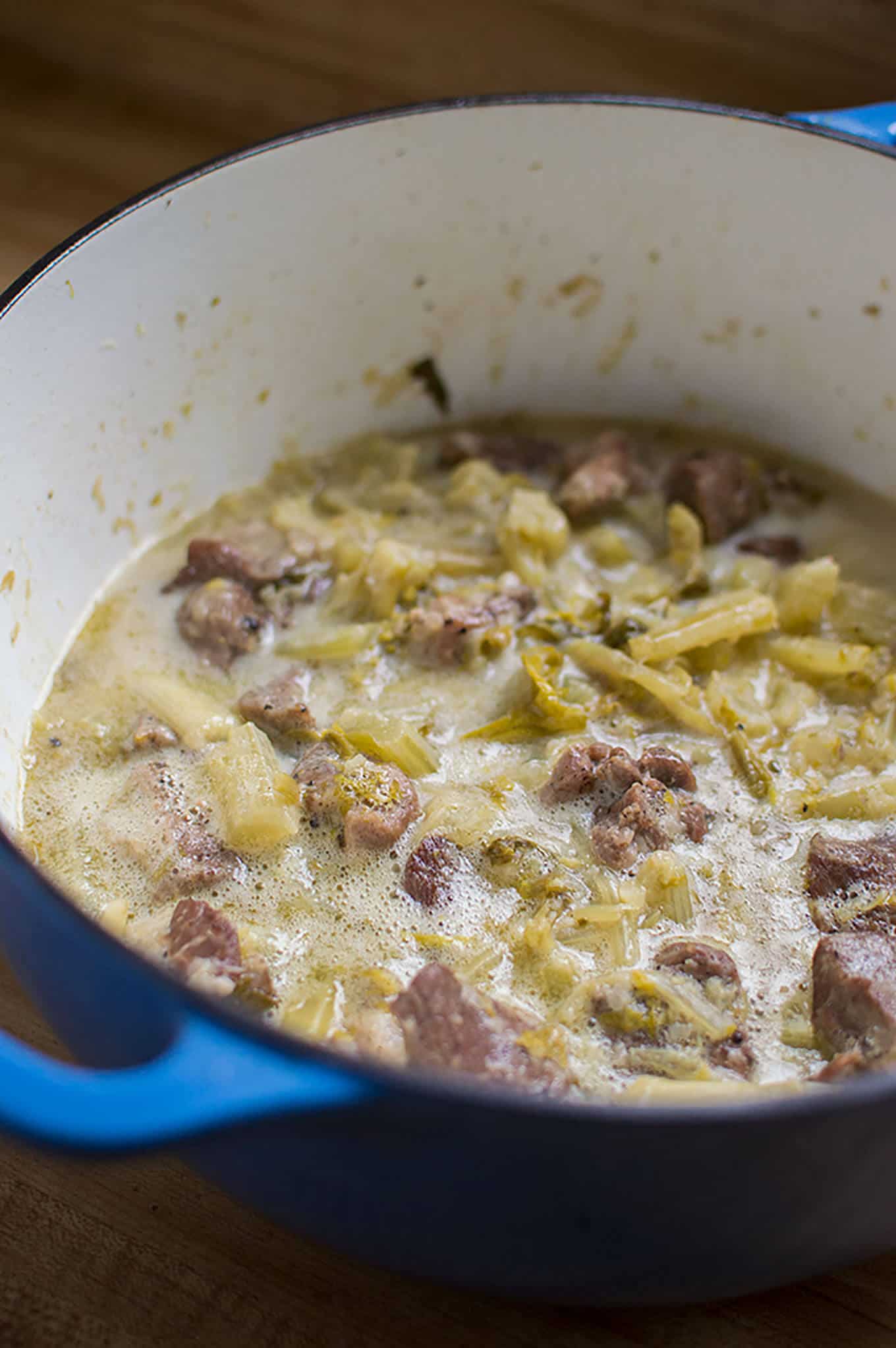 What up, you beautiful people! It's time to get your Greek on.
Today, we are talking about one of my favorite winter meals and it's called hoirino me selino avgolemono (hee-ree-NOH meh SEH-lee-noh av-gho-LEH-moh-noh). Here's your quick Greek lesson first:
χοιρινό (hoirino) = pork
με (me) = with
σέλινο (selino) = celery
αυγολέμονο (avgolemono) = egg-lemon
Yay, you learned new words! Give yourself a clap. If you already know Greek, applaud yourself anyway! Because why not.
Hoirino me selino avgolemono is usually just referred to as hoirino me selino - because it's nice to keep things easy. Alternately, you can go with the English translation which could either be "pork with celery" for the literal translation or the more commonly used "pork and celery."
It's all the same, friends. Also, it's delicious!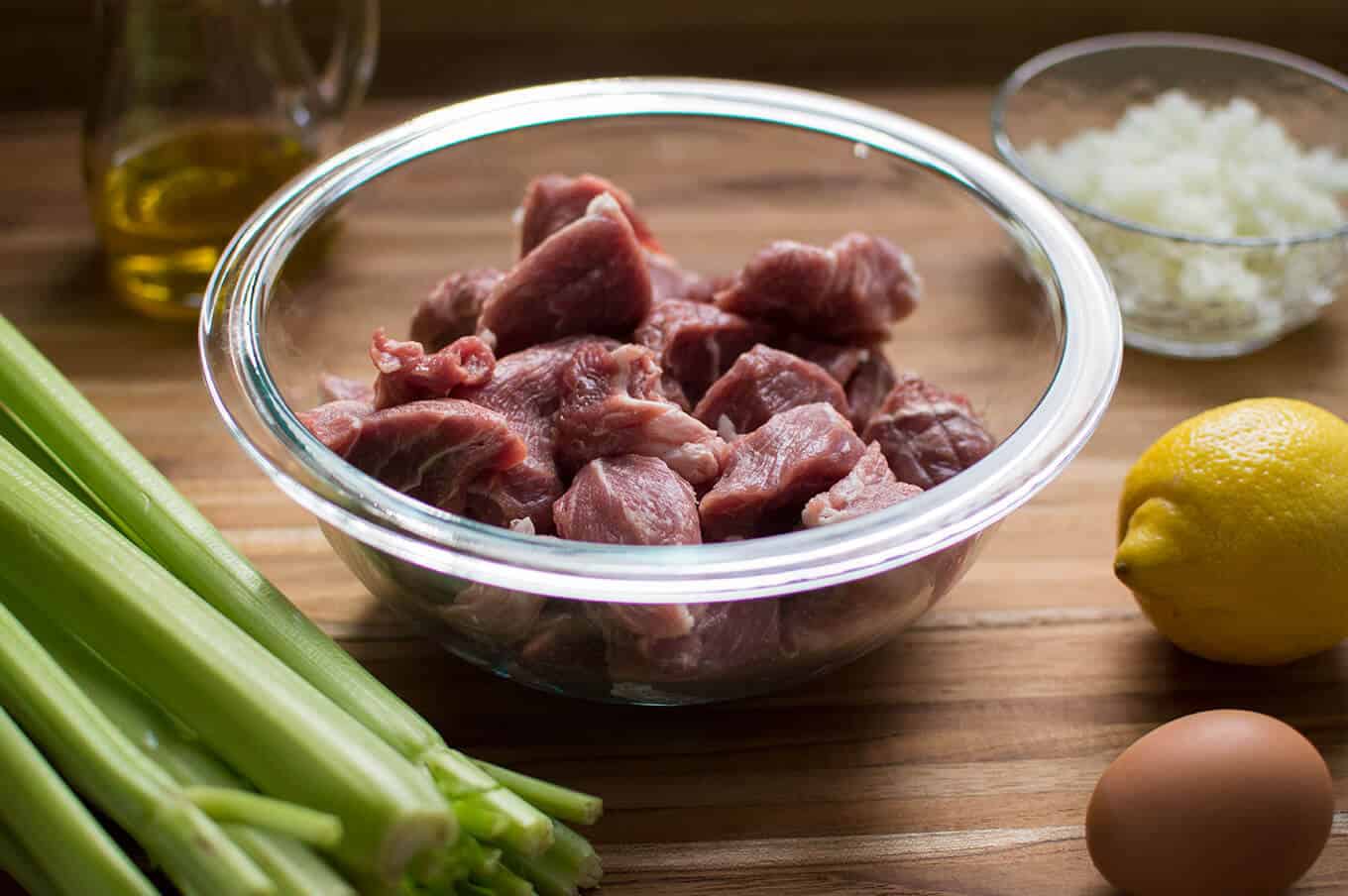 Growing up at home, this is a stew my dad would make a few times every fall and winter and it was so, so good. If you've never had a meal like hoirino me selino, you are in for an awesome treat. The egg-lemon, pork, and celery all complement each other really well. And it's so warming and full of noms.
Calling my dad up for the recipe was a bit funny because of the way he explains things. After living in this country for a little over 40 years, I'd say my dad speaks English really well. He learned to speak it just by working and being around people. Every so often, he might not know a certain word or will have a hard time saying it.
Fun fact: he pronounces "tongs" as "thongs."
What makes his explanations shine though, is his thick Greek accent. And one of my favorite things he does is the way he measures out oils for cooking. A "glug-glug" or a "couple of glug-glugs."
I would say that's his equivalent to "add a little bit of this." Good story, right?
If you knew my dad, you'd get a giggle out of it too, I think. It's all about his delivery. He's basically a big kid. I think I take after him in that sense. 😀
Now, let's get down to tasty business!
Tips on Making Hoirino me Selino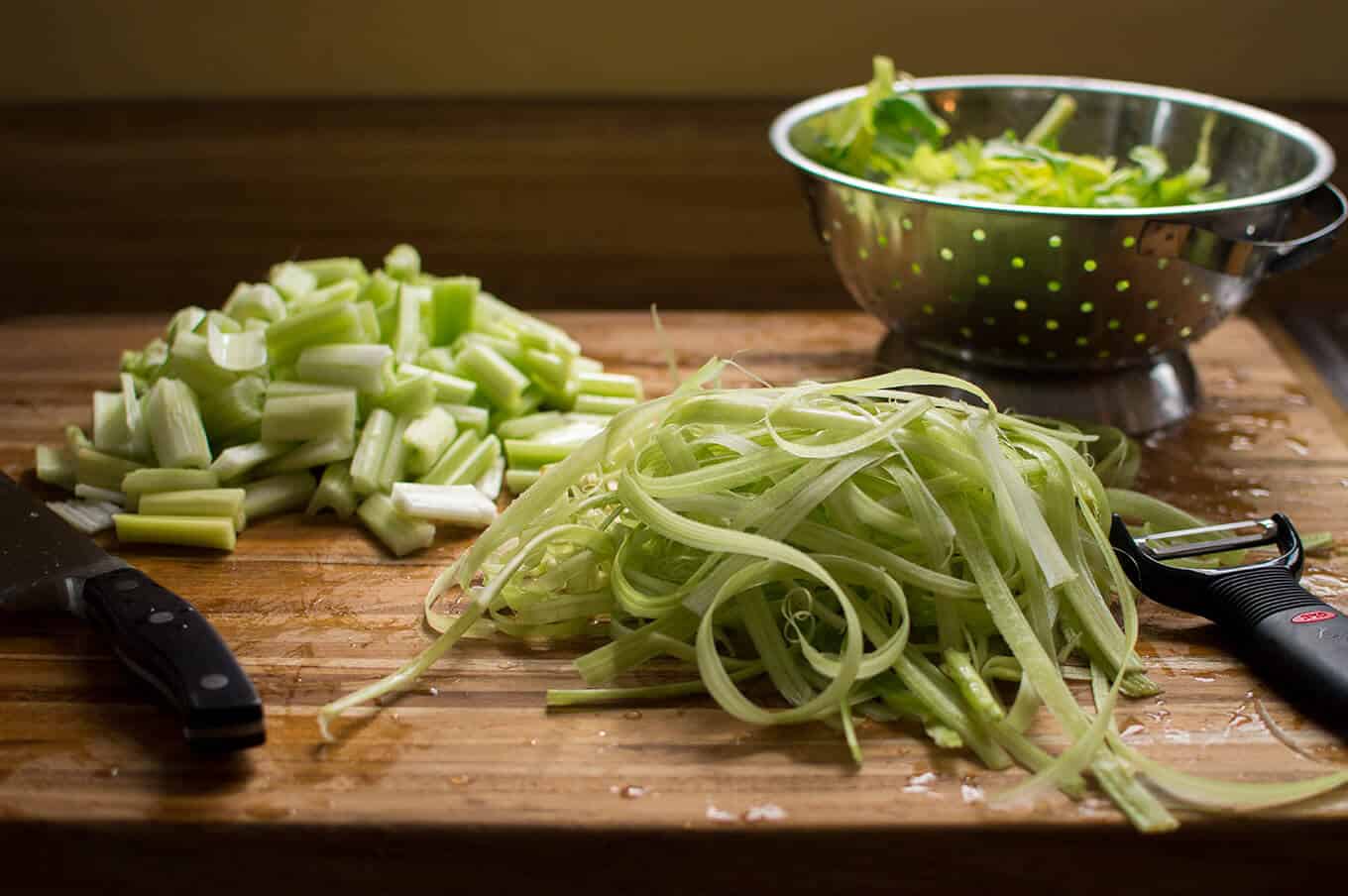 Celery Shopping and Prepping Fun
The kind of celery we're used to in the United States is of the pascal variety, which is not the same celery you'll find in Greece. Over there, the celery is more "leafy" and has thinner stalks. It also has a stronger "celery" flavor.
Some differences using pascal include a milder tasting celery and thick stalks. Unless you live outside of the United States, you'll more than likely be cooking with pascal celery!
When it comes to buying the celery, try to find a bunch or two with lots of leaves because they're edible and used in this dish. Don't buy the plastic-wrapped celery hearts. You'll spend more money and end up missing out on half of the good stuff for this tasty pork and celery. 🙂
Also, if it's in your budget, try and buy organic celery. Conventional celery holds a high amount of pesticide residue (it's ranked at number five of the dirty dozen).
When it comes to prepping the celery, rinse it very well and pat it dry. Separate the leaves and stalks and roughly chop up the leaves. Peel the stalks using a vegetable peeler and slice any thicker stalks in half lengthwise. Then, slice them into 1 ½-inch pieces.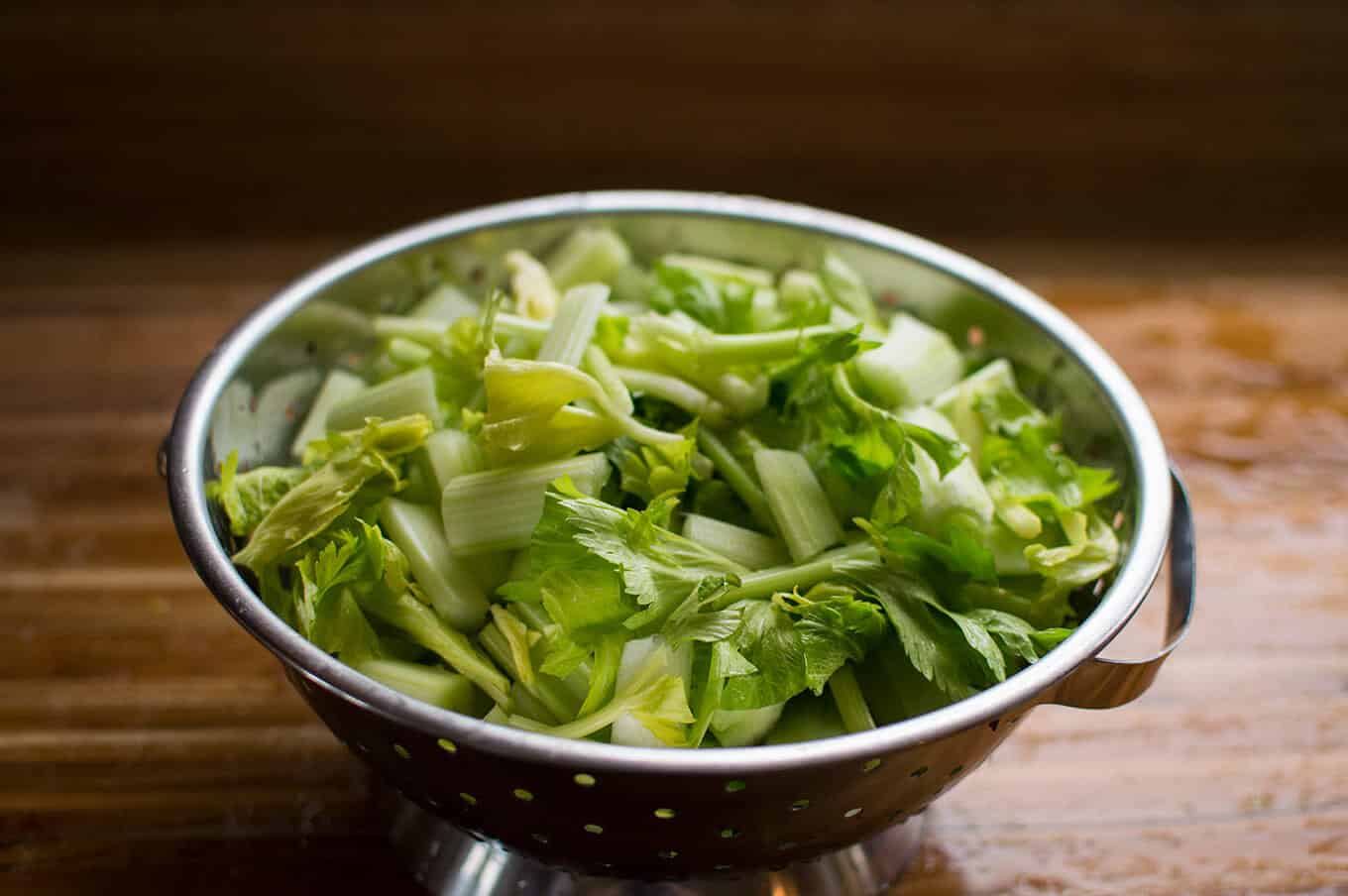 You might feel tempted to skip the peeling of the celery, but don't do it! Not peeling the celery means having stringy pieces of it in your stew and I promise you don't want that. Peeled celery = happy pork and celery deliciousness.
Buying and Prepping the Pork
A pork butt works awesome with this recipe. Trim off any excess fat and cut it up into cubes. Easy peasy.
Something else that's also awesome in this recipe: pork neck bones. I left them as an optional ingredient because not all markets seem to have them, which is pretty dumb. They are inexpensive and add lots of flavor. They don't have much meat in them, though. The good thing is they will braise for over an hour and a half, releasing deliciousness into your pork and celery stew.
And if you don't mind being a slob at the dinner table, you can eat them like you would some ribs. Sucking the meat right out of the bones! Aww, yiss.
Seriously, if you're able to get your hands on neck bones, use them!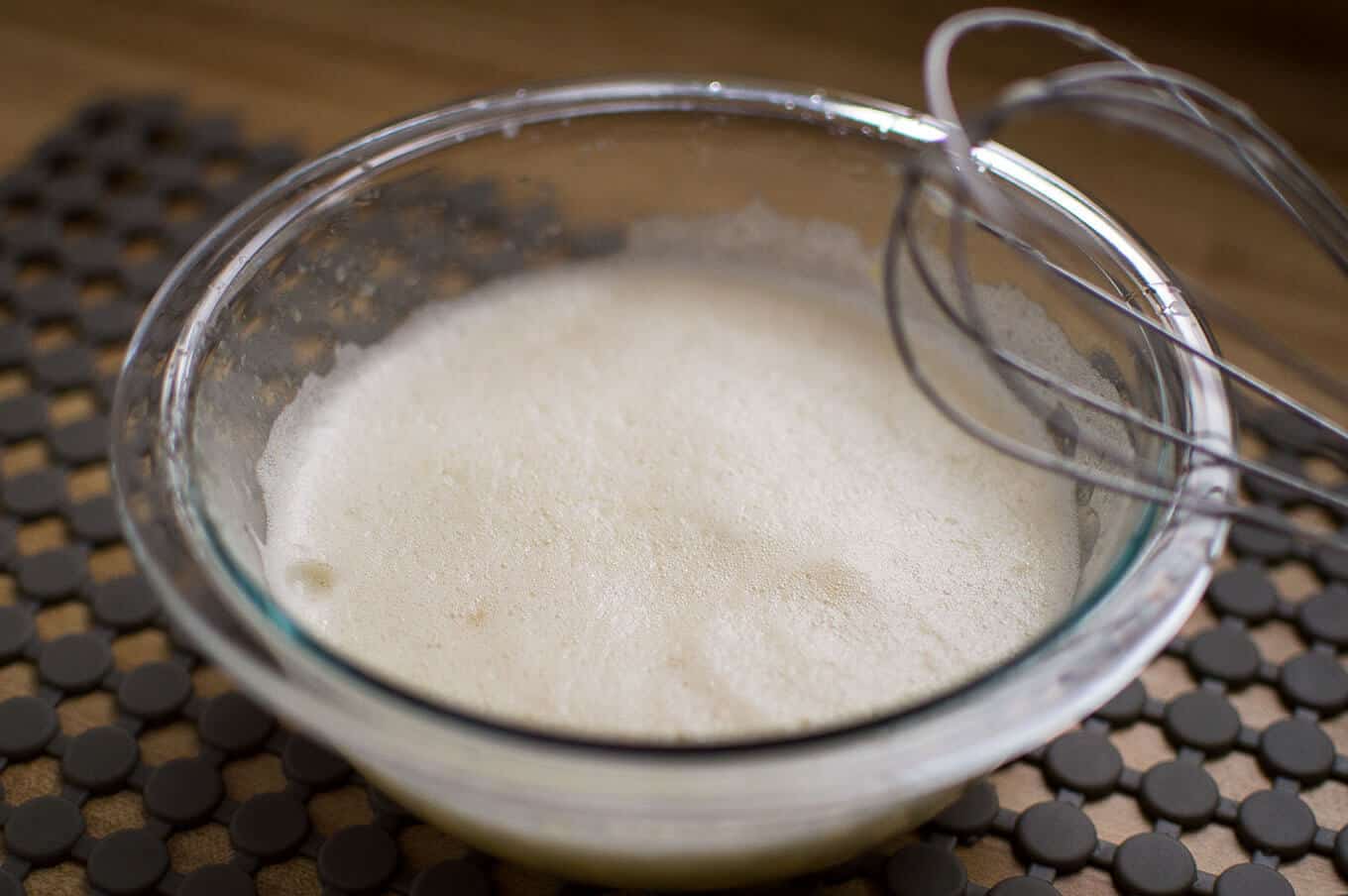 Preparing for the Avgolemono
When you take out your ingredients to prep the stew, take out the egg too. Even though you won't be needing it until the very end of the cooking process, it's best to let it come to room temperature.
Allowing the egg to come to room temperature will allow it to combine easier when you're whisking it. And we like to keep things easy, right?
When the stew is ready, you'll ladle out about a cup of the broth. Then, you'll whisk the egg in a small mixing bowl. After whisking it up really well, you'll continue to whisk while slowly streaming the hot broth into the egg. If you do this too quickly, you'll end up scrambling the egg instead of tempering it. That's no bueno.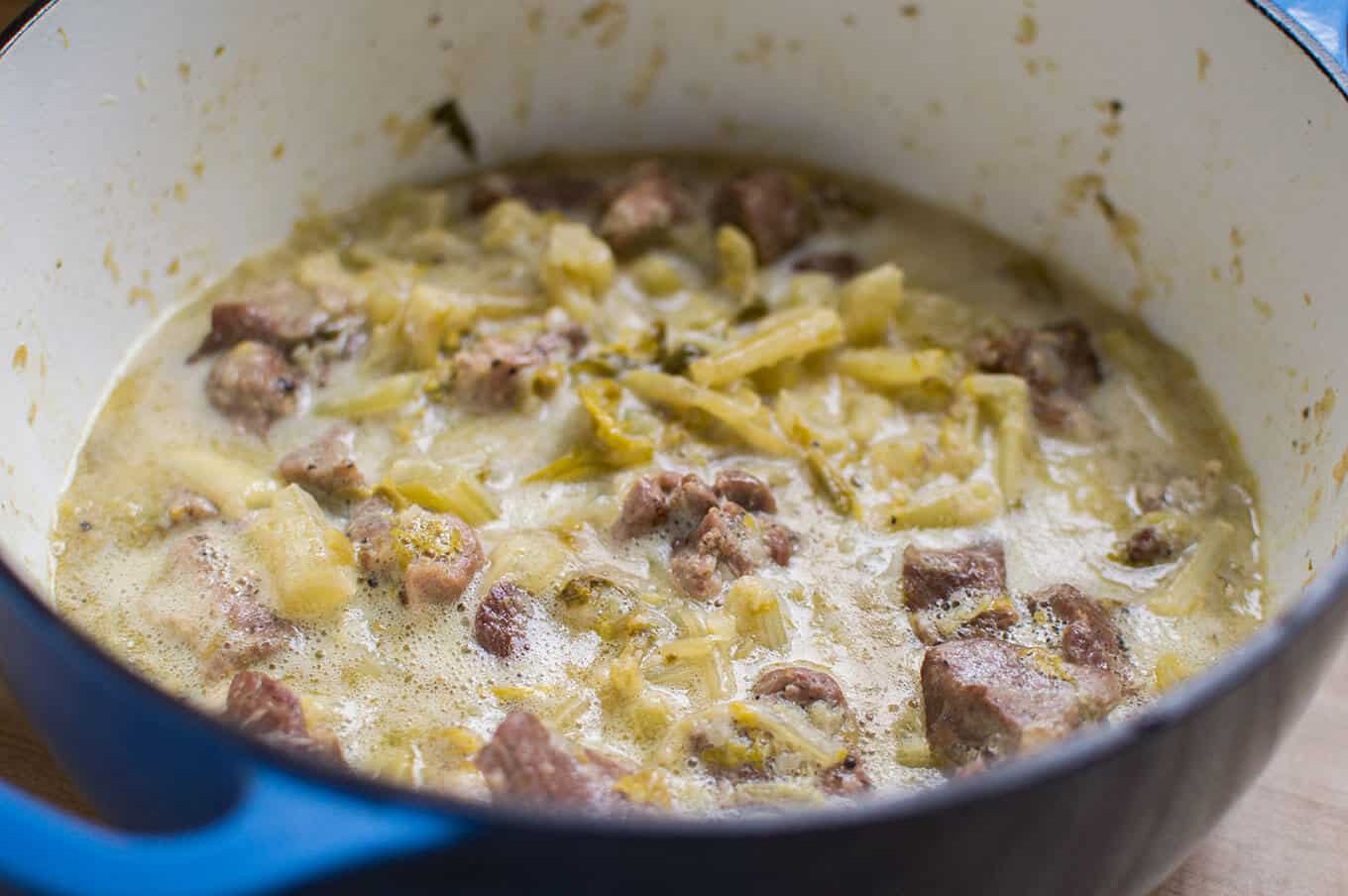 When you're done whisking, you'll end up with a thick, frothy sauce and you'll add it to your stew. After letting it sit for a few minutes, the stew will thicken. And it will smell amazing.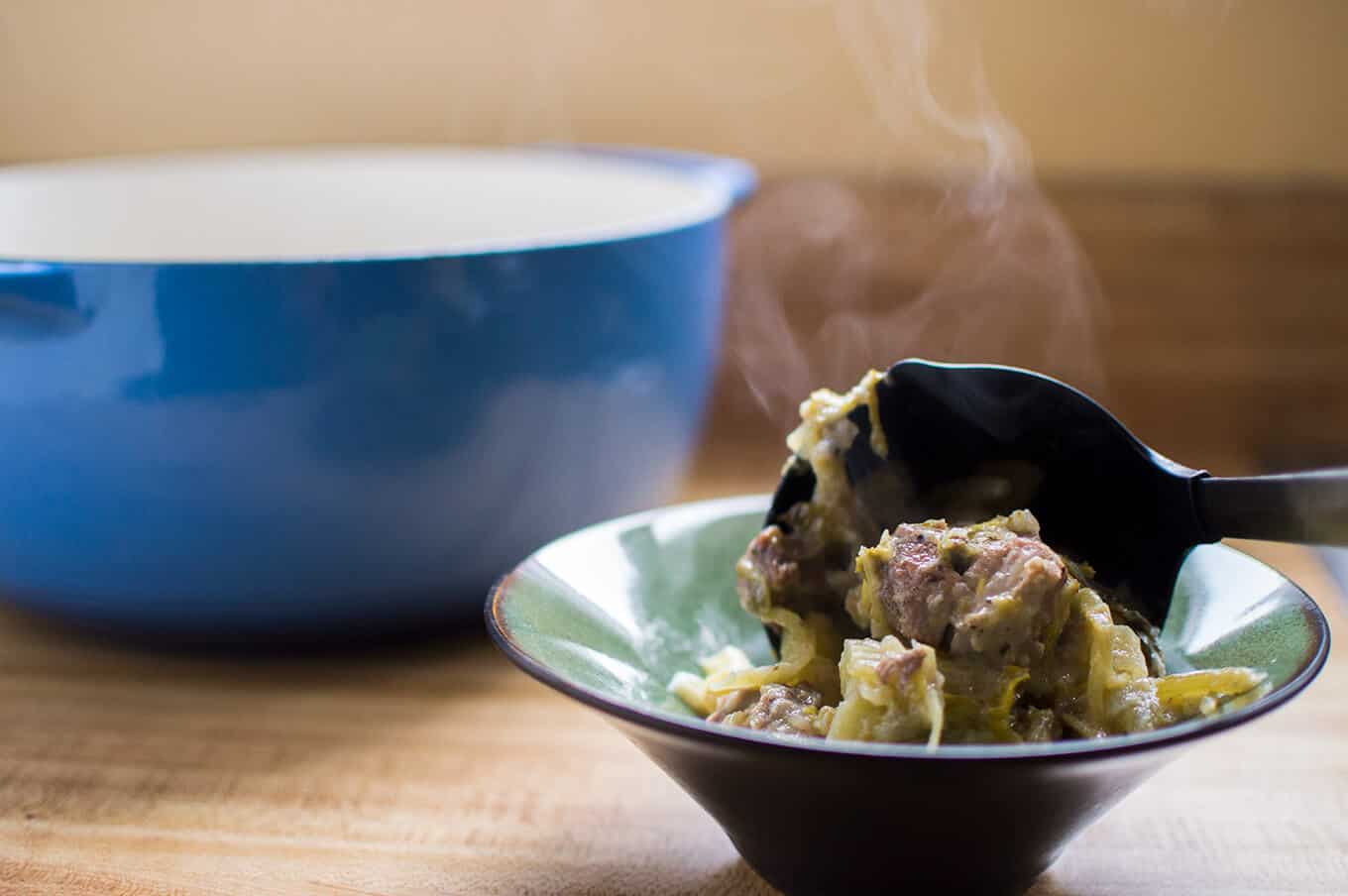 And then you'll ladle it into bowls to serve immediately and you will serve it with delicious crusty bread. And you will love it.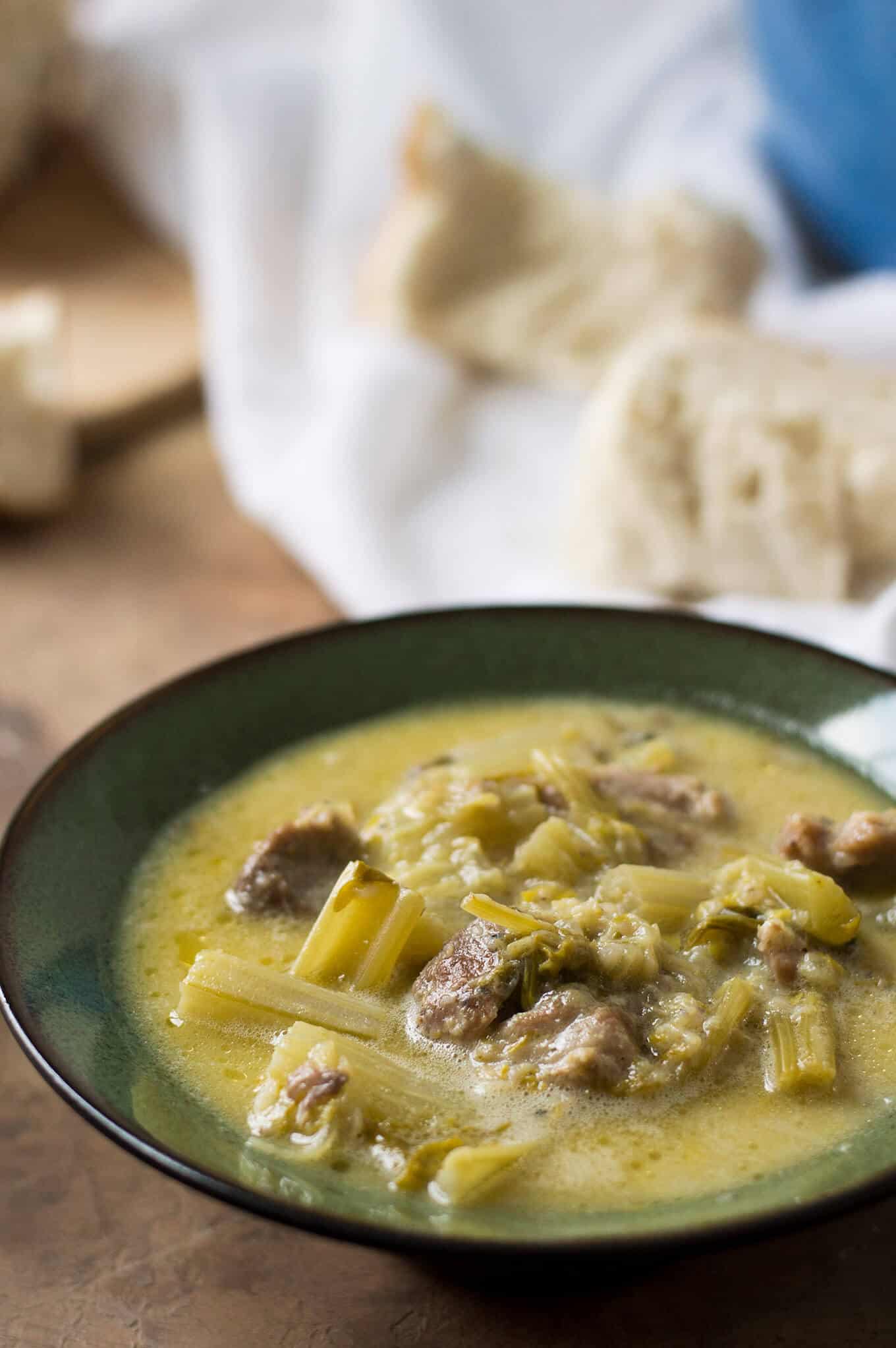 Kitchen Tools Used:
Chef's Knife
Colander
Balloon Whisk
📖 Recipe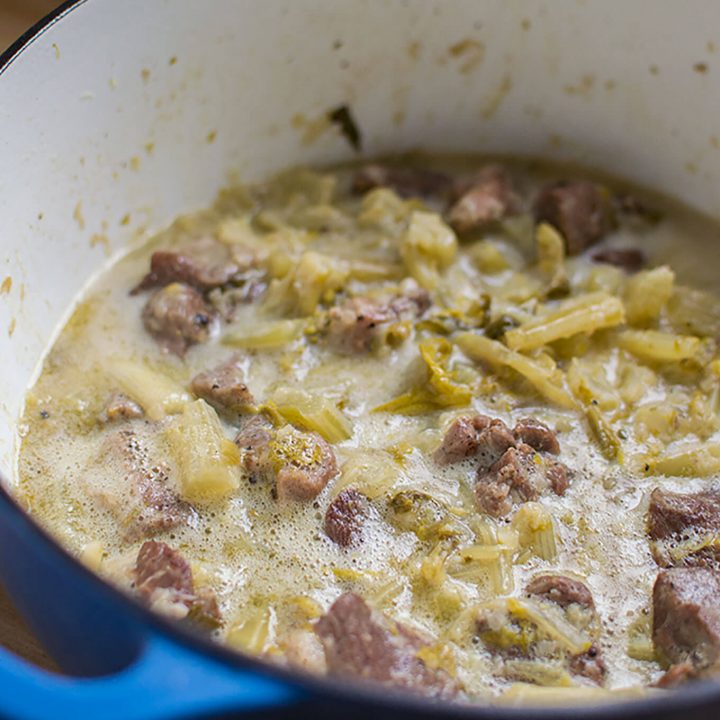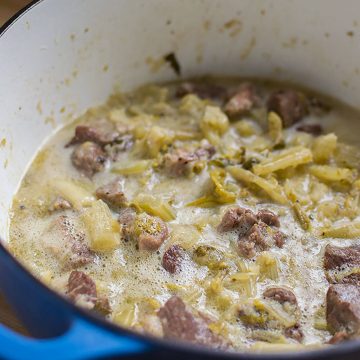 Ingredients
¼

cup

extra virgin olive oil

2

pounds

pork butt

½ - ¾

pound

pork neck bones

,

optional

1 ½ - 1 ¾

pounds

celery stalks and leaves

1

small onion

1

small leek

,

rinsed and patted dry

1

teaspoon

kosher salt

freshly ground black pepper

water*

1

egg

,

brought to room temperature*

1

lemon
Instructions
Rinse the celery stalks and leaves and pat dry. Peel the stalks (I highly recommend not skipping this step; you'll end up with stringy celery otherwise).

Cut the celery into 1 ½-inch pieces and roughly chop the leaves. Cut any thicker stalks of celery lengthwise. Set aside.

Grate or finely chop the small onion. Finely chop the leek. Set them both aside together.

Trim excess fat from the pork butt and cut into 1 ½-inch cubes. Season with salt and pepper.

Preheat olive oil in a 6-quart pot or dutch oven over medium heat. You want the oil to get hot, but not smoking. Add the pork and bones in batches and let brown, undisturbed, for 3 minutes per side. Set aside in a medium bowl.

Add onions and leeks to the dutch oven and let cook five to seven minutes, until softened. Stir occasionally.

Add the pork back to the pot and mix with the onions and leeks. Add enough water to barely cover the meat. Let come to a boil.

Reduce to a simmer and add in the celery. Cover with a lid, leaving a slight opening between the lid and dutch oven.

Cook for 1 ½ - 2 hours, stirring occasionally. The pork will be tender and the celery will be soft. Remove from heat.

Immediately ladle out ¾ - 1 cup of broth into a heatproof measuring cup.

Crack the egg into a small or medium sized bowl and squeeze in the juice of one lemon. Whisk until frothy. Continue to whisk and very slowly add in the hot broth to temper the egg.*

Add the frothy broth back to the pot and stir it in. Let rest for five minutes to thicken.

Taste and adjust seasoning by adding more salt and pepper if necessary. Remove neck bones if you'd like.*

Serve with crusty bread and enjoy!
Notes
Note 1: You'll need enough water to barely cover the meat, roughly 1 ½ - 2 cups. You won't need anymore than that as the celery will also release some liquid. Note 2: At the start of cooking, take the egg out of the refrigerator to allow it to come to room temperature before making the egg-lemon sauce. Note 3: It's important to slowly add the hot broth to the egg for it to temper correctly. Rushing the pour or immediately combining the two will scramble the eggs instead of tempering them and that's bad news bears. Note 4: Pork neck bones have a lot of flavor, though they don't have a lot of meat. If you don't mind being a messy eater, serve the bones with the stew and eat them like you would some ribs. 🙂
Disclaimer: This post may contain affiliate links, which means I make a small commission if you make a purchase through them. By purchasing through these links, you are helping support this site at no extra cost to you! I only recommend items and services I personally use and love.