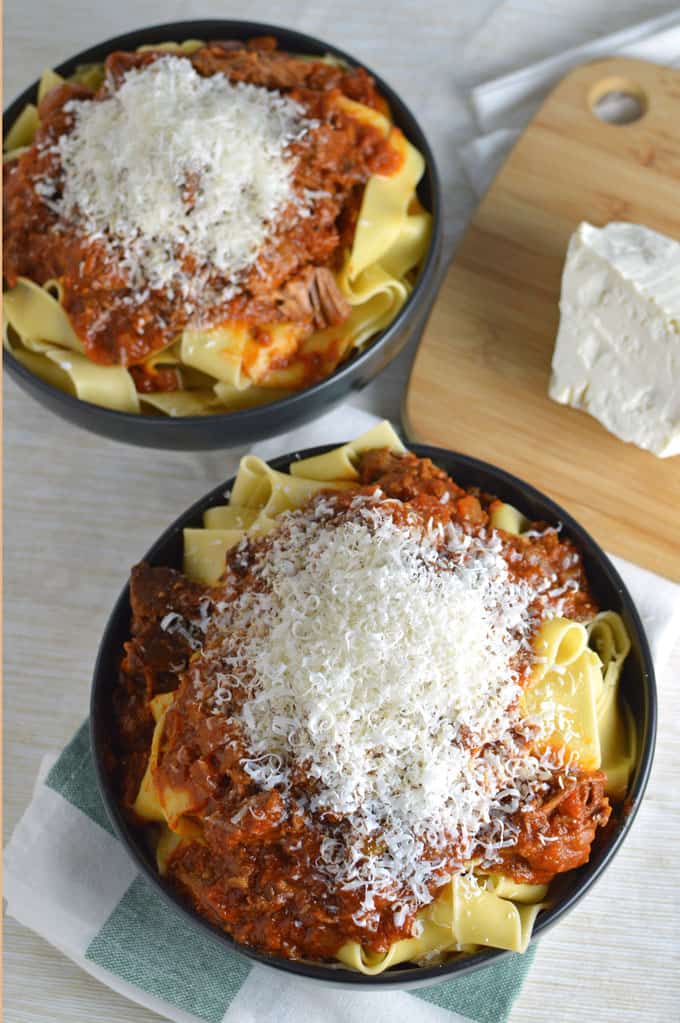 ¡Hola! No wait. Yia sas! Actually, we'll go with both.
I just came back from Cancun and I got really used to greeting everyone with "hola" while I was there. Also, I was referred to as señorita a lot. The whole package was really nice and I'd like to go back like, um, now.
I plan to write a whole post of my trip and what I did there, which will be up either this week or next, but you can get a recap by checking out my instagram, where I shared some photos! Long story short: I went for a food blogger conference called Food Blog University and it was amazing. Just. Amazing.
But we'll save all the good stuff related to the trip for the upcoming post. Today, I'd like to welcome you back to my Greek kitchen! We're talking about lamb ragù. Delicious, slowly braised lamb seasoned with cinnamon and red wine and served over tasty pappardelle and topped with one of my favorite cheeses: mizithra.
I am so hungry after typing that sentence out.
I actually made this a couple weeks ago and wanted to share it with you sooner! My plan was to write the post out at the start of my trip, but I broke my phone at the airport just before leaving Boston (whoops). And for some reason, my chromebook decided it wanted to log me out of Google and have me log back in using two-step verification...which required me to use my phone. Hilarious, right!?
I at least had my iPad for the instagramming and such. A new phone is en route as I type this. It's all good.
Anyway, enough of that. I'm going to give you two reasons why you should make this lamb ragù:
Because it's delicious. Like super tasty.
It's really easy. You just need a little bit of patience as it needs to cook slowly over the stove for about an hour and a half.
The hands-on time isn't very long. You need a lamb leg and you want to trim off the excess fat and season it with cinnamon, salt, and black pepper. You can then marinate it in the fridge for a while; maybe thirty minutes and up to two hours, which is what I always like to do, but if you're too excited and want to eat this meal as soon as you can, skipping the marinating part is fine.
While this is easy to make, it's very important you follow this rule: You gotta sear the meat and you will probably have to do it in batches. This is something you may already know, but in the off-chance you don't know that, do not skip that step. Searing will help build up flavor and you want to do it in batches because if you overcrowd the pan, the meat will not sear. It will just steam instead because it won't have room to breathe. No good.
So always sear, have patience, and you'll have a damn good ragù.
Seriously, if you're in need of a simple and tasty warm-you-up kind of meal, this is for you. It's not great for a weeknight after coming home from work due to the longer cooking time, but it is great for a weekend meal. You can invite a couple friends over and enjoy it with them! Alternately, you can make it on a Sunday to have as a lunch/dinner option for a couple days the following week. I love cooking up meals in advance. It can be such a huge time-saver when you're having a busy week. You know what I mean?
Enough chit-chat though. Go make this lamb ragù and let me know what you think!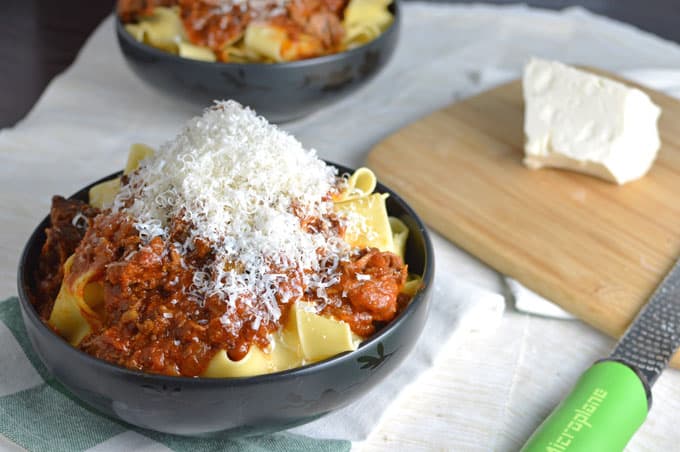 Kitchen Tools Used: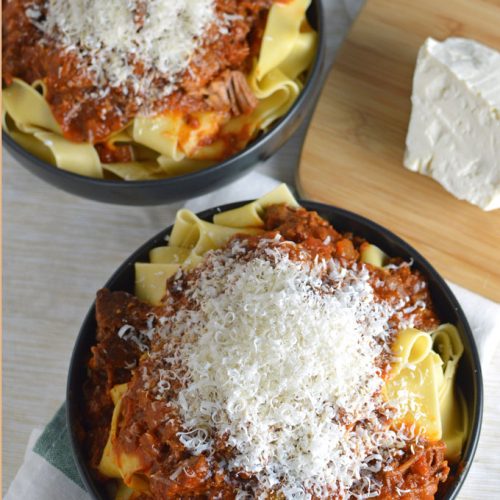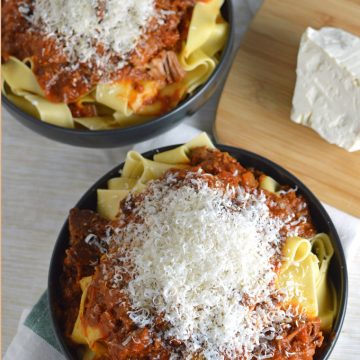 Ingredients
2

pounds

lamb leg

½

teaspoon

ground cinnamon

2

teaspoons

kosher salt

,

divided

freshly ground black pepper

2

tablespoons

olive oil

2

tablespoons

butter

1

large sweet onion

,

chopped

4-5

garlic cloves

,

minced

¼

cup

tomato paste

½

cup

dry red wine

2

cups

crushed tomatoes

1

bay leaf

1

cinnamon stick

16

ounces

pappardelle pasta

freshly grated mizithra cheese
Instructions
Trim the lamb leg of excess fat and cut into 1 ½ inch cubes. Place in a medium sized bowl.

Combine 1 teaspoon salt, ground cinnamon, and ground pepper and coat the lamb evenly with the spice mixture (Optional step: Let marinate for 30 minutes).

Preheat a 6 quart pot or dutch oven over medium-high heat. Add olive oil and butter and let the butter melt. Add lamb cubes to the hot oil and let sear undisturbed for 2 minutes per side. You don't want to overcrowd the pan or let the cubes touch each other, so it's best to do this in batches. Set the meat aside.

Add chopped onion and saute for five minutes, until they have become soft and translucent.

Lower the heat to medium, add the garlic, and cook for an additional minute, until fragrant.

Add the tomato paste and cook for two minutes, stirring often.

Add wine and stir well to combine with the onion mixture. Be sure to scrape the bottom of the pan. Deglazing is your friend.

Let the wine come to a boil for one minute.

Add the lamb back in with crushed tomatoes, bay leaf, a cinnamon stick, and remaining teaspoon of salt. Let come to a boil, then reduce the heat to low.

Cover and simmer for one and a half hours.

When the ragù is almost ready, prepare the pappardelle according to package directions.

Remove ragù from heat, take out the bay leaf and cinnamon stick, and use two forks to shred the lamb.

Plate your pappardelle, top with the lamb ragù, and generously top with freshly grated mizithra cheese.
Nutrition
Calories:
590
kcal
|
Carbohydrates:
67
g
|
Protein:
35
g
|
Fat:
19
g
|
Saturated Fat:
7
g
|
Polyunsaturated Fat:
2
g
|
Monounsaturated Fat:
8
g
|
Trans Fat:
0.2
g
|
Cholesterol:
143
mg
|
Sodium:
1239
mg
|
Potassium:
864
mg
|
Fiber:
5
g
|
Sugar:
7
g
|
Vitamin A:
589
IU
|
Vitamin C:
12
mg
|
Calcium:
164
mg
|
Iron:
5
mg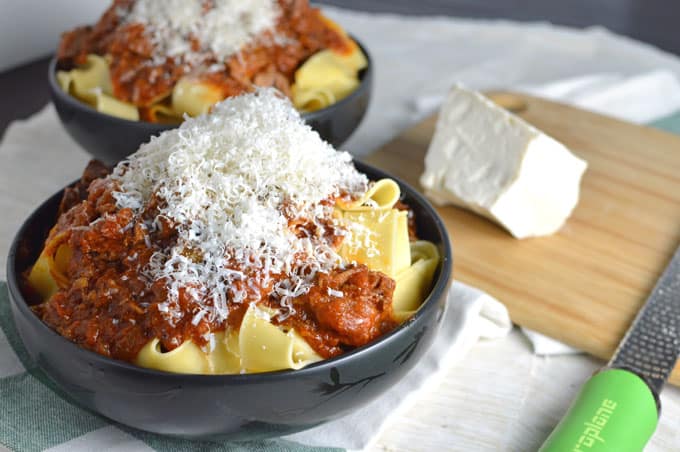 Disclaimer: This post may contain Amazon affiliate links, which means I make a small commission if you make a purchase through them. By purchasing through these links, you are helping support this site! I only recommend items I personally own and love.