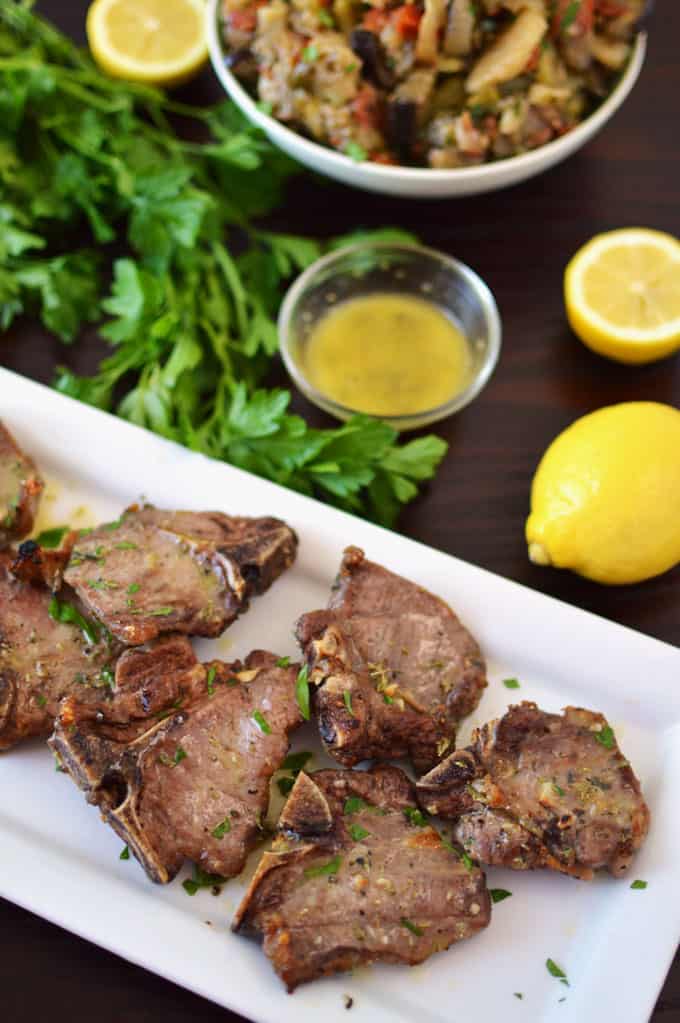 Jason doesn't like lamb.
There are a few things he doesn't eat, like most seafood (he'll sometimes eat light fish, but that's about it), pork, most meat on bones (seriously, wtf), and lamb. He will at least attempt to break away from his picky habits depending on the food - he ate calamari the other night and didn't completely hate it and he ate chicken wings. Meat on bones. Jason. OMG. Okay, I'm done, but anyway - don't ever expect him to touch pork. That will never ever happen. Unless you maybe offered him a lot of money to.
He will sometimes eat lamb "if he has to," but I think he'd have to be desperate. When I first met the dude way back before dating him was even a thought, he was a vegetarian, so he's come a long way since then. Every time I make lamb now, I try to shove it in his face, but he won't do it. And I just want to yell, "DON'T YOU KNOW WHAT YOU'RE MISSING?"
I came this close to doing that the other day when I made the recipe I'm sharing with you today, which is lamb loin chops with ladolemono! I mean, I was asking a lot of the guy. Not only was I trying to make him eat tasty lamb, but the chops have bones, so I was really reaching there. The good thing is there's more for me! Or I can share with friends instead. 🙂
Ladolemono (pronounced "LAH-tho-LEH-moh-noh) is a Greek dressing simply made with extra virgin olive oil and lemon juice and you whisk them together. You can add other ingredients to kick up the flavor (I add salt, pepper, Greek oregano, and dijon mustard, yum!) or if you're in a hurry, the olive oil and lemon juice is all you need. For a super literal translation that doesn't quite make sense, ladolemono is oillemon; "lado" = "ladi" = oil and "lemono" = "lemoni" = lemon. Yay, Greek lessons!
Usually, ladolemono is poured over fish and it can also be used as a vinaigrette over salad, but it also tastes good over some meat - like lamb or chicken! I love broiling lamb when I'm either too lazy to grill or if it's too cold outside for it and cook them about three minutes per side for medium to medium rare (lamb loin chops are smaller than other chops, so they cook quickly).
Outside of the ladolemono, there's also a quick marinade for the lamb itself, which is simply a lighter olive oil, salt, pepper, and fresh garlic. I usually marinade it for about thirty minutes, but you could marinate them the night before or the morning of, making the actual cooking process even quicker to get to when you're about ready to eat at dinner time. 🙂
Serve these lamb loin chops with ladolemono over simple greens, like baby spinach, for a super quick meal or pair it with some maroulosalata and/or tourlou tourlou! Healthy and tasty all around! Aww, yeah.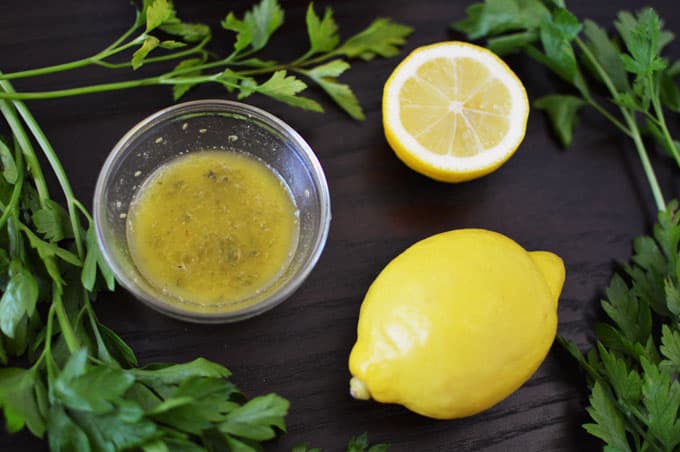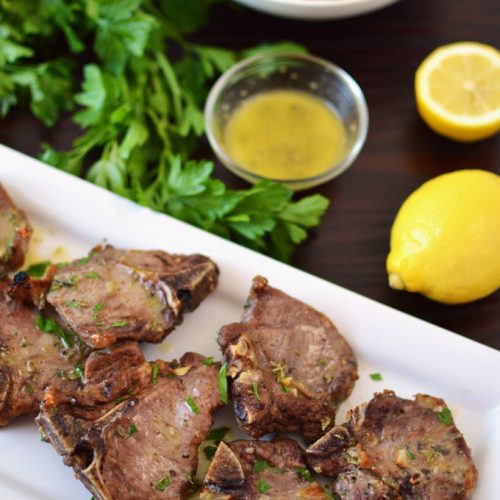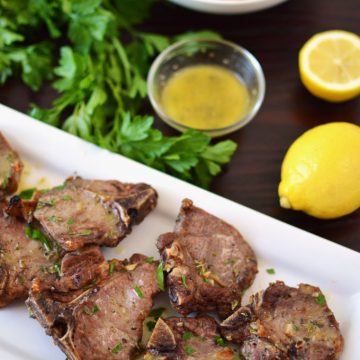 Ingredients
Marinade
2

tablespoons

olive oil

,

not extra virgin

1-2

garlic cloves

,

minced

½

teaspoon

kosher salt

freshly ground black pepper

2 ½

pounds

lamb loin chops
Ladolemono
two tablespoons extra virgin olive oil

juice from one lemon

1

teaspoon

dried Greek oregano

¼

teaspoon

kosher salt

freshly ground black pepper

1

teaspoon

dijon mustard

,

optional
Instructions
In a non-reactive bowl, whisk together the marinade ingredients.

Add the lamb and coat with the marinade. Cover and refrigerate for at least 25-30 minutes.

Preheat the broiler on high.

Add the loin chops to a broiler pan and discard the marinade.

Broil the chops three minutes per side. Remove from heat, move them to a plate and cover with foil. Let rest for five minutes.

While the lamb is resting, make the ladolemono.

In a small bowl, add the olive oil, lemon juice, oregano, salt, pepper, and dijon mustard.

Whisk well to create a frothy vinaigrette.

Pour over lamb and serve!