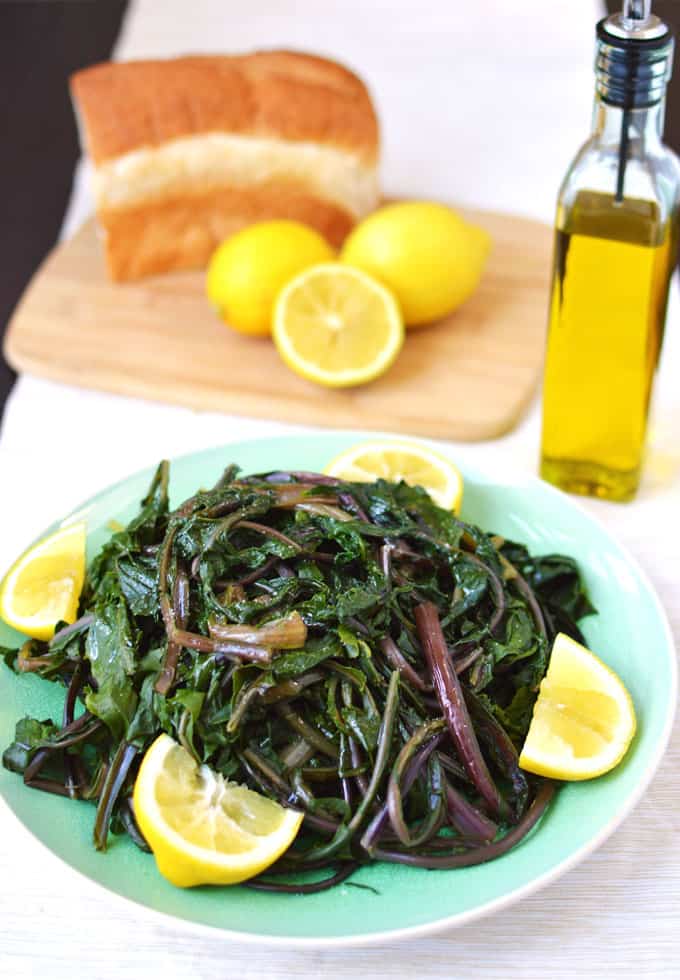 Okay, guys. I have a confession to make. I'm slowly re-branding my blog.
I don't know; does that really make it a confession? A little dramatic, maybe? Either way, tiny changes are happening and I'm excited!
First: the bigger change: I'm going to start focusing more on Mediterranean food, especially the Greek stuff! I'll still share recipes outside of that because really, I love all food (duh), but I can't deny how passionate I am towards Mediterranean cuisine. Being a first generation American, I grew up in a typical old school Greek household and had a strong connection with the food and culture. So while you'll see recipes like homemade marshmallow sauce and bacon and egg lo mein from time to time, you'll be seeing a lot more Greek food and such, like this psari plaki! I hope you're hungry. I know I am.
Also, I'm also slowly updating my about page. I recently added new, goofy photos and I've edited the first half of the page with new content. It's not finished just yet, but I wanted to at least get a start on it and give a little more info about who I am outside of just loving food.
As for more changes? There are a couple more, but I'll talk about them as they happen down the road. We have important food things to discuss! Moving on.
Today's recipe is horta vrasta (HOR-tah vra-STAH), which means "boiled greens" in Greek. You can use different leafy greens like dandelions or chard, but the more popular choice in Greek cooking (and maybe even traditional) would be dandelions, or radikia, if you want to refer to them by their Greek name! These tasty greens are flavored simply with salt, lemon juice, and extra virgin olive oil. The higher quality olive oil you are using, the better!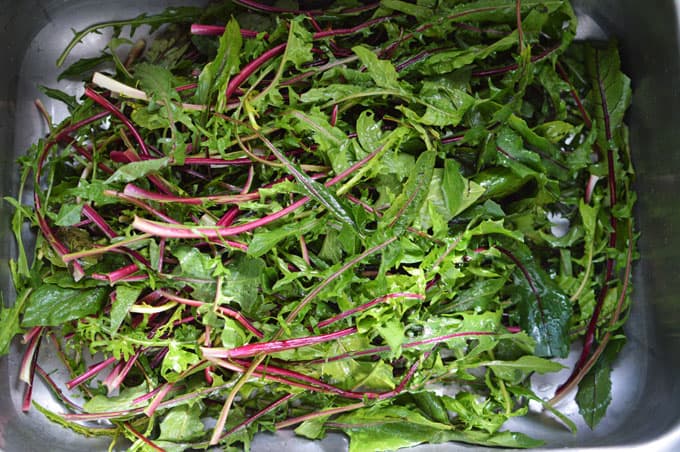 Horta vrasta is very easy to make as it involves few ingredients. The most work you really have to do is clean the greens because they will be full of sand when you buy them from the store. You can do this a couple of ways. You can follow the Papa Flabouris route and wash them well in your kitchen sink, but make sure to "wash the sink very good before you put the horta in there because that sink is dirty from your dishes." He reminds me of that almost every time we speak. 🙂 Alternately, you can use a giant bowl and rins in there. I find the sink route to be a lot easier. There's a high chance you'll be buying the dandelions with the roots, so trim them off and rinse those greens well!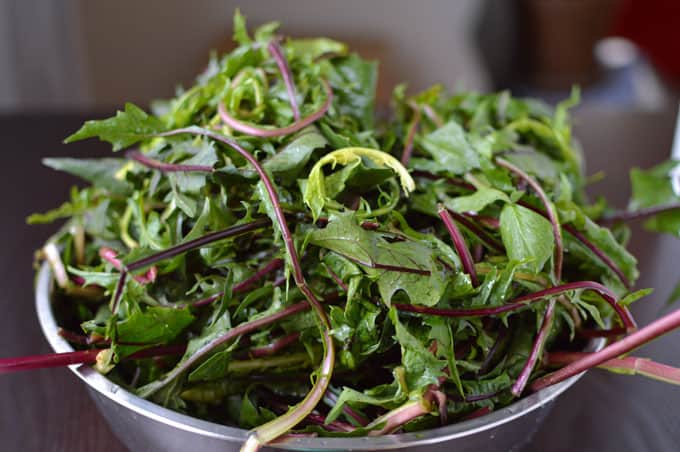 Boiling the greens helps remove the bitterness and they take about 15-20 minutes to cook, depending. The best way to know if they are done is checking the thicker part of the stems with a fork. If they fold over your fork easily and feel tender, they are done! Be careful not to over-boil them because you don't want mushy greens!
Horta vrasta is a great side for fried or grilled fish, though I will just eat them alone a lot of the time because I just love this stuff. I always wanted to have it when my parents made it growing up. I was a weird kid.
After boiling, strain the greens and if you want, you can reserve the water to drink as a "dandelion tea." It's not something I ever did, but my grandparents and mom always drank it because it's "good for you." I found that to be gross when I was a kid, though I should try it as an adult and see how I feel about it now.
I prefer to eat this at room temperature and usually store in the fridge after straining; saving the dressing part just before serving. I highly recommend you use a good quality olive oil for this and make sure it's extra virgin! You can play with the lemon juice/olive oil ratio to taste, but don't worry about skimping out on that salt. 🙂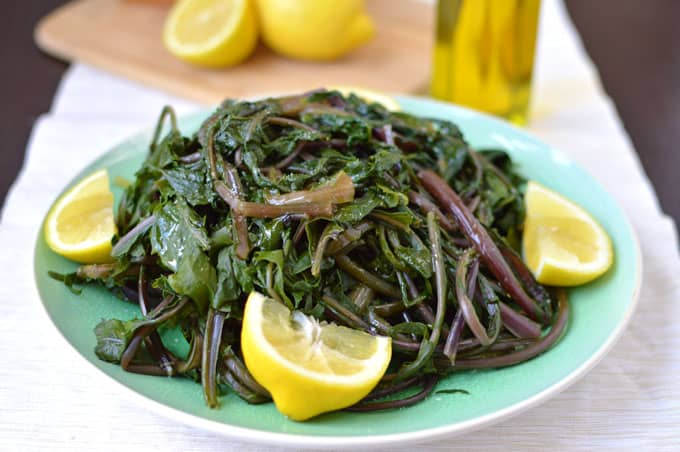 📖 Recipe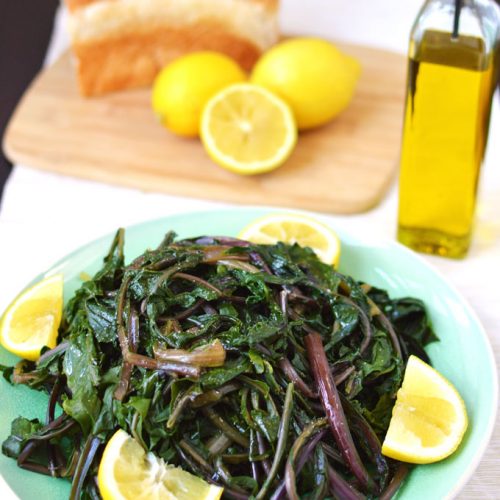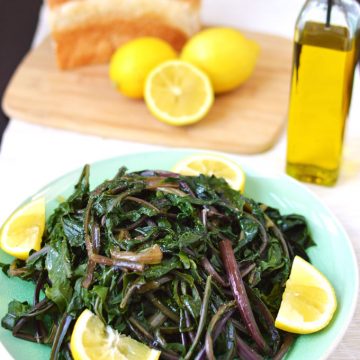 Ingredients
2

pounds

dandelion greens

¼

cup

extra virgin olive oil

Sea salt to taste

Juice from one lemon
Instructions
Trim any roots off the greens and rinse very well. Fill a large stockpot with water and bring to a boil (I used an 8-quart stockpot and filled it with 5 and a half quarts of water).

When the water comes to a boil, add a generous pinch of salt and the greens. Submerge them completely and cook until the stems are soft and fork-tender; this can take anywhere from 10-20 minutes, depending on the thickness of the stems.

Drain the greens and dress with the olive oil, lemon juice, and salt to taste. If making ahead, refrigerate the greens after draining and save the dressing just before serving.

This can be served warm or at room temperature.