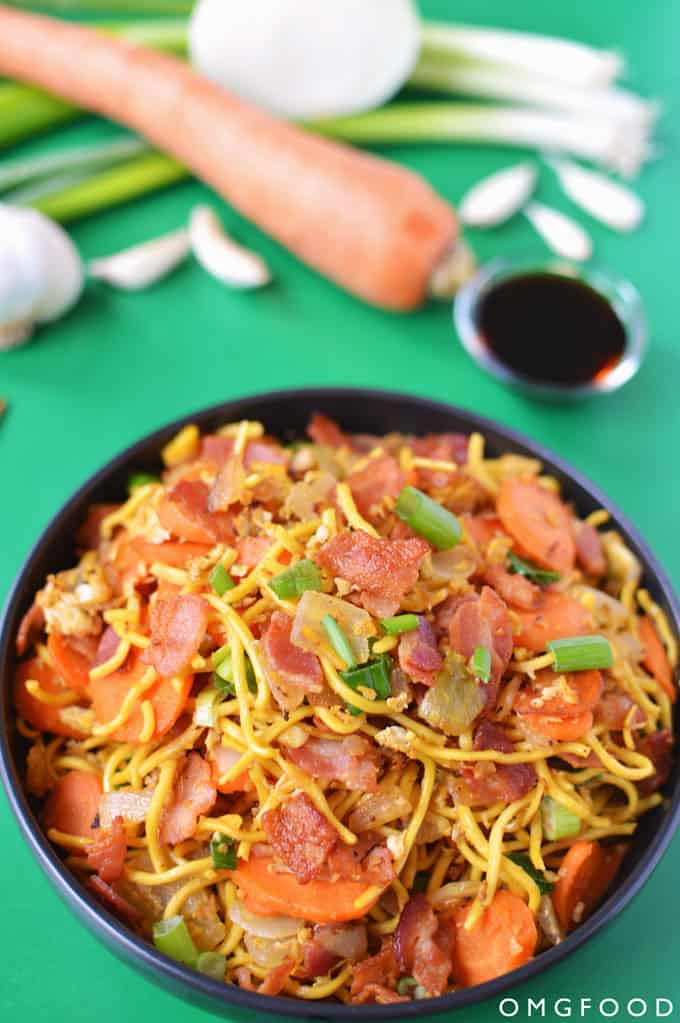 Remember Monday? When I posted that healthy swiss chard and mushroom quinoa recipe? Well today, I have the exact opposite for you. We're eating bacon and egg lo mein! Yay, bacon!
I'm currently working on a copycat recipe for these spicy noodles from a restaurant I love, right? I almost have that recipe down, but it needs more tweaking. More on that when I actually post the recipe. For now, secrets! Sort of, but not really, because I already talked about it on the social medias, but it's too much for me to get into that recipe on this post right now. You feel me?
I needed a break from those noodles, because I was eating them quite a bit between making the sauce at home and comparing that sauce with the one from the restaurant, but I had leftover noodles that needed to be used for something! So I raided the fridge to see what other ingredients I could use up.
And there I found a bunch of carrots, bacon, and eggs! The bacon and eggs were from my Walden Local Meat delivery. Delicious, pastured goodness.
So I decided I was going to make a stir-fry using those ingredients and It was going to be awesome. Also, Jason doesn't eat pork, so I had about 3 servings of this for myself, but this can easily serve 4 people.
What I loved most about this recipe was how easy it was to make. I cooked everything in the wok. One-pot cooking is where it's at. Great for a weeknight meal!
Pro-tip when chopping bacon: Put it in the freezer for about 15 minutes to allow it to firm up a bit. Makes chopping way easier. Seriously, don't try chopping soft bacon right out of the fridge. Just don't.
While you're waiting on that bacon, prep the other veggies. Saving time is so necessary when cooking, right? Especially if you're cooking after a long day at work? I got your back.
Okay, so go make these noodles, then come back here and tell me what you thought of them. I live for feedback!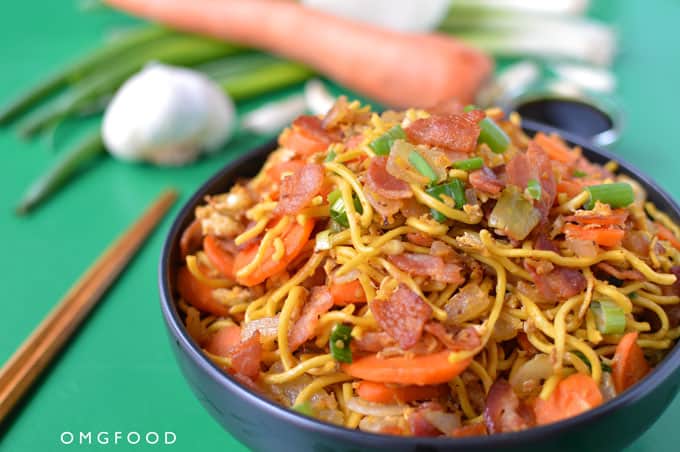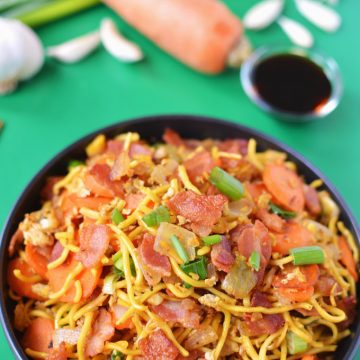 Ingredients
6-7

slices

of bacon

,

chopped*

1

medium sweet onion

,

chopped

2-3

carrots

,

sliced diagonally

4

garlic cloves

,

minced

3

scallions

,

finely chopped

1

teaspoon

extra light olive oil or bacon grease

2

eggs

8

ounces

lo mein egg noodles*

2

tablespoons

soy sauce

½

tablespoon

mirin

1

tablespoon

water
Instructions
Line a plate with some paper towels and set aside (keep it near the stove).

Add soy sauce, mirin, and water to a small bowl and mix to combine. Set aside.

Pre-heat wok over medium-high heat.

Add bacon and cook until crisp and the fat has rendered; about ten minutes. Be sure to stir throughout to ensure even cooking.

Using a slotted spoon, move the cooked bacon to the towel-lined plate and set aside.

Remove all, but two tablespoons of bacon grease from the wok (I recommend straining the extra grease and storing it in the fridge to use as a cooking fat!)

Add onions and carrots and cook until the carrots have softened; about ten minutes.

Add garlic and saute until fragrant; about one minute.

Push the veggies to one side of the wok. Add one teaspoon light olive oil or more bacon grease to the empty side and add eggs. Let cook, untouched, for about ten seconds, then scramble with a wooden spoon until they have mostly cooked; about one minute.

Mix eggs with the veggies until well incorporated.

Add the egg noodles, cooked bacon, sauce mixture, and most of the scallions (leave some for garnish when serving).

Toss to combine.

Now, you eat!
Notes
1. For easy chopping, place the bacon in the freezer for about 15 minutes. That will allow it to firm up a bit, which means way less slippery chopping for you! Safety and frustration-free!
2. I purchase my lo mein egg noodles already cooked, but if you can't find them, cook according to package directions, drain, and set aside until ready to add to the wok.
Disclaimer: I did not receive sponsorship from Walden Local Meat Co. All opinions are my own and I pay for my monthly deliveries.