---
Psari Plaki is a Greek-style fish baked in the oven with tomatoes, onions, and olive oil. Serve this with some good-quality feta and crusty bread for a complete and hearty meal!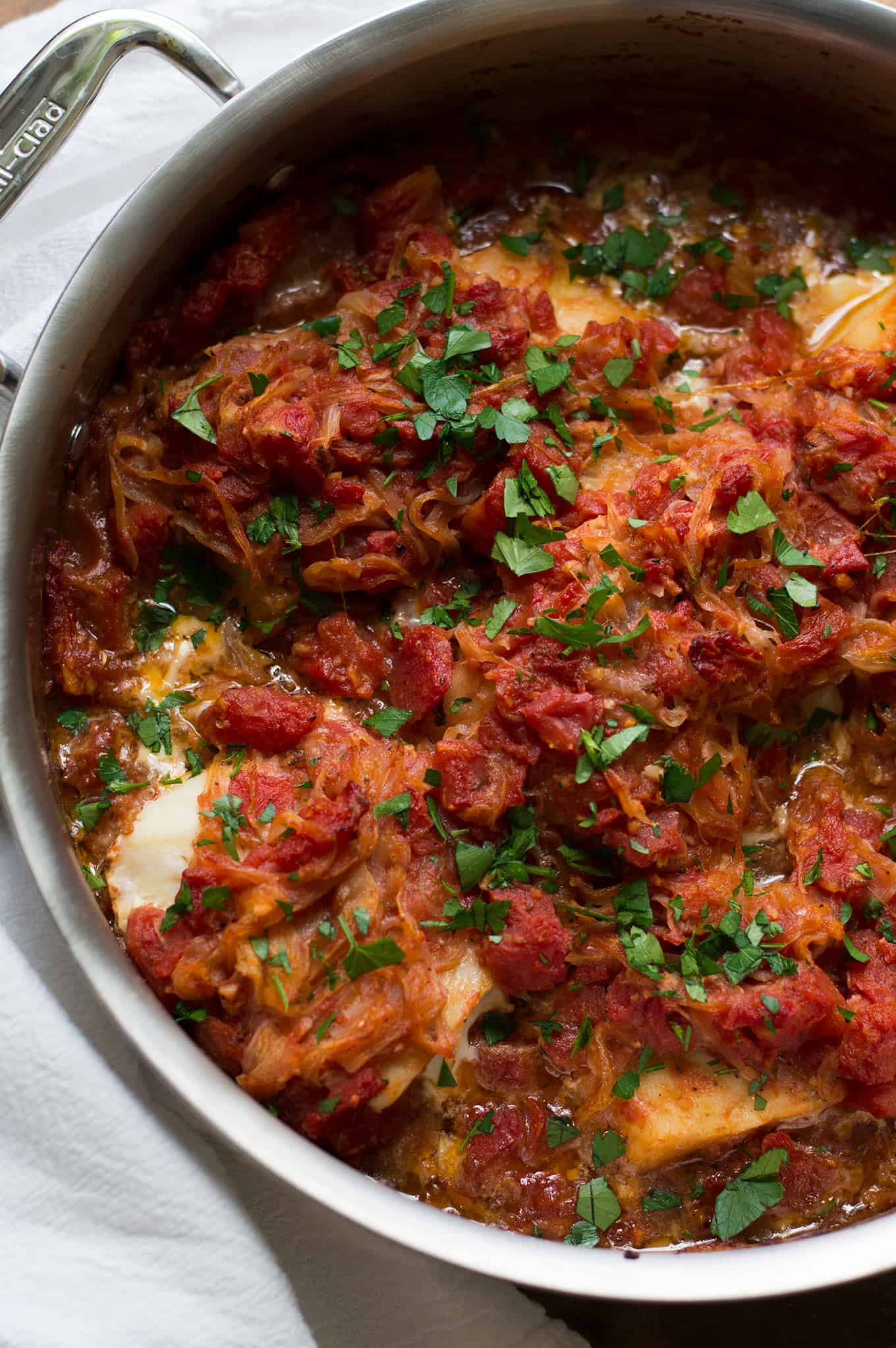 Updated on April 4th, 2018: New content, new recipe instructions, and new photos. Huzzah!
Originally published on September 10th, 2015.
---
Hello, friends!
I hope you're having a fantabulous week! I also hope you'll forgive me for being on this crazy-inconsistent blogging cycle. Every time I try to get back in, something comes up and I have to decide which project will go to the backburner. Unfortunately, it's had to be the blog in most cases (which is probably obvious at this point, yeah?), but you guys. Really.  I 👏🏼 am 👏🏼 working 👏🏼 on 👏🏼 it 👏🏼
For realsies.
I'm still figuring out how often I'll be able to put out new content; I have tons of photos in the backlog already and I am excited to share them all with you! Once I have that sorted, you'll be the first to know. Life has more or less come back to "normal" as my client work has dissipated, I'm ramped up on the new job, and I'm back from vacation! Not too shabby.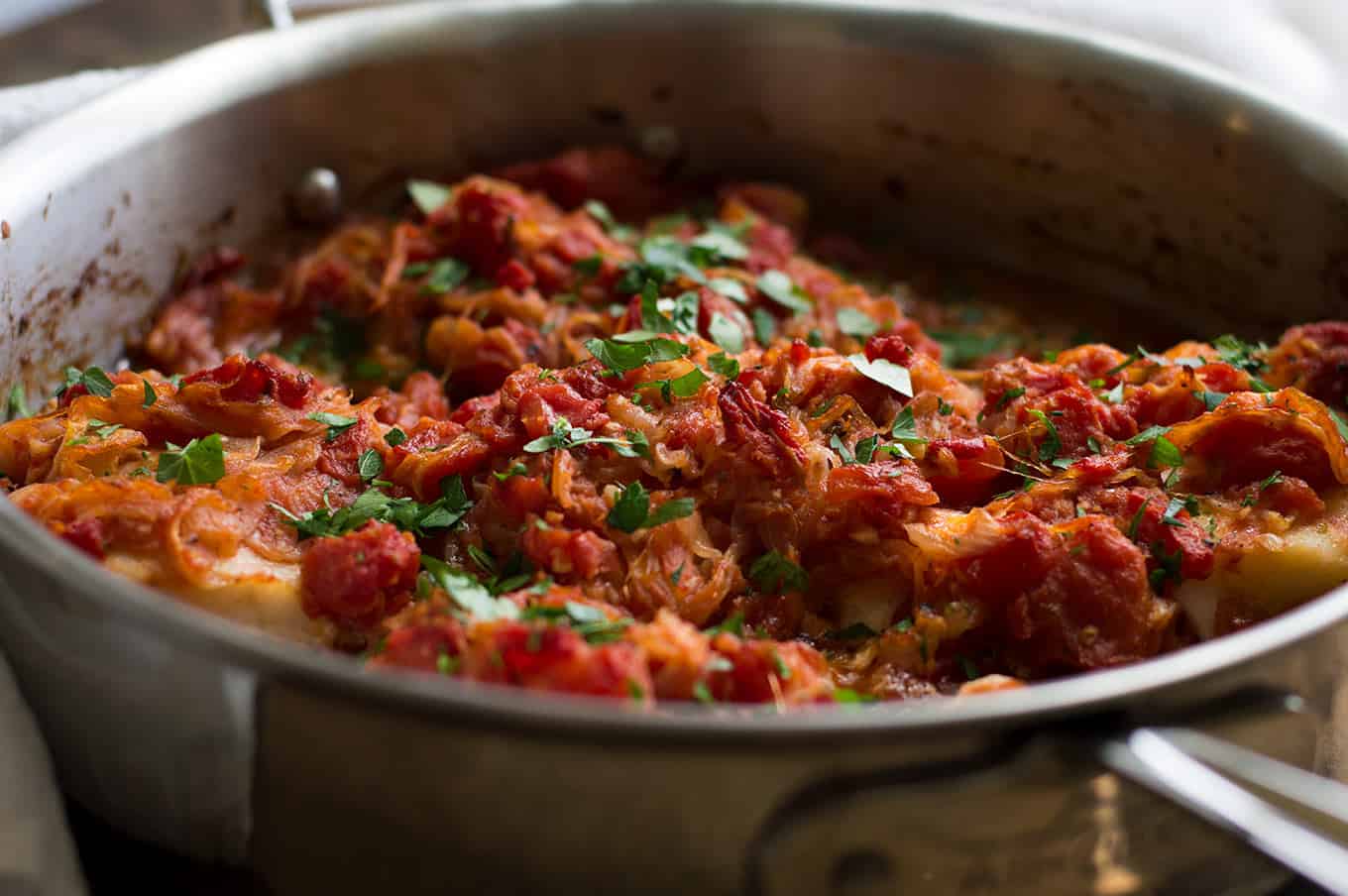 And yes, new job! Same company, same team (for the most part), but a new role! I transitioned in late February and the new gig involves lots of tasty food photography. That's the most of what I want to share about it at this time, but I get to work with amazing people every day and I'll be able to squeeze in some travel here and there too. I absolutely love it.
As for vacation, more on that soon! I recently went to Trinidad and Tobago with Jay and some friends. It was an amazing time and I have photos and stories to share. I was actually going to post about it this week, but I still haven't had a chance to sort through all the photos. Instead, I've decided to update this psari plaki post to spruce it up a bit, which is something I've been meaning to do for a while anyway! Just don't ask me how long ago I took the photos for this update, mmmkay?
Psari plaki (pronounced PSAH-ree plah-KEE) is a Greek-style baked fish with olive oil, tomatoes, and onions. It's a light and healthy meal that's paleo and whole30-friendly (win-win for anyone living that life these days) and it's mighty tasty. There are other versions of this dish that might call for wine or breadcrumbs, but growing up, my dad always used a bunch of alliums (usually a combo of leeks and onions), tomatoes, and olive oil. And he seasoned it with rigani (Greek oregano), some salt, and a little black pepper. Simplicity at its finest.
And for your quick Greek lesson today: "Psari" is the Greek word for fish and "plaki" basically means to bake in the oven (usually with some veggies). All of that for one word, you might ask? Yes, sort of - us Greeks are complicated people.  The more literal translation of plaki is a flat stone, and when there's a dish called plaki, it means it's cooked on a flat dish in the oven. I normally make this with cod, but haddock works nicely too.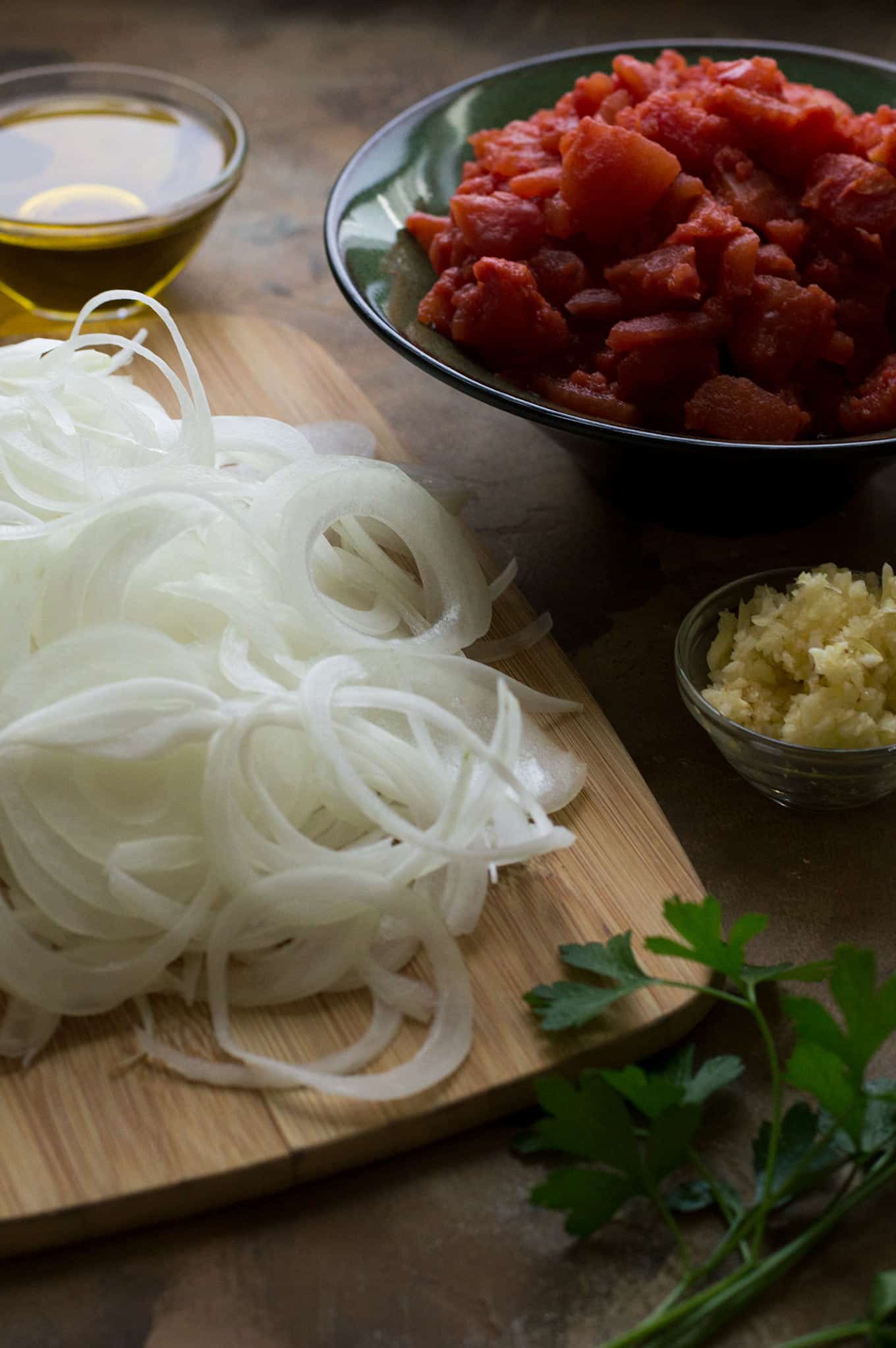 This is one of my favorite meals to eat in the summer (though it does involve using the oven on a hot day), but it also tastes great any time of year. I personally prefer to let this dish cool down and eat it at room temperature. It's also one of the few fish-type meals I can eat the next day because I'll just eat it cold; no reheating required! I am not about that "microwaving fish" life.
If you're using an oven-safe stainless steel skillet, this can easily be a one-pan meal. After sauteeting the veggies,  you'll just tuck the fish into the pan and cover it up. No oven-safe skillet? No sweat. The number of dishes will still be on the lighter side.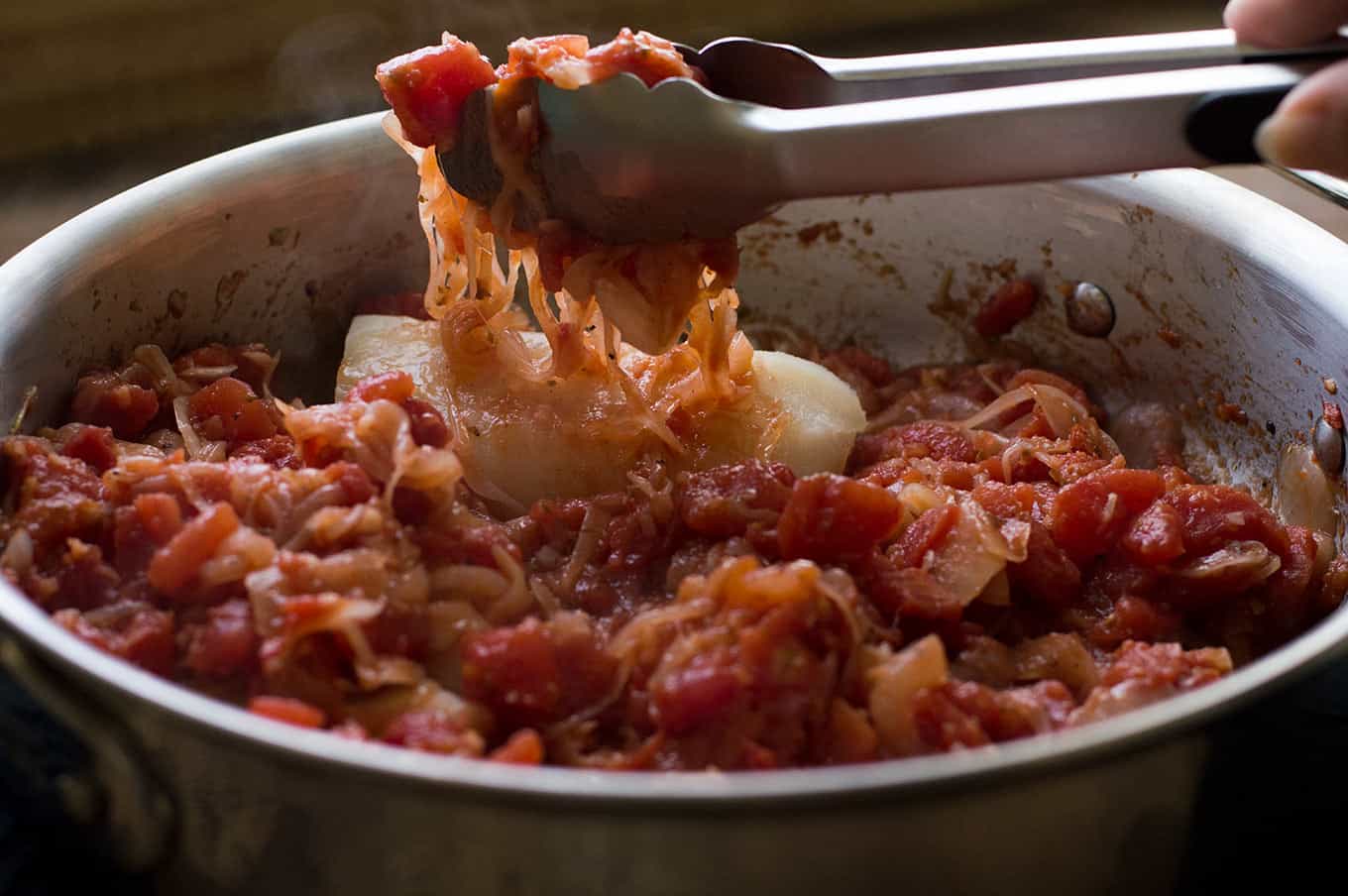 One more shot of that food porn before getting to the recipe goods.
Aww, yeah. That's what I'm talking about. Don't forget to serve this with feta (the good kind) and a nice, crusty bread.
Until next time, friends!
📖 Recipe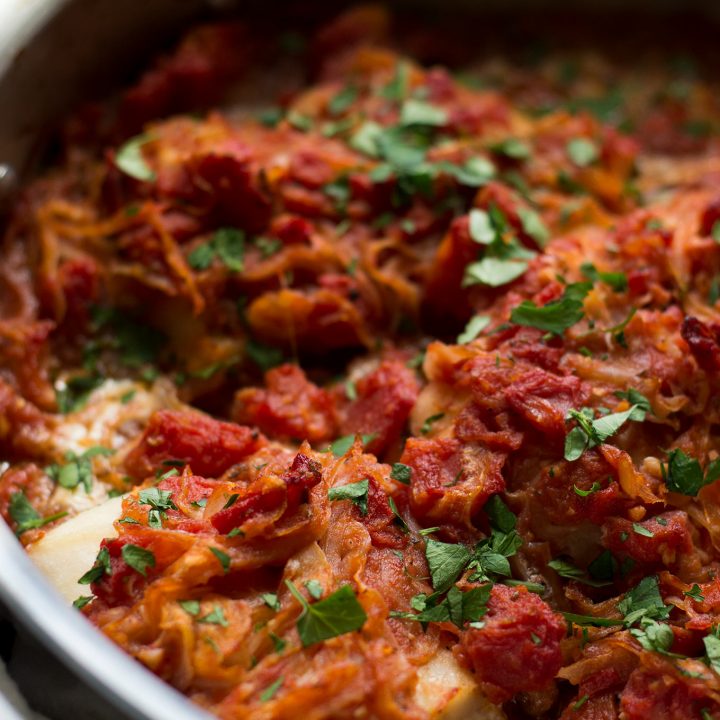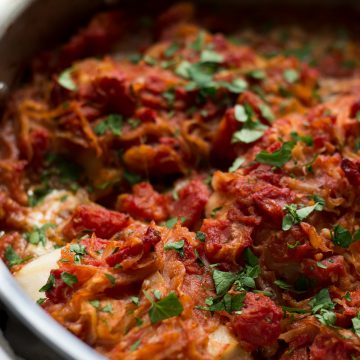 Psari Plaki (Greek-Style Baked Fish)
Psari Plaki is a Greek-style fish baked in the oven with tomatoes, onions, and olive oil. Serve this with some good-quality feta and crusty bread for a complete and hearty meal!
Print
Pin
Rate
Ingredients
¼

cup

extra virgin olive oil

3

cups

sweet onions

,

sliced

1

cup

leeks

,

sliced cross-wise

4-6

garlic cloves

,

minced

2 14.5

ounce

cans diced tomatoes

,

drained

1

teaspoon

kosher salt

freshly ground black pepper

2

teaspoons

dried Greek oregano

2

pounds

wild cod or haddock fillets

2

tablespoons

fresh parsley

,

finely chopped
Instructions
Preheat the oven to 350 degrees.

Preheat a wide saute pan over medium-high heat. Add in the olive oil.

Add the onions and leeks and saute until soft, about five minutes.

Add the garlic and saute until fragrant, about one minute.

Add the tomatoes, salt, pepper, and Greek oregano and cook for an additional five minutes. Remove from heat.

If using an oven-safe pan, tuck the fish in between and underneath the tomato and onion mixture. Alternately, place fish in a baking pan and top with the tomato and onion mixture.

Bake in the oven for 40-50 minutes or until the fish flakes easily with a fork.

Top with the chopped parsley. Serve with feta and crusty bread.
Notes
*I normally use two 1-pound slabs of fish, but if you have one large slab, cut the fish in half before placing in the baking pan.
Nutrition
Calories:
385
kcal
|
Carbohydrates:
19
g
|
Protein:
43
g
|
Fat:
15
g
|
Saturated Fat:
2
g
|
Polyunsaturated Fat:
2
g
|
Monounsaturated Fat:
10
g
|
Cholesterol:
98
mg
|
Sodium:
732
mg
|
Potassium:
1375
mg
|
Fiber:
3
g
|
Sugar:
10
g
|
Vitamin A:
785
IU
|
Vitamin C:
25
mg
|
Calcium:
134
mg
|
Iron:
3
mg
---
Disclaimer: This post may contain affiliate links, which means I make a small commission if you make a purchase through them. By purchasing through these links, you are helping support this site at no extra cost to you! I only recommend items and services I personally use and love.