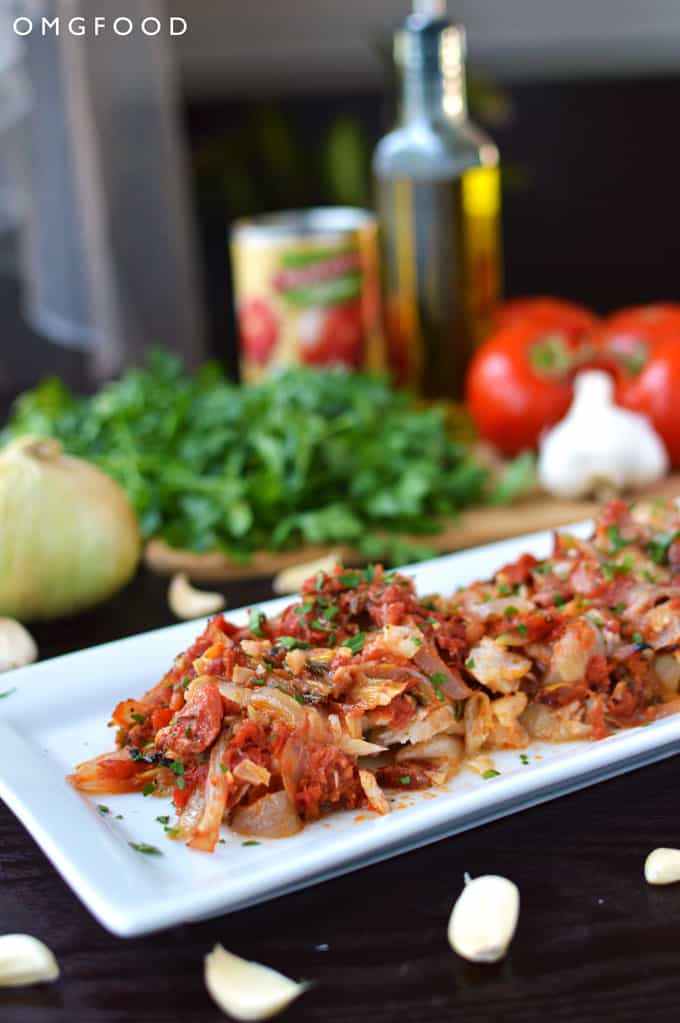 Happy Thursday to you!
It feels like it's been a while since I've shared a recipe. Between traveling for work and going off the grid for a long weekend to decompress, this blog hasn't been getting quite as much love. But now that I'm recharged, I'm back to the grind!
Also, holy crap – it's September. Not only that, but it's September 10th! Summer is just about over and soon the leaves will be falling off the trees and I'll be storing away my summer clothing and pulling out the boots and sweaters. I'm only slightly excited for this. I'm huge on summer and beaching it up, but one thing I do love about colder weather is all the cooking! Speaking of…
Today's recipe is psari plaki (pronounced PSAH-ree plah-KEE). I turned the oven on for this tasty dish a couple weeks back when it was 80-something degrees in the house and the AC doesn't hit the kitchen. It's not the first time I've done something like this in hot summer weather, but sometimes, you gotta do what you gotta do.
Psari plaki is a Greek dish and one of my favorites to eat in the summer. "Psari" is the Greek word for fish and "plaki" basically means baked in the oven with some veggies (all of that for one word? Yes, we are complicated people). I normally make this dish with cod, but any firm, light tasting white fish will do. I sometimes use haddock or tilapia.
Even though you need the oven to make this dish, it's a great meal to have in the summer because it's so healthy and light! I actually prefer to let this cool down and eat it at room temperature. It's one of the few fish dishes I can eat the next day because I'll just eat it cold. Heating up leftover fish is not something that appeals to me. Blech.
Psari plaki is also paleo and whole30 friendly if you care about that sort of thing! There are other recipes that might call for wine or breadcrumbs, but growing up, my dad always used a bunch of alliums, tomatoes, and olive oil. And he seasoned it simply (Greek oregano is also included, of course).
So now that it's September and the weather will be cooling down a bit soon, you can make this dish without overheating in your house and still enjoy it as a summer meal. Fall doesn't officially hit until September 23rd, so you got time!
If you're like me and can't wait until cooler weather to turn that oven on, then just make this sooner. And be sure to pair this with some feta and bread. <3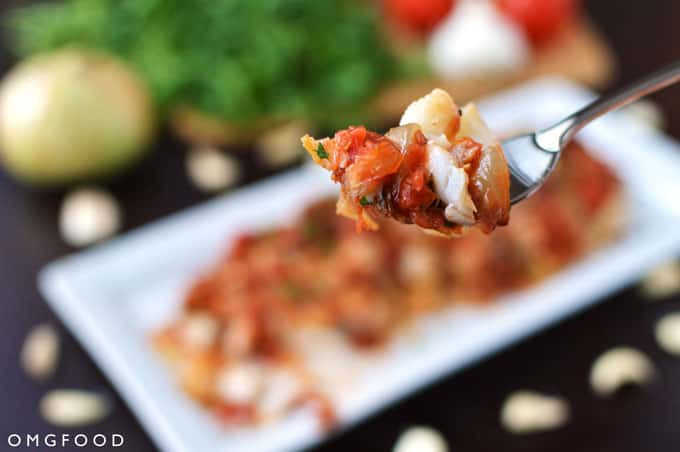 Psari Plaki
Author:
Marissa @ omgfood
Ingredients
¼ cup olive oil
3 cups sweet onion, sliced
1 cup leeks, sliced cross-wise
4-6 garlic cloves, minced
2 14.5 ounce cans diced tomatoes, drained
1 teaspoon kosher salt
freshly ground black pepper
2 teaspoons dried Greek oregano
2 pounds wild cod (or other light fish, such as tilapia, haddock, etc)*
2 tablespoons fresh parsley, finely chopped
Instructions
Preheat the oven to 350 degrees.
Preheat a wide saute pan over medium-high heat. Add in the olive oil.
Add the onions and leeks and saute until soft, about five minutes.
Add the garlic and saute until fragrant, one minute.
Add the tomatoes, salt, pepper, and Greek oregano and cook for an additional five minutes. Remove from heat.
Place the fish in a baking pan and top with the tomato mixture.
Bake in the oven for 40-50 minutes or until the fish flakes easily with a fork.
Top with the chopped parsley just before serving.
Notes
*I normally use two 1-pound slabs of fish, but if you have one large slab, cut the fish in half before placing in the baking pan.