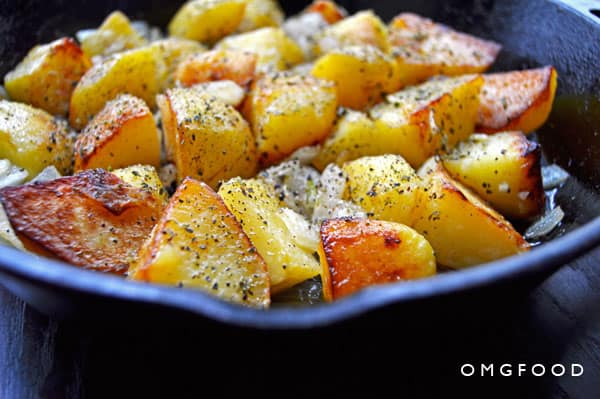 OMG, what a busy last couple of weeks.
In my last post, I mentioned why I haven't been able to post as much these last few weeks. One big reason was because I messed up everything I cooked! The other is because of crazy snow!
We've been getting hit every weekend with a major amount that has caused commuting to be nearly impossible, so my office has been closed at least one to two days a week. I've also been doing so much shoveling which brought up some neck pain due to an injury from last summer, so I've been either shoveling, working to catch up from snow days, or resting. Exciting times, right!?
Because of the office being closed multiple times the last few weeks, we got a little behind on our project, so I'm crunching with my team to catch up. Which makes working on the blog a little difficult. My schedule should be back on track soon, though. 🙂
Working on video games is a fun, crazy, and stressful job sometimes. I love it.
Moving on. Today's tasty recipe is Skillet Home Fries! This is my usual Saturday or Sunday morning go-to when I want breakfast. I'll either eat it on the side with my eggs, bacon, and kale, or in an epic breakfast sandwich (recipe post coming in the near-ish future).
There are a couple of secrets to making delicious home fries: patience and a very well-seasoned cast iron skillet. Alternately, you can use a nonstick skillet, but you know how I feel about cast iron; it will always win in my book. You also need a lid that fits the skillet! I use one that came with a different pan that happens to fit perfectly on my 10" cast iron. Yay for lid multi-use!
Here's what I did to make these tasty skillet home fries:
I cut up my potatoes in even cubes and added them to a very hot skillet in a single layer with extra light olive oil.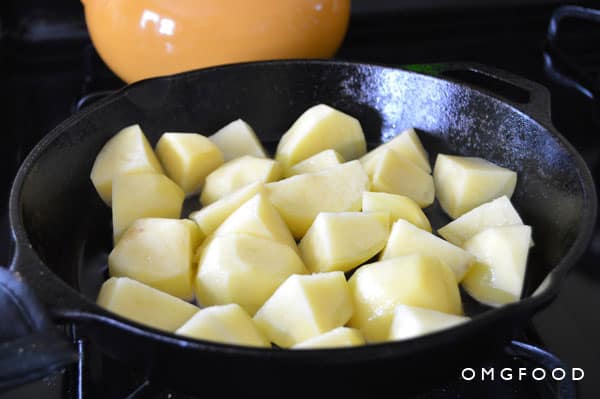 I added a lid and let them cook, untouched, for 10 minutes. I normally have my ingredients prepped before cooking, but I used this waiting time to chop my onions. I'm all about saving time when I can.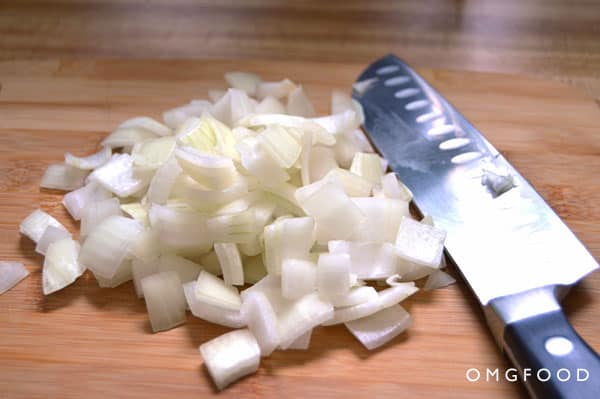 When the timer was up, I flipped the potatoes and continued to let them cook, untouched and uncovered. Then after a few minutes, I added in the onions. And they cooked some more. And I seasoned them with tasty seasonings. And then I ate them.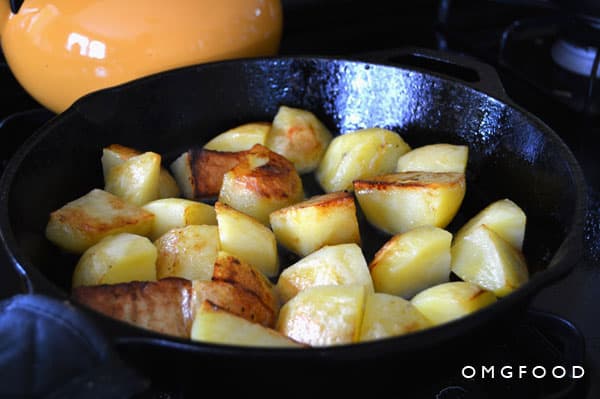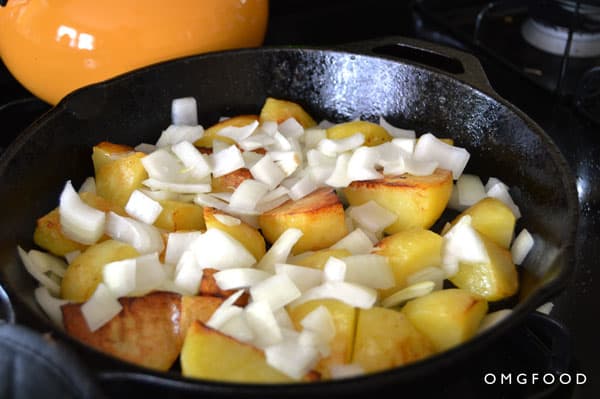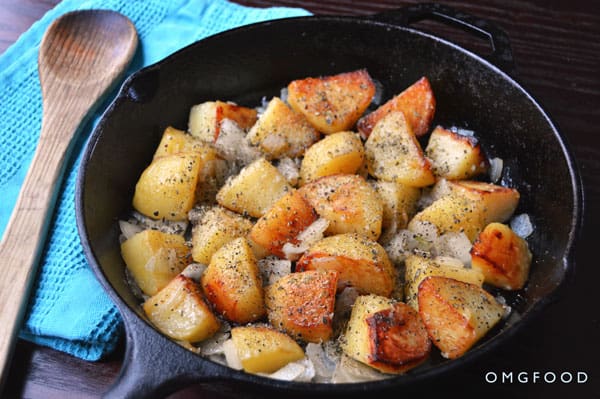 📖 Recipe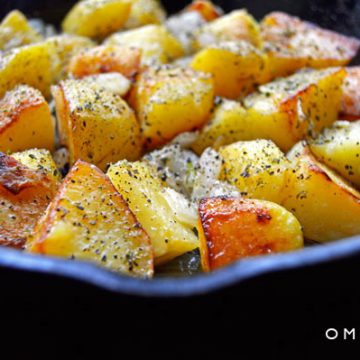 Ingredients
¼

cup

extra light olive oil

2-3

gold potatoes

,

about 1.5lbs

½

cup

chopped sweet onion

1

teaspoon

kosher salt

,

or to taste

¼

teaspoon

Greek oregano

¼

teaspoon

garlic powder

freshly ground black pepper
Instructions
Peel, rinse, and pat dry the potatoes.

Cut potatoes in half lengthwise, then quarter each half evenly so you have eight cubes per potato.*

Add olive oil to a very well-seasoned cast iron skillet over medium heat.*

Once the pan is very hot, add your potatoes in a single layer. Cover with a lid, set a timer for 10 minutes, and walk away.

When the timer's up, remove the lid. Carefully flip the potatoes over. Set the timer for 5 minutes and walk away again (you don't need the lid anymore).

When the timer's up, add your chopped onions and let them chill out. Set a timer for 5 minutes again! Go have a sip of coffee or something.

Once the timer is up this time, stir the potatoes and onions with a wooden spoon and continue to cook for 5-10 minutes until the potatoes are cooked through and the onions have softened.

In the last few minutes of cooking, add your seasoning!
Notes
*Potatoes come in various sizes. If you're working with smaller potatoes, cutting them in 4 cubes per potato would make more sense than 8. If you're working with larger potatoes, you'll probably want 12 cubes. Use your judgement; just make sure they're chopped evenly or you'll end up with a combination of mushy and under-cooked potatoes.
*I highly recommend using a well-seasoned cast iron skillet, but a nonstick pan would work too. What's especially important is adding your potatoes to very hot oil in a very hot skillet! Otherwise, they will stick to the pan right from the start and you'll end up with a giant mess.