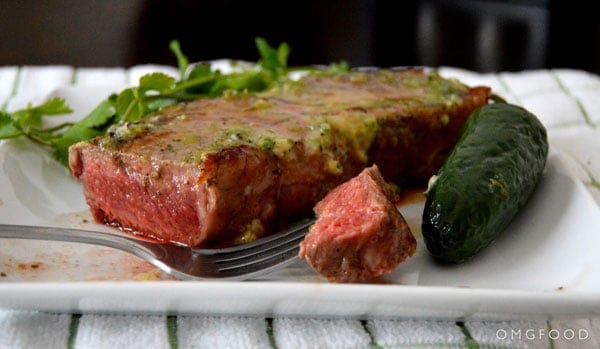 Do you own a cast iron skillet? Because you should. No, really. If you don't own one, go buy it right now. I'll wait here until you have it. I don't mind.
Okay, ready? Good, because IT'S STEAK TIME, OMG.
Steak is probably my favorite thing ever. The best thing about it? As long as you have a good quality steak, you don't need to add much to it because it will be flavorful all on its own. I usually just add salt and pepper when I want something quick. Sometimes oregano. You'll find I use just those three seasonings in recipes a lot; it's the Greek in me.
Though a steak doesn't always need something extra to make it better, that doesn't mean you can't add a tasty butter or sauce to it. So many things go good on a steak. Like, some jalapeño lime butter, for example!
You might know about the foolproof way to make a steak that involves searing it in a cast iron skillet and finishing it in the oven? It's the best way I've ever made a steak; hands down. Don't know what I'm talking about? Don't worry. I'm here to help. The longest part is waiting for the oven and pan to pre-heat. All you need is a timer and you're good to go.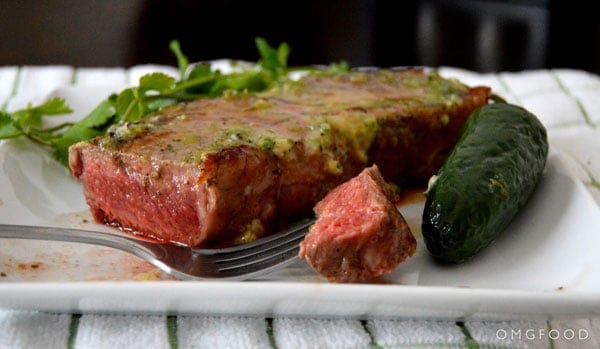 Ingredients
2

sirloin steaks

,

about 1 inch thick

salt

pepper

oregano

4

tbsp

Jalapeño Lime Butter
Instructions
Place a cast iron skillet in the oven and preheat it to 500 degrees. You want the pan to be super hot!

While everything's pre-heating, rinse the steaks under cold running water, pat them completely dry with a paper towel, and season them on both sides with salt. Set aside.

Once the oven is pre-heated, take the skillet out, and place it on the stove over medium-high heat.

Add your steaks to the very hot skillet and let cook for 1 minute, undisturbed. Flip and cook 1 minute more.

When that minute's up, place the skillet immediately into the oven for 2 minutes per side if you want medium rare (that's my jam) or 3 minutes per side for medium.

Take the steaks out of the oven and move to a plate. Season with freshly ground black pepper, oregano, and top each steak with 2 tbsp of the

Jalapeño Lime Butter

. Cover with aluminum foil and let rest for five minutes.

Enjoy!
Notes
1. I recommend not skipping the rinse/pat dry step. It will help the steaks form a nice crust when you sear them.
2. The pan will likely be smoky when you take it out of the pre-heated oven, but that's okay. If you want, you can let it sit a few seconds to let the smoke disappear before turning the burner on and adding the steak.