Za'atar is a blend of herbs and spices that's popular throughout the Middle East. There are many variations of za'atar, with thyme, toasted sesame seeds, sumac, and salt commonly being the staple ingredients used.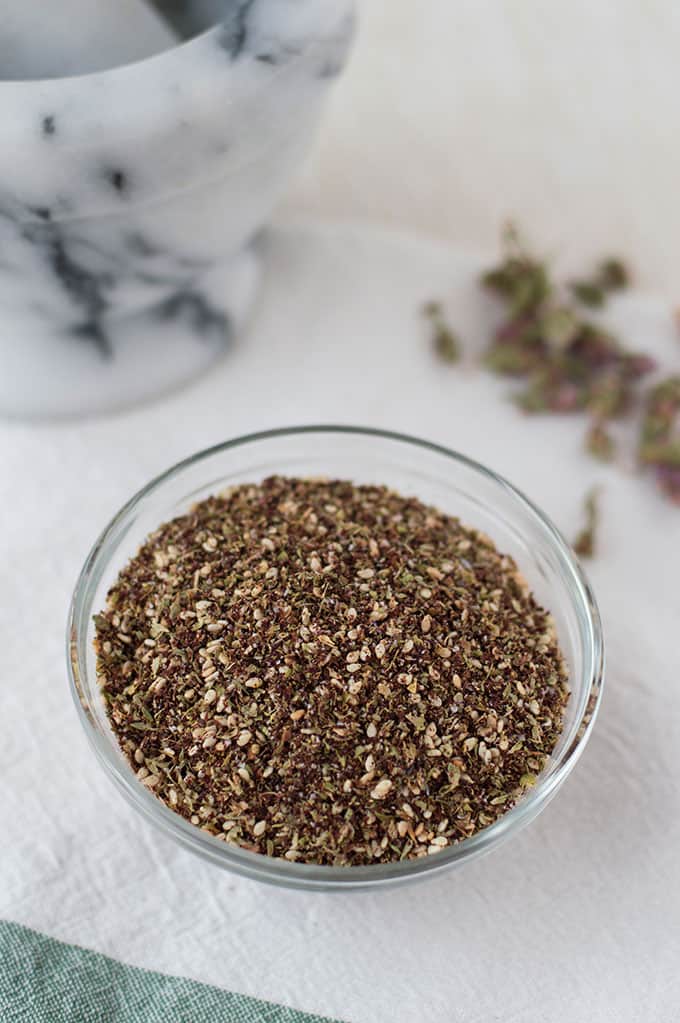 Oh, heyyyyy.
Happy Thursday to you, friends! It feels like it's been forever since I shared a new recipe. I'm glad to be back at it today! It seemed like such a mission to get here.
I took photos for this post well over a week ago and I ran into the most ridiculous issues all over the place since.
My computer decided it would just overheat and crash when I was using Photoshop and Lightroom to work on said photos. Jason fixed it because he's a friggen magician (or maybe he just knew what to do because he built this PC for me in the first place, but I'm still going with magician).
I forgot how to edit photos, I guess? On average, a blog post takes me 4-6 hours from cooking to publishing, but this post had me working for days. The problem was I overexposed these photos like whoa during the shoot and it was a bit of a struggle to edit post-shoot. I ended up retaking some photos a few days ago to balance it out. That said, I'm pretty sure they don't look quite right, but sometimes you just gotta stop being a perfectionist and move on.
My blog broke, but just for me. I started to write up this blog post on Tuesday and ran into issues trying to upload the photos. Seriously. These photos had already given me so much trouble and now I couldn't even upload them? They quickly became the bane of my existence (but then I remembered za'atar is so delicious and stopped being mad at the photos). I tried a couple of things to troubleshoot and proceeded to upload again. Apparently, I pissed something off because I quickly lost access to my own site. And I panicked. I thought it was down for everyone and I broke it somehow and it was the end of the world. Turns out, all of my friends had no problem accessing the site and I didn't have an issue as long as I wasn't connected to my home network too. I spent yesterday doing more troubleshoot fun and figured maybe my internet provider blocked my IP address, so I contacted them and nothing. Then I contacted my host last night and they were the ones who blocked my IP, but they quickly unblocked it and fixed the error I was getting on file upload all in about ten minutes. Apparently, the firewall decided to become strict for no reason, causing the error to occur. And me being a stubborn Greek trying to overlook the error by repeating failed uploads caused the IP block because my host was basically all "BAD NEWS BEARS." Great story, right?
Thanks for indulging me by "listening" to my rants. You're the best. Let's move on to tastier subjects, yeah?
How To Make Za'atar
Za'atar has a small handful of ingredients that are commonly used throughout the Eastern Mediterranean and Middle East. It's generally prepared with thyme, toasted sesame seeds, salt, and sumac. Depending where you go, other ingredients can be used too. There are tons of variations and this stuff is addictive. I've made this blend at home numerous times with little changes here and there with additional herbs, ratios, etc. All of them were tasty and I've been especially into using it on roasted chicken. Now that summer is pretty much here, I'm moving onto grilling next.
In the version I'm sharing with you today, I use dried wild thyme flowers, Greek oregano, marjoram, sumac, toasted sesame seeds (which I toasted myself), and salt. It's so simple to make and it has so much flavor! It's my current obsession.
Now, I'm not going to say you absolutely have to get your hands on wild thyme, but I recommend it! Wild thyme (thymus capitatus) isn't exactly like the thyme more commonly bought at the grocery store. It's grown along mountains and valleys across the Eastern Mediterranean. The flower tops are used and have a lemon-like aroma, which pairs awesomely with the sumac. The brand I purchase is imported from Greece and I get it from Formaggio Kitchen in Cambridge (they also have an online shop). Alternately, you can buy the same brand from the Daphnis and Chloe site here. As for the sumac, if you can't find it at your regular grocery store, specialty shops should have it (Formaggio Kitchen and Penzey's both sell sumac too).
If you can't get your hands on the wild thyme, you can substitute with the thyme you keep in your own pantry at a 1:1 ratio. It won't be as fragrant or flavorful as using the wild thyme, but it will still taste great.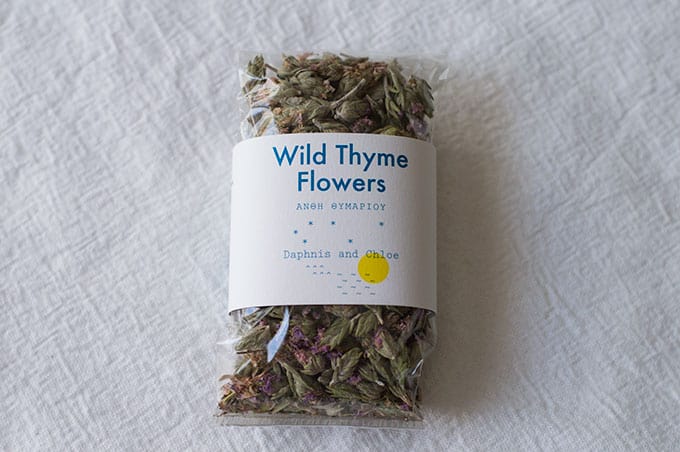 The first step to making za'atar is toasting the sesame seeds! Add them to a small dry skillet over medium-high heat and stir them as they toast. This will take anywhere from 3 to 6 minutes depending on the pan used and your stove. Just keep a close eye on the seeds so they don't burn. Remove them from heat when they reach a light golden color and let cool.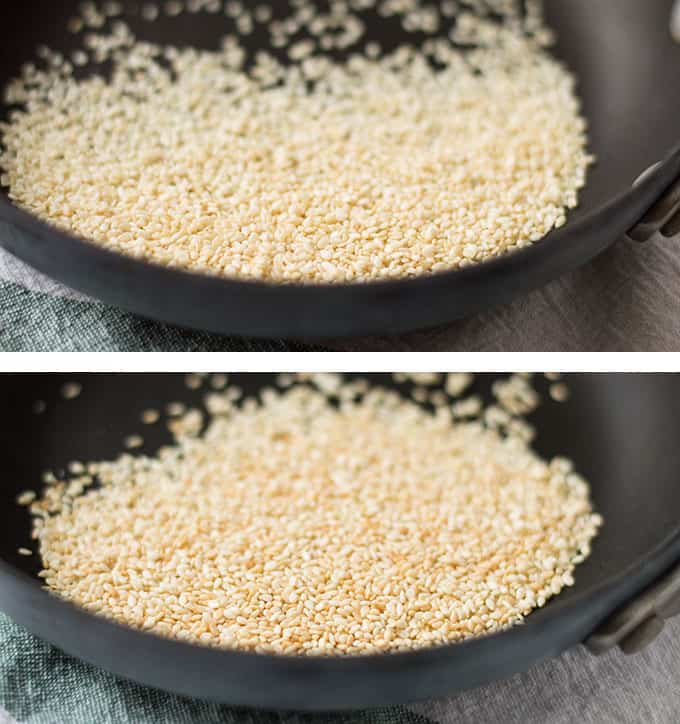 The next step is grinding up the wild thyme flowers. You can do this by crushing the thyme with a mortar and pestle or spice grinder. I have both and use them interchangeably. Below is a before and after of the thyme in a mortar.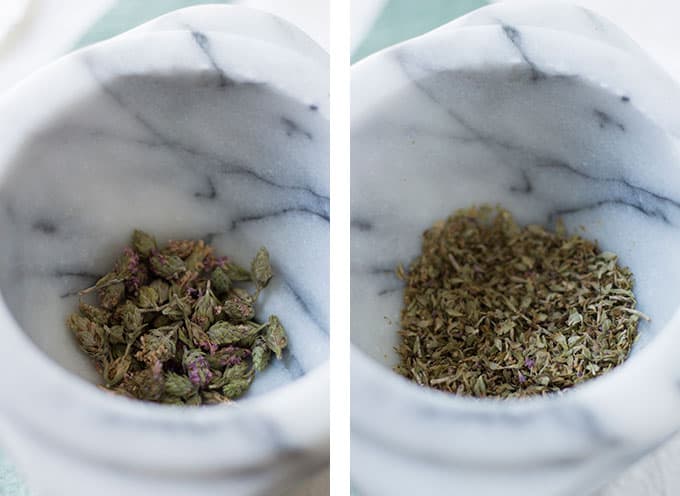 And here we have the before and after in the spice grinder.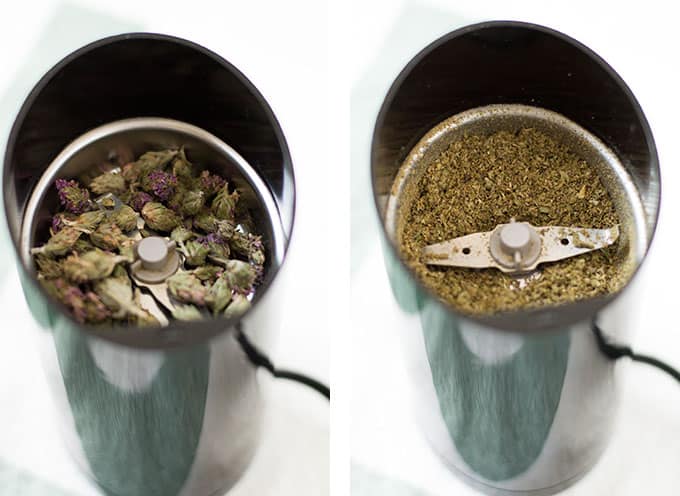 If you're using a mortar and pestle, the thyme won't become as powdery as the spice grinder, which means you will have a high chance of large coarse stems hanging out after grinding. Filter these out by using a mesh strainer and your fingers. You might find the stems in the spice grinder as well, but you won't find as many as the mortar version.
After that, combine all of the ingredients in a small bowl and stir them up. Then store in an airtight container for up to three months. Ta-da!
What to use za'atar on? So many things! Like I mentioned above, I am loving it with chicken lately. It's also great on lamb, veggies, fish, sprinkled on pita bread and baked, and more. My favorite snack with it lately is sprinkling it on labneh or Greek yogurt with some extra virgin olive oil and dipping pita bread into it. SO GOOD.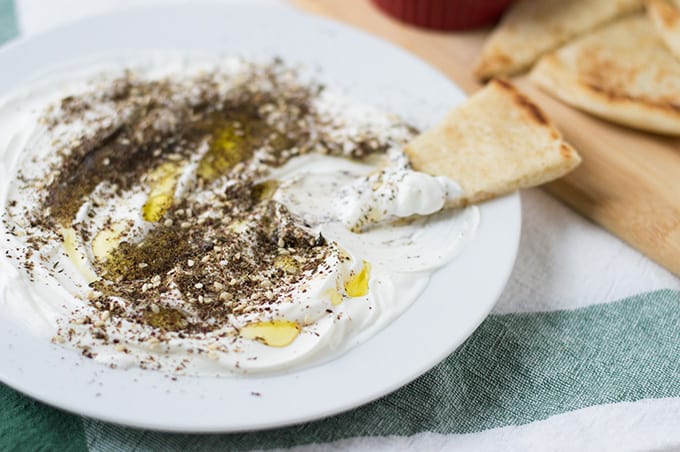 Kitchen Tools Used:
A small skillet
Mortar & Pestle or Spice Grinder
A small mesh strainer
A small prep bowl
📖 Recipe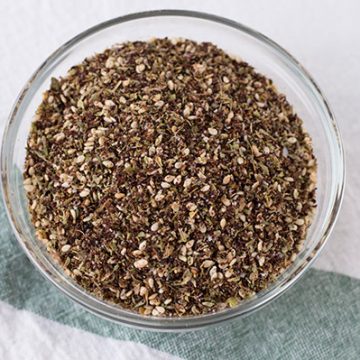 Ingredients
2

tablespoons

dried wild thyme flowers*

1

teaspoon

dried Greek oregano

2

teaspoons

marjoram

3

tablespoons

sumac

2

tablespoons

sesame seeds

½ - 1

teaspoon

kosher salt
Instructions
In a small dry skillet over medium-high heat, add in the sesame seeds and toast for 3 to 5 minutes, stirring frequently. Remove from heat when they are lightly golden and let cool.

Using a spice grinder or mortar and pestle, grind up the wild thyme into a powder.

Sift the thyme through a small mesh strainer to filter out large, coarse stems.

Add all of the ingredients into a small bowl and stir to combine.

Store in an airtight container for up to 3 months.
Notes
If you can't get your hands on wild thyme, "regular" dried thyme can be used. 2 tablespoons of the thyme flowers will also equal 2 tablespoons ground up thyme.