A true staple in Greek cuisine, ladolemono is an easy go-to finishing sauce, especially for grilled or broiled meats, seafood, and vegetables. The flavorful combination of lemon and olive oil also makes for a perfect marinade or salad dressing!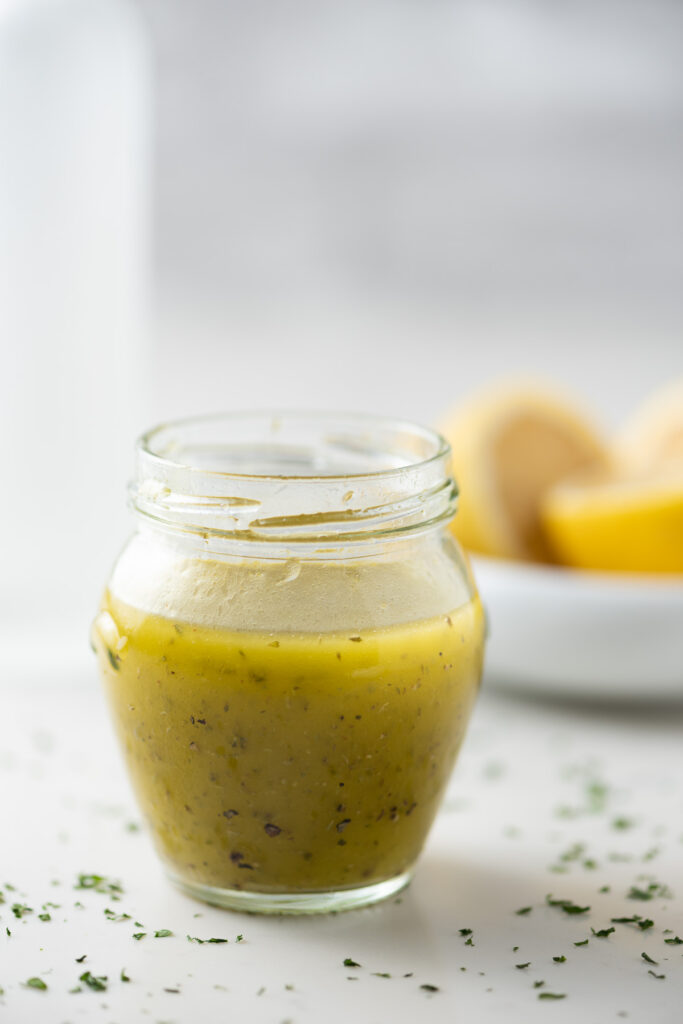 Jump to:
🧑🏻‍🍳 Olive Oil and lemon: Ingredients that represent Greek cooking
If I had to point out two main ingredients in Greek cooking, without question, I would say olive oil and lemon. Hands down.
Olive oil is essentially the fat of choice in the Greek kitchen and comes in many varieties from medium to more intense flavor profiles. Whether it's used for a finishing drizzle, cooking, marinating, or even baking (melomakarona, anyone?), its smooth and fruity deliciousness will elevate any dish.
Lemon is much, much more than fruit to a Greek. It's a lifestyle. Okay I'm being silly, but seriously, it's used on nearly everything! We add some freshly squeezed lemon to meats, dips, soups (or stews!), desserts, drinks, etc. It's beyond a traditional ingredient. It's zingy, it's bright – it just adds that perfect smack of flavor to, well, just about anything! Which brings me to ladolemono.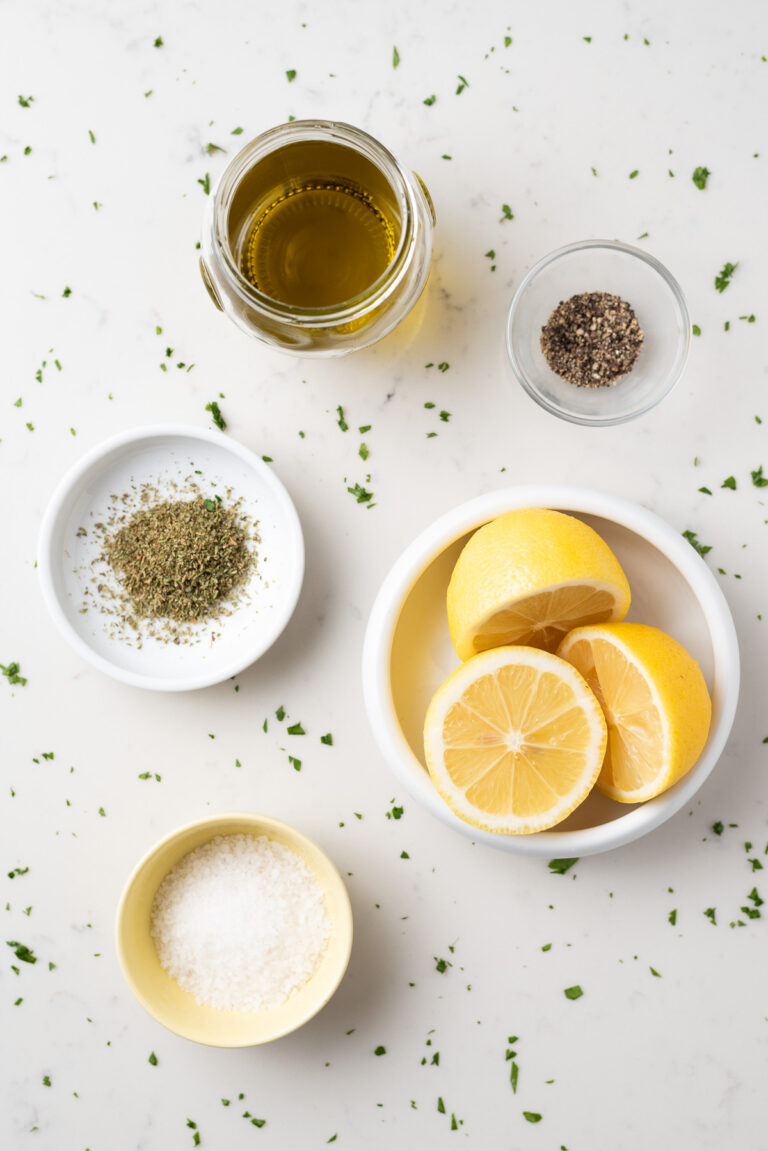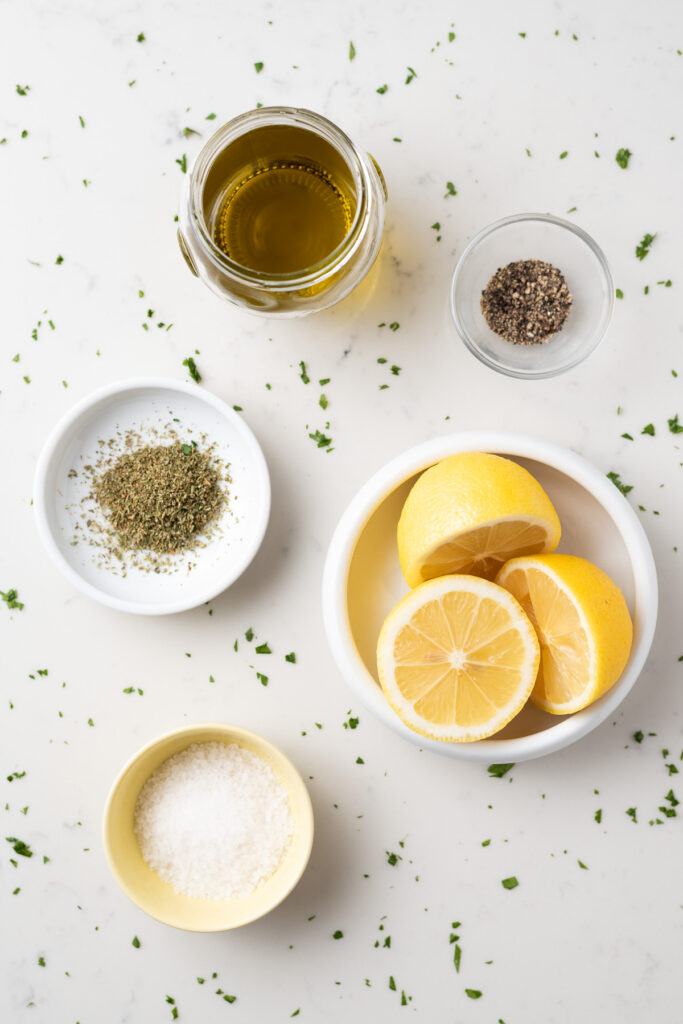 🍋 What is ladolemono?
Simply put, ladolemono/λαδολέμονο (pronounced lah-tho-LEH-moh-noh) literally translates to "oil lemon". Here's your quick Greek lesson breakdown:
lado/λάδο (LAH-tho with a "hard" th) derives from the word ladi/λάδι (LAH-thee), which means oil
lemono/λέμονο (LEH-moh-noh) derives from the word lemoni/λεμόνι (leh-MOH-nee and yes, pronunciation is different!), which means lemon
The most simple and classic recipe calls just for olive oil and lemon at a ~2:1 ratio with a little bit of salt. It's especially spectacular on grilled seafood and is equally delicious drizzled over grilled meats and veggies (broiled food also counts here). To make it, the ingredients can be whisked together or shaken in a jar to form an emulsion.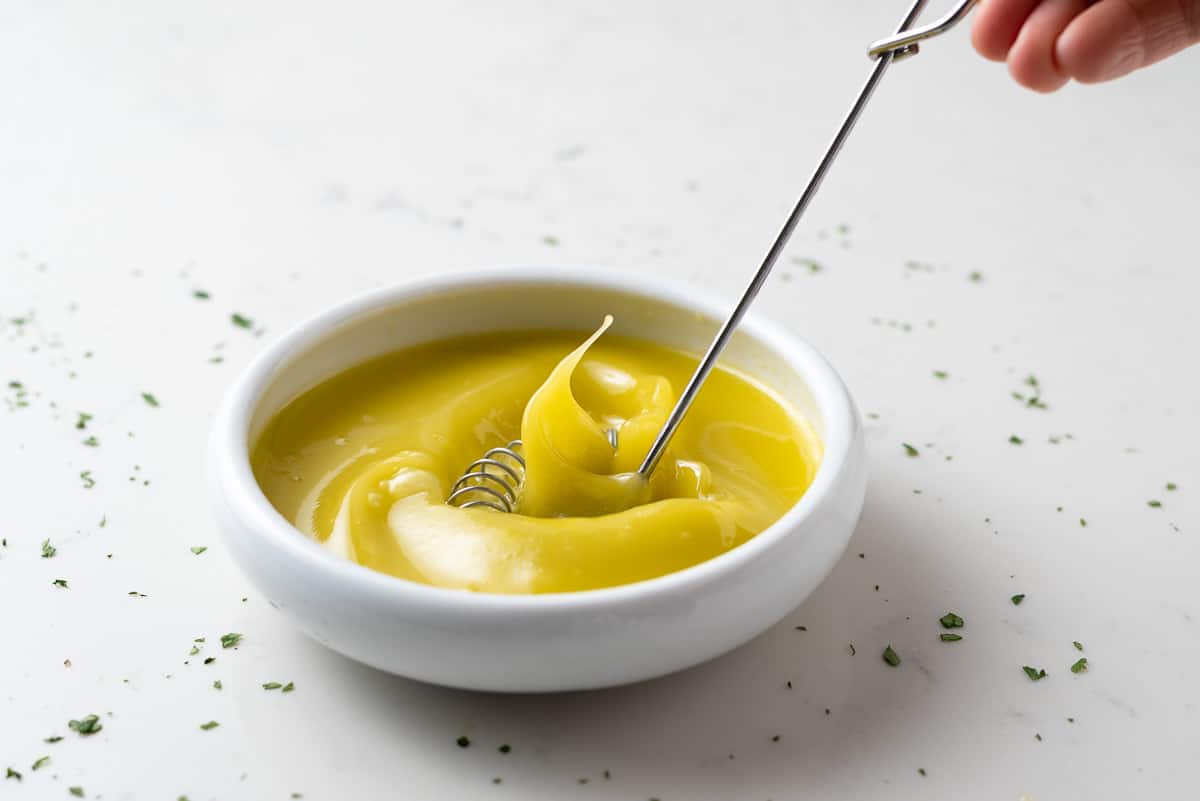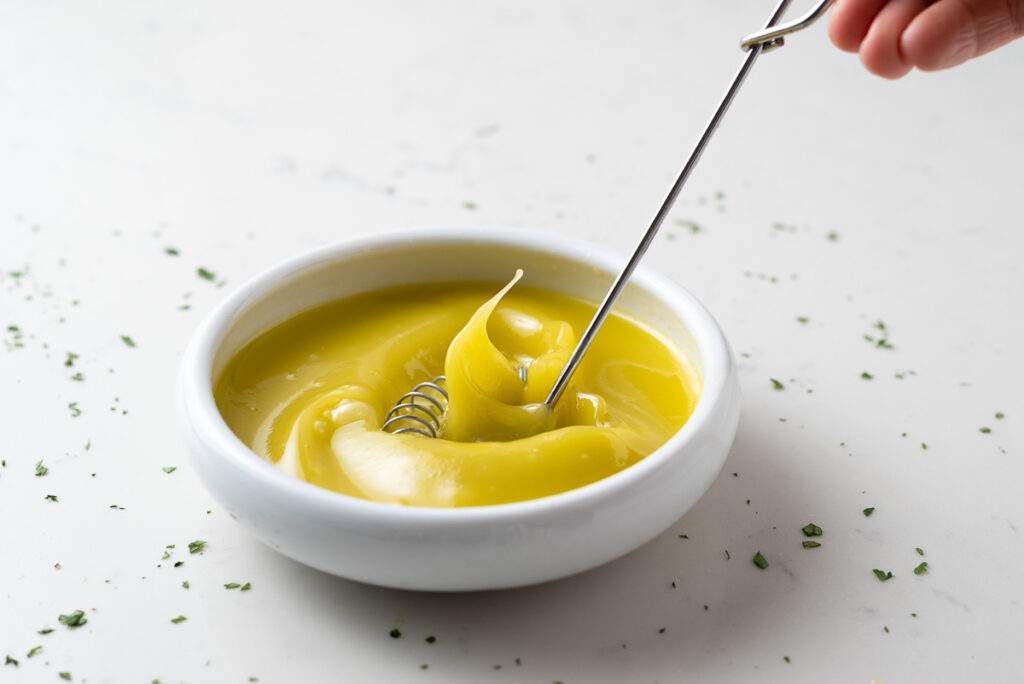 🌿 Optional ingredients
Any additional ingredients would be considered optional. My usual go-to when I make this sauce includes dried Greek oregano and some black pepper, though it also depends what my endgame is. If I want a quick salad dressing at the ready or something I can drizzle on some grilled food, I'm typically going with the version I just mentioned. (P.S. have you tried my reverse-seared lamb loin chops with ladolemono recipe? There's a perfect example for you to check out!)
If I'm making a mediterranean-inspired grain bowl or rice dish that could use a bright finishing sauce, I'll add some minced garlic, dijon mustard, and fresh basil.
Lastly, if I have roasted fish that's already been cooked with lots of flavor added (dried herbs, garlic, etc), I tend to go the classic sauce route of just oil and lemon, so that it complements the flavor of the dish, rather than dilute it.
Honestly, there are no hard or fast rules here. Ladolemono can be the base of whatever sauce you desire!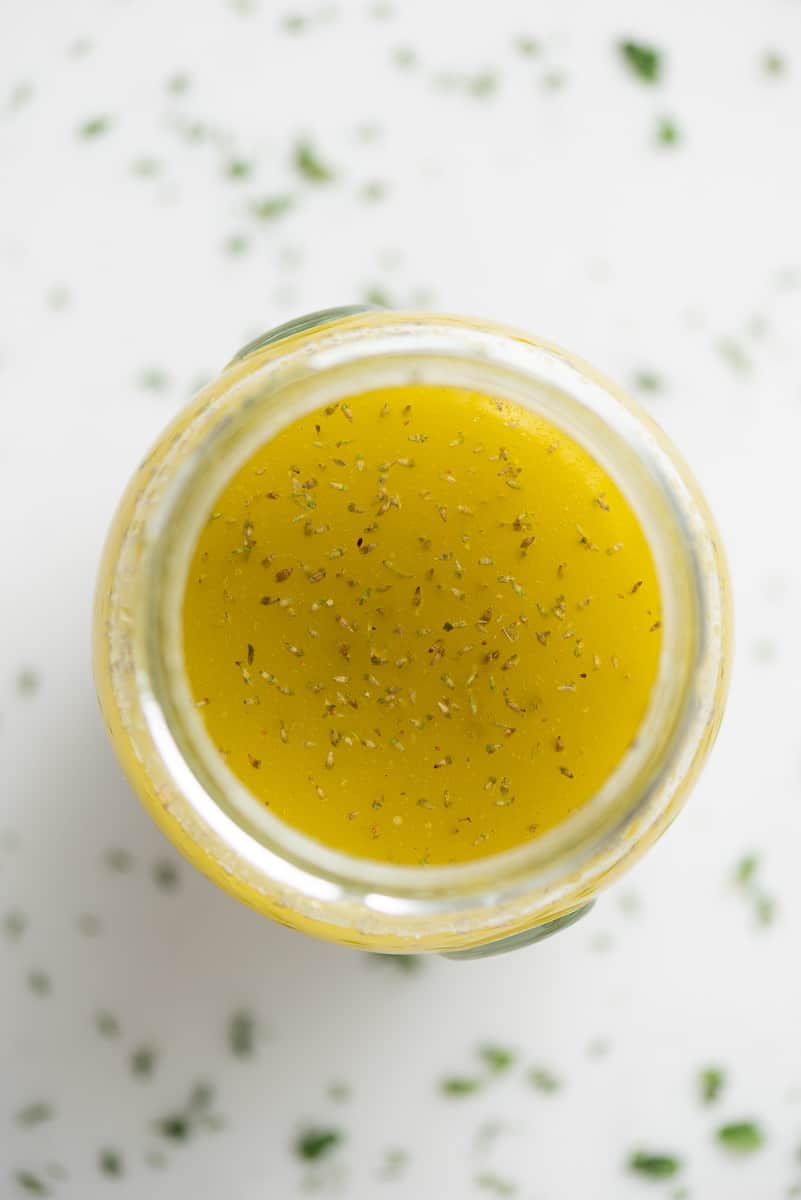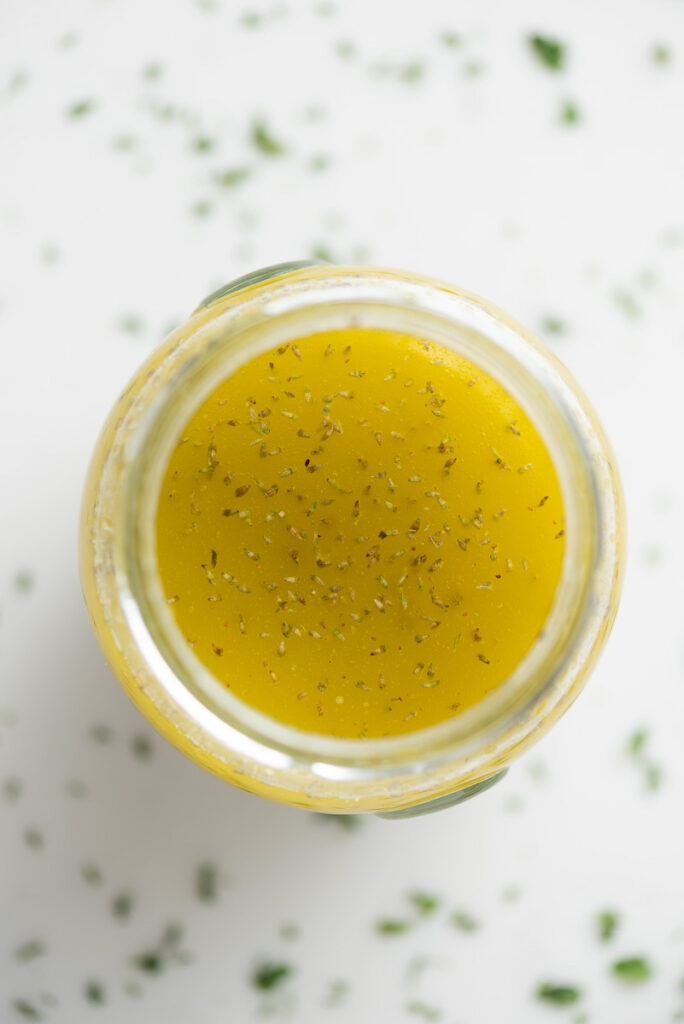 💭 Tips
Use high-quality extra virgin olive oil if you're able
I use imported extra virgin olive oil from Greece, but use whatever variety you have on hand. Because this is a finishing sauce, I do recommend reaching for the fancy bottle you wouldn't cook with if you're able! An everyday olive oil will do the job, though a higher quality olive oil will offer a fruitier, bolder flavor that's somewhat peppery and quite pleasant.
If you'd like to use this as a marinade, going with an everyday olive oil is a better choice in this case.
Shopping for the perfect lemons
At the store, look for lemons that are bright in color and give just a tiny bit when you squeeze them. They should be on the firmer side. Avoid any that are too soft or have moldy spots.
Roll your lemons and use a citrus squeezer for optimal juice extraction
Before you cut into and juice any lemon, be sure to roll it on the counter or hard surface a good few times; this will soften the lemon and allow it to release more juice from the rind's tissues, essentially bringing more juice to the surface of the fruit.
I also strongly recommend using a citrus squeezer. You can find plenty of options on Amazon.
Make it your own
The recipe is perfectly delicious as-is, but half the fun of cooking and using recipes is making your own version! Feel free to use this recipe as a base and explore with various ingredients to add your own spin.
Interested in tasty recipes that go well with ladolemono?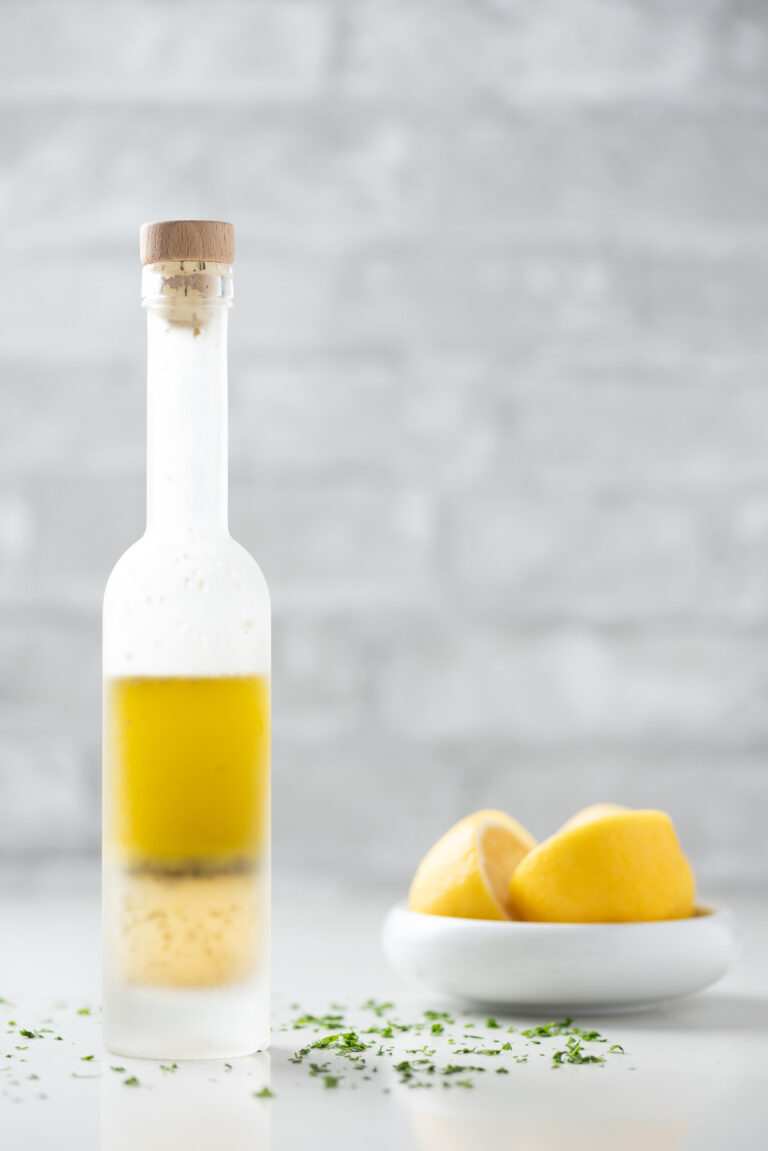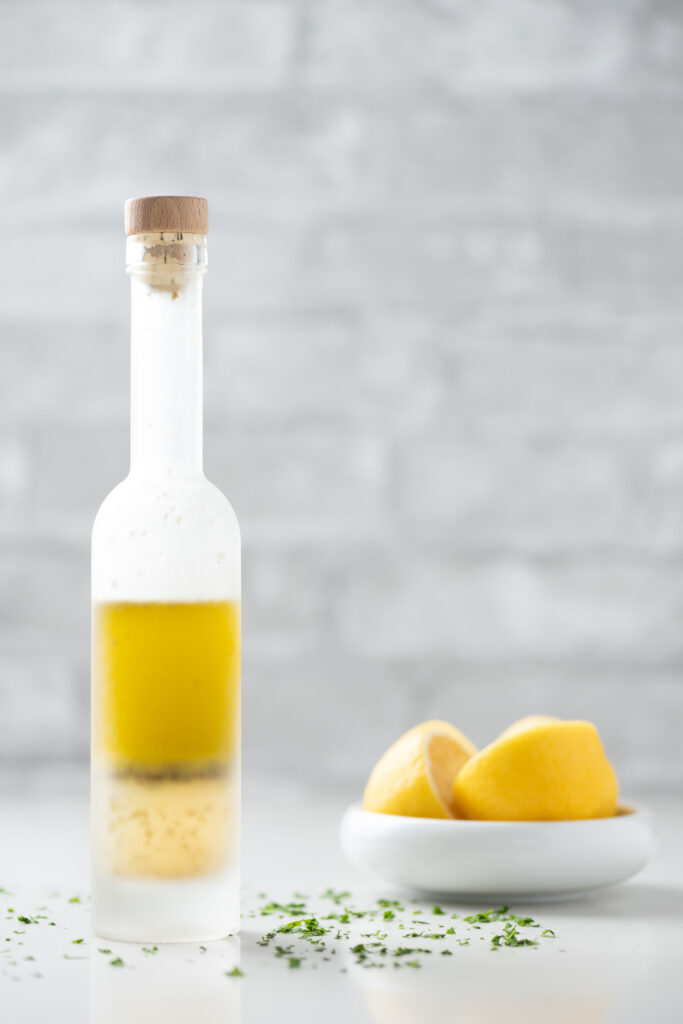 📖 Recipe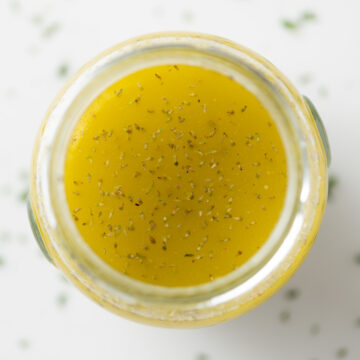 Ladolemono (Greek Olive Oil & Lemon Sauce)
A true staple in Greek cuisine, ladolemono is an easy go-to finishing sauce, especially for grilled or broiled meats, seafood, and vegetables. The flavorful combination of lemon and olive oil also makes for a perfect marinade or salad dressing!
Print
Pin
Rate
Ingredients
¼

cup

fresh lemon juice from one or two lemons

,

depending on size

¼

teaspoon

sea salt

,

plus more to taste

½

cup

extra virgin olive oil
Optional add-ins
1

teaspoon

dried Greek oregano

freshly ground black pepper

1

garlic clove

,

minced

1

tablespoon

finely chopped fresh herbs

,

such as parsley, basil, dill, and/or thyme

1

teaspoon

dried wild thyme

1

teaspoon

Dijon mustard

zest from a lemon
Instructions
Add lemon juice, salt, and any optional ingredients, if using, to a small bowl and whisk.

Slowly drizzle in the olive oil while whisking until well blended (alternatively, add all ingredients to a small jar with a tight-fitting lid and shake vigorously to emulsify).

Taste and adjust seasoning if necessary.
Notes
This can be used immediately or stored in the fridge for up to two weeks (one week if fresh herbs are used).
My go-to version of ladolemono includes dried Greek oregano and a few cranks of freshly ground black pepper, which can be seen in the photos on this post.
As the sauce/dressing sits, it will separate. Give it a quick stir or shake before pouring onto your salads, grilled meats, vegetables, or fish.
Nutrition
Calories:
81
kcal
|
Carbohydrates:
0.2
g
|
Protein:
0.05
g
|
Fat:
9
g
|
Saturated Fat:
1
g
|
Polyunsaturated Fat:
1
g
|
Monounsaturated Fat:
7
g
|
Sodium:
53
mg
|
Potassium:
4
mg
|
Fiber:
0.1
g
|
Sugar:
0.01
g
|
Vitamin A:
3
IU
|
Vitamin C:
0.1
mg
|
Calcium:
3
mg
|
Iron:
0.1
mg
More Sauces, Dips & Spice Blends
Reader Interactions