One-pot meals are awesome because they're so versatile and are easy to prepare. This creamy sausage and pasta takes less than an hour from start to finish, making it a great pick for a weeknight meal.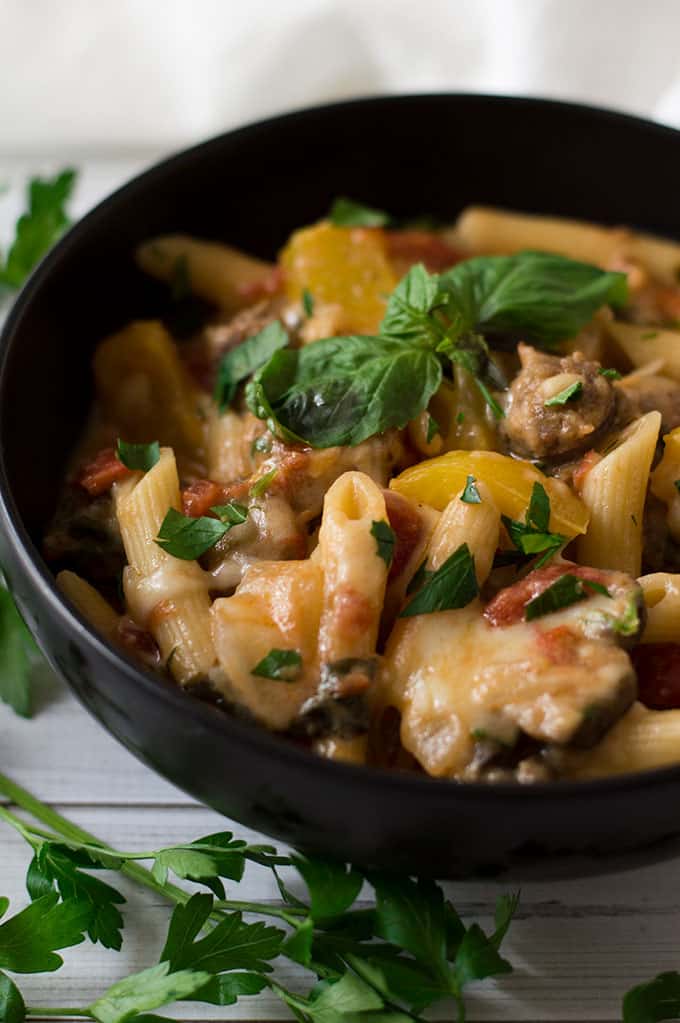 Yasssssssssss. It's Friday!
I love Fridays. Particularly, Friday nights. Because I'm either out with friends having all of the fun (usually involving food and drinks) or I'm lounging at home in pajamas, which I call "Pajama Friday" (this also usually involves food and drinks).
I have no idea which type of Friday today is yet. I will say if it ends up being a pajama-like deal, I am totally okay with that because it's been a pretty busy week! Some downtime sounds rather nice right now. You feel me?
I'm still getting adjusted to this new schedule of mine that involves more than one type of work. I am loving it, but it also has me having to figure out food fun. When I get home from one job, I give myself some time to quickly make dinner before I move onto the next (which is a work-from-home deal, so pajamas are absolutely worn here). Sometimes Jason will head dinner, but his schedule is kind of all over the place right now too. When things don't line up, we either save food for one another, fend for ourselves, or have leftovers. Take-out may or may not sneak in there from time to time too.
And that's when one-pot meals come in so, so handy. Easy to prepare + delicious + minimal cleanup = YES, PLEASE.
It's no secret that one-pot meals are where it's at. One of the more popular recipes on this blog is my one-pot Greek eggplant and rice recipe, for example. So many noms.
What I also love about one-pot meals is the guaranteed leftovers for lunching it up the next day. Unless we're entertaining some friends, we're the only two eating in this house, so leftovers are pretty common. In some cases, I'm the only one eating leftovers because Jason doesn't eat everything I do. And I'm okay with that because that means more deliciousness for me! 😀
And so for the one-pot meal I'm sharing with you today, I hit up Stop and Shop to pick up my goods! I grabbed some veggies, herbs, Barilla Pasta, Johnsonville Italian Sausage and Galbani Cheese. Oh, and also ice cream, but don't worry – that's not in the one-pot meal, silly! Lolz, I got jokes.
The combination of these ingredients makes a quick and tasty comfort meal, which is especially fitting for colder weather (side note: it's kind of insane to me that October is almost over).
The Johnsonville Italian Sausages are convenient and flavorful (they come in three varieties: Hot, Sweet, or Mild). I have some links leftover I didn't use in this recipe and I plan to make a sandwich with them. <3
The Galbani Mozzarella Cheese is a new low moisture cylinder that's shaped specifically "for shredding," which is more in line these days with what consumers look for. As someone who recently started working with many cheeses, I can vouch for that. Also, freshly shredded cheese is my favorite type of shredded cheese. True story.
Barilla Pasta is all about making your dinner quick, easy, and versatile, making it an awesome pick for one-pot meals. You can check out barilla.com for other recipe ideas.
Add these three to a pot with fresh vegetables, herbs, chicken stock, and a little bit of half and half and you've got yourself a tasty sausage and pasta meal. It's cheesy, and lightly creamy and the flavors complement each other really well. Huzzah!
If you're in the mood for something new to make, you should definitely try this. When you stop by your nearest Stop and Shop between 10/21-10/27 and purchase Barilla Pasta, Johnsonville Italian Sausage and Galbani Cheese, you'll automatically save $3 at checkout with your store loyalty card!  While supplies last.
Now, let's move onto the tasty part: the recipe itself!
How to Make One-Pot Creamy Sausage and Pasta
Start by gathering all of your ingredients. Chop the onion and bell pepper, slice the mushrooms (unless you bought them pre-sliced), mince the garlic, and chop the fresh basil and parsley.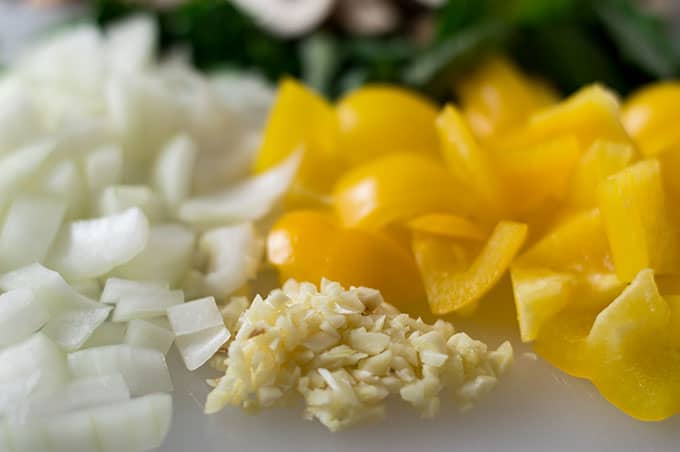 Measure the Barilla Pasta (half a box for this recipe), chicken stock, and half and half. Open your can of diced tomatoes. Mise en place all day, every day.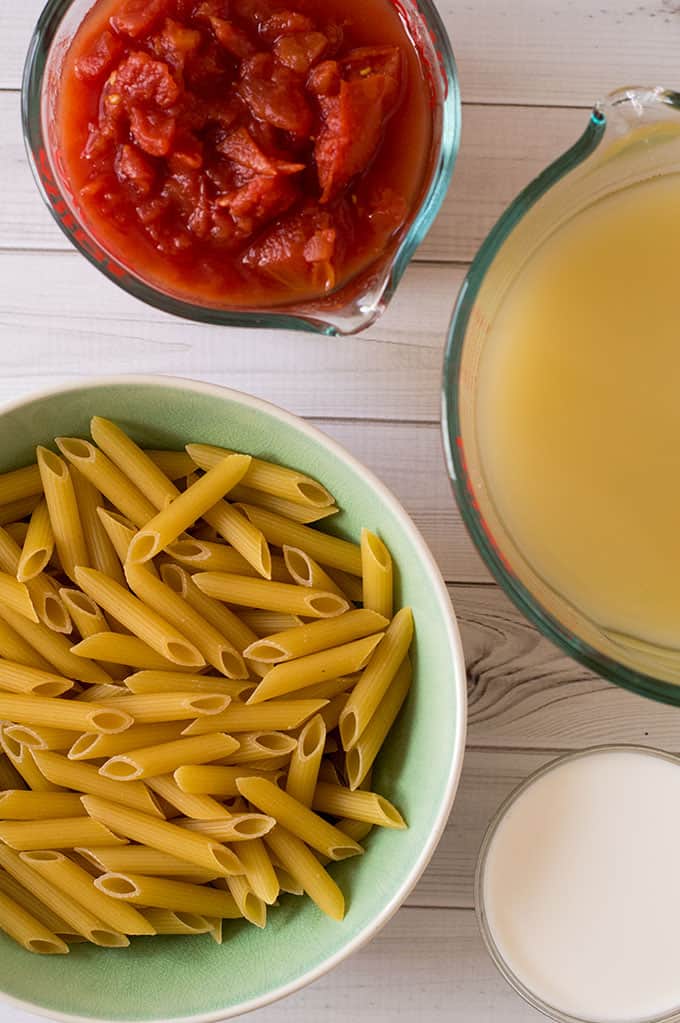 Then, take three Johnsonville Italian Sausage Links and slice them into 1/2 inch coins (I purchased Hot Links, but you can make this with Sweet or Mild too). Make sure your knife is nice and sharp to make for easy slicing.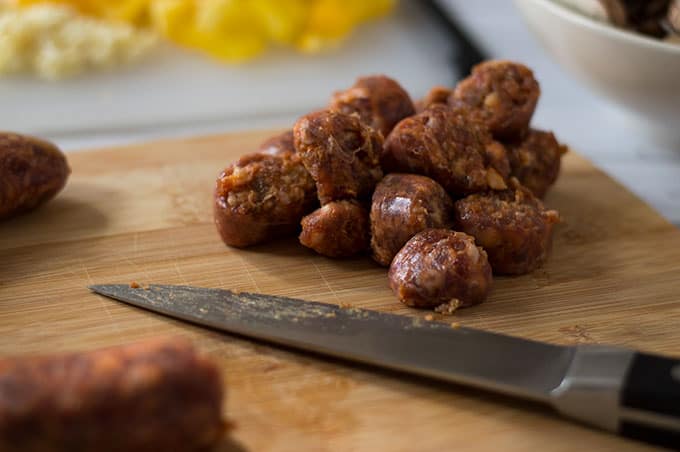 Lastly, grate your Galbani Low Moisture Mozzarella Cheese. You can use a box grater or food processor with a grater attachment. I find the latter is an easier option because you'll have the cheese grated in seconds and clean-up is easy as long as you rinse out the container and parts of the food processor quickly.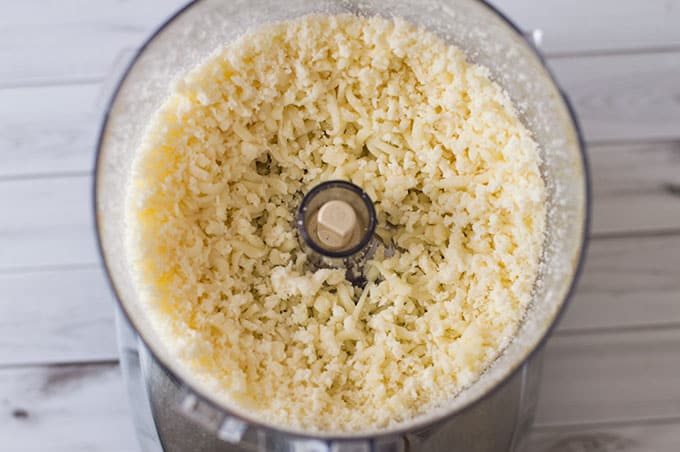 Now that you have your ingredients prepped, grab a large dutch oven and place it on the stove over medium-high heat. Add in your olive oil. When the oil is nice and hot, add in the sliced sausage in an even layer. Let it cook for a few minutes, undisturbed. This will allow the sausage to brown.
After three minutes, stir in the onions, peppers, and mushrooms and let cook for ten minutes, stirring here and there – until the sausage has browned and the vegetables have softened. Then, add in the garlic and cook for an additional minute.
Stir in the pasta, diced tomatoes (use the liquid too!), fresh basil, chicken stock and half and half. Season with a pinch of salt and pepper and stir together. Let come to a boil, then cover, and reduce the heat to a simmer. Cook for 15 minutes.
Remove the lid and stir in half of the shredded cheese and most of the parsley. Top with the remaining cheese and cover with the lid. Let cook an additional three minutes.
Remove from heat, garnish with remaining parsley, and serve!
Easy, right? And it's so good! I hope you try it and when you do, definitely let me know how you liked it. You know I love hearing from you. 😀
Also, I'd love to know what your favorite go-to one pot meal is. Let me know in the comments!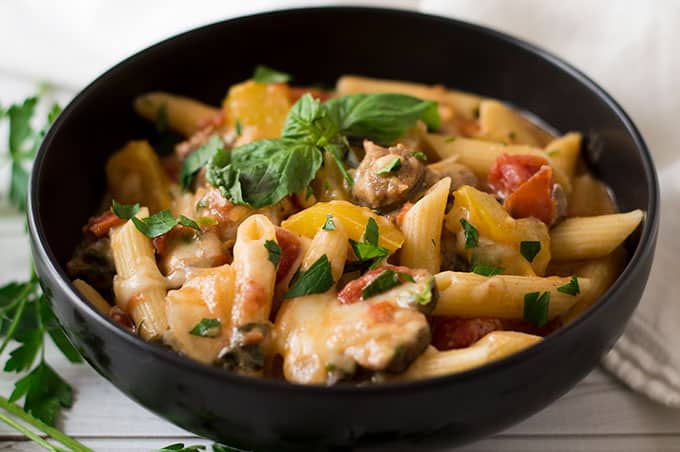 One-Pot Creamy Sausage and Pasta
Author:
Marissa @ OMGfood
Ingredients
2 tablespoons light olive oil
1 small sweet onion, chopped
1 yellow bell pepper, chopped
4 ounces baby bella mushrooms, sliced (1 heaping cup)
3-4 garlic cloves, minced
3 Johnsonville Italian Sausage Links, sliced (Sweet, Hot, or Mild)
8 ounces Barilla Pasta, any variety (I used Penne)
1 14.5 ounce can diced tomatoes
2 cups chicken broth
½ cup half and half
½ cup loosely packed fresh basil leaves, roughly chopped
¼ cup fresh parsley, finely chopped
Kosher salt and freshly ground black pepper to taste
8 ounces Galbani Low Moisture Mozzarella Cheese "For Shredding"
Instructions
Pre-heat the olive oil in a large dutch oven over medium-high heat.
Carefully add the sliced sausage to the hot oil in an even layer and let cook, undisturbed, for three minutes.
Stir in the chopped onion, bell pepper, and mushrooms. Cook for ten minutes, until the sausages have browned and the vegetables have softened.
Stir in the garlic and cook until fragrant, an additional minute.
Add in the pasta, fresh basil, diced tomatoes with liquid, chicken stock, and half and half. Season with a pinch of salt and black pepper to taste. Stir together.
Let come to a boil, then reduce the heat to a simmer. Cover and let simmer for 13 minutes.
Remove the lid and stir in half of the shredded cheese and most of the chopped parsley (reserve a tablespoon for garnish). Top with the remaining cheese.
Cover and let cook an additional three minutes.
Remove from heat, garnish with remaining parsley, and serve.
Notes
1. If you like your pasta with a little more heat, stir in a ½ teaspoon of red pepper flakes when you add in the garlic.

2. When the pasta is finished cooking, you may notice a little bit of liquid on top. This is normal as the cheesy sauce will thicken.
This post is part of a social shopper marketing insight campaign with
Pollinate Media Group
®  &
Lactalis American Group
but all my opinions are my own. #pmedia
#MealSolutionMatch
http://my-disclosur.es/OBsstV