Heads up: some of the links in this post are affiliate links and services I use for OMGfood.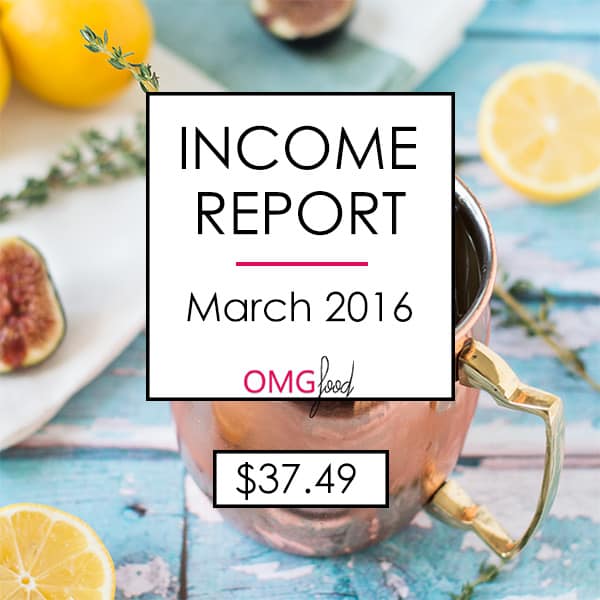 Hi, friends!
Welcome back to another monthly traffic and income report, where I share some information about blogging behind the scenes. My goal is to one day make a living from my blog and I want to share the journey there with you!
My goal with these posts is to share what I'm learning as I go with growing my blog from hobby to business, in hopes it will help you with your own journey, whether it's growing your own blog or whatever else.
If the technical side of blogging doesn't interest you, I understand. You want recipes, not numbers!  I'll have something new for you to taste next time. The rest of you who are here to know about the fun behind the scenes, read on!
---
Numbers
Traffic Overview
Some screenshots from Google Analytics (you can click on them to see a larger version).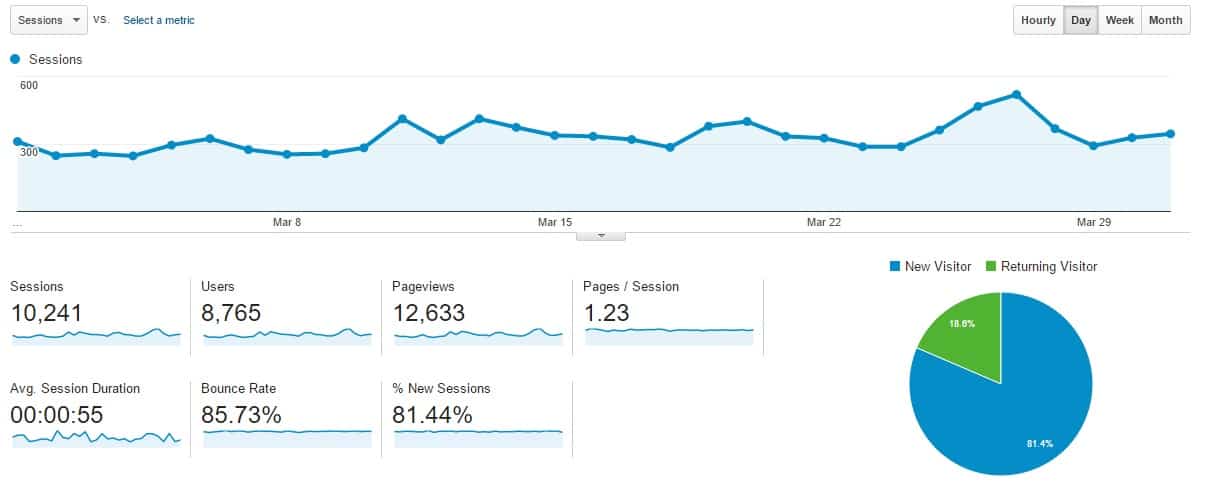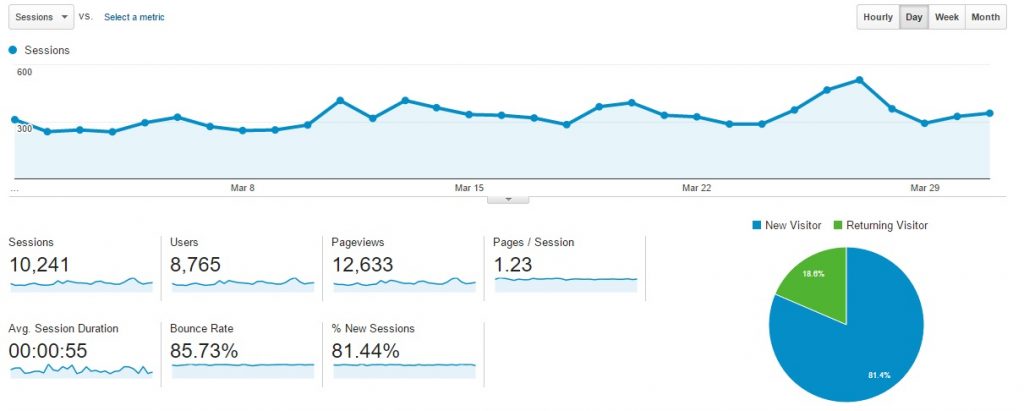 Top Ten Traffic Sources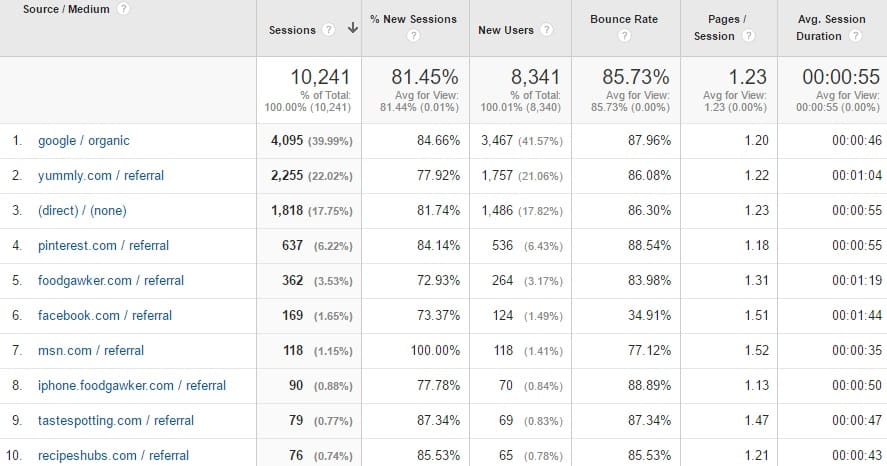 Mobile vs Desktop vs Tablet

Income
In the middle of March, I did some tweaking to my ad networks and added Google AdSense back to the mix. I'm not sure how long I will keep it because these ads are pay-per-click and my audience isn't very "clicky." Playing it by ear for now!
Total Income: $37.49
Expenses
Something new I did in March was experiment with promoting some facebook posts!
Total Expenses: $70
Profit: $0
---
Top Three Posts of March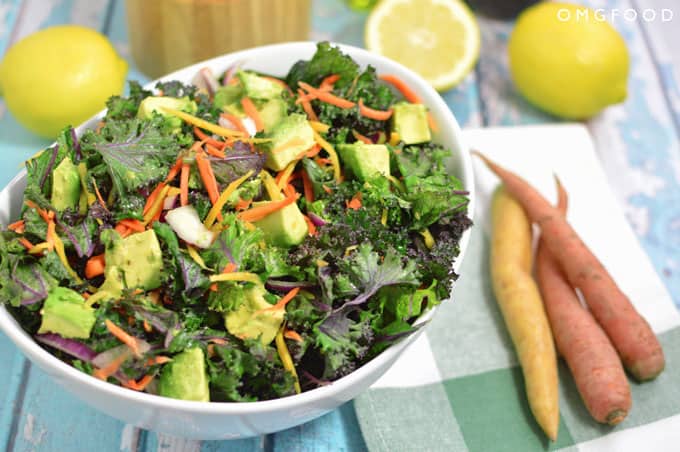 #2 Broiled Lamb Shoulder Chops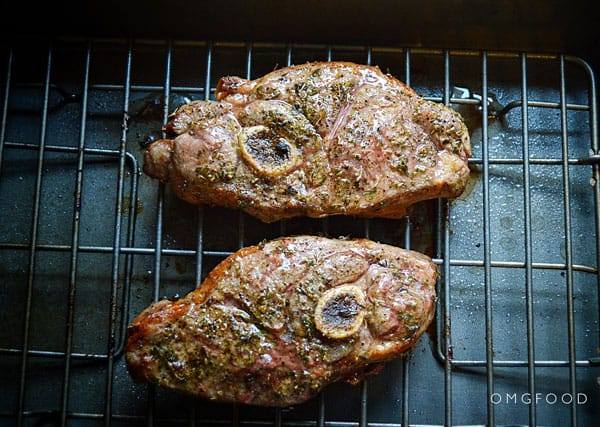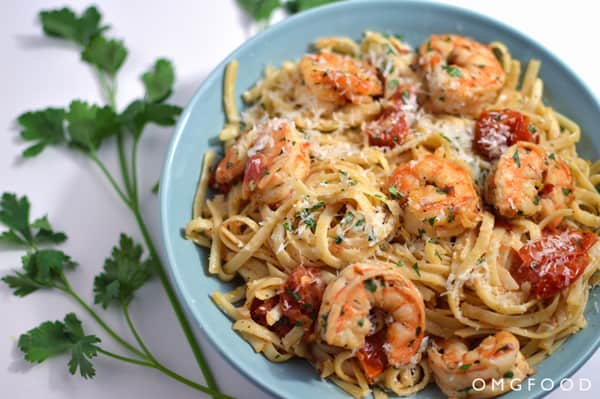 These same recipes linger in the top three again this month! Amazing. The order has changed, but the food stays the same.
---
Takeaways
Page Views
March is looking pretty good, with approximately 2200 more page views than February. It was a good month for getting back into the groove. I shared five recipes, making that three more than February, which helped boost those page views up a bit. I was pretty stoked to see an increase, even if it was a slight one. What I need to do though, is get on the ball and post a bunch more each month. I've been slacking on the planning and scheduling blog posts front, which is slowing me down a bit.
Facebook Ads
It was pretty cool to experiment with facebook promotions a bit, though I admit making that jump when there's no profit coming in was kind of silly. I set up two ads, with the first one being $5 for two days and the second at $10 for two or three days. Depending on the amount and length of time you go with, you have the potential to reach a high number of people. I promoted my Mediterranean mule recipe for the $10 ad and got a lot of views with a few shares and I got a couple of page likes out of it. I'll consider exploring facebook ads again in the future, but not until after my income is covering blog expenses.
Pinterest and Boardbooster
If you've read my previous income reports, you may remember in January I talked about my need to fully utilize the boardbooster tool. For months, I was only using a part of the features: setting up campaigns for new blog posts. Boardbooster is one of my favorite blogging tools. Here's a recap of what it can do:
Campaigns - You can set up a campaign for all of the boards you'd want to pin a recipe to. Boardbooster will create a secret board for you to pin to just once and it will repin to all of the boards and group boards you selected within a time frame of your choosing. I have my new post campaigns set up to repin over 10-14 days, depending on the campaign itself and how relevant the recipe is with the group boards I'm a part of (i.e. "new breakfast posts" or "new booze posts"). You can also create an "automated posts" campaign, which will repin however many pins you want from a specific source board to group boards. I set up my blog recipe board to be the source to repin that content to my group boards, but the same pin won't appear for at least thirty days, which is a setting I specifically chose to not spam the boards because that would be bad news bears.
Looping - Looping is taking older pins in a specific board and refreshing them to bring them back to light. This is good to get your older pins in front of fresh eyes because any new followers you get on pinterest will likely not see your old pins. All you have to do is set this up once in boardbooster and you're done.
Scheduler - I love this tool. A scheduler allows you to pin/repin content to your board(s) over time. When setting it up, what you are doing is creating a secret board that's identical to the board you'd want to pin something to and the tool will repin that content between whatever times you select over however many days you want. You can also pick how many pins per day. I have a bunch of boards created using the scheduler and do one pin per day on each board. This allows me to share pins from other bloggers without spending so much of my time on pinterest. And because the magic of this is pinning to secret boards, it's all done within pinterest itself. I'll go in each week and spend a little bit of time to pin a bunch of stuff I like to my secret boards and those pins will gradually appear over a week or however long depending on the amount of pins.
Note: the traffic from pinterest in March was roughly the same as February, however, the amount of repins increased dramatically. Before fully setting up boardbooster, I'd get 60-70 repins a week on average.  That number has increased each week and I'm now at an average of 415 weekly repins. I also got a lot of new followers, making it the social media platform with the most followers for the blog so far. While I haven't seen an increase in traffic to my site yet, this is an awesome start.
Because of setting up all of this automation through boardbooster, that increases the amount of pins going on, so I had to change my pricing plan from $5 a month to $10. While I hate to spend more money on the blog when my income isn't covering the expenses yet, I know this will help me in the long run. I'll just skip the second coffee at Starbucks for now.
Ads and Affiliate Marketing
In mid-March, I tweaked the backfill waterfall of my ads for both desktop and mobile (especially mobile) and included Google AdSense back in the mix. I looped it back in to try and increase my revenue from ads, though with AdSense, you are paid per click and my blog audience isn't big on clicking ads. I recently received an Invite to Amazon CPM Ads and am debating on adding them, either to the waterfall or replacing AdSense all together. I need to do more research first.
When I was fixing the Ads, I also did some configuring to my recipes page. If you go there, you'll notice my right sidebar is gone, but there is a slimmer sidebar on the left, with only one banner for Thrive Market. I love Thrive and want to get the word out more about it, though I still need to get a post together. I'm waiting until I make my next purchase from there, which will be soon! I started setting up my grocery list.
The banner placed on the recipes page isn't doing any good for clicks. It's hardly getting any views, so I may need to revisit my backfill waterfall for ads and place it on the main sidebar, which is leading me to think that replacing AdSense with affiliate banners to products/services I love would be an excellent idea.
Thanks for tuning in
That's it for this month. Did you find this information useful? Let me know and let's chat!