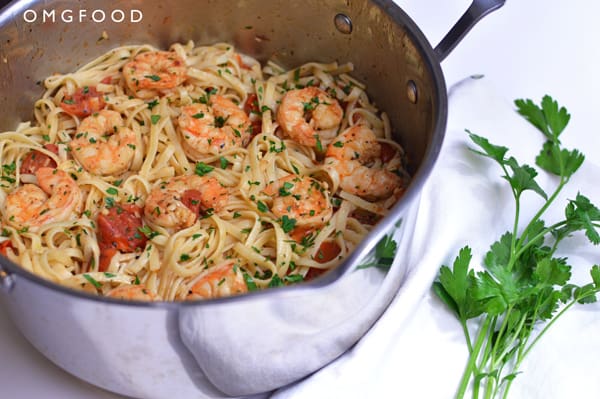 So I was going to update another post this week to replace a not-so-pretty photo, then I decided to write a whole new post instead!
I've posted shrimp scampi before, but instead of updating the other post with new photos, I created a new one to serve with pasta (the other is meant to be a paleo-ish post). Though I'd still like to update the original one with prettier photos, I'd also like to update the recipe itself because I want to tinker with the ingredients for the paleo version. Maybe I will work on that soon! In the meantime, here's one of my favorite (and super easy) pasta dishes. Shrimp scampi with linguine!
When it comes to cooking fats, you may know by now I use various types of olive oil depending on the recipe. Extra virgin is mostly for dressings, regular olive oil for sauteing and marinading, and extra light for frying and of course, homemade mayo. There are very few recipes I cook with extra virgin olive oil, but this is one of them! However, extra virgin can burn really easily, so I always cook at a low or low-medium heat. It takes longer for the pan to heat up, but waiting is way better than ruining the oil. Once it burns, it is useless, and that's bad news bears! Olive oil is expensive; the last thing you'd want to do is waste it!
I have no good rhyme or reason why I use evoo for shrimp scampi. I just do. I find it tasty! Okay, I guess that's my one good reason. Some people are against it, some are not. I think life is too short to ponder on such things. Just eat and be happy! And also, be healthy. Very important!
One thing to note: if you happen to have a cheap bottle of evoo and a fancy bottle, go for the cheap one when cooking. The difference in flavor will not be noticed when cooking with evoo. Save the good stuff for your dressings and such.
I used to season my shrimp scampi with freshly ground black pepper until I received this awesome Christmas gift one year from a Secret Santa at work. It was a kit with super delicious and hot spices, one of which was urfa pepper.
I had never heard of urfa pepper (also known as urfa biber) before that day and I can't even tell you how excited I was to cook with a new spice. It's a Turkish pepper, mainly used for lamb and other braised meats. I already had shrimp scampi on the menu for the night I received my gift, so I decided to live adventurously. It adds a little extra heat to the dish (I already add red pepper flakes to it as well), smells amazing, and I just love this stuff. I'm not saying you have to go out of your way to use urfa pepper for this recipe; freshly ground black pepper will work just fine and honestly - if you were to blindfold me and make me taste two versions with each pepper type, I don't even know if I could tell you I notice a difference. It's been a long time since I used black pepper in this recipe - it's possible the difference is quite subtle.
If you're using fresh shrimp, you can have this sauce made in the time it takes to boil the water for the linguine. If you have frozen shrimp, just add another five or so minutes to the prep time and run the shrimp under cold water to defrost. Either way, this meal doesn't take long to prepare, which makes it great for a weeknight meal. Or you can impress a date! I think I'd impress Jason with this dish if he ate seafood. I  sometimes wonder why I'm in a relationship with someone who doesn't share the same passion for food as I do. 😉
He is really cute, though. And I kind of like him.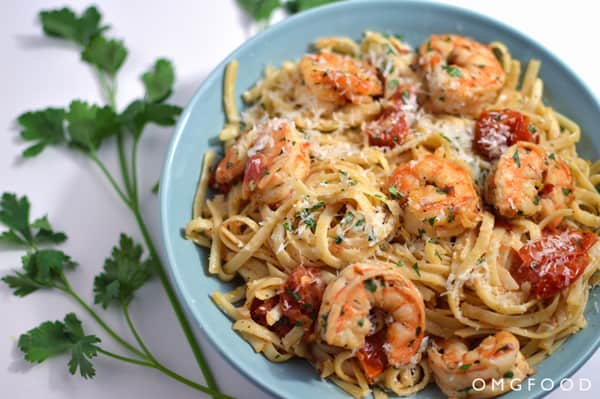 📖 Recipe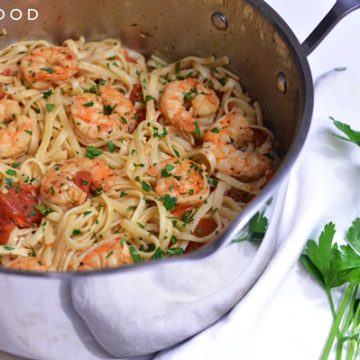 Ingredients
½

lb

of linguine

,

half of a package

¼

cup

extra virgin olive oil*

4

garlic cloves

,

minced

½

teaspoon

red pepper flakes

20

grape tomatoes

,

halved

½

pound

large shrimp

,

peeled and deveined

juice from half a lemon

2

tablespoons

grass-fed

,

unsalted butter

½

cup

dry white wine

1

teaspoon

kosher salt

½

teaspoon

urfa pepper

,

or freshly ground black pepper

2

tablespoons

fresh parsley

,

finely chopped

freshly grated parmigiano-reggiano
Instructions
Bring a large pot of water to a boil and cook linguine to package instructions.

Heat the olive oil in a wide saute pan over low-medium heat. This may take a good few minutes to heat up, but you don't want it to reach a smoking point when cooking with evoo.

Add in the garlic and red pepper flakes. Because you're cooking at a lower heat, the ingredients will only sizzle slightly; this is okay.

Saute until the garlic becomes fragrant, about one minute.

Add in the tomatoes and raise the heat to medium-high. Cook until they have become tender and softened; about five to six minutes.

Push the tomatoes to the side and add in the shrimp in a single layer. Cook for two minutes and turn them over.

Add the butter, lemon juice, wine, salt, and urfa pepper. Let come to a boil and cook for three minutes. Stir everything and continue to cook for another two to three minutes, until the wine has reduced.

Add the cooked pasta and parsley to the saute pan and toss to coat with the sauce. Taste and add more salt if necessary.

Plate your pasta and top generously with freshly grated parmigiano-reggiano cheese!
Notes
*Pre-heating the olive oil on low-medium heat is important for two reasons:
1. Extra virgin olive oil burns easily and this helps prevent that from happening (but it's still possible, so be sure to keep an eye on it as it's preheating. It normally takes me about five minutes, but this can vary depending on the pan).
2. Both garlic and red pepper flakes can burn easily if added to extremely hot oil and these are the first ingredients to go into the saute pan.