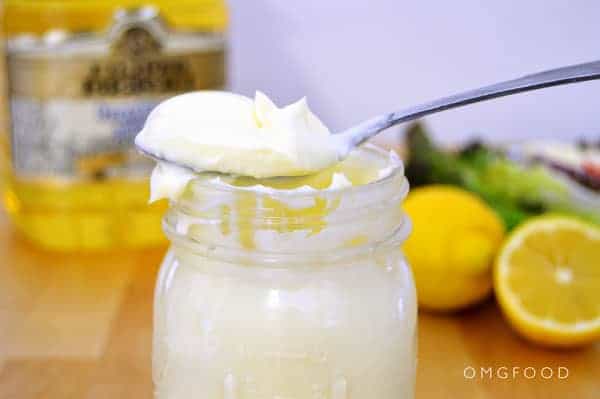 Updated 11-26-14: This post was originally written for a Whole30 program I was unable to complete on the blog due to technical issues that prevented me from making new posts. 
I expected to wake up this morning with the biggest headache because that's what day 2 is always like with me and Whole30 fun. But it didn't happen! I would have danced in bed (yes, it's totally doable), but I was super tired. Getting out of bed was tougher than usual and I stayed in there as long as I possibly could.
Also, I was super hungry! I'm talking mega hunger pains hitting me as soon as I got up to start the day. I made a quick snack to hold me over by smashing up some hard-boiled eggs and mixing it with some leftover paleo ranch dressing - which I made with the mayo recipe in this post, by the way!
Today was mostly another boring day as far as sugar withdrawals go -  that is, until a friend at work offered me some chocolate. I wasn't craving it one bit, even after she offered it to me, but I got annoyed that I "couldn't" have any! And so it begins.
The mini tantrum I had inside my head because of not having chocolate I didn't even want anyway only lasted a few minutes, but I started wearing some cranky pants as the workday came to a close and for no reason at all! Jason is also doing a Whole30 with me and he wore those pants, too. The next week or so is going to be fun!
We hit up Trader Joe's on the way home from work and picked up some ribeye and nuts to make more trail mix! Soon as we hit home, dinner was on! And eating helped with the crankiness a bit.
Here's what I ate today:
Breakfast
- Smashed hard-boiled eggs with paleo ranch. (Still not quite a breakfast; more like a snack!)
Lunch
- Pan-fried chicken with baked sweet potato and leftover ratatouille.
Snacks
- Paleo trail mix
- Leftover buffalo chicken salad
- One banana!
Dinner
- Pan-seared ribeye with sautéed kale and shaved brussels sprouts
Recipe time!
Do you own an immersion blender? Because it's a magical kitchen tool and kind of necessary for this recipe! Why is it necessary? Because we're making homemade mayonnaise and in my experience, the magical stick blender makes the thickest and creamiest mayo with no fuss at all and in less than a couple minutes.
I make my mayo with an extra light olive oil; it's the closest to making a neutral tasting mayo without using junky oils like canola or vegetable oil and it's paleo friendly! There are other paleo oils you could try as well! Like avocado or macadamia oil. Just make sure you don't use extra virgin olive oil for this! I don't think it would taste very good. 😉
Homemade mayo has been another staple in my kitchen for over a year at this point. Jason was weirded out by it in the beginning, but now he eats it and helps me make it!
The other night, I had him make some and showed him what to do, except I left out an important detail, we ended up wasting the ingredients (oops!), and had to start all over again. That detail is not to move the immersion blender for a little bit after first turning it on. Very important! We ended up with some liquid weird stuff that ended up going right down the drain. So sad.
But we went for it again and that time, I told him not to move the stick for about 20 seconds and all was well!
📖 Recipe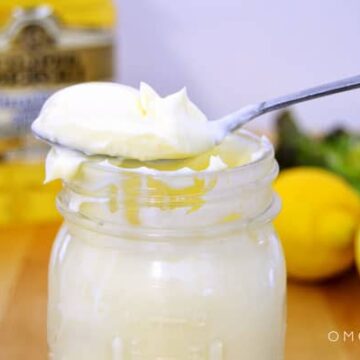 Ingredients
1

large egg

½

tablespoon

lemon juice

½

teaspoon

kosher salt

½

teaspoon

ground mustard

1

cup

extra light olive oil

,

be sure it's extra light and not extra virgin or you will be very disappointed
Instructions
Add the egg, lemon juice, salt, and mustard in a jar wide enough to fit the immersion blender in. Add in the oil.

Insert the blender all the way to the bottom of the jar and turn it on.

Don't move the blender for a good 20-30 seconds. You'll notice the mayo starting to form at the bottom and it will slowly climb its way up the jar. At this point, you can move the blender up and down to blend in the the oil hanging out at the top. Be careful not to take the stick completely out of the jar while it's on!

And just like that, you have thick, creamy homemade mayo.
Notes
Mayo can also be made by hand, but requires some elbow grease. It can also be made in a regular blender, though in my experience, it doesn't always come out good. Both of these methods require patience which is why I'm a huge fan of the immersion blender. No muss. No fuss!