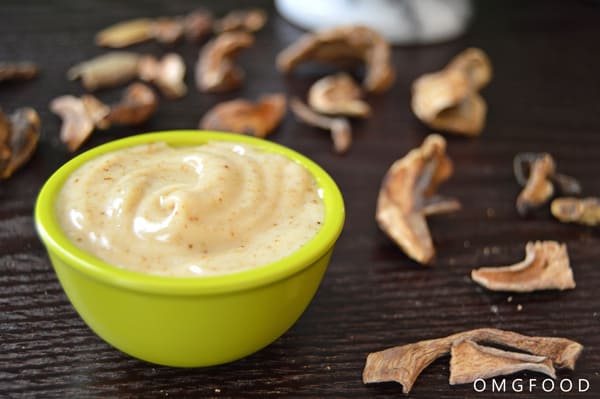 Umami! It's one of my favorite words. Also, tastes. I love saying it and tasting it. Not necessarily in that order.
Know what umami is? Well, in case you don't, I'll give you the quickest rundown. There are four tastes we all know: salty, sweet, sour, and bitter. Umami is the fifth, magical taste of savory or "meaty." Some foods that are rich in umami are meats, fish-based sauces, mushrooms, and ripe tomatoes (roasted tomatoes especially bring that taste out). If you want to learn the science behind it, check out this article.
If you're making mayo at home (and you should be because a. it's delicious and b. way better for you than the jar stuff), adding just a couple simple ingredients to it gives you umami mayo. I love this stuff on burgers.
So to make umami mayo, you're going to need dried mushrooms. I use shiitake or porcini; it depends on which I have in my kitchen (at the time of this recipe, I had porcini mushrooms). Then, you're going to take those dried mushrooms and turn them into a powder! You can do that a couple of ways. I highly recommend using a spice grinder. It's inexpensive and stores away easily. Freshly ground spices really enhance the flavor of your food! I also love grinding spices in advance to store in an airtight container for easy cooking. For instance, mushroom powder! It's a win-win.
Another way is using a mortar and pestle; which I actually used when making the umami mayo for this post because I wanted to take cool snapshots of the powder in the mortar and pestle. Unfortunately, those photos didn't work out. That's the life of a novice food photographer for you. But you can kind of see it in the corner of this photo!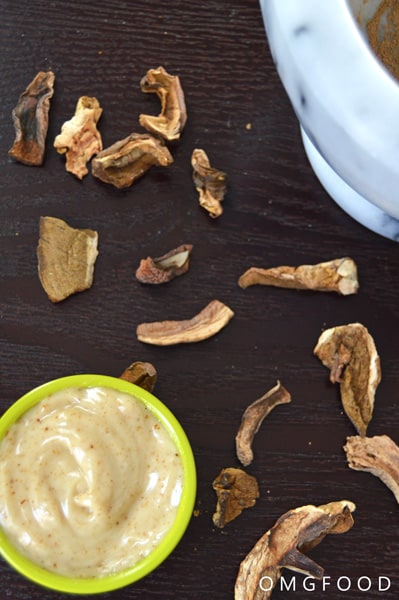 How to make umami mayo: take mayo, add mushroom powder, and a dash of fish sauce to it. Mix and you're done. I recommend letting the mayo hang out in the fridge for a couple of hours to allow the flavors to get to know each other, but if you're impatient and want to just dive right in, I totally understand.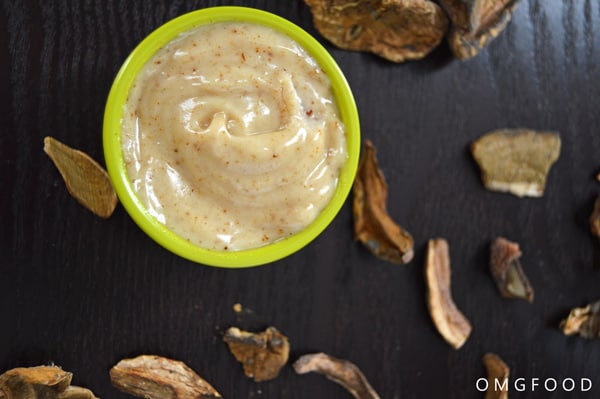 📖 Recipe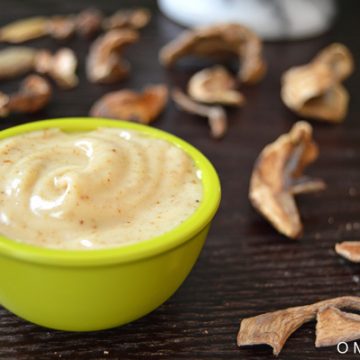 Ingredients
¼

cup

homemade mayo

1

small piece dried shiitake or porcini mushroom

,

¼-1/2 inch in size*

dash of fish sauce
Instructions
Add the mayo to a small bowl. Set aside.

In a spice grinder or mortar and pestle, grind up the dried mushrooms to a fine powder; enough to make ½ a teaspoon.

Add the mushroom powder to the mayo.

Add a dash of fish sauce.

Mix to combine.
Notes
*I normally have mushroom powder at the ready by grinding a decent amount at once and keeping it stored in an airtight container. This recipe calls for ½ a teaspoon of mushroom powder.
link