Pomegranate molasses is a traditional ingredient used in Middle Eastern cooking. It's made by reducing pomegranate juice, with or without sugar, into a thickened syrup. It has both a sweet and tart flavor and can be used in various ways. Use it as a marinade, in dressings, beverages, or even as a dessert topping.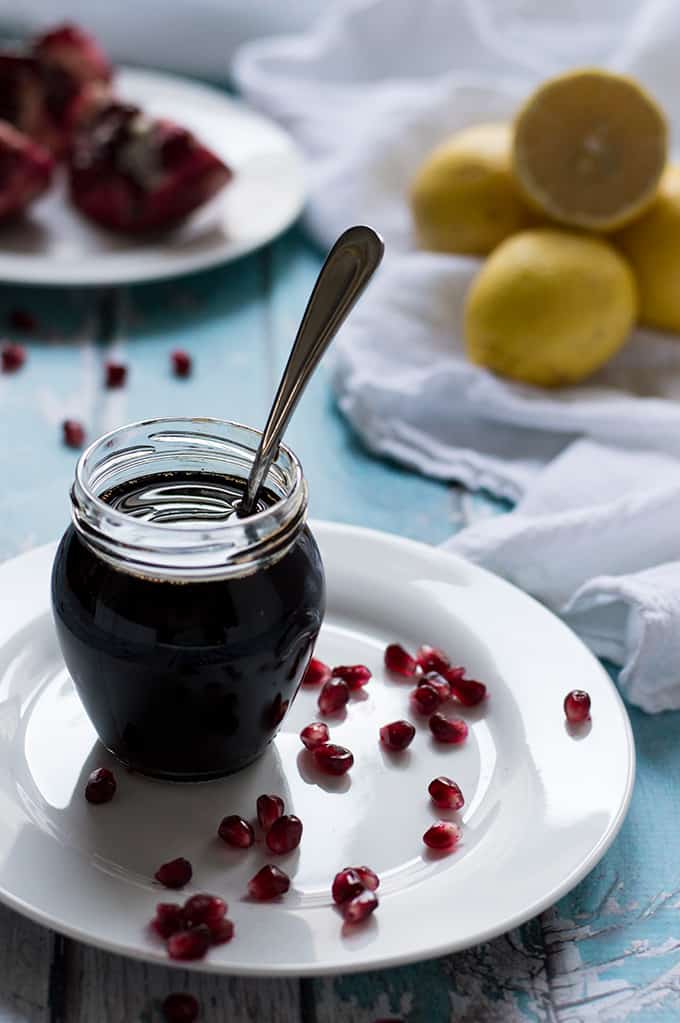 It is currently 19 degrees outside as I write this. I'm on the couch with a giant hoodie, thick fuzzy socks, and a hot cup of tea to keep me warm and I'm thinking about summer. Can we have summer back, please? I don't want to winter anymore.
There are a few things I look forward to during this season: my favorite holiday (Christmas!), Jason's birthday, some close friends' birthdays, and my birthday all go down in winter and once they are all over, I count down the days to warmer weather. Okay, really, I start counting down in November, but after all of the celebrations, the countdown gets serious.
I will say I love me some comfort food and hot drinks during the colder months. I don't really appreciate a good hot cup of cocoa or tea in the spring or summer, so I'll give winter that. Winter allows me to fully appreciate hot food and drinks. 🙂
Like, this tea I am drinking right now is pretty much the best thing ever. It's a simple herbal tea, but I put some pomegranate molasses in it and it's making me very happy. I love pomegranates and I love pomegranate molasses.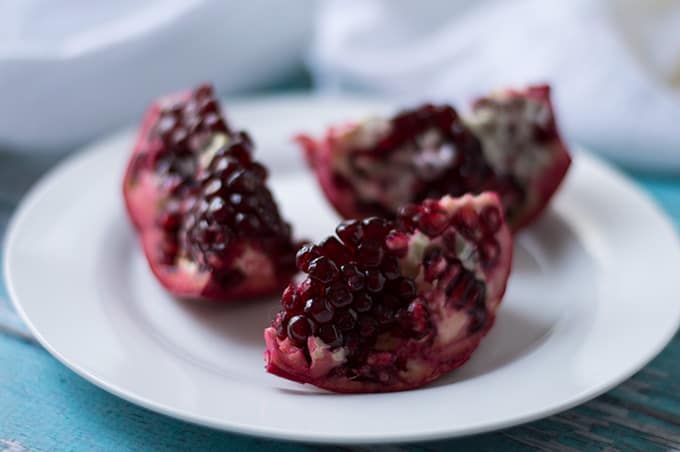 Are you familiar with this tasty, intensely-flavored syrup? It's a common ingredient used in lots of Middle Eastern cooking. It's simply made from reduced pomegranate juice and can be made with or without sugar. Lemon is also added. The syrup is tangy and lightly sweet and deeeee-licious. And  it can be used in lots of different ways. It makes an awesome glaze for meats, it can be used in dressing or drinks (like my tea!), desserts, dips- endless possibilities, friends. I highly recommend this stuff. It adds depth and complexity to whatever you add it do.
How to Make Pomegranate Molasses
You need a quart of pomegranate juice, some sugar, and some lemon juice. You can make the molasses without sugar if you prefer; it all depends on how tart you'd want your syrup to be. Even with sugar added, it will be pretty tart, but there's a nice balance. I also like using sugar because it makes for longer storage. The molasses should keep up to a month in the fridge.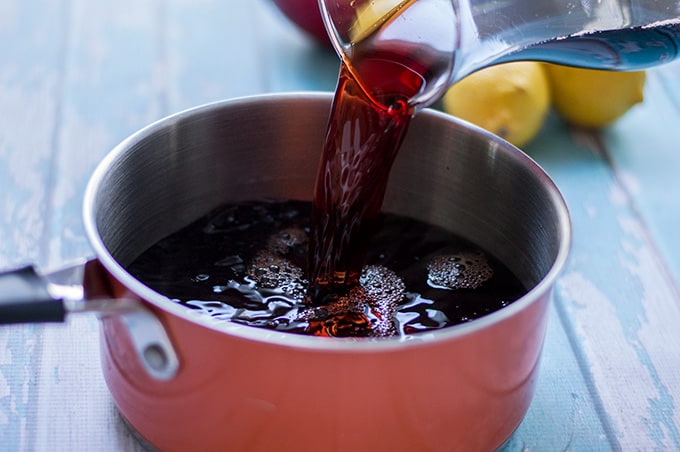 I use store-bought pomegranate juice for ease, but you can make your own juice by pulsing the pomegranate seeds (also known as arils) in a blender enough to break them up and strain through a mesh strainer.
To make the pomegranate molasses, start by adding the juice, sugar, and lemon into a saucepan over medium-high heat for about ten minutes or until the sugar has dissolved and the sauce starts to simmer. Then, reduce the heat enough to maintain a light simmer and let it cook on the stove for about an hour or a little more and remember to stir it occasionally.
The mixture will slowly thicken and reduce down to 1 to 1 ¼ cups of syrup. 1 - 1 ¼ is the magic point of tasty, thick molasses. The syrup will lightly coat the back of a spoon, but the mixture itself might not seem very thick while it's still hot. Don't let that fool you. The syrup will continue to thicken as it cools, so if you keep it on the stove and let it reduce further than necessary, it will turn into a hard-like candy after it's cooled and that's bad news bears. I have made that mistake before. Don't be like me.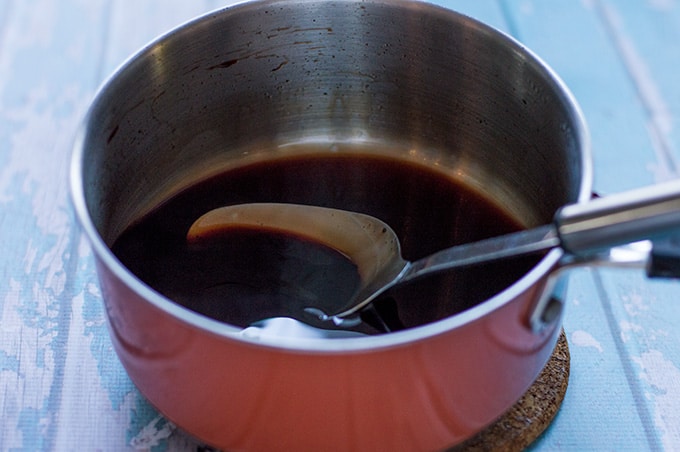 After the molasses has cooled, transfer it to a glass jar with a tight-fitting lid and keep it stored in the refrigerator for up to a month. And remember to use it in all of the tasty things!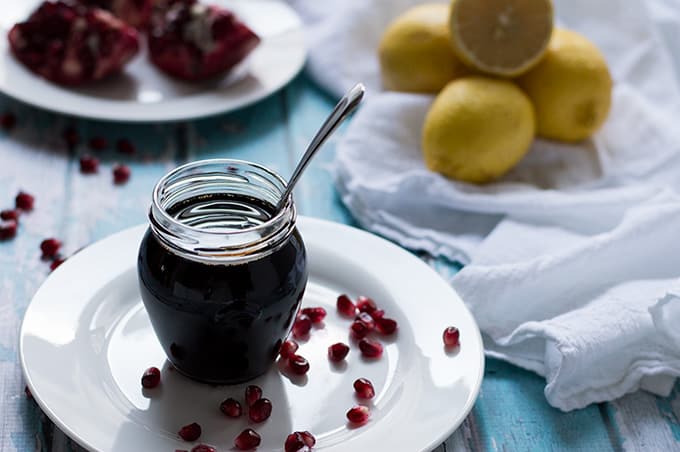 📖 Recipe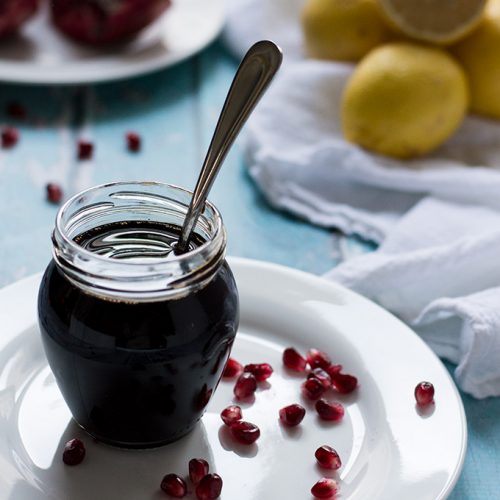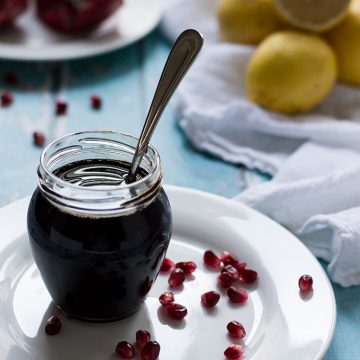 Ingredients
4

cups

pomegranate juice

¾

cup

sugar

2

tablespoons

freshly squeezed lemon juice
Instructions
In a 4-quart saucepan, heat the pomegranate juice, sugar, and lemon juice on medium-high and stir it occasionally, until the sugar has dissolved and the sauce has reached a gentle simmer (about ten minutes).

Reduce the heat so that the sauce maintains a slight simmer (medium or medium-low, depending on your stove).

Continue to let it simmer for 60-80 minutes, stirring every ten minutes or so, until the sauce has reached a syrup-like consistency and lightly coats the back of a spoon. It should be reduced down to 1 to 1 ¼ cups; if you measure the sauce and there's more liquid than that, continue reducing. Don't let it reduce too much or it will become too thick and harden when it cools.

Remove from heat and let cool. You will notice the syrup has thickened after cooling.

Transfer the molasses to a glass jar and store in the refrigerator up to one month.
Disclaimer: This post may contain affiliate links, which means I make a small commission if you make a purchase through them. By purchasing through these links, you are helping support this site at no extra cost to you! I only recommend items and services I personally use and love.