These dukkah-crusted pork chops and potatoes are full of spicy and robust flavor. This recipe is an easy-to-make sheet pan meal that's a great choice for weeknight cooking!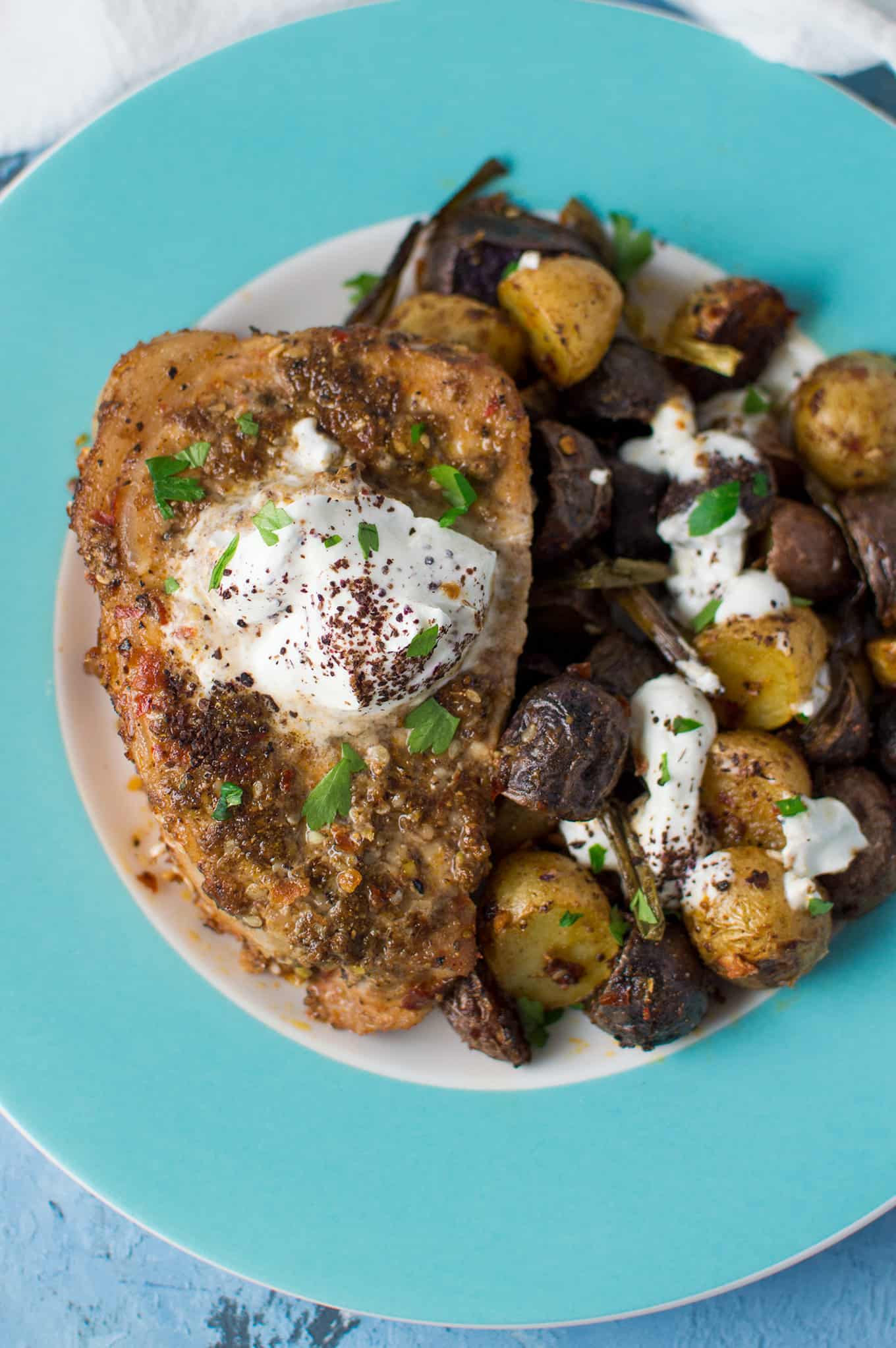 Hi, friends!
Long time no blog! You know when there's a project you want to start, and you keep putting it off, telling yourself you'll get to it soon, and suddenly realize some months have passed? Yeah, hi, hello!
The last few months got crazy hectic with other excitement and I could have sworn it had only been a few weeks since I last shared a blog post.  Oops.
But all of the crazy has been good, even if it got me away from here for a bit. I recently picked up some client work! I've been doing some food photography outside of the blog and it's been a lot of fun. It's also nice to get some extra money to help pay off some of that funemployment debt. 😉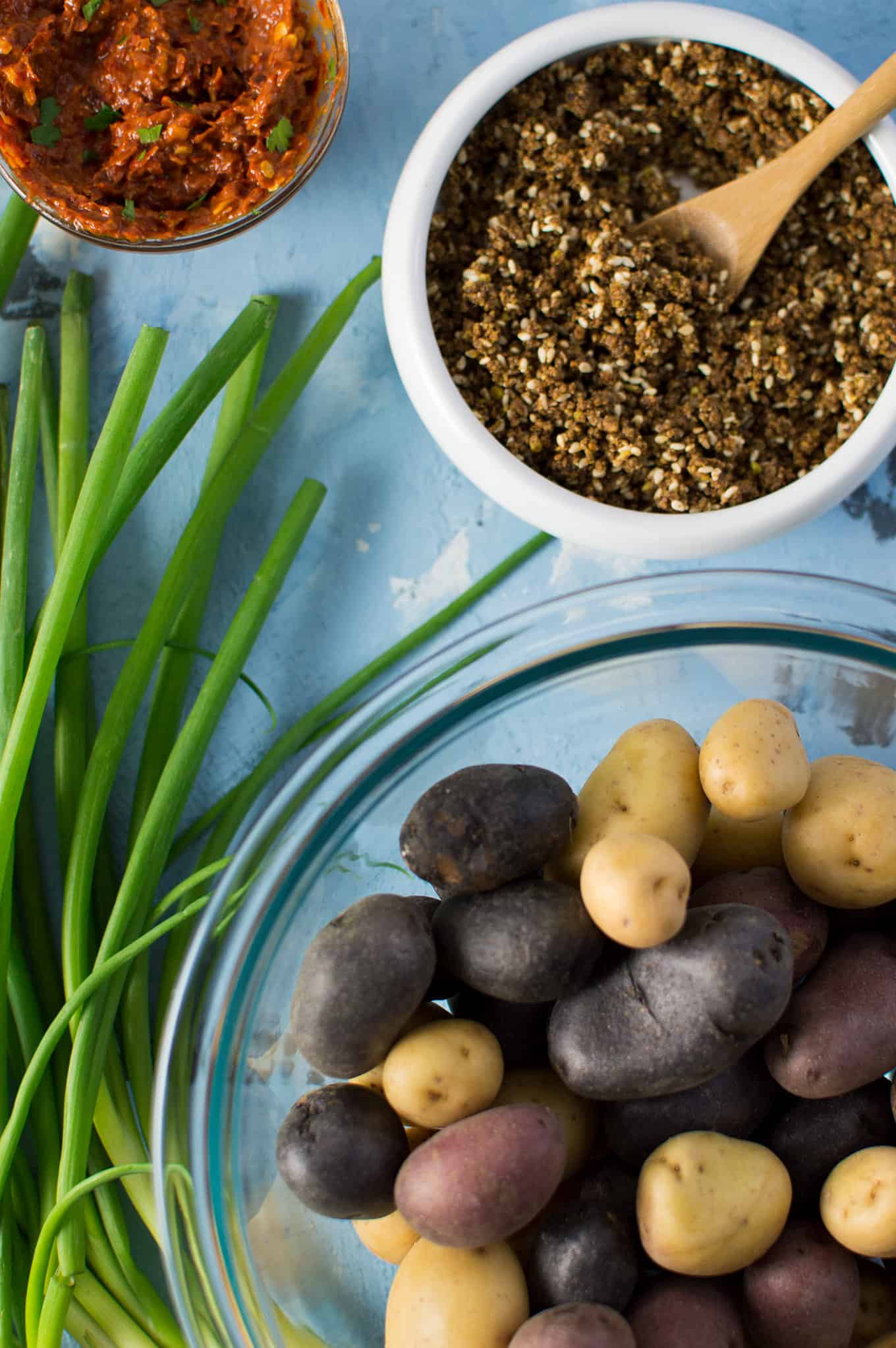 I'm hoping to get back to a consistent blogging schedule soon, and I still have a series to complete, but I'm not going to make any promises as to when that will be. We all know how I am by now, yeah? Let's just roll with it. 😀
And speaking of blogging, I'm excited to share this recipe with you today! We've got some of my favorite flavors in this one and we're kicking up the heat a little bit. I love spicy food and don't get to share it with you enough.
Today, I'm sharing dukkah-crusted pork chops! They're baked on a sheet pan with some potatoes and scallions. Oh, and everything is basically slathered with harissa! Harissa is one of my favorite condiments and it's not because it rhymes with Marissa (my name, you guys, duh).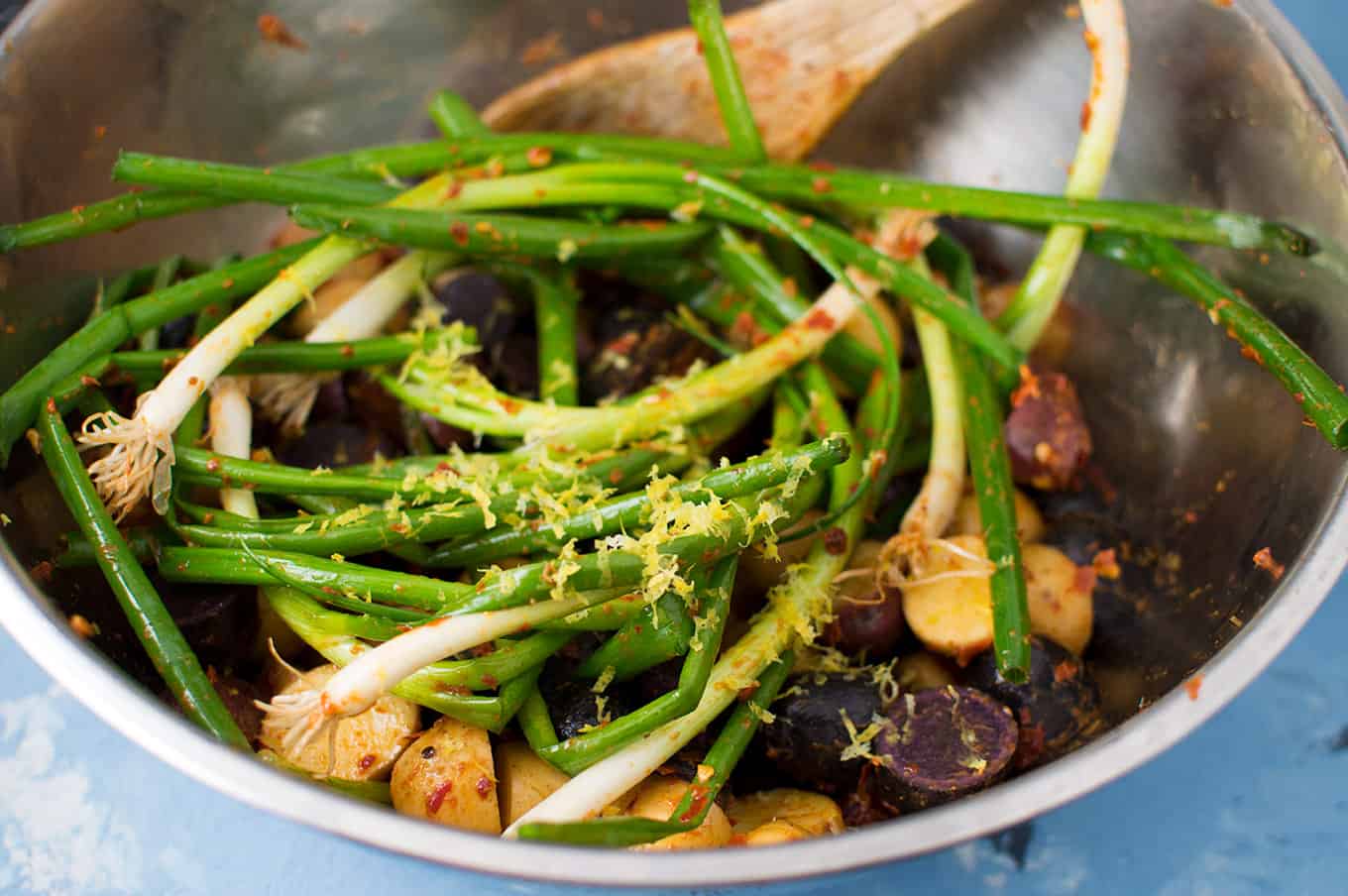 I make harissa at home using a combo of dried chilies and spices. I don't have a recipe on the blog for it yet, but I'll get to it one of these days. Store-bought harissa is perfectly fine, obviously.
I also make my own dukkah with hazelnuts, pistachios, sesame seeds, cumin, and coriander. Whether you make your own or use store-bought is totally up to you! Both options are tasty ones.
The best part of this meal (aside from tasting awesome) is it's all made in one sheet pan, making your cooking adventure an easy one. I love easy.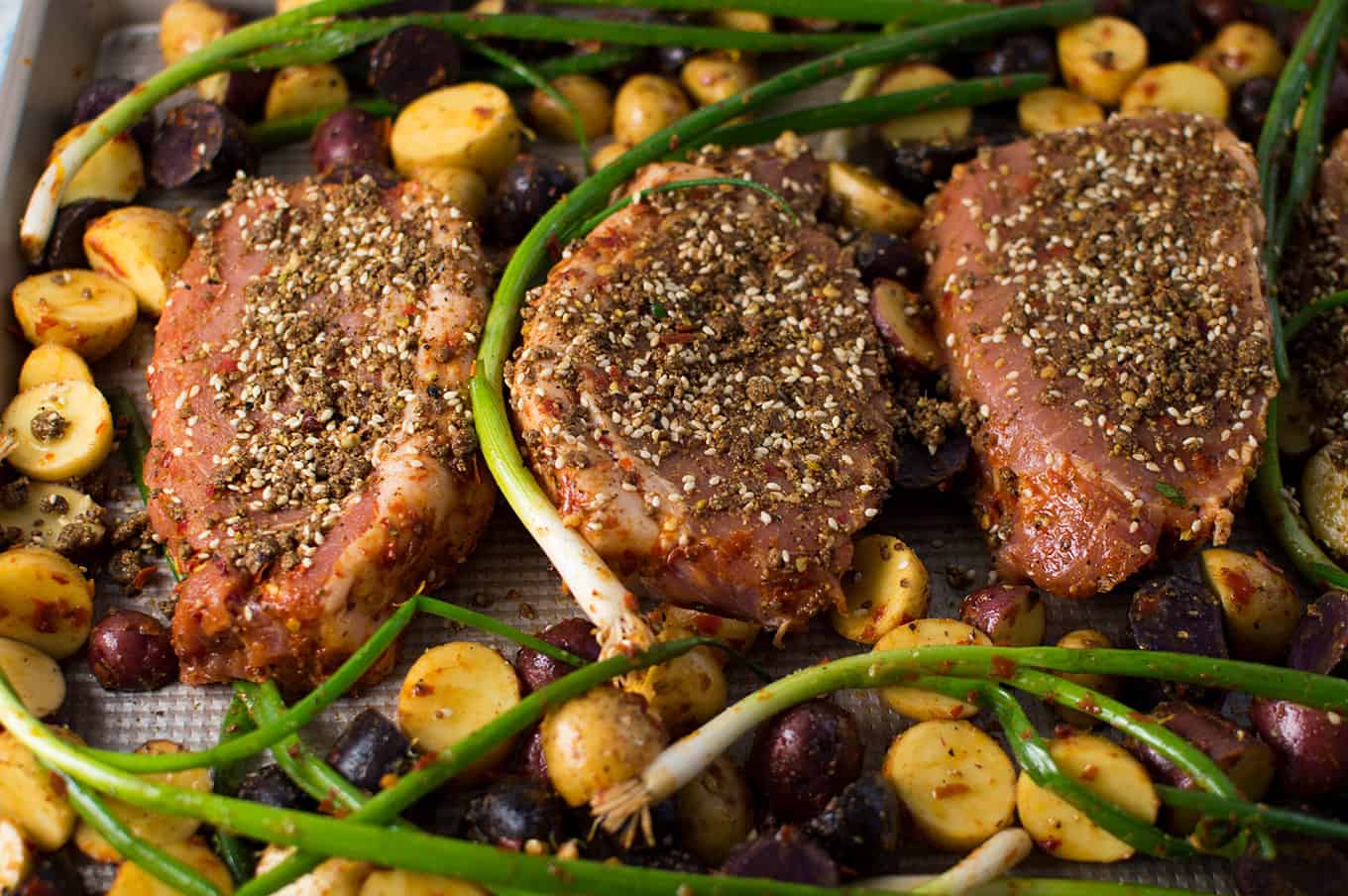 OXO hooked me up with a couple of goods to help make this recipe a success! One of which is their non-stick pro half sheet jelly roll pan. I have a few of their non-stick pro pieces in my kitchen at this point, and they're easily some of my favorite cookware pans; I recommend them to everyone! They have square-rolled edges that add reinforcement for structure, strength, and durability. They're also easy to clean, which especially makes me happy.
OXO also sent over their awesome chef's precision digital instant-read thermometer. I've only had it for a few weeks, and it's already turned into my most used tool in the kitchen, quickly replacing an older and sadder thermometer. OXO's instant-read thermometer has a pivoting head which allows reading temperature from any angle, and it provides quick, accurate measurements for cooked meat. Fun fact: pork chops should be cooked to a minimum of 145 degrees Fahrenheit.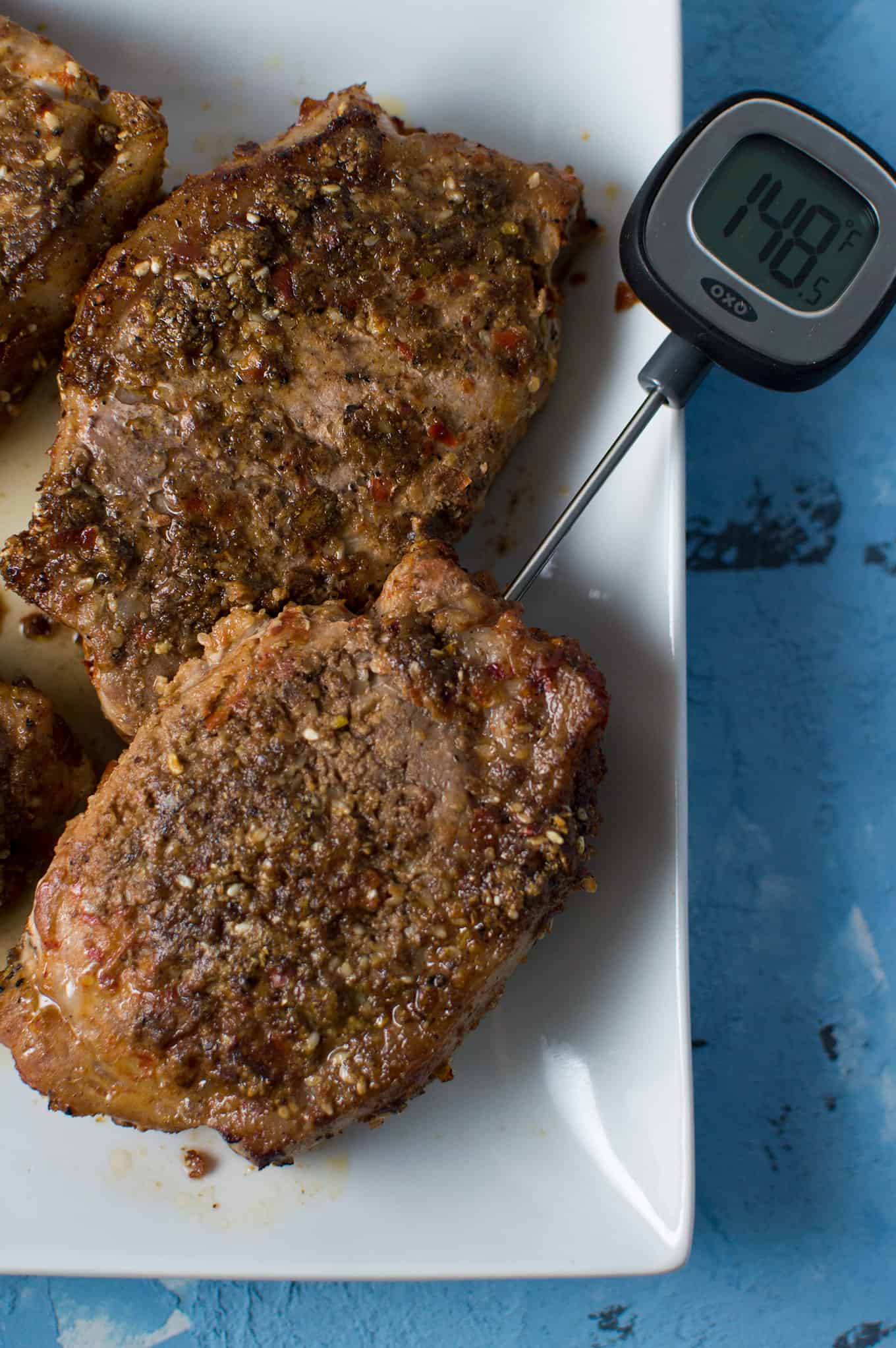 If you're in the mood for something spicy, tasty, and easy, this is for you! I recommend topping the food with some labneh and lemon. <3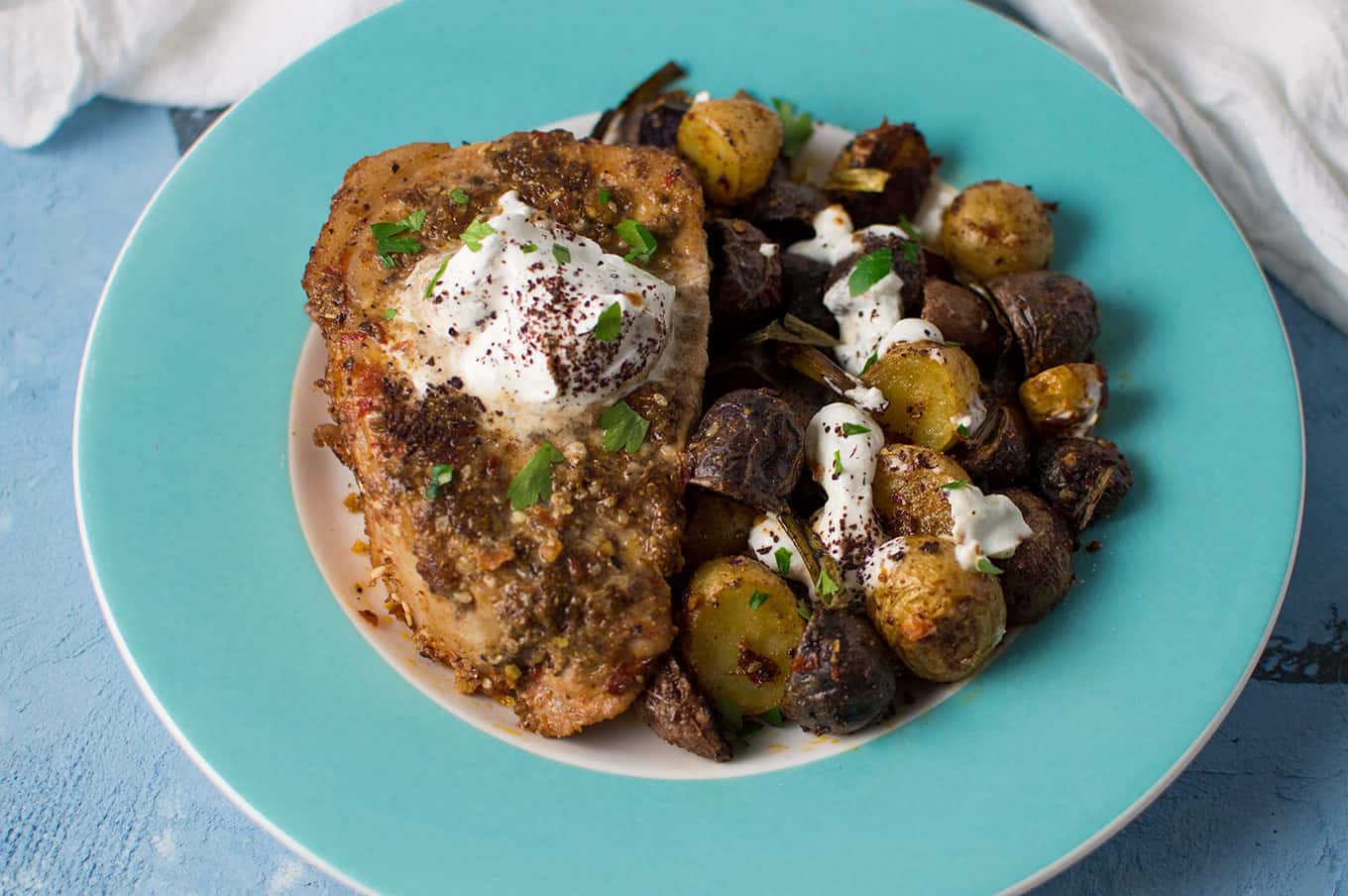 Kitchen Tools Used:
Large Mixing Bowl
Small Mixing Bowl
Chef's Precision Instant Read Thermometer
Chef's Knife
Cutting Board
📖 Recipe
Dukkah-Crusted Pork Chops with Harissa, Potatoes, and Crisp Scallions
Print
Rate
Ingredients
4

boneless pork chops

,

1-inch thick

1 ½

pounds

new potatoes

,

rinsed and dried

1

bunch scallions

,

 rinsed and dried

2

tablespoons

harissa

2

tablespoons

olive oil

½

teaspoon

lemon zest

kosher salt to taste

black pepper to taste

½

cup

dukkah

labneh

4

lemon wedges

sumac

,

optional
Instructions
Preheat the oven to 425 degrees Fahrenheit. 

Cut the potatoes in half (larger pieces can be cut into thirds) and place into a large bowl. Add in the scallions.

In a small bowl, whisk together the harissa and olive oil until thoroughly combined.

Add half of the harissa mixture to the potatoes and scallions. Add the lemon zest and mix well.

Spread the potatoes and scallions onto the

jelly roll pan

. Sprinkle generously with salt and pepper.

Add the pork chops to the bowl and season both sides with salt and pepper. Add the remaining harissa mixture and mix until the chops are thoroughly coated.

Press the dukkah seasoning onto both sides of each pork chop  (two tablespoons per chop). Nestle the chops between the potatoes and scallions on the pan.

Roast in the oven for 30 minutes, turning once half-way, until the pork chops read at a minimum of 145 degrees from your

instant-read thermometer

.

Remove the pork chops from the oven and let rest for ten minutes. Allow the potatoes and scallions to stay in the oven to crisp more in the meantime.

Remove the potatoes and scallions from the oven.

Top with some dollops of labneh and sprinkle with the sumac, if using. Serve with lemon wedges.
Recipe adapted from Melissa Clark's Harissa Chicken
---
Disclosure: OXO provided me with free products to use in this blog post. All opinions are strictly my own.
---