A simple salad of baby greens, fried goat cheese, pomegranates, and toasted walnuts that's topped with a Mediterranean inspired spiced honey vinaigrette. This salad makes an awesome main or side dish.
Fried goat cheese, you guys. Have you had it? If not, you are missing out. I'm thinking about eating it right now as I type this, but I have no more in the house to eat. This is problematic.
Fast forward a minute: After writing that sentence, I decided I would just hop in the car for a quick goat cheese log run and would resume this post after eating. I got up to get my shoes and quickly realized I don't have a car today, so here I am! No longer procrastinating this blog post.
You are welcome.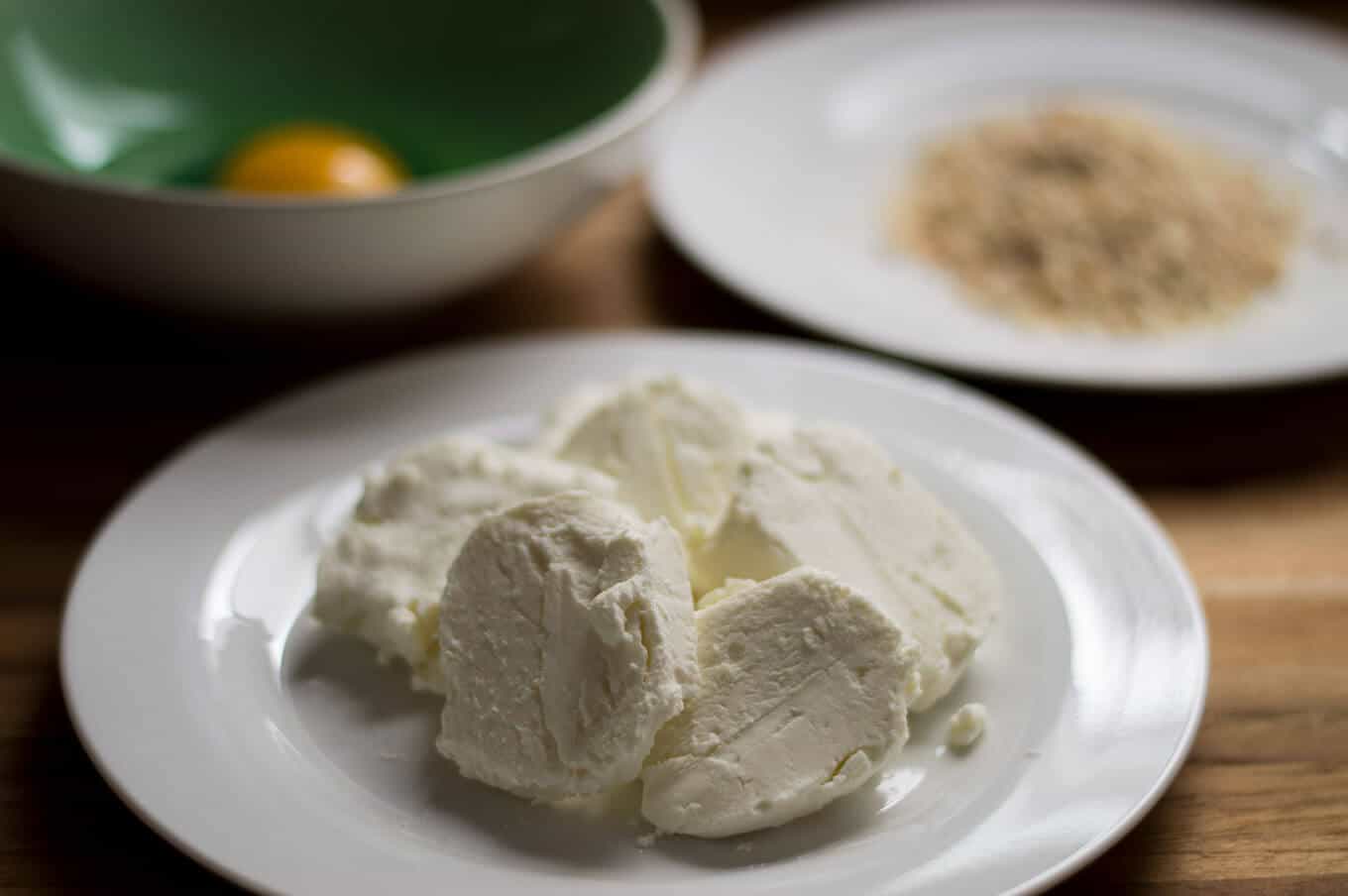 Do you ever go through a phase of eating something? Whether it's buying a product and making a very specific dish you keep recreating as long as you have that product in your house that week? Or maybe the phase is you keep purchasing the product to experiment with making different things.
Basically, I'm saying I went through a fried goat cheese phase recently because I love goat cheese (fried and otherwise) and it had been a while since I've eaten it. When I decided to work on a blog post featuring it, there may or may not have been an embarrassing amount of goat cheese in my fridge and I may have eaten a lot of it.
Just kidding. No amount of cheese is embarrassing.
In the past, I would make fried goat cheese for something to quickly snack on and would occasionally throw it on a salad if I was feeling the need for greens or more of a meal. For today's blog post, I wanted to dive into something winter-like in flavor and comfort. So let's dive.
Tips on Making Fried Goat Cheese Salad
Pomegranate Shopping: Buying Whole vs Peeled
I've been semi-obsessed with purchasing whole pomegranates and it seemed like a no-brainer that I should include them in the salad. When stored properly, whole pomegranates can keep up to a few months, though once peeled, the arils are only good for a few days in the refrigerator.
If I know I'm going to use pomegranate for a recipe, I'll usually peel it a day ahead to save a little bit of time. I find peeling them isn't a huge pain, but if you're really against it, I won't judge you for dropping double the money on a container of arils. You do you.
Plus, I like picking off the little red gems from the fruit. The arils remind me of red rupees from Zelda and it's as if I am digging for rupees! Gamification is great.
Speaking of Zelda, Breath of the Wild is coming out in a couple of weeks and I AM ECSTATIC about it. I pre-ordered it and already set myself a whole weekend to do (mostly) nothing, but play it.
Thanks for letting me share that excitement. Back to food.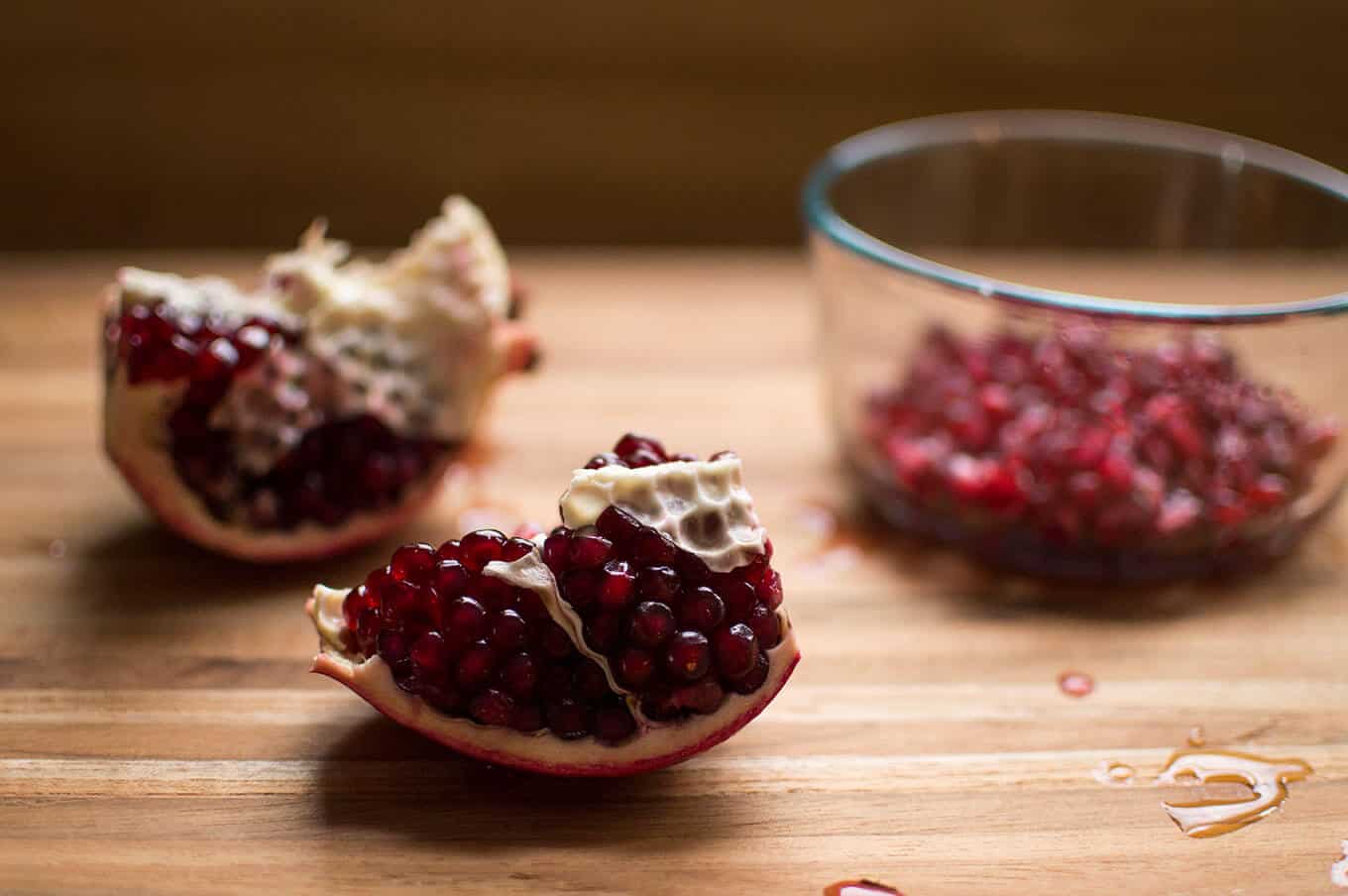 Prepare the Goat Cheese First and Cook it Last
Fried goat cheese is best served immediately, so you should cook it when your salad is basically in its bowl ready for eating. I recommend preparing it first and popping it in the fridge until you're ready to fry it.
This will allow you to have them ready to go, plus they will firm up a bit in the fridge, allowing for easier and crispier frying. At least, in my experience, that's been the case.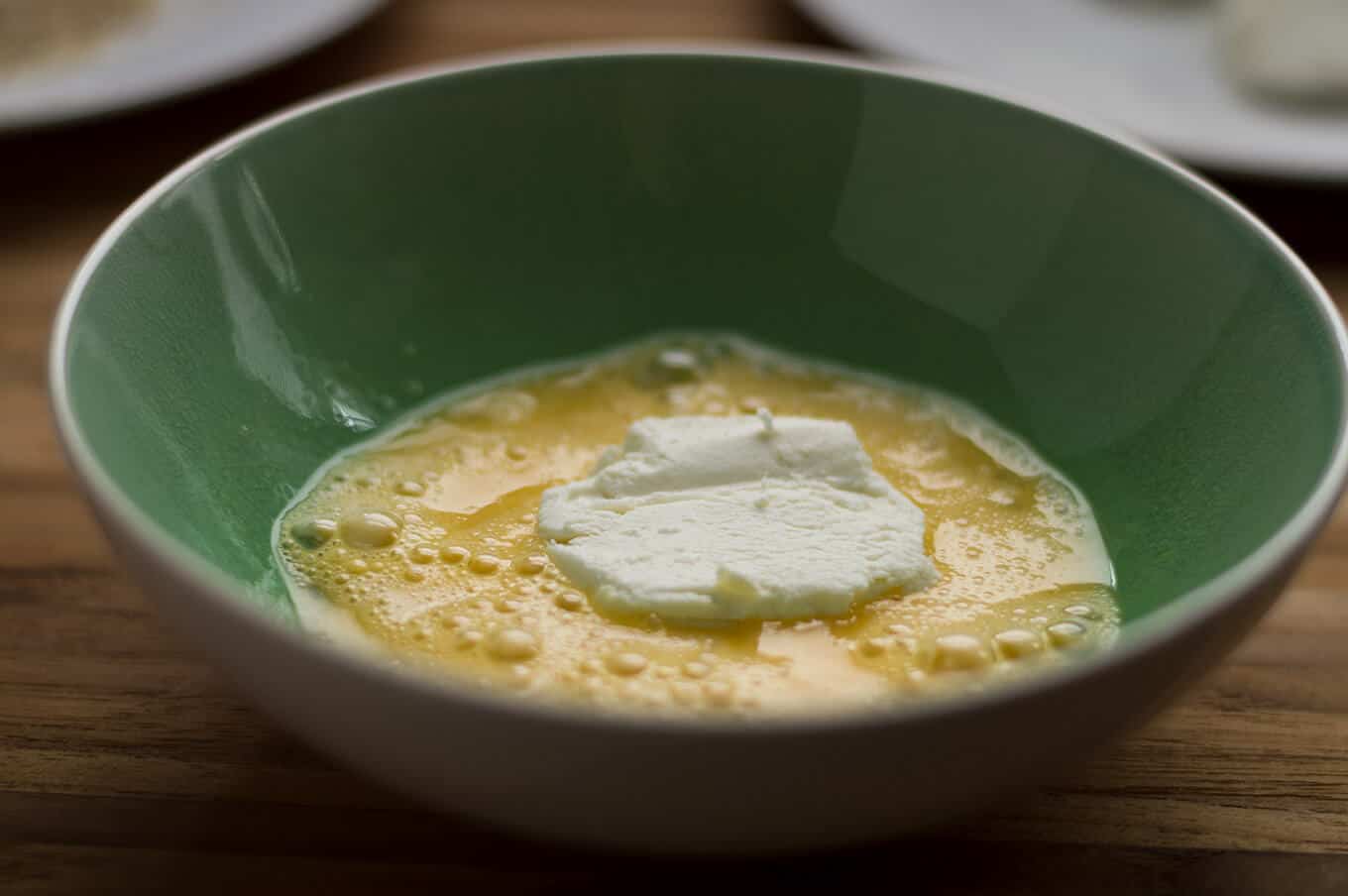 You just need a little station set up to slice the goat cheese log, coat it in a beaten egg, and press it into some bread crumbs. Seasoned bread crumbs is what you want and homemade is best!
For slicing, a good sharp paring knife will do. Make sure the goat cheese is nice and cold to help with slicing. If you find it crumbles, don't panic. You can roll the goat cheese back up into a little ball and flatten it out slightly to form a little "patty" or "coin" again.
And when it comes to coating the goat cheese, make sure it's completely covered in egg and bread crumbs, respectively.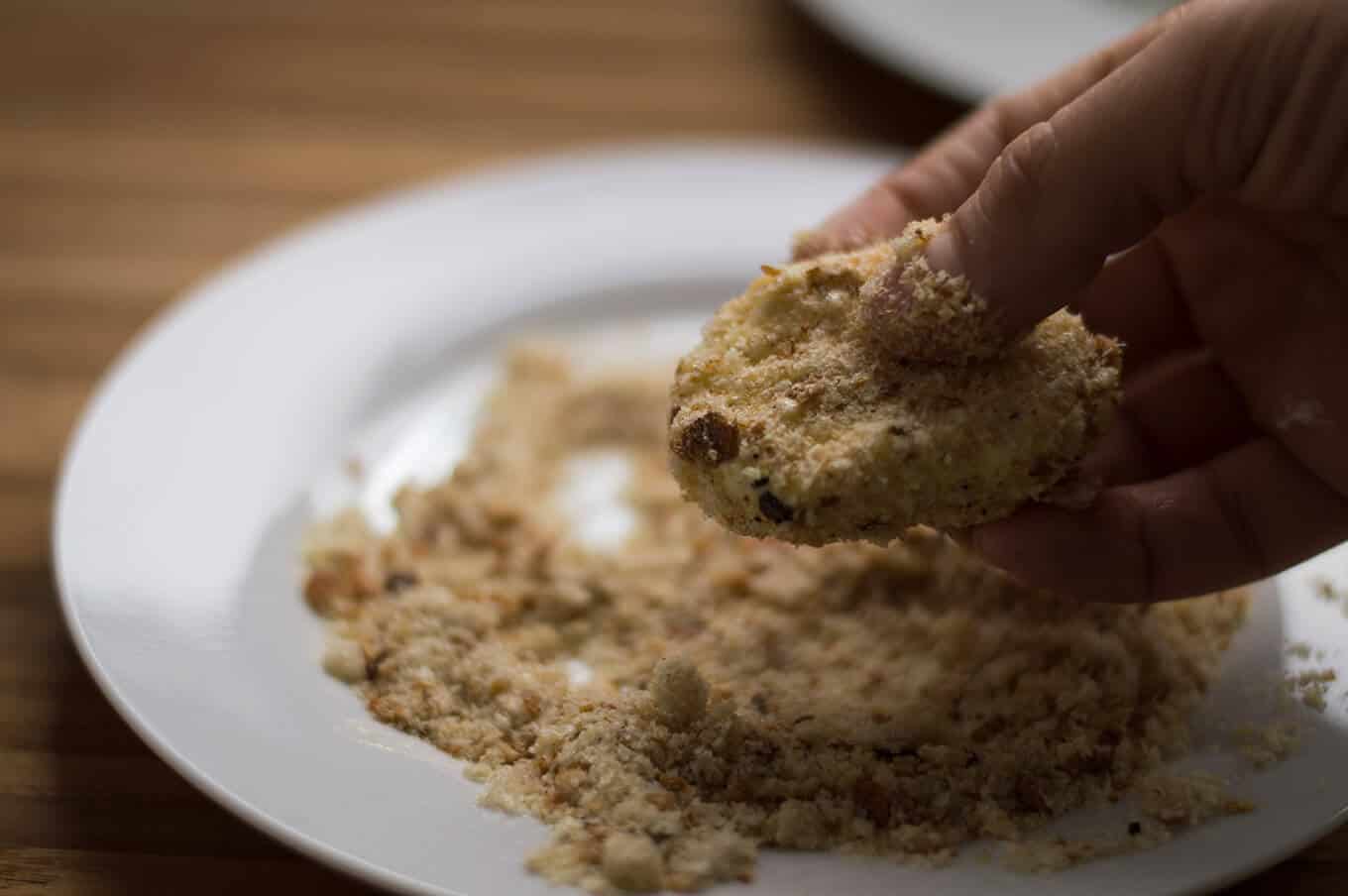 Pop the breaded coins in the fridge for fifteen-ish minutes and move onto the next step for your tasty salad fun.
Side note: There have been times when I prepared the goat cheese for frying and left it in the fridge overnight. They were perfectly fine cooking up the next day. Once I realized I wasn't going to cook them the same day, I moved them to a dish with a lid (I use this set for some of my food storage).
Toast the Walnuts and Make the Spiced Honey Vinaigrette
Toasted walnuts are the best and only take 5-10 minutes in the oven. Preheat your oven at the start of the salad prep and toast the walnuts while waiting on the goat cheese to firm up in the fridge.
You'll want to keep an eye on them as they can burn easily. Check after five minutes and take them out of the oven when they smell toasty and have a darker shade. Stir them occasionally while toasting too!
The dressing is my second favorite part of this salad (the first is the fried goat cheese, obviously). I tested and failed a small handful of times before coming up with this version. It's spiced with cinnamon and cardamom and has Greek thyme honey in it, as well as freshly squeezed Meyer lemon juice.
So many noms.
Thyme honey is one of my favorite honeys. It's a little unique and deep in aroma and flavor and I highly recommend it. If you have a Greek specialty shop nearby, I imagine they will have some good thyme honey in stock. Alternately, Amazon has it too! Attiki is a very popular brand.
Greek honey is highly praised because of Greece's sunny climate and beautiful flora. Thyme = the bees main source for producing honey, hence the name "thyme honey."
I spoke about wild thyme and how awesome it is in my za'atar recipe post last year. That thyme really is magical and Greek honey (or thyme honey) is also magical. ???? Trust.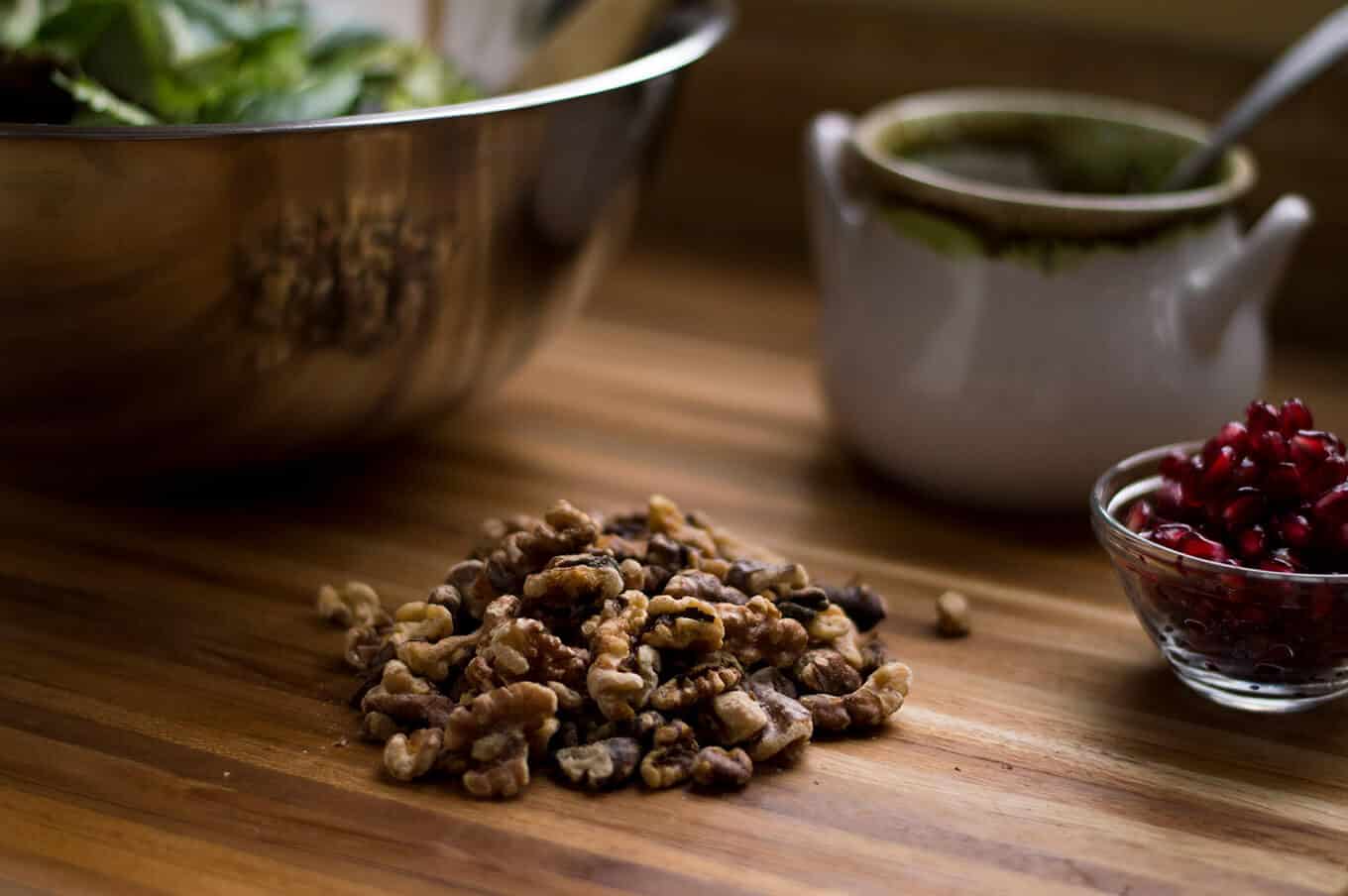 Use a Good Skillet for Frying the Goat Cheese
If you're not a newcomer to the blog, you know of my love for cast iron. A well-seasoned cast iron skillet can be your bff!
Preheat the skillet with a little bit of light olive oil and make sure it gets nice and hot before adding in the goat cheese. Let the coins cook undisturbed for two minutes before flipping. Cook them an additional minute or two before removing from heat.
They're ready when they're nice and golden and they will taste so good.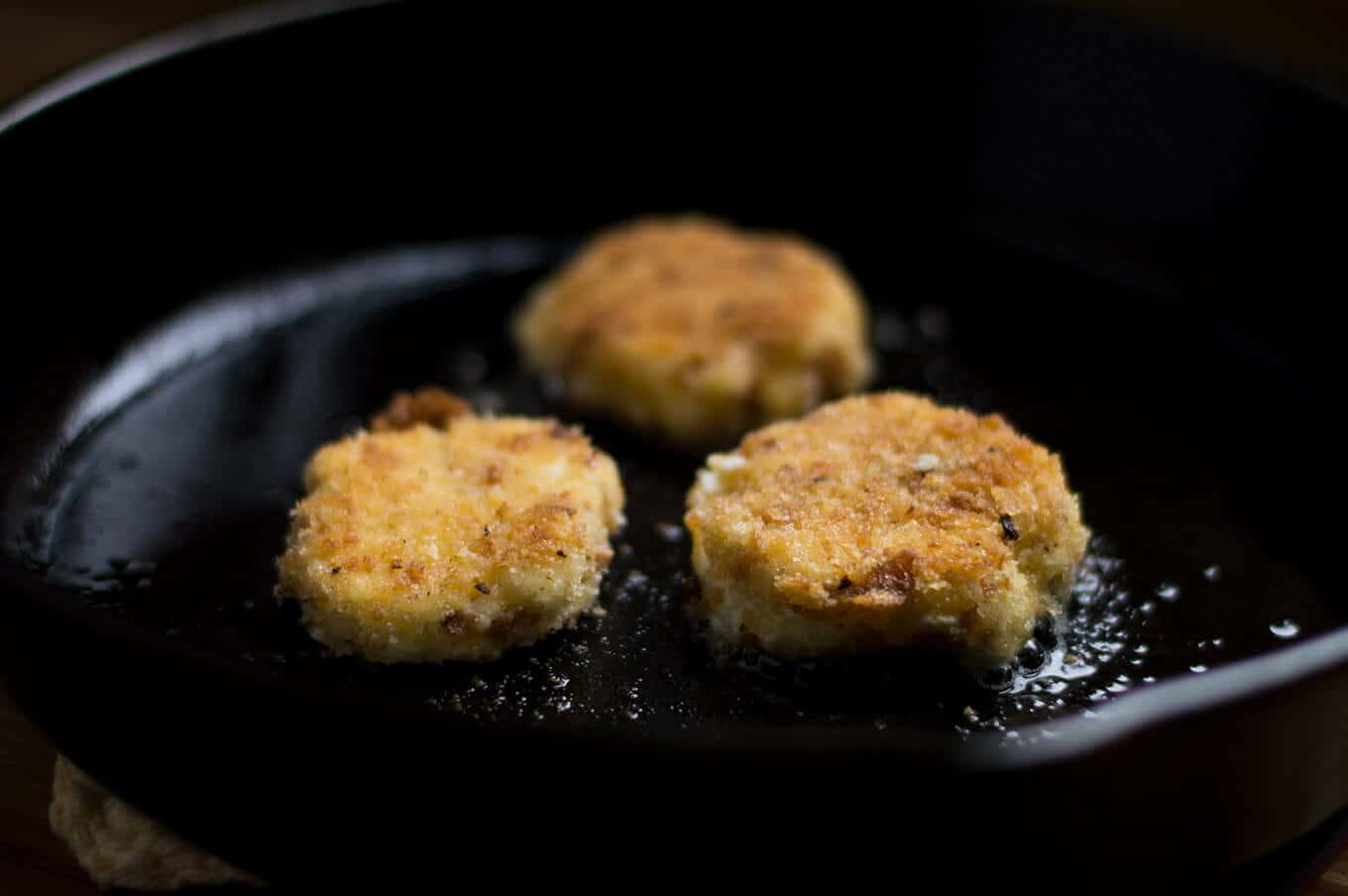 Kitchen Tools Used:
📖 Recipe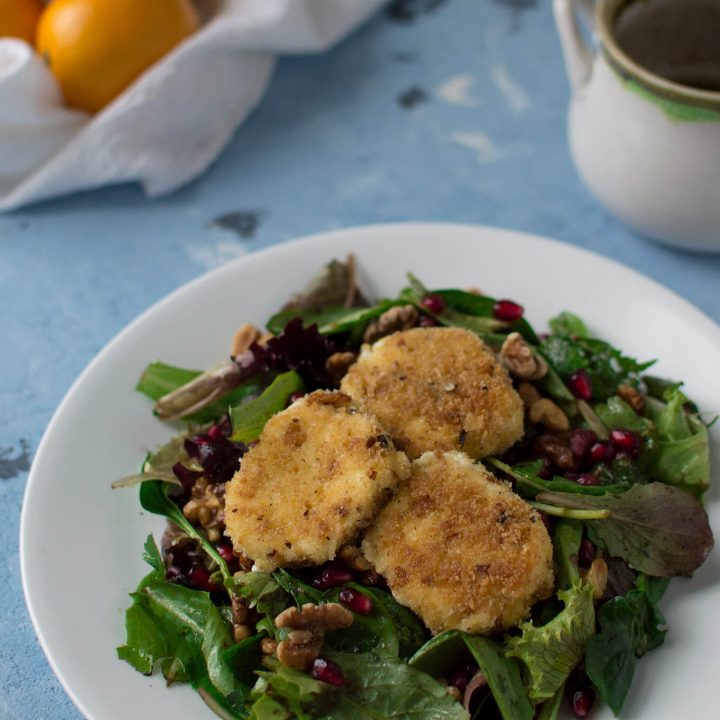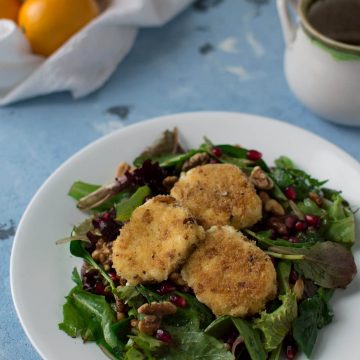 Ingredients
For the Salad
¾

cup

raw walnuts

1

tablespoon

extra light olive oil

6

ounces

goat cheese

,

sliced into 6 coins

1

egg

½

cup

seasoned bread crumbs

5

ounces

spring mix

⅓

cup

pomegranate arils

,

seeds
For the Spiced Honey Vinaigrette
3

tablespoons

extra virgin olive oil

½

tablespoon

Greek thyme honey*

1

teaspoon

balsamic vinegar

½

tablespoon

freshly squeezed Meyer lemon juice

¼

teaspoon

cinnamon

½

teaspoon

cardamom

¼

teaspoon

dijon mustard

,

optional

pinch

of sea salt

freshly ground black pepper
Instructions
Preheat the oven to 350 degrees Fahrenheit.

Meanwhile, spread the bread crumbs into a small dish and set aside.

In a small bowl, crack the egg and whisk until combined.

Dip each goat cheese coin into the egg and coat thoroughly, then press into the bread crumbs until all edges are covered. Move breaded goat cheese to a plate.

Place the goat cheese in the fridge to firm up for ten minutes.

Spread the walnuts out on a small baking pan and bake for five to ten minutes, stirring occasionally, until the walnuts are slightly darker and have an aroma (be careful not to burn them). Remove from oven and let cool.

In a small bowl or measuring cup, combine all the dressing ingredients and whisk to combine. Set aside.

Divide spring mix into individual bowls and top with pomegranates and walnuts. Set aside.

Remove goat cheese from fridge and preheat the olive oil in a skillet over medium heat.

Once the oil is hot, add the goat cheese to the skillet and let cooked, undisturbed for two minutes. Flip and cook an additional one to two minutes, until golden brown.

Top salads with fried goat cheese and dressing. 

Serve immediately.
Notes
Thyme honey has a unique aroma and deep flavor. I highly recommend having it in your pantry! At the end of the day, any honey is better than no honey, so feel free to use what you have on hand.