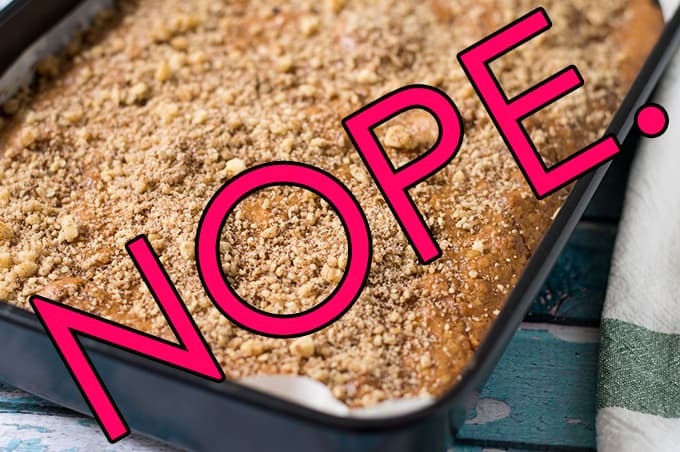 Ahh, failed recipes. We've all been there, no? It's been a while since I've shared a post like this. The last time before this one (also the only time) was back in early 2015. That definitely doesn't mean that was the last time I effed up in the kitchen, but I don't always talk about it here. And I think I should change that! So we'll see how long that idea sticks. If it's another year+ before the next fail post goes up, well, don't be surprised, I guess!
Do you remember back in May when I posted the mandarin orange tequila smash? In that post, I talked about my original plans to bake a cake, but I didn't have enough sugar, so I made the cocktail instead. Then I went to try it again, but realized I didn't have enough walnuts for the cake, but I did have enough to make the chocolate espresso pie bars, so I did that instead. After that? No mention of cake! I moved onto things like decrystallizing honey and grilled caprese sandwiches.
But the cake did happen! I think I worked on it the same day as the decrystallizing honey post. I took photos from start to finish and everything.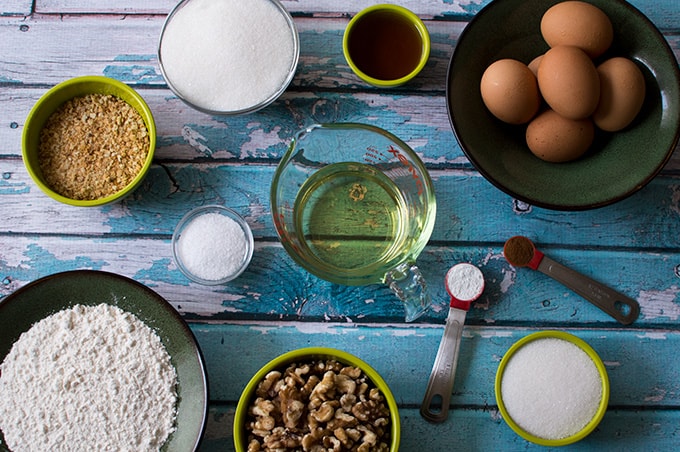 The cake I was trying to make is called karithopita/karidopita (kah-ree-THO-pee-tah) and when made right, it tastes amazing! It's a Greek walnut cake that's spiced with cinnamon and cloves and soaked in a homemade syrup. Think baklava or melomakarona, but in cake form. Yeah. It's awesome.
At least, it's awesome when made correctly! That goes for any food, though, right?
The cake needs sugar. Also, don't overbake it.
If you're a frequent OMGfood visitor, you might know how much I love sweet things, which is why I try to keep the amount of sugar in the house limited. Because I sometimes go through phases of baking a shitton of cookies or other sweets and will eat them and never stop. I thought it would be a fun experiment to make this dessert but go a bit easy on the amount of sugar that goes in it (because between the cake itself and the syrup, there's a lot).
So I tried it! And I was excited. The batter tasted pretty good, so I thought maybe the finished product would be good too.
Because I was taking some sugar out of the mix, I was also messing with the egg to flour ratio. Now, I don't consider myself an expert at baking. I have some recipes I've modified over the years to make them my own and are tasty AF, but when it comes to experimenting with baking, I fail more than I succeed. I don't think that's a bad thing because that's a great way to learn! And by practicing, I've gotten a few tasty cake recipes out of it that I've made for birthdays and other parties.
The karidopita, though, is on a slightly different level. It's made with lots of eggs and (sometimes) breadcrumbs. The eggs are separated and the whites need to be whipped. Configuring the amount of eggs, flour, breadcrumbs, sugar, etc, didn't really work in my favor.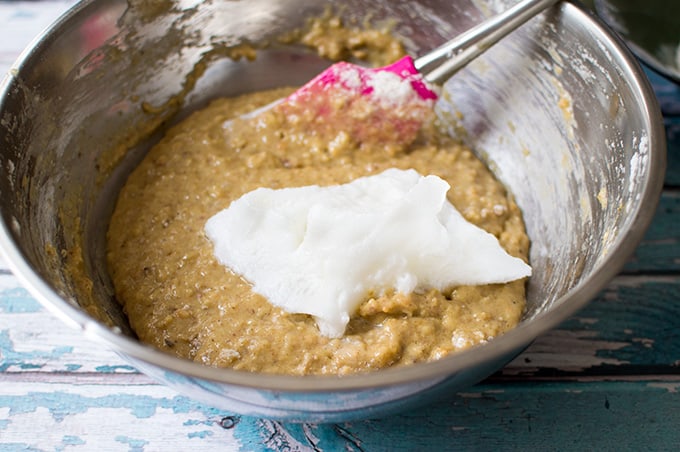 Then, when I put it in the oven, I set the timer for 40 minutes and walked away. I didn't think twice about it. This cake normally takes about an hour to bake, and I was so certain it'd be fine. I came back to a cake that looked very dry and overdone, but I pushed forward because it still needed the syrup! That would moisten it up a bit, right? I made the syrup, sliced the cake in the pan, and poured the syrup all over. Then, I let it sit a while before sampling it to let the syrup really soak in. And it was...not terrible! But not amazing. It was tasty, but it was definitely on the dry side and lacked a bit of something...maybe sugar!? Yeah, definitely the sugar. The combination made this cake unfamiliar to me. That said, I still brought it to a BBQ the next day, but I made sure to let people know it was a failed experiment. 😉
So the next time I make this, I am not cutting back on the sugar. Because I used to rock the paleo, I sometimes think that certain recipes would still be awesome either without sugar altogether or less sugar. In my experience, that did not work out for the karidopita.
This was a pretty long post just to tell you this cake failed because I didn't use enough sugar and overbaked it, huh? I hope you enjoyed the read!